Use the free pattern and the tutorial to make this classic poinsettia ornament for a traditional red and green holiday home decor. It only requires a few stitches (or none at all if you do a no-sew poinsettia!) The free template comes together with 13 other free templates to help you make your own diy holiday decorations. Download them all!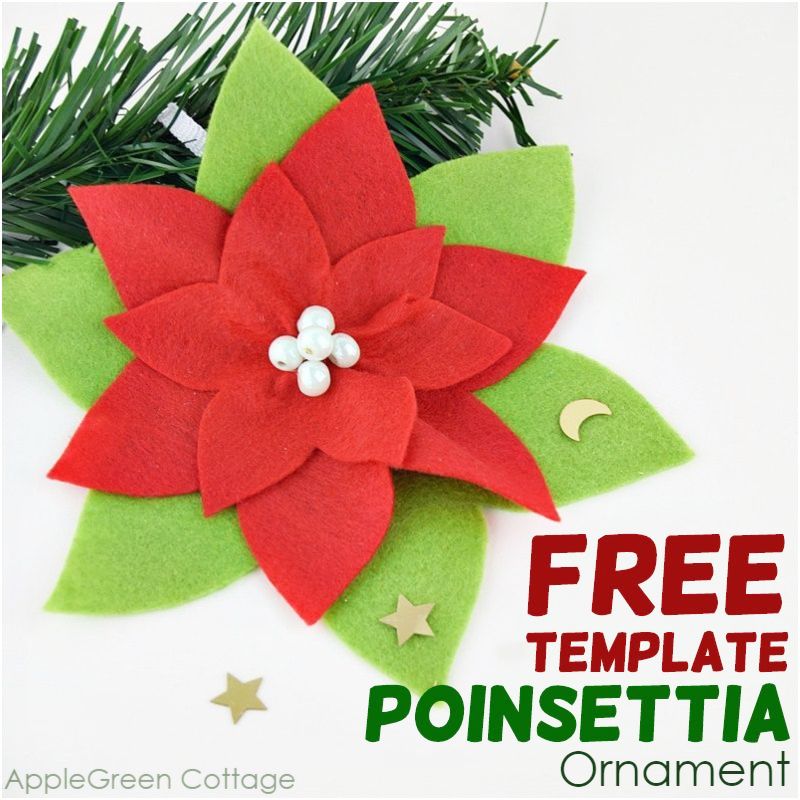 This post contains affiliate links. Thanks for your support.
Do you love diy holiday decorations? Good! Because you've just bumped into an entire series of Homemade Holiday decorations - with FREE patterns. How cool's that! So far, I've already published
And sign up for my newsletter HERE to get ALL the future tutorials from the Homemade Holidays series to your inbox.
UPDATE: MORE templates to be ADDED to the Homemade Holiday FREE Pattern Bundle!- Join our mailing list here, so you don't miss out on any new tutorials!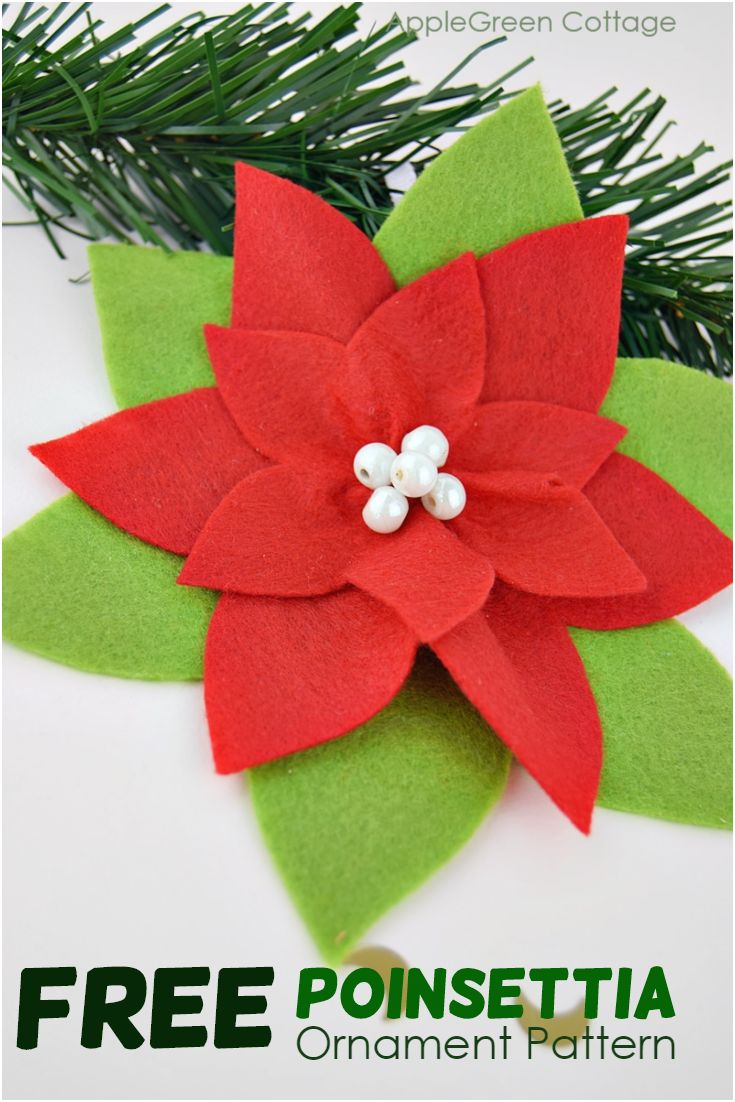 how to make poinsettia Christmas ornaments
This large poinsettia ornament is great for decorating a classic holiday tree. The traditional red and green will give you a great starting point for your diy holiday decorations.
And it gets even better: you can use this ornament - no adjustments needed - as a table centerpiece. Just place a few of them on a tray and add a few spruce branches. Done! And you've got instant holiday room makeover if you stitch a few onto your pillow covers. Hello, my beautiful home!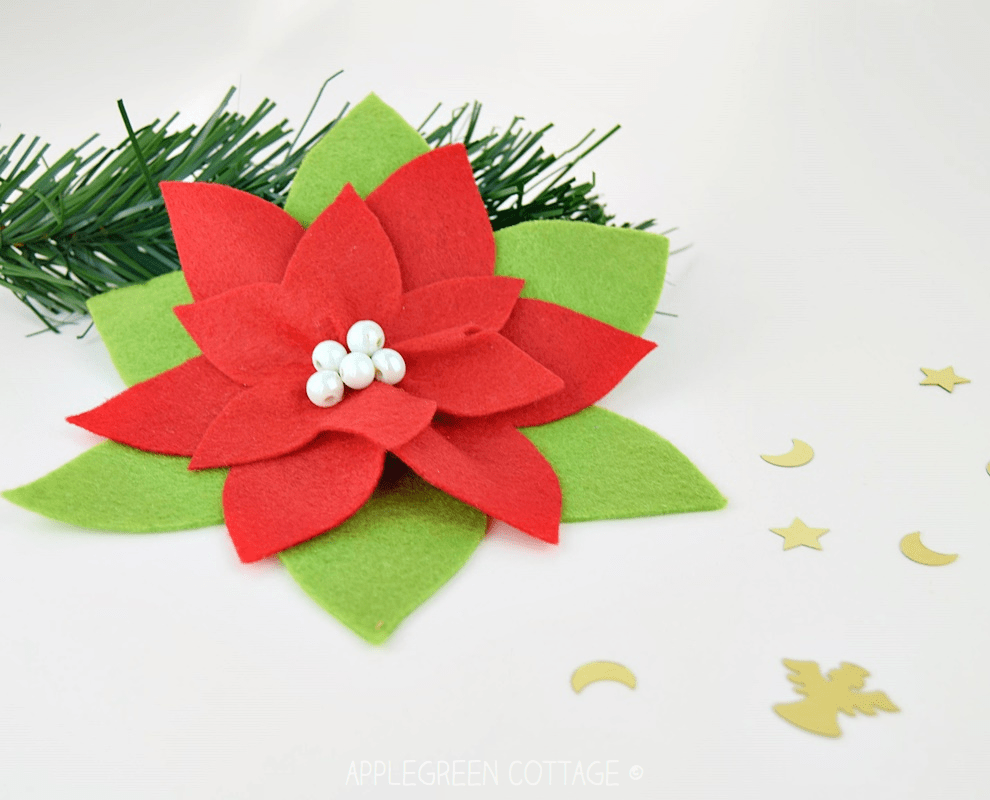 I know there are some readers among you who'd sometimes prefer a no-sew project, too. This is where I was thinking of you, folks! This easy poinsettia ornament requires really just a few stitches - and if you'd like to skip those too, feel free to use your glue gun instead of the needle and thread. Really, you can!
I seem to be no good with a glue gun (you don't want to see how messy I get with one!!!), so I'm not showing you a no-sew version. But there is hardly a better suitable holiday sewing project than this one. Go ahead!
And the rest of you, dear AppleGreen Cottage readers, get your needle and thread ready. Some felt cutting, then a few stitches and you're done! Deal? Let's go!
First, check out this quick slideshow to get an overview of the project:
Poinsettia Ornament
Poinsettias are often mistaken for flower petals because of their groupings and colors, but those are actually leaves. I designed the template so you don't need to cut out each individual leaf but rather a whole layer. Much quicker, trust me!
The template comes in 3 sizes for each layer, but you can either choose the small, medium or large only - each combo will give you a different poinsettia. I used all three sizes on one ornament - this is what I recommend when you make the poinsettia ornament for the first time.
Next come the supplies and you can also scroll down for a photo tutorial with step-by-step instructions. I've got you covered!
Supplies To Make the Large Poinsettia Ornament
soft red felt and green felt - the green can be a bit stiffer if you like.
a few white pearl beads (alternatively, a button or a pompom will do too)
6" - 8" ribbon for hanging
matching thread, scissors, needle, or glue gun
Free template - download and print page 12 from my new Homemade Christmas Patterns Bundle - it's FREE for all and contains more than 10 free Christmas sewing patterns. All made for you! Here:
Also, don't' forget to sign up for my newsletter HERE to get ALL the future tutorials from the Homemade Holidays series to your inbox. (I'm publishing them all in October-November)
How To Make Poinsettia Ornament
In short, you'll only stitch all three layers together, attach a few beads, done.
But since my diy poinsettias turn out much prettier when I make little creases in the center, I'll show you every individual step to make it clear and easy to follow. So here are the steps in super slow motion to ensure everybody can follow:
Step 1 - Print out the template
Print out page 12 in the PDF file of the Homemade Holidays Pattern Bundle.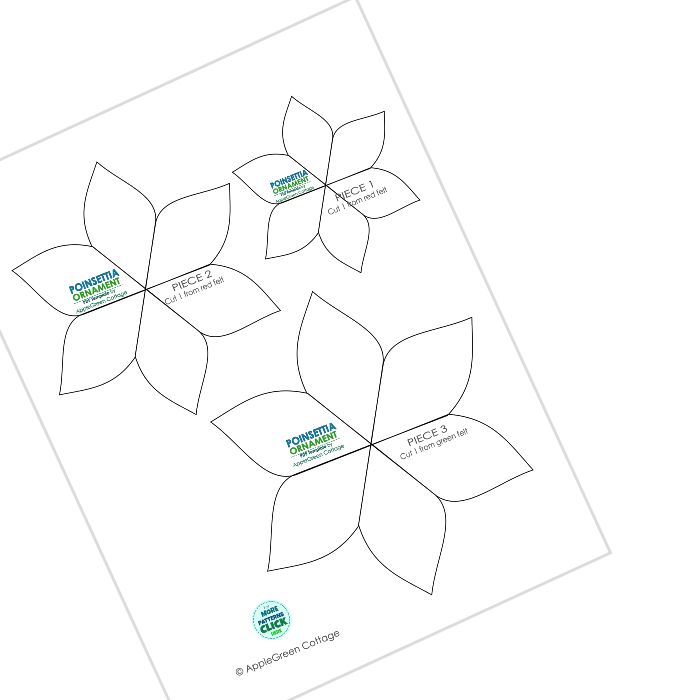 Step 2 - Cut the pieces
Using the templates, cut the smaller two pieces from red felt and the largest piece from green felt. The green felt can be a bit stiffer, as you won't be folding it at all.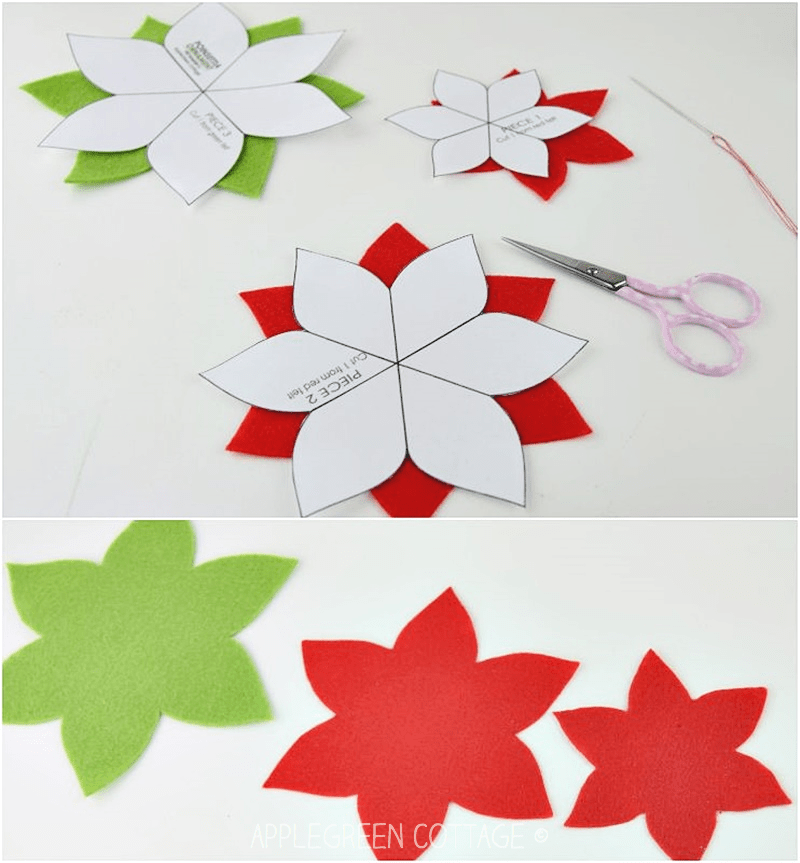 Step 3 - Prepare the smallest piece
Create a crease in the center so it WON'T lay flat. This is how I do it:
First, I fold the piece in half and stick the needle through the center, just ⅛ inch or 3mm from the edge (see 1). Tack the spot with a few stitches, then spread the piece and there will be a little crease left (see 2). Then fold at 90 degrees from the first fold. The fold won't be quite straight, no worries. Tack that part again like before (see 3). No problem if the piece won't look exactly as mine, the purpose is to prevent it from laying flat (see 4).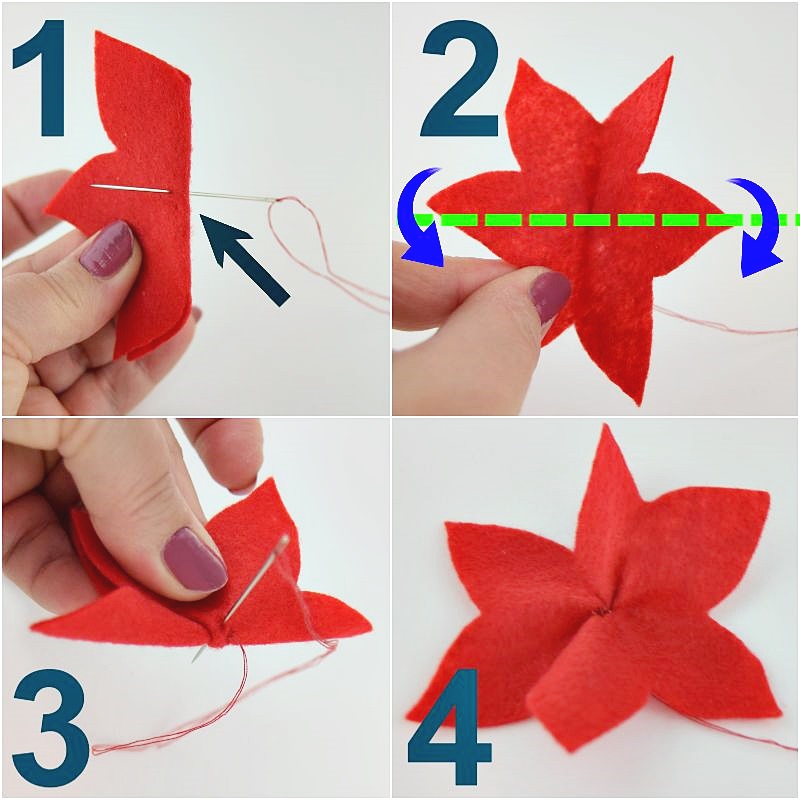 Crease is made in the center of the smallest piece.
Step 4 - Attach the middle piece
Stick the (still threaded) needle through the center of the second piece (see 1). Fold again, this time with the smallest piece inside the fold (see 2), and do a few stitches to create a crease. (see 3)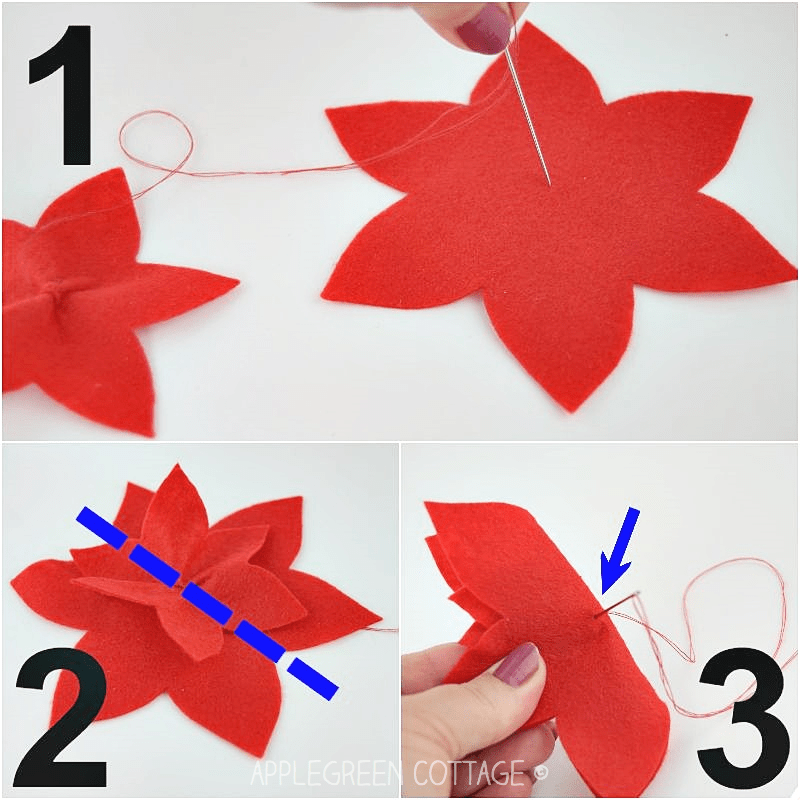 How to attach the second piece.
Step 5 - Attach the third, green piece
Add the third piece and finish off sewing by burying the thread somewhere between the layers. You'll notice that I leave the green part stay flat, no folding.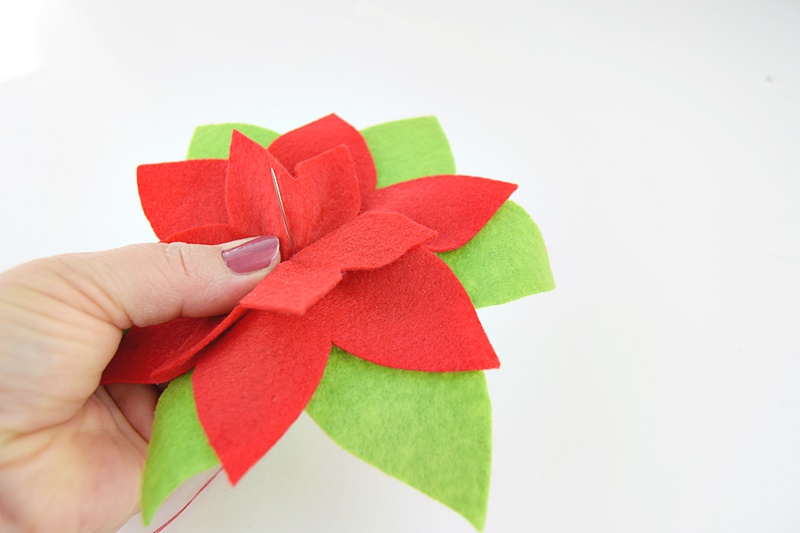 Step 6 - Add pearl beads to the center
To attach the pearl beads to the center, I usually use transparent polyester thread (like these). You can either use regular thread or even glue them on - whatever works for you.  The steps below are pretty much self-explanatory.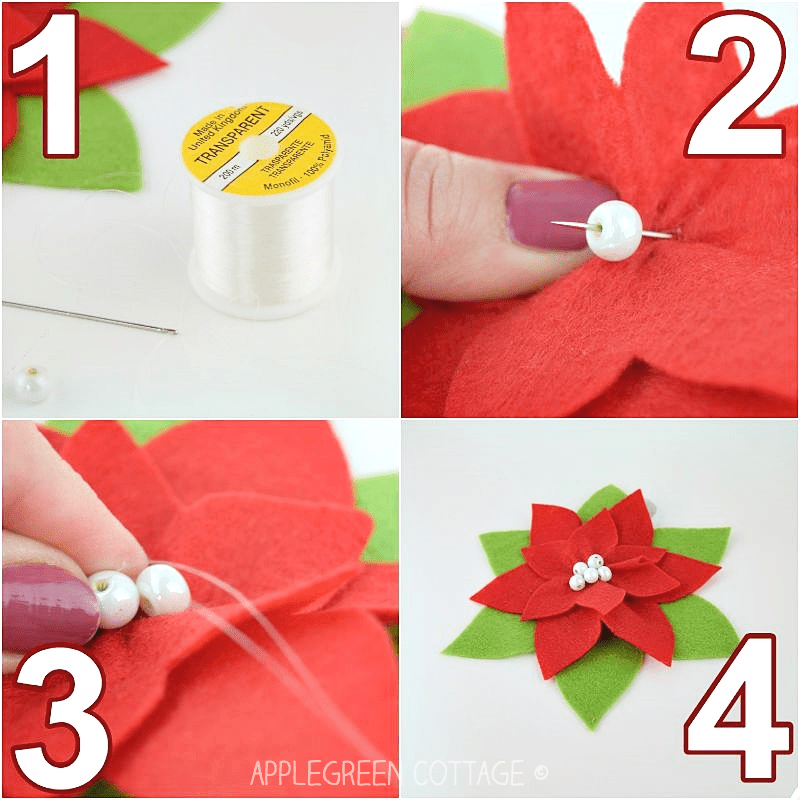 Step 7 - Add a short ribbon for hanging
Fold the 6-8 inch ribbon in half and attach the raw ends to the center - on the backside of the finished ornament.
The ribbon is short so it will be kept hidden behind the larger green 'leaves' - and when you hang it on your tree, it will fit snuggly.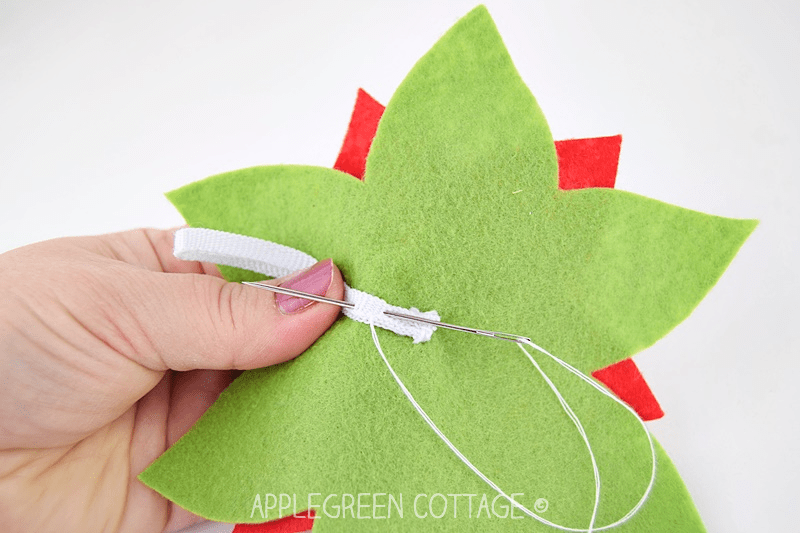 Once you've made a few, make a few of these diy origami ornaments - a perfect combination of traditional Christmas colors!
If you're looking for more holiday patterns, these are super popular right now:
Make sure to save the project so you can use all the free templates from the series when you need them: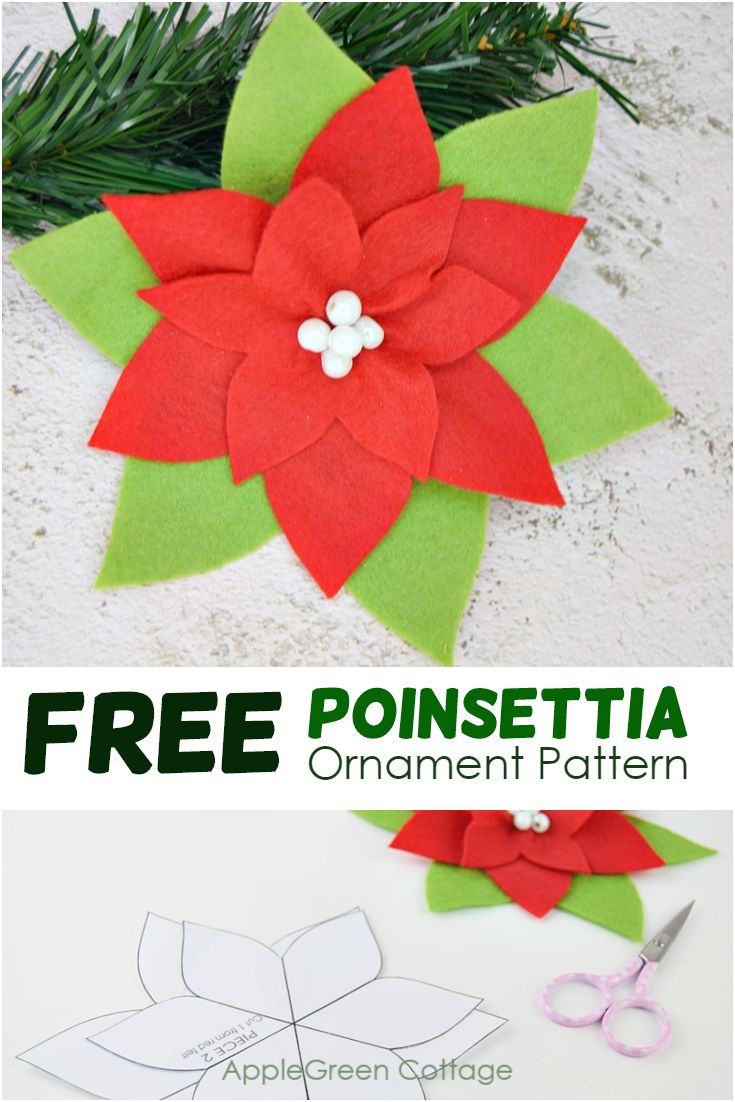 And make sure to download the FREE Homemade Holidays - Free Pattern Bundle from the shop for FREE (no coupon required.) - you'll be able to use all the patterns in there once I've published all the free tutorials that I have planned - all in a few days' time. Make sure you don't miss out on any!
I'll be back soon with even more new tutorials, make sure to join our mailing list HERE so you don't miss out on the new stuff!
WANT MORE FREE TUTORIALS AND GOODIES?
Get email updates and never miss out on new patterns, printables, and tutorials:
Or …check out the popular Aiden Cell Phone Purse in our shop. Guess what's on the back of this cool phone bag!