See how to make gift tags with hexies, it's quick, easy and so much fun!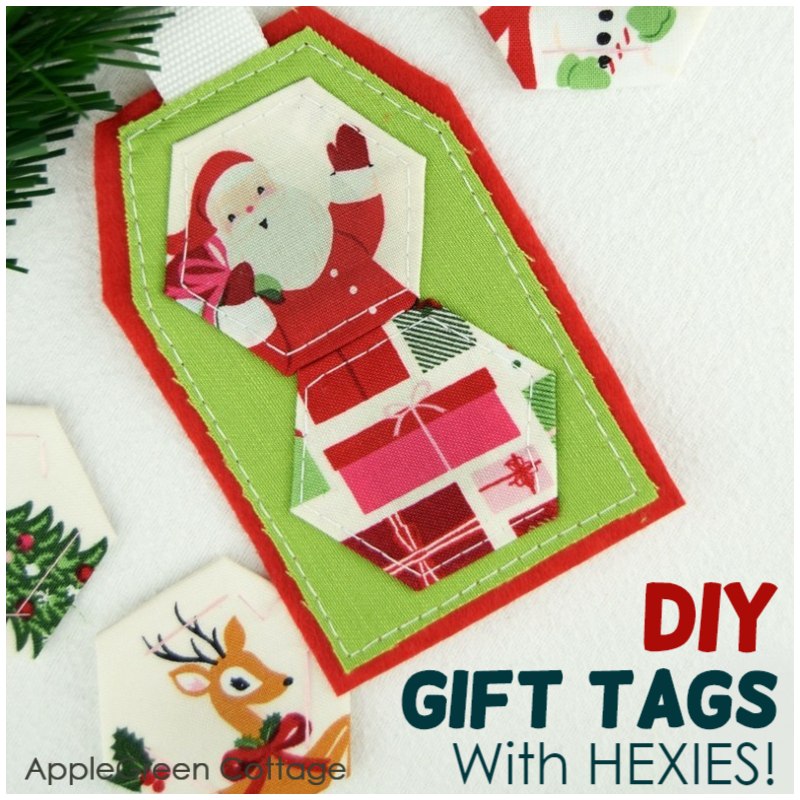 Looking to make easy and beautiful gift tags to use all season long, and probably later too? I'm here to help you! I've had a little gifting obsession lately (and the holiday season is by far not over yet!) so I might have made more diy gift tags I'll need this and probably next Christmas.
So if you are willing to take a chance - mind you, you will never again be able to resist a hexie! - give these hexie tags a try. Scroll down, I've got a free template for you, as well as all the how-to steps you need to see how to make gift tags for all the holidays, birthdays, and special occasions.
Also check out these other gift tag templates and tutorials, so you can mix and match your own gift tags:
Now, back to the hexie gift tags - follow the steps below or save the project for later - use this link or the image below, so you don't need to search next time you're in a creative mood!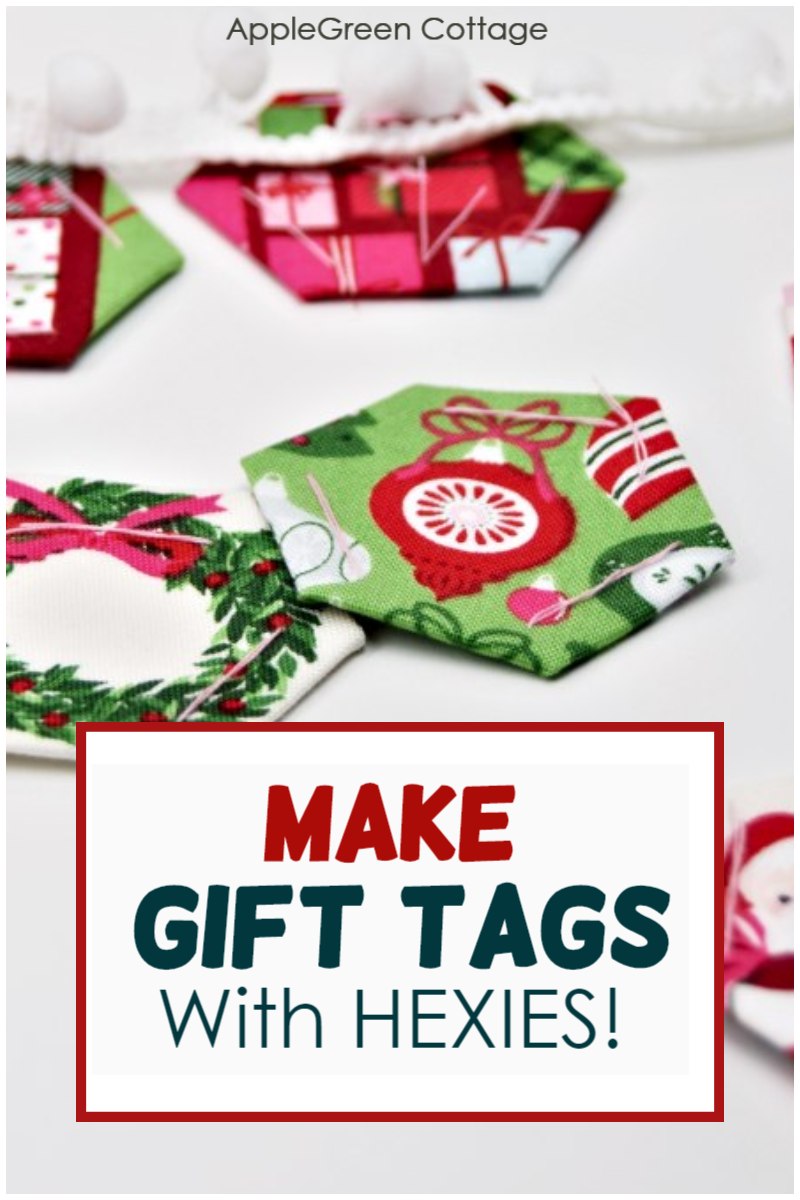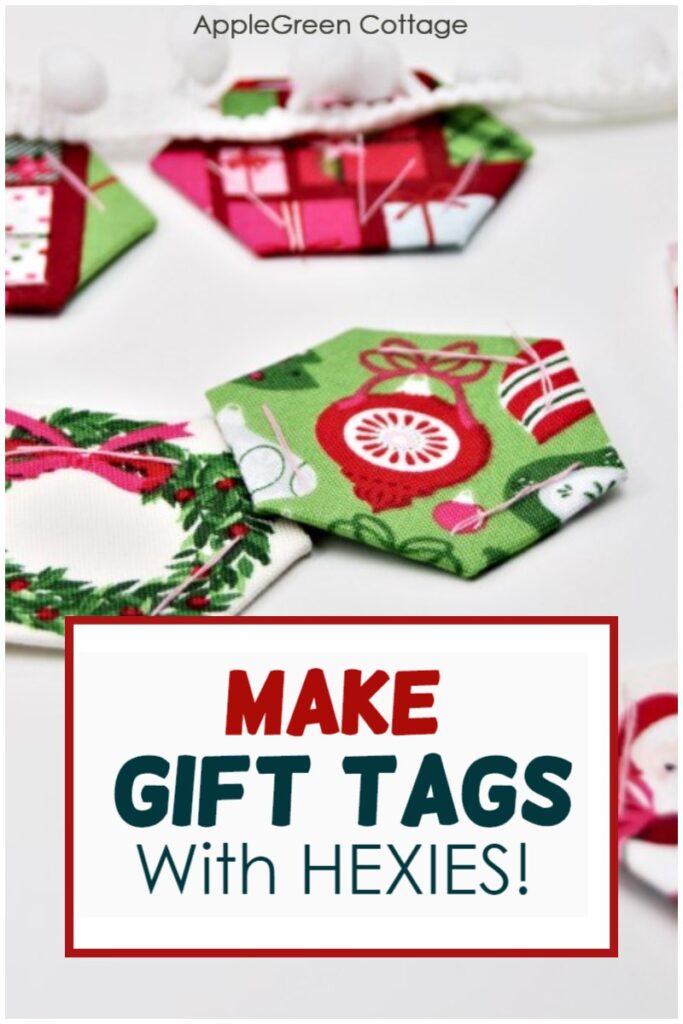 Get the free printable gift tag templates from my shop for FREE - But there's more, you also get the ENTIRE Homemade Holidays – Free Pattern Bundle from the shop for free – you'll be able to use all the patterns in there once I've published all the free tutorials that I have planned - more coming! Make sure you don't miss out on any.
UPDATE: MORE templates to be ADDED to the Homemade Holiday FREE Pattern Bundle!- Join our mailing list here, so you don't miss out on any new tutorials!
When I have more, I'll add photos + notify you in our newsletter. Happy crafting!
ALREADY OWN THE FREE HOLIDAY BUNDLE? To get the latest version (with the added templates) just visit the shop HERE and re-download the updated PDF file.
These diy gift tags are easy and quick to make, reusable, and great scrap busters. Also, you can simply make a garland out of these diy christmas tags and hang them over the mantle. So pretty!
Diy Gift tags with hexies
These diy Christmas gift tags are super fun to sew, can be personalized and they only require basic sewing skills. And with the free template, they are even easier to make.
Supplies:
fabric scrap pieces
felt scraps
2" ribbon trim for hanging loop
bits of sewing tape
matching thread, scissors, sewing machine
free HEXIES template - see below for tutorial + templates
Free printable gift tag template - download and print page 16 from my new Homemade Christmas Patterns Bundle - it's FREE for all and contains more than 10 free Christmas sewing patterns. All made for you! Here.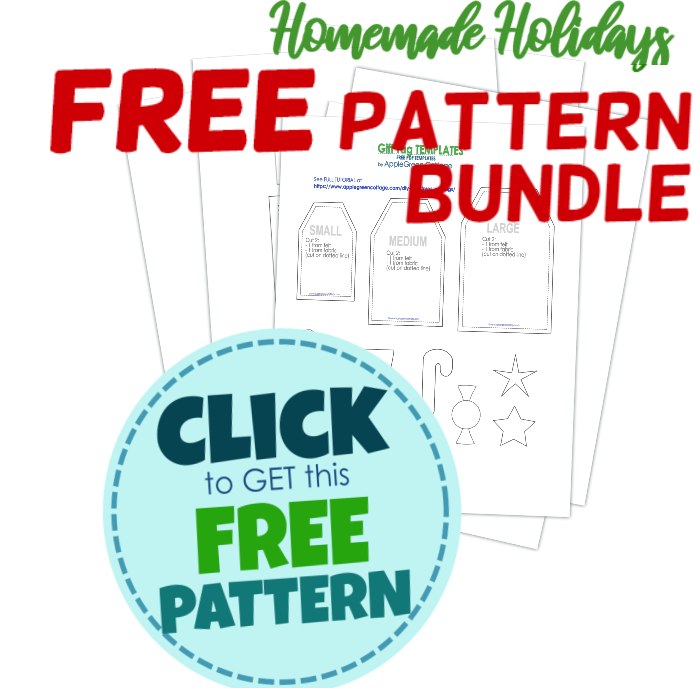 How To make gift tags With hexies - Tutorial
Here's how to make these lovely diy hexie gift tags:
Step 1 - Print the template (page 16)
Download and print out page 16 from the Free Homemade Holiday Bundle. There are three sizes of gift tag templates, I chose the large gift tag size for this tutorial. Cut out the template.
Step 2 - Cut the gift tag main pieces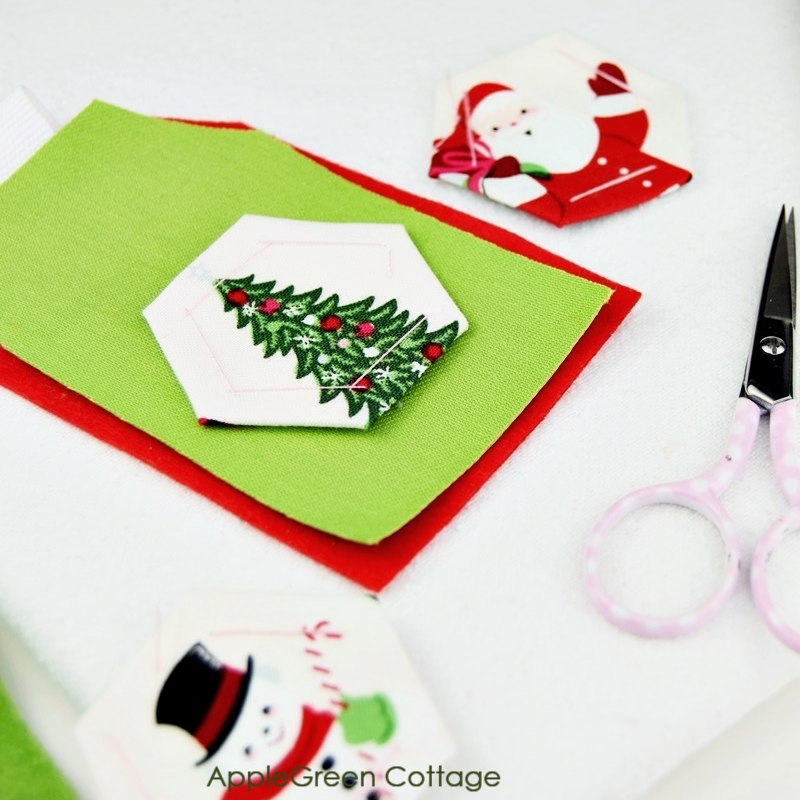 From the template, cut one piece of felt and one piece of fabric in one fo the desired sizes, there are three. Make sure to cut the fabric on the dotted line. Felt will be the backing layer and is slightly larger, and the slightly smaller piece of fabric will be the front layer.
Step 3 - Create Your Hexies!
Use my English paper piecing tutorial to make hexies - easy and quick, especially with the free hexie templates I made for you to print out. Make sure to get them now!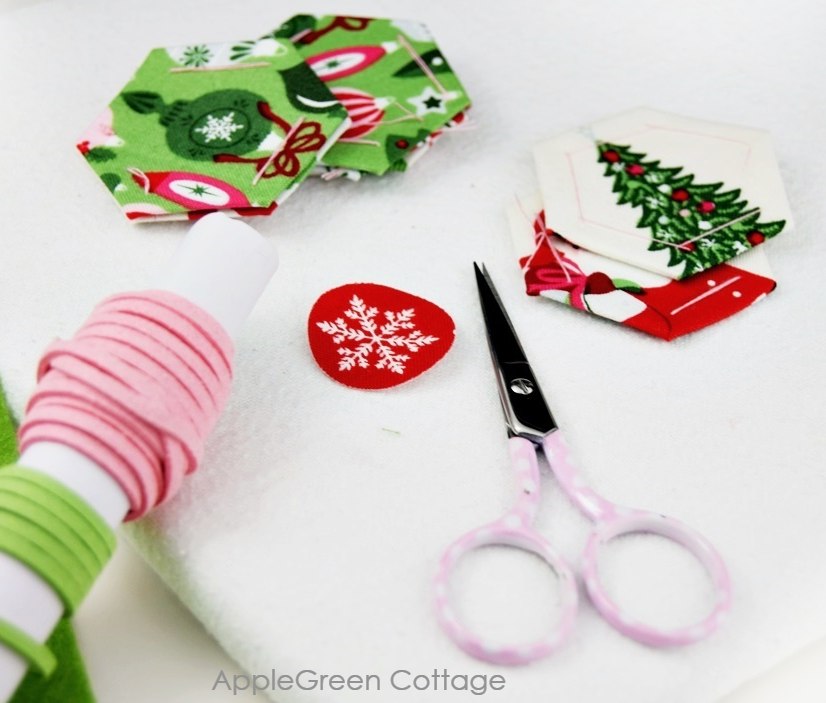 I sometimes baste a bunch of hexies and keep them in a folder, nice and flat, so I can use them any time as an extra touch to a project. Just placing a few hexies on a zipper case can do magic in transforming it into a unique piece of handmade gift! Hexie basting tutorial here.
Step 4 - Attach hexies To the Fabric TAG PIECE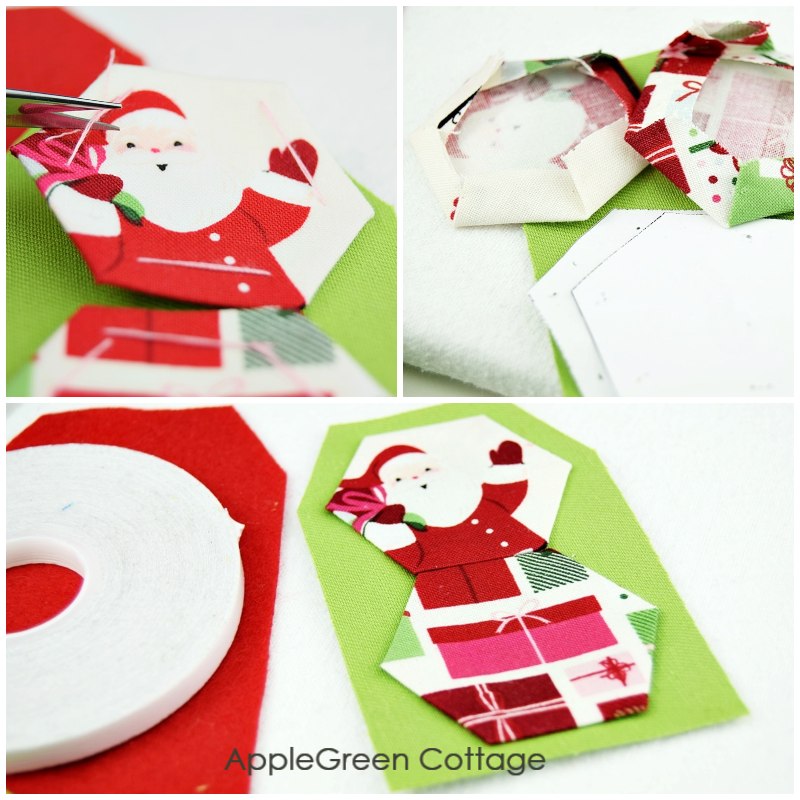 Remove the thread and then paper from your hexie (one or two, depends on how many you decide to use on a gift tag) and tape the hexie on the fabric tag you cut before, in step 2 (i.e. on the fabric piece, not the felt backing piece).
I used the large size template and two hexies (one-inch hexies) were just right.
STEP 5 - Topstitch around the Hexies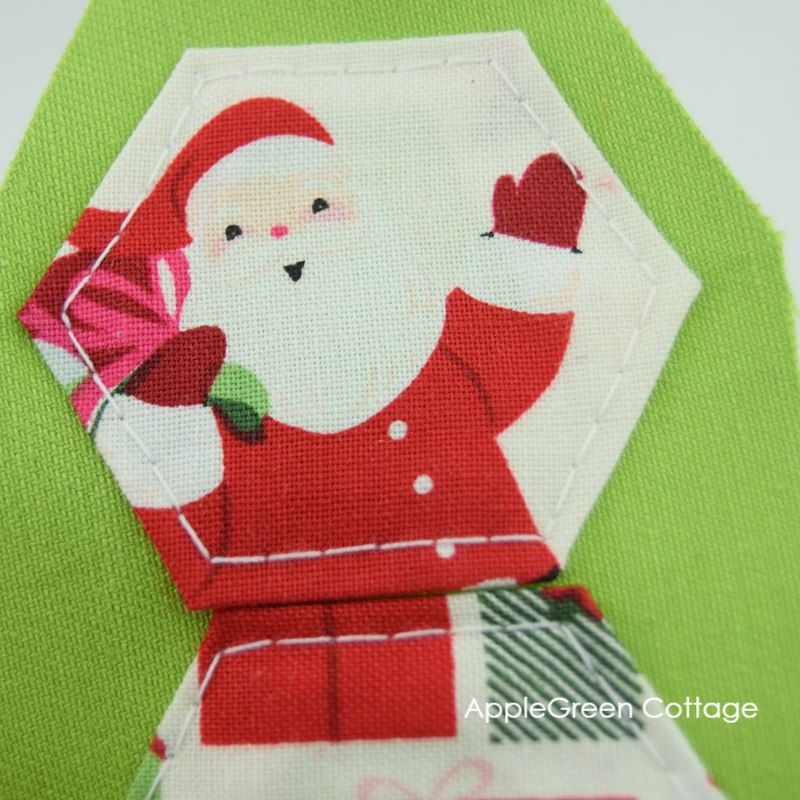 Topstitch the hexagons in place. I just machine-stitched. No English paper piecing required here.
Step 6 - Attach the hanging loop and join 2 main layers
Last thing to do: place the fabric template piece on the felt backing piece - the felt is slightly larger, and stick the hanging loop between the two layers at the top edge. Then either glue or stitch around the fabric to finish the tag.
If you're looking for more holiday projects, these are popular right now:
Make sure to save the project so you can use the free templates when you need them: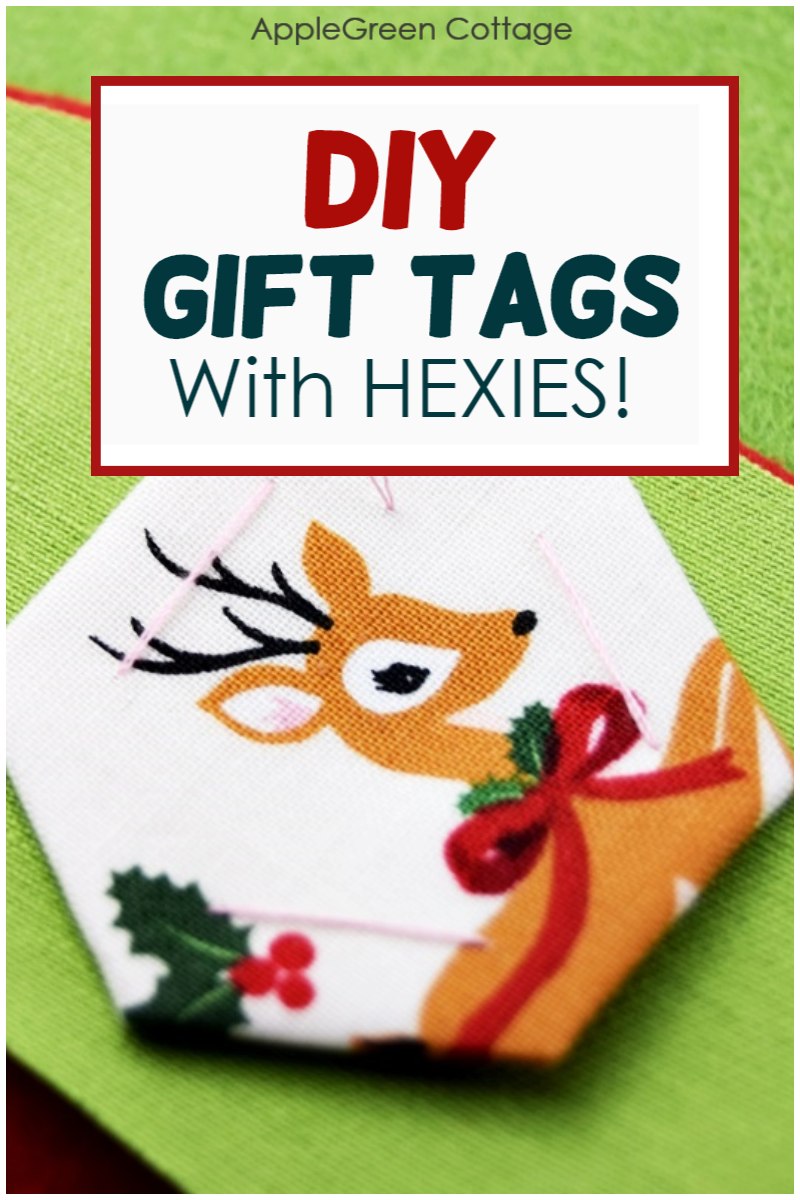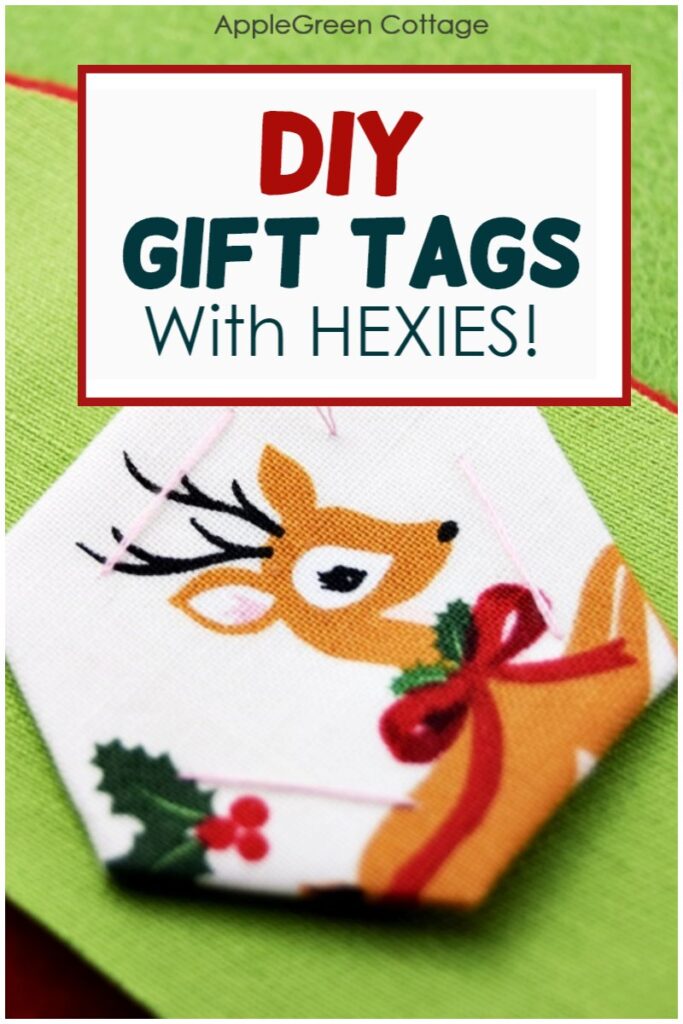 Both the hexie templates and the 3-sized gift tag templates are FREE, and part of the FREE Homemade Holidays Series – Free Pattern Bundle from the shop – you'll be able to use all the patterns in there once I've published all the free tutorials that I have planned - more coming! Make sure you don't miss out on any!
Included: Gift card holder template, Origami Christmas ornament, Mitten ornament, Santa Hat Ornament, Christmas Tree Ornament (2 versions), Diy Bauble Christmas Ornaments, Diy Felt Ornaments, Diy Candy Ornaments, Poinsettia Ornament, Ornament Hat (2 versions) - and that's not the end of the list yet, I'll be back with even more new tutorials, and holiday decor projects (like this adorable diy advent calendar!). Happy holiday crafting!
WANT MORE FREE TUTORIALS AND GOODIES?
Get email updates and never miss out on new patterns, printables, and tutorials:
Or …check out the gift bag pattern in 6 sizes in our shop - a super easy no-corner-boxing sewing project. Reusable gift bags for all your future gifts!