Use this free pattern for a mini Christmas stocking to make a cute diy Christmas garland. Perfect diy holiday decor, and you can use it with my other, full-sized free Christmas stocking pattern I posted a while ago!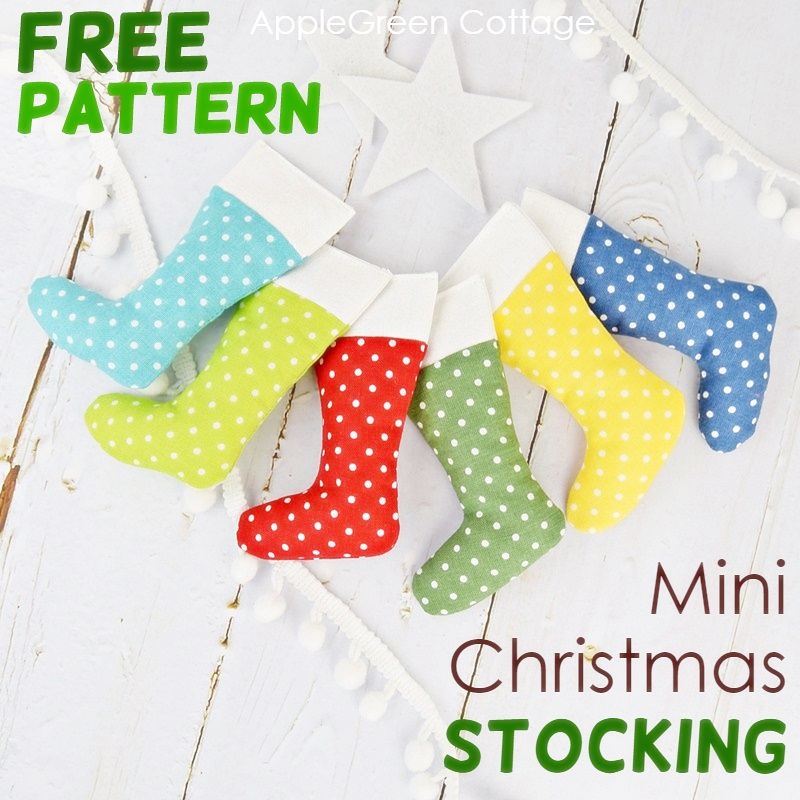 This post contains affiliate links. Thanks for your support.
This mini Christmas stocking is great for decorating your holiday tree. You can either use them separately as tree ornaments, or make a diy Christmas garland out of them. Even better, make both and then add matching full-sized diy stockings to complete your holiday home decor and use year after year! You can use my free full-sized Christmas stocking pattern for that, it's being downloaded a lot these days! Also, make sure to match it to your Christmas tree skirt (which you can DIY too using one of these 40 free tree skirt patterns!)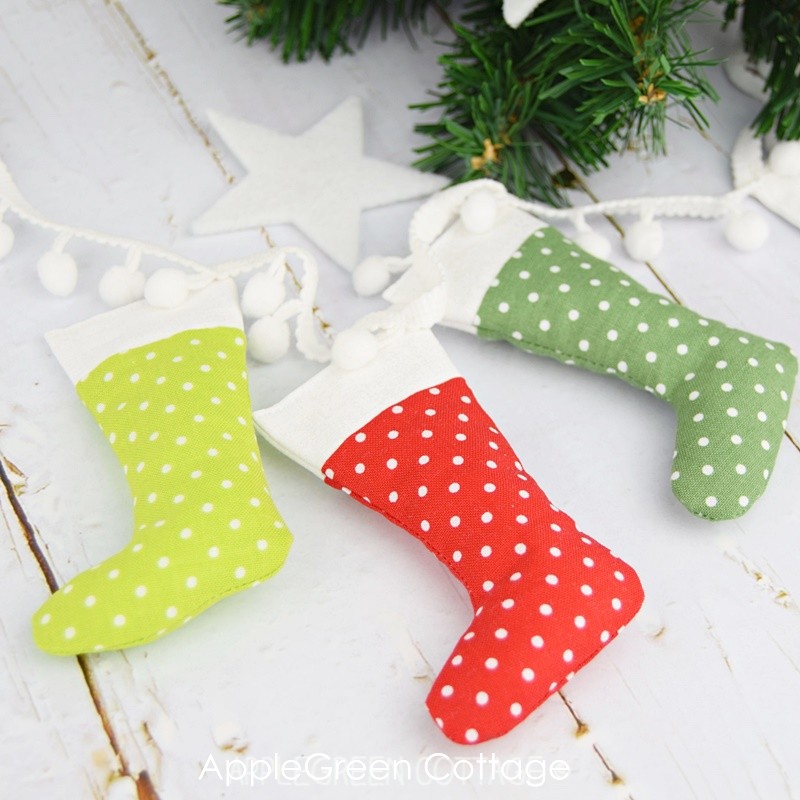 I love the holiday season! The best part of it? the easy crafty sewing projects that can be done by a sewing novice and are perfect for a sewing session with kids.Despite the excitement, I just realized I've been using nothing but the red and the white thread for a whole month in my sewing machine. So, time for a little change, and an extra colorful project this time! Are you with me? Let's paint the holidays in all the colors!!!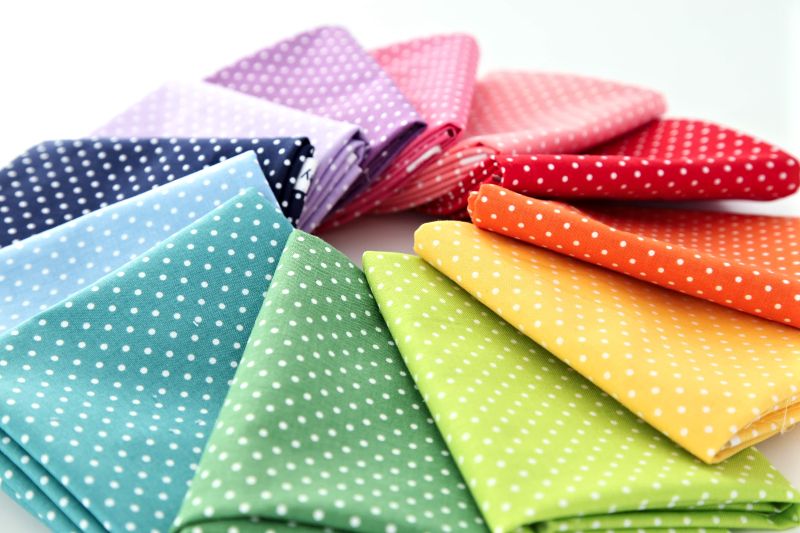 Welcome the rainbow holiday garland. Not just all the colors, it's polka dots! How crazy cute is that! I used the Swiss Dot collection, courtesy of @rileyblakedesigns, and had so much fun creating these little stockings!
Mini Christmas Stocking
First, check out this quick slideshow to get an overview of the project:
Next comes the supplies list and then a photo tutorial for the mini Christmas stocking and the garland, with step-by-step instructions. Happy sewing!
If you like diy holiday decorations, check out these, too - fresh new and they come with FREE patterns:
Sign up for my newsletter HERE to get ALL the future tutorials from the Homemade Holidays series to your inbox.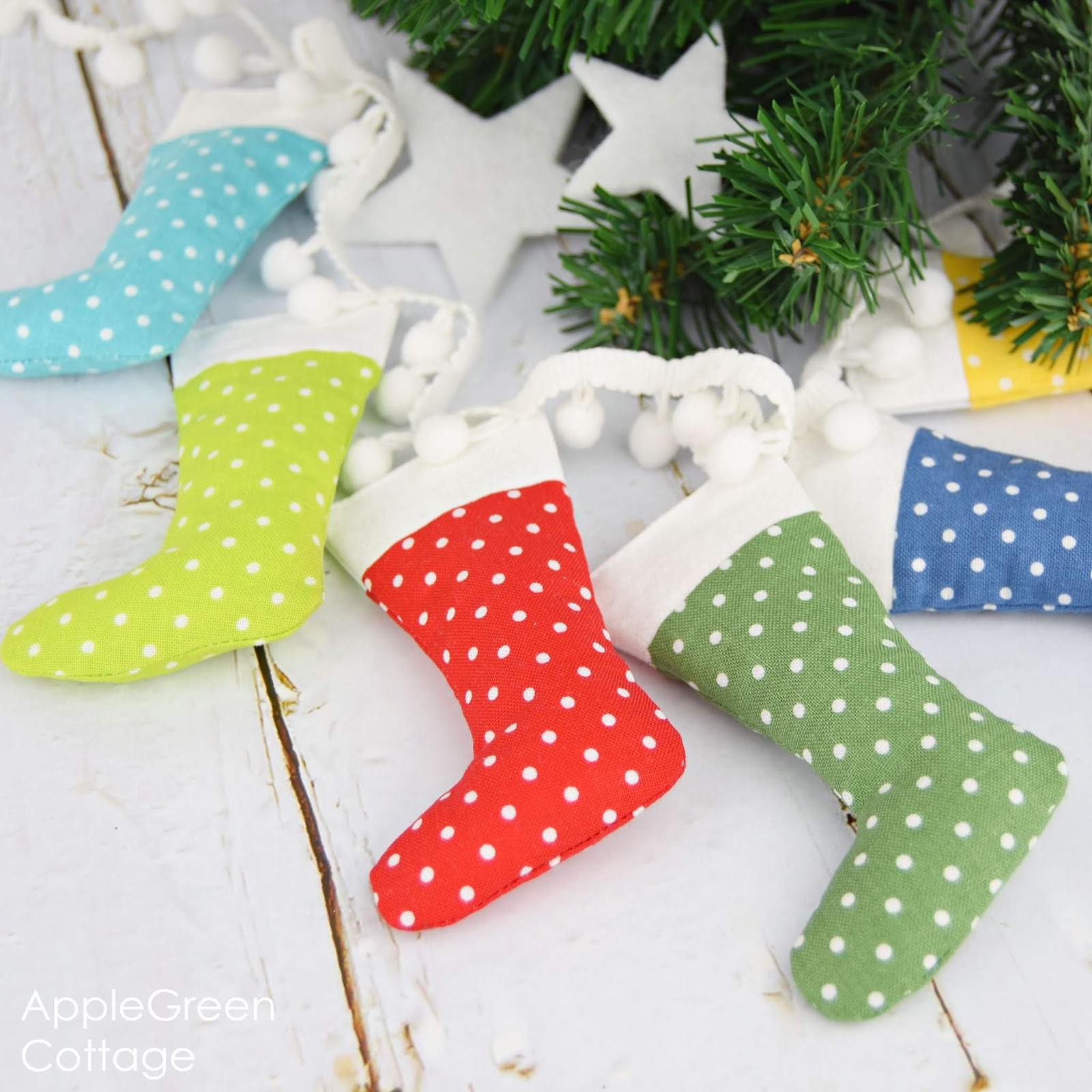 UPDATE: MORE templates to be ADDED to the Homemade Holiday FREE Pattern Bundle!- Join our mailing list here, so you don't miss out on any new tutorials!
Supplies:
Also, don't' forget to sign up for my newsletter HERE to get ALL the future tutorials from the Homemade Holidays series to your inbox. (I'm publishing them all in October-November)
How To Make Diy Christmas Garland - Steps
Step 1 - Print out the mini stocking ornament pattern
Print out page 15 in the PDF file of the Homemade Holidays Pattern Bundle.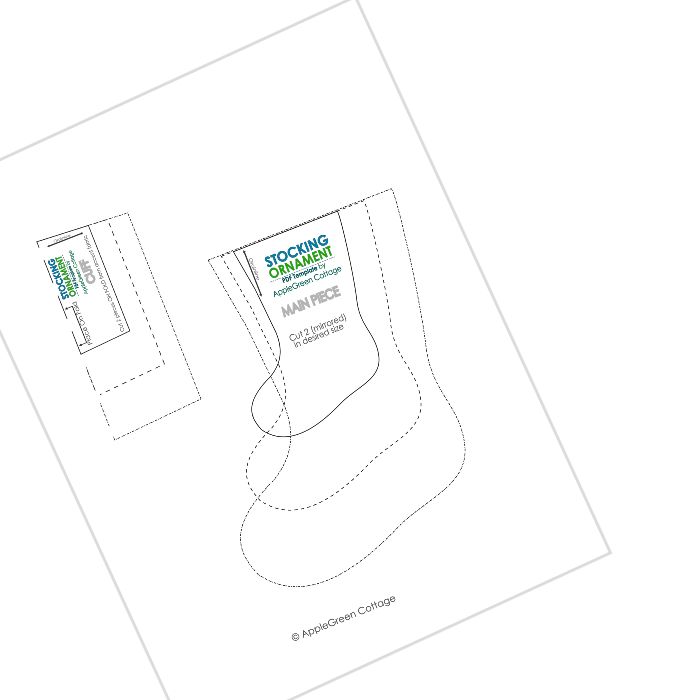 Step 2 - Cut the pieces
Decide on the size you want for your DIY stocking ornament and use the template to cut the pieces. Cut the 2 CUFF pieces on the fold. Also, make sure to cut the 2 main pieces mirrored. The easiest way to cut the pieces mirrored is to fold the fabric and cut the piece from 2 layers.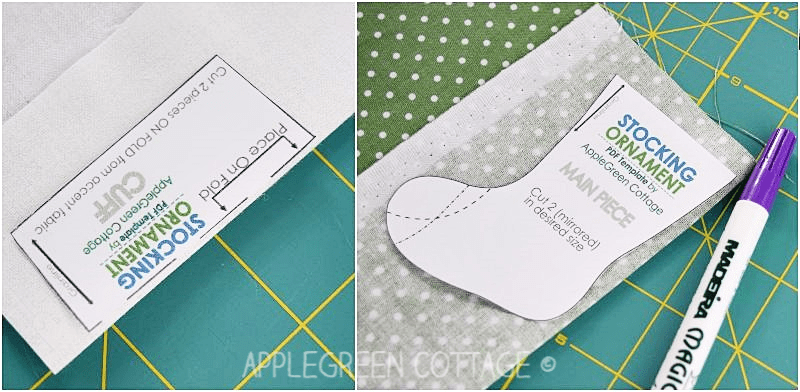 Once cut, this is what you should have: two identical cuffs and  two mirrored polka-dot mini stocking pieces: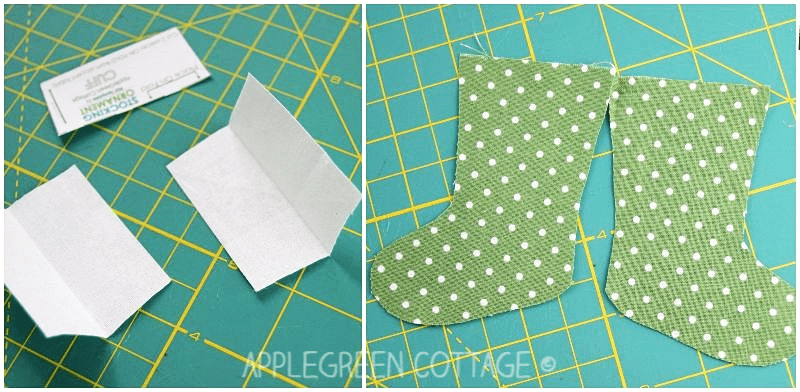 Step 3 - Attach the cuff to the main stocking piece
Create a crease in the center so it WON'T lay flat. This is how I do it:
With the cuff folded, align the raw edges with the top edge of the boot piece. Stitch, using a small seam allowance. I used a ¼" (6 mm) seam allowance.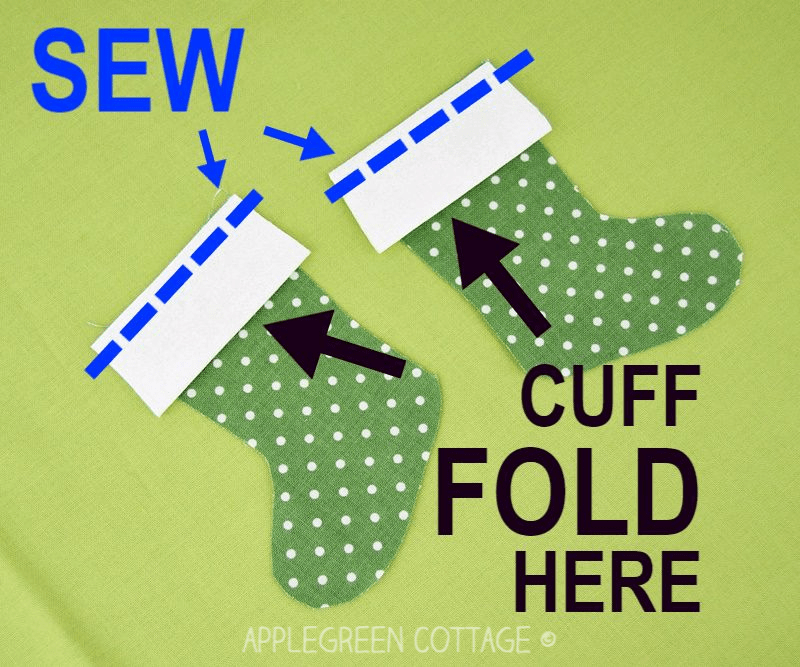 Step 4 - Stitch the two stocking parts together
Unfold the sewn cuff and press the seam allowance towards the bottom of the stocking. Then place the pieces right sides together and stitch, using a ¼" (6mm) seam allowance. Go slowly and move patiently through the curves.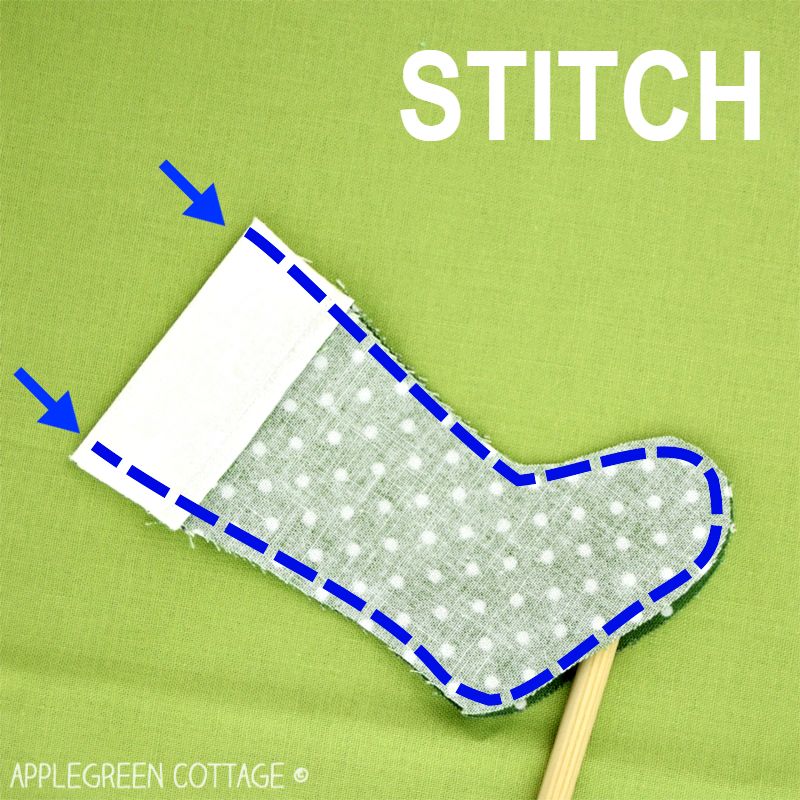 Step 5 - Trim and notch the seam allowance
Notch and clip the curved portions of the seam allowance for easier turning.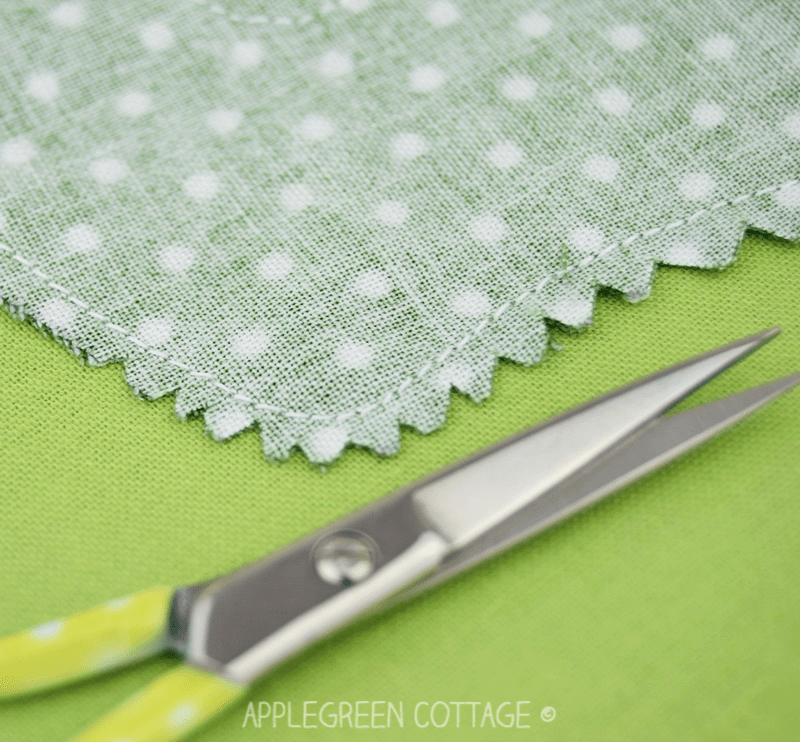 Step 6 - Turn right side out and fill
Using a point turner tool or a simple chopstick, gently turn right side out, then add some poly-fill. Don't stuff the stocking stiff, less is better. It's just meant to give the stocking a bit of thickness. I even leave the cuff part empty for easier sewing. Stitch the top close. you can do that on a machine (I used a shorter stitch length) or simply hand stitch using a ladder stitch or a whip stitch (like I did in this cute mitten ornament tutorial.)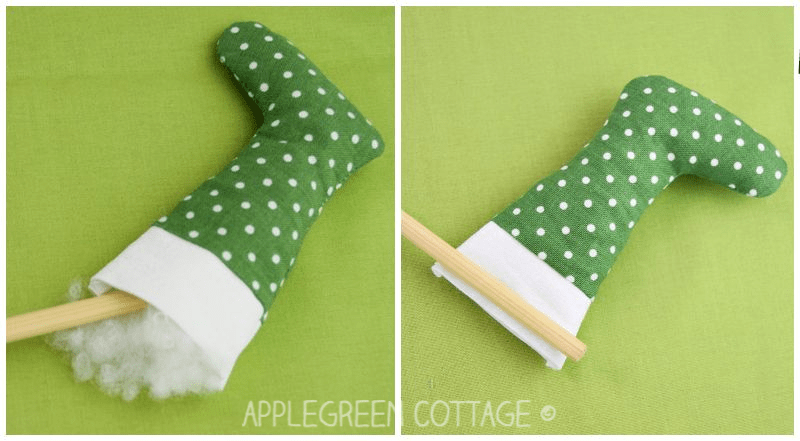 Step 7 - Attach to a piece of pompom trim
Stitch a few more stockings in the same size, attach them to twine or ribbon, or pompom trim like I did. A wonderful diy Christmas garland!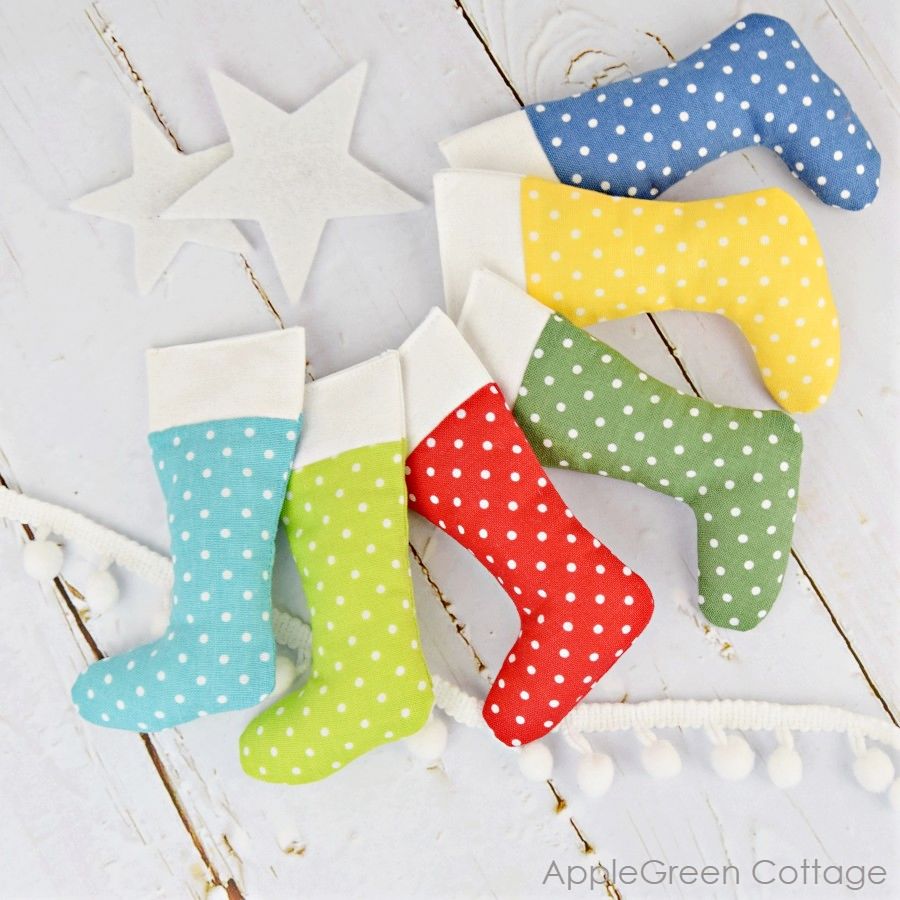 Once you've finished sewing, move on to the next little sewing project - sew a few of these cute diy mitten ornaments. A perfect combination and you can even do them in matching colors to create a baby's first holiday ornament set!
And if you're looking for even more holiday patterns, these are super popular right now:
And check out what other talented bloggers created for Christmas: I've rounded up a bunch of Christmas stocking tutorials for you - and they are all free! ❤️ Make sure to save the project so you can use all the free templates from the series when you need them: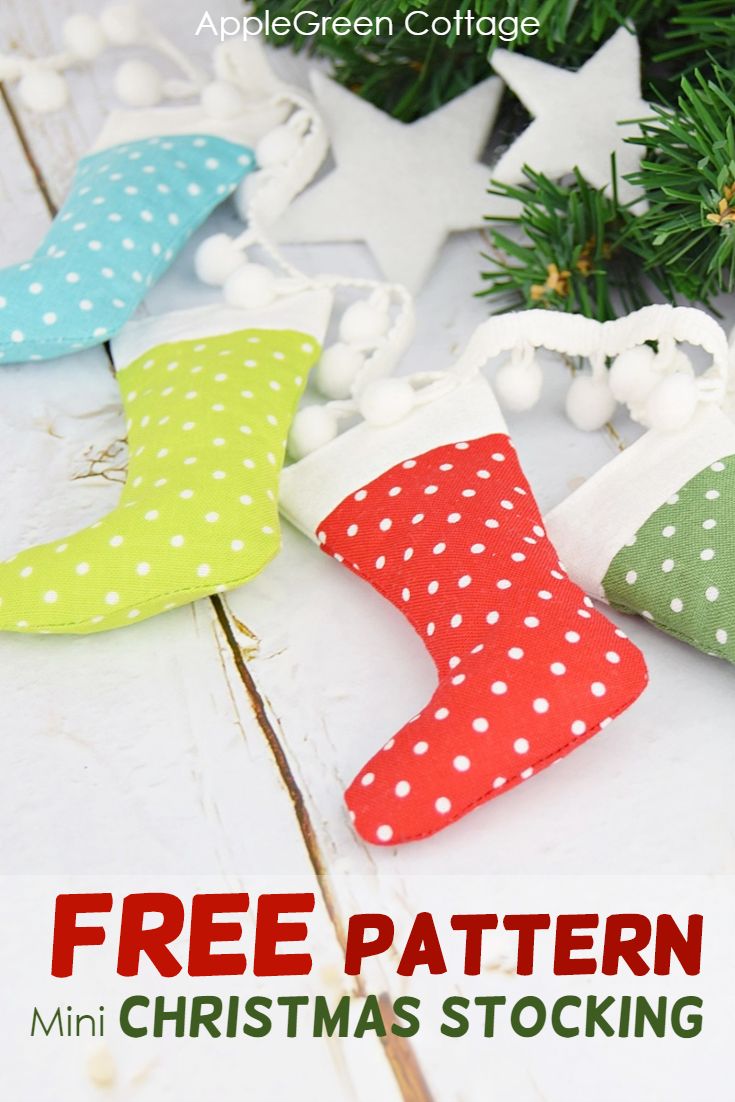 And make sure to download the FREE Homemade Holidays - Free Pattern Bundle from the shop for FREE (no coupon required.) - you'll be able to use all the patterns in there once I've published all the free tutorials that I have planned - all in a few days' time.
I'll be back soon with even more new tutorials, make sure to subscribe to my newsletter HERE so you don't miss out on the new stuff! - Edit: while waiting, check out this cute diy hat ornament.
WANT MORE FREE TUTORIALS AND GOODIES?
Get email updates and never miss out on new patterns, printables, and tutorials:
Or …check out the gift bag pattern in 6 sizes in our shop - a super easy no-corner-boxing sewing project. Reusable gift bags for all your future gifts!