Wrapping and decorating gifts doesn't have to cost you a fortune - nor a lot of time. Here are our best time-saving and frugal gift-wrapping tips will help you get it done faster, and more efficiently. Create beautiful presents without breaking the bank.
Get ideas on how to wrap a gift and check out our 6 best gift-wrapping tips (including fabric gift-wrapping!) that will save you a lot of time.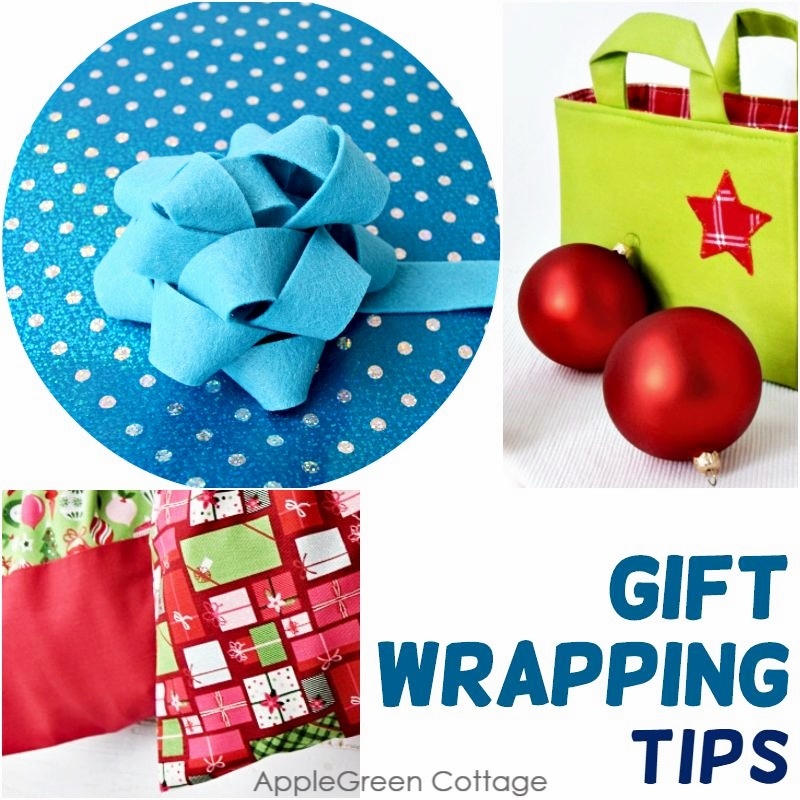 This post contains affiliate links. Thanks for your support! Also, check out these holiday diy projects:
6 Smart Gift Wrapping Tips
Are you always late for parties? Leaving your home at the last possible moment just because you were actually ready to go, except for - realizing you still hadn't wrapped your gift? So you're just like me. Let me show you what tricks I use to make last-minute gift wrapping quick and easy.
1 - Use gift TAGS
I put tags on my Christmas and New Year's gifts, for practical reasons, since I don't want to accidentally mix up the gifts when there are many.
So, if you are crazy about gift tags, make some in advance, use my free gift tag templates in 3 sizes from the FREE Handmade Holiday Series to make adorable hexie gift tags, or these other playful diy gift tags. The template is free, and both ideas are super easy!
A Super Quick solution - these free printable gift tags
Or, to make them even faster, have them printed out. You can get several cute and free printable gift tags here if you want them: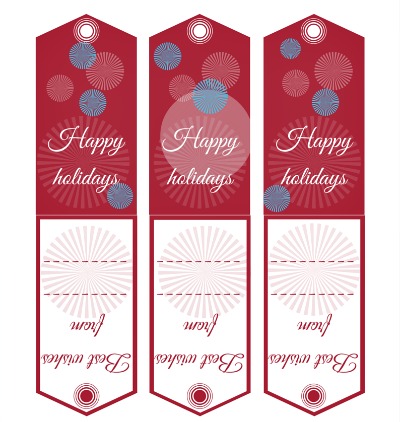 I made these gift tags specifically for New Year and Christmas. Feel free to use as many as you need, I made these free templates for you!
2 - Use decoration in Place of wrapping paper
Avoid the hassle of carefully and slowly encasing a present into wrapping paper: I often cheat by just using decoration instead, like here: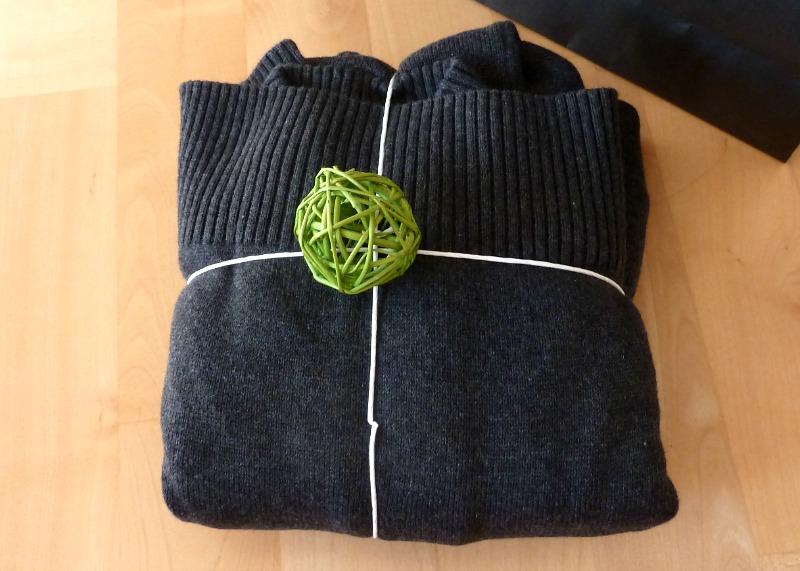 I used decorative twine - it often depends on the style, but in fact any will do. While you're at it, grab another decorative item, add it while tying the rope and you're good to go.
Make Your Own Diy Gift Toppers - In Advance!
You can make decorations for your gifts in advance by yourself, like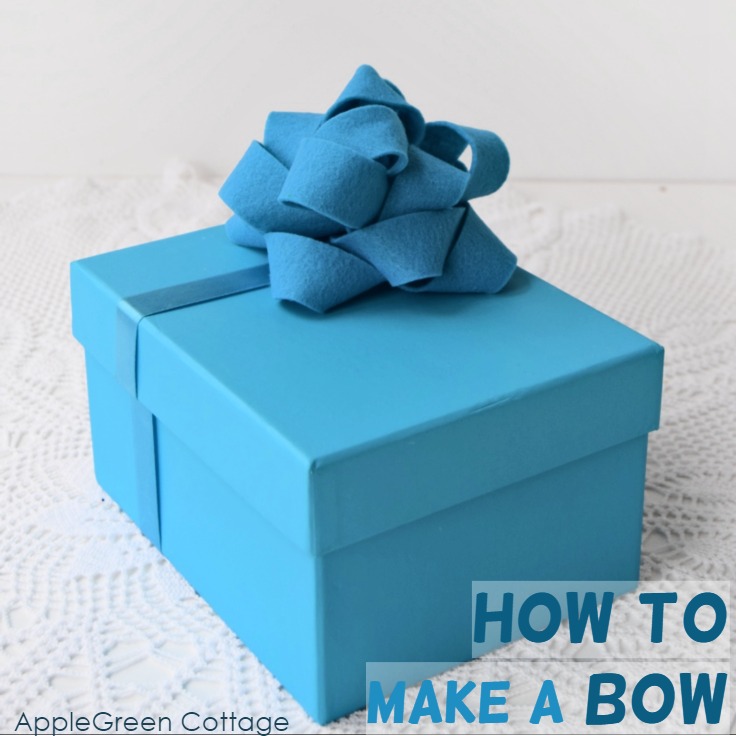 I keep my diy gift toppers in an upcycled box that is just perfect to store diy decorations (some call it hoarding, but it's creative storage, actually :))
BONUS HINT: Stock up on gift wrap materials after the holidays, when prices are down. You'll save money.
3 - Keep gift bags in stock
Ok, this one looks like a no-brainer, but you'll need to think in advance: you should make sure you've got a stack of gift bags ready... You might want to buy them or make them yourself. Here's how a plain black purchased gift bag saved the day: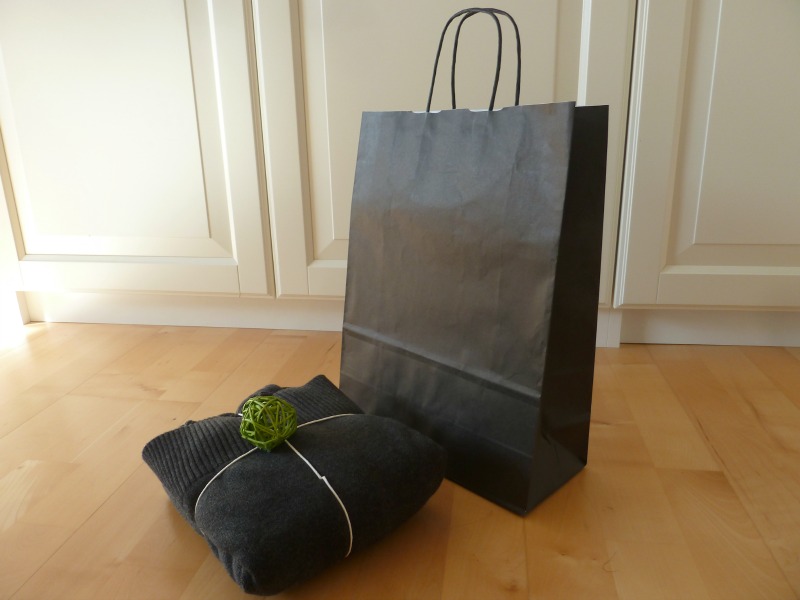 This one in the photo was purchased, but honestly, I feel happiest when I have a few of DIY gift bags on stock. Did you know you can make a gift bag yourself? Read on!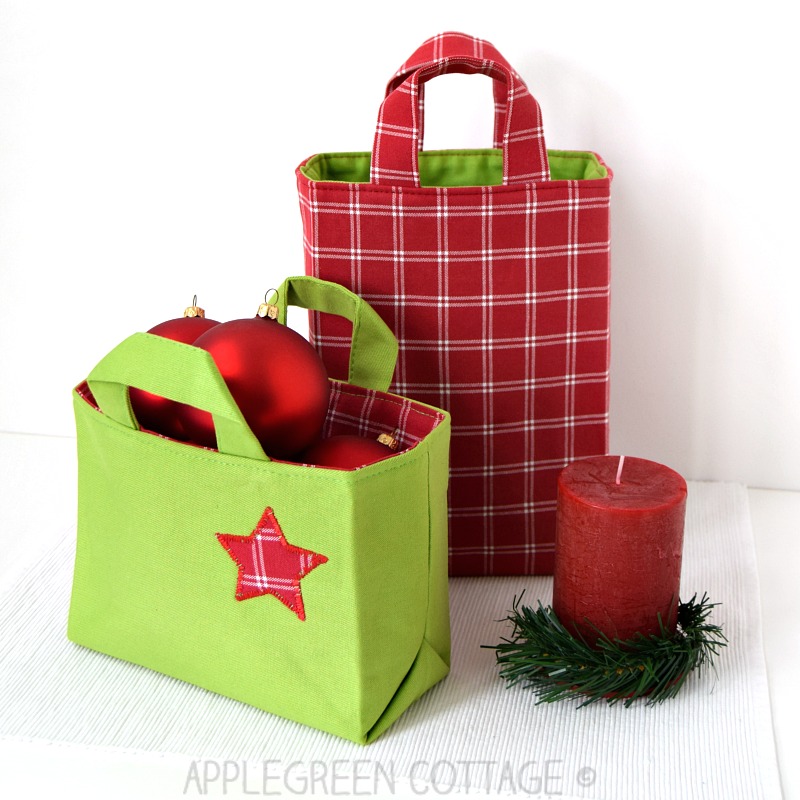 Why not make your own, beautiful DIY gift bags? It's easy and quick - and the boxed corners are made the EASY way! (The best sewing hack ever!) And yes, totally BEGINNER-friendly!
This gift bag pattern comes in 6 variations, perfect to hold all your Christmas gifts. The PDF pattern has detailed step-by-step instructions with lots of photos, tips to make your project easy and fun. Make tons of them, fold them and save them - and you're safe for the entire holiday season! (Even a great Christmas stocking alternative!)
5 - Diy Drawstring bags Are So Useful!
You can make your own drawstring bags to put presents in. You know, just open it, tuck the present in, pull the string, DONE. I love drawstring bags. They take no time to gift wrap!
I made them some time ago and showed it here, too. I still remember, I made them in no time. Fast, easy and no tiresome measuring needed. They are perfect for me, and here's a post about probably my first batch of diy drawstring bags I made to store my gifts in.
And here's an easy tutorial I made later, for super quick drawstring gift bags:
But remember: it's best you get or make many of them at once and store these bags for future use. I keep them in a box, nicely stacked together, the largest at the bottom and the tiniest at the top of the box. Yes, I made them in various sizes, not bothering about the exact measures. Also presents are never of the same size, are they?
6 - Closing the gift bag: make it simple
Clothespins, washi tape or ribbon will secure the bags shut in no time. I use ribbon. All. The.Time. It's quick and easy, even in a jar gift variants like here:

Bonus Tip #7 - involves fabric!
Any chance you've got a pile of unsewn fabric, taking up space in your closet? Free some space in there, and make a crafty friend happy - not just by getting them a gift but also by getting them new fabric to sew with.
An eco-friendly version of wrapping gifts into something you love plus can be entirely reused and does not get ruined (or tossed away) - yes, all that. That is, fabric gift wrap!
There are a gazillion ways to wrap a gift in fabric yardage, some complicated and some not, my favorites are two: one, using the fabric just like paper, wrapping it around the gift, and using ribbon to tie off.
Or, place the fabric diagonally, tucking two opposite raw corners inside and using the other two corners to tie off a double knot, done. It's close to a famous Japanese gift wrapping technique, the popular furoshiki gift wrapping.
Steps for fabric gift-wrapping:
Press the fabric.
Cut fabric several times the size of your gift/box (4)
Place the box diagonally on the fabric.
Fold one corner over the box, directed towards the opposite corner.
Fold the opposite corner in a few times to cover the raw edges.
Grab the two remaining opposite corners, twist each a little bit to make them easier to tie.
Tie them in a double knot at the top of the box/gift.
Pretty, and saves me time, too.
More tips On Fabric Gift Wrapping:
What type of fabric to use for gift-wrapping?
When it comes to fabric gift wrapping, choosing the right fabric is key: opt for lightweight fabrics such as cotton, silk, satin, or crepe, as they are easier to manipulate and will look more elegant. For furoshiki gift wrapping, double-face fabrics will work wonders.
How Much Extra Fabric Do I need to wrap a gift?
Always be generous when cutting fabric for wrapping gifts: leave enough to cover the entire gift and overlap on the underside, and some more. For furoshiki gift wrapping, a four-times gift box size is enough.
How To prevent fabric wrap from fraying?
Unlike paper, fabric can fray. Use pinking shares to prevent fraying. Hemming the edges on my sewing machine would work for me too, but it sometimes simply takes too much time.
What are other, less-known tips for fabric gift-wrapping?
1 - Use double-sided tape: To prevent the fabric from slipping, use double-sided tape to secure it in place. A hidden trick that makes a gift stand out, and the fabric fixed where it should be.
2 - Layer different fabrics: For a unique look, layer different fabrics on top of each other. For example, you can use a solid color fabric as a base and then add a printed fabric on top.
3 - Use fabric markers: If you want to personalize the fabric wrapping, use fabric markers to write a message or draw a design. Just make sure not to use an air-erasable fabric pen, it disappears too quickly.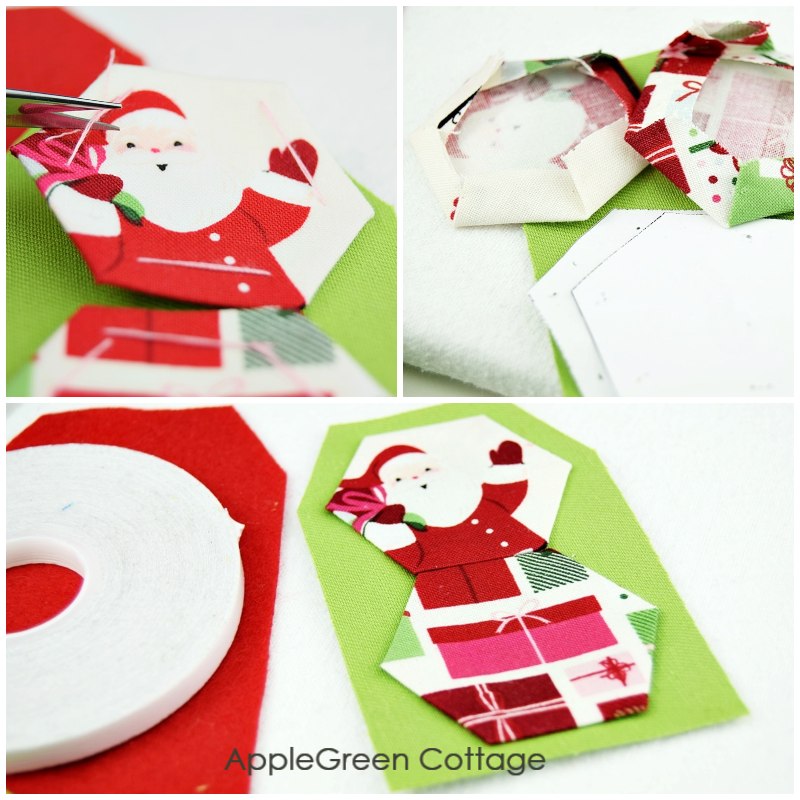 I hope you'll be able to use some of these tips on gift wrapping ideas to save time AND make gift wrapping fun and easy. Whether you're wrapping gifts for Christmas, birthdays, or any other occasion, these tips on gift wrapping are sure to come in handy. Also check out these ideas for Mother's Day! And happy gift-giving, of course!
WANT MORE FREE TUTORIALS AND GOODIES?
Get email updates and never miss out on new patterns, printables, and tutorials:
Or …check out the gift bag pattern in 6 sizes in our shop - a super easy no-corner-boxing sewing project. Reusable gift bags for all your future gifts!