Last minute diy Christmas gift you can whip up from what you already have - and the free printable gift tags you should download now!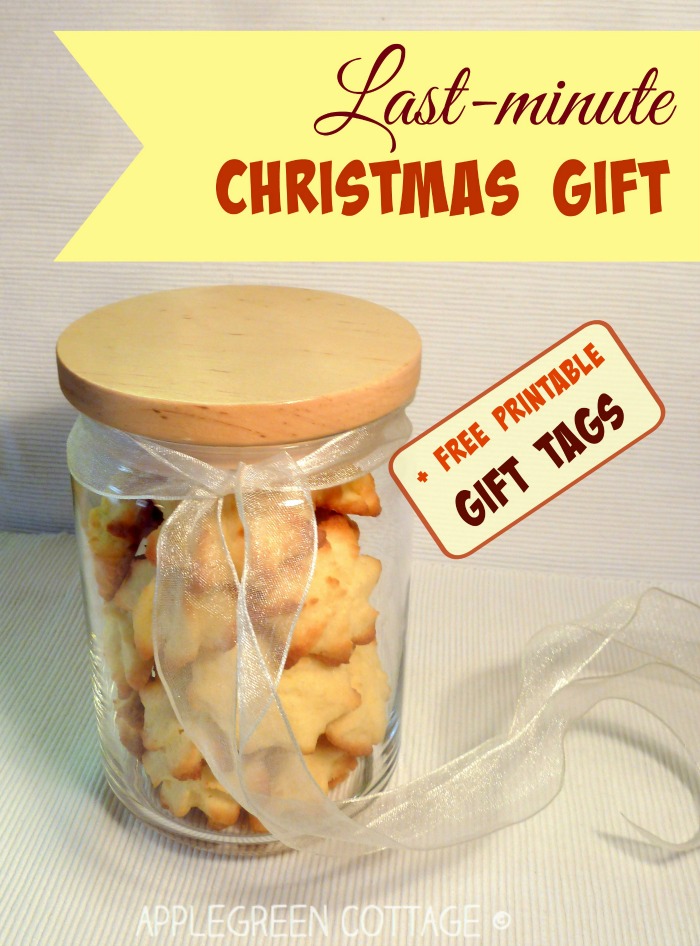 No gift-wrapping. No last-minute run to a nearly closed shop. Here's the idea for a personalized homemade Christmas gift - just in case you didn't have a chance to start sewing earlier and making a lot of diy Christmas gifts like these. You're not alone, and I find the idea below BRILLIANT - just because it's so simple. And there are free printable gift tags - for you.
If you are looking for more holiday projects, here are a few you'll love:
Easy Last-Minute Christmas Gift
Have you been invited to visit a friend or acquaintance you don't see on an every day basis - right before Christmas? Meaning you'll need to whip up a Christmassy-like gift in the last moment...But this year, it won't be stressful if you use this super simple idea!
To Make this last-minute DIy Christmas Gift, You'll need:
your homemade cookies
a glass jar with a lid
a satin ribbon
a gift tag - here0s where this post steps in.
Now, as for cookies: if you are at least a bit like me, then you will have baked so many cookies these days that there are at least a few boxes of them, still fresh but tucked away on a high shelf in your kitchen storage, just to prevent you from eating them all (may or may not have happened before to a certain someone;)

Now, get a nice transparent mason jar and fil it up with your cookies. If you need an idea for easy but delicious coconut Christmas cookies, feel free to copy mine 🙂. Use one type of cookies, or even a mix of different ones, whatever you think will look pretty. Close the jar and search for a nice satin ribbon (I love satin ribbons, don't you?)
Printable holiday Gift Tags
Then go to your printer and simply print out my FREE printable CHRISTMAS TAGS (For additional instructions, see below.)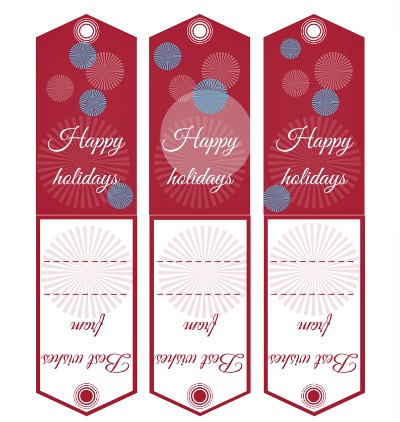 Or even better, print the holiday gift tags now and store them in your craft box (or drawer, or even craft room, if you're lucky ;). I made three varieties for your convenience, each on it separate piece of paper:
Merry Christmas (3 gift tags)
Happy new year (3 gift tags),
and the third set of three gift tags is more of a general nature (Happy holidays).
How to Download Printable Christmas Gift Tags
2) Then print them on cardstock paper in color.
3) Then cut out the tags using scissors.
4) Punch a hole with a hole punch at the place marked with the white circle on red background. (or red circle on white background, depends on the side of the tag you are looking at).
5) Slide through the ribbon and attach it to the jar. Done!
NOTE: If you want to, you can only use the deep red part of each tag if you printed on cardstock. However, as always in my tutorials, you can opt for the more inexpensive version: regular printer paper. In this case, I recommend using both sides of the tag. Just glue them together to form a more sturdy tag and prevent the see-through effect. You'll like it!
Really easy, inexpensive and fast. I hope both he idea and the free Christmas printable tags will save the day. See? Even last minute presents can be beautiful! And yummy 😉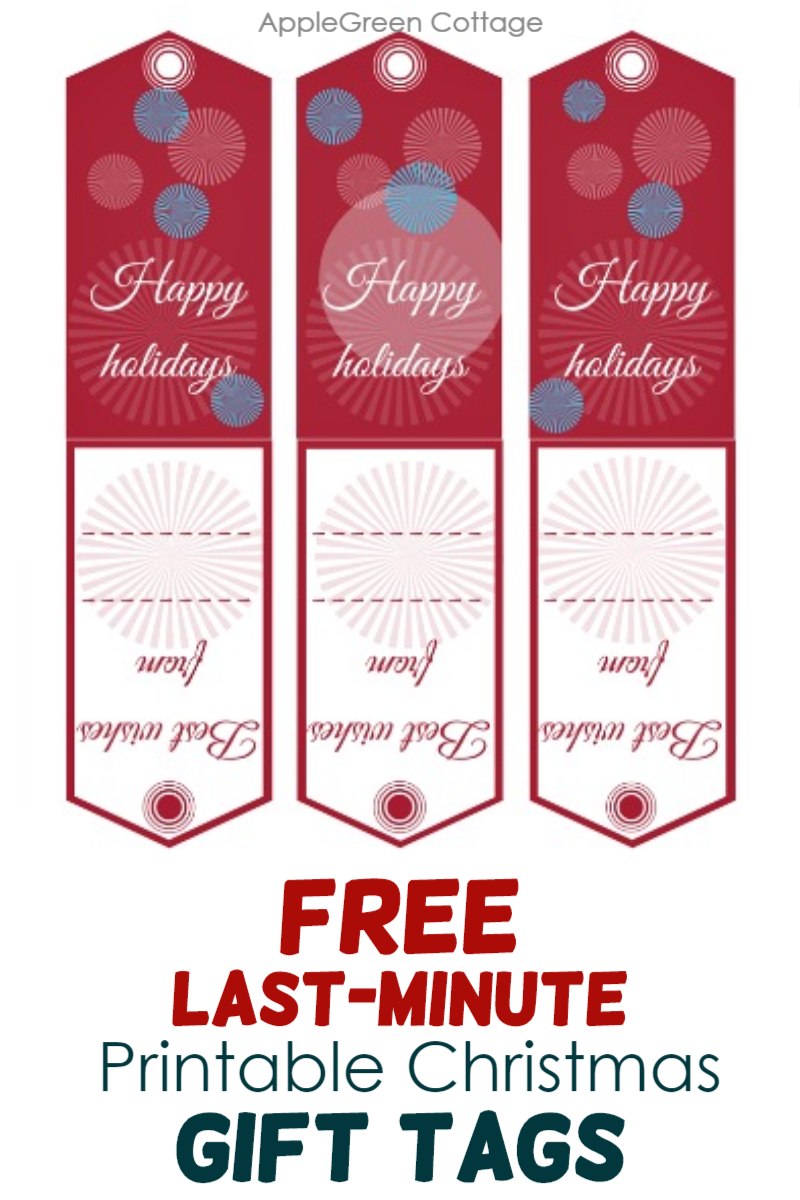 WANT MORE FREE TUTORIALS AND GOODIES?
Get email updates and never miss out on new patterns, printables, and tutorials:
Or …check out the gift bag pattern in 6 sizes in our shop - a super easy no-corner-boxing sewing project. Reusable gift bags for all your future gifts!