See how to make a drawstring bag. Use up your old scrap fabric and make these easy sew drawstring pouches - adding the sweet corner and casing details will make it unique - and it's so easy!! Scroll down for the free tutorial.
These drawstring bags are so practical for anything you can think of: diy treasure pouches, bags to store tiny items, school pouches for art accessories (like those crayons that never stay in the original box? Or sharpies scattered all around the school bag?) These are perfect to store produce from your garden, too! Oh, and please remind me to get me some calico to make bread bags.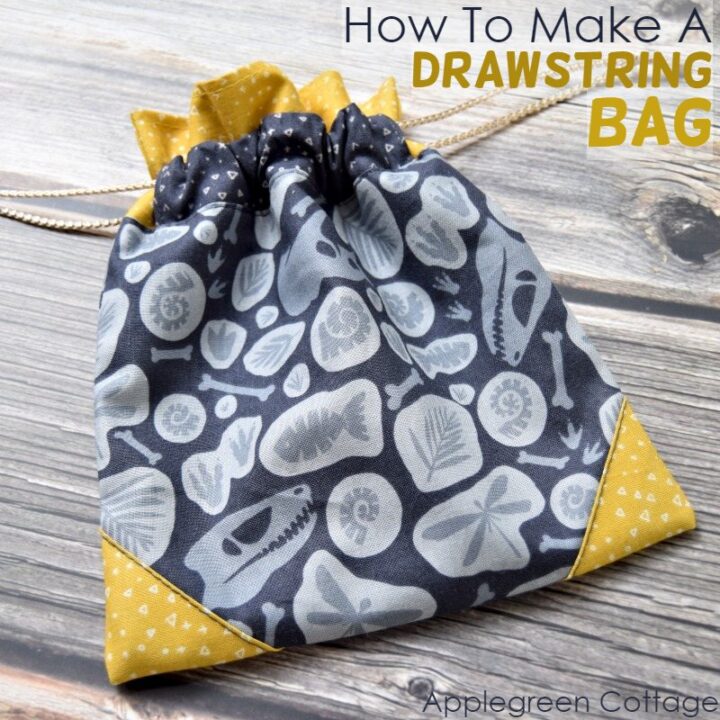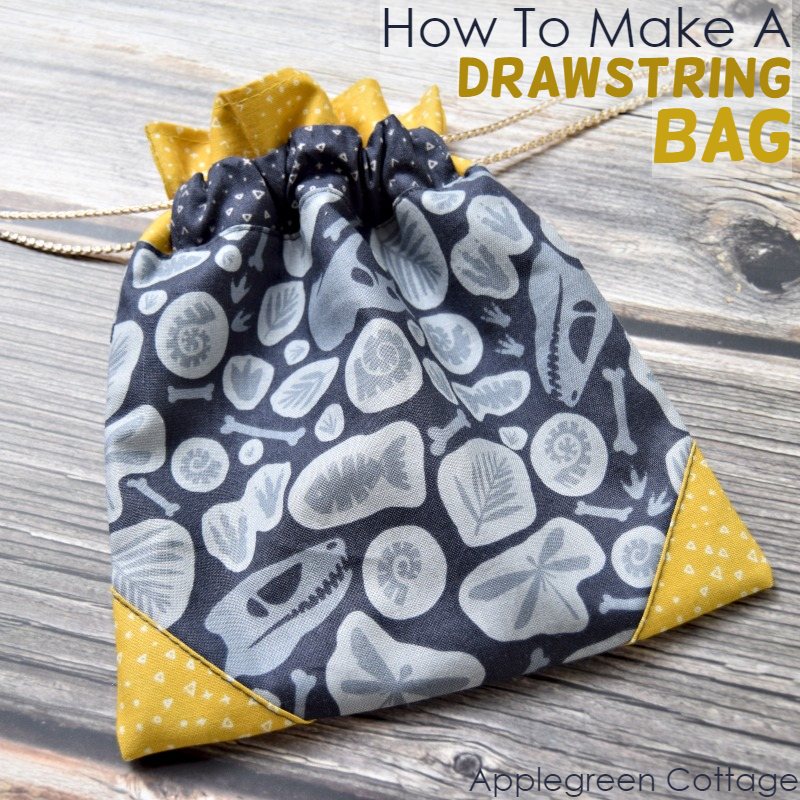 Do you want an ad-free, printable copy of this online tutorial? Find it here for just $3. You won't need to access the internet every time you want to make it. ------ Or get the BUNDLE with ALL the Printable Tutorials - current and future ones!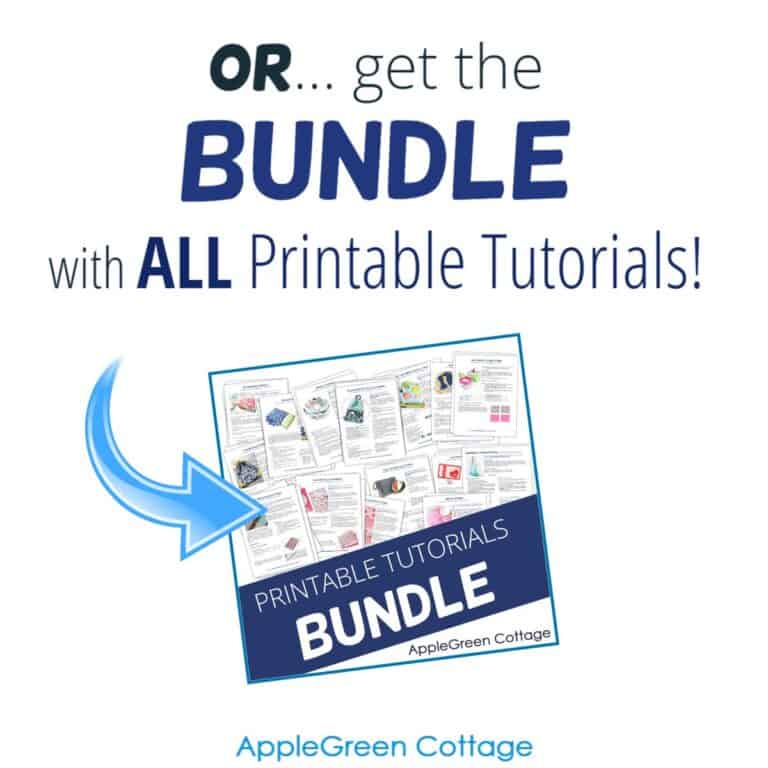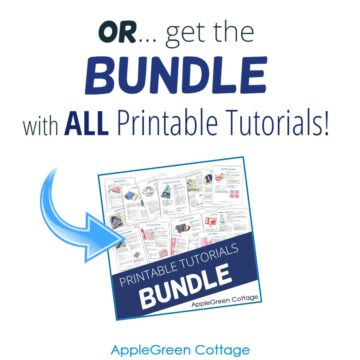 This post may contain affiliate links. Thanks for your support. Check out THESE tutorials for easy bags:
Why You'll Love this drawstring bag
Many people know how to make a simple drawstring bag. But this one is ... special. With the lovely corner accents, everybody will love them - and I made sure you can sew it even if you've never yet made a drawstring bag!
Check out a quick slide show for a few glimpses of these beautiful prints - and a bit on the drawstring bag how-to:
My kids were super happy when they caught a glimpse of my latest post package. They don't usually pay attention to my fabric, but hey, these were the dinosaur and fossil prints coming to our home! For this project, I had let my kids pick their favorite prints. I myself couldn't have chosen better! Since I love convenient storage (check out all these diy storage solutions!) I promised to make them a few treasure hunt pockets. Sewing time it was, immediately!
The prints are all from the Riley Blake Designs' Fossil Rim collection (you can buy them here).
How To Make A Lined Drawstring Bag
This time, I've made treasure pouches for little explorers. And I'm hoping my little dinosaur explorers will be happy to keep their tiny dinos neatly tucked into these diy drawstring bags.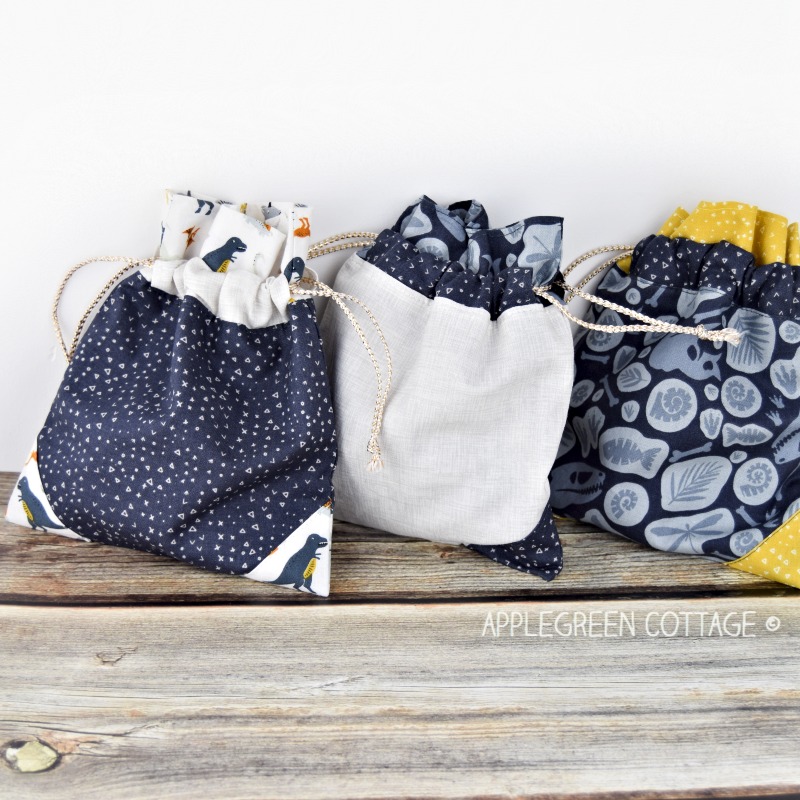 If you like this post, you'll want to see these too: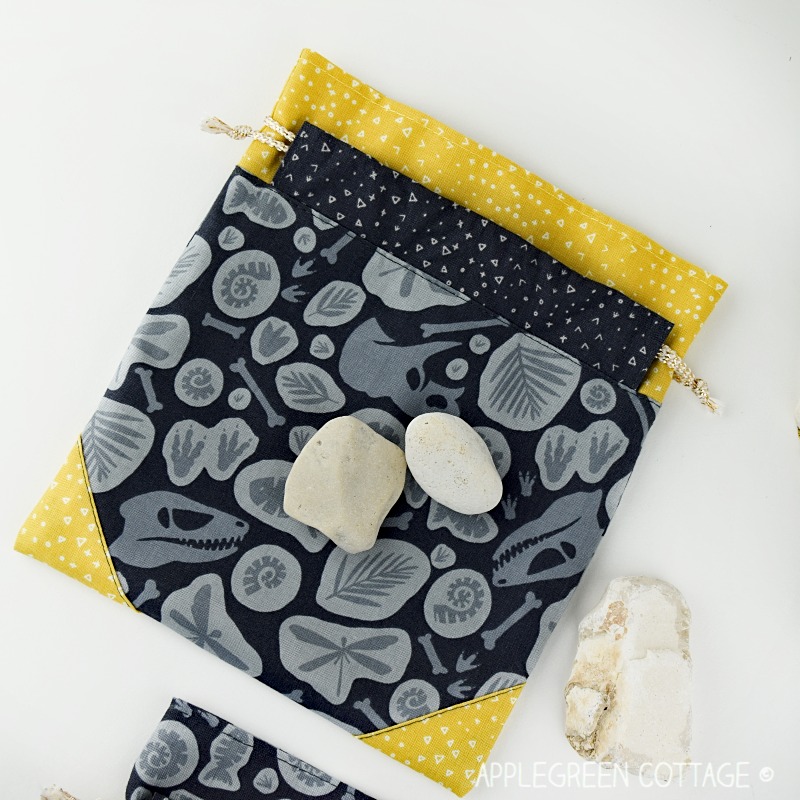 Finished Size
Now, on to the diy draw string bag: the first batch I made were 8" tall and 7" wide (that would be 18 x 21 cm). They are wide enough so all the little treasures can be easily spotted.
Supplies:
exterior, lining and accent fabric: less than a fat quarter altogether (you can use scraps, see measurements below)
optional: light-to-medium interfacing like Pellon SF101 Shape Flex or Vilene G700 if you want to add stability
twine, ribbon or cord (1 yard/metre per bag)
Cutting Directions
Cut from outer fabric: For bag EXTERIOR: 12 ½" by 7 ½" (1 piece)
From lining fabric, cut:

For bag LINING: 10 ½" by 7 ½" (2 pieces),
For CORNER accents: 4" by 4" (1 piece) - cut diagonally into 2 triangles

Cut from accent fabric:

For CASING: 6 ½" by 2 ½" (2 pieces)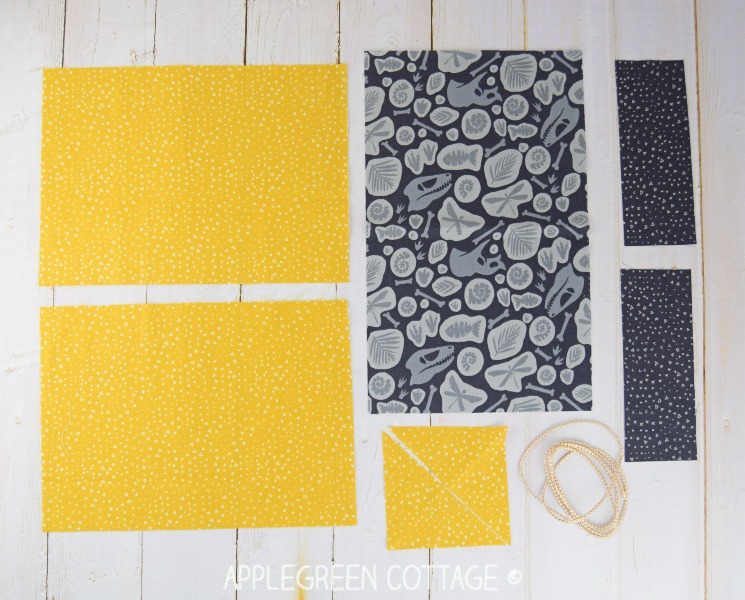 Instead of accent fabric, you can also use lining fabric. This diy drawstring bag can be made with anything from 1 up to 5 different fabric prints.
Sewing Steps:
PART 1 - Prepare and Stitch the Corner Accents
Start with the corner accents: turn under the two SHORTER edges of each triangle by ⅜" (1 cm) and press, notching the corner a bit to make a clean corner.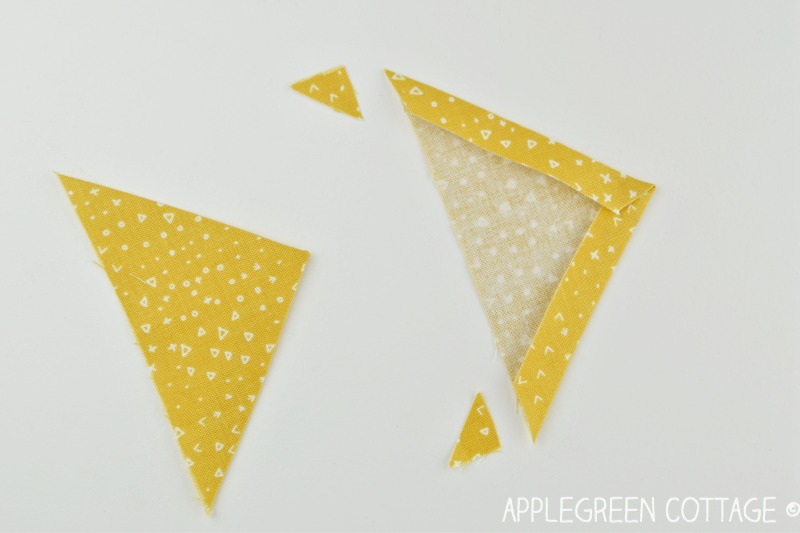 Take your outer piece and fold it in half crosswise (not lengthwise!), then press to get the center crease. Make sure to keep the width of 7 ½"! The folded rectangle will measure 6 ¼" by 7 ½".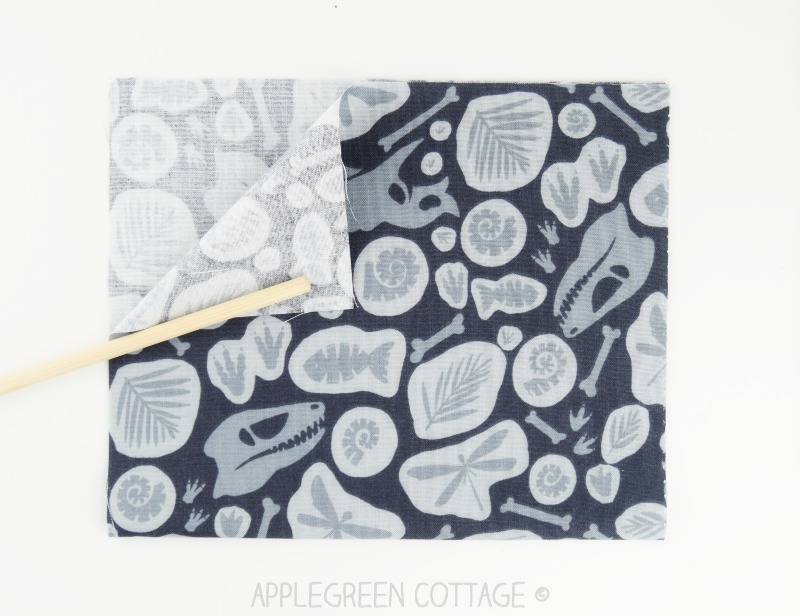 Unfold and place the corner accents on the fold line, using the center crease as guide for placing: place the triangles so the long edge (the one NOT turned under) is aligned with the sides. Topstitch over the turned-under edges, attaching the corner accents to the outer fabric.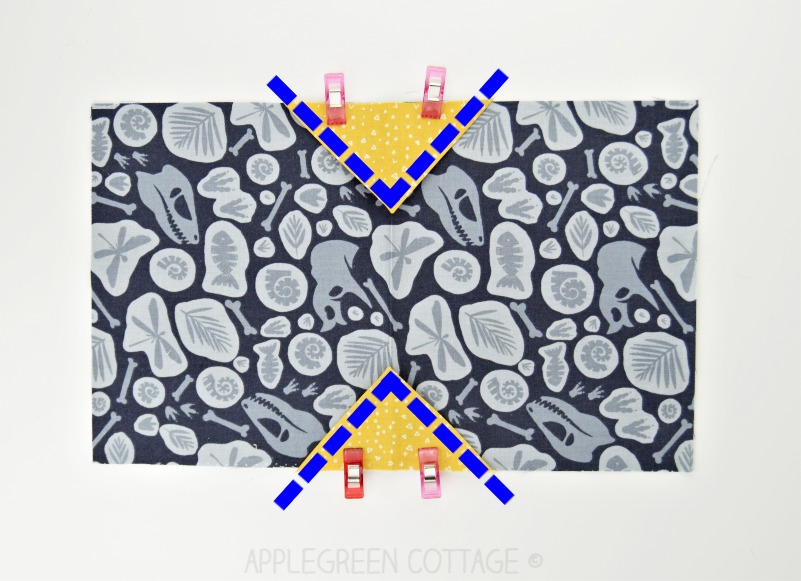 PART 2 - Prepare The Casing
Now take the two casing pieces (each 2 ½" by 6 ½") and hem the short sides, turning them under by ¼" and stitching. You'll get this: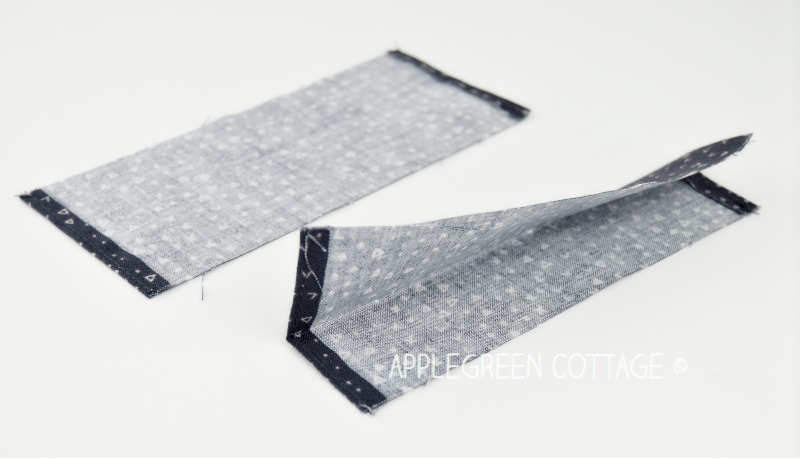 Fold them lengthwise wrong sides together and press.
PART 3- Sew 1st Casing Piece into the Bag
Grab the outer piece and place it on a flat surface right side up, then place one casing piece (folded WST) with the raw edges aligned with the top, and then place one lining piece on top, the raw edge aligned.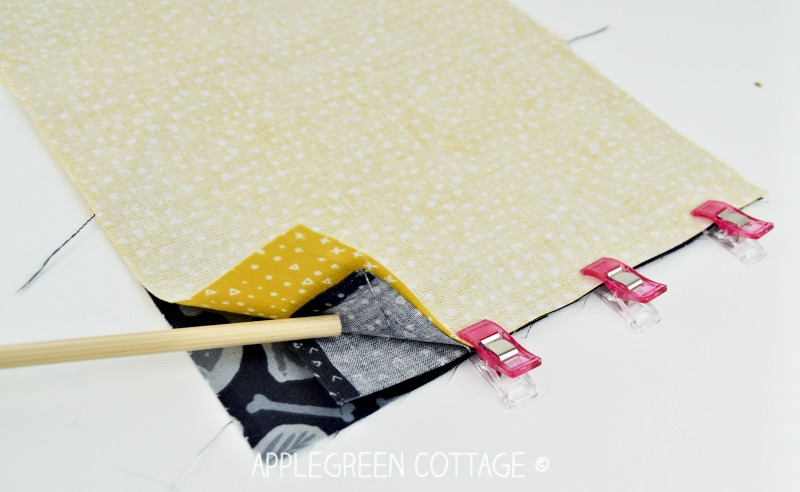 Pin and stitch using a ¼" seam allowance.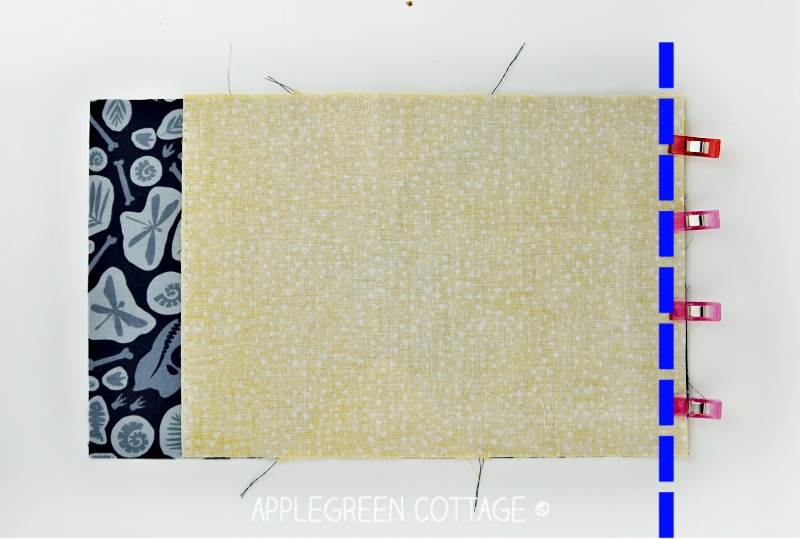 PART 4 - Sew The other piece of Casing To The other side
Repeat on the opposite edge of the outer fabric piece: place the outer piece right-side-up, then place casing on it, plus the other lining piece stacked right-side-down on top. Pin and stitch, again using a ¼" seam allowance.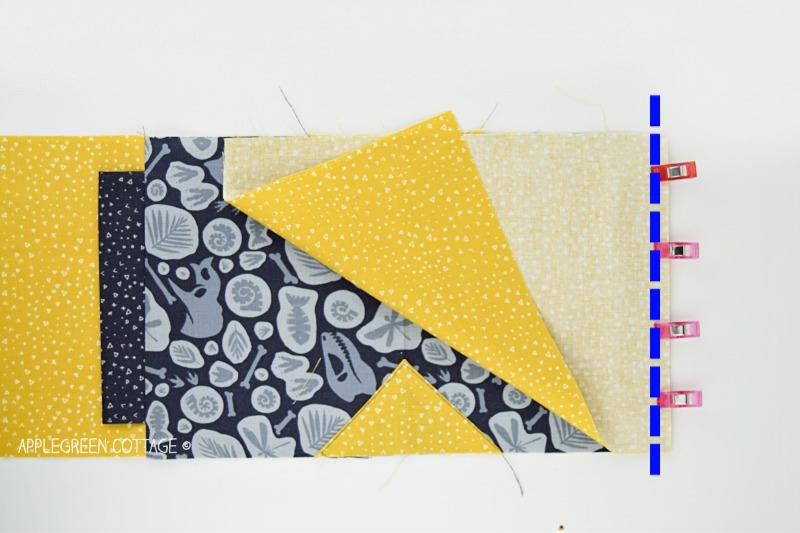 This is what you get - all pieces assembled: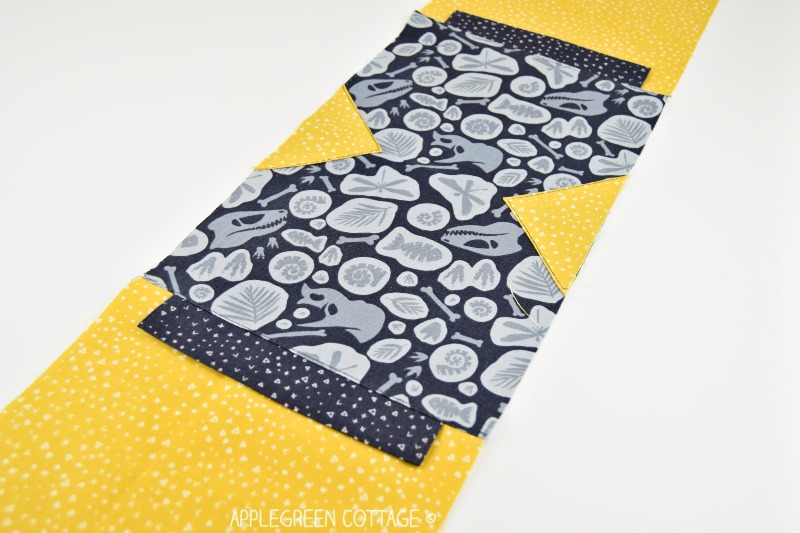 PART 5 - Sew The Drawstring Bag Together
Fold in half, right-sides-together. Stitch along the sides, leaving a few inches in the bottom of the lining, like this:
6 - Turn And Close The Gap
Turn right side out, close the turning hole and press.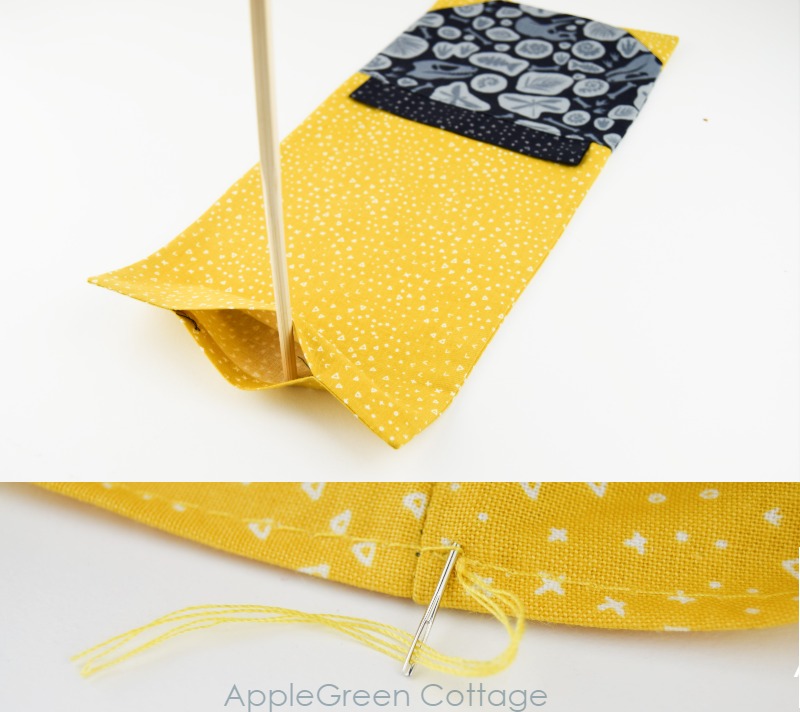 When done, I usually bury the thread ends. Here's a popular how-to that can help you with neat seam finishing: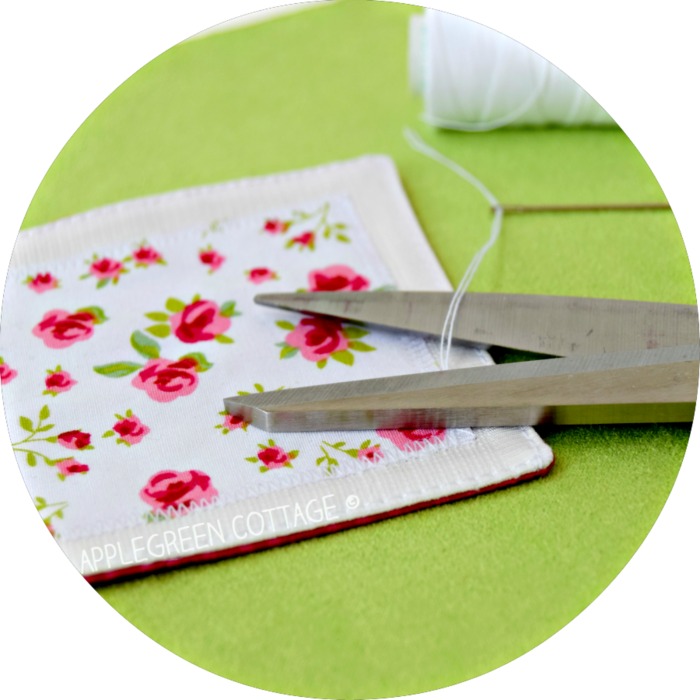 Tuck the lining in - since it's longer, 2 inches will peek out, making the drawstring bag look so much nicer! (This is the feature I love most!) Feel free to topstitch the top edge for even a neater finish.
7 - Insert The Drawstrings
Cut the cord into two pieces of 20" (50 cm) or a bit less and use a safety pin or a bodkin to guide the first cord through the entire drawstring casing. Both ends of the cord will come out of the same opening. Knot the ends of the drawstring or tie them together to prevent them from slipping through again. Repeat with the second cord and the second opening: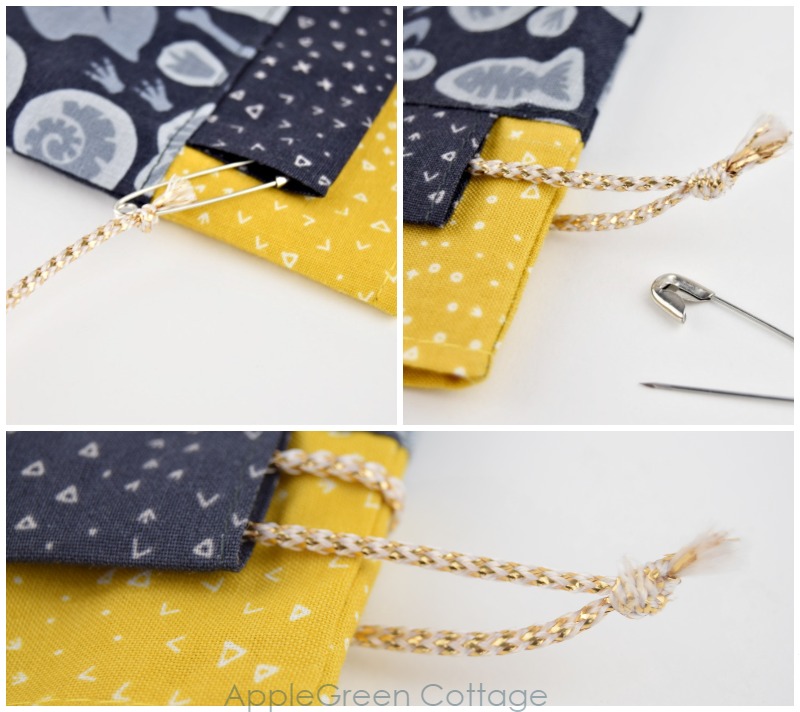 If you have never yet made a cinch bag with double drawstrings, take a look at a separate tutorial for how to put two drawstrings in a drawstring bag: How To Insert Drawstring - Quick & Easy.
Your diy draw string bag is finished! Fill it with goodies - or fossil stones and tiny dinosaurs - and go play!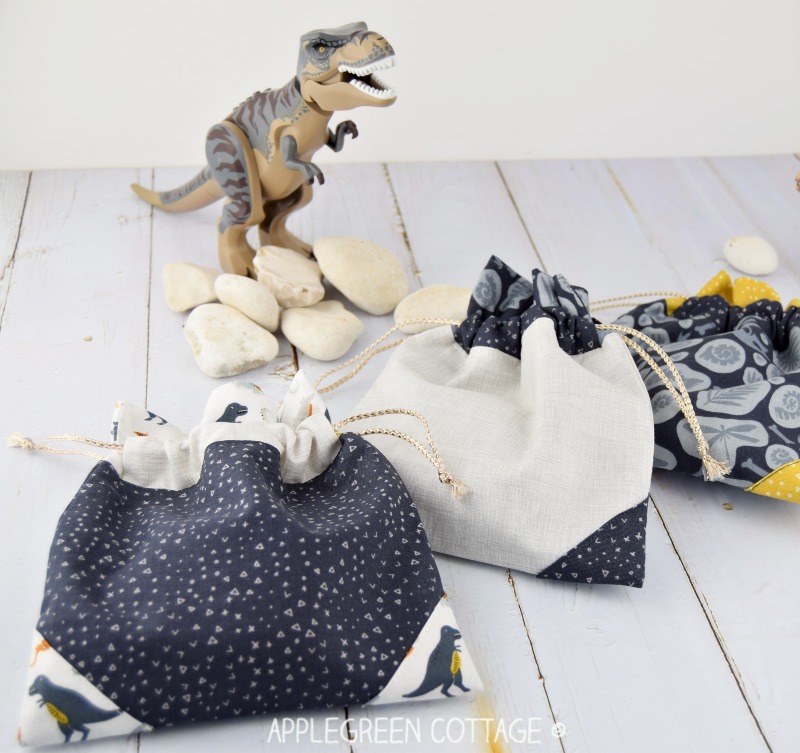 I couldn't stop at one, so I made a few more. Such a fun project!
I will probably need to make two bigger ones for the bigger dinosaurs too, and since these cute bags are so easy to enlarge, no problem. I love all and any excuses to sew, and sometimes easy projects are so therapeutic!
What Are The Uses For A drawstring Bag like this one?
I'm glad you asked! Drawstring bags are fun to make, and they're also handy and useful:
A drawstring bag is a fun craft project for all ages. once sewn, hand your kids fabric pens and let tehm decorate their own!
A bag like this could be used to hold craft supplies.
gym bag!
A larger drawstring bag is great to store sporting equipment.
A drawstring bag is a simple way to pack a few clothes or other possessions while traveling. The bag is simple to make and the drawstring keeps everything inside the bag.
great for storing loose toys such as Lego! Make them larger to store a whole Lego collection.
a stylish alternative to plastic grocery bags!
and last but not least, it's also a convenient and functional way to add a retail-ready, reusable bag to your business. You can even have your logo printed on them.
I'm hoping you've enjoyed my tutorial on how to sew a drawstring bag. If you want to, check out more stuff I've got to sew, on the Free tutorials page here. Or check out more drawstring bags ideas to sew.
Make sure to save this tutorial for later: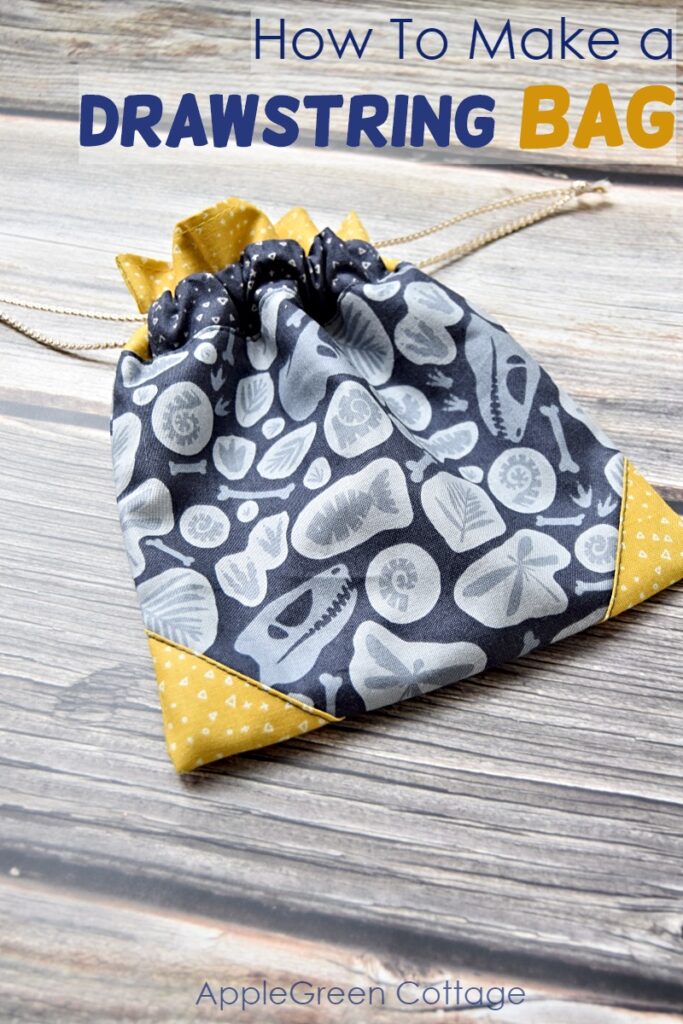 Want MORE FREE TUTORIALS And Patterns?
Get email updates and never miss out on new patterns, printables, and tutorials:
Or …check out this popular PDF pattern – the Kalina Mini Wallet in our shop. So practical!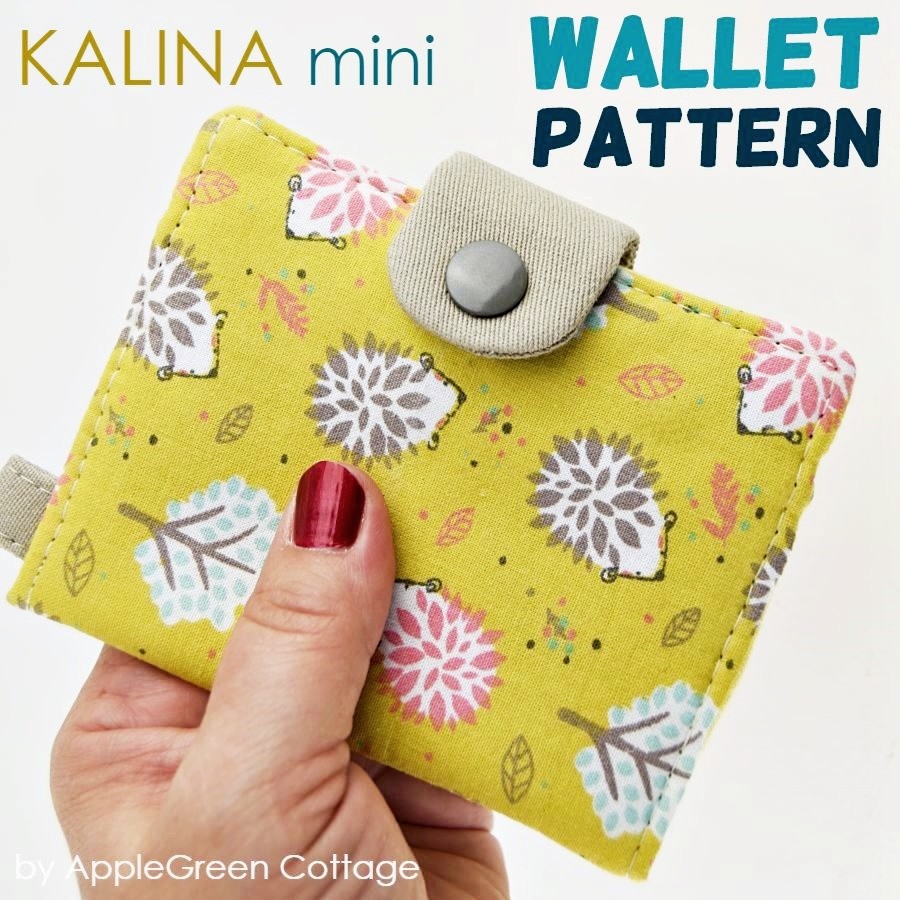 Sew up the Kalina, clip it to your kid's backpack and they will never lose their lunch money again!