Make the cutest mini pouches using this small pouch sewing pattern. Together with this (larger) popular coin purse, this mini version would be a great addition to an Etsy shop!  Scroll down to get your free PDF pattern.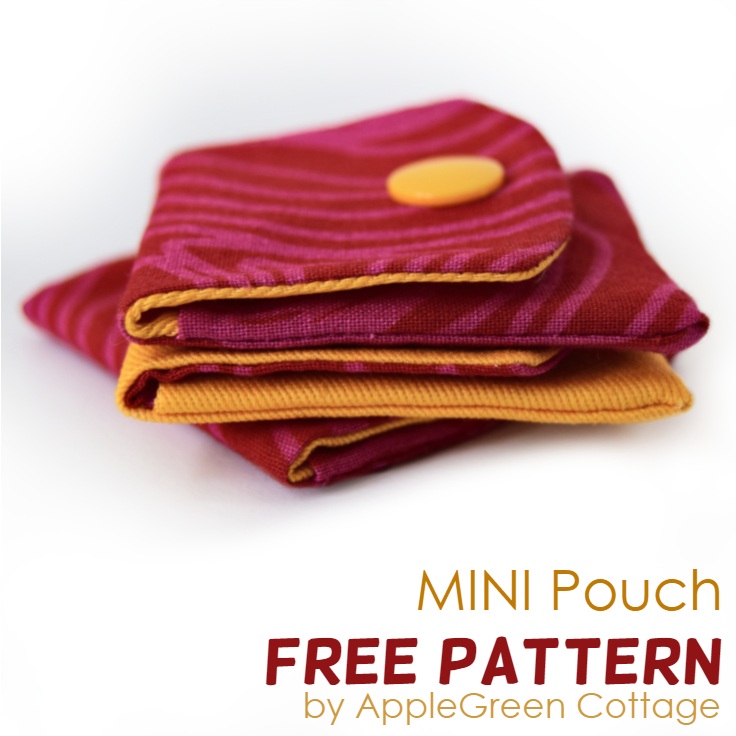 This post contains affiliate links. Thanks for your support. Love small sewing projects? Make sure to check out more:
If you've been asking yourself how to make a small pouch with a flap you could use to store really tiny items - this is your day! This little pouch is perfect for when you need something really small.
Think storage for your ring, or earrings to toss in your cosmetic case when you travel! What you get here together with the pouch tutorial is a free sewing pattern for this small fabric pouch with a flap. Even better: you can make it with tiny scraps, so no fabric buying is needed.
All you need are tiny scrap pieces of cotton, no interfacing. Add half an hour of time and a sewing enthusiast - you!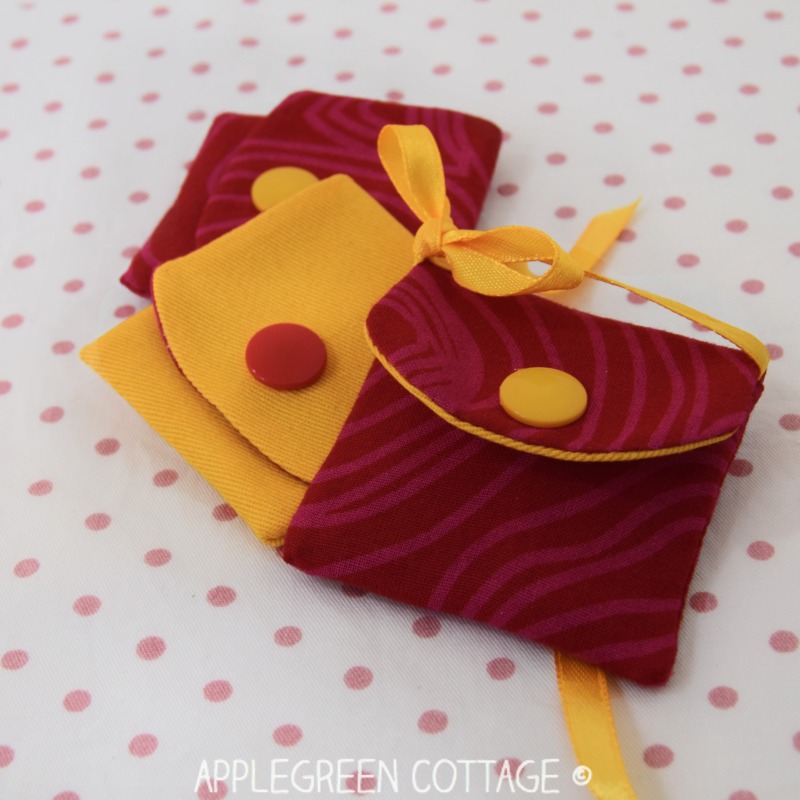 Use it as diy gift wrap for tiny diy gifts, as a doll bag pattern, or you can use it on your keychain if you stitch a tiny ribbon onto it. It only requires scrap fabric. One of my favorite projects!
Small Pouch Tutorial
You know me, I love tiny sewing projects. So when I say it IS a mini project, it REALLY means miniature. We're talking 2 inch pouches here. Really! Finished size is 2 inch by 2 inch (5cm x 5cm). A cute miniature pouch, just like I said!
Supplies to Use With this Small Pouch Sewing Pattern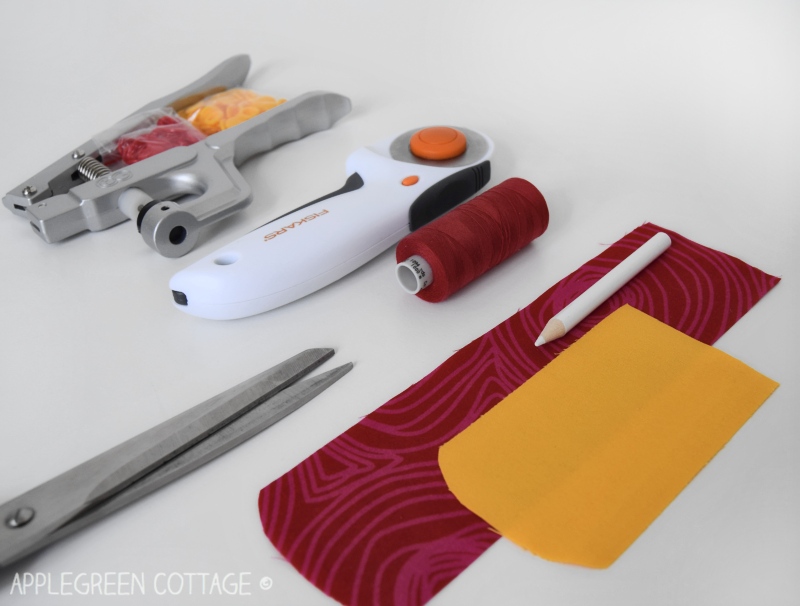 two fabric scrap pieces in your favorite prints
sewing machine or needle, pins or Wonder clips, 
sewing thread, tailor chalk pen
scissors, or rotary cutter plus cutting mat (I use this one by Olfa)
optional: pinking shears
one set of KAM snaps
the free mini pouch template (see step 1 - scroll down for the link to the free pattern)
SMALL Fabric Pouch Video steps
First, for those of you who like video tutorials, I've made a video slide-show just to make it easier for you. Check it out:

Step By Step Tutorial For Mini Fabric Pouch
Now, in words and non-moving pictures:
Print the free PDF template on a piece of cardboard or paper. Then use it to cut these pieces of fabric:
Step 1 - Cut the fabric pieces
• 1 piece marked as '1-OUTER' from the main fabric (here: red)
• 1 piece marked as '2-LINING' from lining fabric (here: yellow)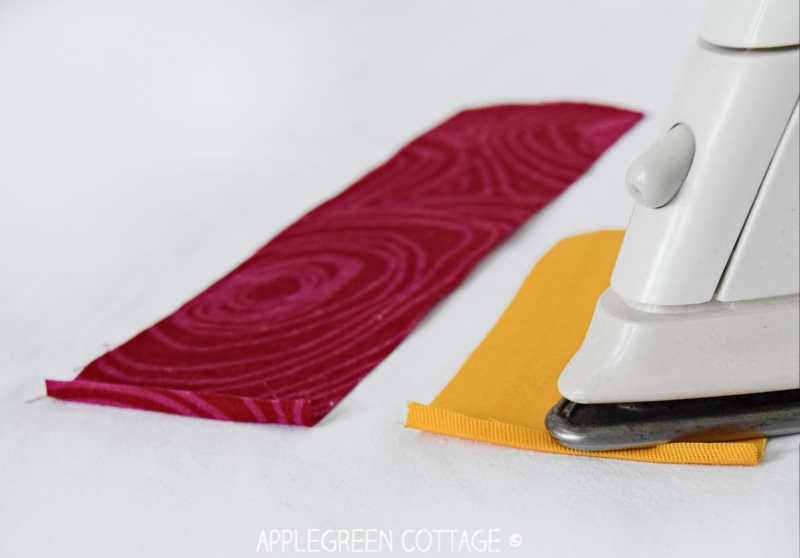 Step 2 - Hem the bottom edge
1) Start by pressing your pieces and making a narrow, ¼ inch or less, fold back towards the wrong side of fabric on the lower end of the pieces.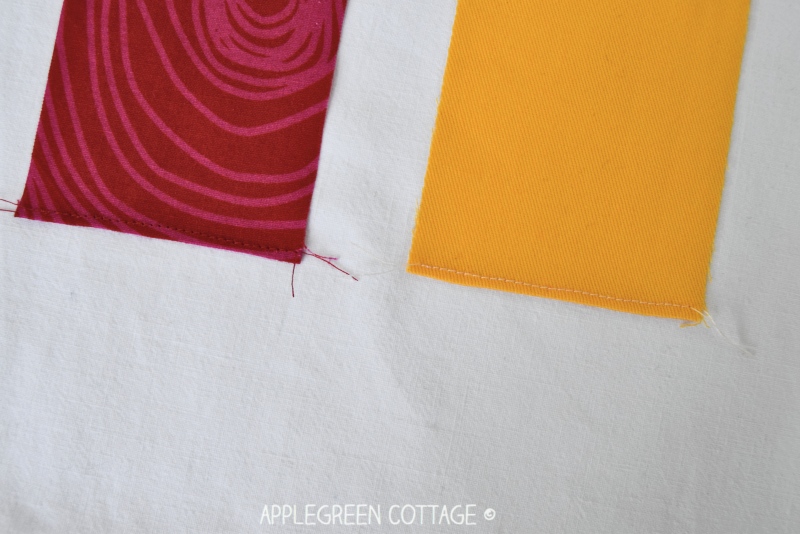 2) Topstitch along the fold.
Step 3 - Mark the Folding Lines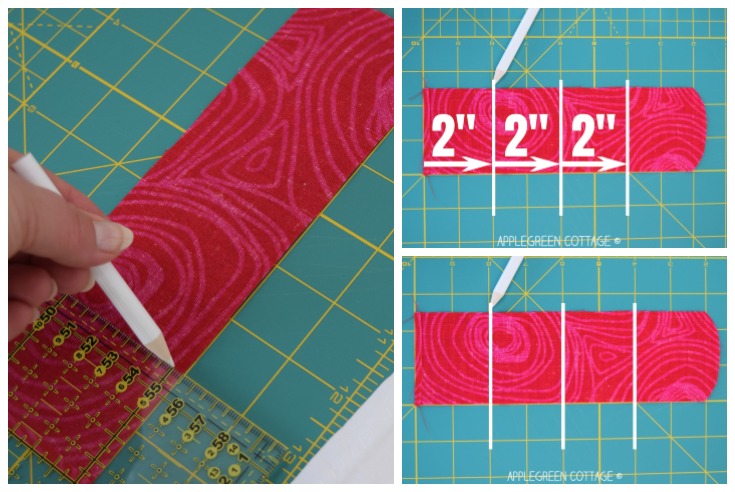 3) Mark FOLDING LINES: The main (longer) piece - starting at the stitched bottom, mark three lines, each at a 2-inch (5cm) distance from the previous one. See the images above.
Step 4 - Fold Along the Folding Lines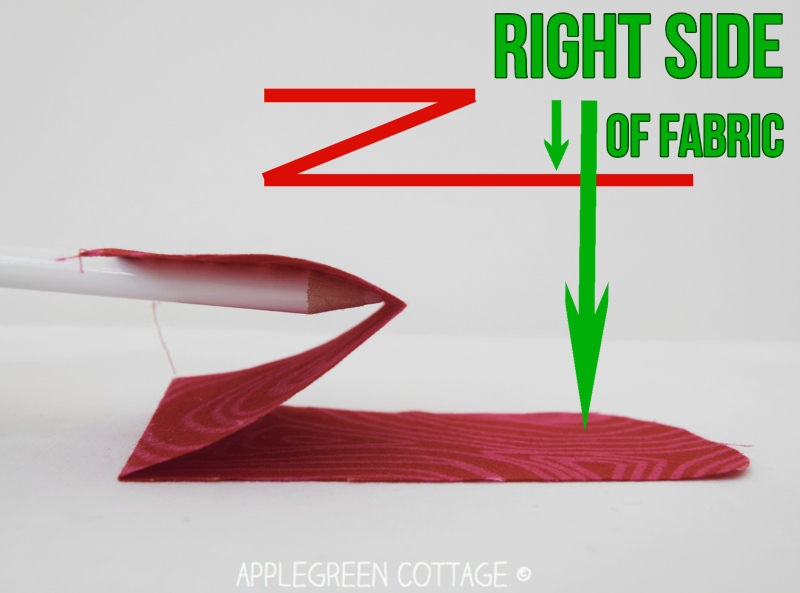 4) Folding the main piece: place the piece right-side-up on a flat surface. Fold it as marked in the image above. When folded, the longer piece will become exactly as long as the lining piece.
Steps 5-6 - Sew the 2 Pieces Together And Trim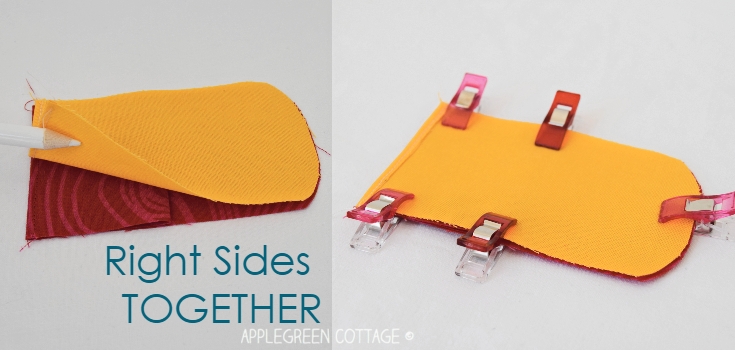 With the main folded piece still laying flat, right-side-up, place the lining piece onto it, so that the right sides will be together (RST). Pin or use Wonder clips to prevent shifting.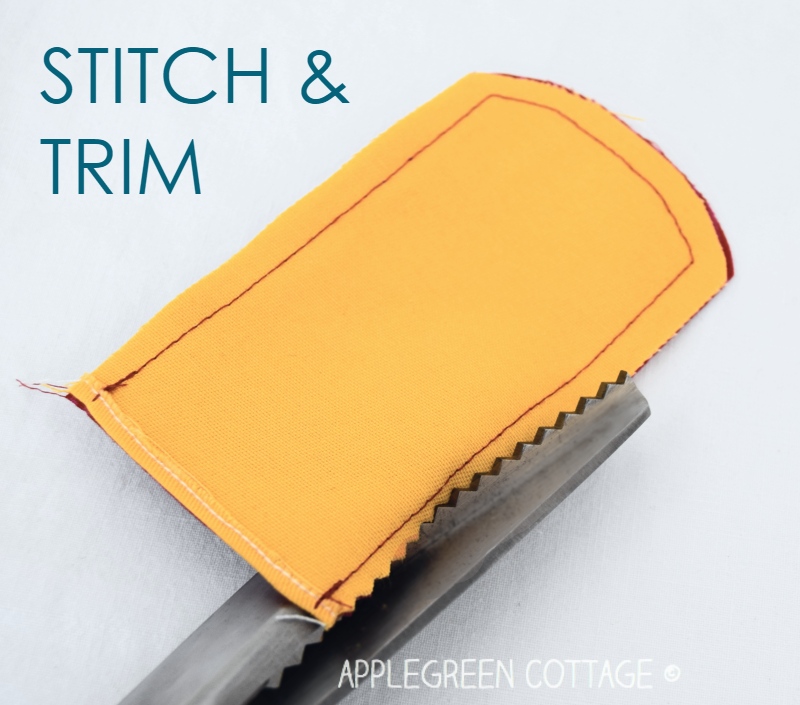 Stitch around, leaving the bottom out. This means you start at the bottom (where the ends are already finished), go all the way to the rounded top, and back down to the bottom.
Do NOT stitch over the bottom side.
Trim the corners for a nice finish and to reduce bulk - take care not to snip into any stitches. You can use pinking shears to clip the curved edge portion. If you need it, here's a good tip about clipping corners and trimming for you.
Step 7 - Turn right Side Out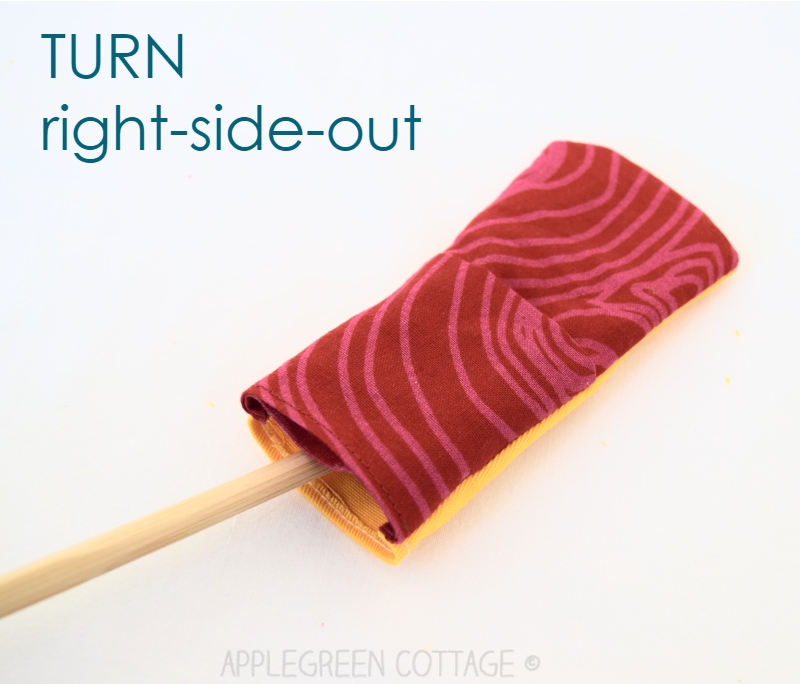 Turn right side out. I often use a chopstick to make it easier.
Step 8 - Close The bottom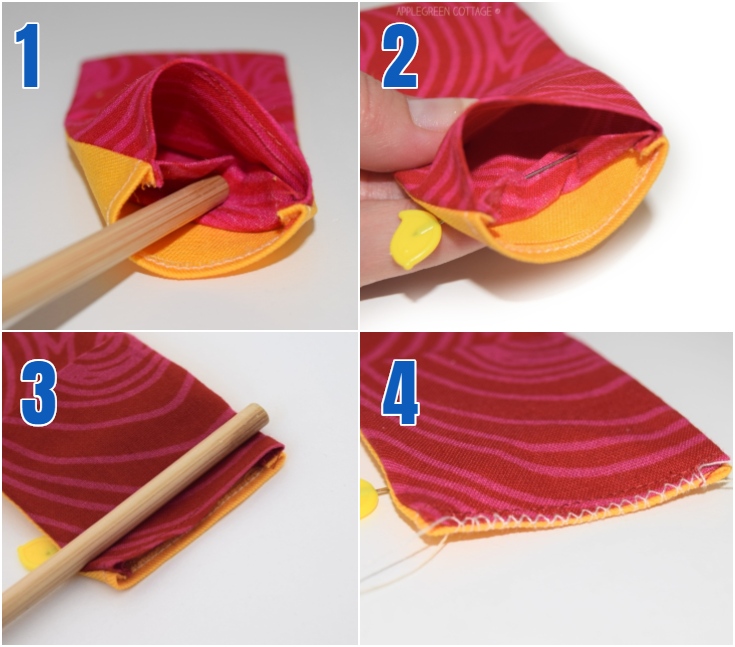 CLOSING the bottom opening: Stitch the opening closed, but take care to NOT catch the middle (folded) layer:
- see the image marked with No 1 on it? Push the middle layer towards the top, so it won't be in the way. Then attach a pin to keep it away from the needle. Only then, use a zigzag stitch, or a simple slipstitch to close the opening. You only stitch through the two topstitched ends, not through the middle (folded) one.
MAKE IT EASIER: you can skip this step if you don't plan to use the mini pouch for something really tiny - like a tooth fairy pouch. Also, you'll notice the opening will be inside the zipper pocket, making it invisible from the outside, anyway.
Step 9 - Flip the Pocket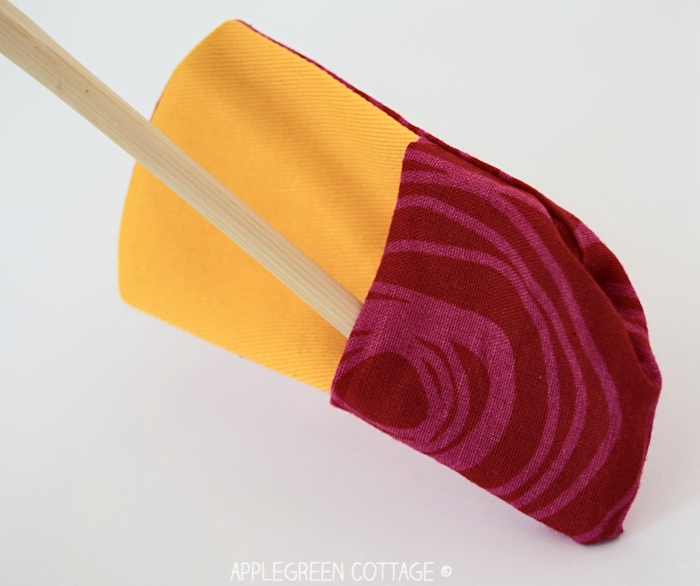 9) Now, turn the pocket part inside-out. Press.
Step 10 - Add A Snap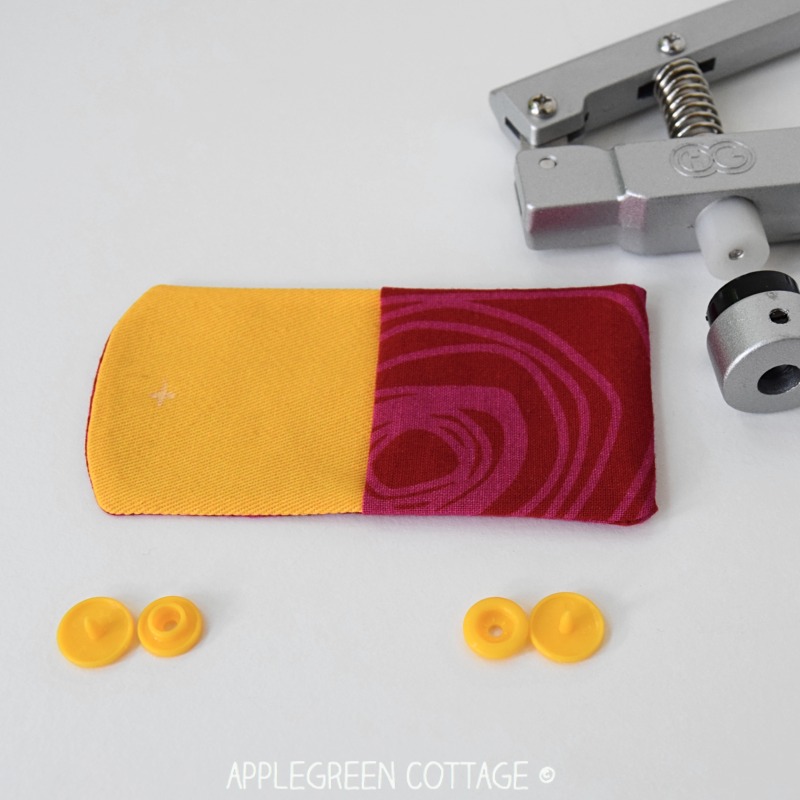 Add KAM snaps. If you haven't done that before, here's an easy tutorial for you: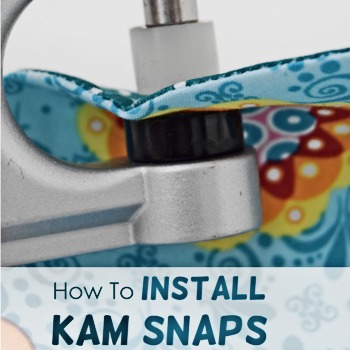 or a video slideshow, if you're more of a YouTube person:

It's easy and quick! You can also opt to sew on a button if you prefer buttons. In this case, you'll need to make a buttonhole early in the project (not pictured above) See here how to sew a button by hand, and how to make a buttonhole by machine.
I used two of them as a gift wrap for little gifts to my two nieces. The third one was used as a diy tooth fairy pouch - perfect!
Get the free pattern here in my shop. Yep, for free!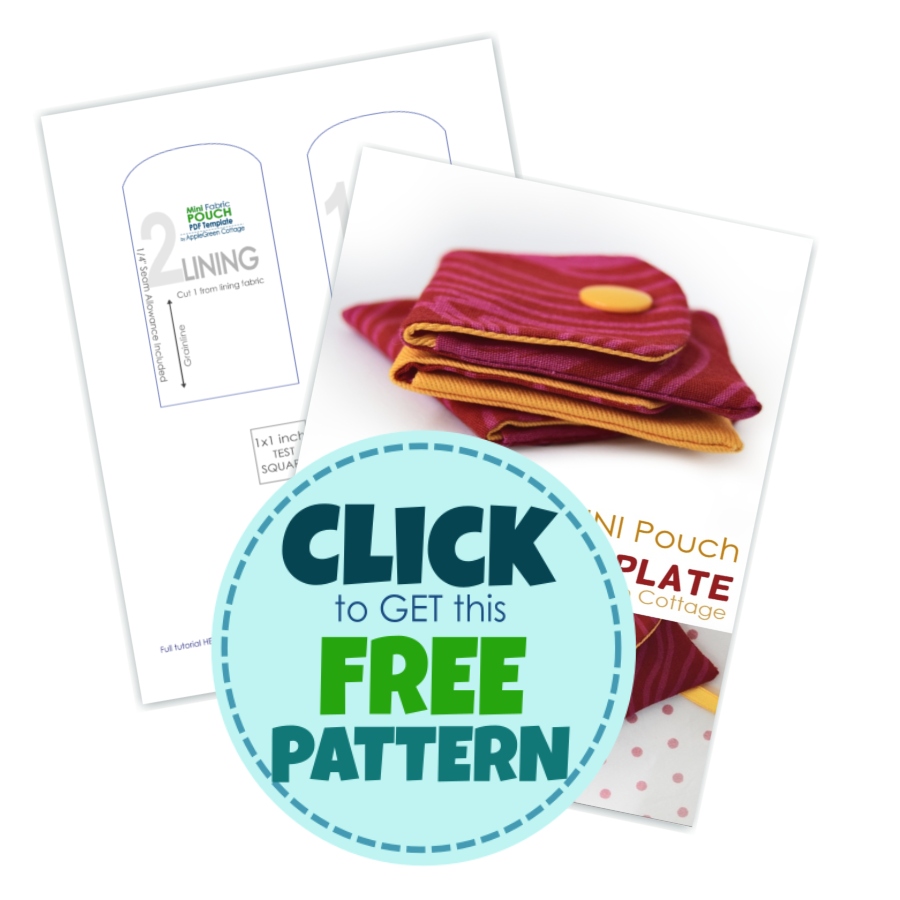 I hope you liked this small pouch sewing pattern and the tutorial. Now all you need to do is grab your free template and sew a few mini pouches!
Save For Later: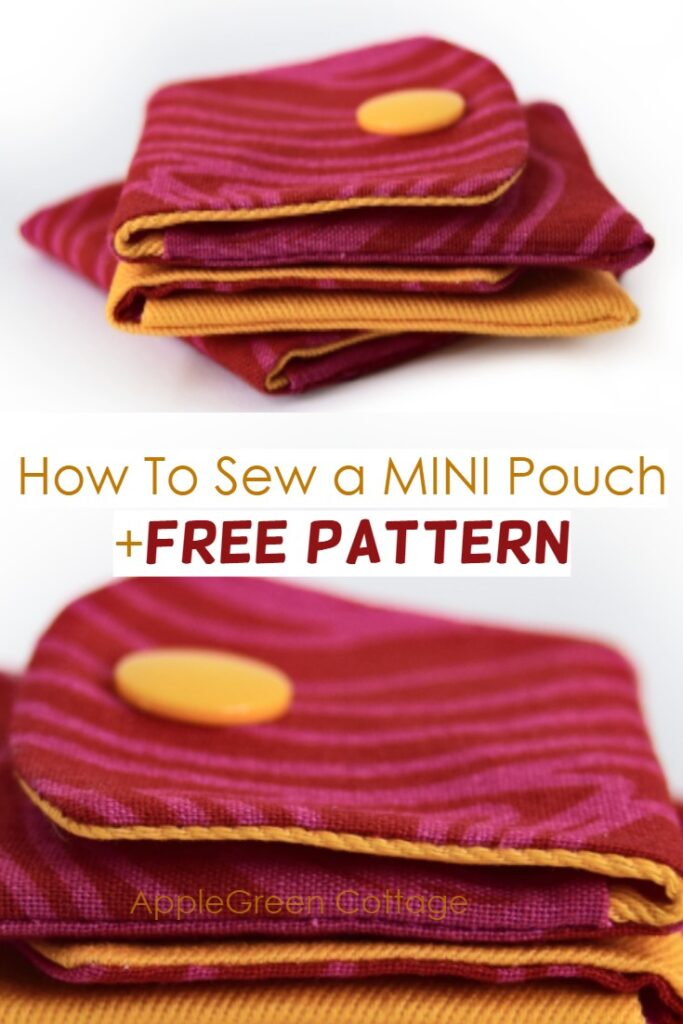 Want MORE FREE TUTORIALS And Patterns?
Get email updates and never miss out on new patterns, printables and tutorials. If you sign up at THIS link, you'll also get the Fabric Hanging Basket Template for FREE, right now. A cute and easy-sew!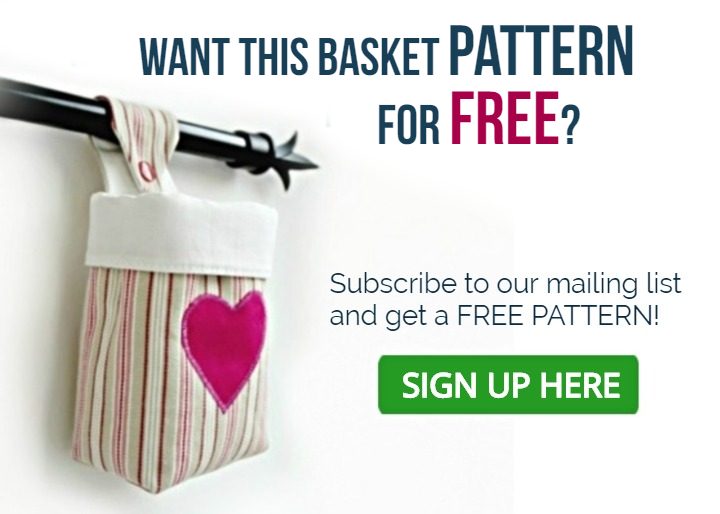 Or …check out this popular PDF pattern – the Kalina Mini Wallet. So practical!