See how to sew an easy pouch with center zipper. A perfect zipper pouch for sewing notions or anything else you need! Check out the tutorial and sew a few of these cute pouches.
This post contains affiliate links. Thanks for your support. If you like making pouches and bags, you'll love these free projects, too:
Diy Zipper Pouch For Sewing Notions
Someone said that zipper pouches are a perfect use for anything and everything that needs to be gathered in one convenient place. This is the broadest description of a zipper pouch I've ever heard, and it seems pretty much accurate to me.
This cute flat pouch with center zipper is so versatile you will never run out of ideas for its use. This time, I concentrated on storing sewing notions. It's so perfect for those!
Easy Pouch With Center Zipper - Video
First, for those of you who like video tutorials, I've made a video slide show just to make it easier for you. Check it out: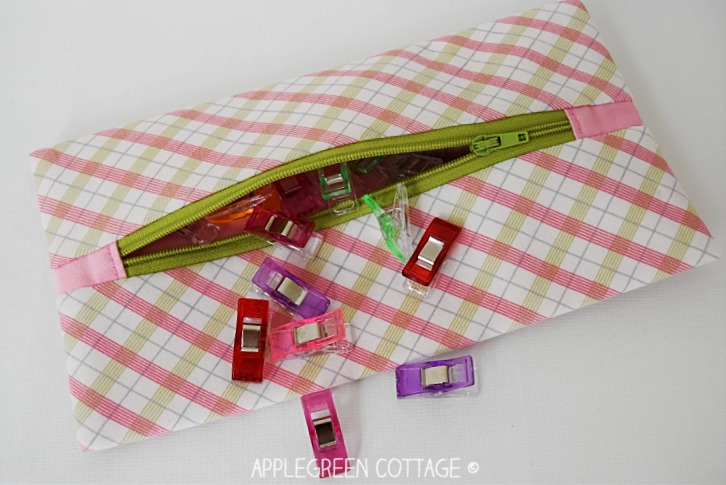 Let's see how you can make a few of these pouches for yourself, too. Oh, and it makes a perfect set with this tiny diy sewing case tutorial - take a look!
Supplies: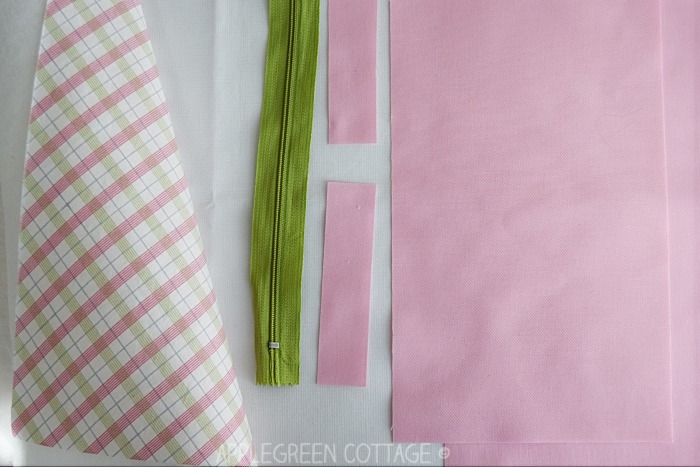 10"x10" main fabric
fusible fleece for main, a bit smaller than the main piece on all four sides to reduce bulk when sewing
2 pieces 5"x10" fabric for lining
2 pieces 4.5" x 1" fabric for zipper tabs
a standard 7" nylon coil zipper #3 (that is, with tape width 1" and min 7" useful length between stoppers)
matching thread, scissors or rotary cutter+cutting mat (I have 6 in different sizes and colors, all Olfa!)
sewing machine
And if you want even more options, here's my huge zipper sewing guide - use it and never fear zippers again!
Zipper Pouch Tutorial
This pouch is pretty slim, so we'll use two pieces for lining to make sewing a breeze, while keeping the outer fabric in one piece, to make the zipper case as pretty as possible on the outside. Win-win.
Let's start.
Step 1 - Cut Fabric And Add Fusible Fleece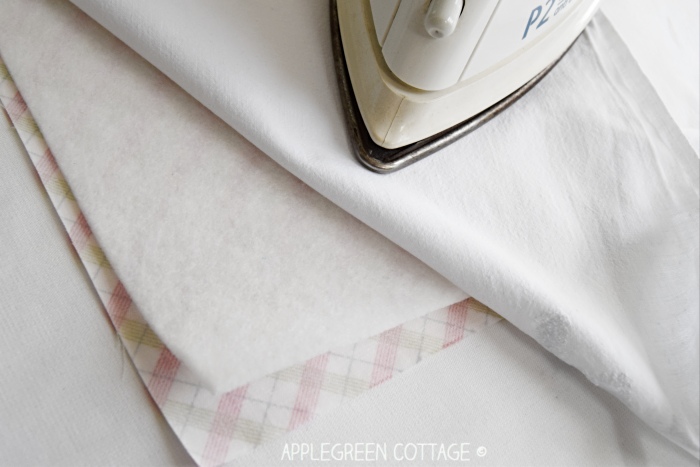 Add fusible fleece to the main fabric. Use this quick how-to to make it easier: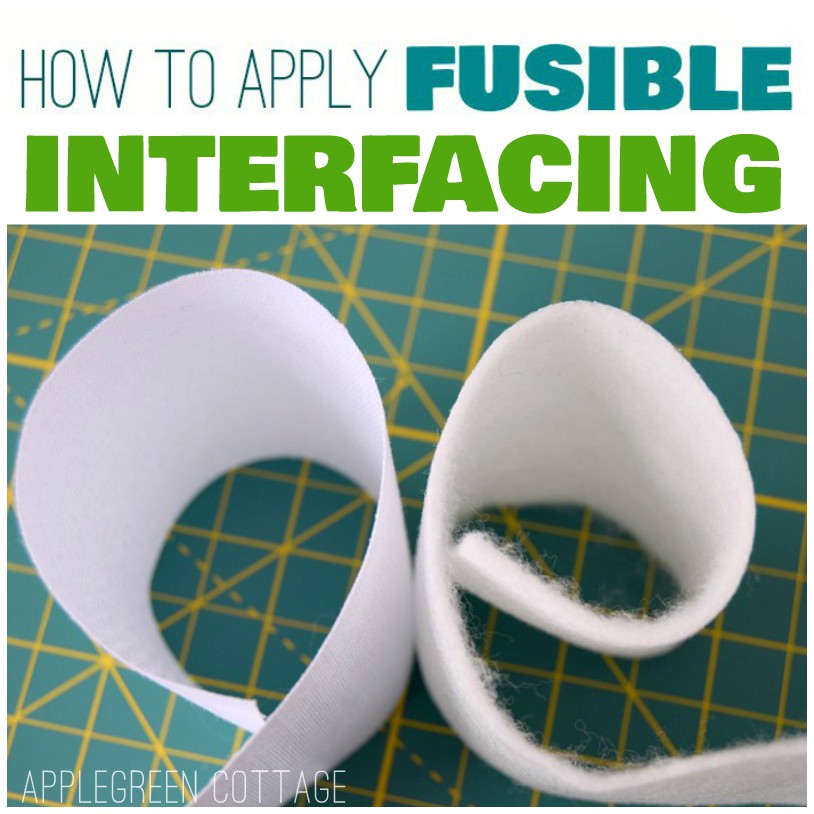 Step 2 - Tab the zipper
Zipper tabs will make your side seams way less bulky and the zipper pouch even cuter! If you want a tabbed zipper as I did, here's how to make zipper tabs and reduce bulk on side seams:
Once you have the zipper tabbed, attach the zipper:
Step 3 - Attach Zipper To Fabric - One Side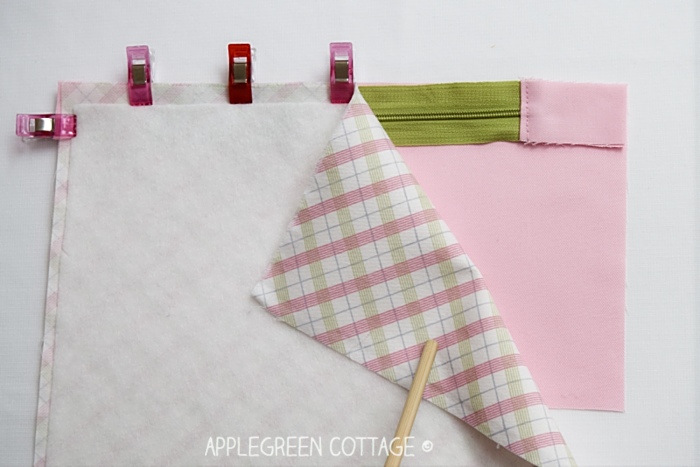 First, place the lining fabric face-up and place the zipper on it, face-up and centered. Cover with the outer piece, facing down. Pin or use wonder clips to hold in place.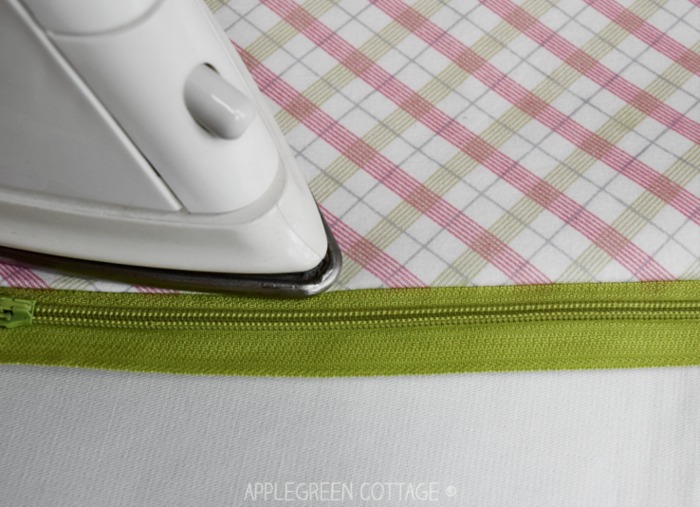 Now when the zipper piece is sandwiched and centered along the top, stitch along the outer edge, using a ¼ seam allowance. Use a zipper foot if you have it.
Then flip and press the seam as indicated in the image. No topstitching this time! (and I rarely say this.)
Step 4 - Attach Zipper To Fabric - The Other Side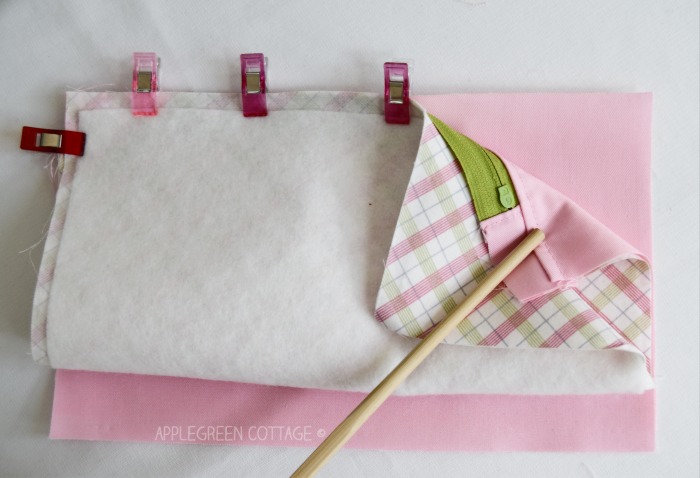 Repeat on the other side of the zipper:
place the lining, right-side-up on a surface,
place the unsewn edge of the zipper on the lining (with zipper pull facing up, not down!),
and then fold the main fabric piece.
Align all three layers, so the zipper is sandwiched in the middle.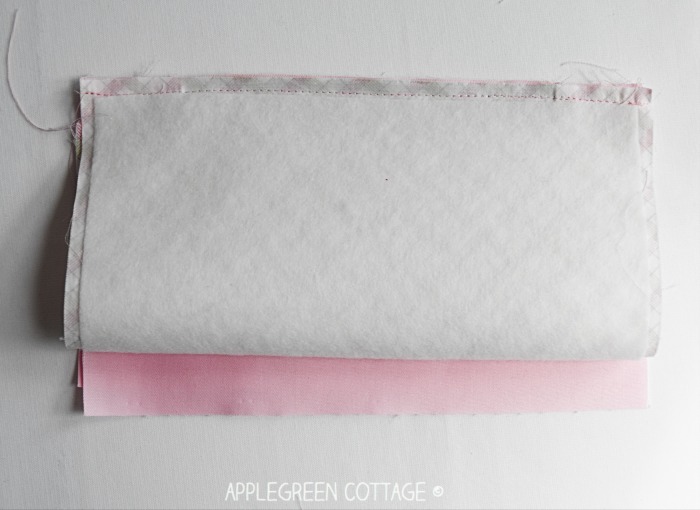 Stitch using a ¼" seam allowance. The outer fabric piece is now a tubular shape with two open short ends.
Step 5 - Topstitch Along Zipper Tape - Lining Only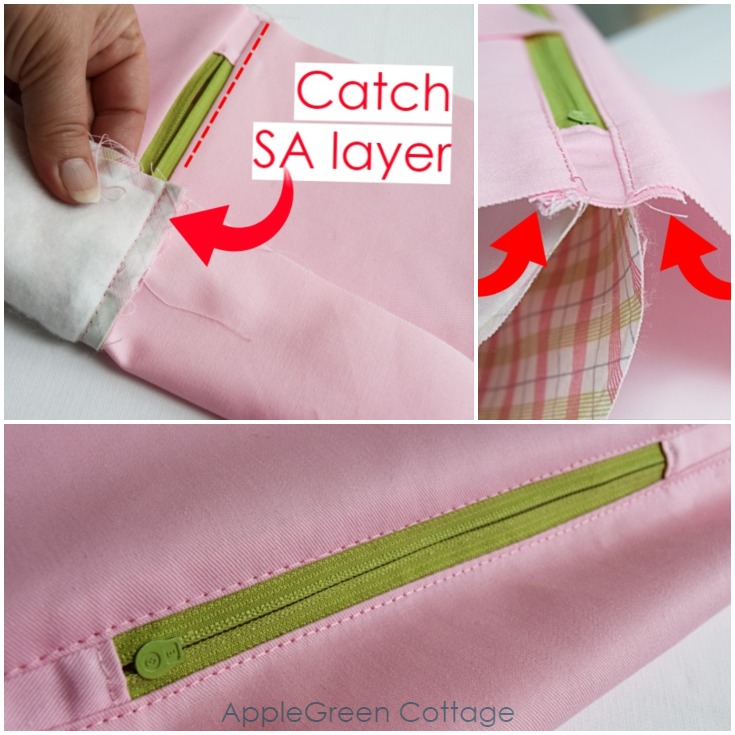 Now we need to topstitch the two lining pieces along the zipper; take care to catch the seam allowance layer only and NOT the main fabric (the tube is too narrow to do that anyway).
Step 6 - Sew Lining Bottom
Now stitch the two lining pieces together at the bottom edge, using a ¼ seam allowance.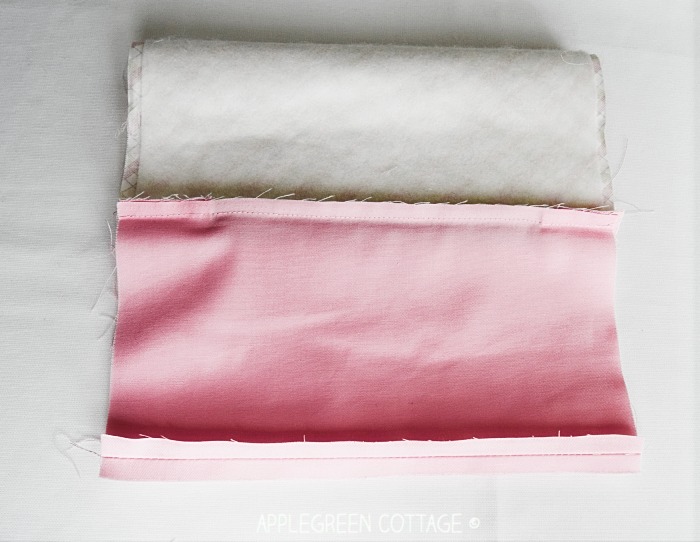 Press the seam open. I use a diy sleeve roll for that, I designed a template you can use to make your own seam roll:
Step 7 - Sew The Sides Using French Seams
Now all that's left to do is two French seams. (Here's an easy beginner-friendly how-to with detailed photos if you need more photos.)
So, with our project, you'll first turn the outer fabric through the side hole right side out. Center the zipper on top, then press and pin the sides, and stitch each one with a ¼" seam: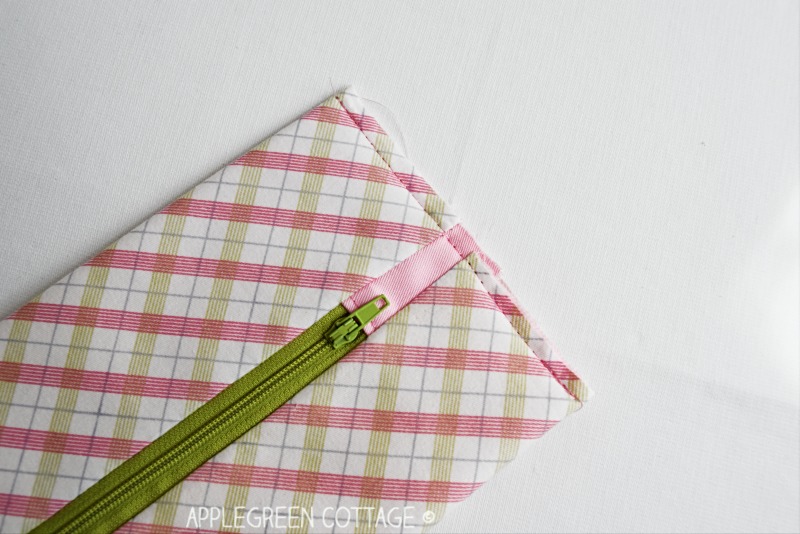 Now trim the seam to ⅛":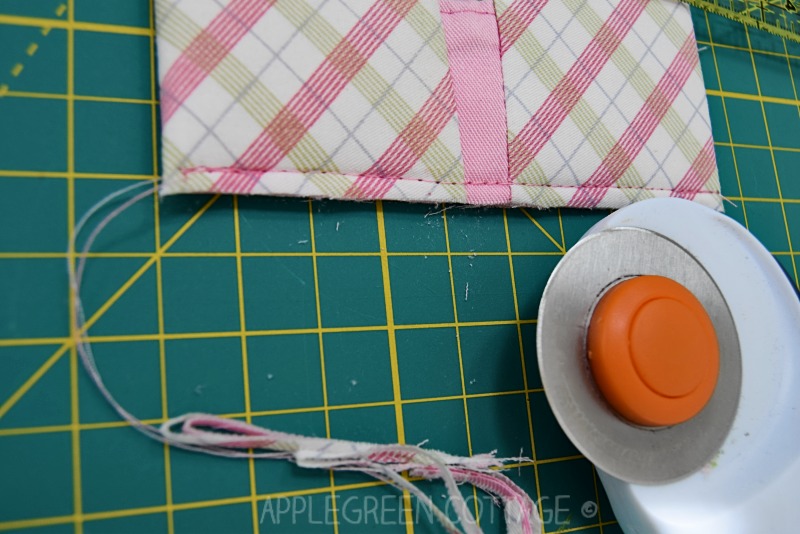 Trimming to ⅛", do this on both sides of the zipper pouch. (Admitting: I really needed to get a new set of cutter blades. This one in the photo had issues when cutting through several layers. That's why the uneven cut in the photo. Sorry!)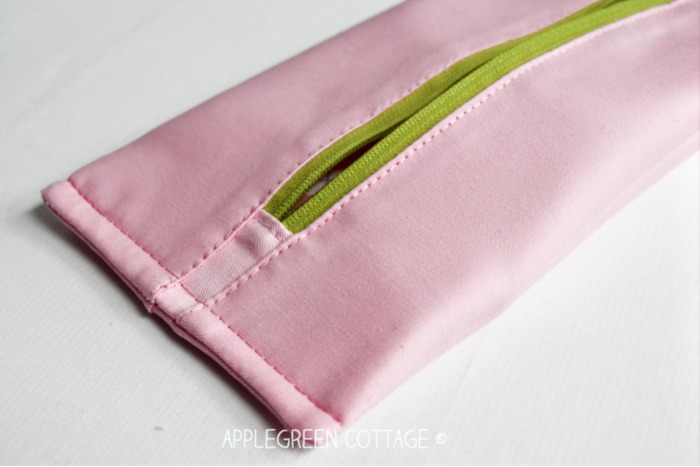 Turn the pouch right side out, so the lining will be on the outside. Now stitch another seam at a generous ¼" (or even a bit more, but no more than ⅜") - again, do both sides.
Step 8 - Turn Right Side Out And use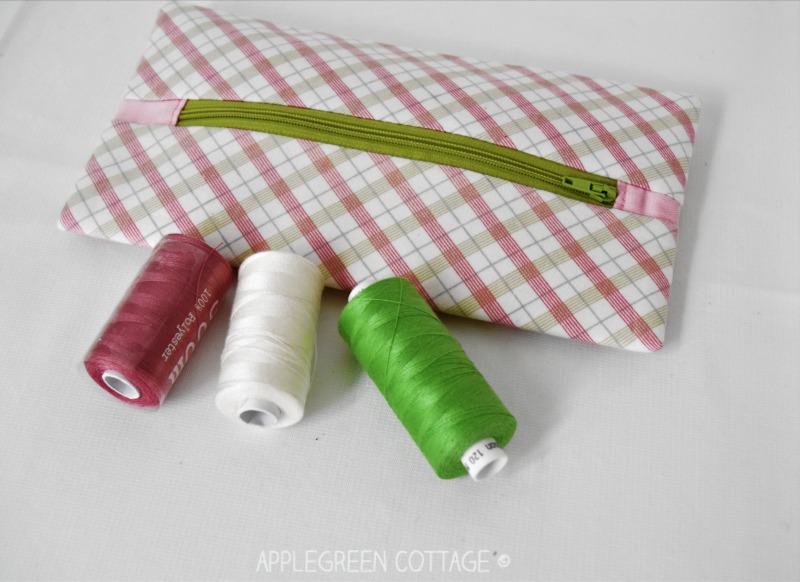 Turn the pencil case right-side-out again and give it a good press. Yey, done! Fill with sewing notions of your choice and keep - or give as a present. This easy pouch with centered zipper would make a perfect DIY gift!
Now make as many as you wish. I've made these two, and now need at least one more for my rotary cutter and two for the small-sized buttons. And then probably a few more for gifts 🙂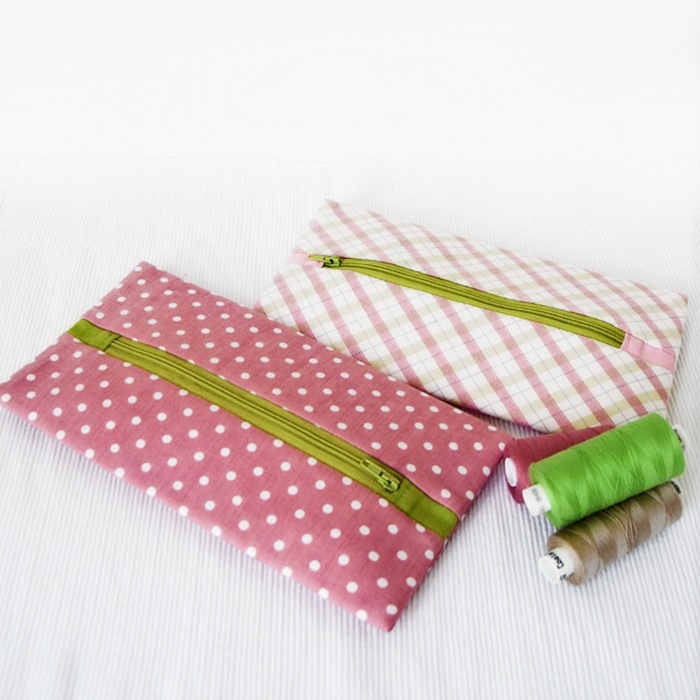 This easy pouch with center zipper is so versatile. There are really just a few things you cannot store in these pouches. Long color pencils for example. That's why I get to keep this one from the tutorial for myself, I guess. Unless my daughter figures out that the crayons would fit perfectly, as well as her pretty pencil stamps. But let's not talk about these two - officially, these pouches are for my sewing notions 🙂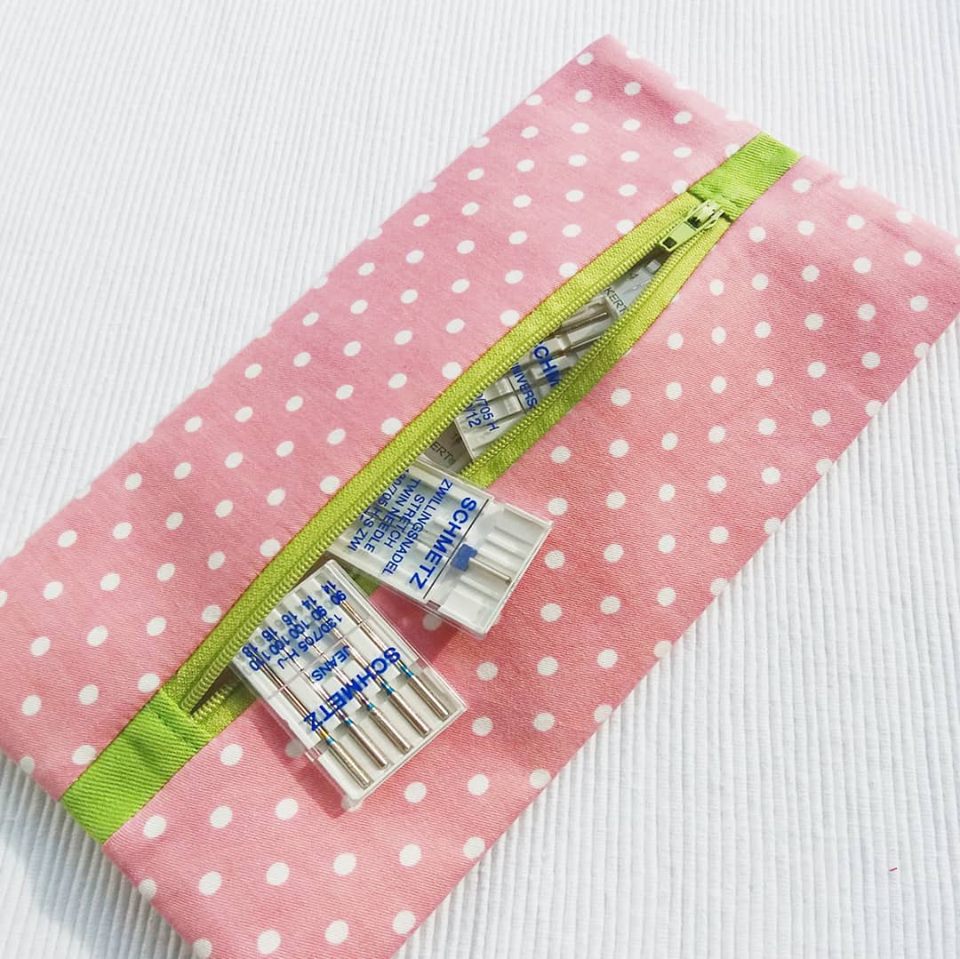 My machine sewing needles have finally, finally found a home - this brand new, cute polka dot zipper case. Do you like it?
This French seam zipper pouch is easy to sew and good to have in your sewing room.
Where do you keep your sewing needles? In a zipper case, plastic box, a bin, or do you use a fancy organizer? What works best for you?