Get in the holiday spirit with these Christmas stocking patterns. I've carefully selected 27 31 from the popular diy Christmas stockings to make your holiday decorating fun and easy - take a look!
This year, I finally did it: I started my holiday crafting early enough to post a lot of holiday sewing tutorials, yey! So that you can start your Christmas sewing early enough, too! In addition to a whole Homemade Holiday Free Pattern bundle (here), I also designed my first, full-sized Christmas stocking pattern. And then two more!
So I thought I might make them easy for you to find and use - made this post!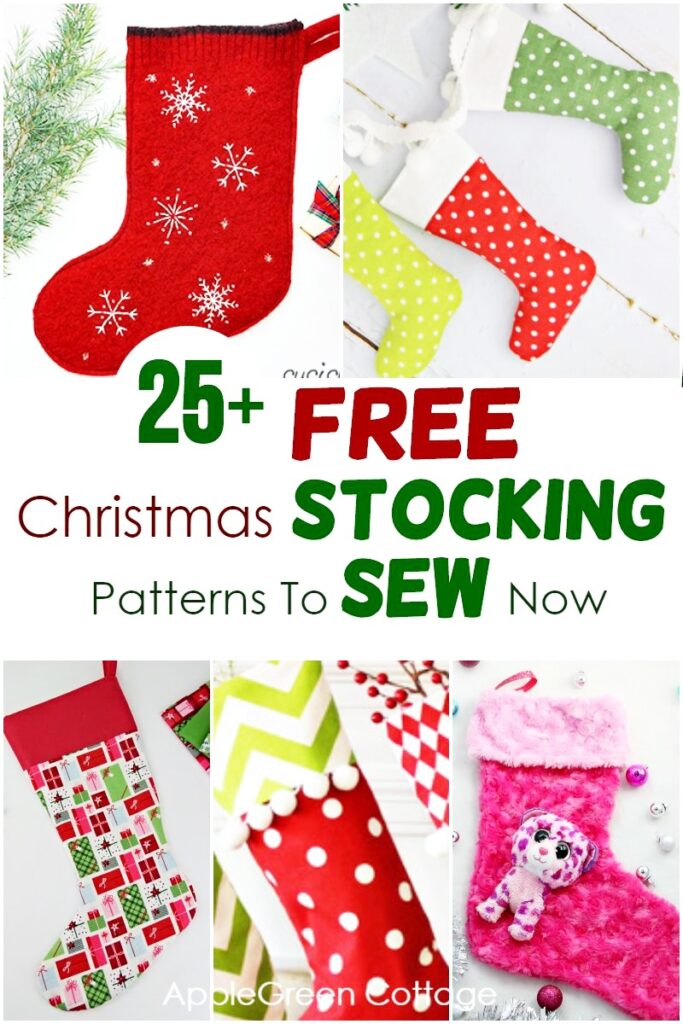 Christmas Stocking Patterns
Here's my list of the best free Christmas stocking patterns I have found around the net. I'll start with mine and add a lot of other cute, smart and creative stockings to sew. Enjoy!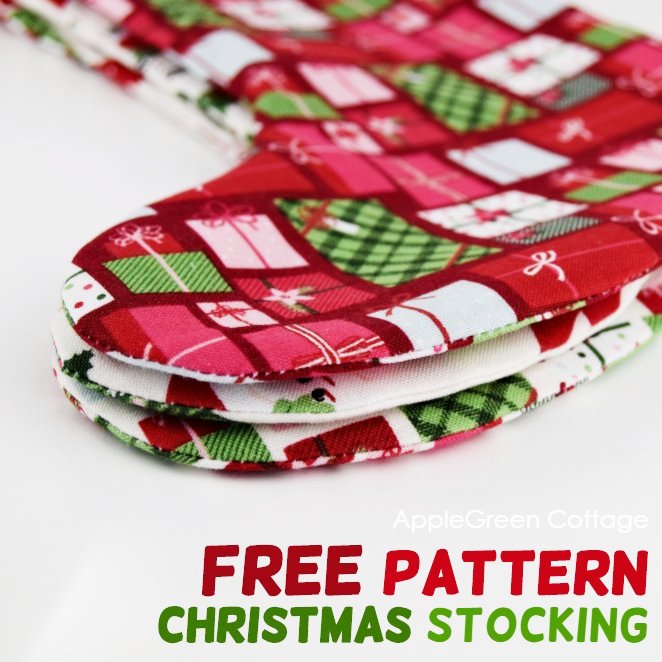 These Christmas stockings are what I came up with after years of sewing. I designed them to use the least possible yardage while retaining a beautiful form, the no-fold cuff is sleek and there is no gaping. Test it, you'll love it! You can get the pattern for free when you join our mailing list.
But I kept getting questions from you about how to make large Christmas stockings.
So I added a different, large stocking pattern and made not one but two tutorials for two totally different-looking stockings: a traditional and a modern one. This one is for a modern quilted stocking:
Large Modern Christmas Stocking Free Pattern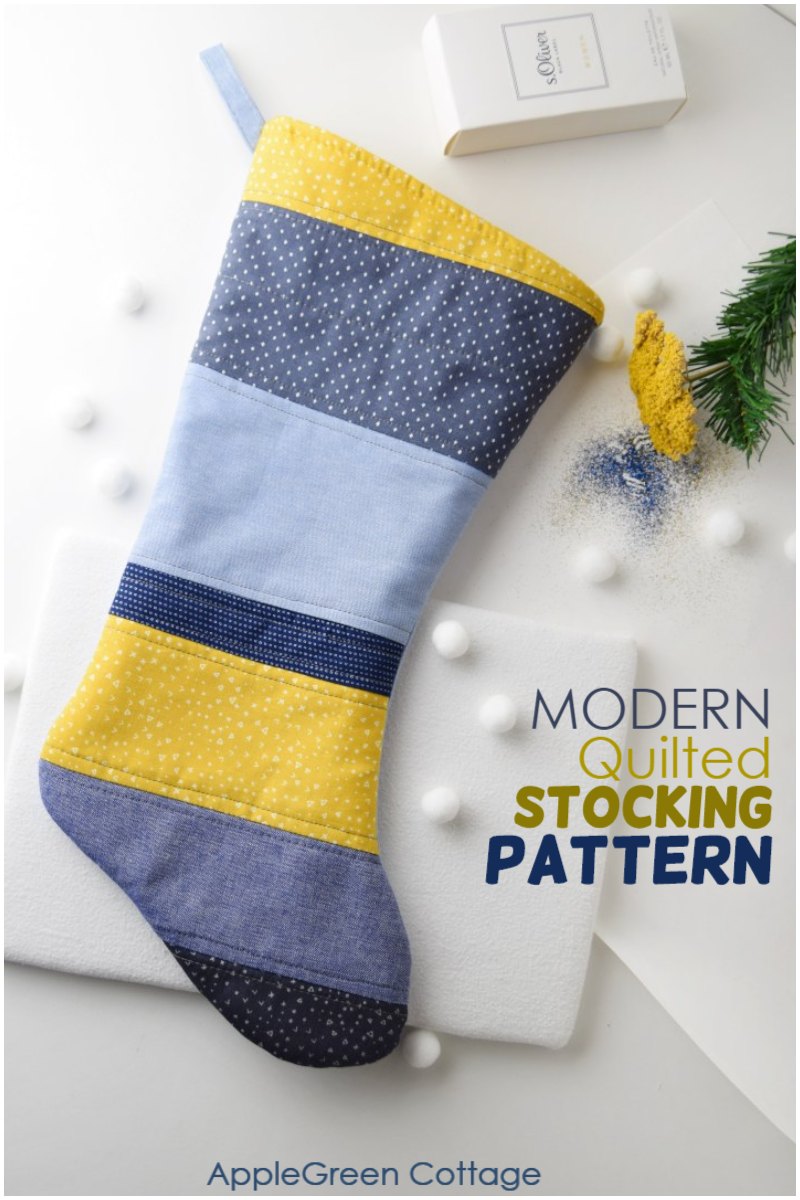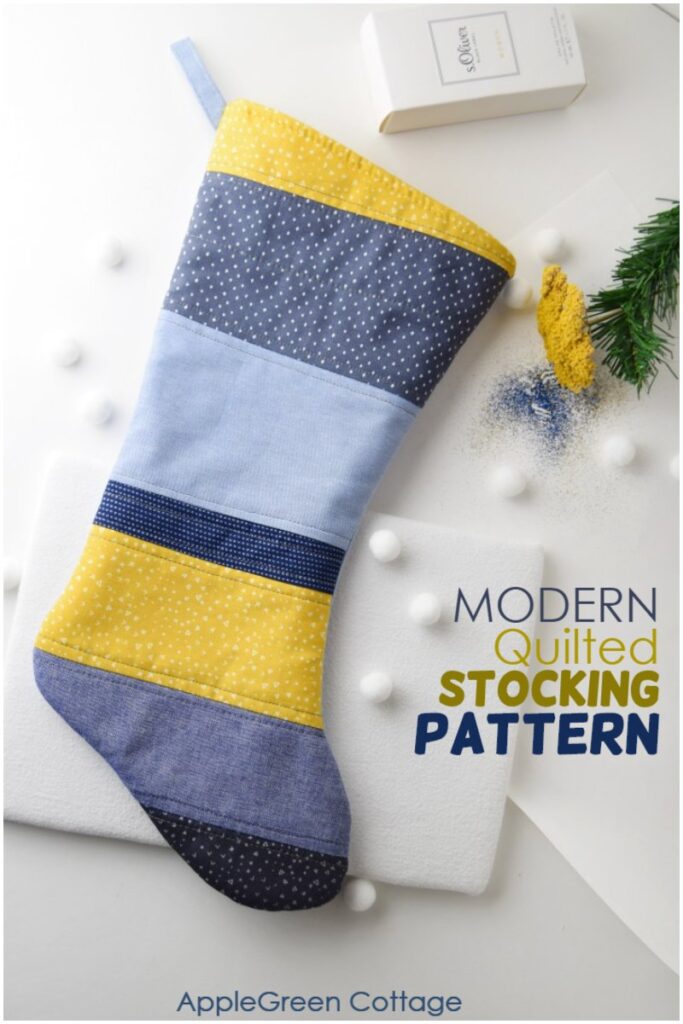 If you need a larger and stiffer stocking, check out my latest one, this modern quilted Christmas stocking pattern. You can get it for free and you'll love it - every detail explained so yours can be even prettier than mine!
Beautiful Plaid Stocking Pattern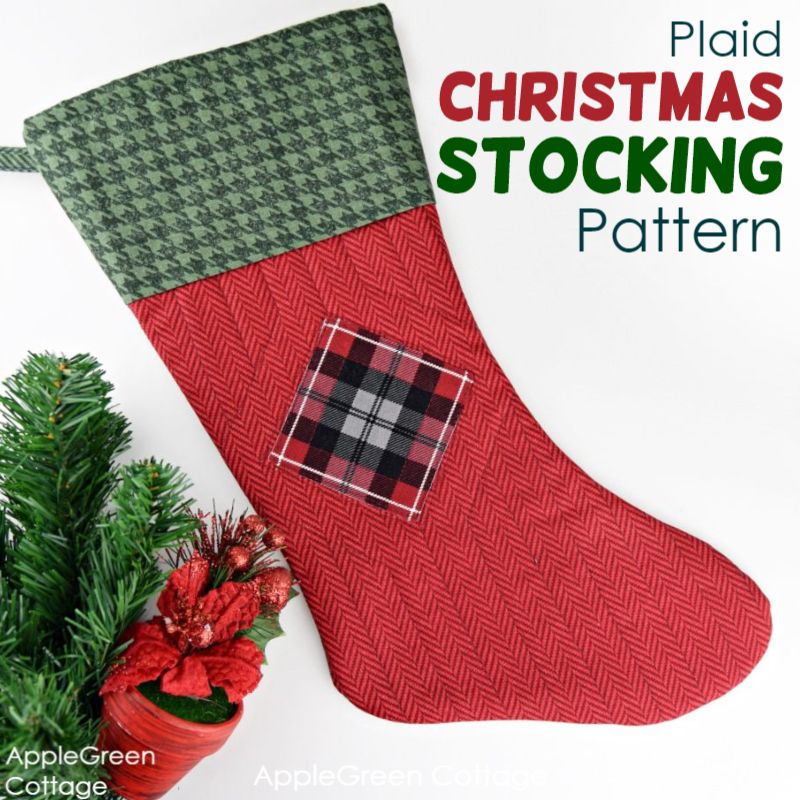 See how to make a plaid Christmas stocking with a beautiful yet simple applique. A keepsake stocking that will very likely remain in your family for generations.
How Do I Get the Stocking Pattern for FREE?
Join our list and get the pattern (actually 2!) emailed to you:
Mini Stocking Ornaments (Free Pattern in 3 Sizes)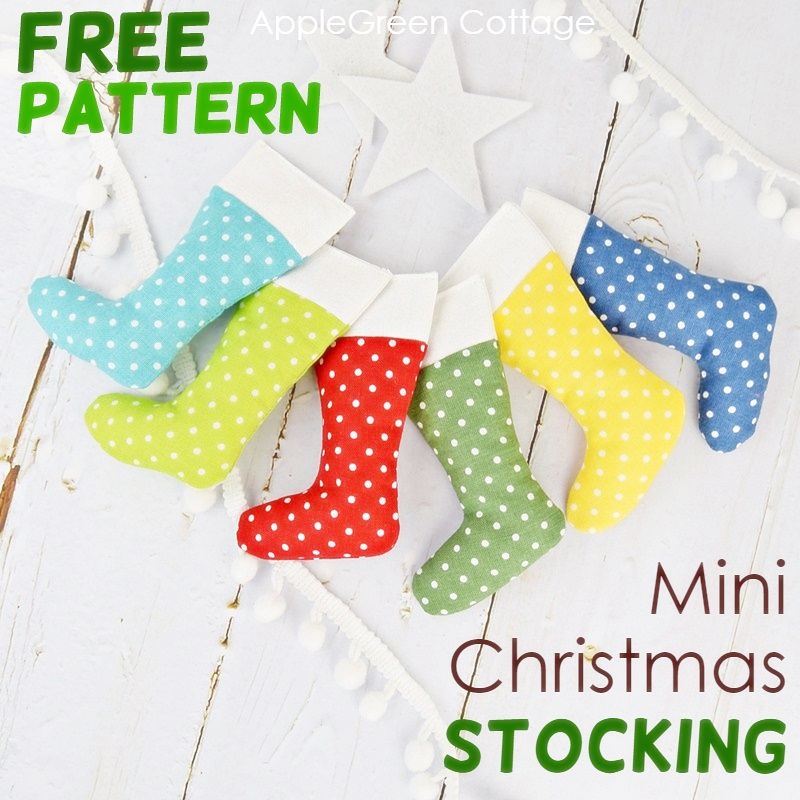 Oh, and have I mentioned I even made a three-sized mini version of the stocking pattern to use as a garland? Free stocking pattern for all. Use this free pattern for mini Christmas stocking ornaments in three sizes I made here at AppleGreen Cottage - and turn these into the cutest diy Christmas garlands!
More Free Christmas Stocking patterns - the Best ones I could find!
I love designing patterns from AppleGreen cottage readers. By now, there are more than 100 free patterns waiting for you here on this site - some I keep for my newsletter subscribers only (join here)! But I think it's always best to have a lot of options to choose from. So I'm posting an additional list of my favorite free stocking patterns I've found on the net, so you can choose your favorite! Check out what amazing and creative ideas my friends and fellow bloggers have come up with this year.
Here I listed many other stocking patterns I love and admire - spoiler alert: have you ever bumped into one with a mermaid tail version, or a dog paw stocking? Or if you're like me, you'll probably give those adorable elf stockings a try, too! Or check out a few monogrammed versions of diy stockings. Scroll down to see them all!
Upcycled Denim Stockings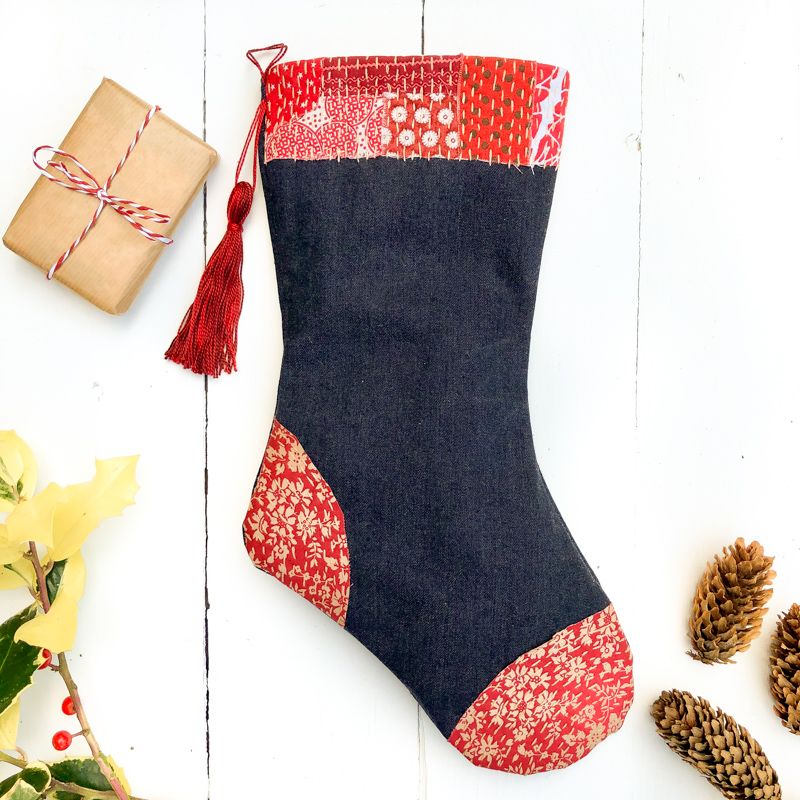 Vicky has made these beautiful upcycled denim stockings. Love the sashiko stitching! Visit tutorial at Vicky Myers creations.
Ice Skate Stockings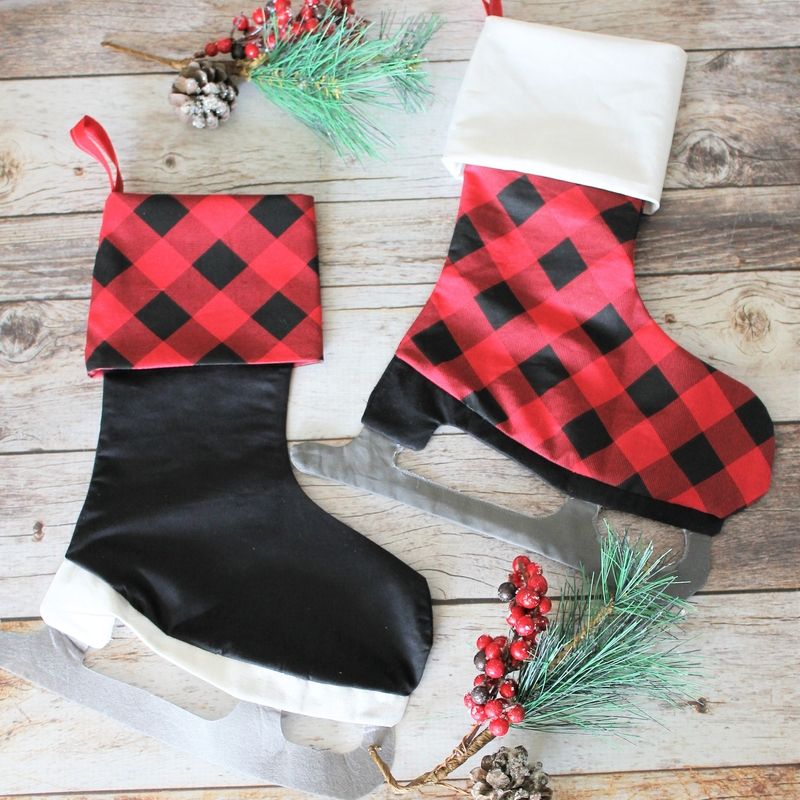 Or you can get super creative and make this cute ice-skate variation of Christmas stockings - visit Sew Simple Home for a free template and tutorial. So cute!
DIY Felted Wool Sweater Stockings with Embroidery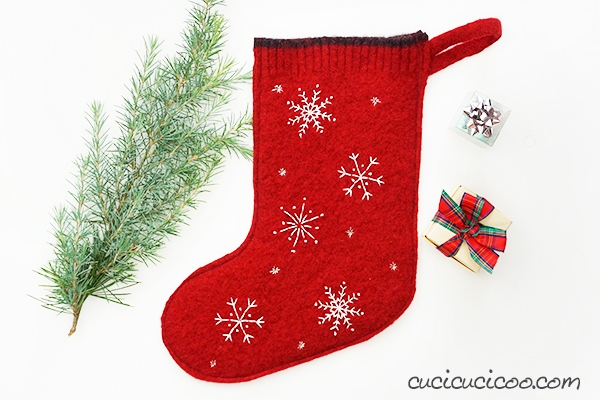 I love this bright red with adorable embroidered snowflakes - save an old sweater and make these diy felted wool sweater stockings using Lisa's easy tutorial at Cucicucicoo.
Faux Suede Fringe Stockings Diy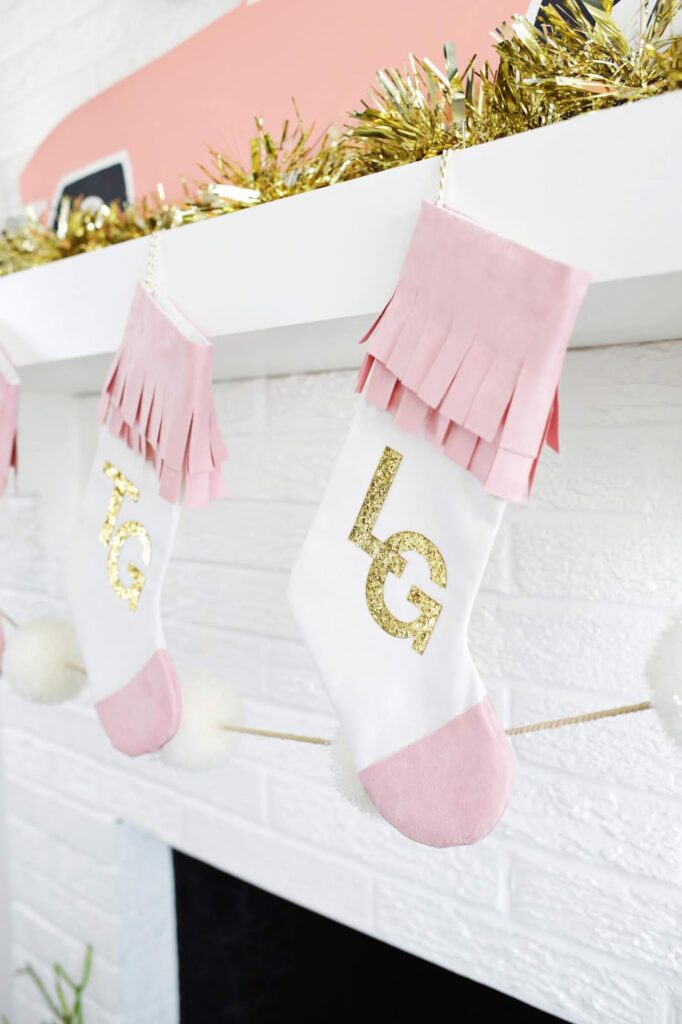 These look gorgeous! Get the free template and how-to at A Beautiful Mess.
Cute Diy Felt Christmas Stockings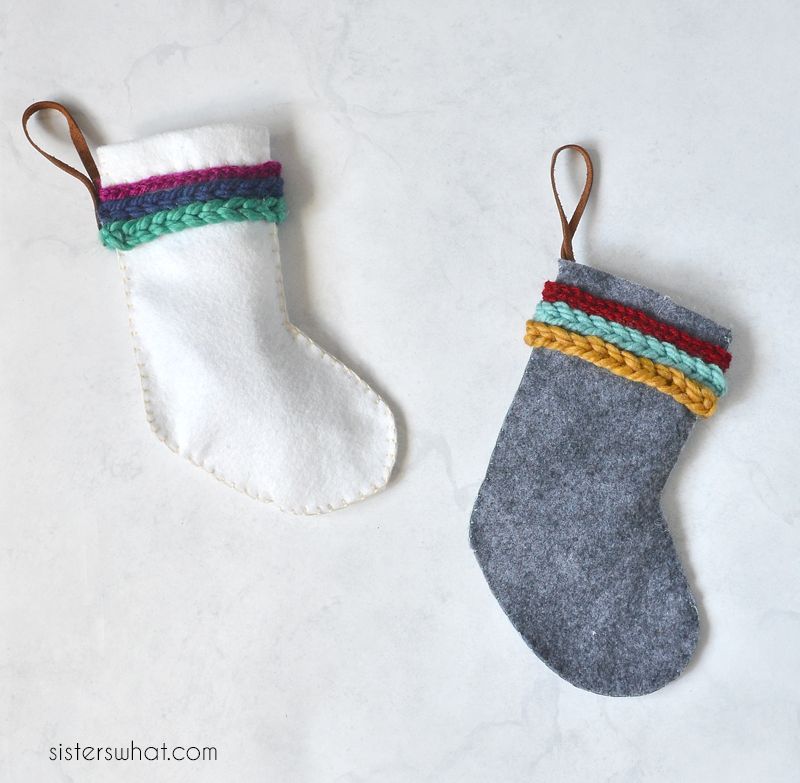 Havalah at Sisters What! created these mini kindness stockings - so sweet!
Diy Christmas Stockings With An Upcycled Stuffed Animal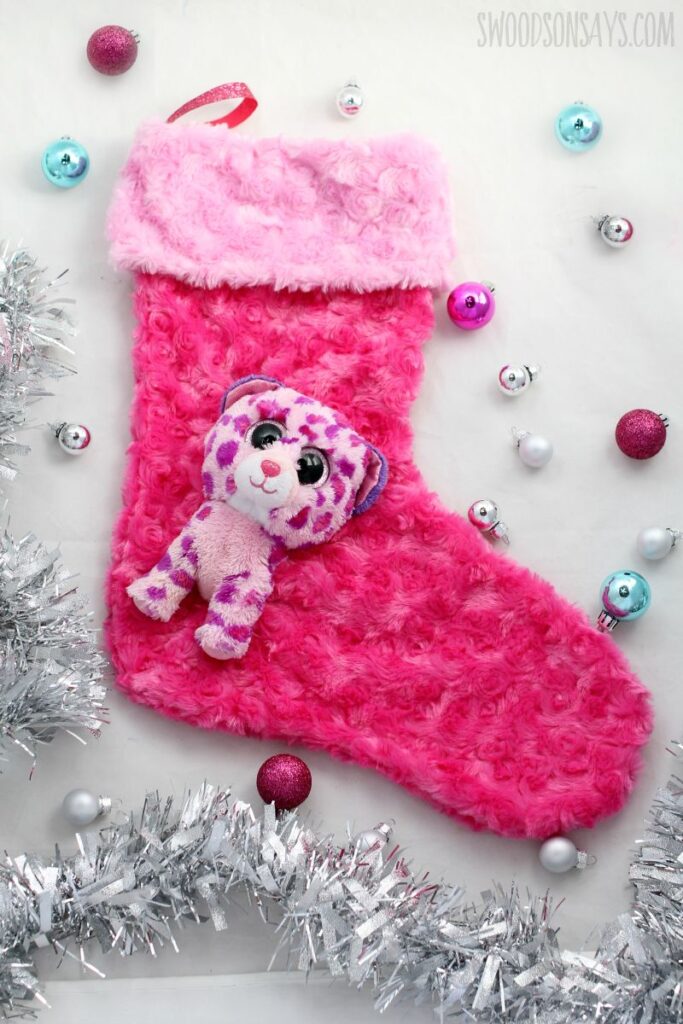 I'd never think of this one myself, but what a clever solution for the gazillion of cute stuffed toys to upcycle! Visit Stephanie at Swoodson Says for tutorial and more photos.
Elf Stocking Pattern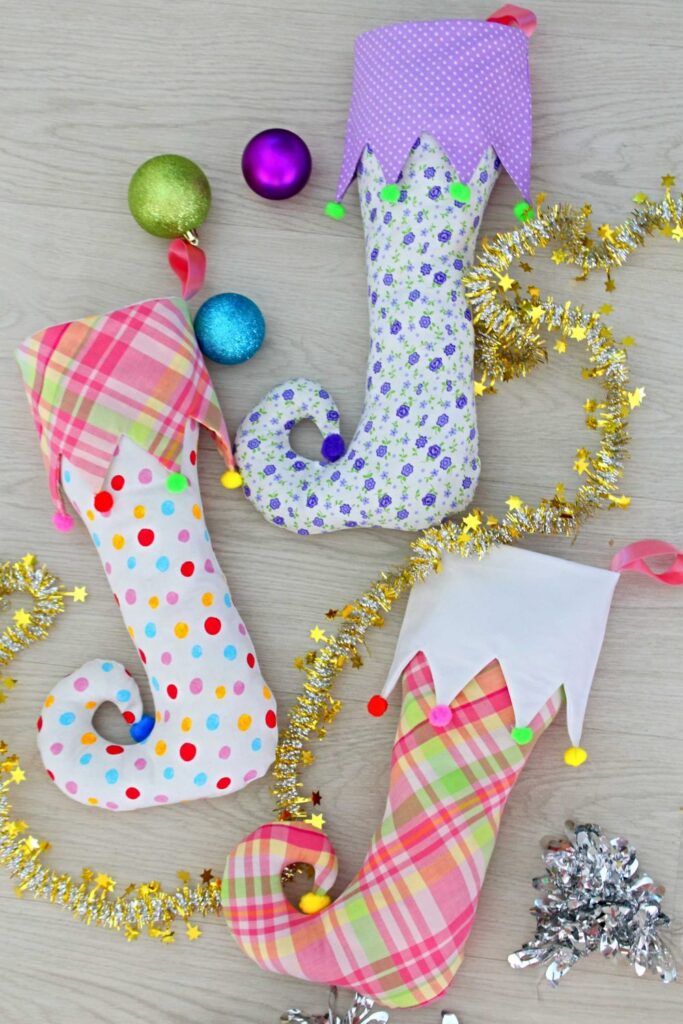 These elf stockings are just the cutest ever! I just had to include them and think I am gonna make a few like these later this year. Visit Petro at Easy Peasy Creative Ideas for the tutorial and free pattern.
Quilted Christmas Stocking Pattern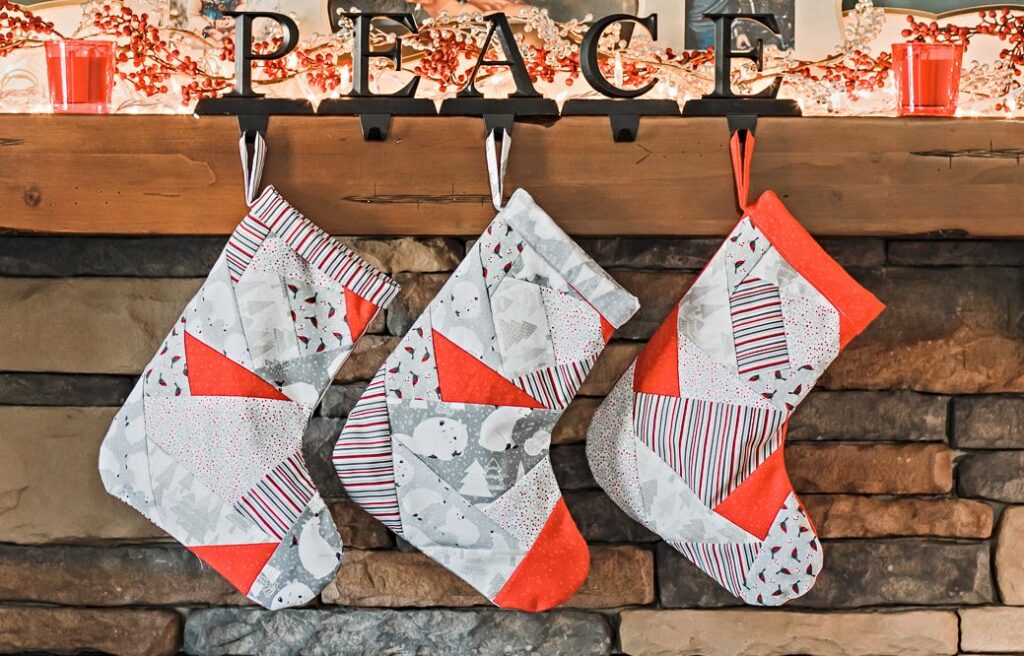 So smart and a perfect stash-busting project! You can do a mix of low-volume prints and a dash of bright red here and there - check out Emily's tutorial and get her free pattern at Life Sew Savory.
Stocking Advent Calendar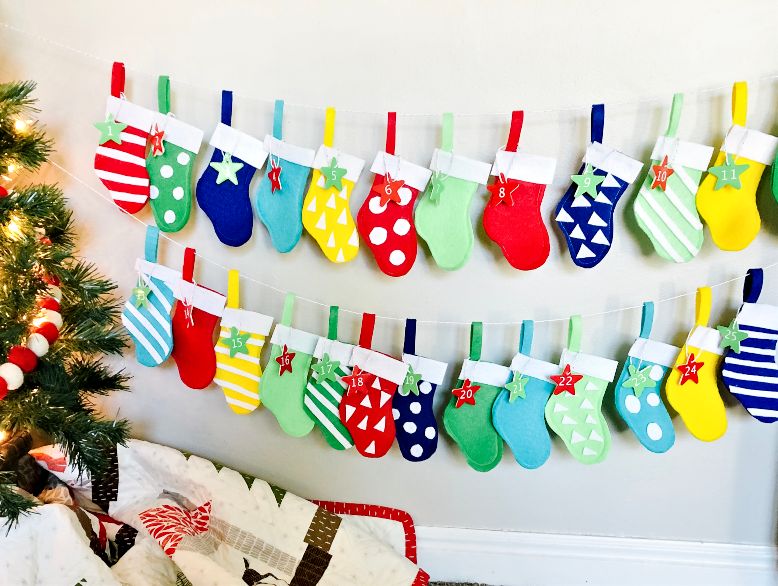 Make super fun stocking advent calendar out of your diy Christmas stockings and hang them right beside your Christmas tree! Visit My Sew Bliss for tutorial.
Diy Mermaid Tail Christmas Stocking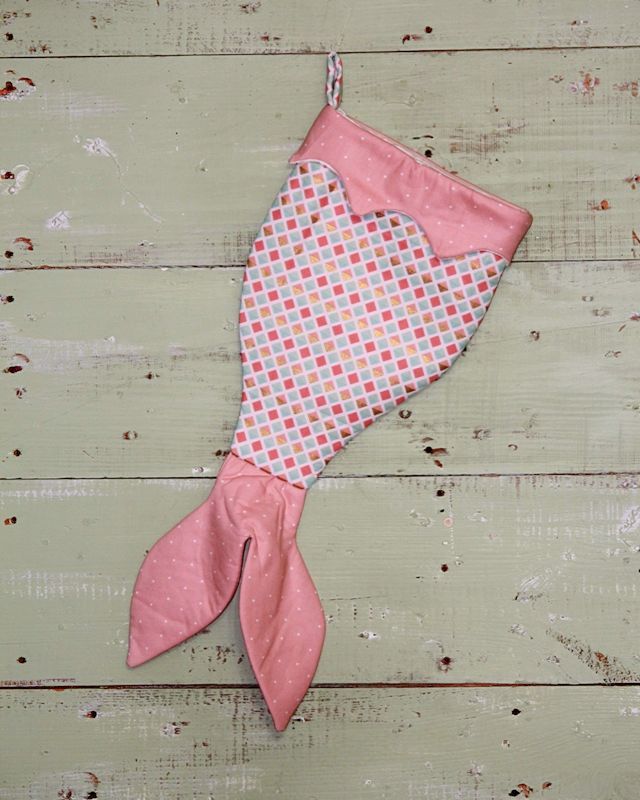 Looks like so much fun, a perfect diy Christmas stocking for all the girls who love mermaids! Get the free stocking template and how-to at Create Kids Couture.
Free Stocking Pattern for Pets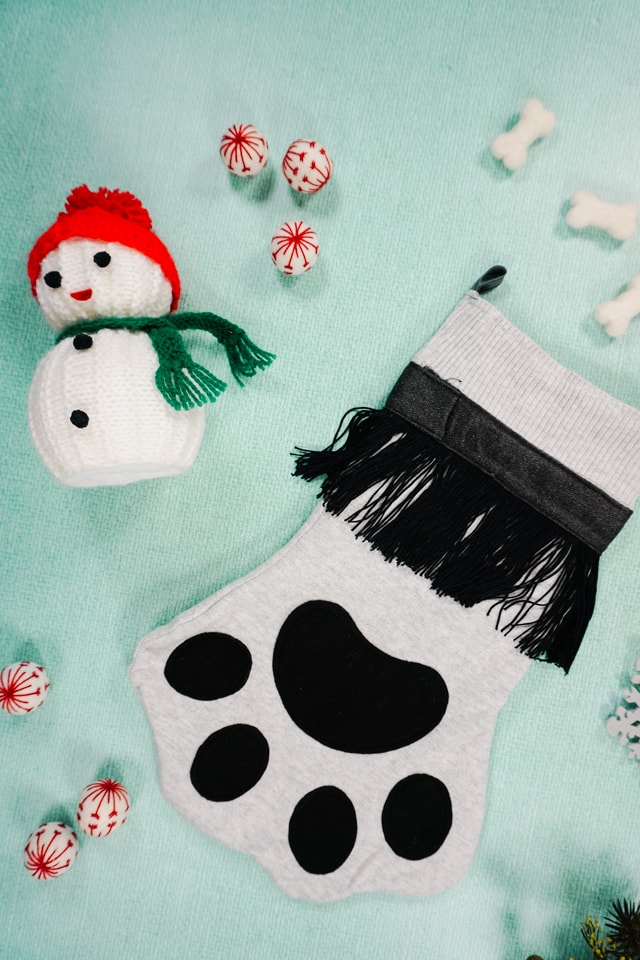 This dog paw stocking pattern by Heather Handmade looks so much fun! This is a great pet Christmas stocking and works for cats or dogs.
Large Diy Stockings to Hang On Your Door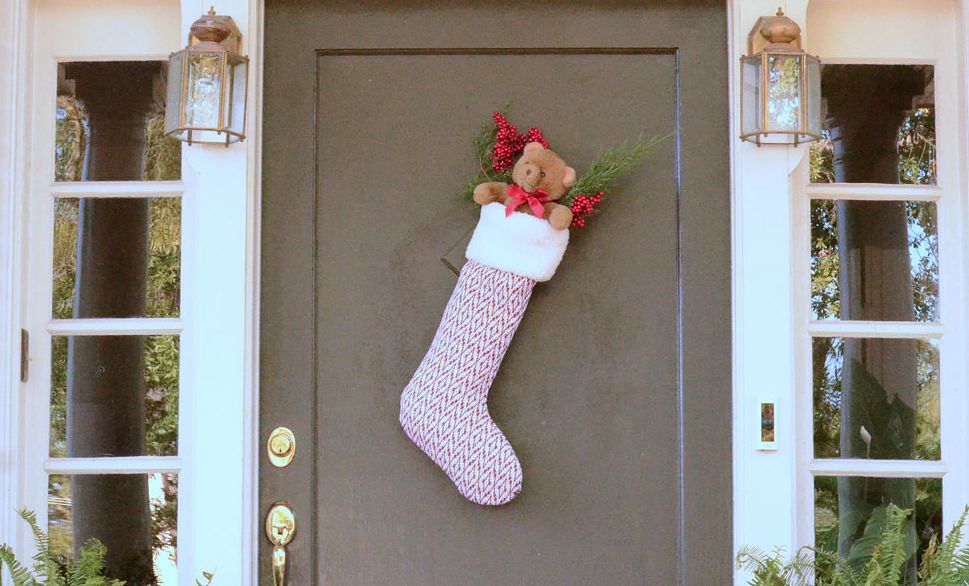 A great alternative to a diy Christmas wreath! Visit Orange Bettie for the how-to.
Classic Cuffed Diy Christmas Stockings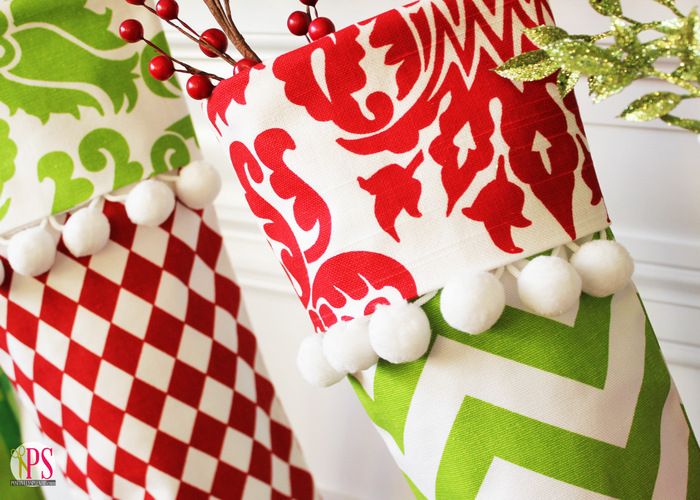 This Classic Cuffed Christmas Stocking pattern is available for free here at Positively Splendid.
Diy Upcycled Sweater Stockings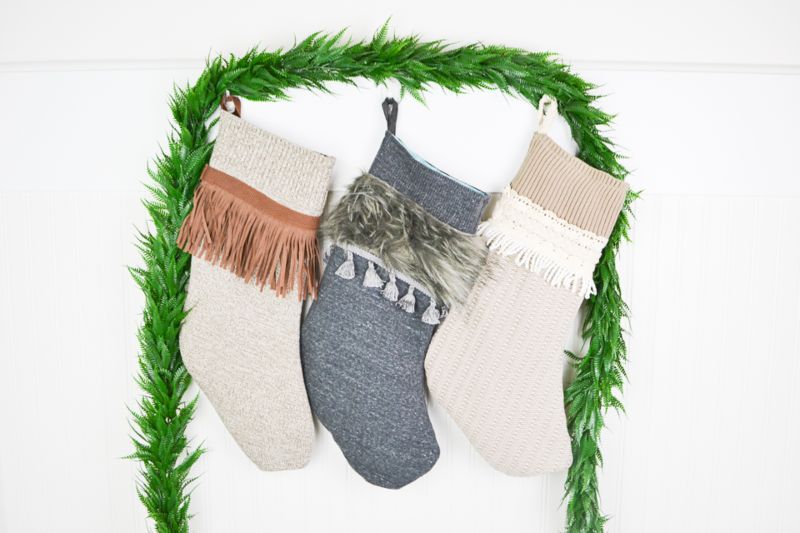 These diy stockings from sweaters were sewn by Heather at Heather Handmade. She created a tutorial too!
Diy Christmas Tree Stockings As Money Holders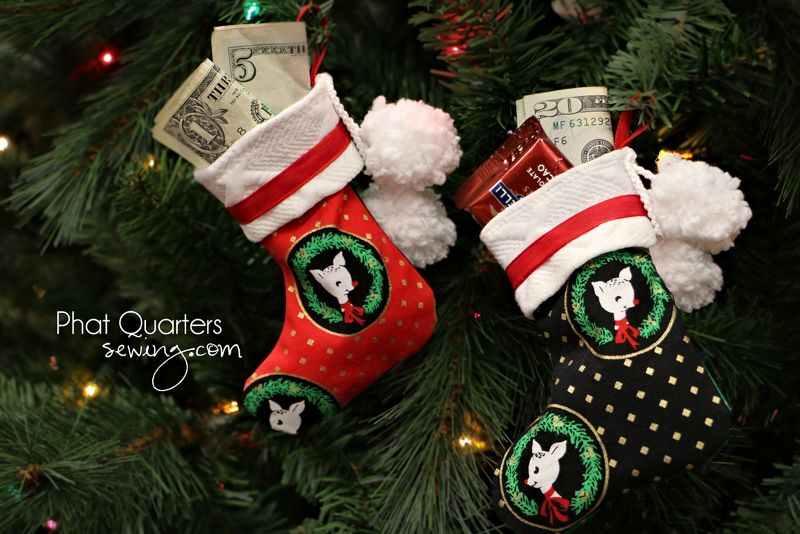 Gemia at Phat Quarters created these small diy Christmas tree stockings to be used as gift card and money holders. So practical!
Adorable Mini Stockings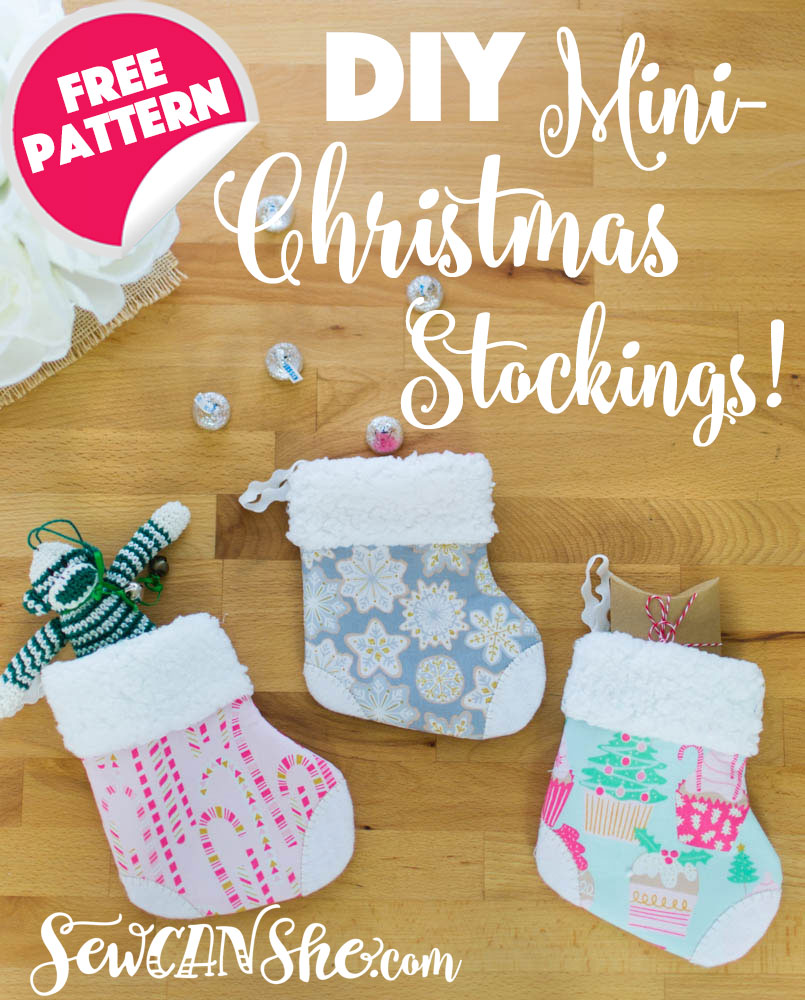 Caroline made these mini stockings, perfect for using up fabric scraps and for filling with holiday treats, gift cards, and other small items. Get the template and tutorial here.
Small Personalized Christmas Stockings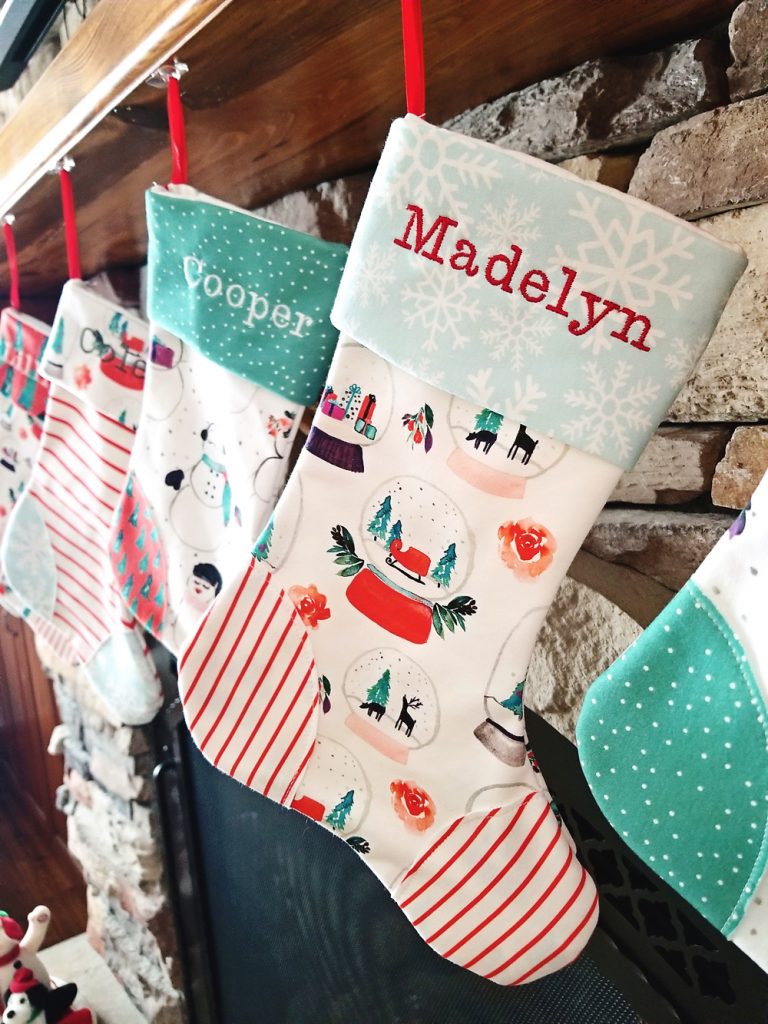 See how to make these beautiful small personalized Christmas stockings - tutorial and free pattern at The Creative Bite.
Christmas Stocking - Out Of a Wedding Dress!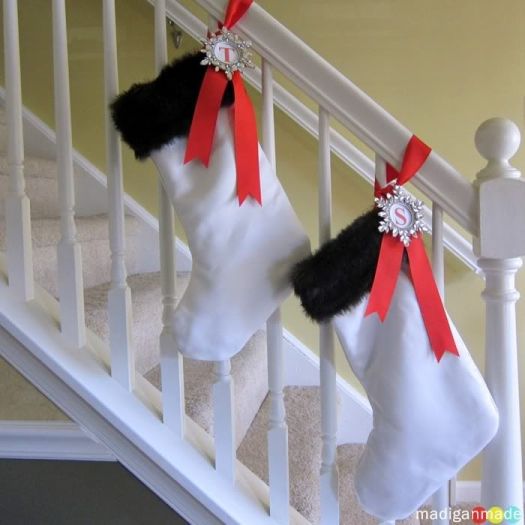 Can you believe it, these gorgeous diy Christmas stockings were made from a wedding dress! Visit Rosyscription.com for more photos and a how-to.
Easy Lined Stocking - Free Pattern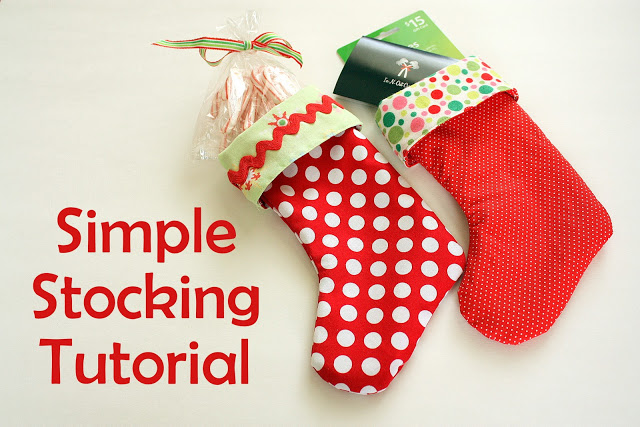 Easy lined stocking by Amy smart - head over to The Diary of A Quilter for a free template and tutorial.
10-Minute Christmas Stockings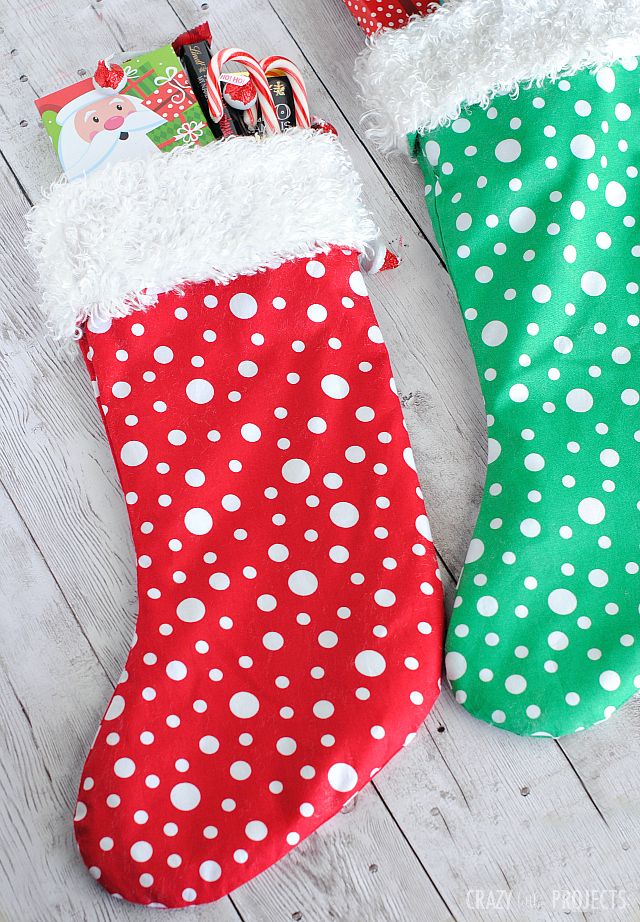 Here's a quick stocking tutorial over at Crazy Little Projects, Amber only needed 8 minutes to sew one of these. Cute!
Simple Stocking Sewing Pattern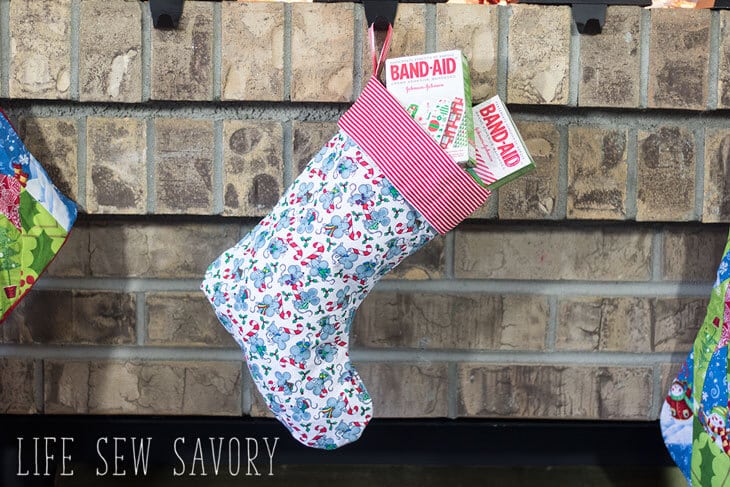 These cute mice on the stocking - I fell in love with this one the moment I saw it! It was sewn by Emily at Life Sew Savory, and her tutorial includes a free template, too!
Quilted Stocking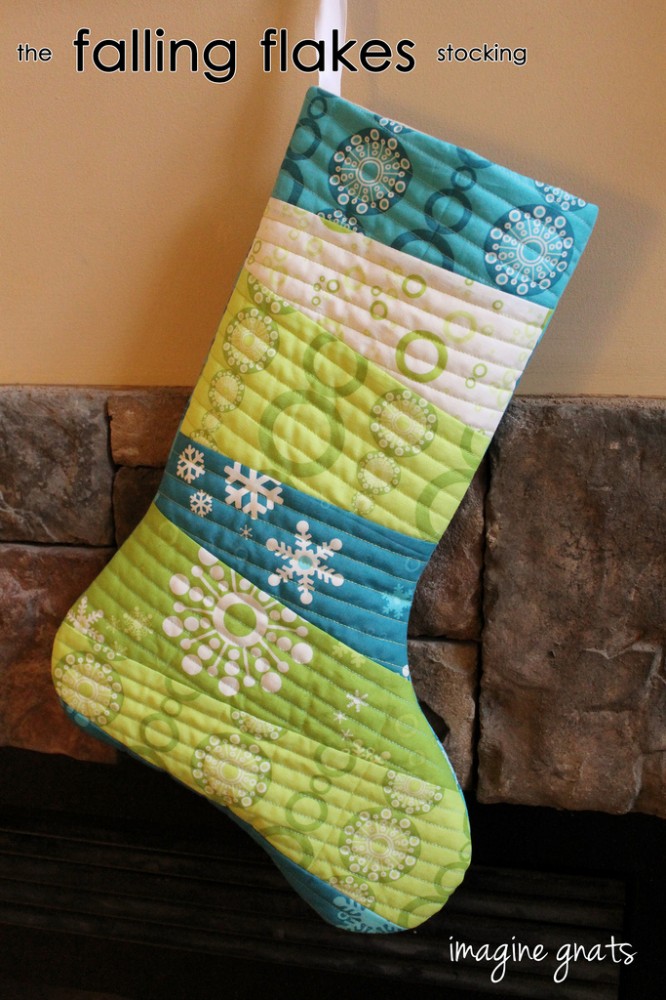 Beautiful quilted Christmas stocking by Imagine Gnats. These let-it-snow prints are in my favorite colors!
Sweater Stocking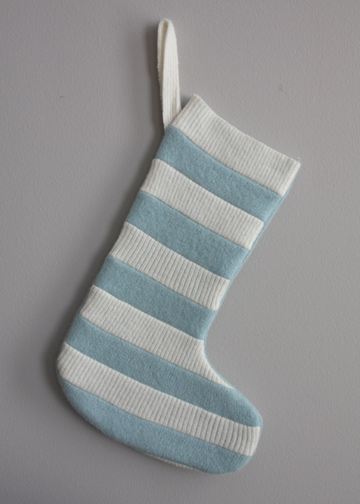 This sweater Christmas stocking is the way to go if you want to use up some of your old sweaters. Useful, eco-friendly, and trending! Get the free stocking template and how-to at The Long Thread.
A Crazy-Quilted Stocking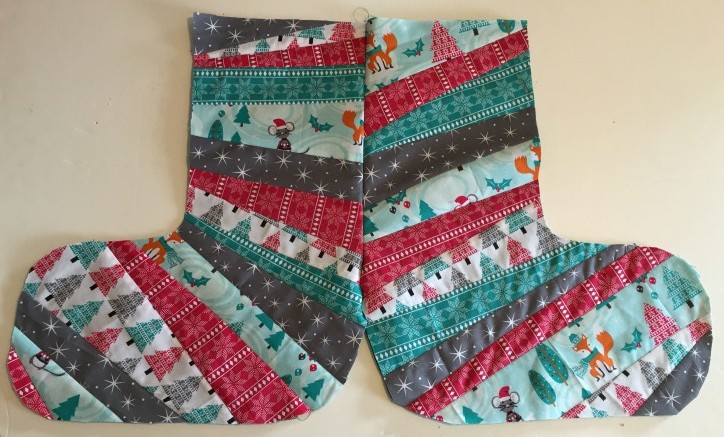 Take a look at how to make these patchwork stockings. So much fun - and you can use up all your scraps! Free template and tutorial on the blog by Hobbcraft.co.uk .
Fur And Flannel Stocking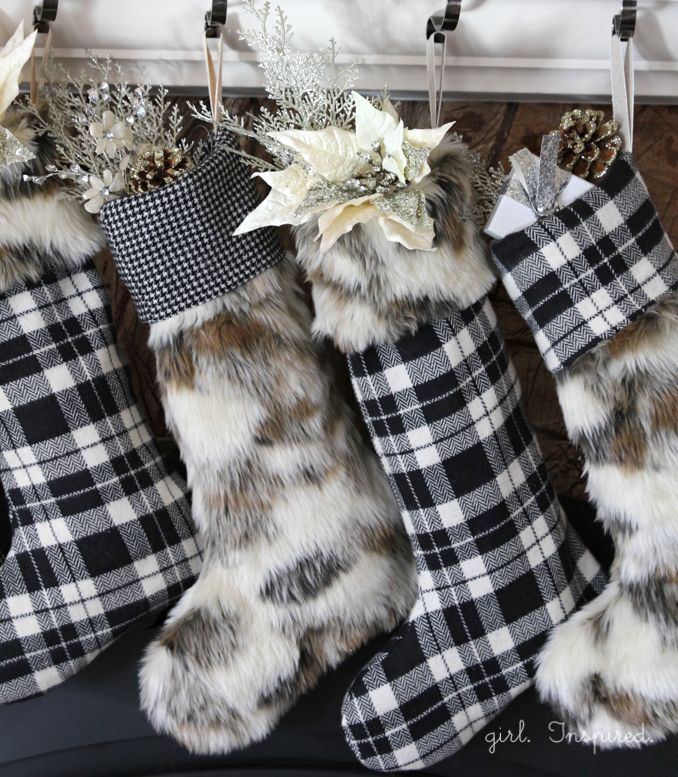 Make a few stockings in fur and flannel - a beautiful combo, visit The Girl Inspired for full tutorial.
Patchwork Christmas Stockings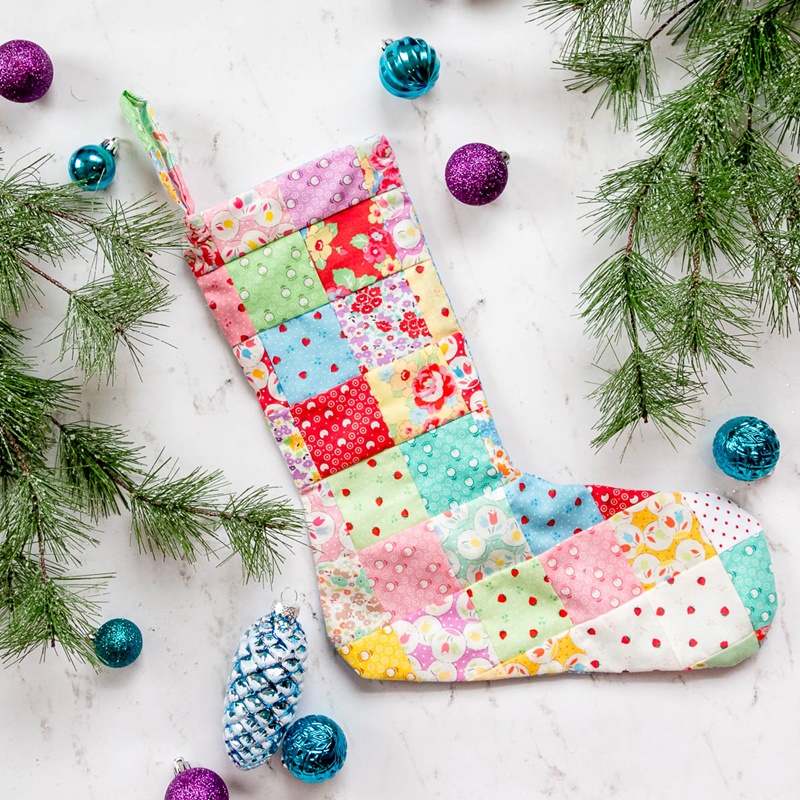 This adorable patchwork Christmas stocking is ready to brighten your kids' Christmas morning. And, here's another one, with an added cuff:
Patchwork Stocking With Cuff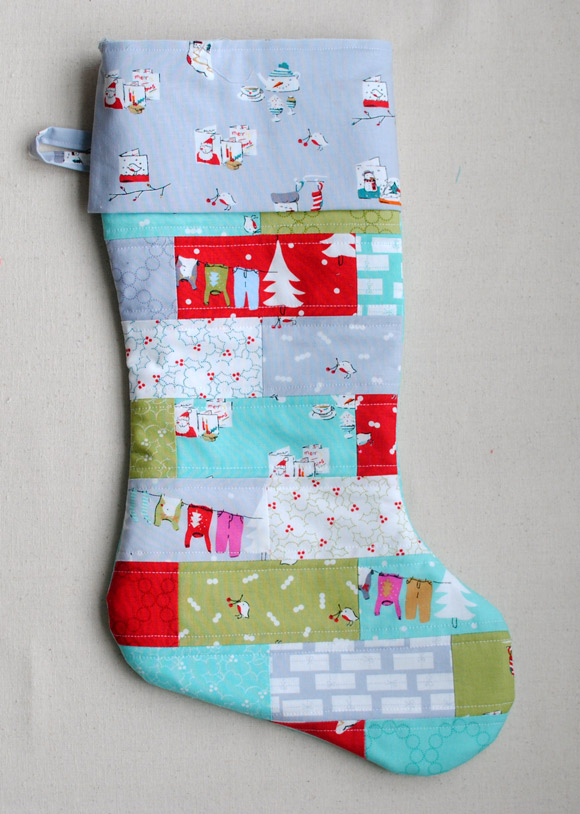 Love patchwork and working on scrap busting projects? This one is perfect for you! Visit Clover & Violett for tutorial.
I hope you've had fun browsing through all these creative Christmas stocking patterns. Choose your favorite design and materials, and the color, then start sewing: possibilities are endless. Christmas stockings are easily personalized, and with the right pattern, they will last for years.
Get ready for gift-giving: fill them with holiday treats, gift cards, and other small items. Merry Diy Christmas! Oh, and while sewing with holiday prints, you can also make an Advent calendar, I used a Christmas fabric panel (spoiler alert: the quickest way to sew it!)
Make sure to save this collection for when you need it: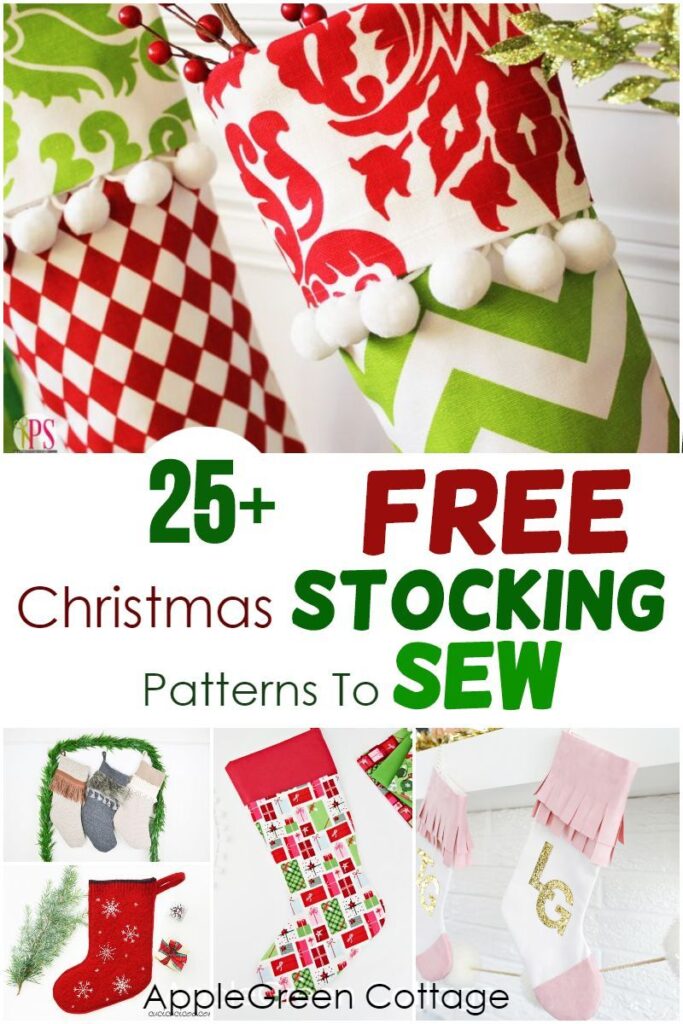 Happy holidays!
WANT MORE FREE TUTORIALS AND GOODIES?
Get email updates and never miss out on new patterns, printables, and tutorials:
Or …check out the gift bag pattern in 6 sizes in our shop - a super easy no-corner-boxing sewing project. Reusable gift bags for all your future gifts!