Who's in for some Christmas sewing? Learn to sew a lovely quilted Christmas tree skirt. See how I got myself a brand new, DIY quilted tree skirt. Looks complicated, but is not. Looks like tons of work, but it's a fairly easy, two-day quilting project a quilting beginner can do too. Are you in? See how it went! (And scroll down to see the single thing where I failed.)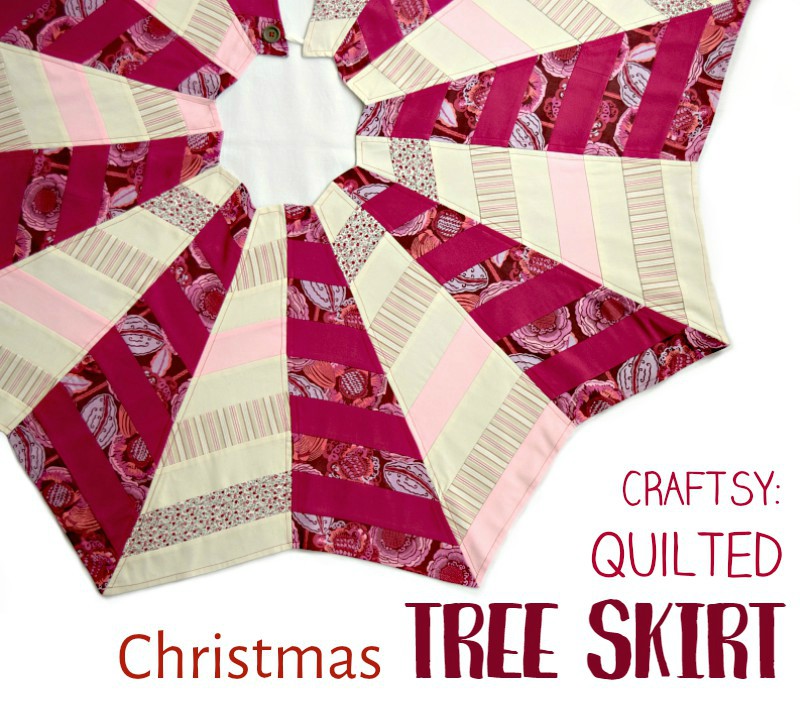 I have been compensated for this post and received a free product to review. This post also includes affiliate links. Thanks for your support.
If you want more Christmas sewing projects, check out these ideas:
Quilted Christmas Tree Skirt Pattern
I took a sewing class. Yes. And it has instantly made it to my favorites - the best sewing classes online. Can you imagine! I hardly ever find the time to follow another person's sewing how-to, but this time, I was offered to try out a Craftsy course by one of my favorite sewing bloggers. Caroline. Oh she's good! Of course, I had to try it out right away!
It's the quilted tree skirt sewing class taught by Caroline Fairbanks-Critchfield it comes with a quilted tree skirt pattern. Scroll down for the link to the sewing class, but first, see how my sewing went:
I feel my quilted tree skirt has turned out really cute, and I'm sooo ready to brag to my friends and family, showing off the quilted tree skirt all season long! It looks like a darn tough project, with all those intricate looking corners. And unless those friends of mine are reading this blog, they will NEVER find out it was in fact an EASY two-day project for beginner quilters 😉 This is how it started:
Piecing the stripes together and cutting the blade forms. (Easy. No tedious measuring. I just used the template that's provided in the course materials.)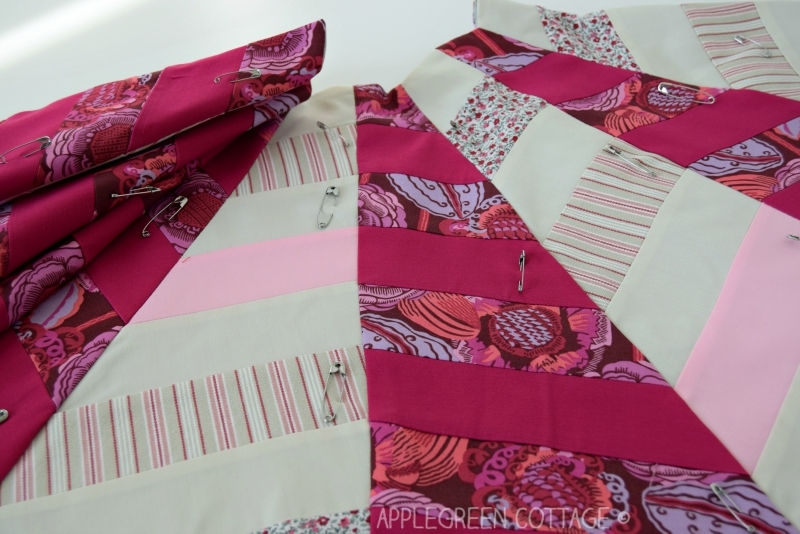 This is how sewing the layers together looked like. And topstitching. This Craftsy class has made things really easy for me. It's been one of those rare patchwork projects where I did not need to use my seam ripper. Not even ONCE.
Want to skip right to the chase? Scroll down for the link to the class.
The best part of sewing my quilted tree skirt
My favorite part? Detailed sewing tips. Always the best way to learn!The class is marked as intermediate. I had my reservations there, as Caroline has years (decades!) of quilting experience. I found it hard to believe I could follow her pace and the professional way she does quilting. My mistake! She shows every little thing to make the project easy and quick. I could hardly believe how easy Caroline makes it to follow. Beginner sewing tips included!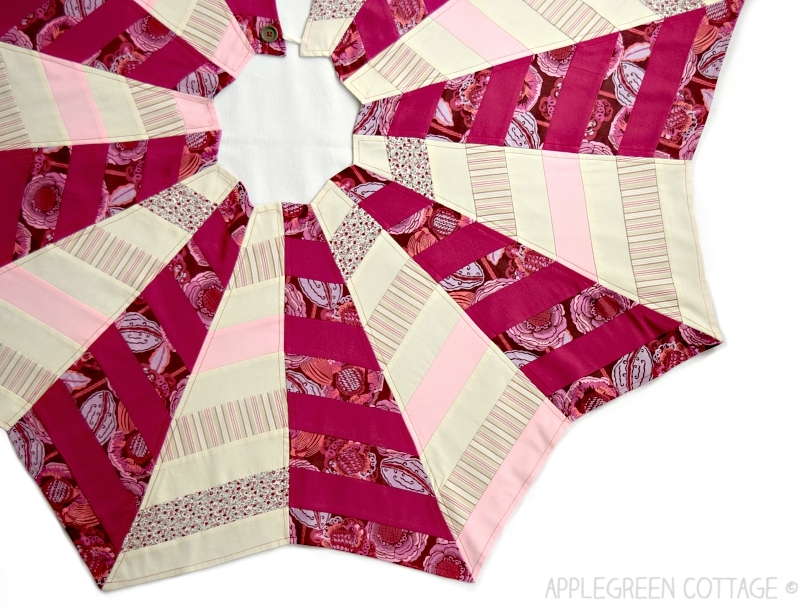 Basically Caroline takes you by the hand and accompanies you through every single little thing you need to do to make the quilt. She shows how to avoid any shifting of the layers, even what to do if you cut too far when trimming the seam allowance. Even totally simple things like how to shut the opening closed, how to make neat tassels...You name it.

What fabric to use for this quilted tree skirt pattern
If you use easy strip piecing with 2 ½ inch (6.3 cm) wide stripes, you'll have your own tree skirt completed really quickly. The easiest way? Get a jelly-roll pack on Etsy - or in the Fat Quarter Shop HERE. So many beautiful choices!
I had no jelly roll on hand - actually, I was waiting for one to arrive but unfortunately it ended up somewhere else and in the end, I just used what I had on hand. Not bad for a stash-busting mix-and-match project, right?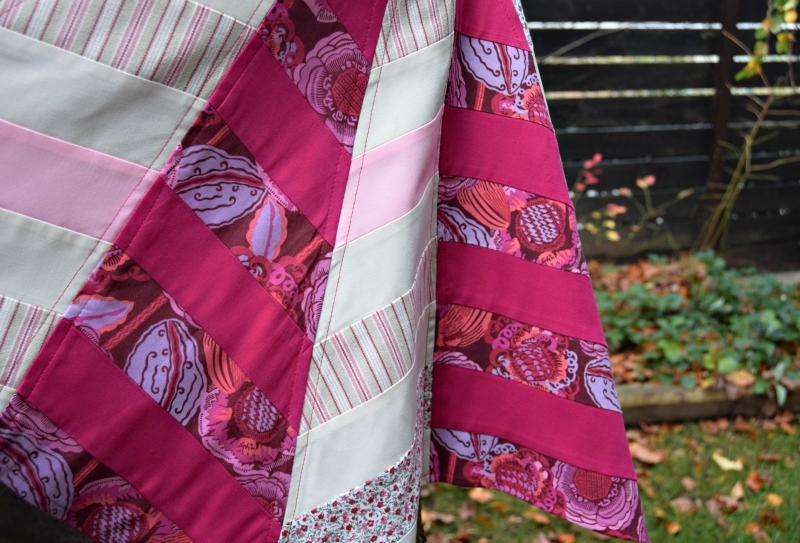 Checking out the colors at daylight in our backyard... they will be perfect to use with some of our diy felt ornaments on the christmas tree.
What I loved about this quilt is the perfect mix of techniques: first, strip piecing (love it!) then foundation piecing to the batting layer (love quilting as you go!), and then just plain simple back layer to add - no binding either, which makes it super quick.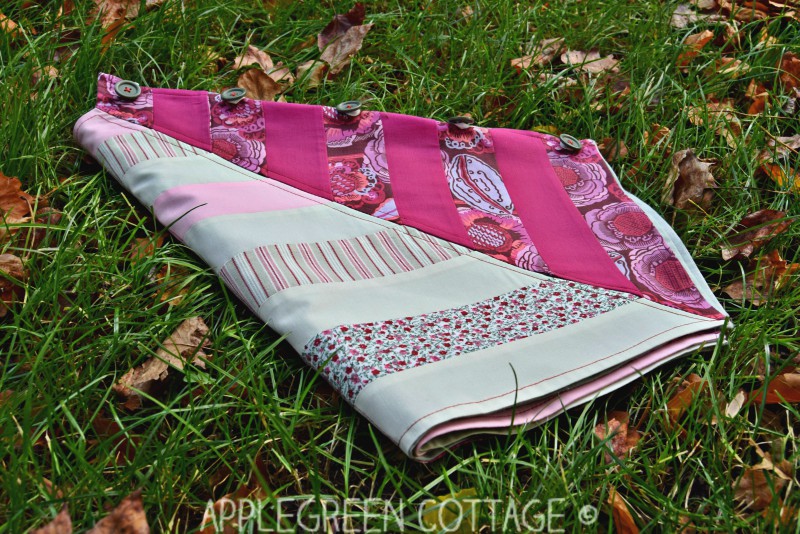 Folded, waiting for the Christmas season to begin... Can't wait!
Oh, and one more thing! You'll surely be left with enough scraps to complete another scrapbusting project, like this framing of patchwork pieces (how-to HERE) Make a framed wall art piece out of them, and you'll have an additional Christmas gift made in no time! Save for Later: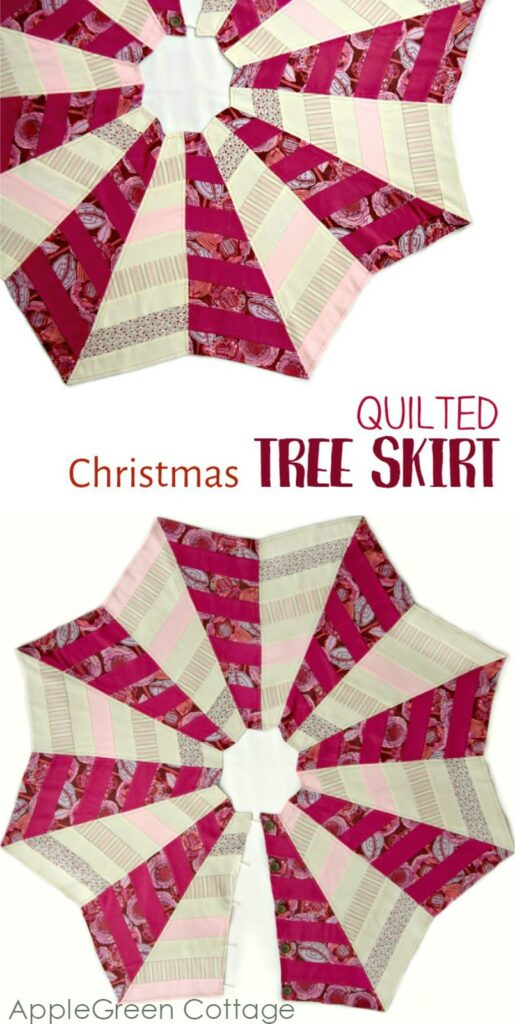 The One Thing I Failed In?
You know how every professional says it's important to use the exact seam allowance as stated in a project? How I always mark MY seam allowances in all MY OWN tutorials I make for you? Ha! Well, here I am standing before you, having to admit I failed with something as simple as the seam allowance. Instead of using the recommended ¼ inch seam allowance, I used a larger one when sewing the blades together, and ended up with a tree skirt that does NOT make a full circle.
See the gap between the first and the last blade? Yep, just there. Anyway, I was lucky! It's just what I needed, as our Christmas tree base has a little bit of an elevation, and it's just perfect for that. Lucky me, right? But if YOU totally need a full circle, pay attention to the seam allowance, will you? Be better than me 😉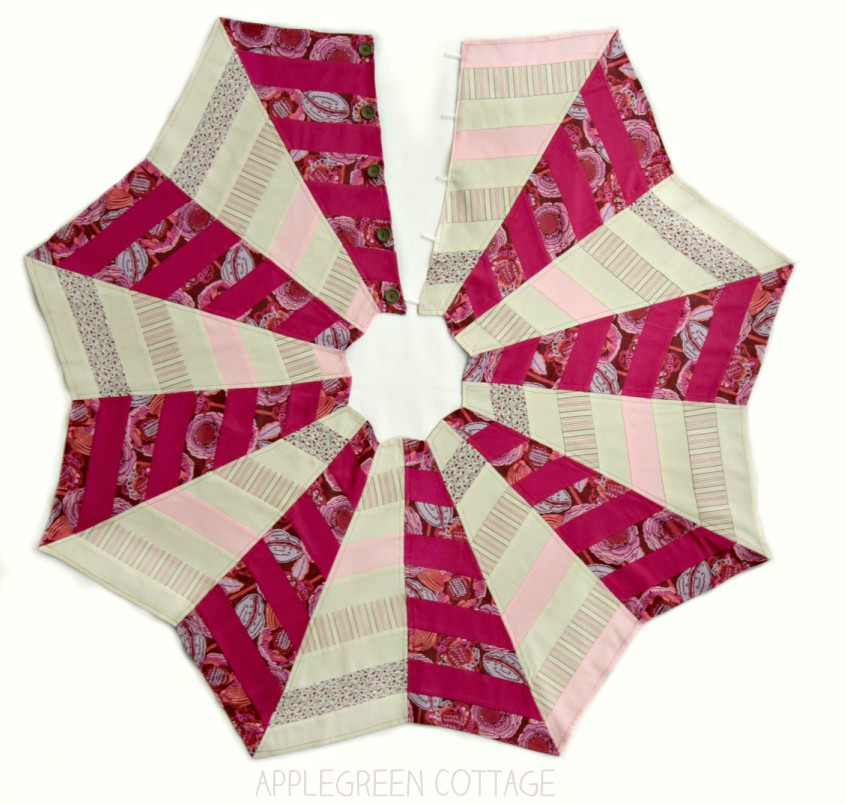 Caroline has put together a great class. It's a full-fledged course with everything one needs to know to make the project, even if new to quilting. It covers everything I can imagine I'd ever need to know when sewing my new tree skirt. (Even a coloring page to plan it all out!) Not that I'd expect anything less than great content, but honestly, I thought it would be far more complicated. It was not.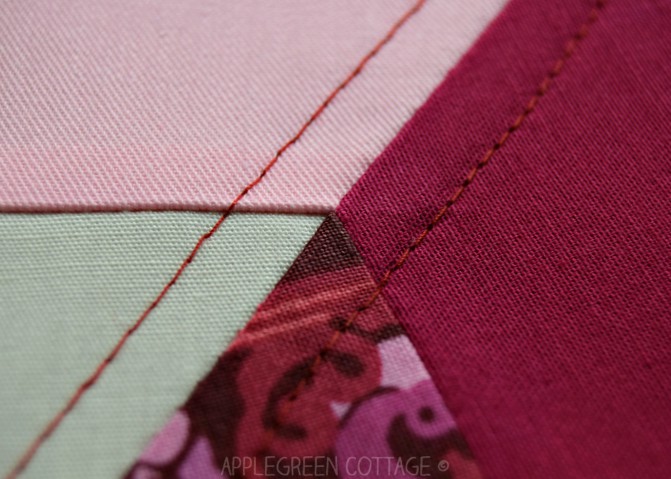 I loved the clear course structure, relevant, easy-to-understand and useful tips and instructions, everything being nicely split up into easy manageable steps. Caroline explained every bit of the process, added tips on how to avoid any issues like uneven seams, or what to do if you snip off too much of the seam allowance. I have found NO SINGLE place or bit of the course where I wouldn't know EXACTLY what I needed to do. Any next course I take, a mini or maxi one, will have it tough to live up to my expectations 🙂
NOTE: please note that the course was hosted on Craftsy that went down for a while - but I'm so happy to see Craftsy has put the classes back up! It would be a pity of such a great course goes away! Interested in this Craftsy class? Feel free to check it out here: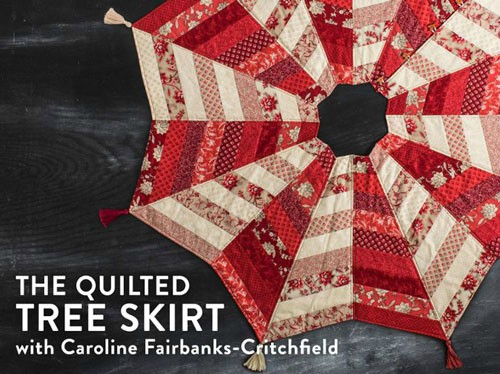 Looking for more quilting ideas? Check out these free tutorials:
Happy sewing! Damjana
WANT MORE FREE TUTORIALS AND GOODIES?
Get email updates and never miss out on new patterns, printables, and tutorials:
Or …check out the gift bag pattern in 6 sizes in our shop - a super easy no-corner-boxing sewing project. Reusable gift bags for all your future gifts!