Sew your own stylish round fabric storage bins in three sizes using this Fabric Basket pattern. Gorgeous diy home decor that is actually useful! And if you're thinking about making handmade holiday gifts, this round basket pattern is a perfect easy diy gift you can sew now. Check out the features below.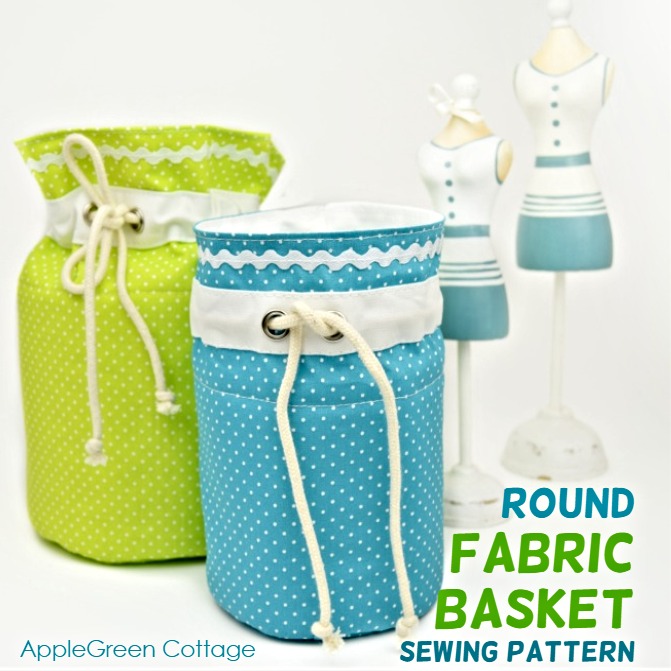 Sew up a Round Fabric Basket for every room in the house! With a large and stable round bottom, an optional inside pocket and a drawstring closure, it will come in handy everywhere. You can even make them in sets, as they are perfect diy holiday gifts.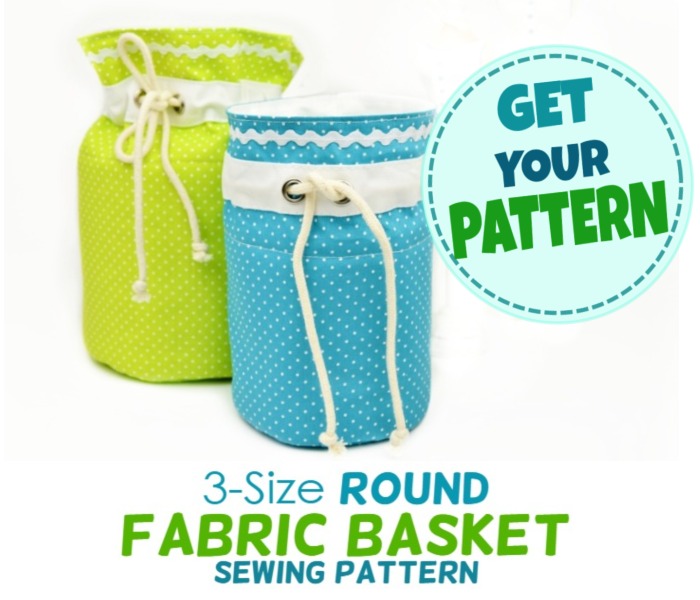 So many uses! Home decor and craft supplies storage, a travel cosmetic bag, toy storage. Adorable as diy nursery decor!
Soft stability: An inner layer of batting allows the basket to hold it's shape, while remaining flexible.
Adjustable top: the drawstring keeps it closed. You can roll down the top when in use - to make everything even easier to access!
Interior pocket to store small items, or say, your knitting needles or crochet hooks!
Folds away when not in use
Fully lined with no exposed seams
Optional tab, so you can easily turn it into a hanging basket, using a keyring tab
Makes an excellent handmade gift for your loved ones (think Christmas!)
SMART construction: No threading the cord through the casing after you're finished sewing!
It could become your go-to project for all your home storage requirements, and a great handmade gift for occasions like birthdays, baby showers, anniversaries, teacher-appreciation, and holiday season gifts - like this Christmas!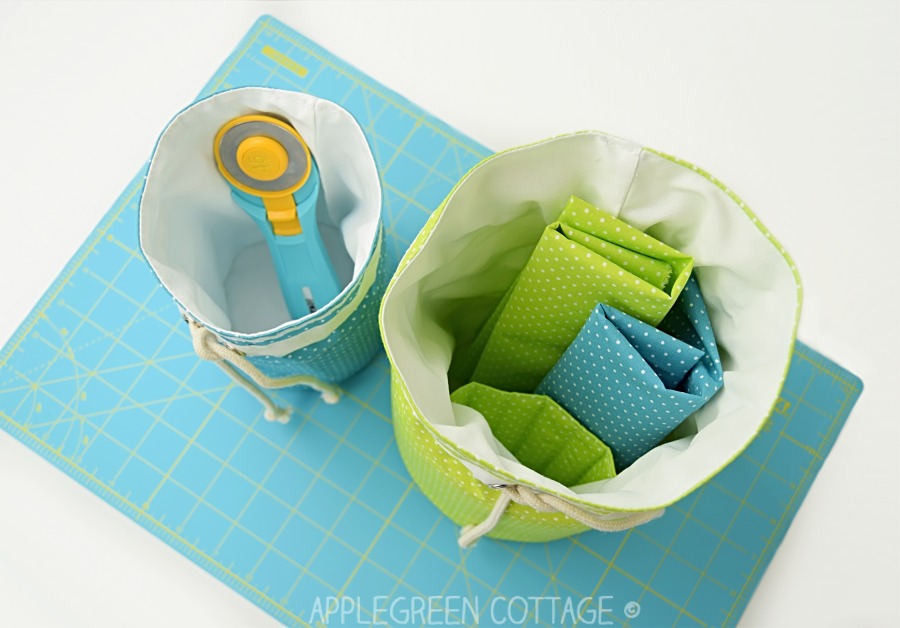 What about some additional craft room storage?
Tons Of Uses of these round fabric storage bins
And if you don't manage to sew one before Christmas, it's a great item to have on hand when your spring-cleaning routine kicks in. These round storage baskets have tons of uses for your home:
Perfect to store craft supplies.
To store your knitting projects. And if you roll down the top you can use it as a yarn bowl. (It would be a wonderful gift for a knitter.)
They make adorable and useful baby nursery decor.
Kids activity bag!
Toy storage bags. Finally a nice non-plastic basket large enought to hole even the Duplo size of Legos!
A great Christmas stocking alternative.
Gift for mom.
Travel cosmetic pouch.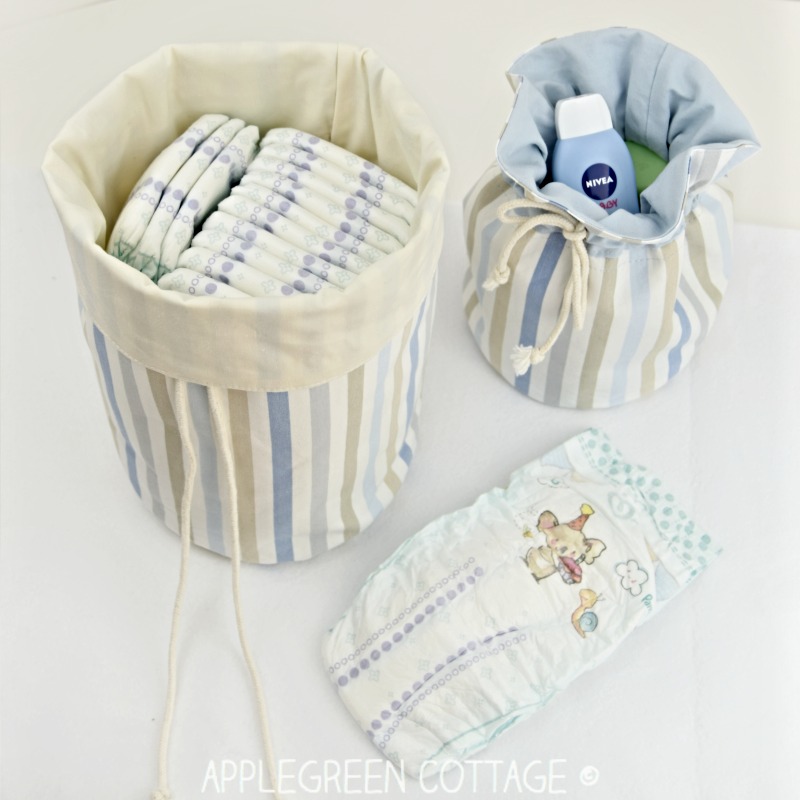 A practical solution for diaper storage: Nursery Room Decor
These round fabric storage bins Will Suit any Needs
And since they come in three sizes, you can choose which suits your needs best. (My kids chose a medium one to store their huge colored pencil collection!)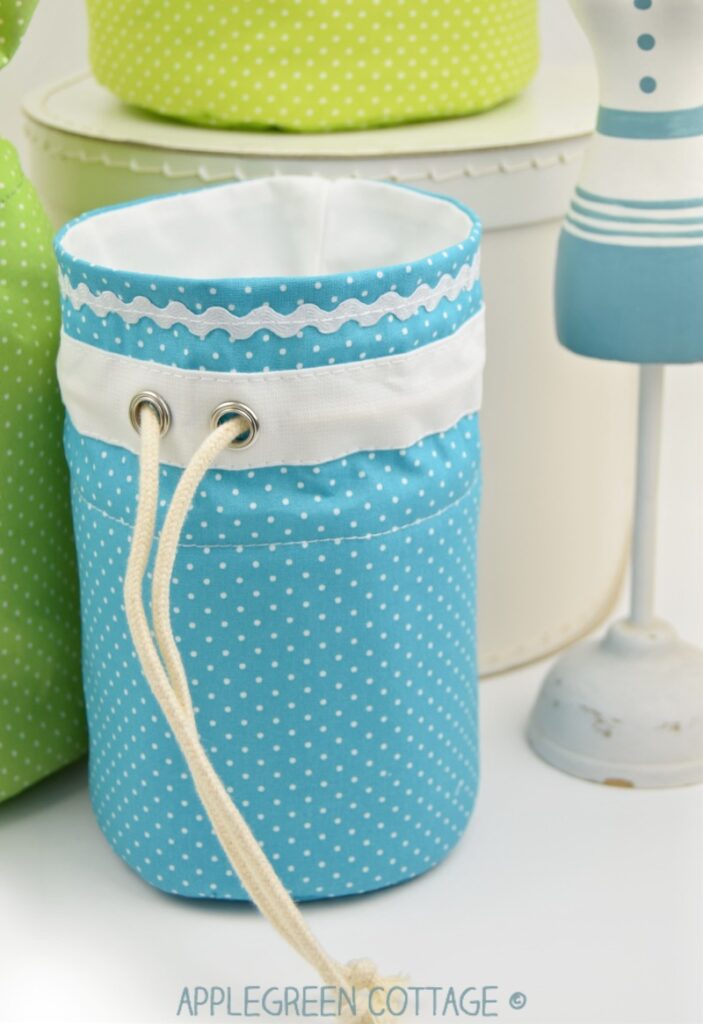 FINISHED SIZES:
LARGE: approx. 7 ½″ wide, 12″ tall (19 x 30 cm)
MEDIUM: approx. 6″ wide, 9 ½″ tall (15 x 24 cm)
SMALL: approx. 4 ½″ wide, 7″ tall (11 x 18 cm)
In addition to the 19-page printable pattern and separate cutting instructions, you will receive 12 pages of clear, easy to follow step by step instructions and clear photos to make these storage baskets.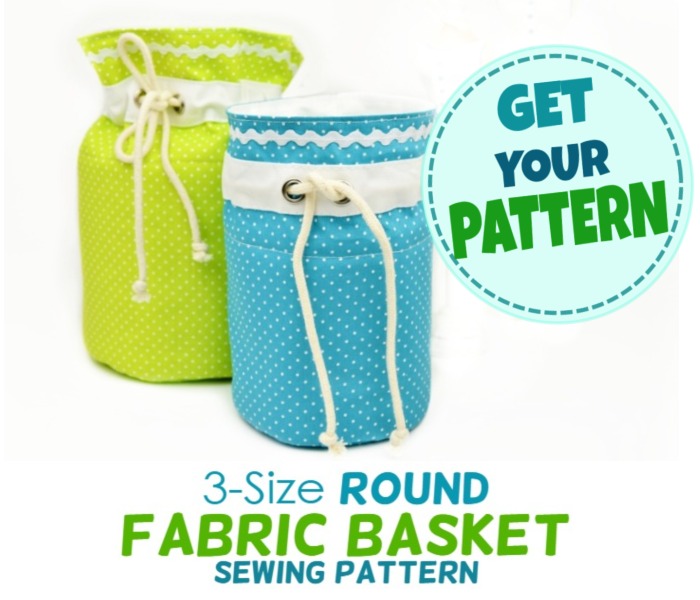 Both Printable Pattern Pages AND separate Cutting Dimensions are provided. Meaning you don't necessarily need to print that thing, especially if an advanced sewer.
And here's more about the pattern:
beginner friendly (detailed, easy-to-follow instructions)
All measurements are given in inch and cm.
clear step-by-step photos, and tips to help you along the way
Printing and pattern-cutting instructions.
Printable both on lettersize and A4
Smart construction: No threading the cord through the casing after you're finished sewing!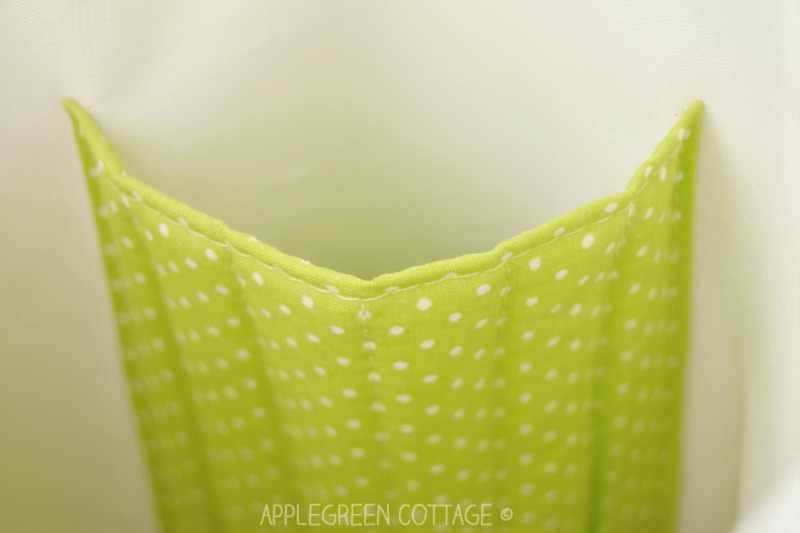 Internal Pocket Option on Medium and Large Basket
Do linings that are too big annoy you? Me too.
Lining can quickly become too big if you use the same pattern for both outer and lining piece, and also especially when using batting or other thick interfacing between the outer fabric and the lining. This is why the lining pieces are constructed to be slightly smaller in certain areas, and it makes a big difference in the finished item.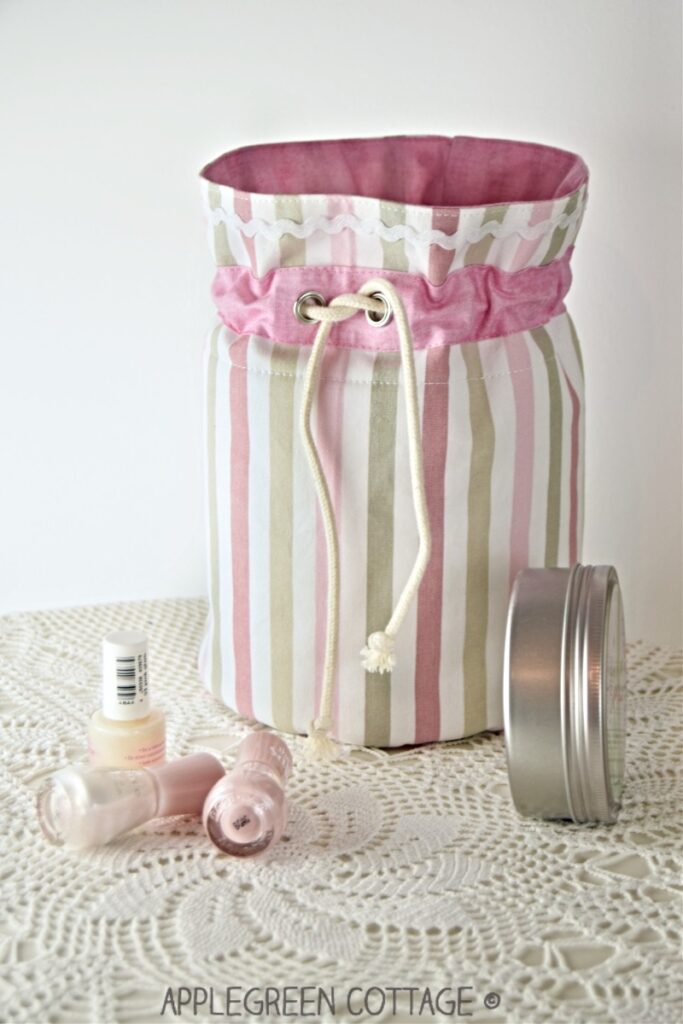 Another use: travel cosmetic pouch, or guest room gift basket.
More: Sew-To-Sell License
One thing more: Sew-to-Sell. That's right, you're more than welcome to sell the finished handmade fabric baskets you sew from this pattern. Same with all my patterns, check them out here:
Save for Later: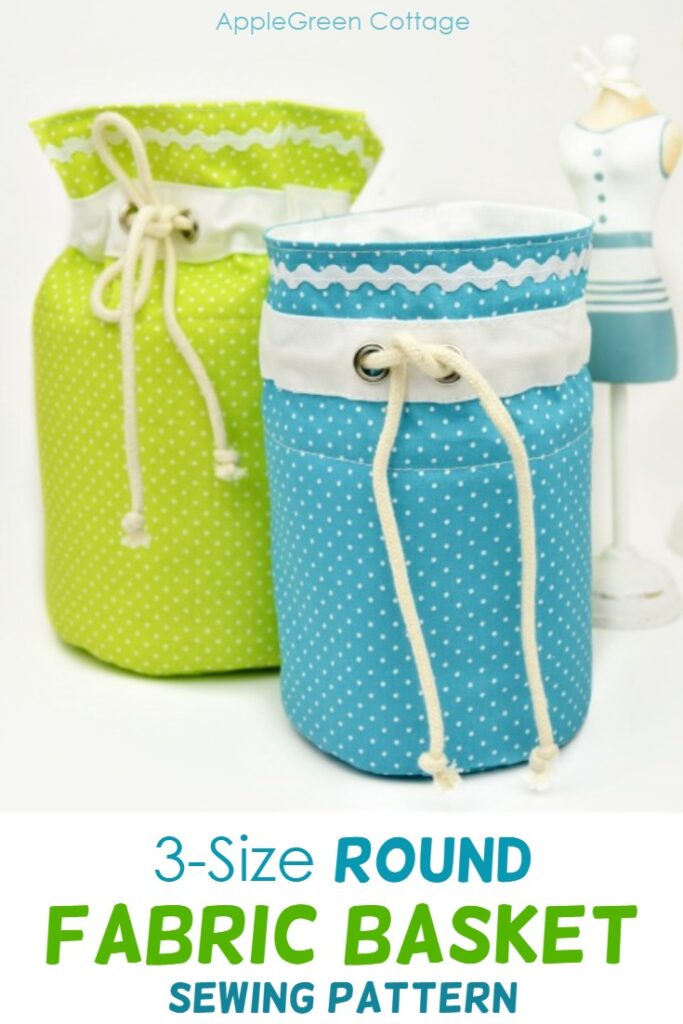 This basket pattern might just as well become your new favorite. Which one of the three sizes do you think will suit you best? I couldn't decide, so I've made a bunch of them in every size. Christmas can come, my handmade gifts are finished!
Want This Pattern?
Go straight to this round fabric basket pattern: HERE.