Check out these basic sewing machine stitches you'll need to know when you start sewing. Explained in plain English and with photos to make it easy for every sewing novice. Check them out!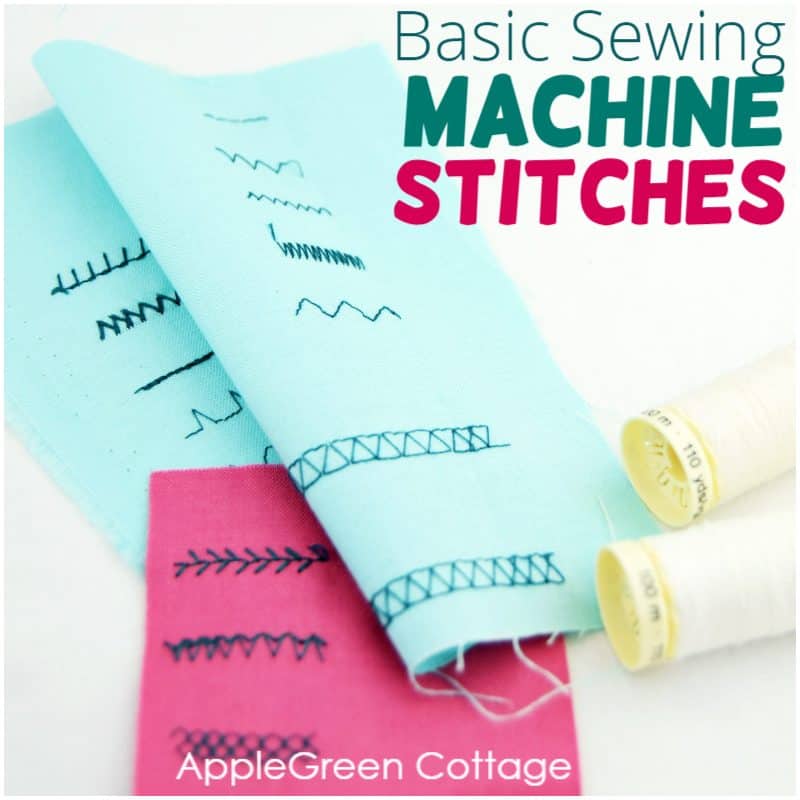 Are just learning to know your sewing machine, you've threaded the machine, inserted the sewing machine needle, and would like to sew your first seam? You've come to the right place: just a few basic sewing machine stitches you need to know to start, with pictures - check them out and make it easy to start sewing.
This tutorial includes affiliate links (thanks for your support!) and is part of the ApleGreen Cottage learning-to-sew series. Check out all my sewing tips here
Basic sewing machine stitches - Straight Stitch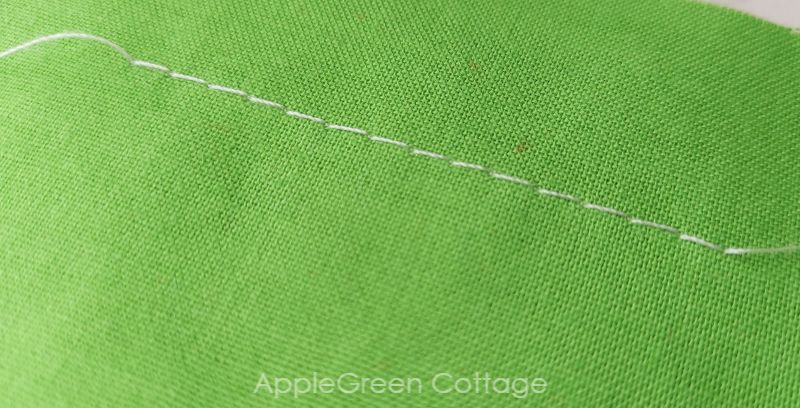 The most widely used stitch - use it for basic stitching, for basting, inserting zippers, topstitching, and more. This tutorial on how to sew a seam on a sewing machine will show you how to make your first seam if you're new to sewing.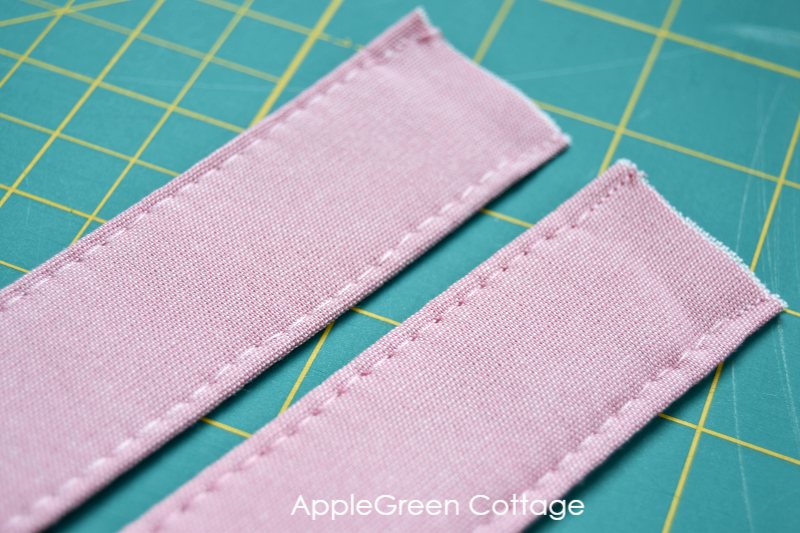 Straight stitches. Believe me, these are powerful. You can sew nearly everything just by using these! But let's take a look at a few other ones that will come really handy. And some, super pretty!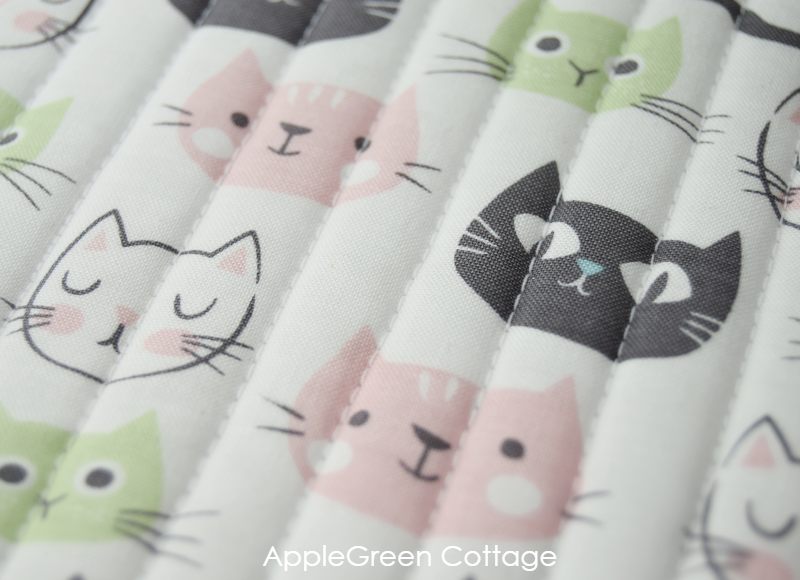 Basic sewing machine stitches - the Zig Zag Stitch
The zigzag stitch can vary in length and size: if you choose a short stitch length, it will be denser, and the zigzag stitch will be less full with a longer stitch length: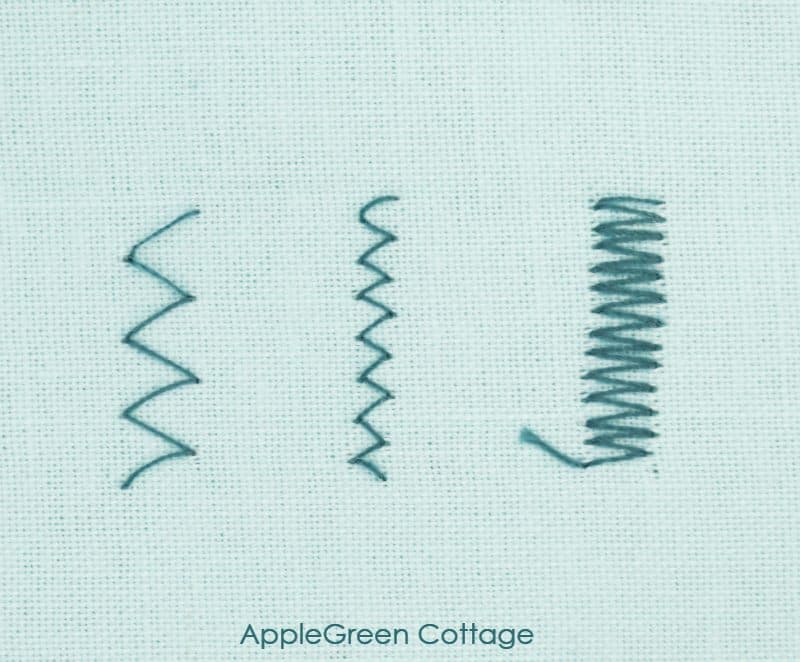 You can vary the stitch width to get a narrow or a wide zig-zag stitch.
The zigzag stitch is so handy I wouldn't want to live without it: it works great for finishing the raw edges of the fabric, so it doesn't fray. And you can use the zig-zag stitch with everything stretchy. It's also the stitch you can choose to sew applique, or elastic.
Hey, I even use it on paper, and I used it to repair a shade sail!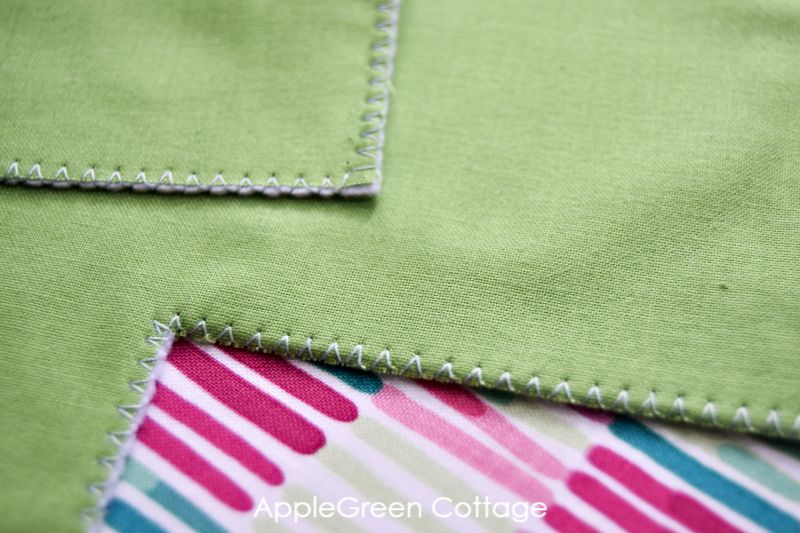 Tripple Zigzag stitch
Tripple zigzag stitch is a three-point zigzag stitch that is stretchy and looks good. If your sewing machine has it, it's so handy for mending holes, and I like to use it for finishing the raw edges of the fabric. Also, it's golden for sewing applique.
The triple zig-zag stitch is created by sewing three small straight stitches in each left and right swing of the zig and zag movements on the machine.
The zigzag stitch is the simplest of all stretch stitches on a sewing machine. Now, to explain a few stretch stitches. Basics first:
What is A stretch Stitch?
A straight stitch would cause the seam to rip when the material stretches, that is, with jersey and knits. You won't use a straight stitch with jersey and other knits because the seams would pop when stretched.
While there are some fancy stretch stitches out there, It's totally safe to use the zigzag stitch for knits. I say that each time anyone mentions that sewing knits is impossible without a serger. Nope. You'll be totally fine with a simple zigzag on your basic sewing machine. Even those of my sewing patterns that are designed for knits (like this headband and the cool beanie patterns), the instructions include how to sew them with a simple zigzag. But I digress.
These are the stretch stitches on a basic sewing machine: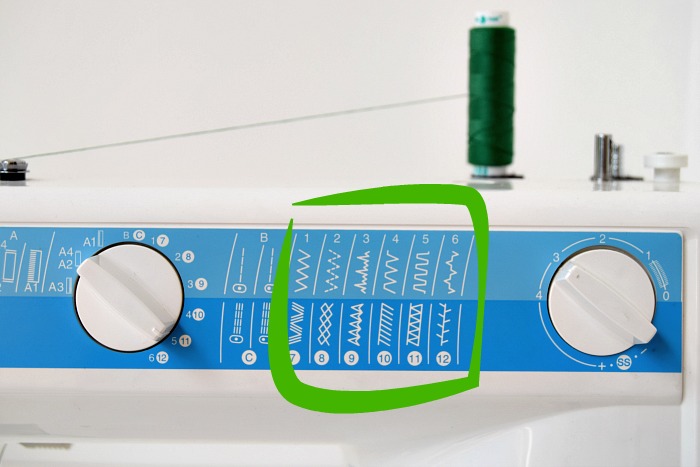 Many more are available if you get a professional, high-end sewing machine! But actually, having to choose among the decorative stitches could just slow you down. So – zigzag is the simplest way to do it. (And I also love No 5 shown above for sewing with elastic bands!)
Overcast stitch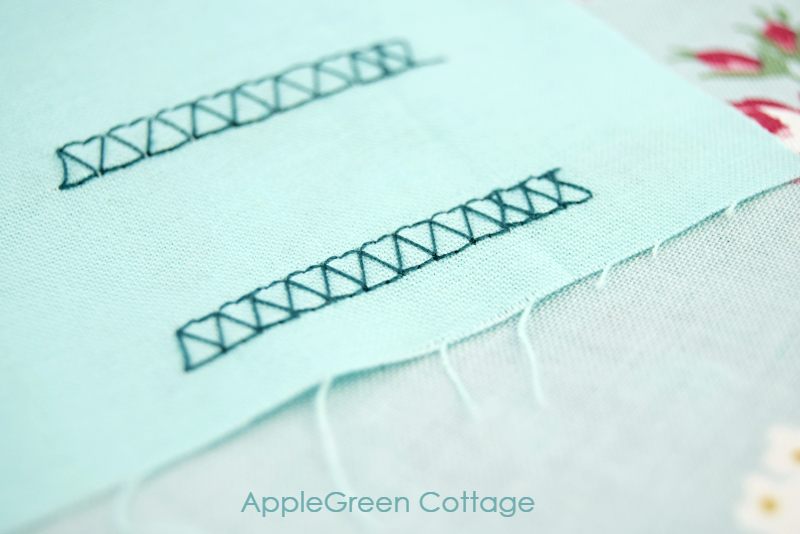 It's also called a mock overlock stitch because it resembles the serger stitch on an overlocker, that is, your serger. It can be stitched on the edge of the fabric to keep it from unraveling.
Blind Hem Stitch
What is a blind hem stitch you ask? It's a cool machine-stitched hem that is nearly invisible from the outside. And its other name is - you've guessed it - the invisible stitch.

Its most popular use is to hem pants, it's even easier to use it if your sewing machine has a blind hem foot. With the blind hem stitch, your machine will sew several straight stitches on the hem allowance, then it will reach over to hold on to a few threads of the fabric fold. Take a close look at your sewing machine manual, and you'll spot a blind hem stitch in your sewing machine stitches list.
Straight Triple Stretch Stitch and ZIGZAG TRIPPLE STRETCH STITCH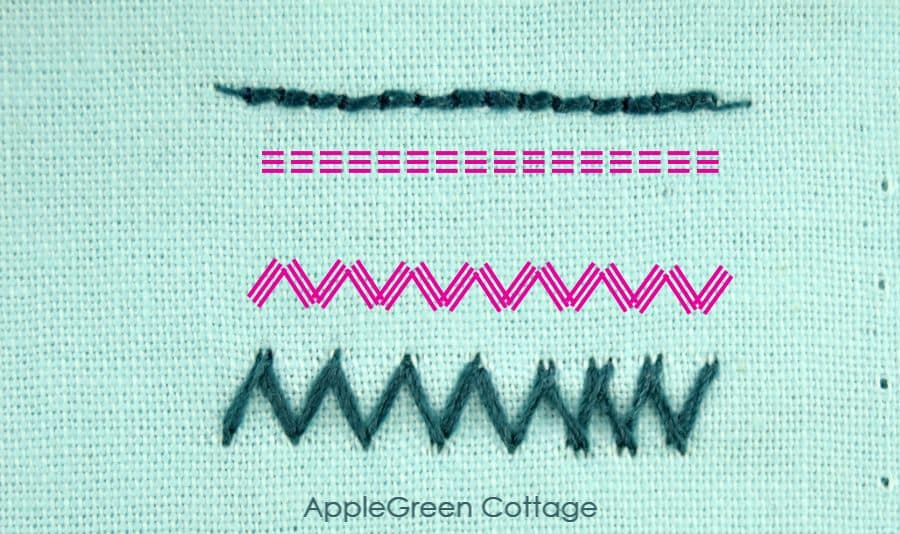 The straight triple stretch stitch is a strong stitch for knits, sewing inseams, and attaching sleeves. I used it to securely sew this marble maze to prevent the marble from getting its way out, ever:
Zigzag triple stretch stitch is a very strong zigzag stitch, I rarely use it.
Decorative Machine Stitches
Decorative stitches will add unique details to your sewing projects. Some of the above stretch stitches can be used as decorative stitches, too. Sometimes I use them for fun, and sometimes as a way to add structure to an otherwise uninteresting part of a sewing project. Great to use as topstitching on small creative fabric projects like diy bookmarks.
Decorative stitches include: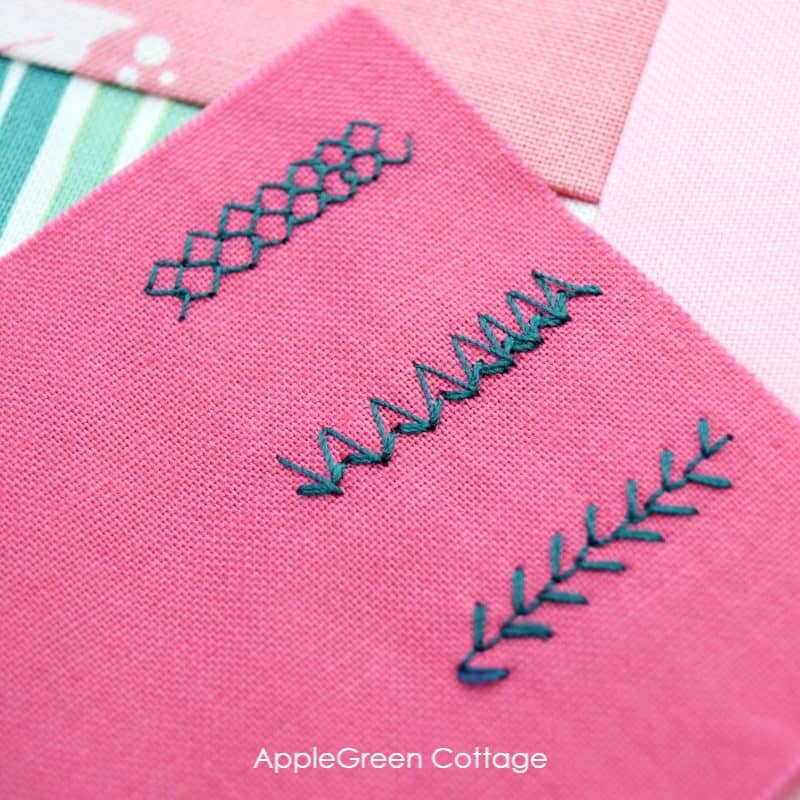 Sewing machines can have a lot of built-in decorative stitches. They can go up to a hundred different decorative stitches. But to be honest, you'll most probably end up with one or two favorites and use those - rarely. This is just one of the reasons why you don't need all the bells and whistles on your sewing machine.
If a decorative stitch (or any stitch, actually) doesn't go as you expect, maybe your needle is dull or simply worn out. You best change it before you proceed. here's a quick how-to if you're not sure how to change a sewing machine needle.
Buttonhole Stitch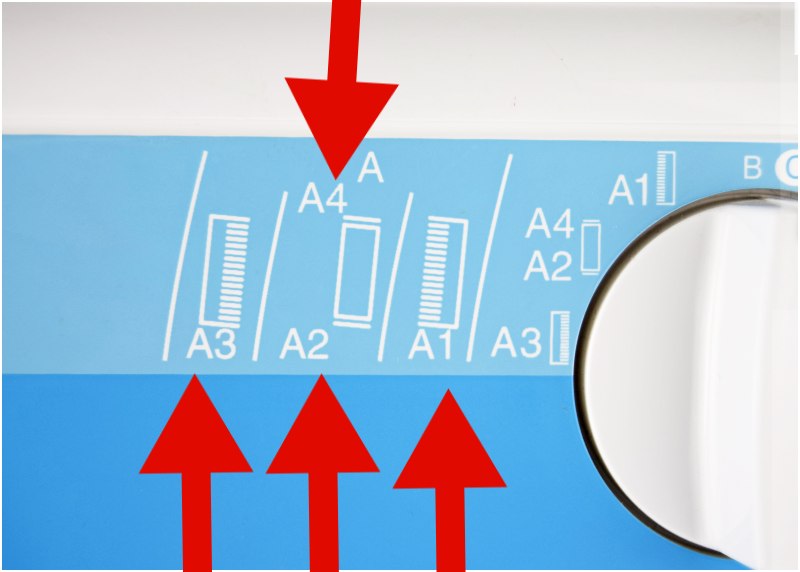 And finally, the buttonhole stitch. Some sewing machines have a one-step buttonhole mechanism, and others, more basic ones, have a four-step buttonhole stitch. while one-step is totally automated, you might need some guidance with a four-step buttonhole stitch. But it's easy, check out how to make a buttonhole using your sewing machine. It's way easier than it looks like.
Where can I see the sewing machine stitches my sewing machine has?
Your sewing machine will have its built-in sewing stitches shown on the front cover. No worries - usually, the stitch reference chart is the first, or second thing you notice on your sewing machine. Somewhere like this if you're using a mechanical sewing machine: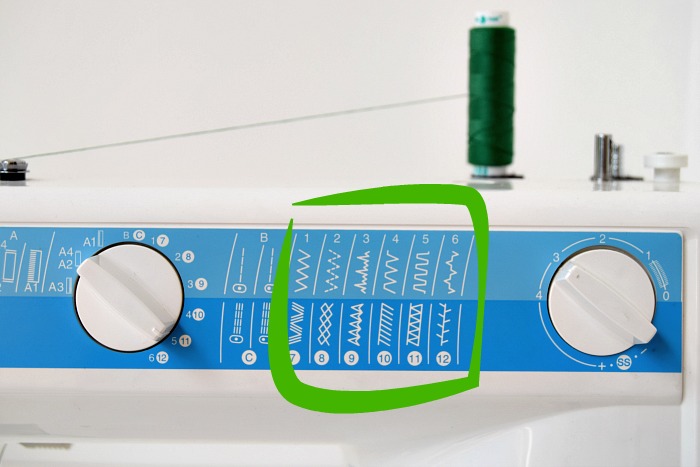 If your sewing machine is computerized, you'll find the sewing stitches list on the operations panel close to the display. Again, cannot miss it!
Want More From Learn To Sew Series?
Did you like this sewing machine stitches guide? If yes, feel free to see more of the basic sewing tips series:
Save this list of basic sewing machine stitches to Pinterest so you have it at hand: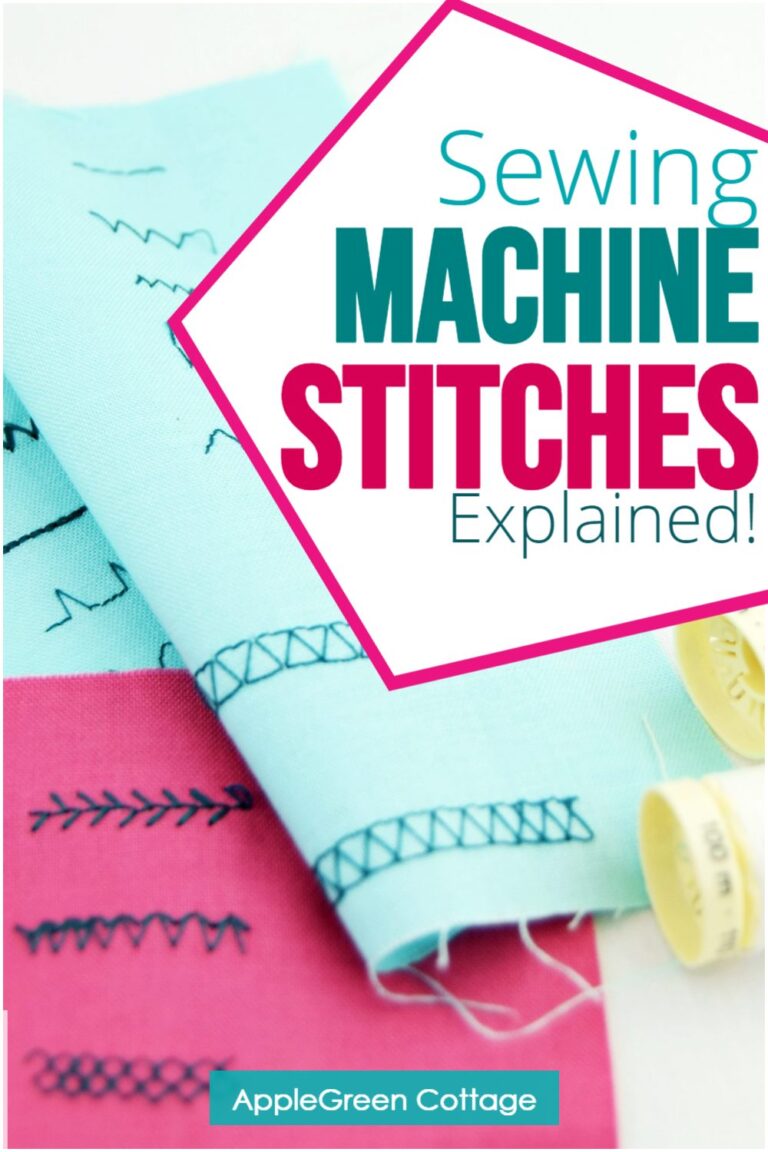 WANT MORE FREE TUTORIALS AND PATTERNS?
Get email updates and never miss out on new patterns, printables, and tutorials: