See how to sew quilt binding: first, how to bind a quilt, a mug rug, a potholder, and how to sew mitered corners. You'll also find out how long your binding strips should be, what is the best quilt binding width, and what is my favorite, easiest way to attach quilt binding. Everything you need to know to make quilt binding easy!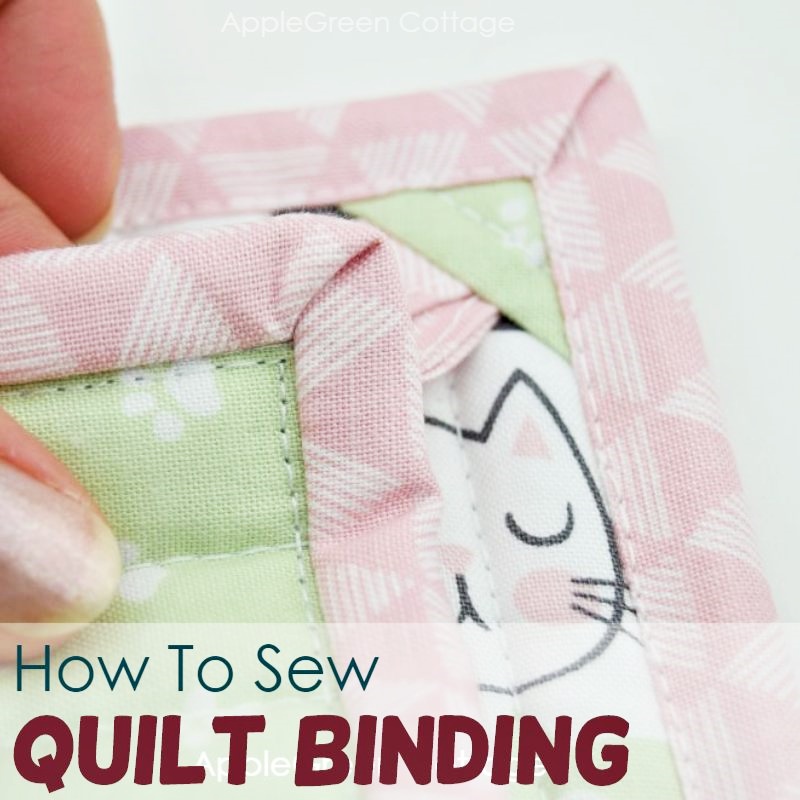 See here how to bind a quilt, a mug rug, a potholder, or anything that has straight edges and no rounded corners. We'll also see how to add mitered corners on a quilt binding. All is easy if you follow the tutorial below!
Looking for more quilting ideas? Check out these free tutorials:
How To Make Straight Grain Binding
First things first. While you might know the binding can be cut either on the bias or on the grain, this is a tutorial to make a straight-grain binding.
No time now, but will need this later? Save to Pinterest using this link or the image below so you can access it any time: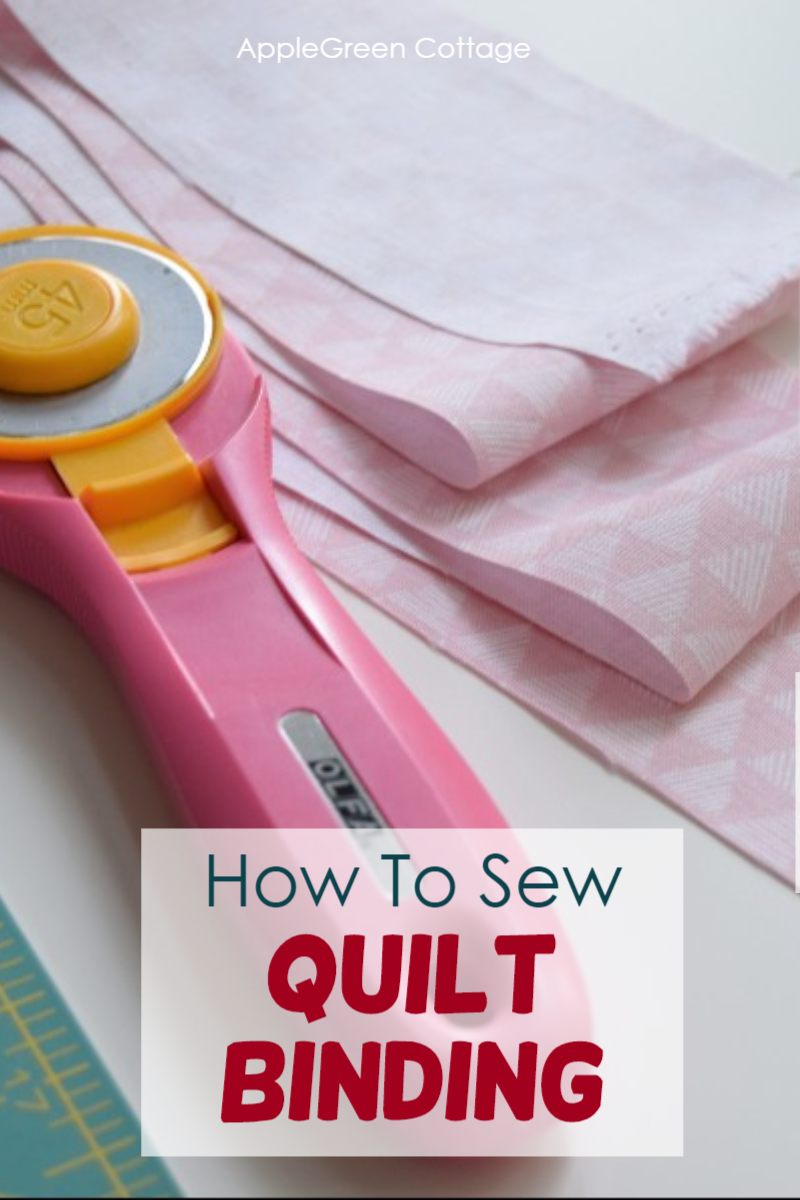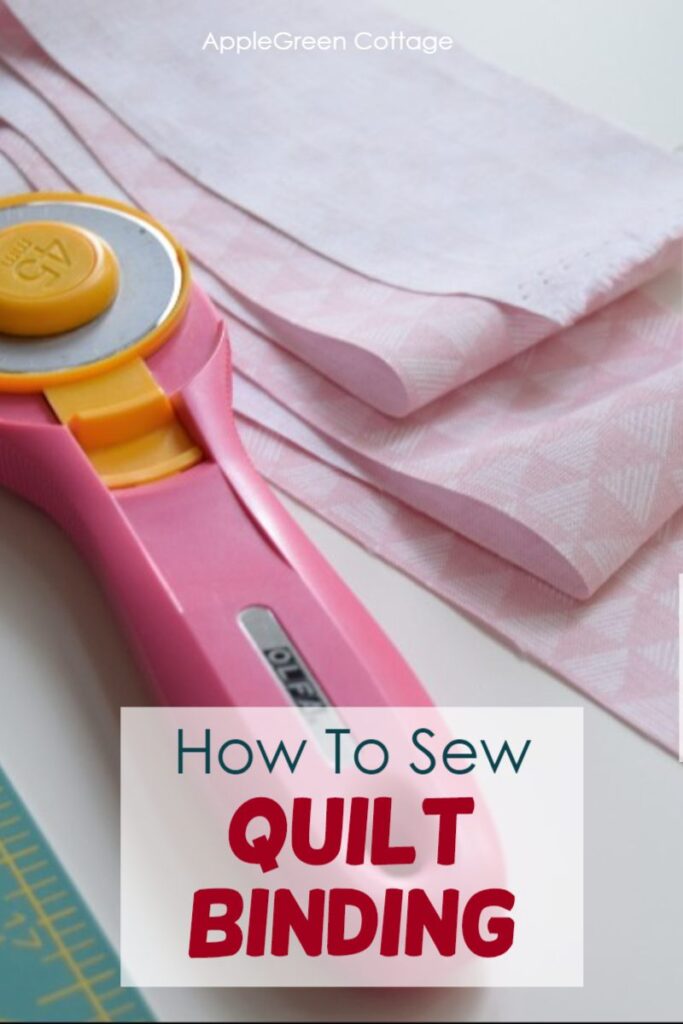 It's great for projects where you have no rounded corners, so there is no need for stretch. This diy potholder here at AppleGreen Cottage, for example! Straight-grain binding is usually made faster than bias binding. Let's first answer a few questions that will help you start off on the right foot.
How To cut straight grain binding
Straight-grain binding, or quilt binding how it's often referred to, can be cut lengthwise, or crosswise - the latter is my preferred way to cut it, as you're only cutting from selvage to selvage. Simply because it's easier for me.
What is the best width for quilt binding?
Many people ask how wide should a quilt binding be cut. There are many quilt binding widths you can choose from, but to start with, wider is easier to sew, especially when working with several layers. I usually cut mine at 2 ½ " width from selvage to selvage. You can get away with a slightly narrow binding at 2 ¼" should be fine too.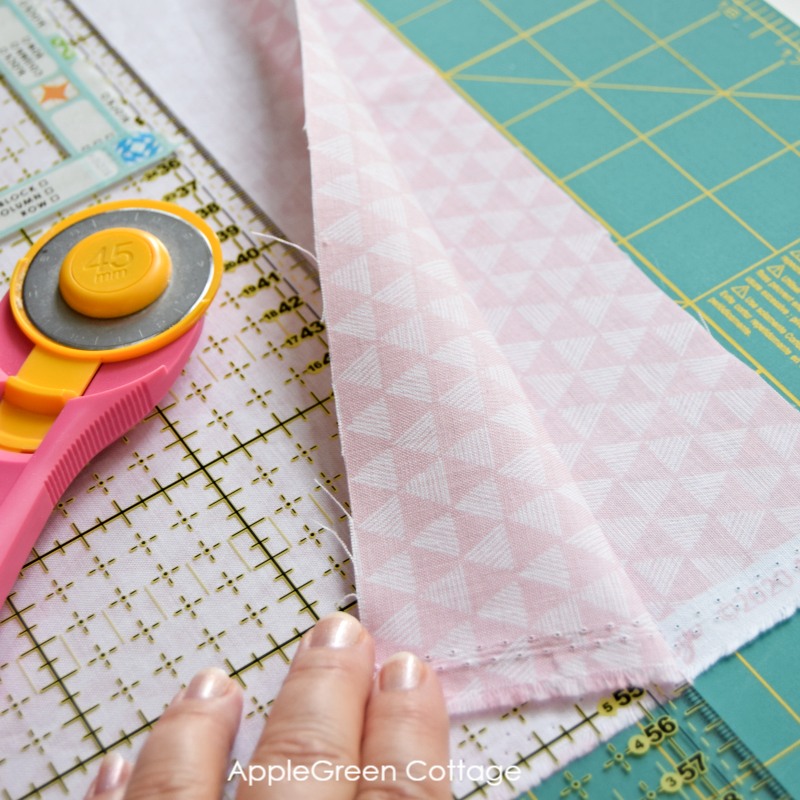 How Much Binding Do I Need?
Oh and let's not forget about the length: you'll need at least 10 inches more than the perimeter of the project you're working on - more for larger and a bit less for small versions.
How To Make A Long Strip Of Binding
This is how to join your strips of straight grain binding to make a really long strip of quilt binding: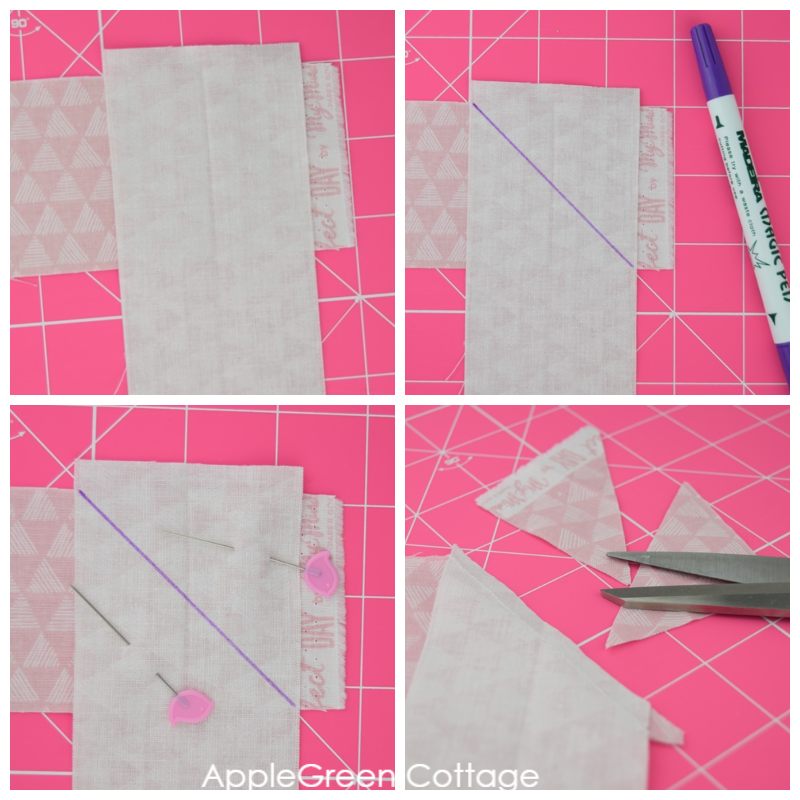 Start by cutting your strips from selvage to selvage, all should be the same width, in my case, 2 ½". then :
lay two ends of two strips together: they need to be placed right-sides-together with ends overlapping and at the right angle (90 degree)
pin them in place and draw a diagonal line between the points where strips meet (that's at 45 degrees)
sewing on the line, join the strips together.
cut off the tails leaving a ¼" seam allowance.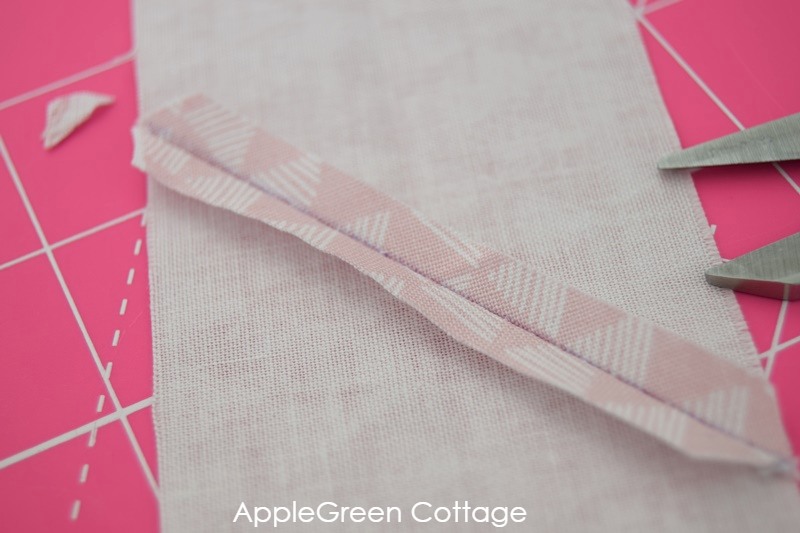 Then press the seam open and cut off the tiny triangles in the seam allowance that are peeking out from the sides.
Repeat to join as many strips you need. Now you'll press your binding in half along the entire length (wrong sides together).
How To Press Double-Fold Quilt Binding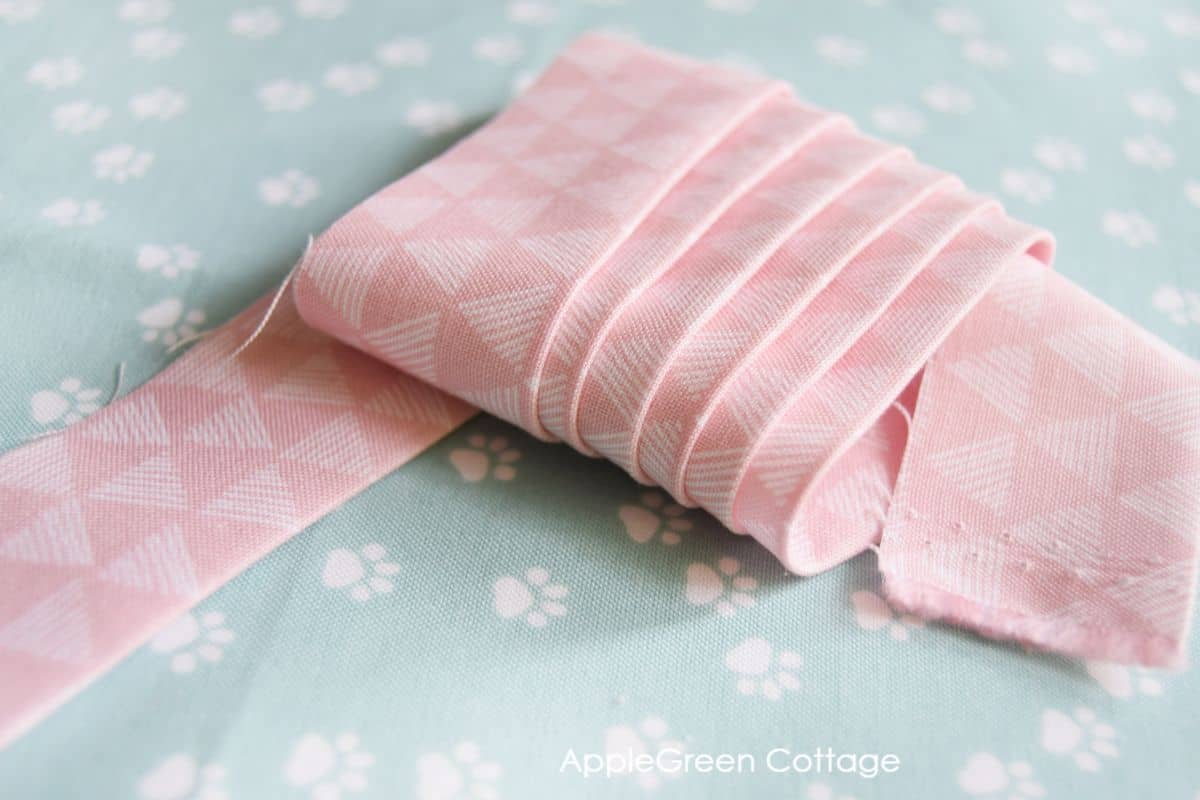 Take your long strip of 2 ½" binding and press in half lengthwise. Make sure you don't distort the fabric with your iron, it helps if you press rather than glide your iron.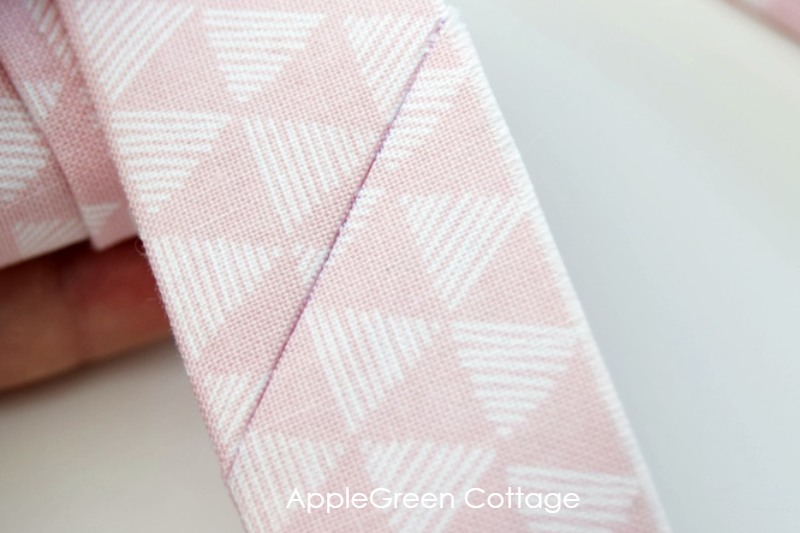 Where To Start Sewing Your Quilt Binding
Starting at the Front Or Back?
If you plan to hand-stitch the binding, start from the front. You'll sew the front by machine and then handstitch to the back.
If you're going to machine-stitch the binding - this is how I'll do it here - you'll start on the back side and then fold it towards the front side of your quilt sandwich. And sew it in place by machine, which goes a lot faster.
I stitch my binding first on the BACK side and then machine-topstitch it on the front side. That way any imperfect stitches don't show. I have tried the other way around, using machine before, and you can find a quick how-to at the bottom of this post.
How to Sew A Quilt Binding - Sewing Steps
Still reading? Congrats! We've come all the way to the actual sewing see here how to sew the binding on the quilt sandwich!
Step 1 - Start Sewing On the Binding
So, place your quilt sandwich (quilt, mug rug, potholder, etc) with the back side facing up. Place the binding along the right edge (with the fold placed towards the center of the sandwich):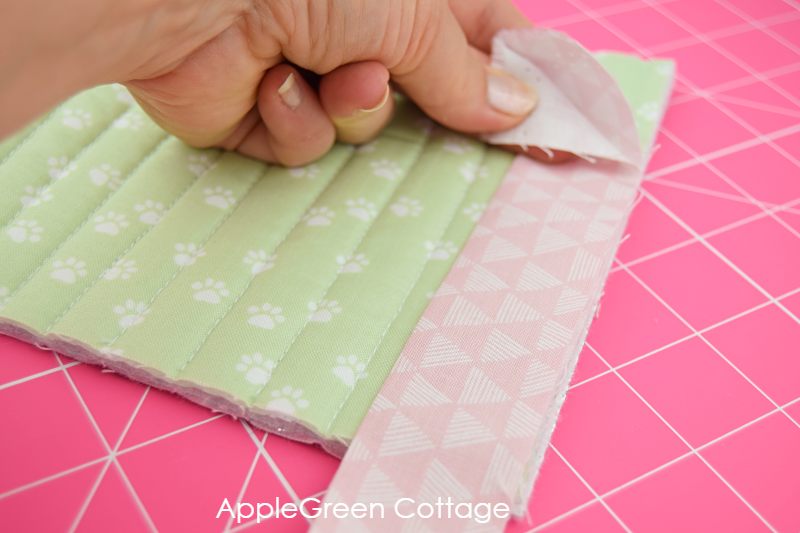 Start sewing the binding close to the bottom edge of the potholder, using a ¼" seam allowance.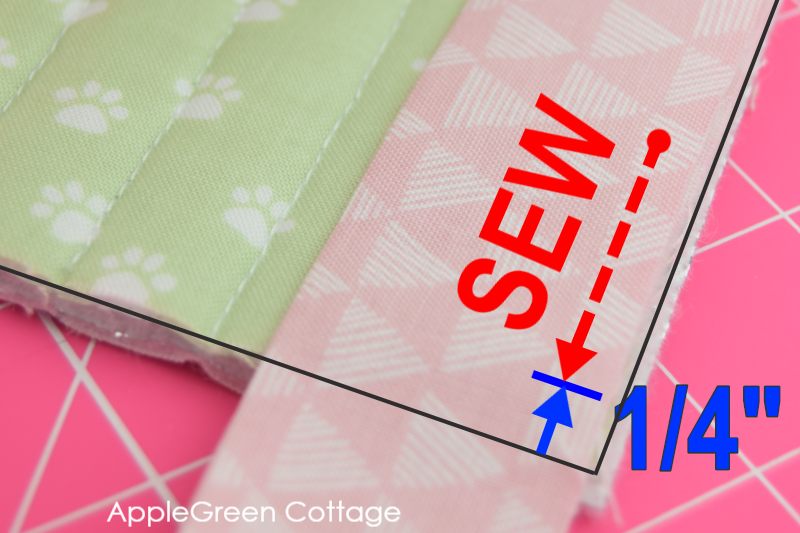 Once you get to the corner, stop at ¼" away from the bottom and backstitch to secure the seam. 3 stitches will do. Snip the threads and remove the potholder from the machine.
STEP 2 - How To Sew Mitered Corners On Binding
Next, you'll miter the first corner. Looks complicated, but it's easy if you follow these four photos: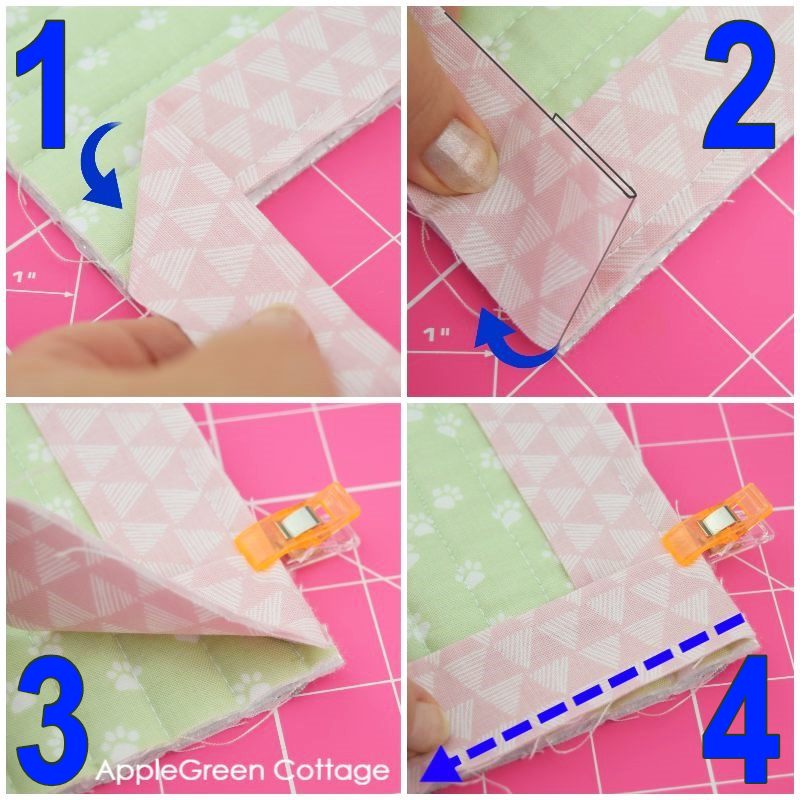 To miter your first corner
flip and fold your binding piece up to form a 45 degree angle. Finger press along the fold to create a crease.
Then fold it back down, matching the raw edge to the raw edge of the quilt (potholder).
Secure the fold with a sewing clip - some prefer pins - and
Place your free portion of the binding along the next edge of the quilt. Sew along the next edge with the same ¼" seam allowance, and again STOP just one quarter of an inch before the next corner.
Again, start with image (1) in the above photo: flip binding at 45 degrees, then place down to run along the next edge. Repeat around the remaining corners.
When you get back to the side of the potholder that you started on, you'll need to bring the beginning and end together. Usually you'd like to stop 6" or more before you catch the beginning, so you can join the start and end. Here, with this Photo, I didn't have as much space, so I stopped soon after I've pivoted around the corner: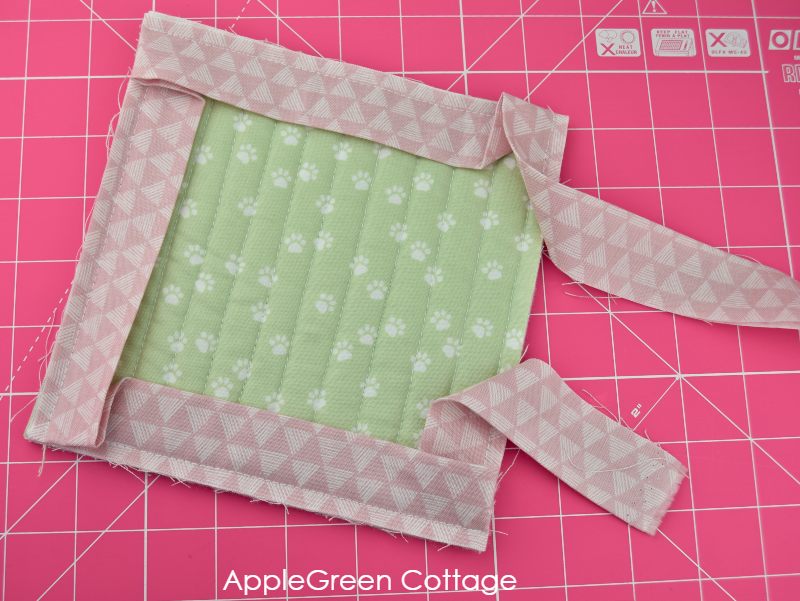 To bring the two ends together, press the strips back to make creases at the spot where they meet. This will be your stitching line.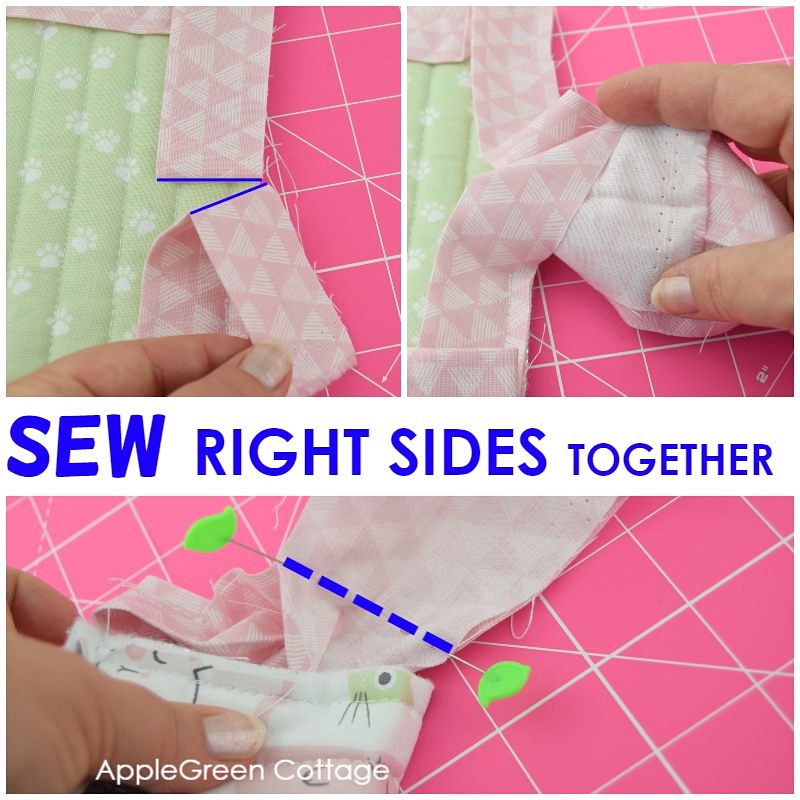 Unfold (open) the tails. Place them right-sides-together, pin, and sew at the marking. Make sure that the strip tails are right-side-together, and not twisted.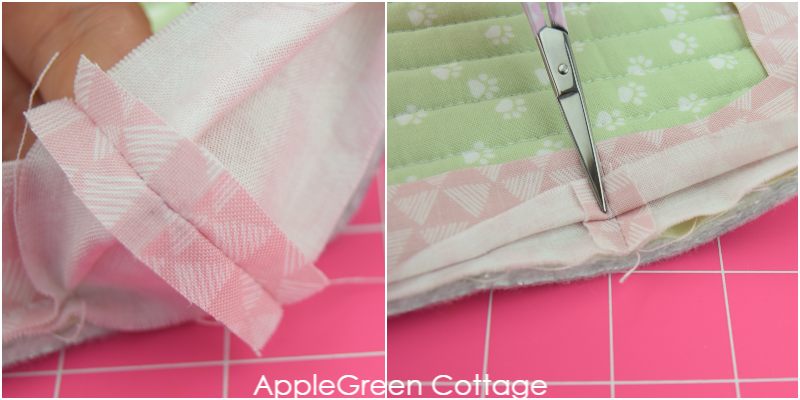 Once the tails are sewn together, cut off the excess, leaving just ¼" of fabric in the seam allowance, and press the seam open. Then turn it back out and lay it out onto the quilt edge, and press with a hot iron.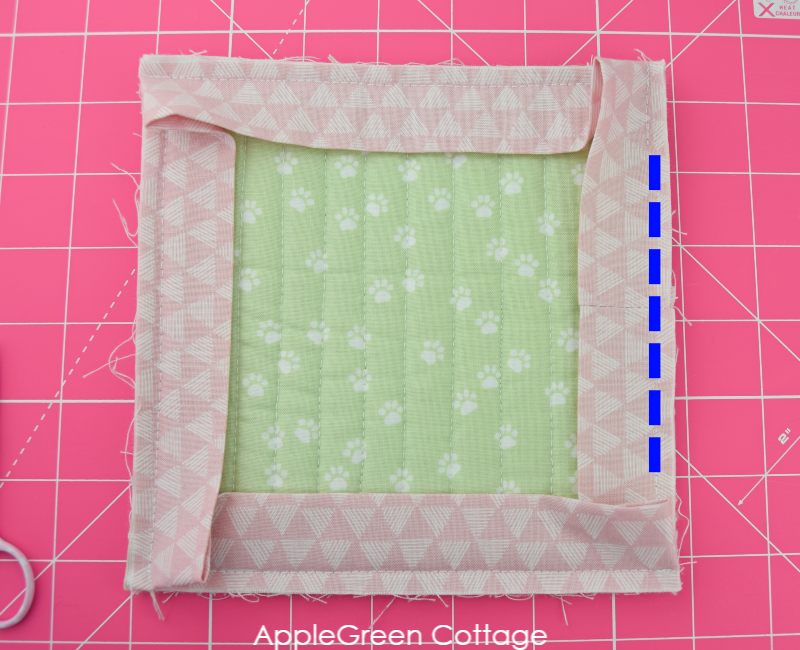 Sew the rest of the binding in place. One side is finished.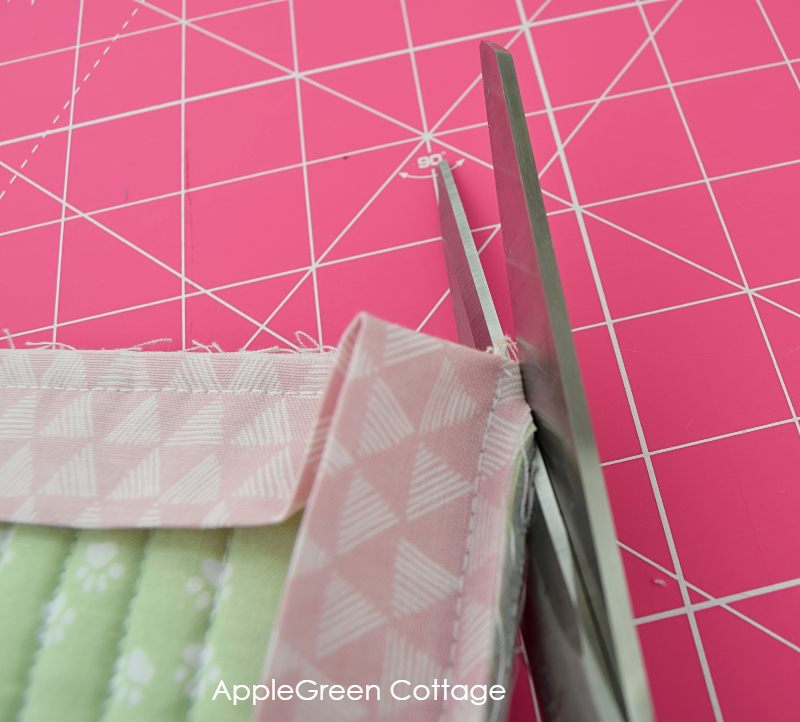 You can now trim the corners just a bit for an easier folding and a nicer finish. A tiny triangle, that is.
STEP 3 - Fold the Binding Towards The Front
Now we'll pull the binding up from the back, folding it over the raw edge of the potholder and toward the front. First, let's fold corners: open a corner up and fold to the other end.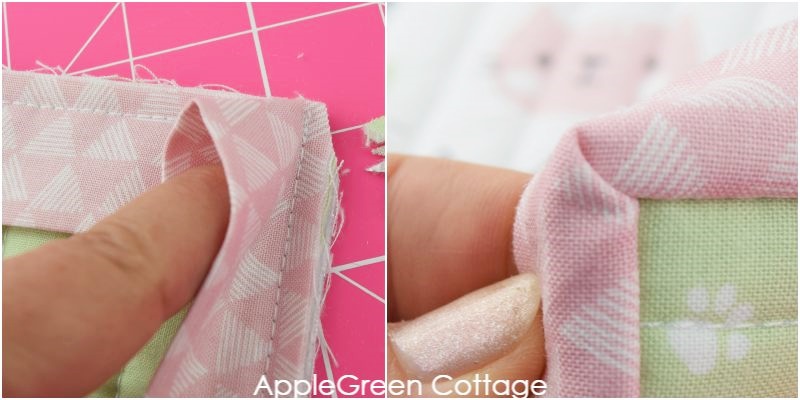 Once on the front side, push the binding down so that it creates a 45 degree angle in the corner - and then 'close' the other side of the corner.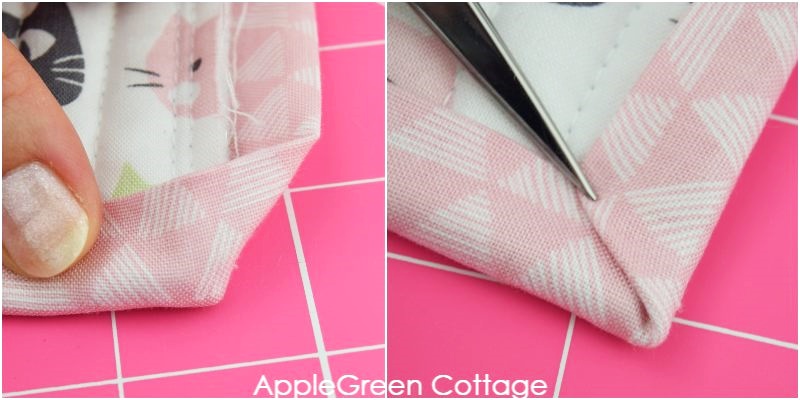 Corner done, secure with a pin or sewing clip. Repeat on all 4 corners. Then fold the straight edges between corners and secure with pins or sewing clips. Like this: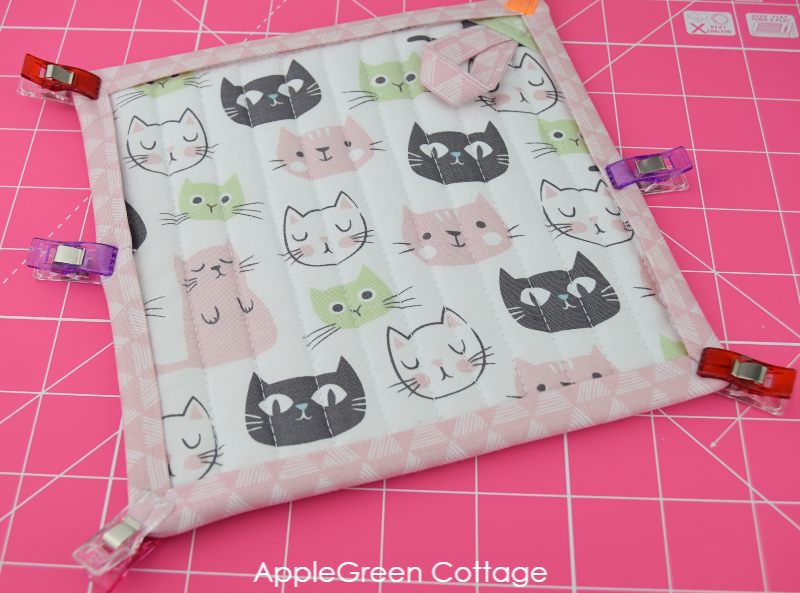 Bonus Tips: How To Keep Binding In Place?
To hold the front edge in place, you can use a dab of school glue, spread it (make sure everything stays under the folded part of the binding) - fold the binding in place and set with a hot iron. The school glue wil keep the front side in place. No fuss!
Bonus tip: Use a Walking Foot to sew quilt binding easily
When sewing binding, you'll achieve the best results if you use a walking foot. It will prevent puckering and it makes sewing through layers a breeze.
Step 4 - Topstitch the Binding On The Front Side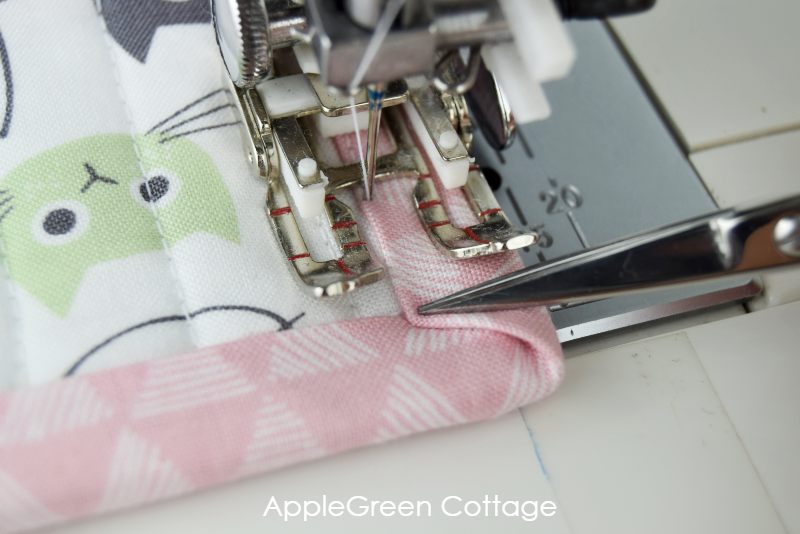 Top stitch along the edge of the binding, just barely catching the edge. Once you get to a corner, stop sewing with needle in the fabric, pivot and continue stitching.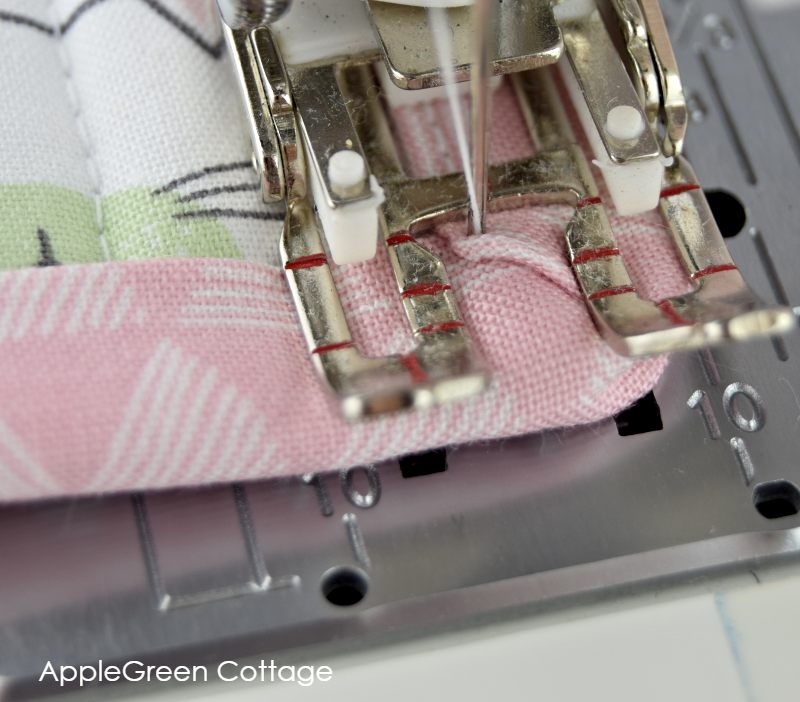 Once you get to the spot where you started, backstitch a bit to secure the seam. Press. Bury the threads for a nice finish. See here how to bury the threads. Done!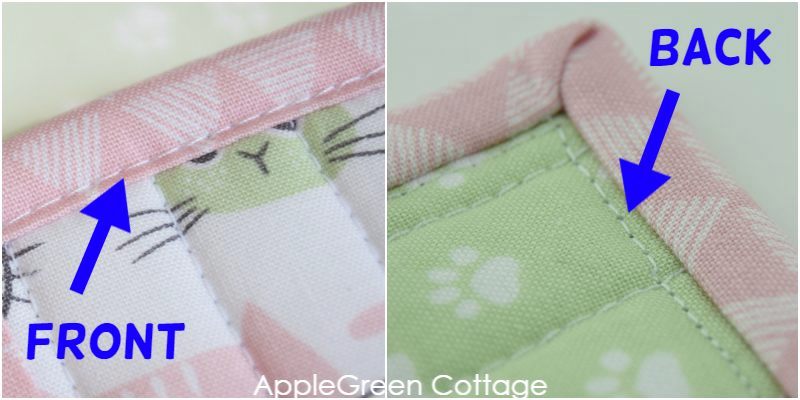 You'll notice there is a seam running along the edge of the binding, and on the back the stitching is located just a bit towards the inside, not touching the binding at all. I find it lovely!
Bonus Tips on Sewing Quilt Binding
How To Start Sewing Binding at the Front
Since some of you will definitely want to try this way of applying quilt binding, let me show you quickly how to do it if you start at the front of your quilt sandwich:
This is from my panel quilt tutorial. It took me some more time to bind but it turned out beautiful!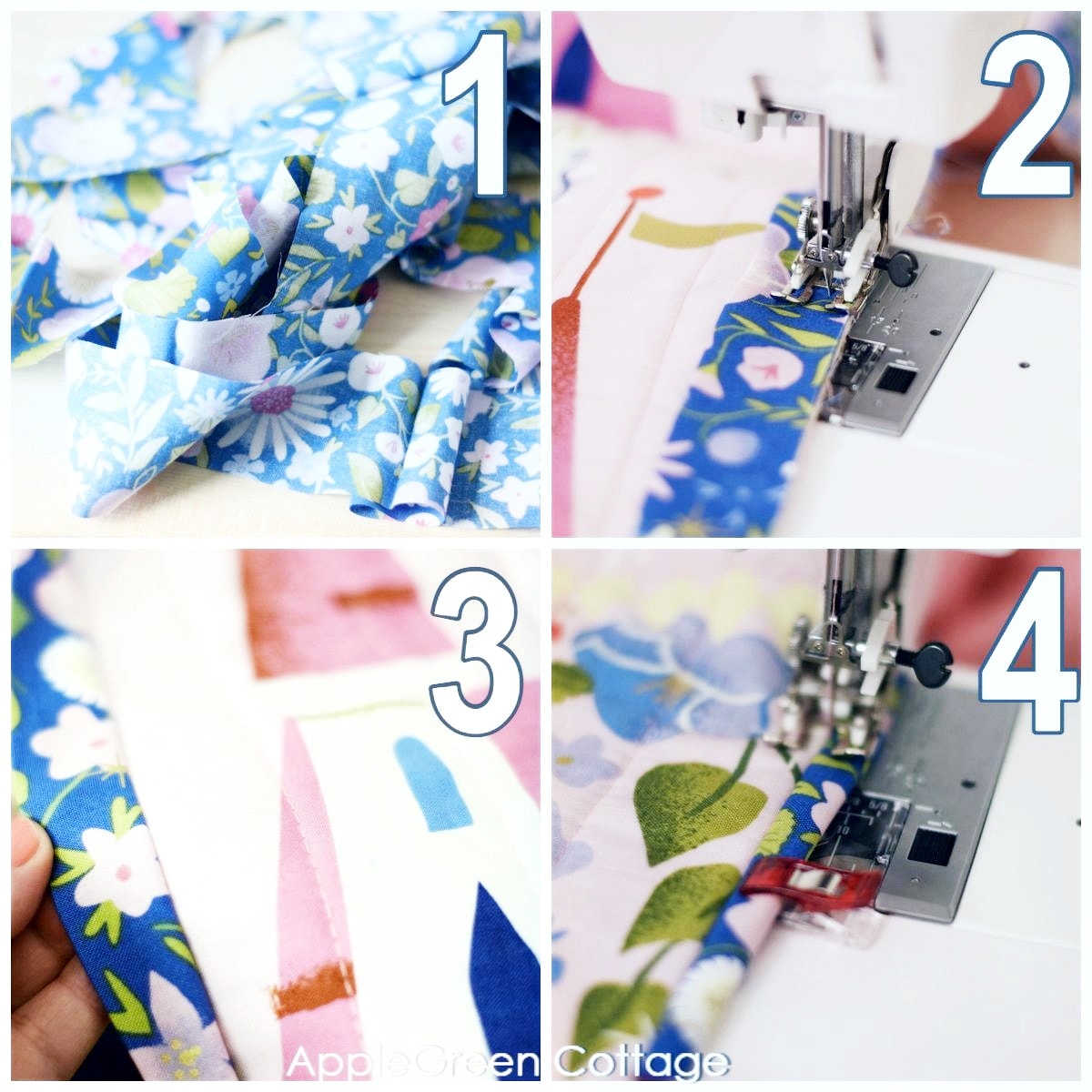 First, measure the outer edge of your quilt allll around and add 10". Cut 2 ½" wide strips and join them. (same as above)
There are tons of ways to attach the binding to a quilt. What I did this time, I knew I wanted the front to look impeccable, so I started attaching binding on the front. (see image 2)
Then I folded it backwards (see image 3) and
... finished by machine stitching it in place from the front (see image 4). I did that by stitching in the ditch, and keeping an eye on the back to make sure I caught every layer.
Here I'll also answer 2 questions from our readers:
How wide should binding be for a quilt?
As a rule of thumb, 2 ½" is a great width for any quilt. However, if you're sewing a mini quilt, placemat or mug rug, 2 ¼" is perfectly enough to prevent saggy edges.
How do you calculate quilt binding? Length of quilt binding.
When you want to figure out how much binding you need for a quilt, you'll need the exact measurements of your squared-up, unfinished quilt. You'll need at least 10 inches more than the perimeter of the project you're working on - more for larger and a bit less for small versions.
As an example, your quilt is 20" by 30", then 20+30+20+30 =100" when we go around all corners of your quilt. Then add 10" to make sure you don't run out of your binding and to make sure the ends overlap.
And now you know everything you need on how to bind a quilt. Yey! And this is the project we were working on throughout the tutorial - finished: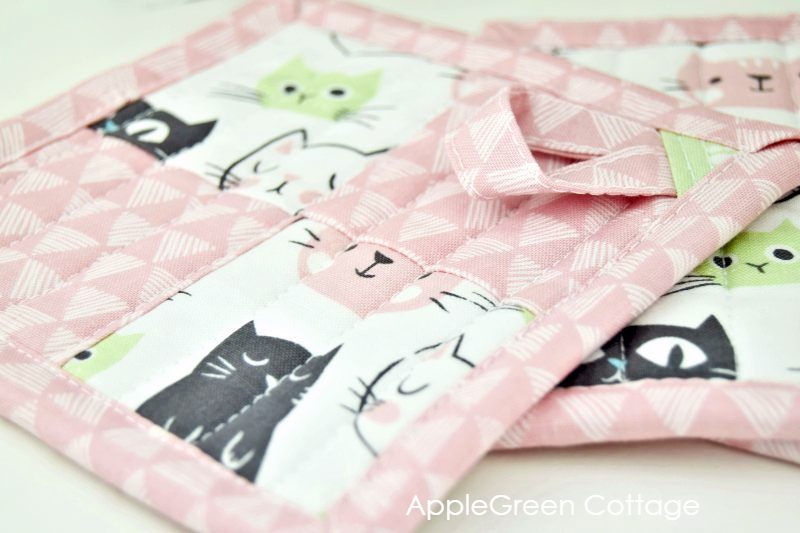 Isn't it cute! Make a set, and you can add a few sizes. Follow the potholder tutorial here.
Save this tutorial to Pinterest: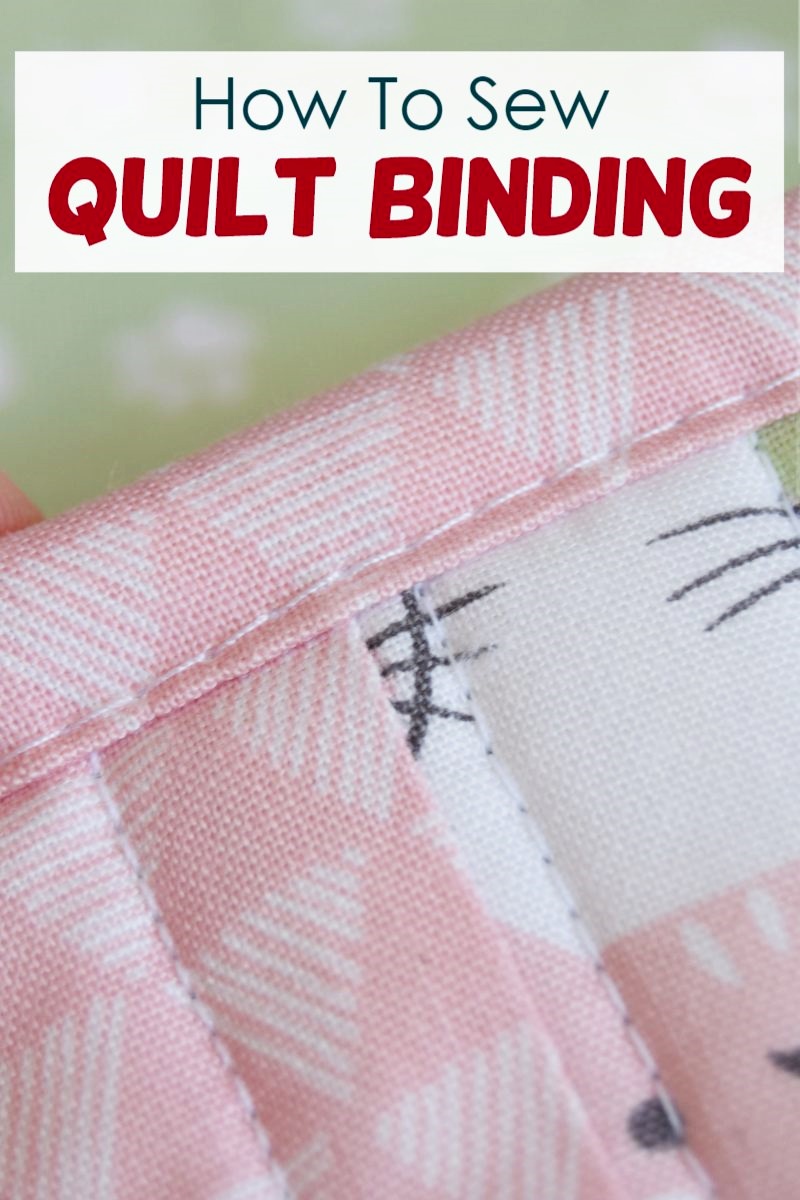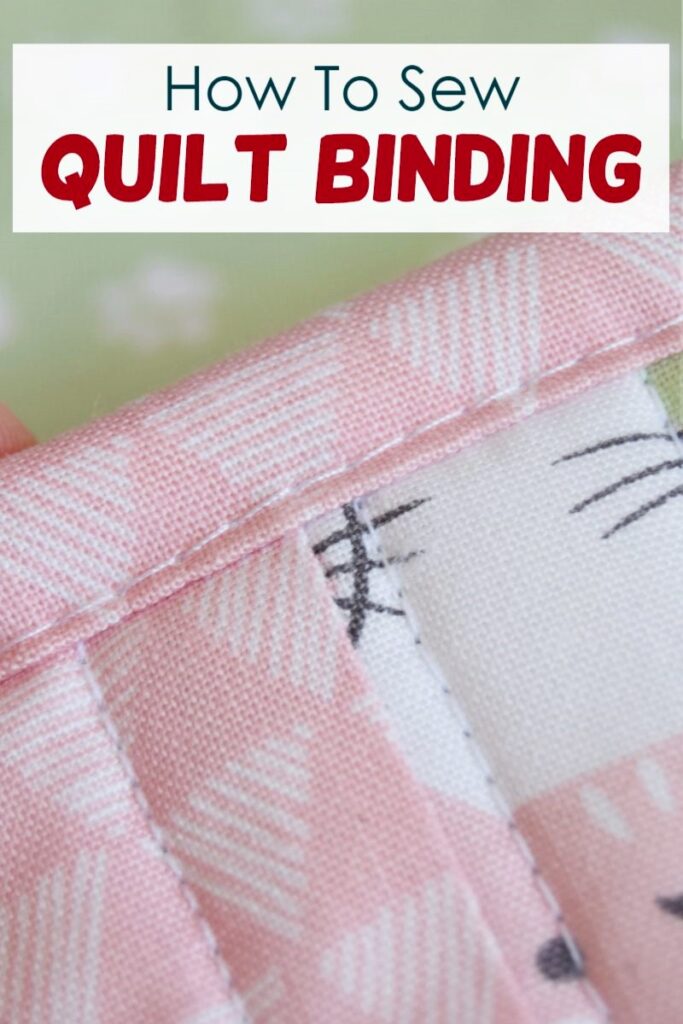 Or for a change, wanna skip binding? - Take a look at this quilted mug rug tutorial - but shh! 🙂
As always, I'd love to see if you've sewn something using this tutorial. Please post a picture to Instagram and tag me @applegreencottage or #applegreencottage – so I can take a look!
WANT MORE FREE TUTORIALS AND GOODIES?
Get email updates and never miss out on new patterns, printables, and tutorials:
Or check out this pretty ALLina project bag pattern in our shop - for all your storage needs: