Learn how to applique with fusible web. It's an easy beginner sewing project, and it will enable you to embellish and personalize just anything you sew. See how to make your own appliques for your projects (like this one with a free pattern), how to apply fusible web to fabric, and how to sew them using a regular sewing machine. Too easy to not try it out!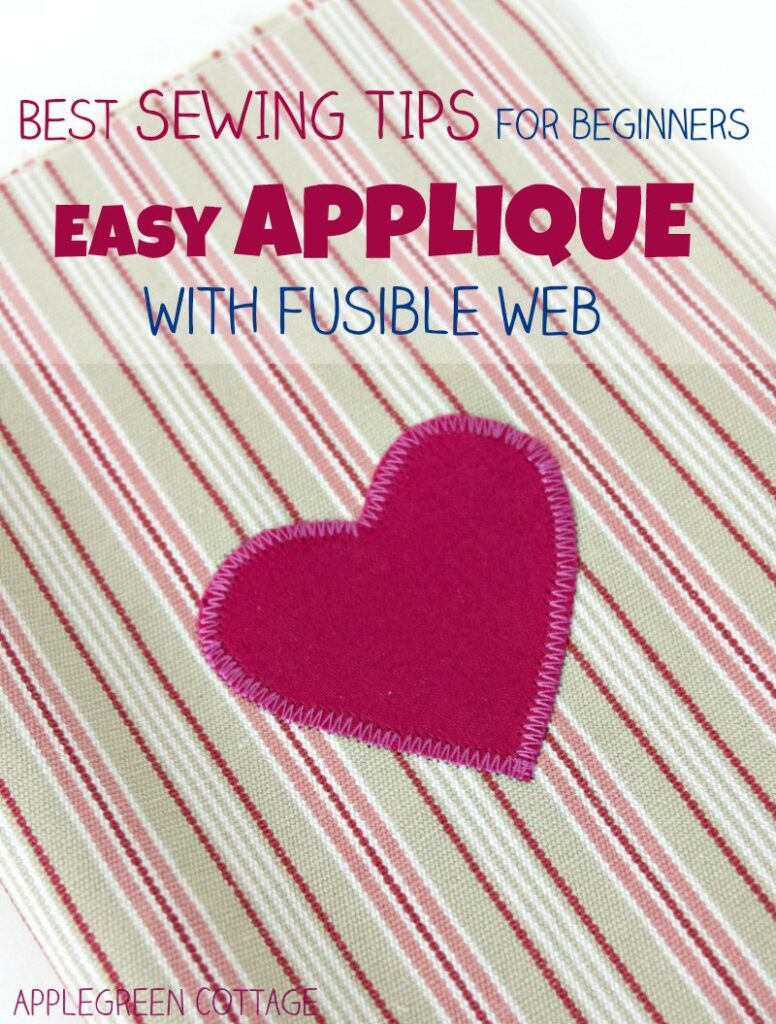 This post contains affiliate links. Thanks for your support. If you are here for the applique, you'll also like this mug rug with free applique template. Or check out this turned edge applique technique for a beautiful effect.
How to Applique With Fusible Web
Here you'll learn how to make your own applique and how to sew them using a regular sewing machine. Fabric scraps, paper-backed fusible web like Heat'N Bond and your sewing machine - that's all you need, and half an hour of your time. Let's take a look at this simple step-by-step how-to.

Supplies:
prewashed fabric scraps (applique fabric- here pink )
prewashed fabric base (background fabric for the applique - here stripes)
iron and ironing board
a piece of paper-backed fusible web
a pen or pencil
sewing thread, sewing machine
scissors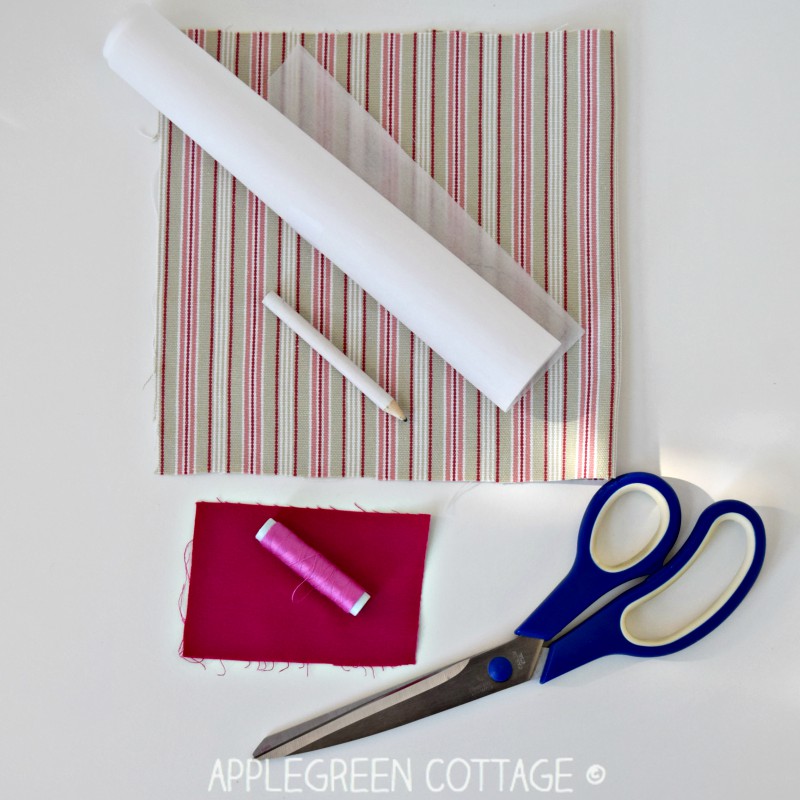 Fusible web - which brand to use?
Our readers are asking about which brand to use, so I'm listing a few of the most popular brands. These are recommended by professionals:
Steam A seam 2 (this one's a bit different, it has 3 layers, same effect)
Why prewash fabric before adding applique?
To prevent shrinking after the applique has been sewn on. Shrinking could distort the shape of the applique and we don't want that to happen. Also, some quilters say it's due to the chemicals on the fabric; these need to be washed off so the fusible web would adhere better. Now let's move on to the tutorial:
Free Applique templates
I've made quite a few free printable applique templates for you to use, just to name a few:
How To Make Fabric Applique With Fusible Webbing Tutorial
1) Choose the applique shape. To make your first applique project easier, choose a simple shape. This time, I chose a simple heart shape.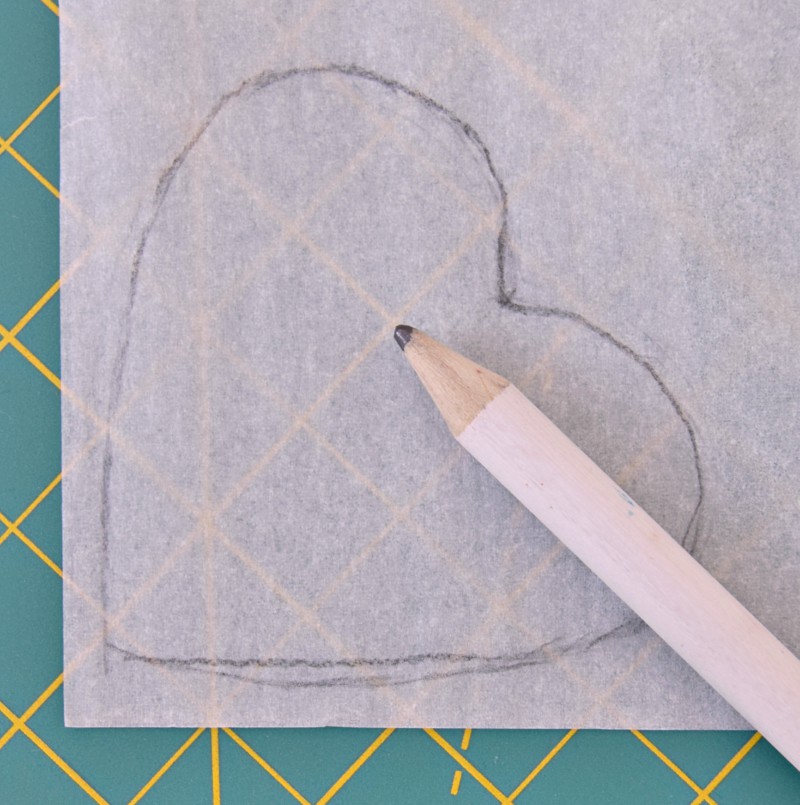 2) Trace the design onto the PAPER SIDE of the fusible web (not the sticky side). If there are letters or other directional shapes, they need to be mirrored!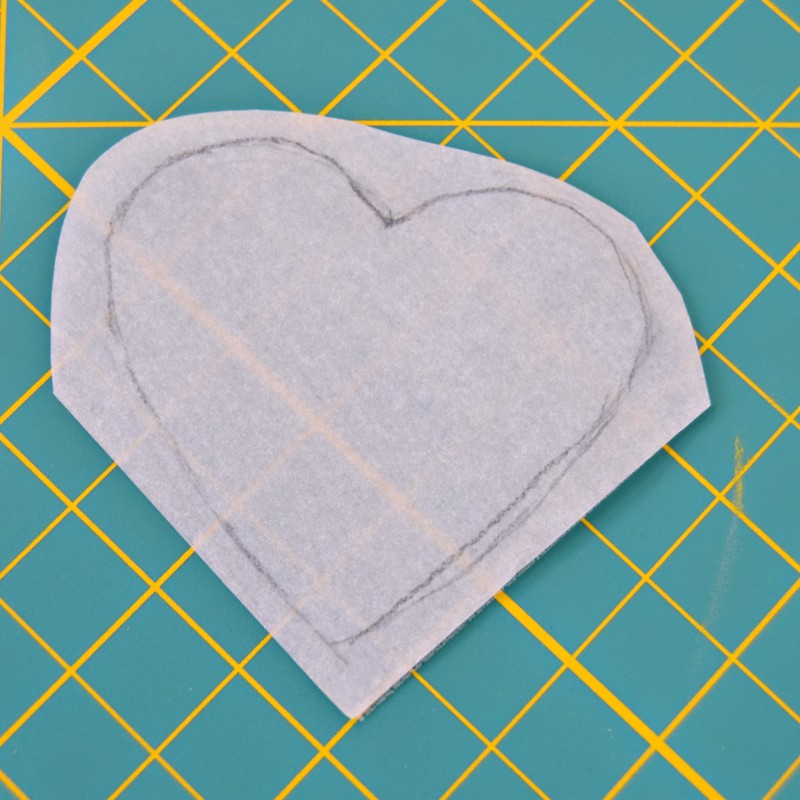 3) Cut around the drawing, leaving a few milimeters around it.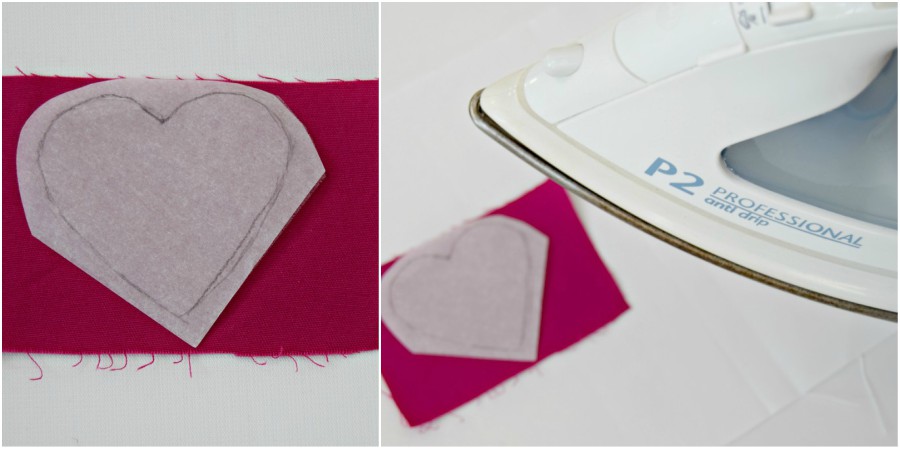 4) Then apply the fusible side of the fusible web to the BACK of the applique fabric, using iron.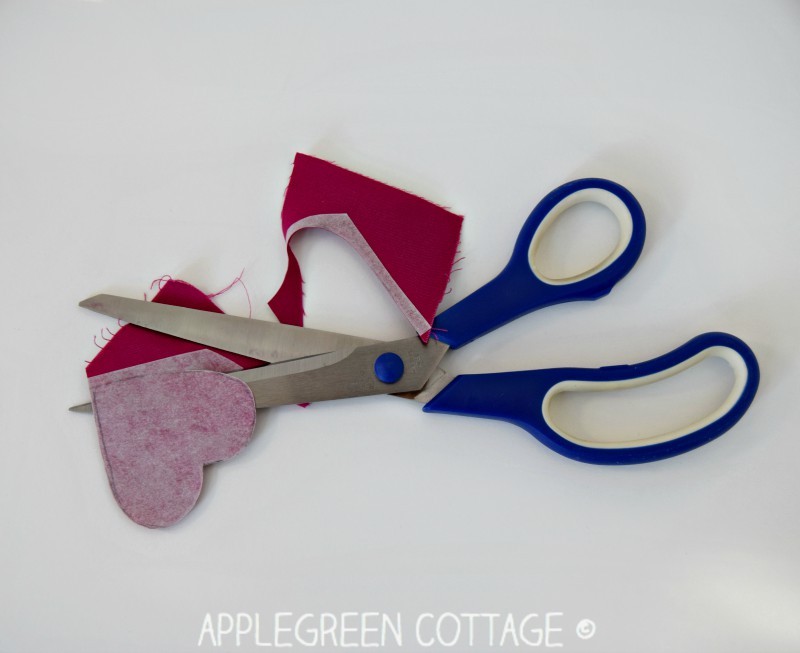 5) Cut the applique along the tracing line.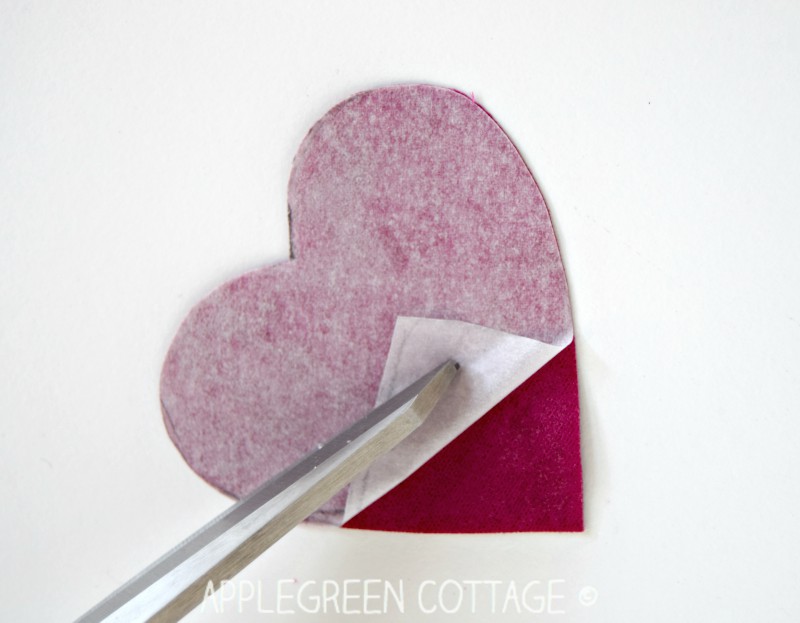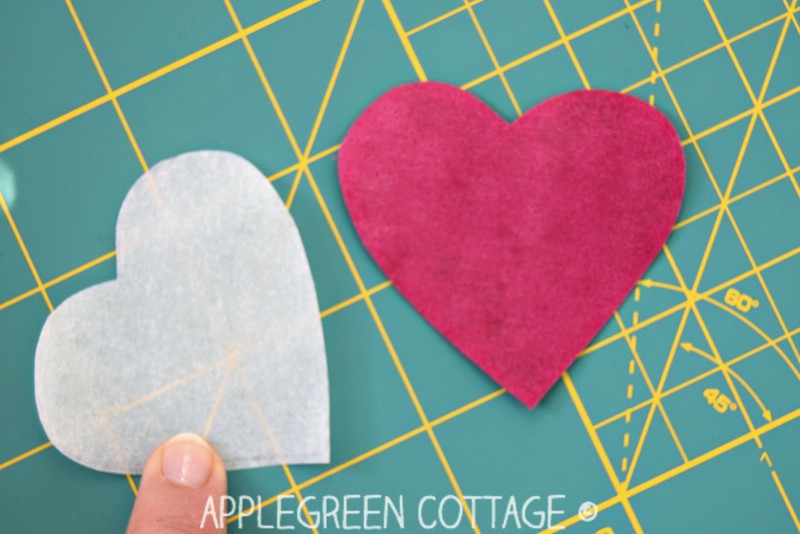 6) Remove the backing paper, so your heart applique now has a transparent layer of heat-activated glue.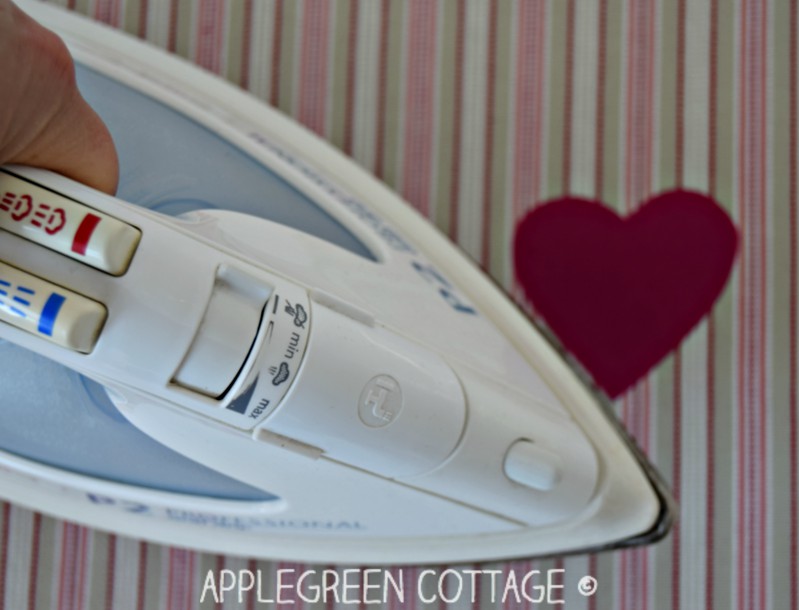 4) Press the background fabric to eliminate any creases. With the background fabric face-up, place the applique on top of it, face-up too. Now the fusible side is between the fabric layers. Press.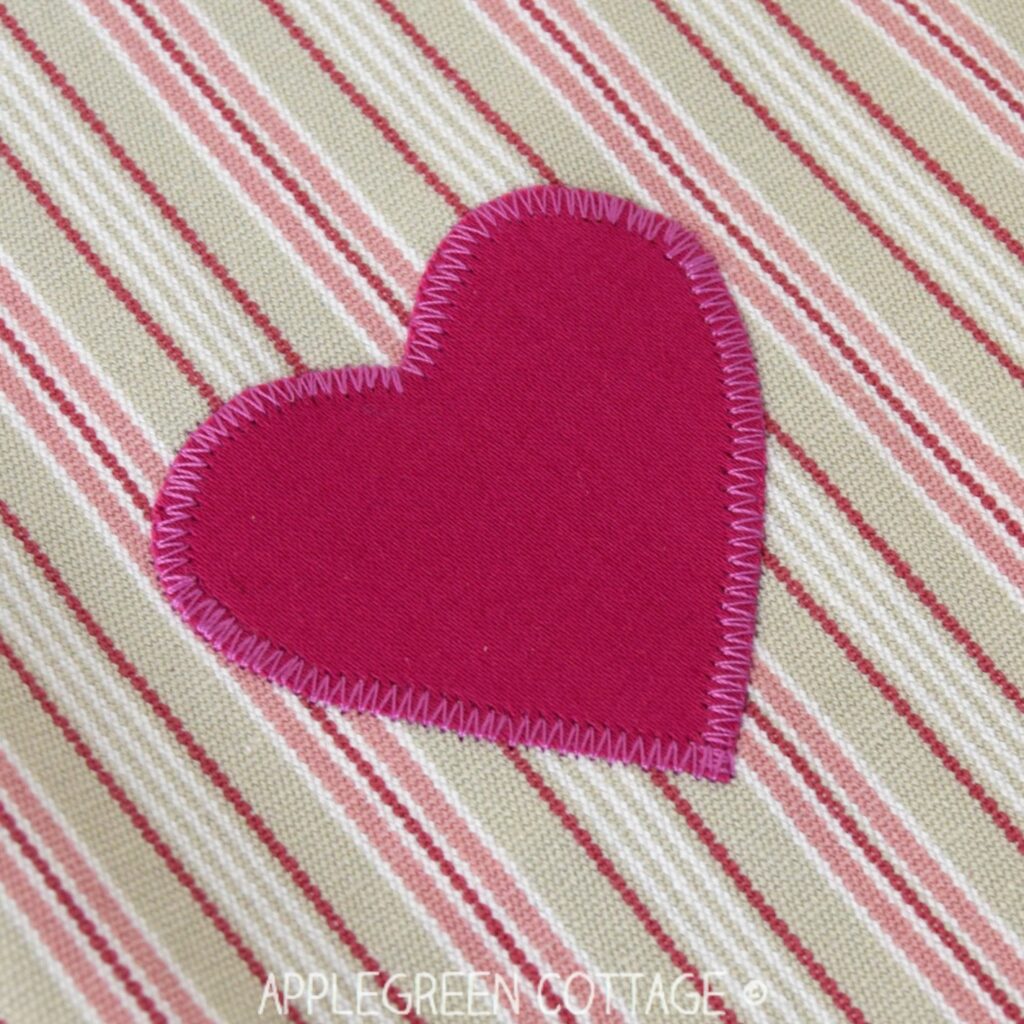 5) Stitch around the edges, using either a blanket stitch, a satin stitch, or zigzag. In this tutorial, I showed the latter.
The only simpler way to go would be a straight stitch, but in this case, the applique fabric would wrinkle up and fray after washing. A great special effect if you are going for that one, and it can be a lot of fun. (And I love it too!) But let's save that one for another time 🙂
Why topstitch over a fused applique?
Since the fusible web will come loose when washed, I always make sure to stitch around the edges. It can be as simple as a straight stitch tracing the design very close to the edge of the fused applique, or a zigzag.
The stitch will be neater if you loosen the upper thread a little. The bobbin thread should not show on the top. Try on a scrap piece first, and get the hang of it. Then proceed with your applique project.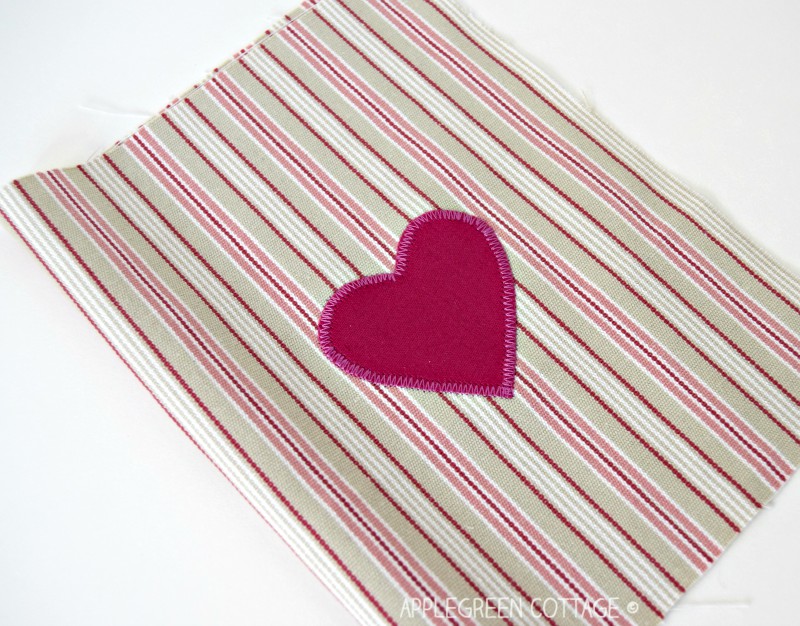 Applique is a fun way to express yourself and to personalize anything you sew. To bring the applique to a new level and allow for even more creativity, you can stack and fuse multiple pieces right on top of each other - and then stitch each of them in place. Lovely!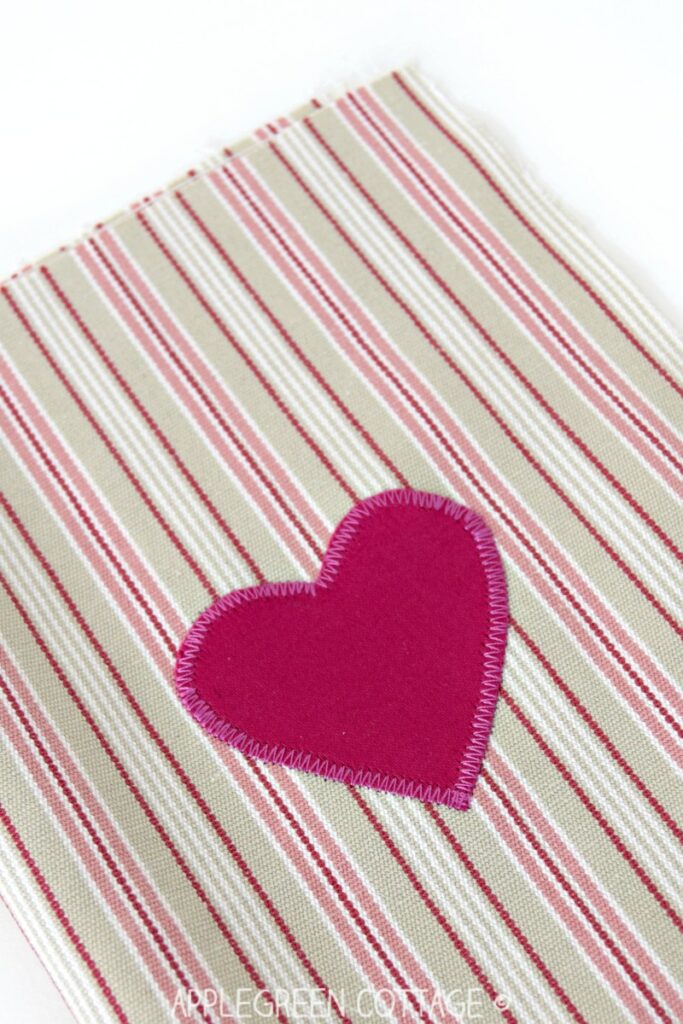 Here's another example of a simple applique made using a paper-backed fusible web: my Christmas gift bag. I made it in exactly the same way as this one. More on that pattern here.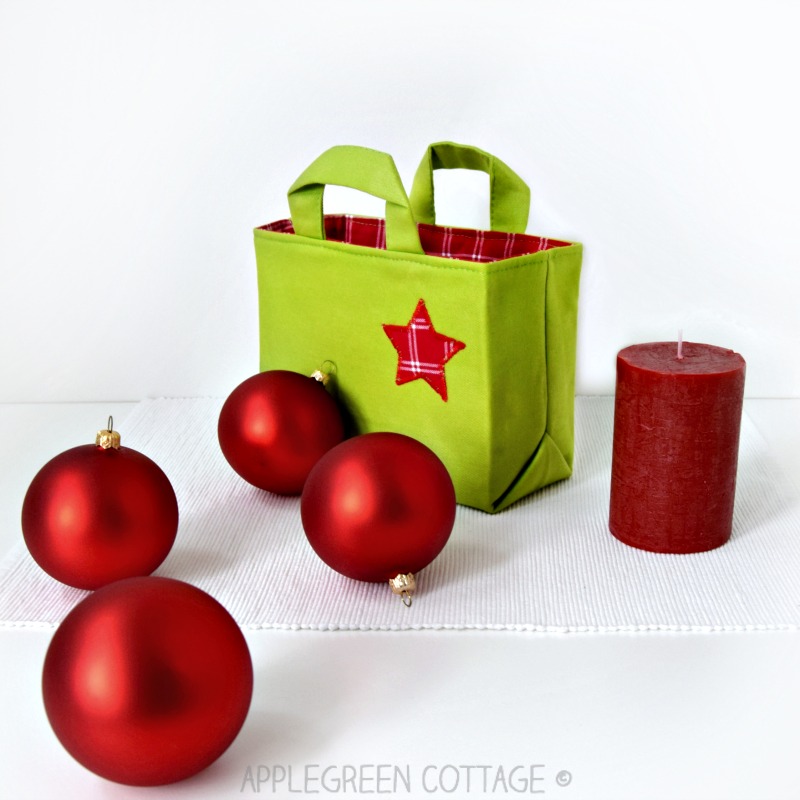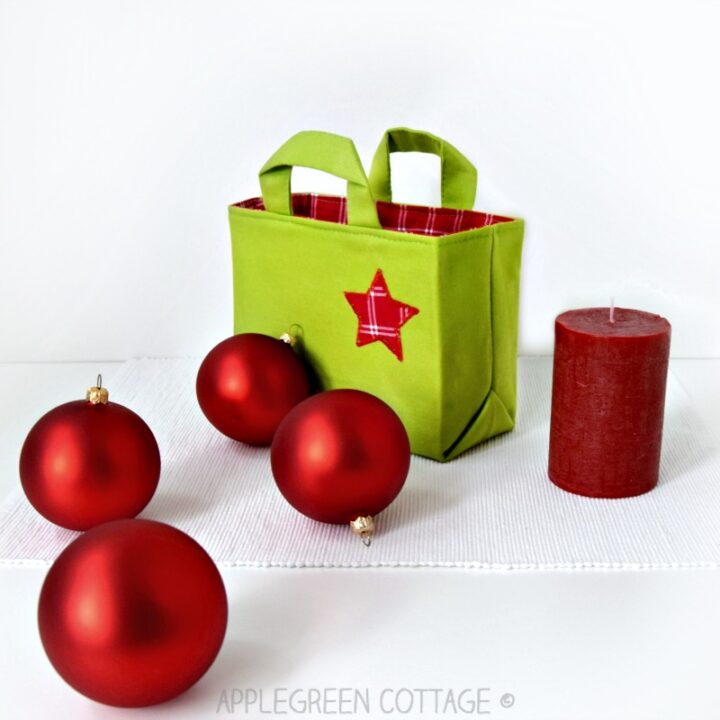 How to applique letters?
Adding a simple letter to your project is probably the easiest way to personalize a sewing project, a backpack, a bag, a pillow, or a toy. The only thing you need to be careful about is cutting your letters out using a mirror image of that letter. To make it easier, I made a printable template with mirrored alphabet letters - you can download the pdf directly from this applique guide post (no password needed, the file opens once you click on the button - save to your comp and print. You'll have your diy mirrored letters for applique ready in minutes!
Feel free to use my free printable alphabet template you can cut out and use for all your fusible web letters!
WANT MORE FREE TUTORIALS AND PATTERNS?
Get email updates and never miss out on new patterns, printables, and tutorials: