Here are the basic sewing terms explained - short and easy to understand!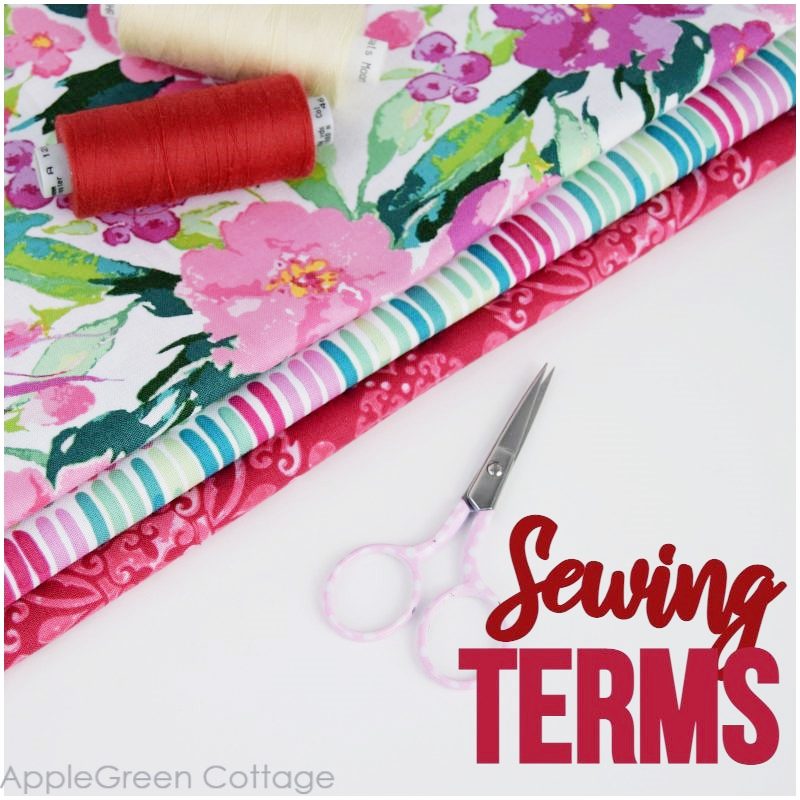 Welcome to the exciting world of sewing! If you're just starting out, don't get discouraged by all the different sewing terms and jargon - we've got you covered. This sewing glossary is the perfect place to get the sewing terminology explained - simply and quickly. We'll help you understand everything from basic stitches to advanced techniques. So grab your thread and needles, and let's get started on your sewing journey!
What is basting?
Basting means sewing with long loose stitches, to temporarily join fabric pieces together. You can baste by hand or use a sewing machine.
What is bias in sewing?
Bias or cut on bias means that a piece of fabric is cut at 45 degrees to its warp and weft threads. Every piece of woven fabric has two biases, perpendicular to each other. Non-woven fabrics such as felt or interfacing do not have a bias.
What is bias tape?
Bias tape is a narrow strip of fabric, cut on the bias, meaning at 45 degrees to its warp and weft threads. This kind of fabric cutting makes it stretchier.
What is casing in sewing?
A casing is a fabric tunnel through which elastic or a drawstring can be threaded to pull in or draw up the fabric.
What is cord?
Cord is twisted fibre, usually intermediate between rope and string. To make it yourself, check out this tutorial.
How to cut on bias?
Cut on bias means that a piece of fabric is cut at 45 degrees to its warp and weft threads. Every piece of woven fabric has two biases, perpendicular to each other. Non-woven fabrics such as felt or interfacing do not have a bias.
What is a dart?
A dart is simply a folded wedge of fabric you stitch to help you shape an item, be a piece of garment or a bag. There are many types of darts, the simplest being a one-point straight dart. Check out this tutorial to see how to make darts when sewing to see how they are used.
Who is a dressmaker?
A dressmaker is a person who makes custom clothing for women.
What is embroidery?
Embroidery is a form of decorative needlework, designing pictures and letters using embroidery stitches like the simple running stitch, whip stitch, and many other stitches.
What is face in sewing?
The face of a fabric piece is its front side, same as the right side.
What is facing in sewing?
A facing is fabric used to finish the raw edges of a garment such as at neckline and armhole, or a welt zipper pocket.
What means to gather fabric?
Gathering is a technique for shortening the length of a strip of fabric so that the longer piece can be attached to a shorter piece.
What is the grainline?
The lengthwise and crosswise grain of fabric refer to the directions parallel to the warp and weft, respectively.
What is a gusset on a bag?
A gusset is a piece of fabric inserted into a seam to add breadth. This free messenger pattern has a gusset.
What is a hem?
A hem is the edge of cloth folded back and sewn. See how to make a double hem here - it leaves no raw edges and is super useful.
What is interfacing?
Interfacing is a material added to the back side of a fabric to add stability and/or body to the finished item. There are many different types of interfacing, fusible and non-fusible. See this guide on fusible interfacing for beginners.
What is jersey?
Jersey is a stretchy knitted fabric. This Beginner's Guide on sewing knits is perfect if you're new to jersey.
What is lining in sewing?
Lining is an inner layer of fabric that provides a neat finish, conceals seam allowances and interfacing.
What is needlework?
Needlework is anything that uses a needle for construction.
What is overlay in sewing?
The top layer of fabric when a different fabric is underneath. Lace will often be an overlay and have a lining under to prevent being see through.
What is patchwork?
Patchwork is sewing together pieces of fabric and stitching them together into a larger design. Tons of forms and designs, also see quilting.
What is a PDF sewing pattern?
PDF sewing pattern or a digital sewing pattern is a digital file containing a template to sew an item: a bag, garment, etc. Usually, the sewing pattern will contain several pieces to assemble, as well as directions on assembly and finishing the individual pieces into a finished product. To see more, check out my sewing pattern shop here.
What is piping in sewing?
Piping is a type of trim consisting of a strip of folded fabric inserted into a seam for decorative or construction purposes, often seen on pillows and bags.
What is a pleat?
A pleat is a type of fold formed by doubling fabric back upon itself and securing it in place.
What is a quilt?
Quilt is two layers of cloth sewn together, with a layer of batting in between. A whole cloth quilt is the easiest, and looks lovely when made with a fabric panel. Another type of quilt is a patchwork quilt.
What is quilting?
Quilting is a method of sewing or tying two layers of cloth with a layer of insulating batting in between. I particularly love a quilting as you go technique - see here what is quilt as you go. What you get is a quilt. Also see patchwork.
What is the right side of fabric?
The 'front' of a piece of fabric having a distinct front and backside. Same as face of fabric.
What does RST mean in sewing?
RST means 'right-sides-together'. Usually, when sewing two pieces of fabric together, you turn the pieces so the right sides are facing each other, and stitch.
What is a running stitch?
A running stitch is an embroidery stitch that passes in and out of the fabric in a straight line. This stitch can be used to baste fabric pieces together.
What is a seam?
Seam is the basic construction technique for joining two pieces of fabric in sewing. Two pieces of fabric are held together by thread. Here's how to sew a basic seam on a sewing machine.
What is seam allowance?
A seam allowance is the area between the edge of fabric and the stitching line on two pieces of fabric that are stitched together. Seam allowances have a wide range, the standard one for quilting is ¼ inch, I often use the ⅜ inch (1 cm) seam allowance, and ½ inch is also common in bag making. ⅝ inch seam allowance is standard in sewing apparel.
What is a seam ripper?
A seam ripper is a small tool used for unpicking or cutting stitches. So useful!
Who is a seamstress?
A seamstress is a person who sews and finishes garments.
What is selvage in sewing?
The selvage stands for the self-finished edges of fabric. In woven fabric, selvages are the edges that run parallel to the warp.
What is sewing?
Sewing is the best craft ever - for me! Less subjective, it's an ancient craft where you stitch cloth or other materials using needle and thread. See all AppleGreen cottage sewing projects here.
What is a stitch?
A stitch is a single turn or loop of the thread or yarn in sewing. All stitches made with a sewing needle with an "eye" or hole are variations on seven basic stitches: running stitch, backstitch, overcast stitch, cross stitch, buttonhole or blanket stitch, chain stitch, and knot stitch. Sewing machine stitches are classified by their structure: chain stitch, made with one thread; lockstitch, made with two threads; and overlock, made with one to four threads.
Also see this invisible stitch tutorial. (good to know!)
Who is a tailor?
A tailor is a person who makes, repairs, or alters clothing professionally, especially suits and men's clothing.
What is a thimble?
A thimble is a protective shield made of metal, plastic or leather you can wear on the finger or thumb when sewing.
What is twill tape?
Twill tape is a flat twill-woven ribbon. Heavier, thicker twill is amazing for bagmaking when you don't want to use much interfacing.
What means the wrong side of fabric?
The "back" of a piece of fabric that has a distinct front and back. Also see face.
What is yarn?
Yarn is a long continuous length of interlocked fibers. It can be made from any number of synthetic or natural fibers.
How does a digital sewing pattern look like?
A digital sewing pattern is simply a pdf file you can download from a webpage to your computer. Usually, you can open it in a simple PDF reader and print at home.
What do I need to start using a PDF sewing pattern?
You'll need a computer to download your PDF sewing pattern, then the printer to print it on paper, then proceed as with the traditional paper patterns: cut the fabric using the printed pattern and sew the item.
Save this list to reference when you need it: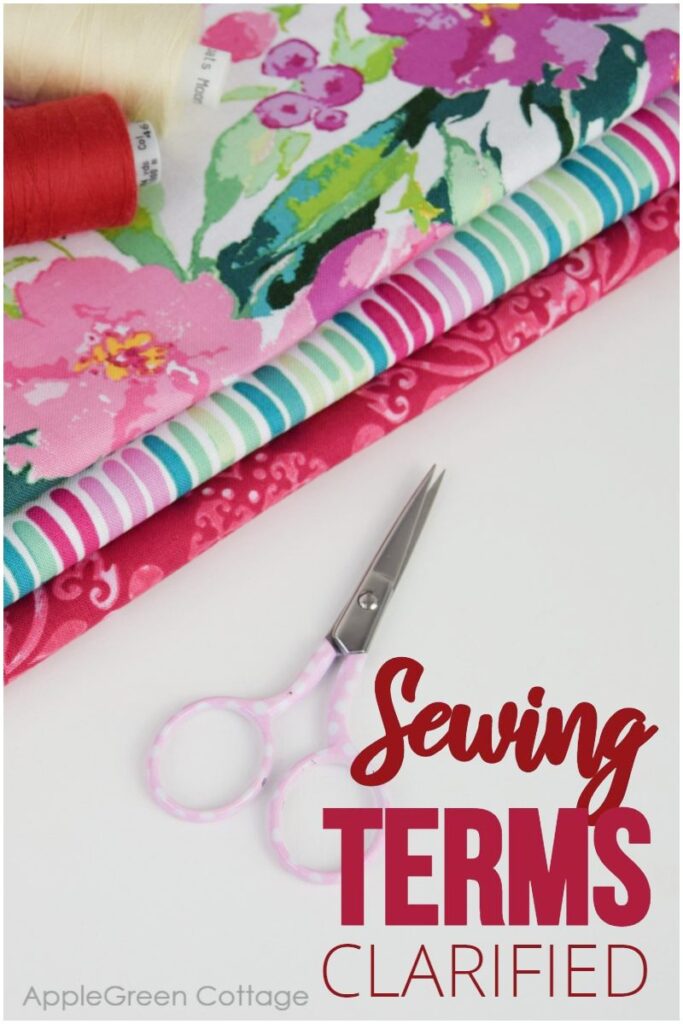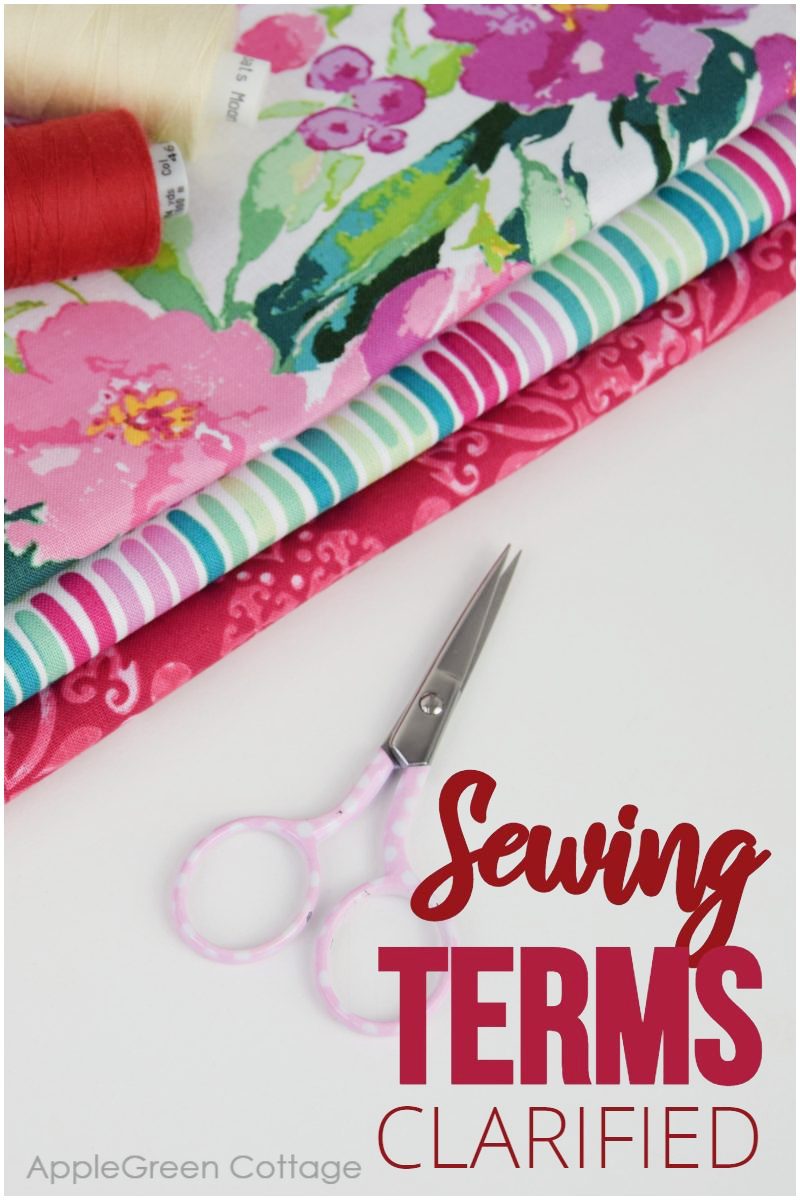 And here's my huge zipper sewing guide - use it and never fear zippers again!
WANT MORE FREE TUTORIALS AND PATTERNS?
Get email updates and never miss out on new patterns, printables, and tutorials:
Or …check out the NEA Small Crossbody Bag pattern in our shop. This bag skyrocketed to the top of our best-sellers in less than a week after it was released: