Are you new to sewing with knits? You're not alone! Knit fabrics can be a little trickier to work with than woven fabrics, but they're also incredibly versatile and comfortable to wear. And, I want you to be comfortable both wearing knits and sewing with knit fabrics - so I created this beginner's guide to sewing with knitted fabrics.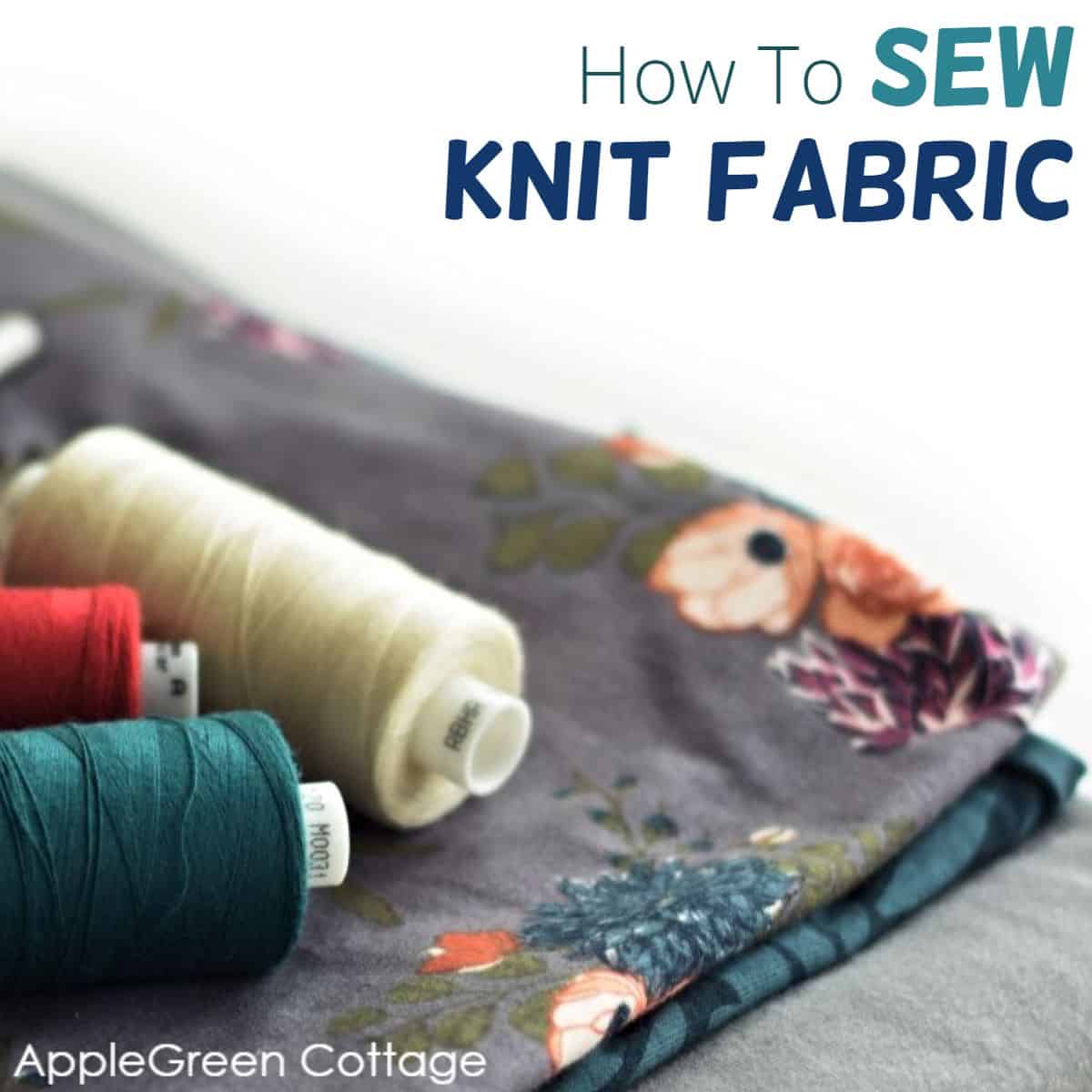 This post contains affiliate links. Thank you for your support. If you'd like to see more about knits, see our post on the basic knit fabric types. Now, off to sewing with those:
First, we'll go over the most important tips for sewing knit fabric, so you can confidently tackle your next project: tips on buying, cutting, and sewing jersey and other types of knit fabric for beginner sewing projects.
And afterwards, I'll show you easy knit fabric sewing projects to start with. Ones to help you make the first stitches and are quick, instant-gratification sewing ideas for jersey, French Terry, ribs, or even sweatshirt knits.
Table Of Contents
How to sew with knit fabrics
Sewing with knits like jersey is actually pretty simple once you get the hang of it! Don't worry about studying too much or stressing out before you start. With some special tips and tricks that I'm happy to share with you, you'll be well on your way to sewing comfortably with knits in no time. Here's the plan:
First, I'll share with you the 5 basic knitted fabric types you need to know
6 basic, yet super important tips
5 super simple projects for sewing with knits - easy to start with!
The Basic 6 Types of Knit Fabrics
If you are not yet familiar with the types of knit fabric, just a quick recap here - once I have a guide on the different knit fabric types ready, I'll add a link here, so make sure to bookmark this page.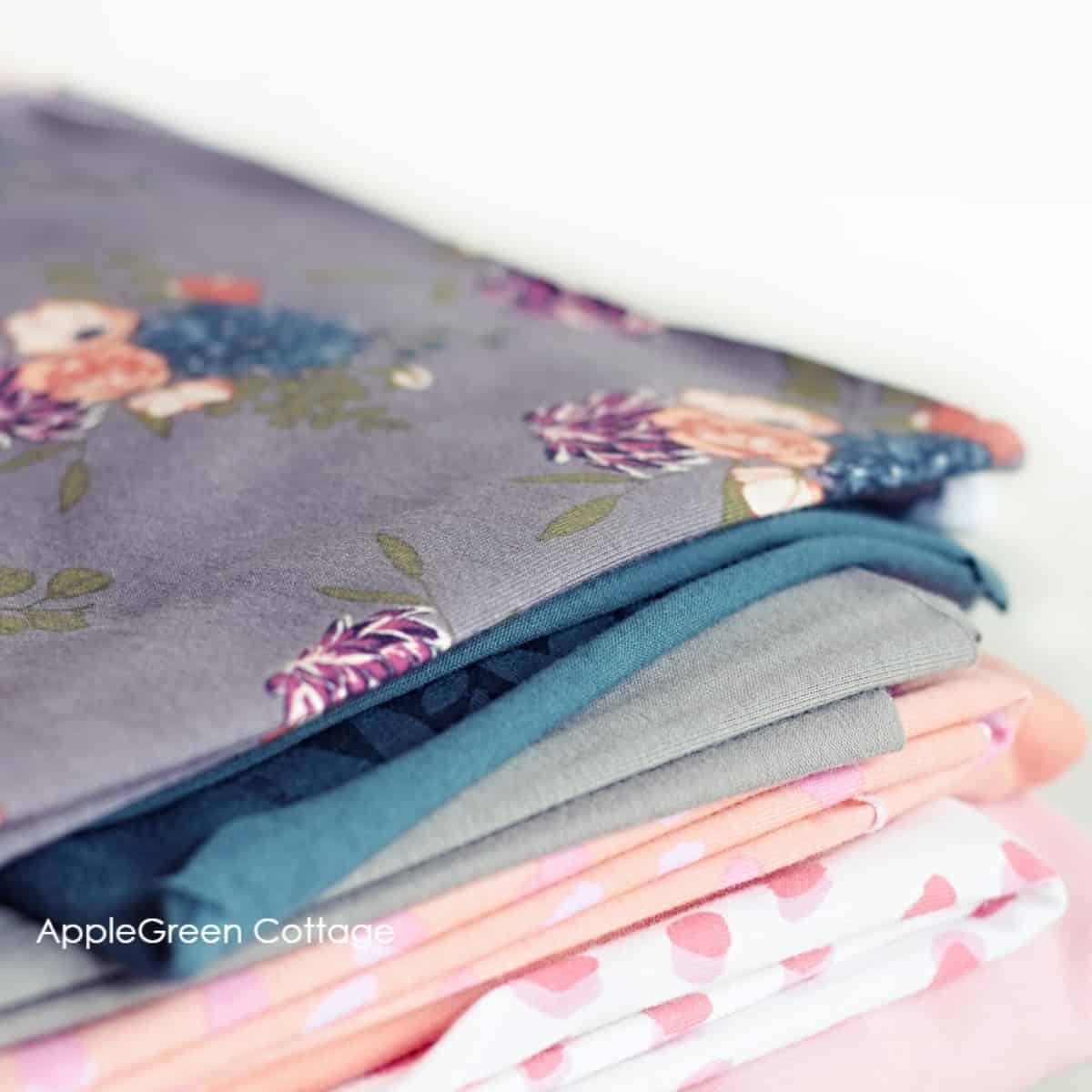 There are several popular knit fabrics that are easy to sew with, including:
Cotton jersey: This is lightweight, breathable knit fabric that is commonly used for t-shirts, dresses, and baby clothes. It is easy to sew with and has a nice drape.
Interlock knit: This is a double-knit fabric type that is thicker and more stable than jersey. It is often used for tops, dresses, and skirts, and is easy to sew with.
French terry: This is a knit fabric with loops on one side and a smooth surface on the other. It is comfortable and easy to sew with, and is often used for sweatshirts, hoodies, and lounge pants.
Sweatshirt fleece: like French terry, but with a smooth, soft brushed back side. Perfect for cold weather!
Ponte knit: This is a thicker knit fabric with a stable drape. It is often used for dresses, skirts, and jackets, and is easy to sew with.
Rib knit: This is a knit fabric type with raised ridges - these give a lot of stretch! You'll find it on cuffs, collars, and waistbands.
7 Things about Sewing With Knits You Absolutely Need To Know
These are the 7 most important tips for sewing with knits. I've split them in 3 sections to make it easier to remember:
2 Tips for Buying Knits
2 Tips Before You Cut Fabric
3 Tips for Sewing Knits
There are just two basic things you need to know when buying knit fabric to sew with:
1 - What Type of Knits To Choose
Without the need to go into a study here, you'll want to stick to one of the 6 basic knit fabric types for your first knit sewing project. What I would recommend for your first project, go with cotton jersey. Or French terry. You can also try interlock, ponte, or sweatshirt fleece depending on your project. But if you're starting like me, with easy headbands, baby hats, scarves - cotton jersey works great!
2 - What Weight of knit fabric to choose
My suggestion for your first project? Get yourself a yard of cotton jersey that has a weight of around 8 oz (that is short for ounces per square yard) - equivalent to around 200 grams per square meter (GSM). I like this weight range because it's easy to work with (see my earwarmer headbands)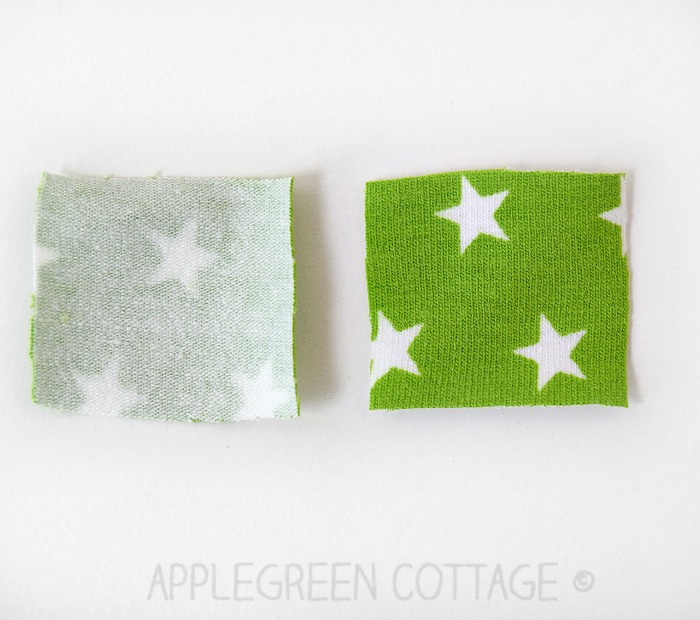 And jot down this: when shopping, ask for 95% cotton + 5% spandex blend. It has a moderate stretch.
I also mentioned French terry as an alternative before, this one will be a bit heavier and thicker, around 10 oz. It is my go-to knit for these adorable earwarmer beanies.
Now, onto tips for before you cut your knit fabric - when you're getting ready to cut into your fabric, there are two things you'll need to take into account: prewashing and stretch direction.
3 - Prewash your fabric
Simple. Prewash your fabric. Knits tend to shrink a lot when washing. You will want to prewash your jersey before you sew because it will shrink.
It will, seriously. Yes I've sewn with unwashed jersey before, and regretted it each time. So trust me - into the washer first!
4 - Mind the Stretch direction
What is Stretch Direction on knit fabric? While wovens like quilting cotton don't stretch, knit fabrics do. And they tend to stretch in one direction more than the other. Super important!
To identify the stretch direction of your jersey fabric, you can gently pull on the fabric in both directions and see which direction stretches the most. The direction that stretches the most is the stretch direction.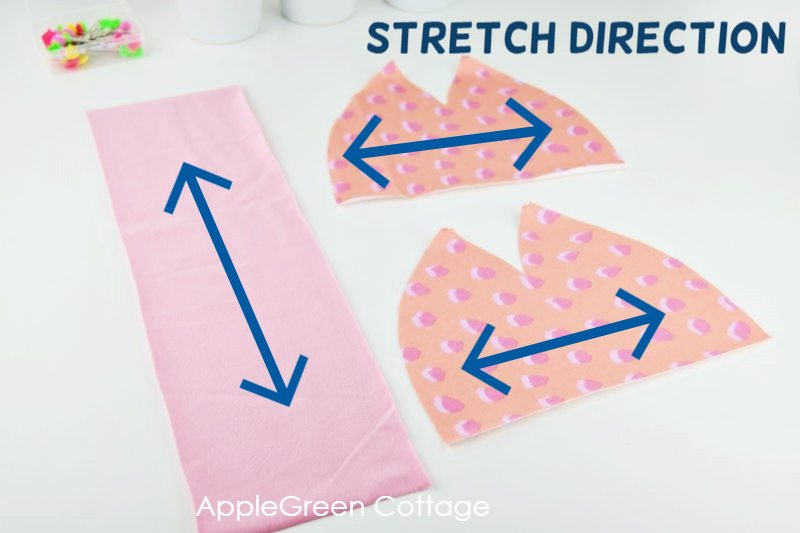 When cutting your fabric, it is very important that you place your pattern pieces so that the maximum stretch is equal to the 'stretch direction' markings on the pattern. Otherwise, you could end up with a beautiful piece of clothing (like a T-shirt) that you just can't pull on... Uhm...don't ask me how I learned about this in the first place.
So, make sure to check how your jersey fabric stretches before you cut. Got it? Let's get to cutting and sewing!
Now to the core of jersey sewing tips, as we finally get to sew - two things: a ballpoint needle and a zigzag stitch. And, if you happen to find it, a walking foot can be helpful, too. Let me explain:
5 - Choose the right needle
When sewing with knits, it's essential to use the right needle. A ballpoint needle is the best option, as it won't damage the stretchy fibers of the fabric. A universal needle can work, but it may result in skipped stitches or puckering. Here's how to change the sewing machine needle.
6 - Use a stretch stitch
When sewing knits, a straight stitch may not provide enough stretch, causing the seams to break or pop. Instead, use a stretch stitch or a narrow zigzag stitch. These stitches will move with the fabric, preventing any damage to the seams.
Never use a straight stitch with jersey and other knits. A straight stitch would cause the seam to rip when the material stretches.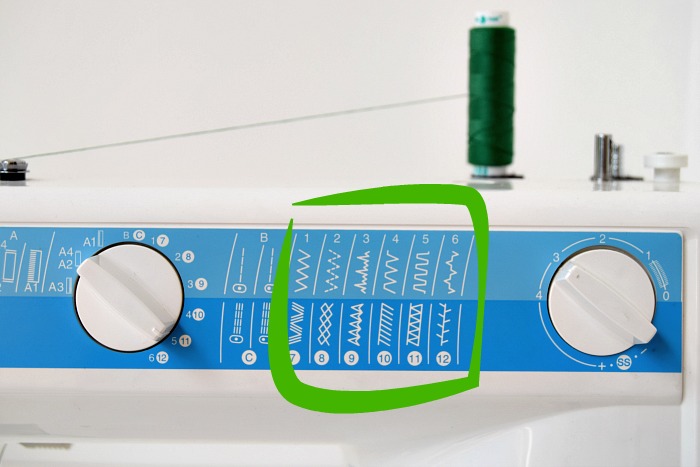 Use a zigzag stitch instead or any of the stretch stitches. If you take a look at this basic machine, you'll spot quite a few stitches that are both decorative and stretchy. But actually, having to choose among the decorative stitches could just slow you down. So a narrow zigzag is the simplest way to do it. (And I also love stitch No 5 for sewing with elastic bands!)
7 - A walking foot is good-to-have
If you have a walking foot, use it, it makes sewing knits easier! It keeps the layers of fabric from shifting and stretching, resulting in more accurate seams. If you don't have a walking foot, try using tissue paper or a stabilizer under the fabric to prevent stretching.
More tips for sewing with jersey
Can you sew knits with a regular sewing machine?
Absolutely! You can sew knits using a regular sewing machine. I do, too. Just make sure you
use a ballpoint needle
use a stretchy stitch (zigzag is perfectly fine!)
don't pull on the fabric when sewing (avoiding a wavy finish). If the seam turns out wavy anyway, press it using steam.
a walking foot helps a lot, so use it if you've got one.
These earflap beanies have all been made on my regular sewing machine. I usually use stretch stitches like this one: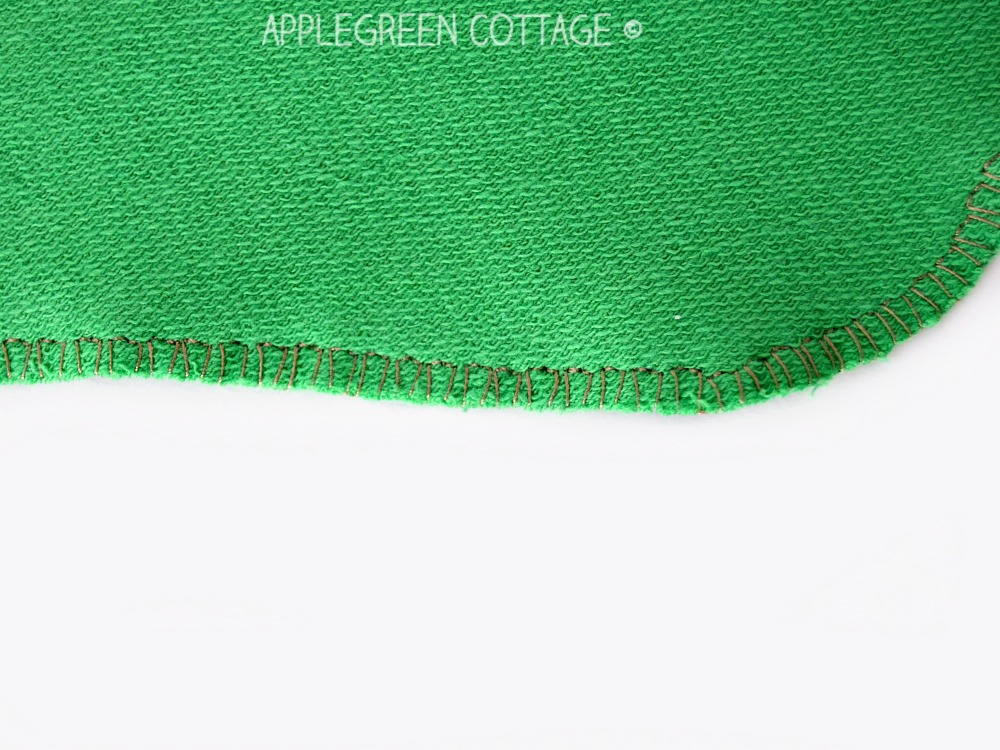 Go for it! With a little practice, you will hardly notice any difference, especially with interlock knits – of all knits, they are the easiest to sew!
How to sew knits with a serger?
With a serger, you can easily sew knits and jersey fabrics like a pro, and create unique and stylish garments that fit you perfectly. It is, however, an entirely different machine from the regular sewing machine, and getting to know it would take a different tutorial. But right now, here are some simple tips for sewing with a serger for those who have just started sewing with a serger, and are looking for a few basic tips:
Use stretch needles and polyester thread.
Set your serger to a 4-thread overlock stitch.
Adjust the tension settings: adjust the tension according to your fabric's weight and stretchiness. This will prevent puckers and wavy seams. Test on a piece of scrap fabric to make sure the stitch looks balanced and secure.
If your serger has a differential feed, adjust it to prevent stretching or gathering of the fabric.
Make sure to handle the fabric gently and feed it through the serger at a consistent speed. this will prevent puckering and uneven stitches.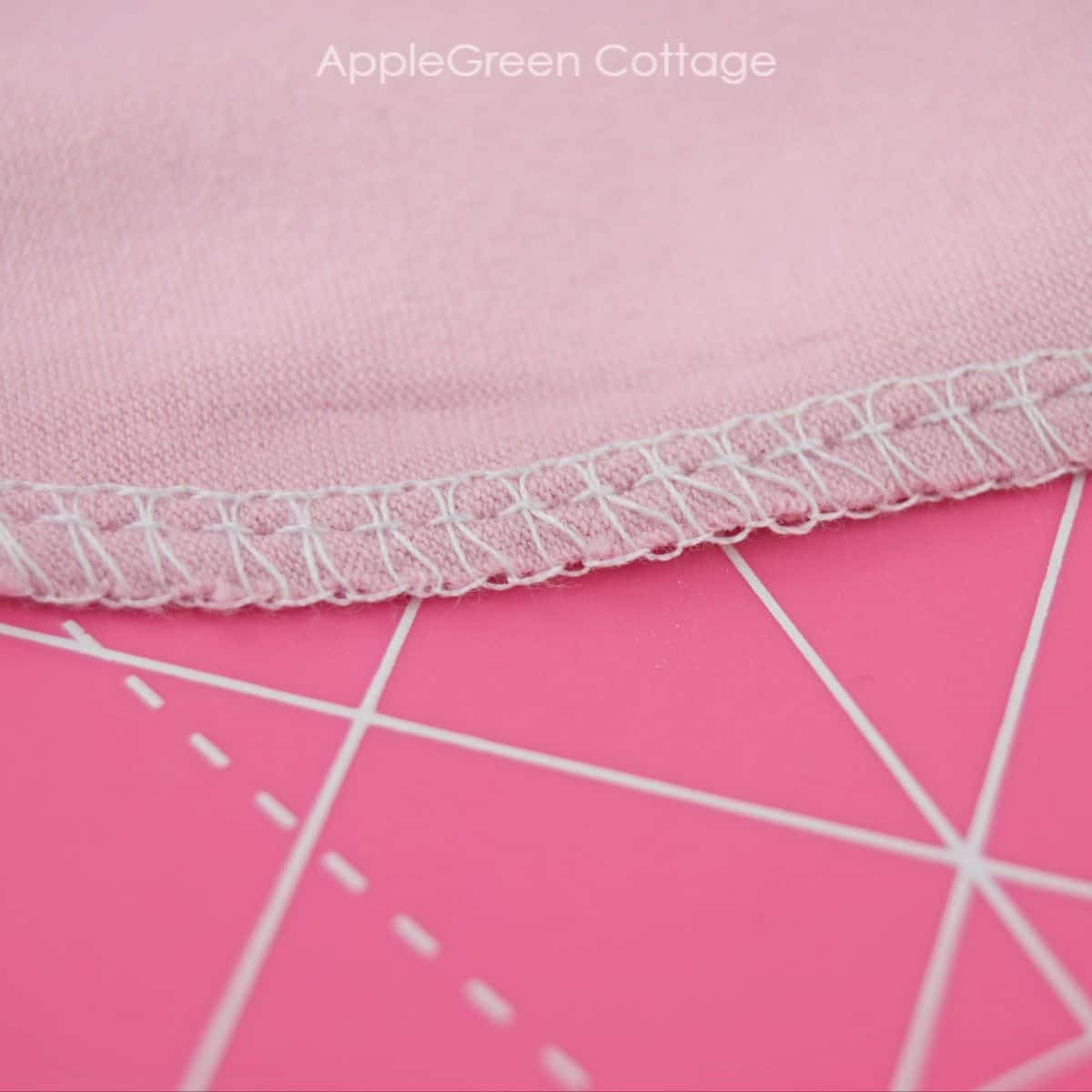 Want to know more? Please let me know if you'd like me to create more tutorials on sewing with a serger. Always happy to hear from you!
How to see which side of jersey is the right side?
Jersey/single knit has lengthwise ribs on the right side of the fabric and horizontal loops on the opposite side. If you are not sure which side of a single knit (jersey) is the right side: the raw end of a jersey fabric will curl towards the right side of the material.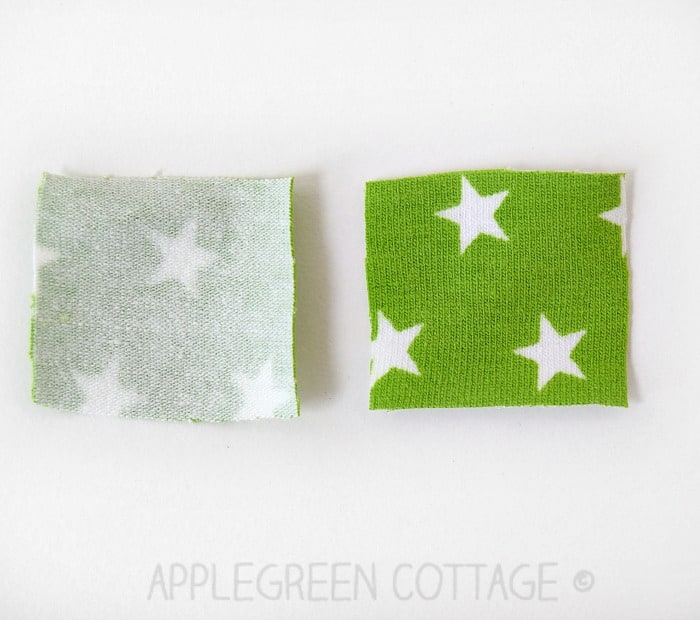 How do I fix wavy seams when sewing jersey
Don't worry, you're not alone! Knit fabrics tend to stretch while sewing, which may result in a wavy edge seam. I too sometimes get a wavy seam, it's common. Here's my quick fix AFTERwards: If my seam looks wavy after sewing, I simply steam and press it and it will regain its shape. Works every single time. Yay!
Or, if you use a serger, it's easy to prevent this: turn the Differential Feed knob from 1 towards the 1.5 mark to correct the waviness and make the seam lay flat and even.
How to prevent stretching when sewing with knit fabric?
Lower the pressure of your sewing foot to prevent excessive stretching of your fabric.
Also, support the fabric if sewing a larger project: you'll want to hold the weight of your fabric when feeding it into the machine. If you just let it hang over your sewing table, its weight will cause stretching already before you even sew the layers together, and this is no good.
My thread breaks when I sew knit fabrics. Why?
Thread breakage can happen
if you used a straight seam instead of a stretchy one (zigzag), or
if the machine tension is too high, or
if the thread is old or poor quality.
Solutions: use a stretchy seam, lower the tension, and switch for a higher quality thread, poly thread is stronger than cotton. Also, sew slowly and make sure you don't stretch your fabric when sewing.
What are the 2 most important tips for sewing with stretchy fabrics?
At the risk of sounding like a broken record, it's crucial to remember two essential things when sewing with jersey or any other knit fabrics:
use a ballpoint needle, and
a stretchy/zigzag stitch.
Trust me, just doing these two things will totally up your game and make your first knit sewing project on a regular machine look waaay better. Give it a shot and see for yourself!
Sewing patterns for knit fabrics
By now, you must be asking yourself which projects to start with, and here are a few of my absolute favorite knit fabric sewing patterns for beginners:
I hope these easy projects get you inspired - they are all suitable for sewing with knits using a sewing machine, or a serger. But most importantly, they will make your sewing journey fun and easy.
Conclusion
I hope you've started to feel comfortable with sewing knits. So why not grab that adorable jersey fabric you've been eyeing and turn it into a cool T-shirt, a cute baby hat, or even a cozy earwarmer headband?
Let's get started on your knit-sewing journey!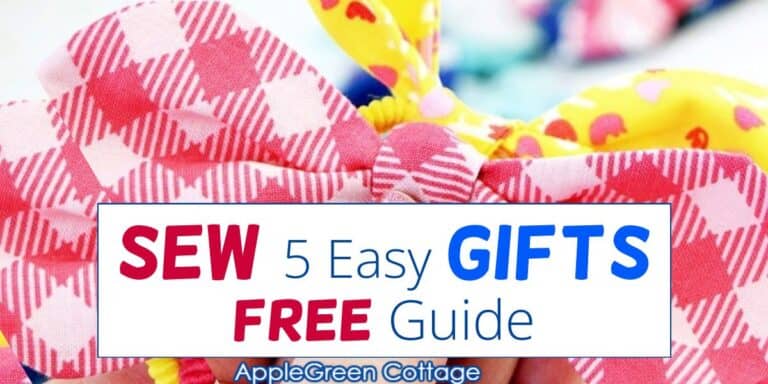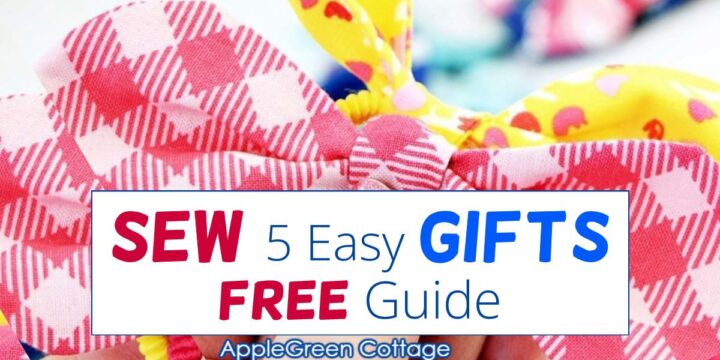 Join the FREE 6-part email guide and make super easy diy GIFTS - each in 30 minutes or less! You'll love it!