...what happens to single thread embroidery floss in various colors, bought by mistake?Nothing, for a long time....if it wasn't for these drawstring bags that needed some cords on top.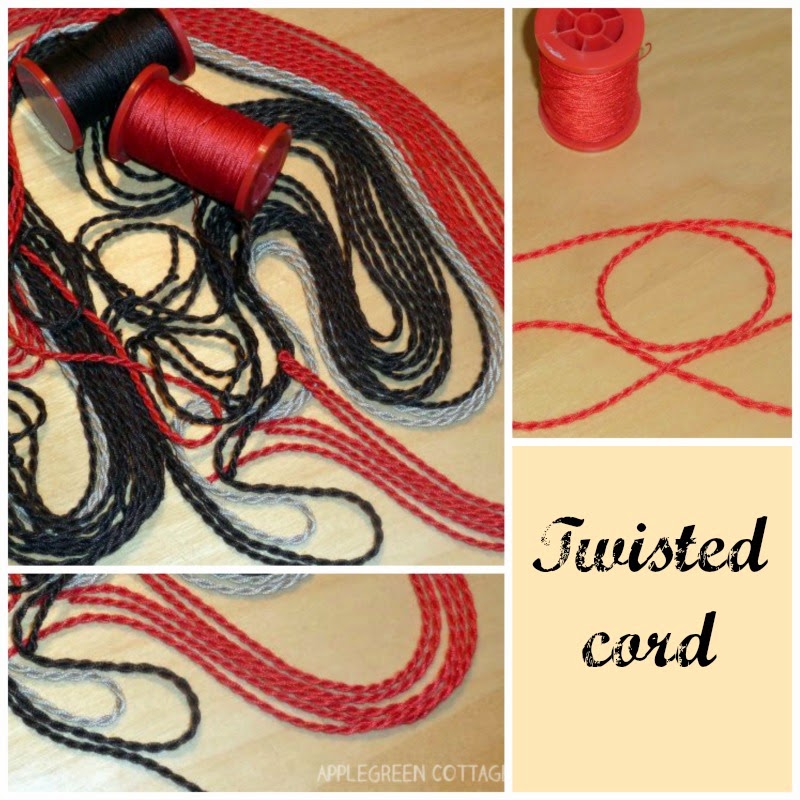 How To Make Twisted Cord
I tried making diy twisted cord and ended up with several yards of nicely twisted cord. I used 5 threads each time, and luckily, it went quite well.
My mom taught me how to make the cords; my sister and I kept making them, and used them for I-don't-know-what... Well, then I grew up (not so very much though 😉 and forgot all about these. Until recently.
To make twisted cord, you twist multiple strands together to form a stronger and more durable material. Here's an easy how-to:
How To Make Twisted Cord from Embroidery Floss Or Yarn
I cut 5 strands of single thread embroidery floss in the same color.
I placed all 5 threads together on the table so they were all lined up,
and tied a knot at one end to keep them secured together.
then I tied the knot side on a fixed on a hook to hold it firm and steady.
Pulling on the other end of the threads, I started twisting the threads in one direction.
Keep twisting. Continue to twist consistently in the same direction.
Once you've twisted enough, the cord will start twisting on itself, so you need to keep pulling on the cord.
With loose end firmly held in one hand, I grabbed the midpoint of tehthread and folded the twisted cord in half, still pulling.
It will naturally twist on itself and make a nice looking twisted cord.
If you need a sturdier cord, you might want to try thicker material, thick wool works great.