How to make a four patch quilt block - This is what I believe to be the easiest way to sew a four-patch quilt block. And the fastest one. Check out how to make two in one go!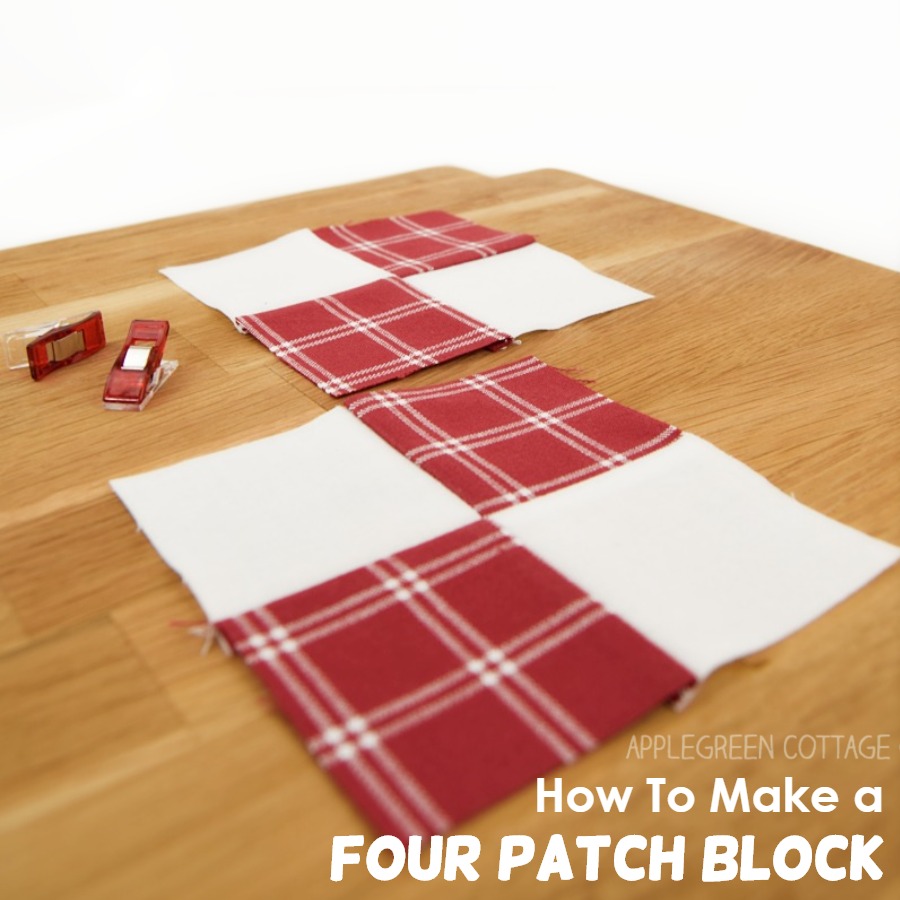 This post may contain affiliate links. Thanks for your support. If you like all things patchwork and quilting, check out these free tutorials:
Four Patch Quilt Block
Even if you don't quilt but do love patchwork, you might have been using the four-patch block all the time anyway. And if you haven't, you will be hooked after you see how easy it is. I'm planning quite a lot of my Christmas decorations, just to make use of these cute four-patch blocks. Eeep! Here's one in Scandinavian style decoration if you're curious. And something new coming soon! (Or maybe choose one from this huge baby quilt patterns list to use with four patch quilt block.)
And if you love the four-patch look but don't want to piece anything, I have also made one tutorial for you that uses a fun and easy folding hack!
And if you're into quilting, this little binding hack will come in handy too! But now, let's try and test how this four-patch quilt block will turn out. You'll love it:
What You Need To Make a Four Patch Quilt Block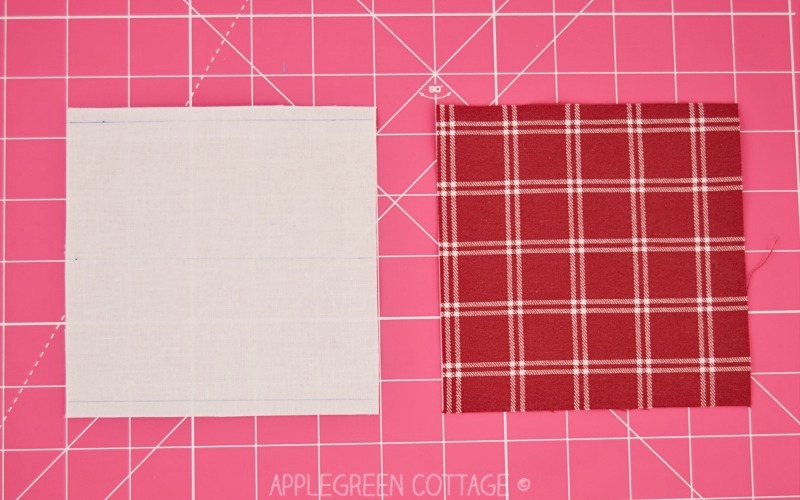 These are the supplies and tools you need:
two 5-inch pieces of fabric (quilting cotton is perfect, alternatives possible, of course)
sewing thread
iron. A must.
rotary cutter (I used this one in this tutorial)
cutting mat (here's mine - in pink!)
If you haven't got the cutter, scissors will do just fine, too. But if you get yourself a rotary and a mat, I promise you'll never look back! Here's one of my other sets (just bragging, lol!) But seriously, these make your crafting so much easier!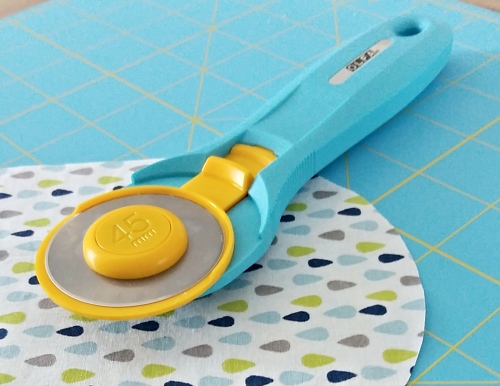 How To Make A Four-Patch Block
This is how I make my own four-patch blocks.
Step 1 - Stack 2 Squares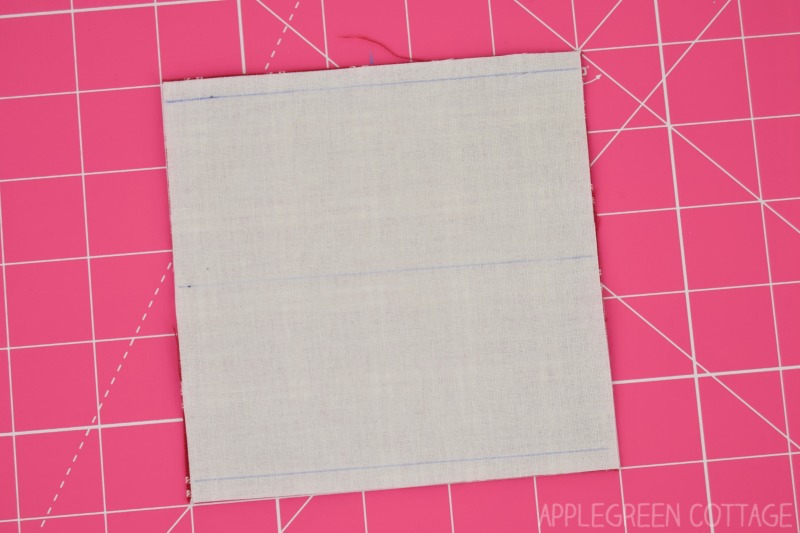 Align the two squares right sides together.
Optional: mark the two stitching lines at ¼ from the edge, and the middle. I also marked the center here.
Step 2 - 2 Seams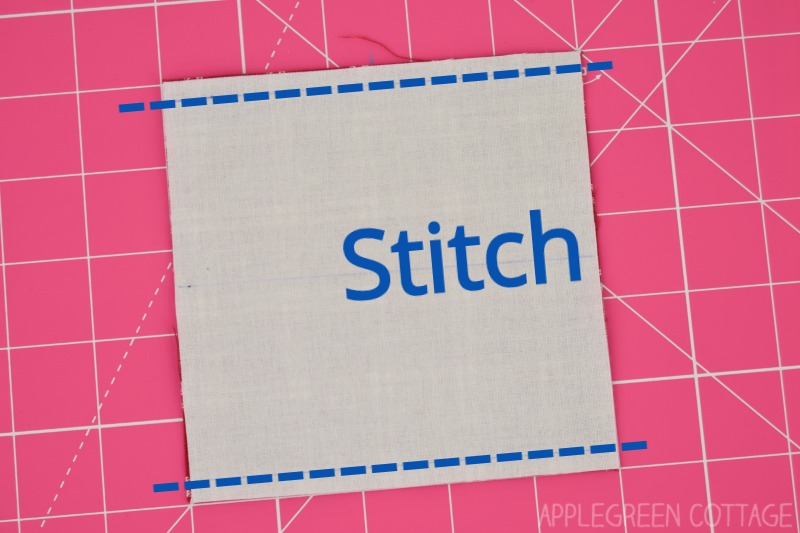 Using a ¼" seam allowance, stitch on both sides of the square. That's two stitching lines.
Step 3 - MArk And Cut In half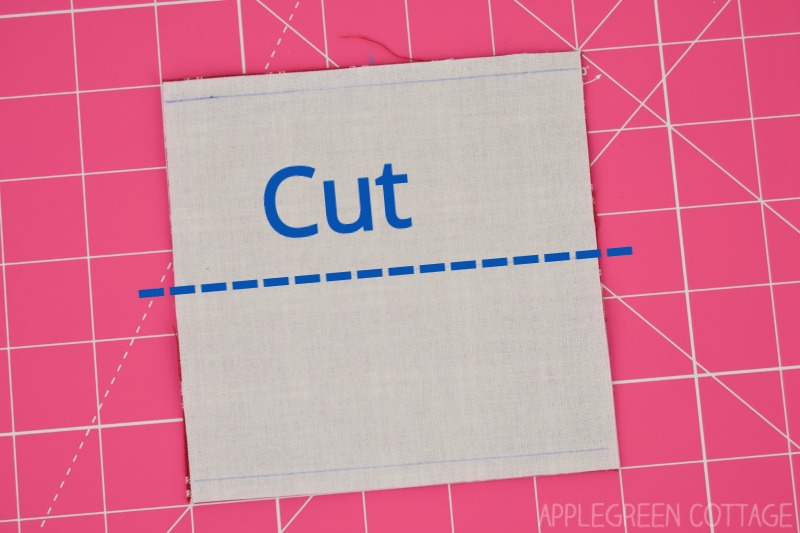 If you're using scissors, mark the center between the two stitching lines. (No need to do so if you're using a rotary cutter and a mat!)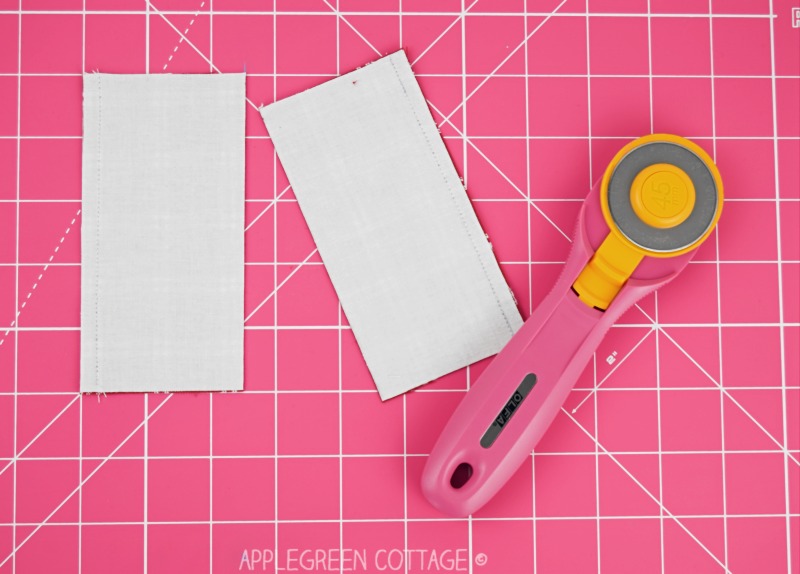 Cut exactly in the middle of the square, so you get two pieces.
Step 4 - Press And stack Again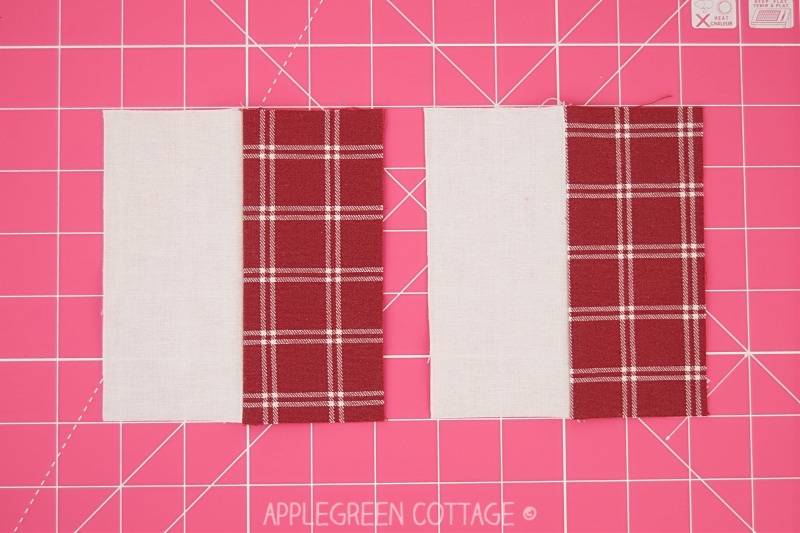 Press the pieces closed to set the seams. Then open them up, lay face-down and press the seam allowance to the side with the darker fabric. Do not slide your iron about more than necessary to avoid distorting the fabric.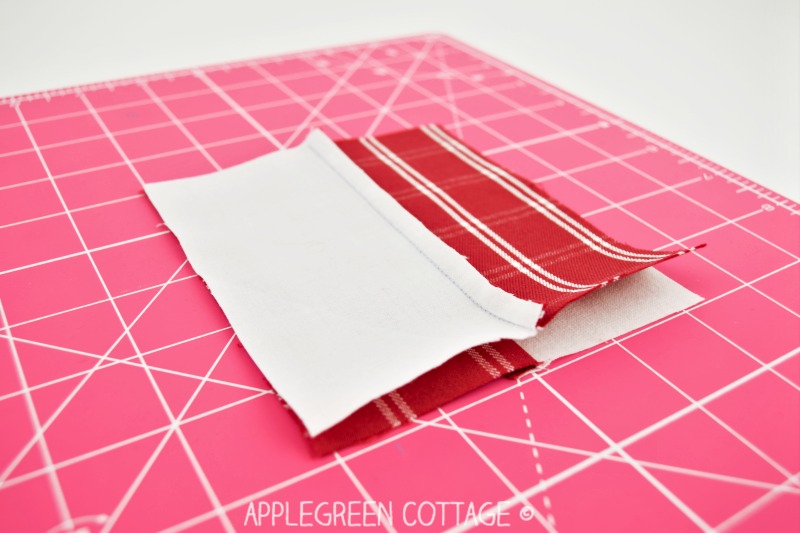 Stack the two pieces right-sides-together again, the same fabric prints should NOT face each other. See how the red fabric is facing the white solid in the image?
Also, if you pressed the SA towards the darker fabric, you'll notice that the seams are now nested, meaning that seam allowances are facing the opposite directions. Less bulk! Match them EXACTLY.
Step 5 Pin and Stitch
You may want to pin to prevent the layers from shifting. I find it easier to feel the seams and keep them together using my thumb and index finger while sewing. Works best for me!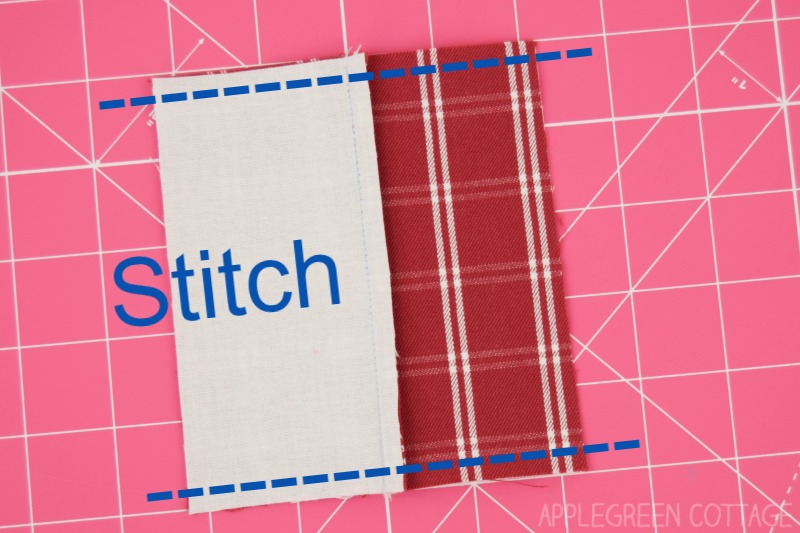 Stitch using a ¼ seam allowance on each side of the piece. Mind the seam direction!
Step 6 - Mark And Cut Again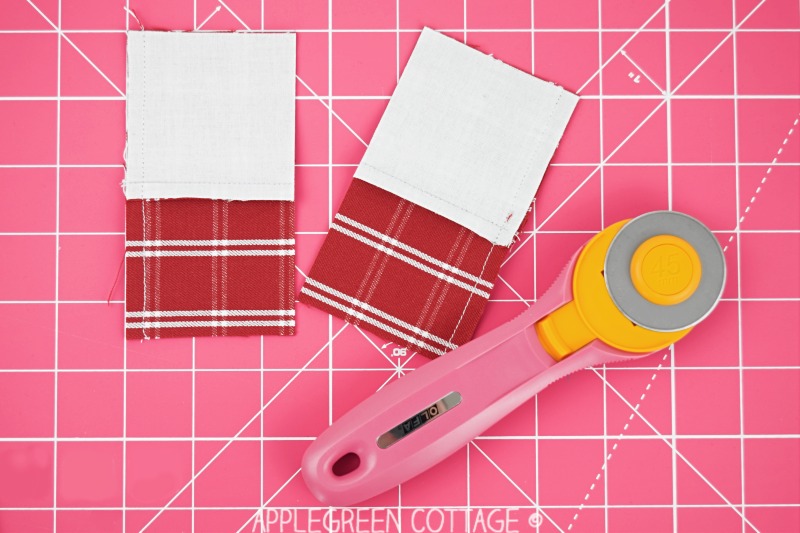 Cut at the center between the two stitching rows.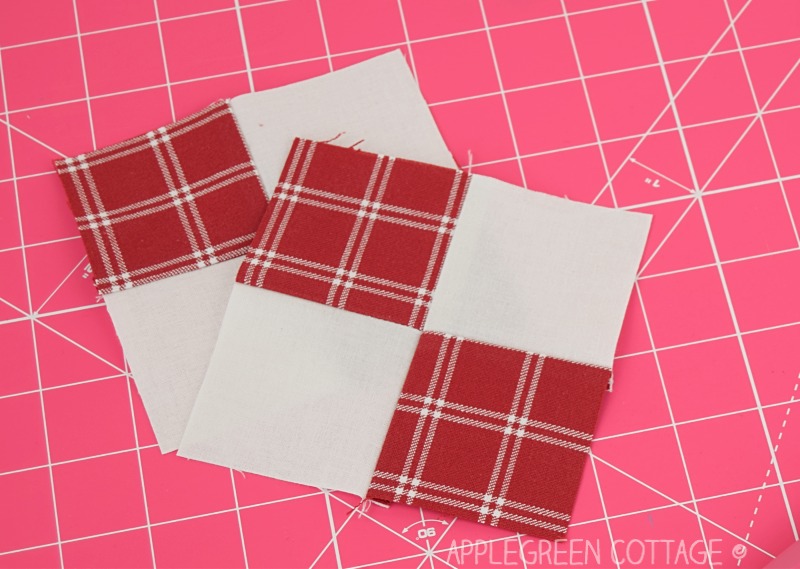 Press the pieces closed to set the seams. Then open them up, lay face-down and press (don't glide!) the seam allowance to the side with the darker fabric. Done!
So Where's The Catch?
Two things are important with the 4-patch, from the viewpoint of a non-quilter (and ignoring all other aspects such as color theory, battles between pressing to the side or pressing open, and the like):
Keep your seams straight and
stick to one single seam allowance.
As simple as it gets!
Bonus Tip:
If you are unsure about your ability to sew a straight line, no problem! Mark the SA on your lighter fabric piece, using a tailor's marker like this one, or the good old tailor's chalk. Then just follow the line when stitching. Straight stitches guaranteed!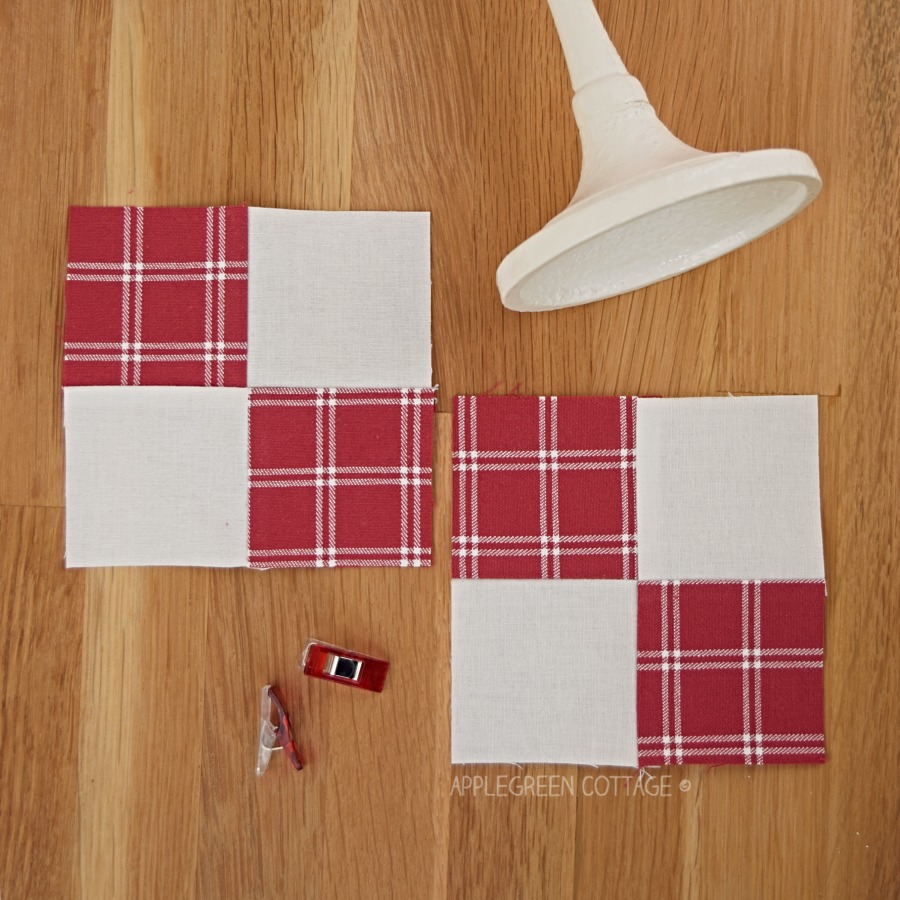 What Size Is This 4 Patch Quilt Block?
In order to get two 4 ½ inch sized unfinished blocks, you need two 5inch squares.
And please bear in mind: when you incorporate the block into a quilt or another sewing item, the finished block will measure 4 inches only. Makes sense?
Stay tuned to see what I make out of these blocks - not traditional quilting stuff, but so cute anyway! 🙂
Or check out all the best free baby quilting patterns - and sew one!
Save For Later: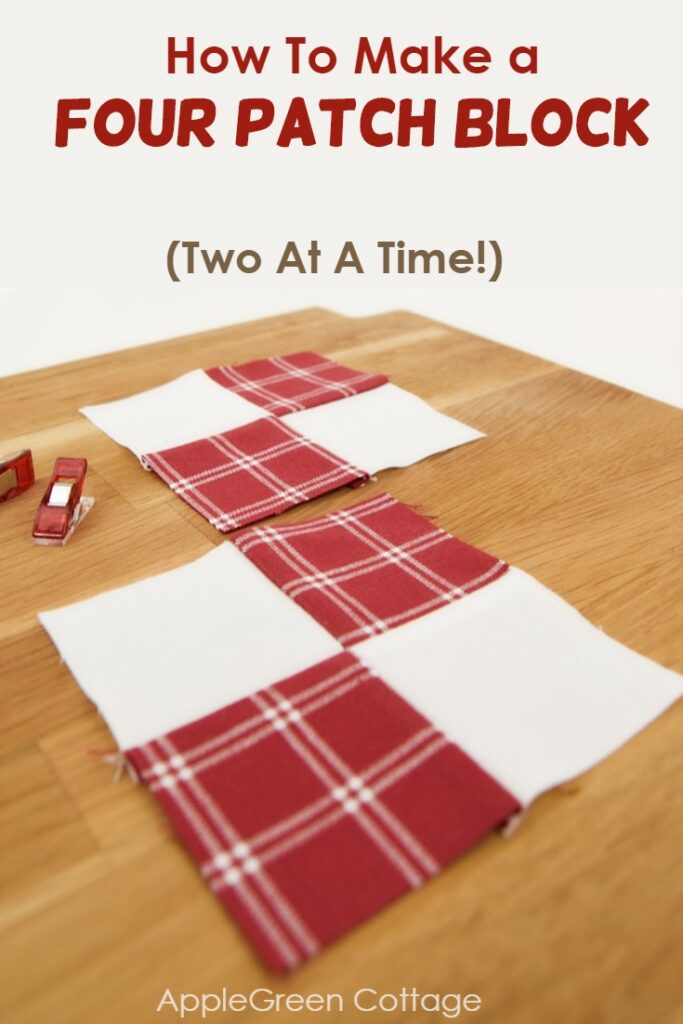 Want More From Learn To Sew Series?
Did you like this sewing machine stitches guide? If yes, feel free to see more of the basic sewing tips series:
WANT MORE FREE TUTORIALS AND Sewing Patterns?
Get email updates and never miss out on new patterns, printables, and tutorials:
Or …check out the SOPHIA Fold-Over Clutch in our shop: