How to add a simple necklace hanger to your wardrobe closet. What a clever and super simple jewelry storage idea!
Let me quickly share with you an idea that has saved my day: how to make an easy, effective, and space-saving diy necklace hanger, right in your closet.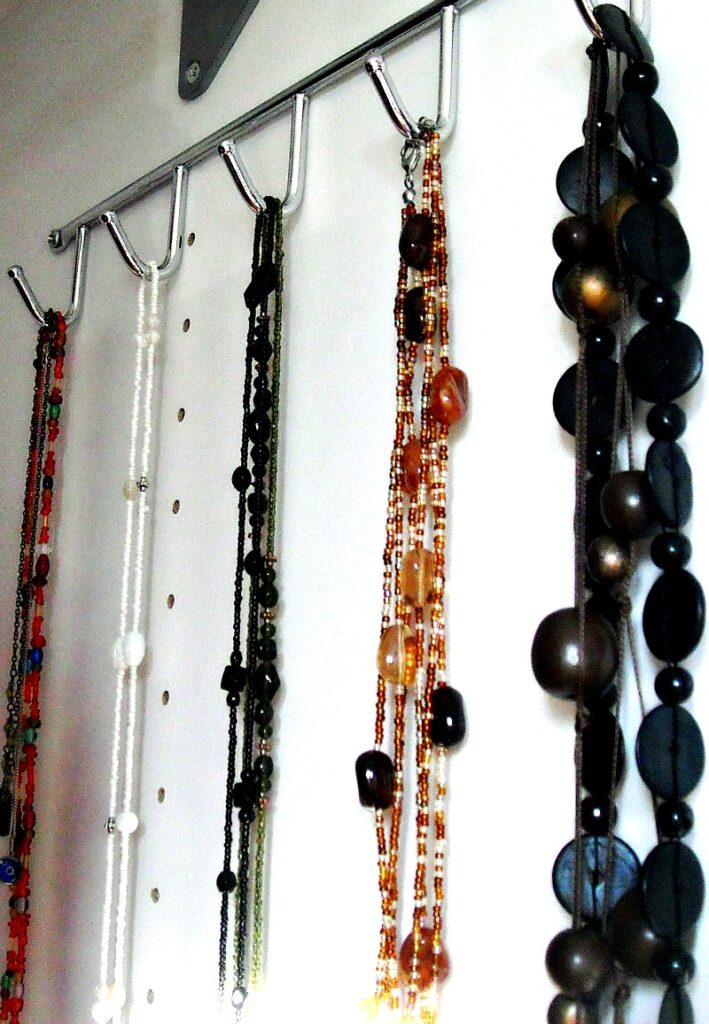 By repurposing a store-bought metal hook rail and transforming it into a personalized necklace hanger, you can have a convenient and space-saving storage solution for your jewelry right inside your closet.
Diy Necklace Hanger
Living with a toddler can make you wonder about the best place to store your necklaces and other jewelry. Out of sight and as high as possible, right? That's what I was thinking too, and came up with this easy idea.
The Easiest way To Add A Necklace Hanger To a Wardrobe Closet
Look no further than your local hardware store.
One budget-friendly and easily accessible option is a store-bought metal hook rail. These hook rails are typically designed for hanging coats or keys, but with a little creativity, you can transform them into a DIY necklace hanger.
How To Determine the Size of a Necklace Hanger?
There are two things to consider when determining the length of the necklace hanger: first, the available space inside your closet, especially its depth - and the spot where you can create a discreet and organized storage solution.
And secondly, keep in mind the number of necklaces you need to accommodate. Then, simply attach the hook rail securely to the closet wall using screws or adhesive hooks.
If you have a lot of necklaces, buy several hook rails, and install them into the same closet. Use up all your vertical space.
How To Arrange Necklaces on a necklace hanger?
Once your DIY necklace hanger is ready, it's time to sort and arrange your necklaces. You can group them by length, style, or color to make selection and coordination a breeze. Hang each necklace on a separate hook, ensuring they have enough space to hang freely without getting tangled.
My new diy necklace hanger works perfectly. It is placed high enough to be safely used for several years.  🙂
You might also like this cute and handy zipper pouch to store your jewelry when traveling: