Sewing with flannel - All the tips you need to know before you start a flannel sewing project! (Also, scroll down to check out my quick test of a flannel piece. And what I did all wrong!)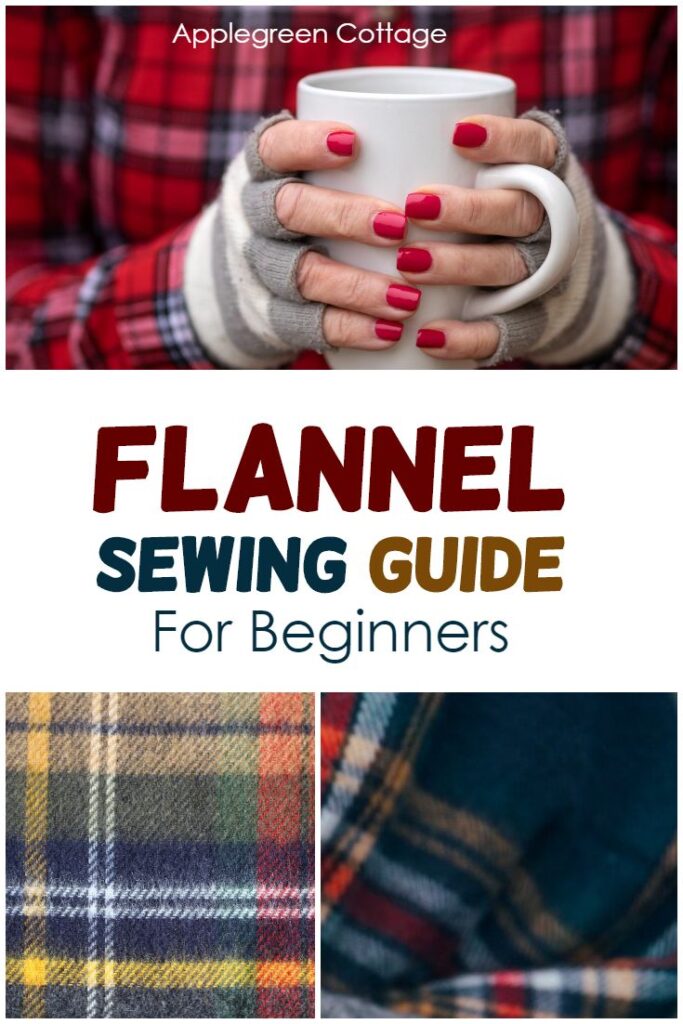 This post contains affiliate links (thanks for your support!) and is part of the ApleGreen Cottage learning-to-sew series. Check out all my sewing tips here, and these tutorials for the winter:
A few new tutorials for sewing with flannel are coming soon. Sign up for our mailing list HERE so you don't miss out on them. Packed with easy sewing projects!
Sewing With Flannel
What is flannel?
Flannel is a loosely woven fabric that has been brushed for softness, so it has a bit of a nap on one side (sometimes on both). It feels soft against the skin. Since it's warm and soft, it's a staple in fall and winter wardrobe.
Is Flannel Cotton?
Originally flannel was made of wool, now cotton is very common, as well as other materials and blends.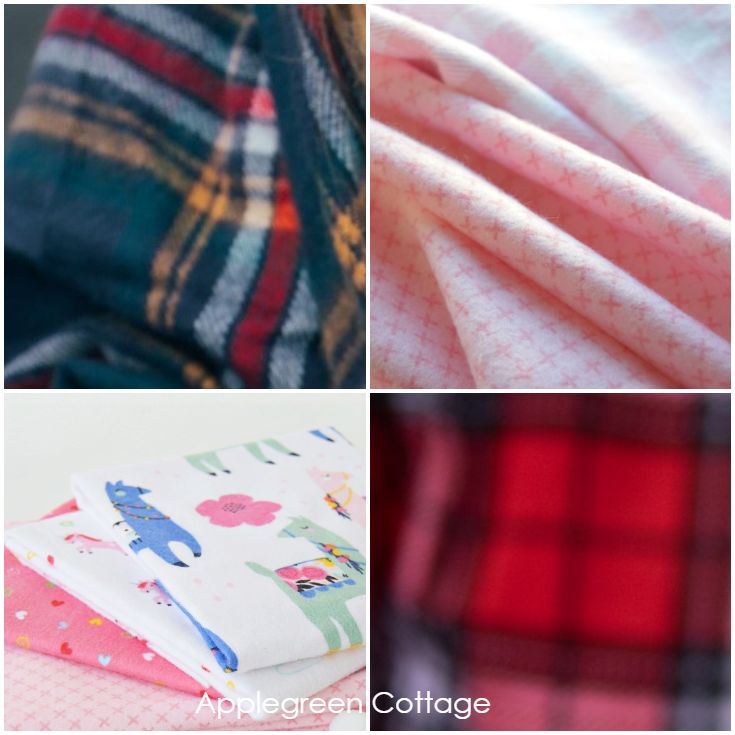 The typical pattern? Plaid. Most often, flannel comes in a multi-color pattern of vertical and horizontal stripes. Buffalo check in red and black, anyone? But there are tons of other prints available with flannel too! Scroll down to check out some of them (links are under individual photos).
What to sew with flannel?
If you've been asking yourself what to sew with flannel, here are a few ideas for you: flannel is the perfect cuddle fabric for
no-scratch mittens made with flannel
accessories: flannel scarves!
reusable diy makeup pads
all things baby: flannel baby bibs (use this free pattern!),
flannel bandana bibs (Here's a free pattern too),
flannel burp cloths (you can use my pattern here)
Where I live, we keep sets of flannel bedding for the winter: flannel sheets and flannel duvet covers, and envelope pillowcases (Easy To Sew + BEAUTIFUL!!)
You can even make flannel pillow covers for your sofa (easiest pillow cover how-to HERE)
Apparel: flannel shirts are probably a staple in your fall wardrobe (buffalo plaid shirts, anyone?).
Make flannel pajamas for Christmas!
Apparently, flannel is great for quilting once you master the basics and the quilting cotton. (Flannel quilts look gorgeous! Just looking at photos of flannel quilts makes me want to stay in and get a cup of cocoa!!) - but please get advice from a quilter. I have never quilted with flannel.
Last but not least: little crafty things like flannel hand warmers, and those cute flannel coffee cozies!
A few tutorials for sewing specifically with flannel will be published soon here. Keep tuned to see them, or join our mailing list HERE. Packed with easy sewing projects!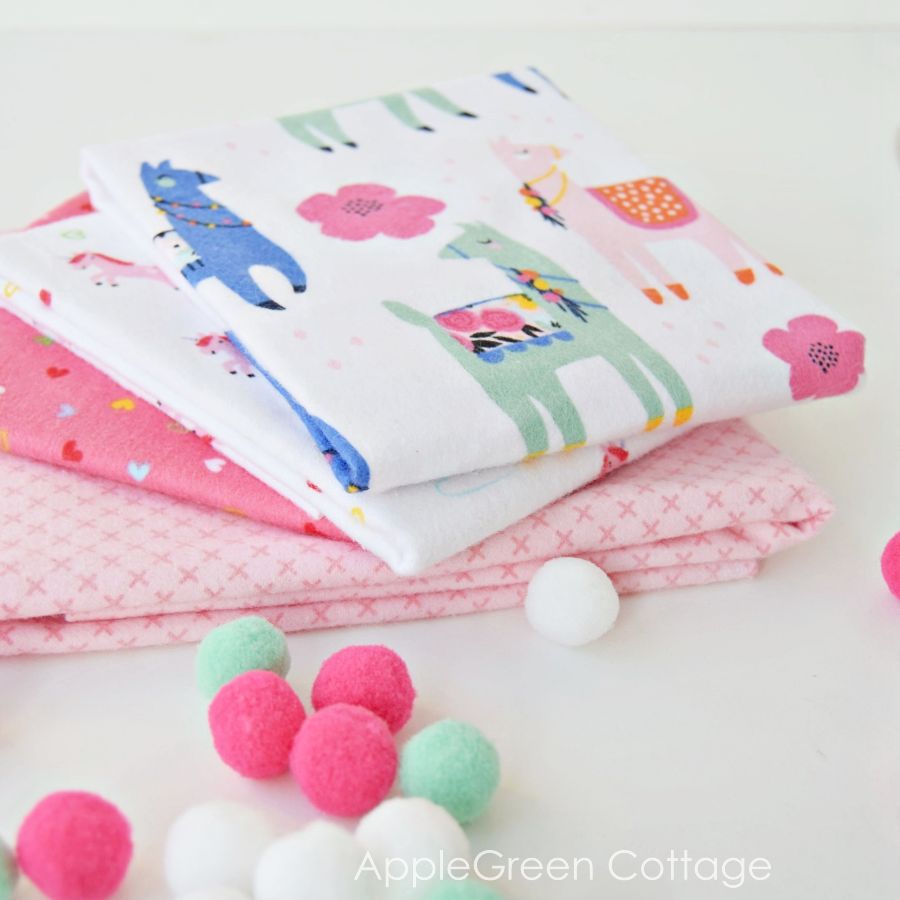 This flannel is from Riley Blake Designs - so soft! You can get the unicorn prints HERE.
Right now, I wanna go and make at least one of each from this list. Or ten! But I'll be a good girl and finish this post first, so you can make a gazillion of cute things with flannel yourself, too. So, let's start, first things first:
Buying Flannel
What to consider when buying flannel?
Things you need to know when you are buying flannel:
1- Buy ⅛ up to ¼ yard more than you need. Buy a bit more than you need, for two reasons:
One, because flannel will shrink. See below for my test results. (And what I did wrong!) Expect something between 1" up to 4" (3% - 11%) of shrinkage: the lower the quality, the higher the shrinkage.
Second, all flannel will fray, even the highest quality one. If you'd like to keep fraying to the minimum, put it in a mesh bag when pre-washing. Some people would zigzag the edges before pre-treating to keep fraying close to zero - for when you need every little bit and thread of your flannel piece.
One of AppleGreen Cottage readers, Debi said she uses her pinking scissors or wavy rotary cutting blade on the edges and clip the corners off about ½" before washing. (Thank you, Debi!)
2 - Know what you buy: better-quality flannel feels denser, and not just that: when you take a close look at the weave, you'll notice it's napped on both sides - the softness! The cheaper flannel will shrink more, and deform even easier because of the looser weave.
What brands have good flannel?
Popular flannel brands include Moda, Connecting Threads, Maywood, Riley Blake Designs flannel - soo soft!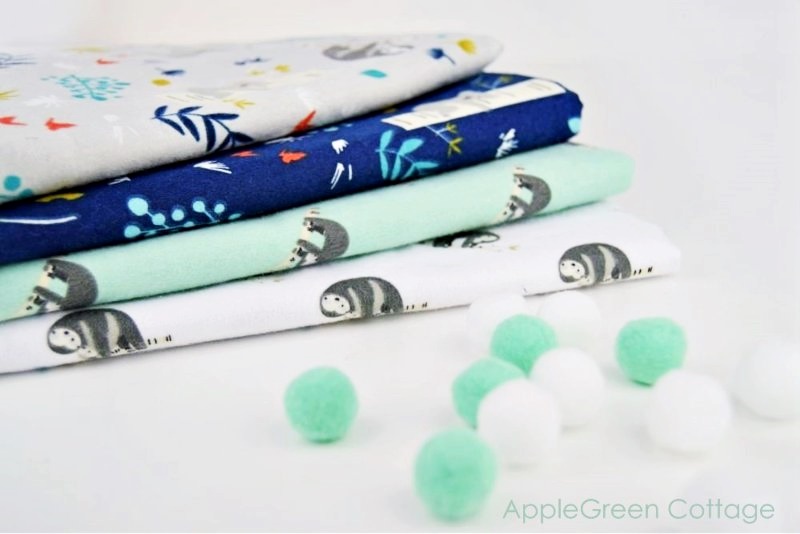 Where to buy flannel?
If you don't want to leave your house at all, check it out online. If you'd like to browse Etsy for ideas, here:
I've also added links below the photos here in this post, so just click through if you'd like to see where to get that particular print.
Does Flannel Shrink?
Definitely yes. Way more than quilting cotton.
This is why a good way to get flannel is to head to your favorite local fabric shop. If buying in chain stores, select carefully. You generally don't want the low-quality flannel. It frays more, shrinks more, has a looser weave and it's not as soft to the touch - and it retains less warmth.
What to do BEFORE you start sewing with flannel?
1 - Prewash or not?
There will always be differing opinions on prewashing flannel. This is what I've learned so far, also from my mistakes (see the bottom of the post) :
A- Not prewash at all.
Just fine for projects where you use JUST flannel, no other types of fabric involved, and IF the finished size does not matter as much. This might be the case with all-flannel coasters, hand warmers, maybe flannel throws and blankets, oversized infinity scarves and the like. But bear in mind there could be some puckers when you wash it after an item has been made. If you can live with that, go ahead, it's not the end of the world.
B- Prewash - gently!
That means pre-wash on a delicate cycle, using a low temperature. With a delicate cycle, there will be less rubbing and you'll prevent the flannel from pilling. Shrinkage will be minimal.
Given a choice, I prefer B to A, so I'd prewash on gentle cycle even if not necessary. This way, I see the project won't end up (much) different from what I want it to.
This is the result: photo of my flannel from Riley Blake Designs in 'Joey Main Gray' - AFTER prewash: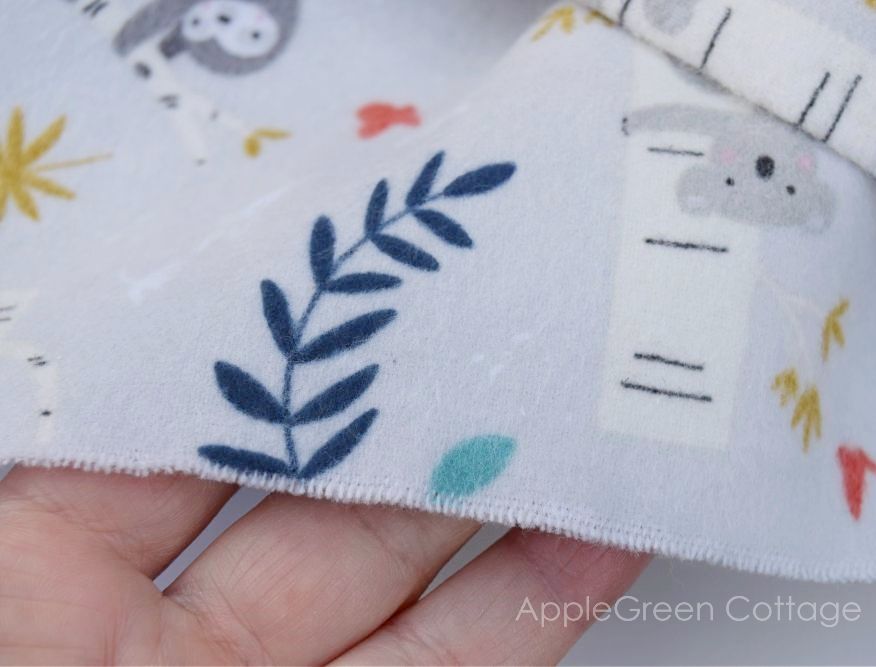 Prewashed using a gentle wash cycle on low temp and tumble dry low - no pilling at all, negligible fraying, 1" per yard shrinking only. Colors stable and not faded. Still soo soft! Perfect!
B-Shrink it before you sew it.
This means wash on a delicate cycle but on high temperature. As mentioned before: delicate cycle means no pilling. With heat level cranked up, your flannel will shrink as much as it's intended to, and you won't need to worry about shrinking later.
Always pre-shring and prewash flannel in these cases:
Prewash and SHRINK before you sew always when sewing:
A - garment that needs to fit. And that's pretty much all garment. Unless you're after that oversized buffalo-check flannel-shirt look of the '90s. I wore that one at least 3 sizes too large, so I wouldn't even have noticed the shrinkage 🙂 But my high school style issues aside, back to flannel:
B - Anything else that needs to fit (kinda obvious)
C - If you're using any other types of fabric in the project in addition to the flannel. Always pre-shrink flannel. You don't want your beautiful, quilting-cotton-backed baby blanket to end up all crinkled, puckered and uneven! (Ask me how I know. Ha.)
D - good to preshrink: anything you know is gonna be washed often and will be on heavy-duty. Baby bibs and all the burp cloths, I see ya!
Please note that fabric manufacturers will often advise you to wash and dry on sensitive cycle AND LOW temperature, but this way the shrinkage will happen gradually, especially with the baby items like bibs, burp cloths, baby blankets - these get dirty and need a thorough wash.
How To Dry Flannel?
Use a sensitive drying cycle. Set the tumble dryer to a sensitive cycle, and the flannel will come out so fluffy!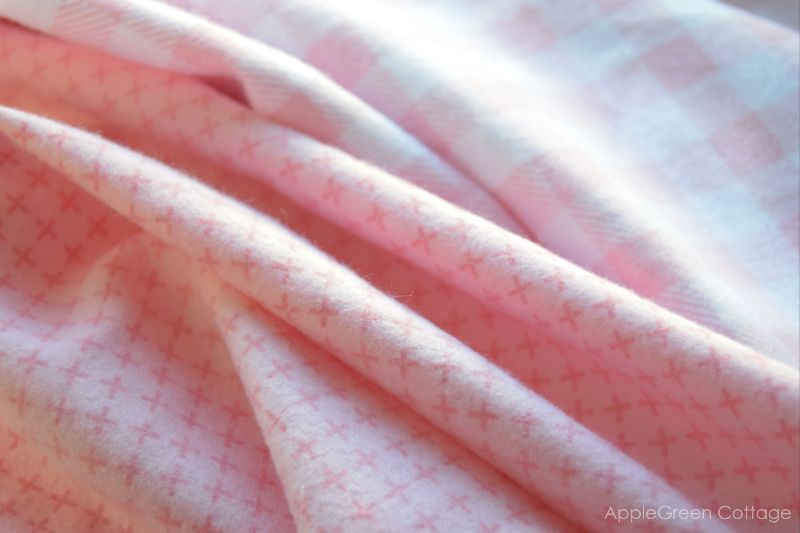 This print is called 'Kisses Baby Pink'. You can get it HERE
How To Press Flannel
Before you even touch your flannel with your scissors, press it flat, making sure not to deform it. This means press - up, press-up. Don't move the iron around while pressed firmly onto the flannel.
How To Sew With Flannel
And finally: sewing. Not many rules here:
1 - Stronger Sewing Needle.
Use a stronger sewing needle. Flannel is a bit thicker than quilting cotton, so you'll want to use a stronger needle. I often use a jeans needle for anything that's thicker than quilting cotton and for layers. (So yeah, jeans needle if you're a nerd.) Properly, I should suggest using a 90/14 sewing needle. An 80/12 should work for cotton flannel, too.
2 - Stitch length For Flannel Sewing
Use a longer stitch length than regular, I use a stitch length of 3 - 3.5.
3 - Wider Seam Allowance
Use a wider seam allowance to accommodate for fraying. Half an inch (1.3cm) is a good one!
4 - Walking foot is a good option For Sewing with flannel
Some people recommend using a walking foot for flannel. I use my regular foot when sewing with flannel only. So far, I have had no issues with layers shifting when sewing, but if you do, a walking foot will help. However, sewing with a mix of flannel and fur, or flannel and minky, that's an entirely different beast. But all the issues usually arise from minky and fur, not flannel. Flannel is generally a well-behaving material. Except for fraying, which brings me to the next point:
5 - Prevent Flannel from fraying on finished items:
Always finish the edges of your fabric so the seams won't unravel: serge all the raw edges on the seam allowance, or use a wide zigzag. The best, however, is having your project fully lined, no exposed edges.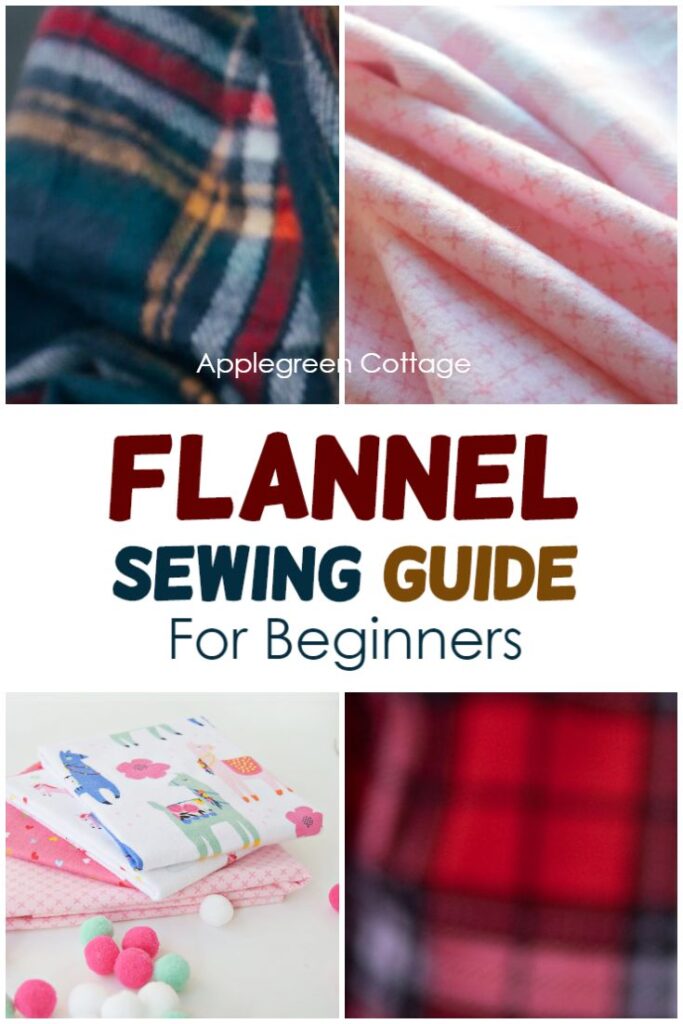 I TESTED a piece Of Flannel!
- And this is why I'll never use high-spin and regular cotton wash cycle With Flannel again.
Here's a test I conducted on a high-quality flannel piece (photo below). Full disclosure, the manufacturer recommends machine washing it on cold and tumble drying on low.
But I wanted to see if 'delicate cycle' really matters as much. And how much a yard of flannel would shrink if I use maximum heat, to make sure no later shrinking takes place. I put it through a cotton wash cycle - high-spin, high-temperature, and then through a normal, high-temp dry cycle. Not gentle at all, and not what the manufacturer advised.
Test: High-temp wash cycle, high spin, tumble dry on high temp.
Result: I will not do that again.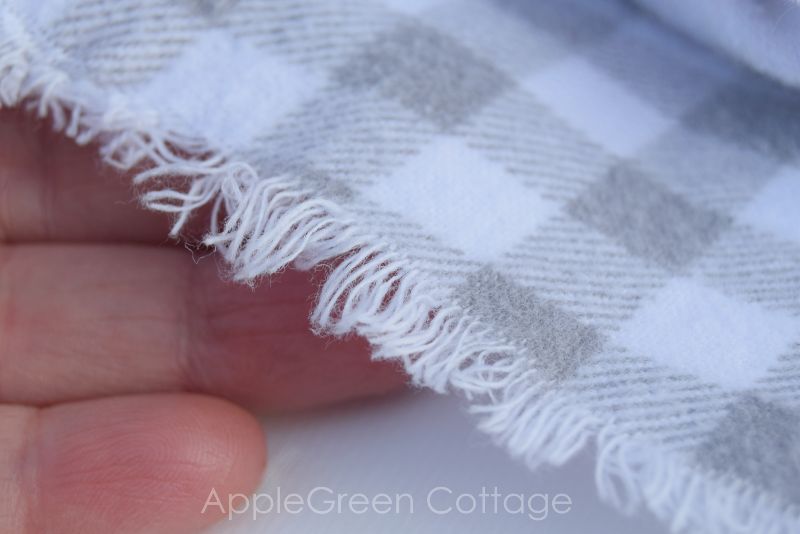 Result: The flannel only shrunk by 3" per yard (8%), which is not a lot for flannel, and the fraying was ⅜ inch (1 cm) only - despite the really harsh treatment! I am able to use it, but it doesn't look the same. It went from 'heavenly soft' to 'OK'. There was some pilling, not much, but it would look ugly if the flannel had a dark print, and if it were of lower quality. Who would want to do that to a beautiful piece of flannel!
Lesson learned: When pre-shrinking my flannel yardage, I'll want to both WASH and DRY on SENSITIVE cycle - just use high temperature to preshrink, so my finalized product won't. Mmmkay?
Also, if I were ready to put more of my flannel, meaning pieces from several different manufacturers through this, the test would gain more validity. Plus document the temperatures, the shrinkage %, the thread count, taking photos of before and after, and probably more. Well, let's say I'll leave that to someone else, less faint-hearted than me. I'll be nice to my flannel from now on.
How To Use Flannel in other Ways?
Bonus tips:
Save all your flannel scraps! They make super soft stuffing for handmade toys, better than regular cotton.
And if you ever run out of your usual interfacing/stabilizer, you can often use a piece of flannel as interlining instead. So handy for sewing little zipper pouches and alike!
Hope this helps you if you're new to sewing with flannel. It takes a bit more work than with quilting cotton, I admit. But bottom line: super cozy, soft and warm. Who wouldn't want that!
Let me know if there are any other tips you follow when sewing with flannel, I'd love to hear them all!
Save For Later: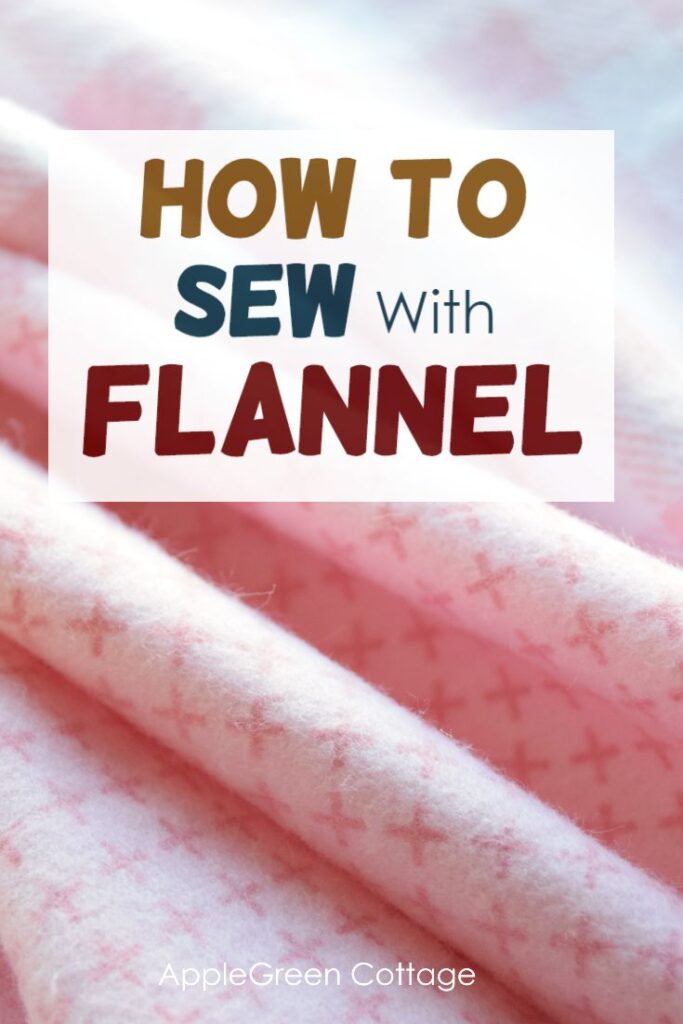 Want MORE FREE TUTORIALS And Patterns?
Get email updates and never miss out on new patterns, printables, and tutorials:
Or …check out this popular PDF pattern – the Kalina Mini Wallet in our shop. So practical!