Make an easy homemade pirate costume for kids really quickly, using three things: a few items from your closet, my free pirate accessories template and the best: the free pirate vest pattern! Scroll down and get it now.
If your kid hasn't got a Halloween outfit yet and you're looking for pirate costume ideas, this tutorial will give you an idea for an easy homemade pirate costume.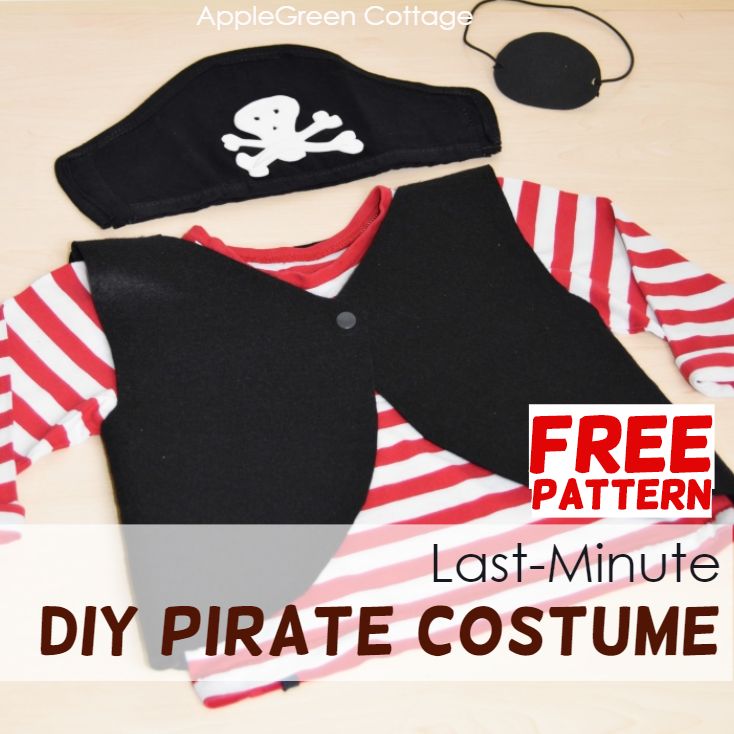 Sew a simple pirate Halloween costume to send your kids trick or treating in. Either as Captain Jack Sparrow or Captain Hook, this free pirate vest pattern will work amazingly well - especially if you want a quick solution and a lovely Halloween pirate costume that you can make at home. The tutorial even includes links to skull and crossbones templates you can add to the costume as an applique.
No time to sew now? Save it to Pinterest to have at hand when you need it: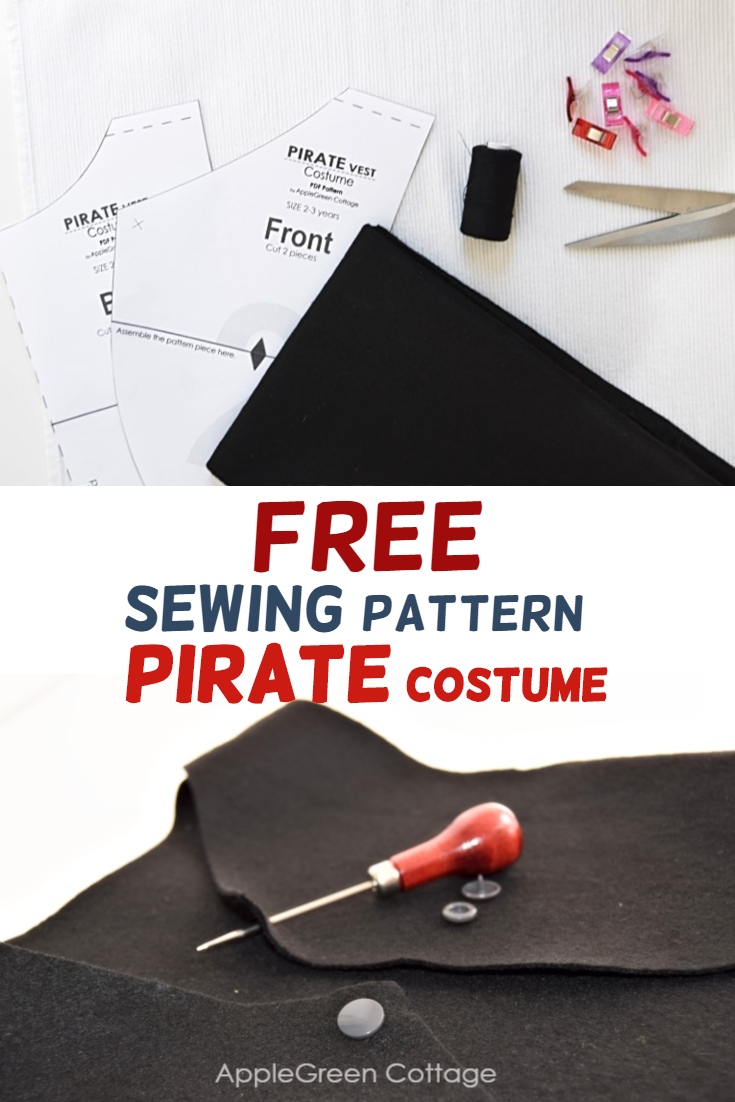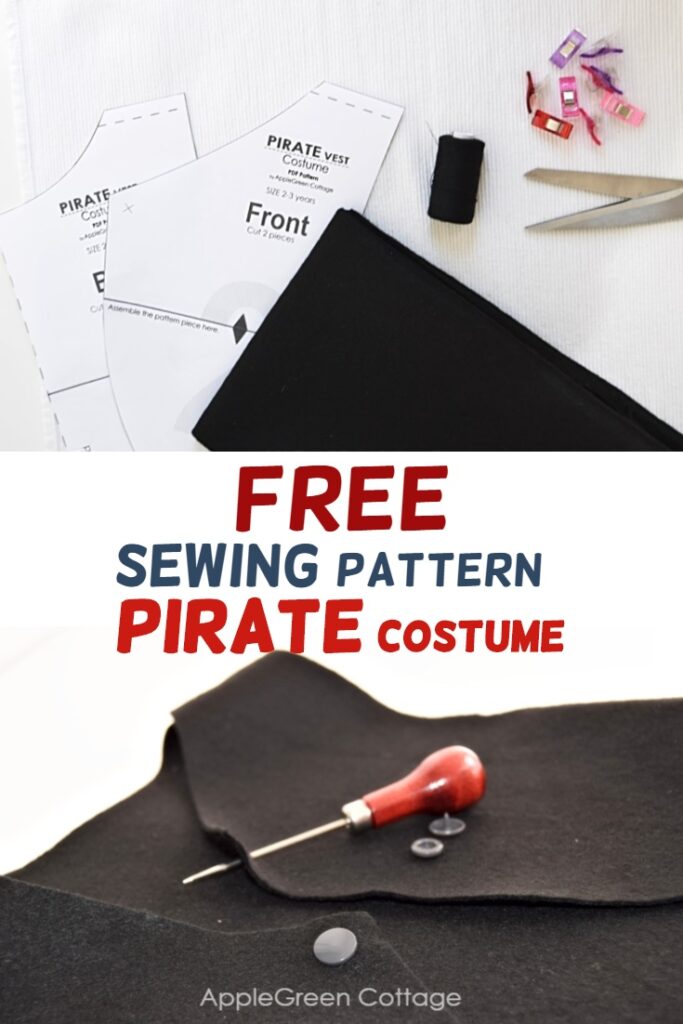 If I can safely say that my daughter's diy tutu skirt doubles as her favorite Halloween costume, this post is about the all-time favorite pirate costume I made for my son when he was little.
The idea for this homemade pirates costume came from our toddler, half an hour before a visit from a friend of his. He suddenly asked to be a pirate for that year's Mardi Gras carnival. We actually do not go out and celebrate on the streets. But kids, friends, families visit each other the weekend before, all kids dressed up in costumes. At first, I intended to take the easy way out and talk our kid into using the baby frog costume from last year. To be honest, I was happy to get a last-minute chance to avoid it. It wouldn't be quite fair, would it? 🙂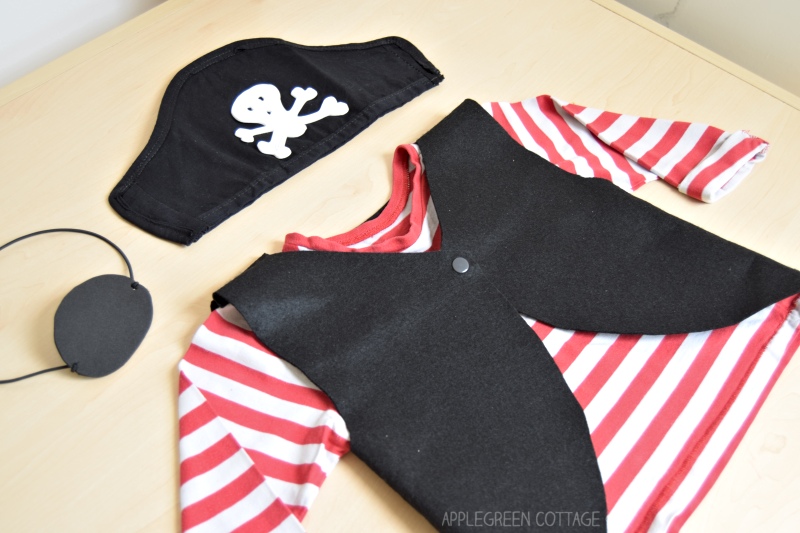 Easy Homemade Pirate Costume For Kids
Ever since the day I sewed it, it's become a really popular piece of clothing for our kid's pretend play throughout the year. So I figured, why not post the idea! And probably help my readers to an easy diy pirate outfit. Now, let's get to the how-to.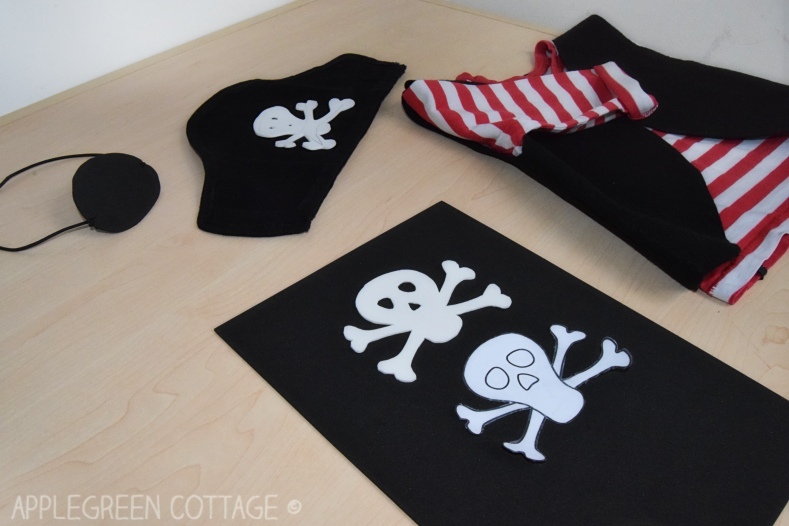 Homemade pirate outfit instructions
Step 1 - Grab an old shirt
The first thing that I pulled out was an old white-red long-sleeve shirt from my 'recycle'-pile (actually any color would do). It is not useful for every-day life, but it will surely do for a pirate costume for kids.
Step 2 - Make a SIMPLE VEST (using my free pattern)
I used some warm, soft felt to cut out something close to a simple vest. It has a snap fastener attached to the front. You could also use some velcro or even two small pieces of thin rope.
I added another white skull I cut out from craft foam to one side of the pirate vest. It's easy, especially if you use materials like fleece that do not need any hemming work. You may use your toddler's t-shirt as a guide for size. But it's even better if you make the vest a bit wider than you would usually. It's easier to put on, the pirate won't mind the comfort and he just might want to reuse it next year.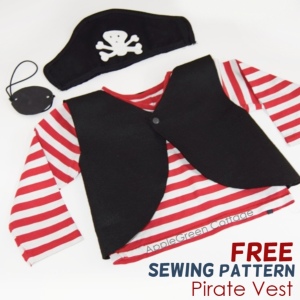 This is the template for the kid's pirate vest in size 2-3 years to help you along the way.
How to get the Free Pirate Vest Sewing Pattern
Join our mailing list and get the pattern emailed to you:
CURRENT SUBSCRIBERS: simply enter your email in the signup form above to re-download it. (You won't be signed up twice.)
Once you've received the template, visit the PIRATE VEST TUTORIAL and make your best pirate costume for your child.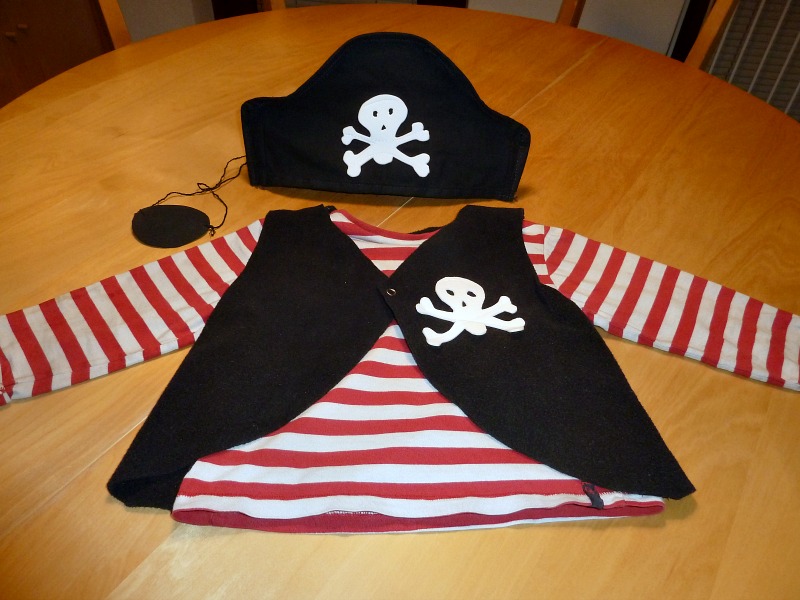 Step 3 - Add Diy Pirate Outfit Accessories
Cut an Eyepatch and Skull - FREE TEMPLATE HERE
To complete the pirate costume, I used black foam for my pirate's eye patch. It's simple. Cut out a round-ish piece of craft foam and add the thinnest piece of elastics you find at home. Really, the thinner the better. As for the pirate pants - well, regular black pants will do just fine. The simpler the better, right?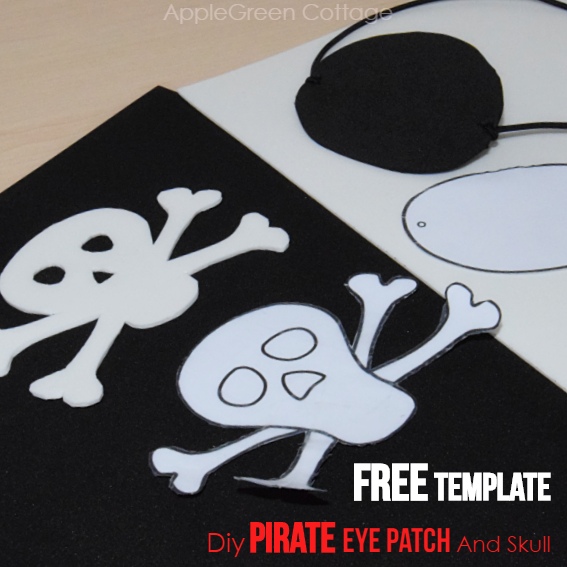 Step 4 - Make a Pirate Hat
Use my free PDF template for pirate skull! I haven't got to publishing the free hat pattern, but it's coming soon! For now, I'll just describe how I made it, hopefully, this will do for the time being:
See the hat in the photo below? It's that simple form - resembling a toy car chassis (at least how I see it) Just cut out two of them and sew the top and the sides together. Make sure the bottom is wide enough. When finished, the bottom part of the hat needs to be several inches wider than the circumference of a child's head. What keeps it on the head is not the tight fit, it's the bumpy (central) part you see on the top of the hat. The sides should remain loose.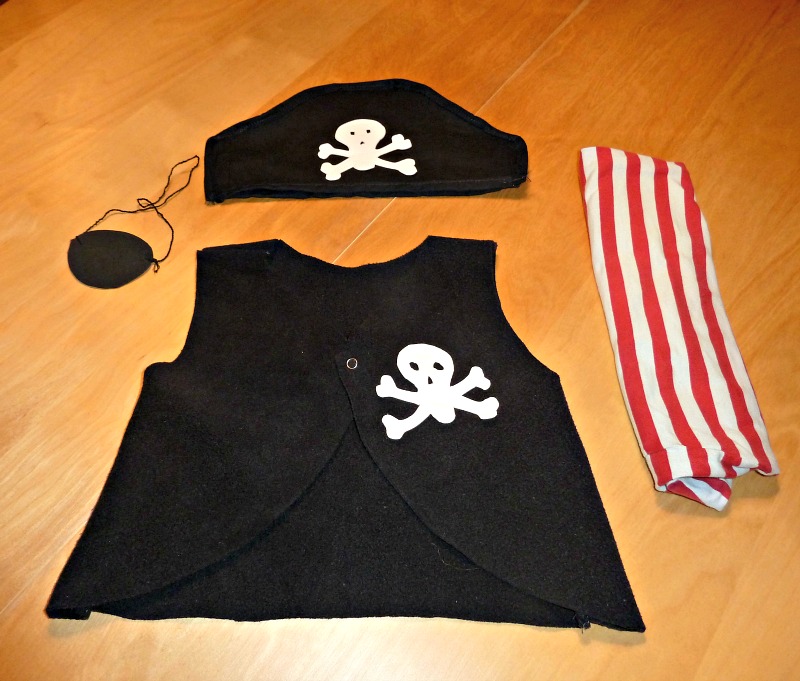 To make the hat, I began by cutting two random pieces from black fabric and kept sewing and cutting until a pirate hat came out of the machine. It did not look like a pirate hat at all, until I added that white skull I cut out from craft foam. (Craft foam, I love you!) Our kid put his new homemade pirate hat straight to use because the doorbell was ringing at the moment I finished it.
Another (pirate) boy was at the door, and a play date could begin. (And both the mom and the kid were happy!)
What I did was trace the hat, added some seam allowance, and saved the template for later. It's still waiting for me to scan it and save it somewhere you could all download it from!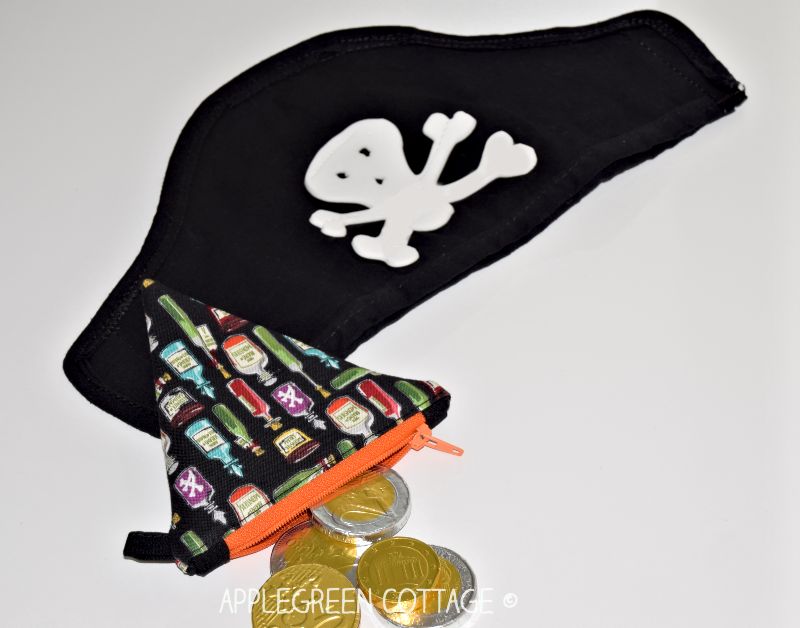 So, this is the hat. If you feel like - and if you have a spare half-an hour, make a pirate pouch to store some gold foiled chocolate coins - perfect for little pirates! I used this coin purse pattern from our pattern shop.
Bonus Tip - Repurpose and reuse the costume
If you remove the white skulls after Halloween is over, the vest and the cap might even be reused for another costume next year. Tried and tested, this vest pattern is good as knight armor, a ladybug base, and several other costumes.
How Much Time Do You Need to Make a Pirate Costume?
I finished it rather quickly. I only needed half an hour for the hat and half an hour for the vest - including trial and error! Now you've seen the photos, I bet you can make this even much faster than I did!
Conclusion
Make sure to save the project for later when you need a last-minute pirate costume: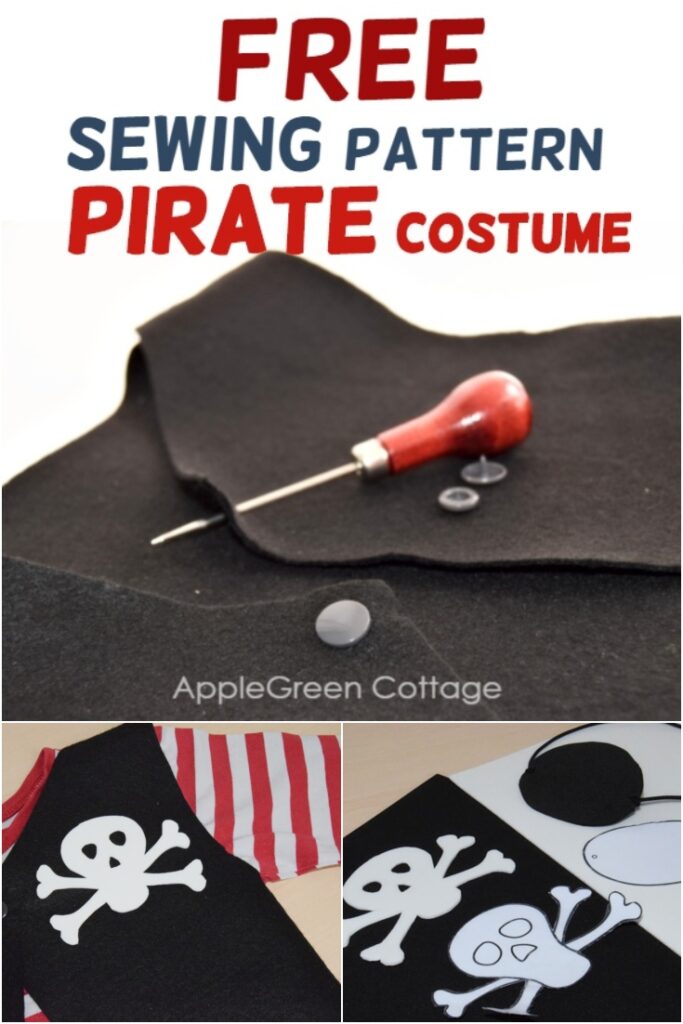 If you need more, there are other diy Halloween ideas you might like:
CURRENT SUBSCRIBERS: simply enter your email in the signup form above to re-download it. (You won't be signed up twice.)
Or ...go straight to the gift bag pattern. Smart and simple construction, originally a gift bag but around Halloween, it doubles as an adorable Trick-Or-Treat bag - 6 sizes and designs for all your wishes!