Today, let's try easy diy Halloween costumes for kids. Picking out the perfect Halloween costume for your little one? Easy-peasy! Here are more than 20 easy but cute diy Halloween costume ideas to make that go very well with the 10+ Fun Halloween Sewing Ideas I made a while ago. And spoiler alert: some of the costumes are so easy you won't even need a pattern! Others include a free pattern - how cool is that! Now take a look and choose your favorites this year!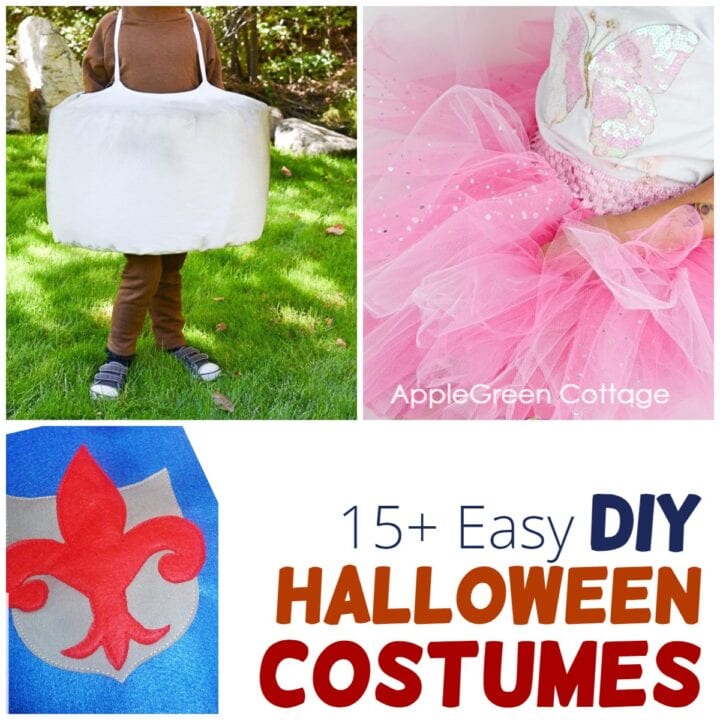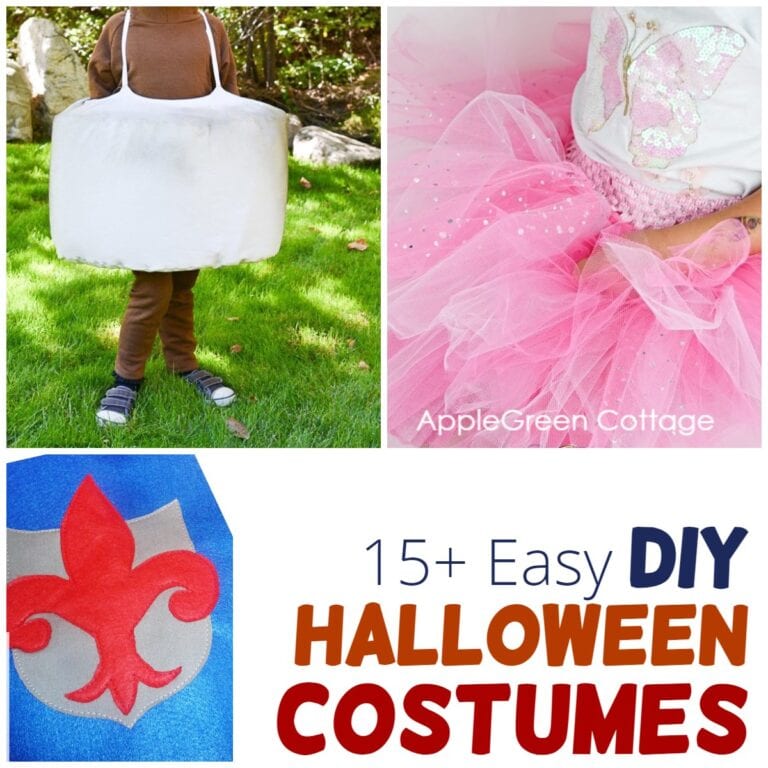 This post also includes affiliate links. Thanks for your support. If you like to get creative around Halloween, check out these fun ideas too:
It's nearly time to dress up your little ones into Halloween costumes. Have you thought about what Halloween costume you would make this year? Deciding on the Halloween costume seems to be the most challenging part of Halloween preparations. I'm here to help! I've collected a bunch of my favorite homemade Halloween costume tutorials and free costume sewing patterns for kids - baby, toddler, school kids, and teen costumes!
Here's a collection of 20+ easy-sew (and some no-sew!) Halloween costume ideas for your kids you can make in a reasonably short time. Not all, but many of these outfits are just perfect last-minute ideas for Halloween parties - so you just grab a few accessories you already have, and whip up any missing pieces using the Halloween costume tutorials and free patterns below.
Diy Halloween Costumes
Some of these diy Halloween costumes are really quick to make, like the last-minute pirate or knight cape costume, so if you're running late, take a look! Some of the diy costume ideas include free patterns, so it should make it even easier for you and your kids to enjoy an amazing Halloween this year. Check them out!
Free Pirate Costume Pattern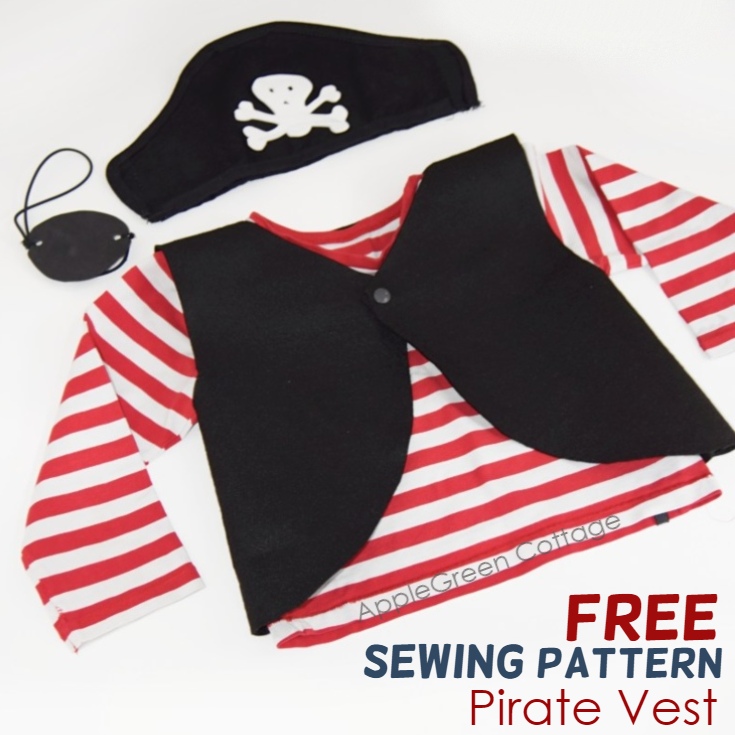 For all the little pirates out there: This last-minute Halloween costume idea is a delight for all the little wannabe pirates! Get your FREE pattern here:
CURRENT SUBSCRIBERS: simply enter your email in the signup form above to re-download it. (You won't be signed up twice.)
No-Sew Tutu For Fairies And Princesses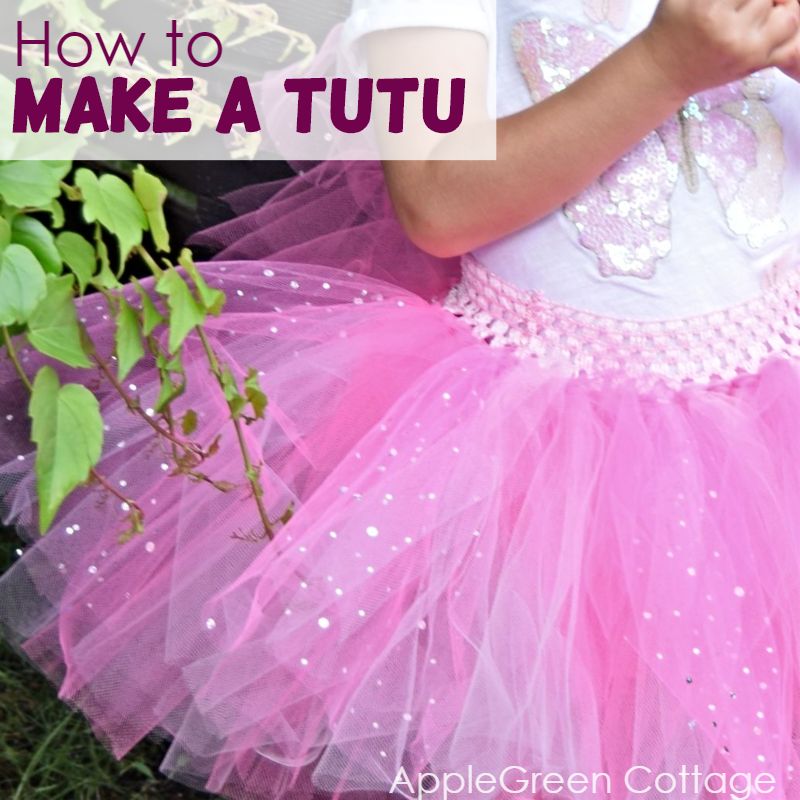 This tutu is so easy to make, involves nearly no sewing, and can be turned into a fairy costume, or worn by princesses, witches, cinderellas, and the like. So many uses - for years to come! Check out the tutu tutorial HERE.
Easy DIY Knight Tunic - UPDATED!
Want to make a super easy knight costume for your kid in a really short time? There it is, your easy DIY Knight Costume to try out. You can be sure the homemade tunic will become your kid's favorite piece for pretend play!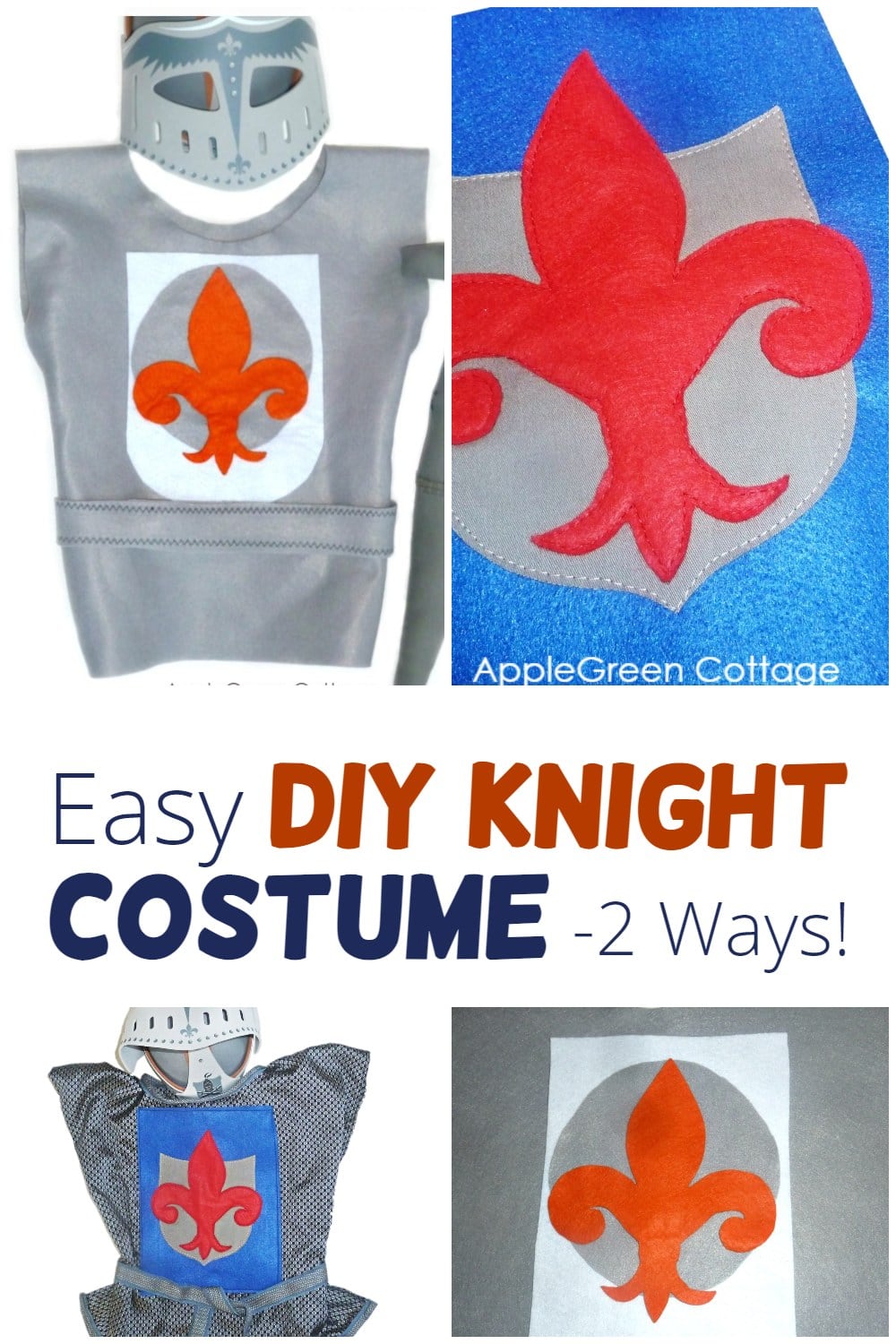 Edit: Now this tutorial now is 2-in1! Sewing enthusiasts, I did think of you too! - Do you want to sew the knight tunic with fabric? Visit the knight tunic tutorial and see how to sew a knight tunic from fabric too!
Quick Dress-Up Knight Cape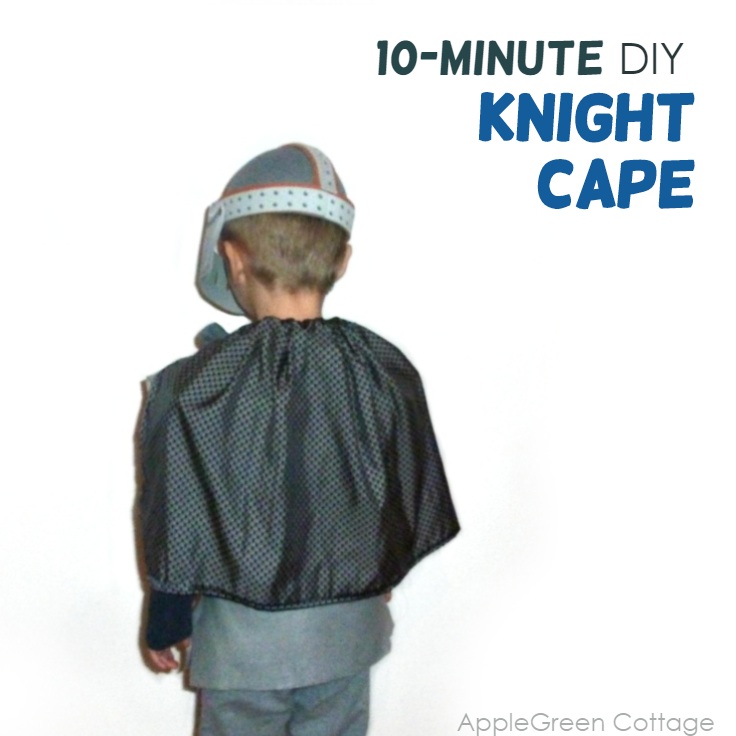 The 10-Minute DIY Kids Knight Cape is a great and easy addition to your kid's Halloween dress-up box. Ideal for a last-minute costume when you are running out of time!
Vampire Cape Costume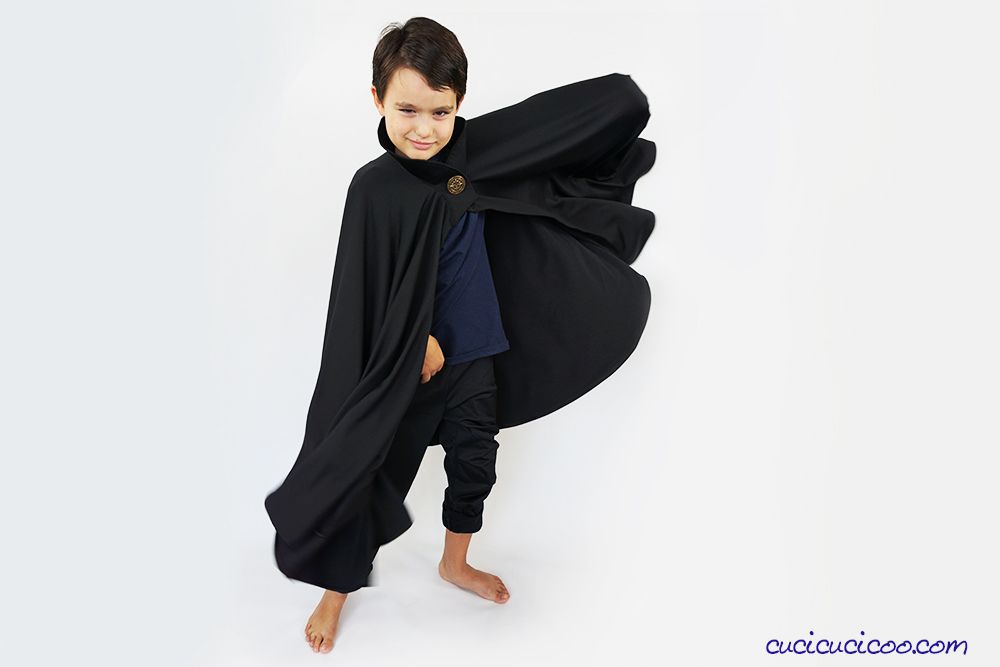 What an amazing idea from my friend Lisa at Cucicucicoo, this circle cape comes with a rigid collar, and it swirls around. Check out the free vampire cape tutorial here.
Diy Gnome Costume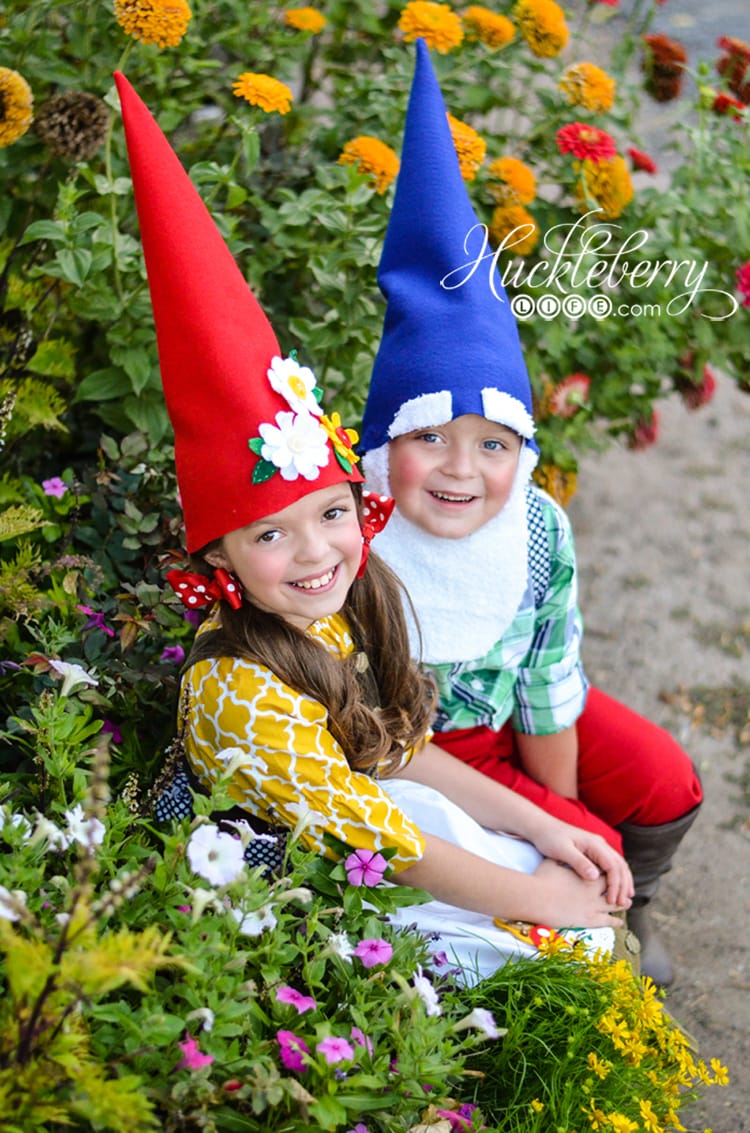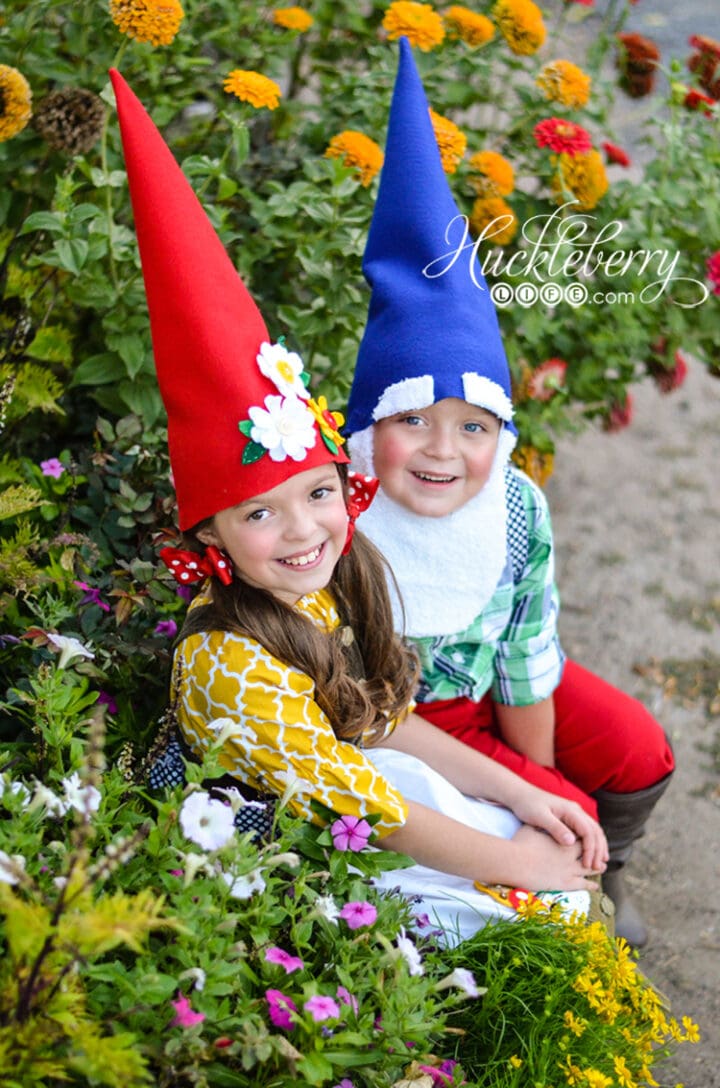 These gnome costumes at Huckleberry Life are adorable! You won't believe how many items for this costume you already have at home. What you need is probably just some felt for the gnome hat, and your kids are good to go trick-or-treating as super cute gnomes!
Cute Peacock Costume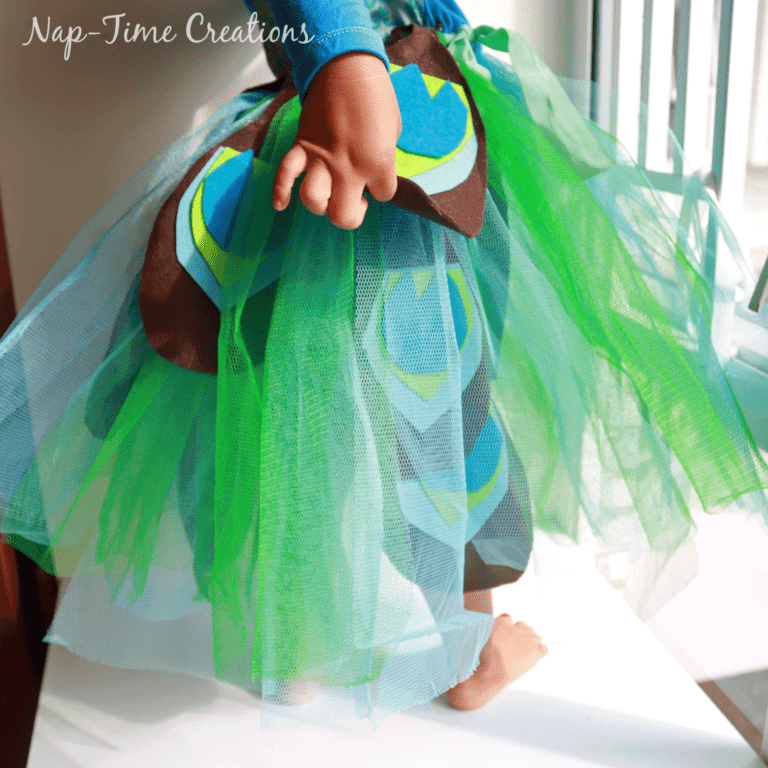 With this tull-based skirt, combined with a little shirt hack, you'll have your little girl ready for Halloween in no time! Peacock Costume by Life Sew Savory, one of the most creative diy Halloween costumes I've seen!
DIY Princess Leia Costume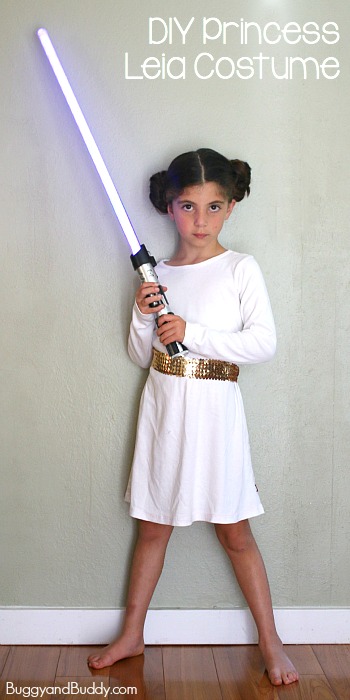 Easy Diy Princess Leia Costume by Buggy And Buddy
Fans of Star Wars? Here, a clever Leia costume idea. Can't go any easier! Grab a white shirt, tunic, or dress and turn it into this genius last-minute Halloween costume in just a few steps.
Tinkerbell Costume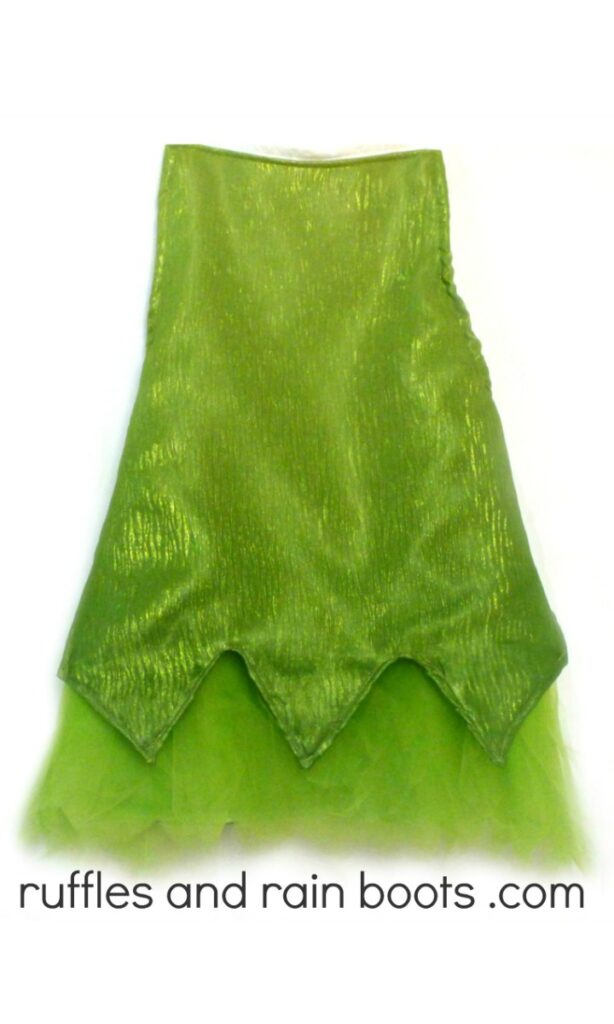 I love creative Halloween costumes for children, they are so colorful! If you have a fairy fan in your house, this will be a perfect choice: a cute Tinkerbell Costume by Ruffles And Rain Boots. It's an apron-based dress, and this little hack makes it even easier to sew!
Diy Elsa Costume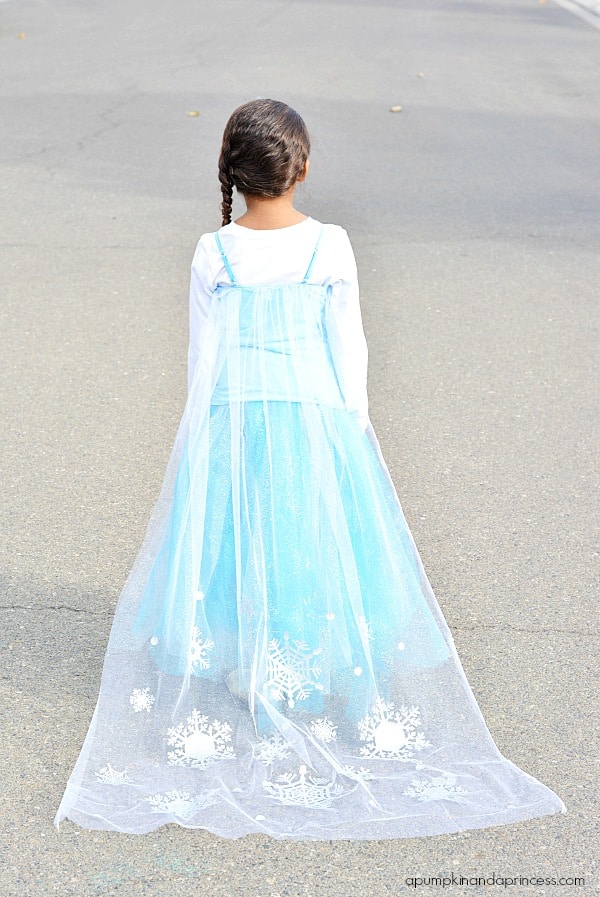 This beautiful, no-sew Elsa costume by apumpkinandaprincess.com was made using tulle. It all comes down to getting the right color of tule, and making the tutu skirt long enough. So pretty!
Frozen-Inspired Nordic Tunic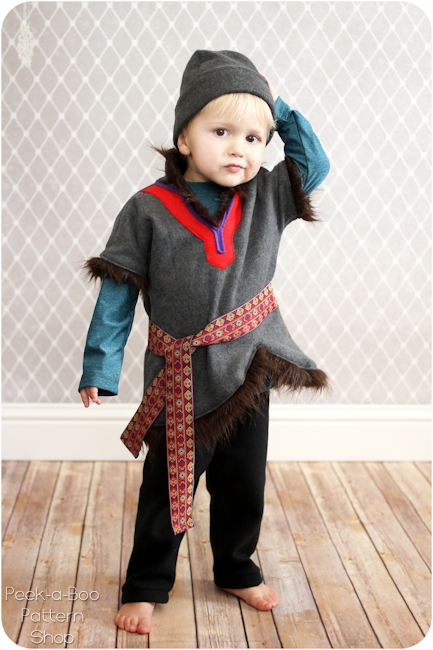 Remember Frozen? Off course! And for boys to join the fun, here is a cute little Kristoff Inspired Nordic Tunic  costume by Peek-A-Boo. (no longer free)
Dino Tail Tutorial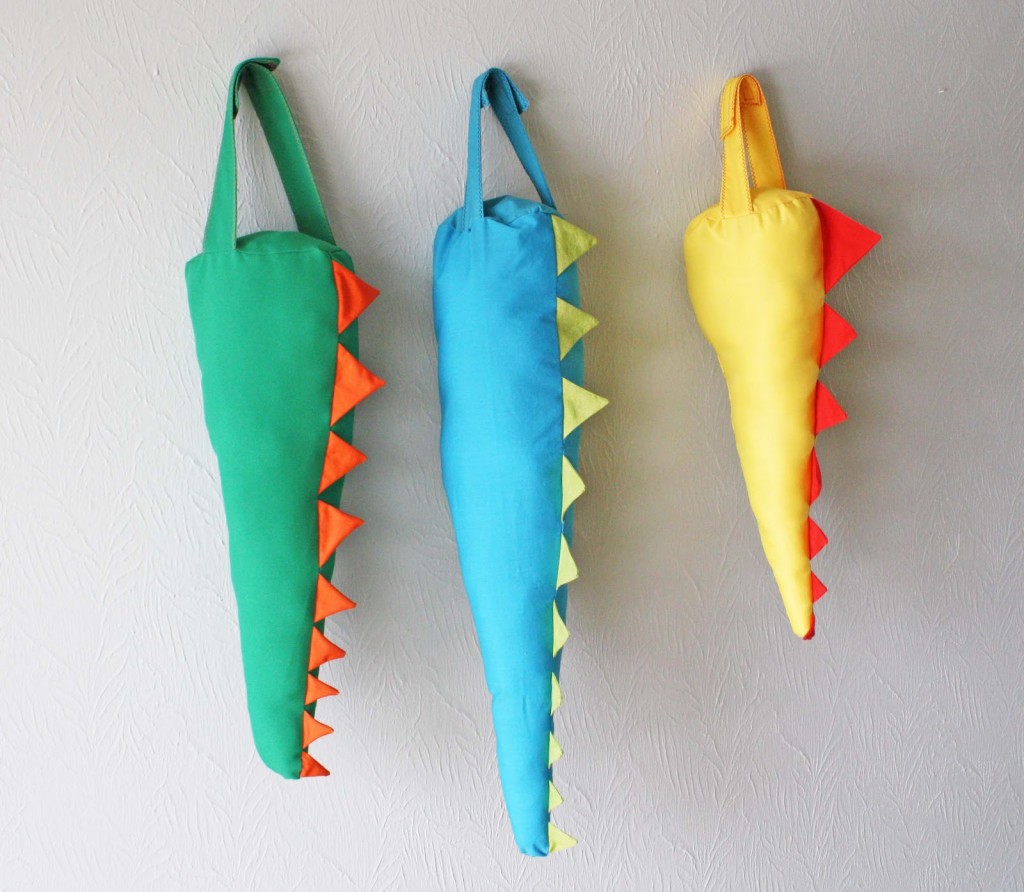 For all dinosaur fans (yes, I'm looking at you, nearly the entire 3- to 5-year old population on this planet! And some more 😉 here's a perfect accessory you won't only be used on Halloween: Dino Tail tutorial at Andrea's Notebook (edit: the link to the tutorial is currently not working, but I left the image for your convenience, and because it's still one of my favorite dino ideas. Ever.) One of the most creative Halloween costumes for toddlers I've found on the net!
Cute Little Witch Costume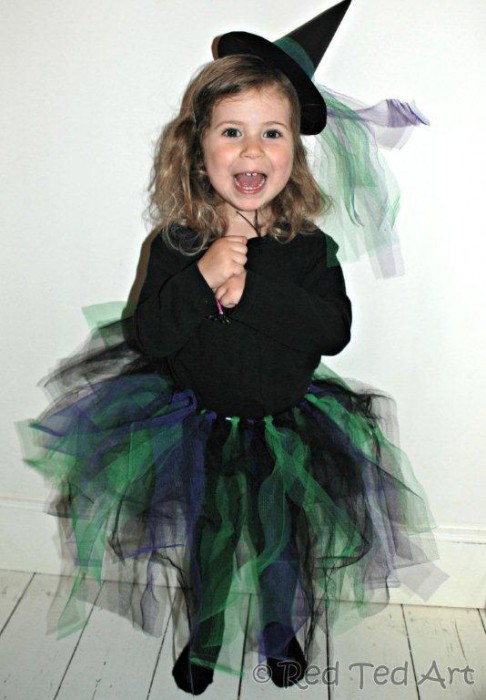 What a perfect idea for an easy Halloween costume: make this cute little witch costume by Red Ted Art without sewing a single stitch!
Super Creative DIY Marshmallow Costume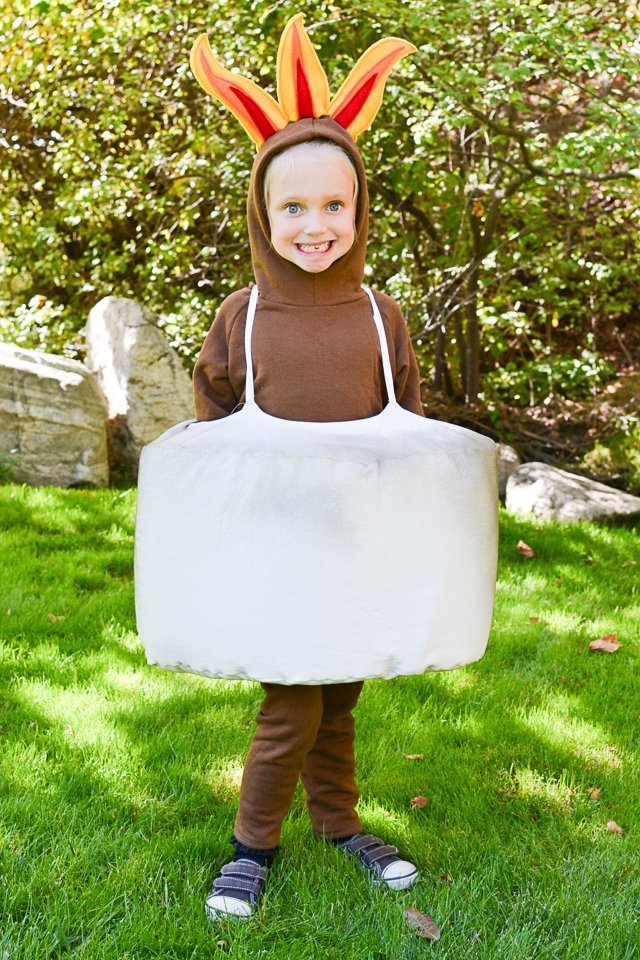 This marshmallow costume requires you to be a little experienced in sewing, but oh my it's so cute and creative I want to start sewing it right now. What a fun way to go for a trick-or-treat! Get the free tutorial at Heather Handmade blog.
A Quick And Easy Diy Octopus costume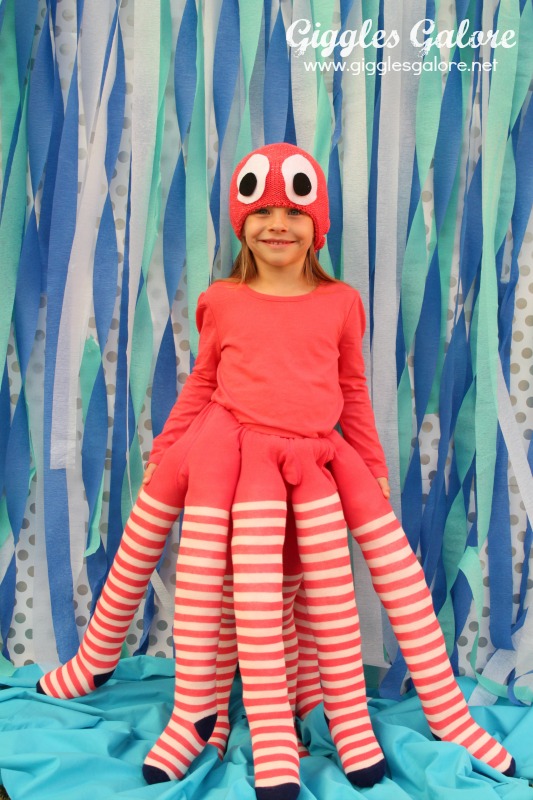 This DIY Octopus Costume is all kinds of fabulous - and you can diy it so quickly!
Last-Minute Minion Costume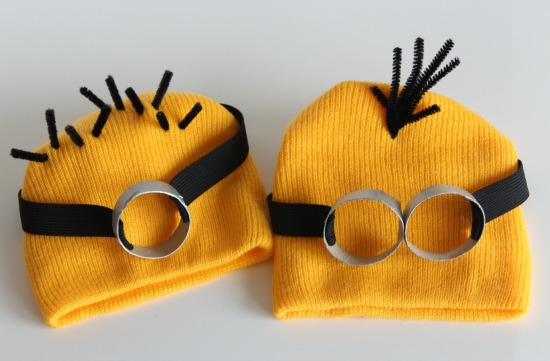 Got a yellow cap and a few pipe cleaners? If you are running out of time for a whole diy Halloween costume, this quick Despicable Me Minion hat idea might be just perfect for you! Visit the tutorial at MakeAndTakes.com and whip up a Halloween Minion hat in minutes! Add a yellow long sleeve shirt, blue overalls, black gloves, and boots, and you're set to be a minion for Halloween.
Easy No-Sew Olaf Costume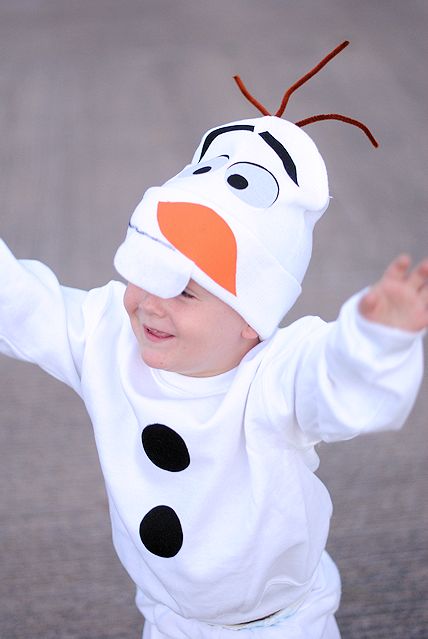 Anyone wants a warm hug? Amber at Crazy Little Projects came up with this sweet and easy, no-sew diy Olaf costume idea for your toddler or older kid to use this Halloween season. I love it!
Easy Diy Baby Halloween Costumes
And now, a few baby Halloween costumes I found so cute that they just had to be featured here!
Sweet Diy Pineapple Costume for a Baby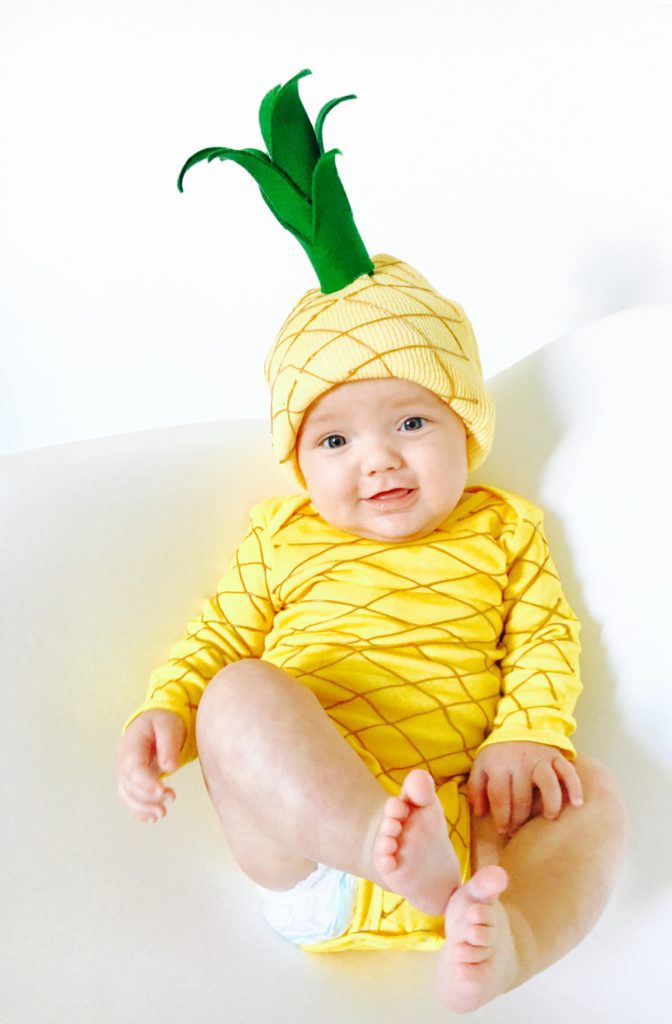 If this isn't the sweetest pineapple costume I've ever seen! Even better, such a quick make! Transform a yellow onesie and a baby cap into a diy pineapple costume with just some puff paint, a glue gun, and one single piece of green felt. Go for it, it might turn out the best diy baby Halloween costume in the world!
Black Sheep Costume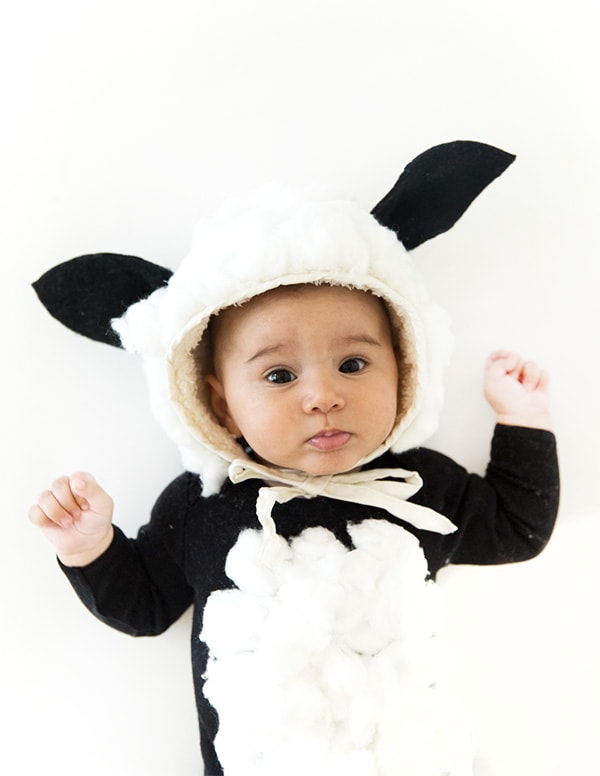 This sweet, cuddly black sheep costume by sayyes.com blog was designed with a pre-purchased black onesie, and cotton balls glued onto it do the trick. Genious!!
Diy Panda Bear Baby Costume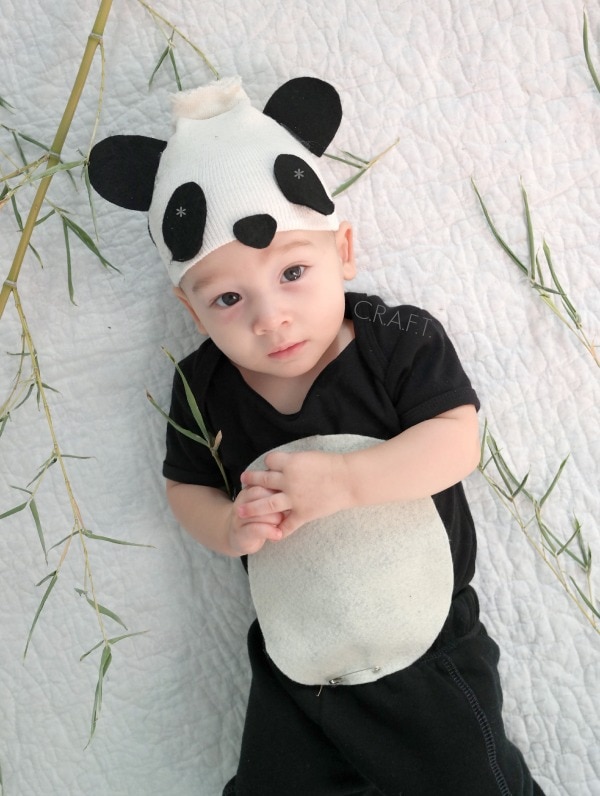 This panda bear costume is irresistible! Super easy, I love how Jamie at C.R.A.F.T. blog tackled this project with a lot of impro - a black onesie is the only piece of costume you really need, and some black and white felt. Creativity is key!
Diy Chicken Costume for Babies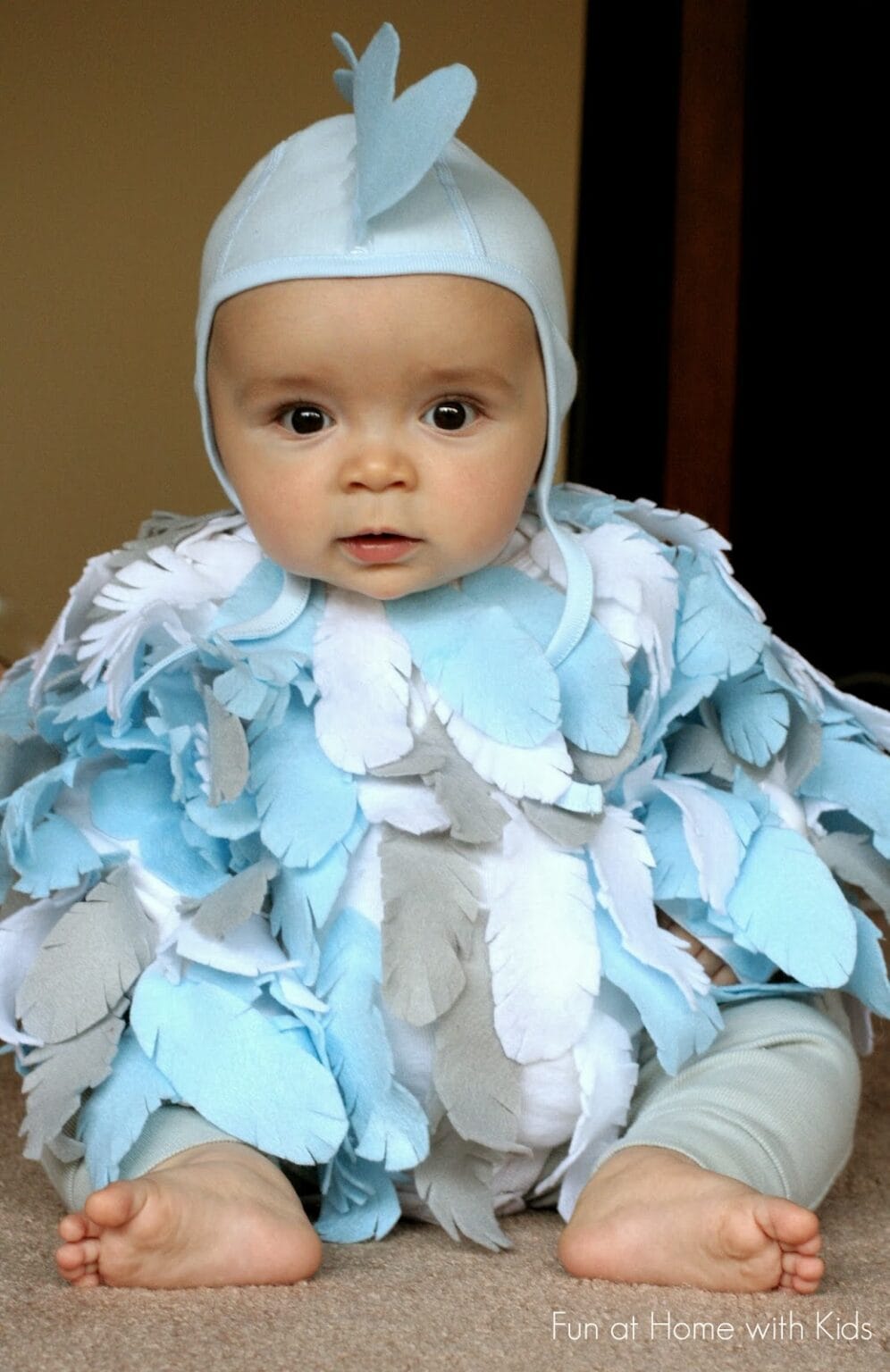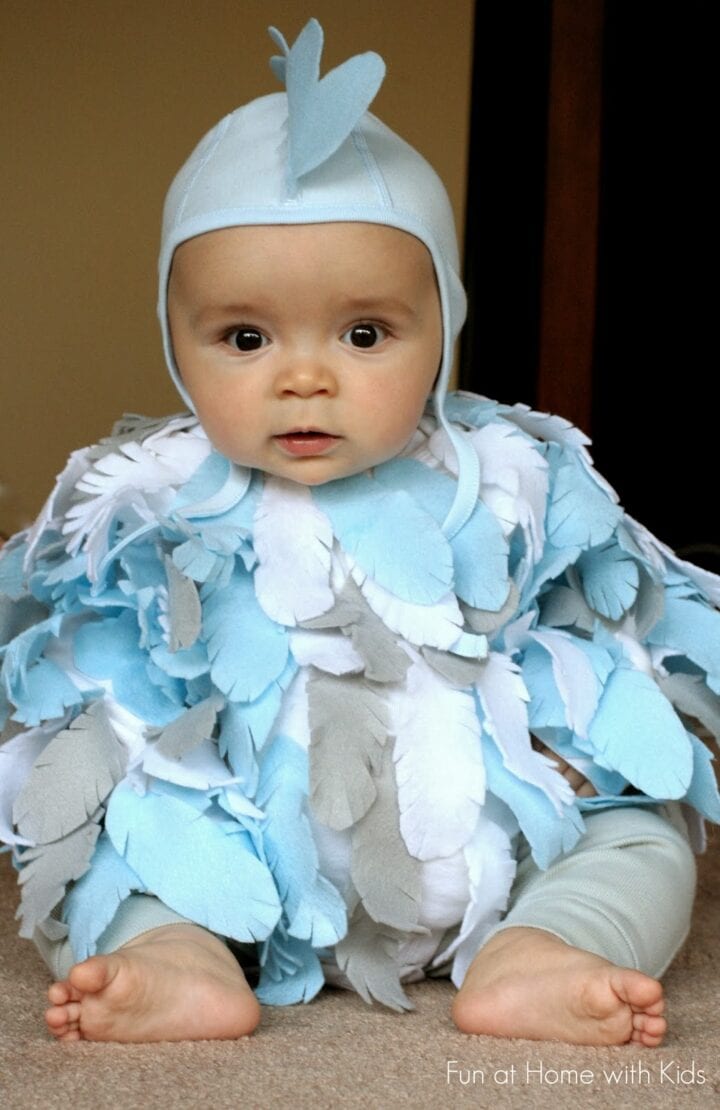 How sweet! If you have tons of felt scraps, you'll love how Asia from Fun at Home with Kids chose to whip one up - this is a no-sew chicken costume version, but you could also stitch the feathers to the base if you have some time on your hands. Sewing would make it more durable, too. This adorable baby!
Save for later: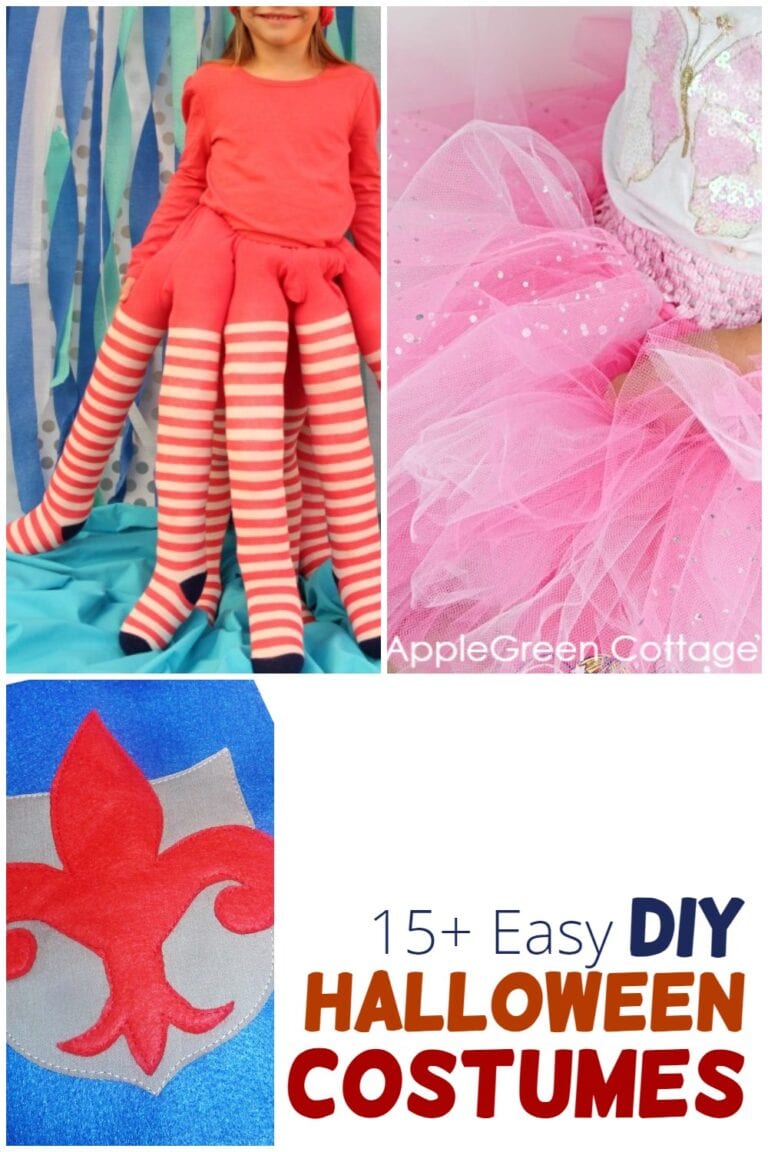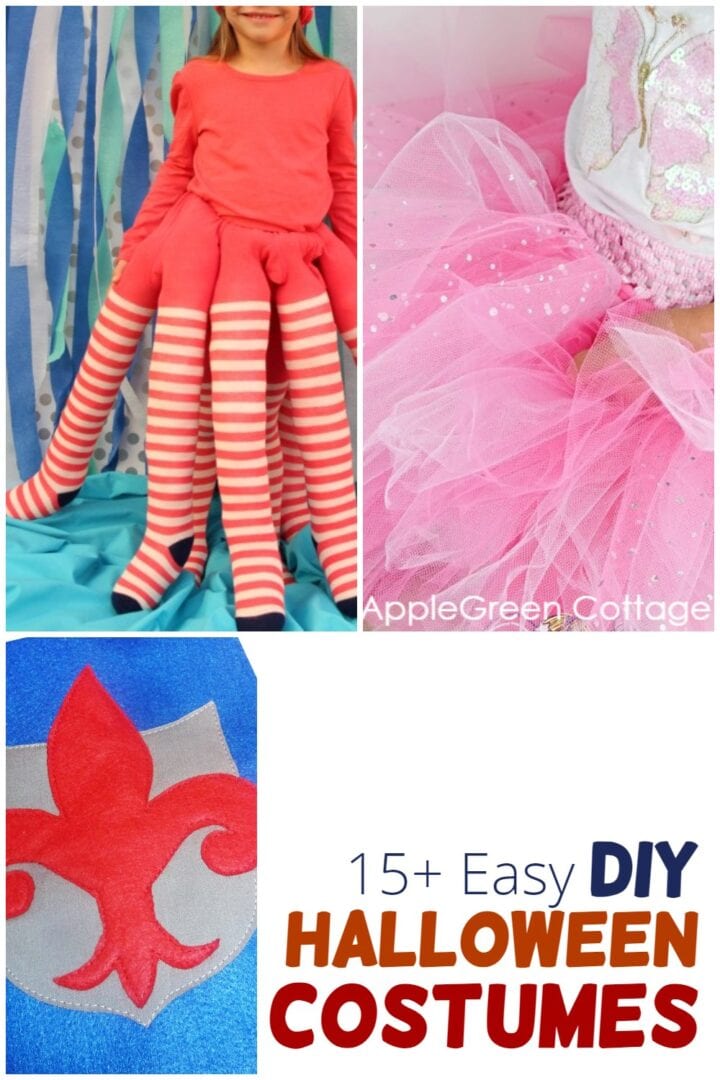 Or ...go straight to the gift bag pattern. Smart and simple construction, originally a gift bag but around Halloween, it doubles as an adorable Trick-Or-Treat bag - 6 sizes and designs for all your wishes!