See how to make a tutu with this super easy tutorial. This is a popular no-sew tutu skirt that's easy and fun to make and is perfect in a set with this diy scrunchie. It is easy to make but looks incredible and is a perfect addition to any ballerina's dress - it's amazing for parties, birthdays, weddings, and can easily become part of a princess costume for pretend play.
Scroll down for 7 size measurements, and all the useful tips at the end - they will make your diy tutu skirt even easier to make!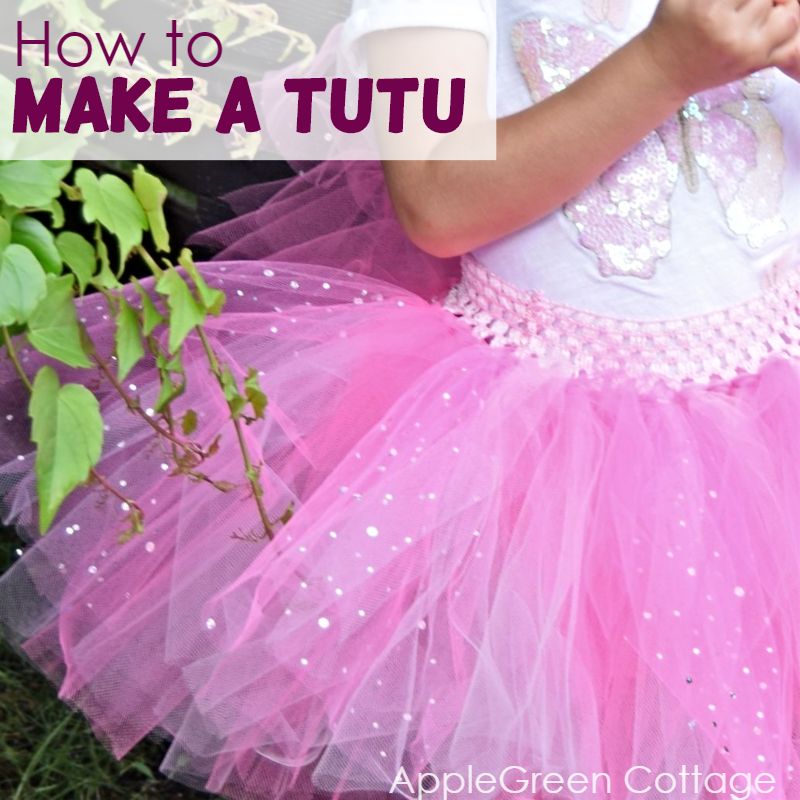 Why I LOVE this tutu skirt - and why you will too!
super fluffy tutu skirt with multiple layers of tulle, soo cute!
no need to sew at all!
smaller, manageable tulle pieces to work with
no special equipment (just a scrap piece of cardboard!)
easy, even kids can diy it!
... And all the tulle skirt sizes you'll ever need!
Do you want an ad-free, printable copy of this online tutorial? Find it here for just $3. You won't need to access the internet every time you want to make it. ------ Or get the BUNDLE with ALL the Printable Tutorials - current and future ones!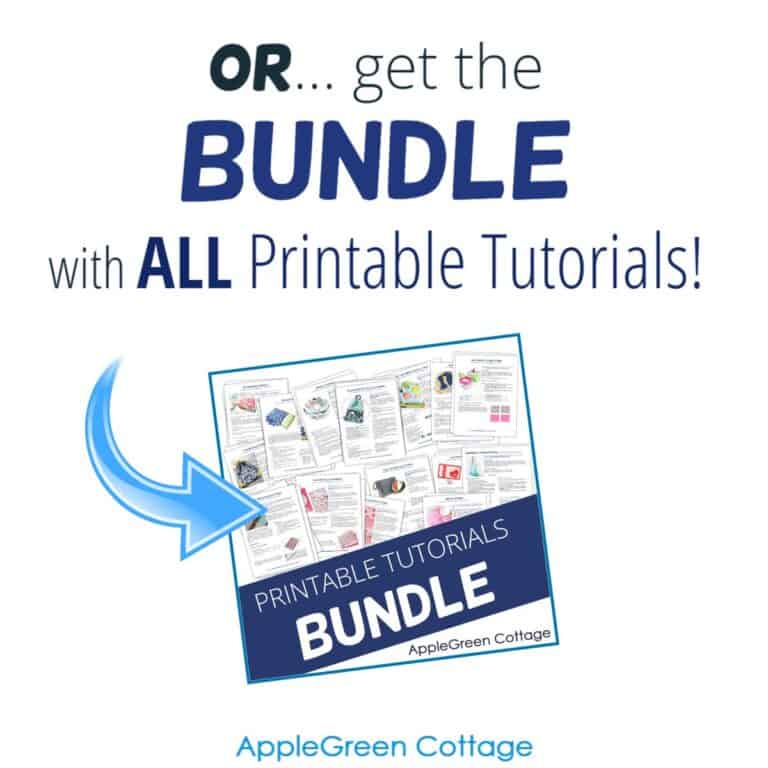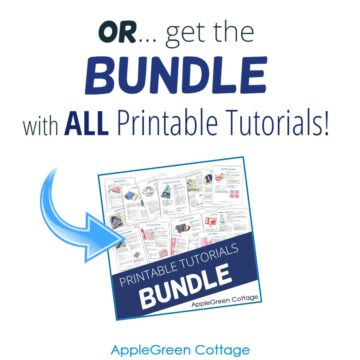 This post contains affiliate links. Thanks for your support. If you want to see more party, costumes, and accessories tutorials, check out:
Enjoy! Now, back to making a tutu skirt. This tutu tutorial shows you how to make any size tulle tutu from a newborn to a teenager, using the crochet headband.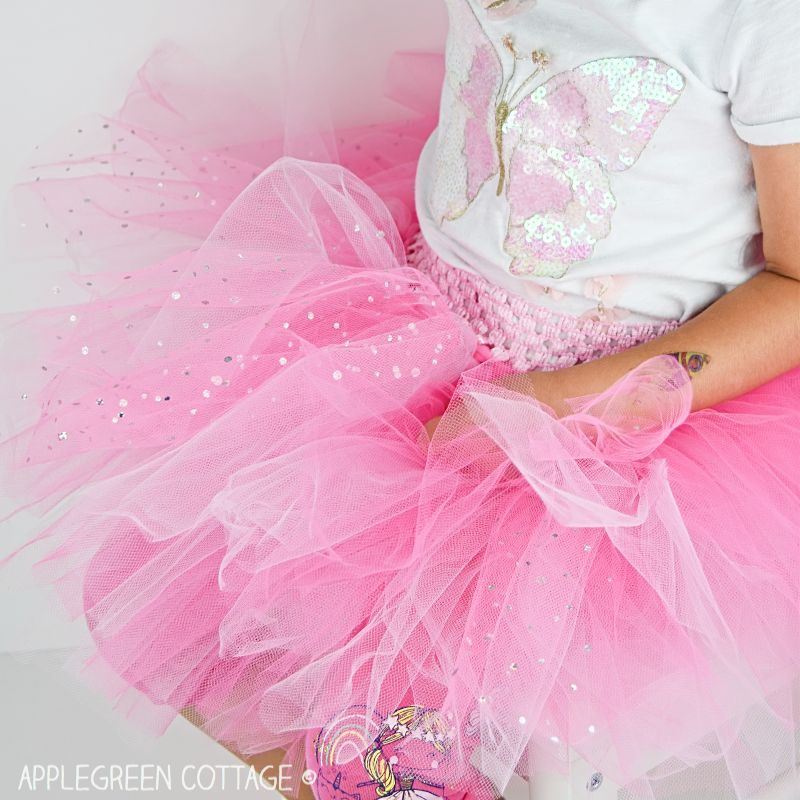 And have I mentioned it makes a perfect photo prop or a Halloween costume? It's great to have a tutu skirt in addition to all these pretty everyday diy skirts girls like.
Full disclosure: we'll be using a Crochet headband trim for the waistband, and you'll need to join the ends of the waistband together, either by glueing or sewing them together - so this is the part that may involve sewing a few stitches. But fear not, it's so easy, and you don't necessarily need a sewing machine.
How To Make A Tutu
Let's see how to make this adorable tutu skirt with tulle - it's super fun and easy.
Supplies
6" wide tulle rolls - I used 2 rolls of 25 yards
plus optional: I used one 10-yard glitter sequins tulle roll as accent material
1 ½" (or wider) crochet headband trim -length depends on the waist size. I used 14" (35cm) long strip
either sewing machine or needle + thread, or hot glue gun to join the ends of the waistband
a piece of cardboard to use as template (I used a 10" large, width is anything wider than the width of the tulle strips)
scissors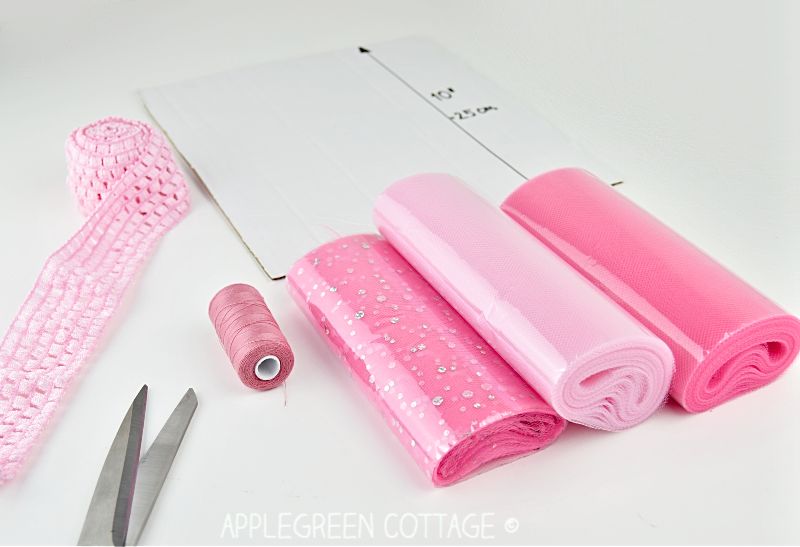 Recommended Cutting Sizes To Make Tutu Skirt
First, cutting directions for your own diy tulle skirt.
Child's age - Recommended Length of Finished Tutu
| Child's Age - | Recommended Length of FINISHED Tutu |
| --- | --- |
| 0-12 months | 6" (15 cm) |
| 2 years | 8" (20.5cm) |
| 3 years | 9" (23cm) |
| 4-5 years | 10" (25.5cm) |
| 6-7 years | 12" (30.5cm) |
| 8-10 years | 13" (33cm) |
| 11-14 years | 14" (35.5cm) |
Recommended length of the crochet headband trim used:
waistband measurement minus 30%:
say, for a 20" in waist cut your trim at 20" minus 6" = 14" (because 30% of 20 is 6")
How To Make A Tutu - Tutorial
Helpful hint: One thing more before you start, it might be helpful to know that the crochet band has a right and a back side. Make sure the right side ends up on the outside of the tutu.
Part 1 - Create A Waistband For The Tutu Skirt
First, the waistband. Measure the waist and subtract a few inches (30% would be fine). My daughter's waist is 20", so I cut 14"(35cm). Then cut this length of the crochet headband trim.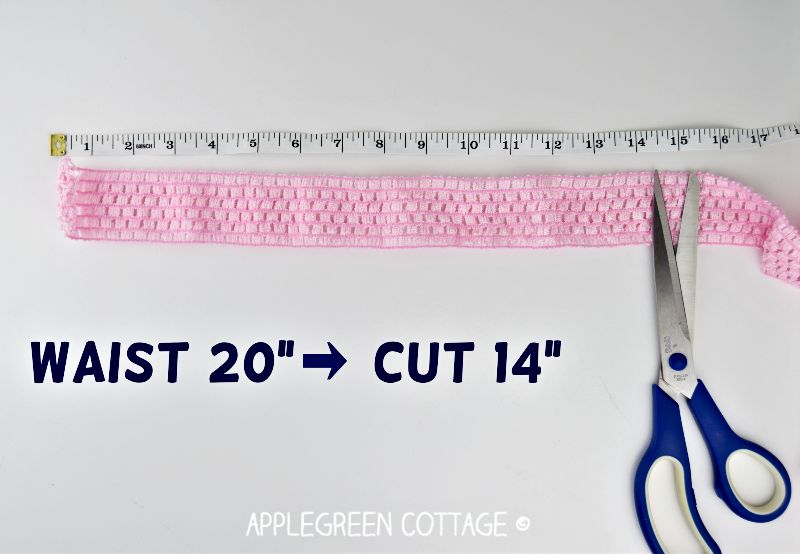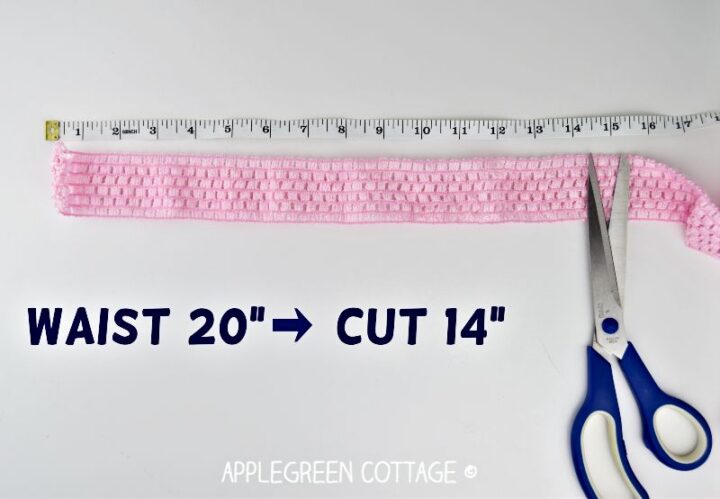 Hand-or machine-stitch the ends together. You can either hand- or machine-stitch the ends together, or hot glue them together. You know I'll always choose to stitch over gluing, but you might choose to use your hot glue gun - it's a matter of preference 🙂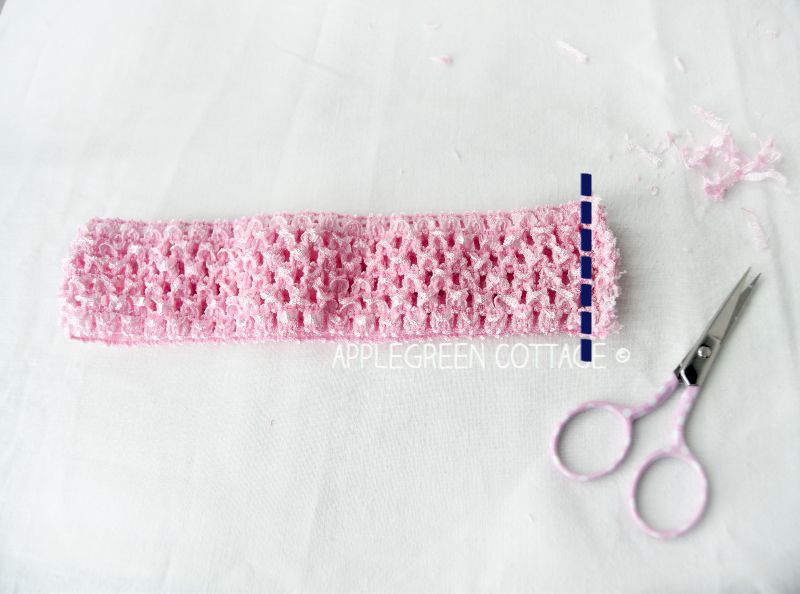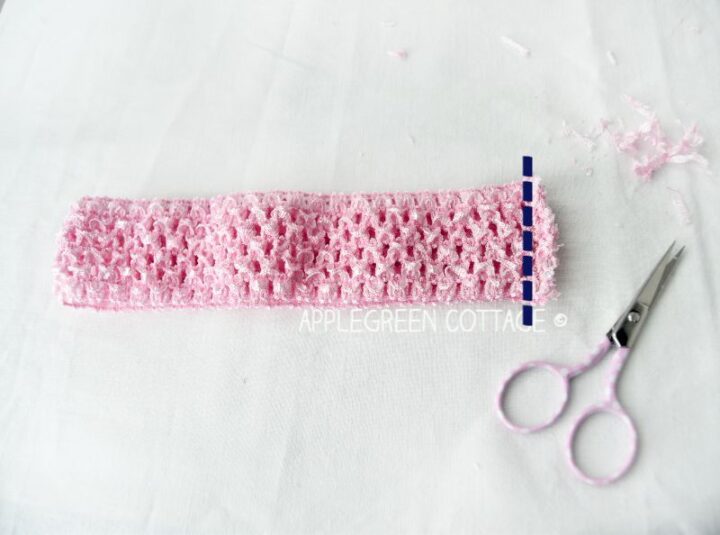 Part 2 - Cut Tulle
Next make a cardboard cutting template for tulle strips: cut a rectangle from cardboard, using the measurements above. The cardboard piece length will be the same as the planned length of your tutu.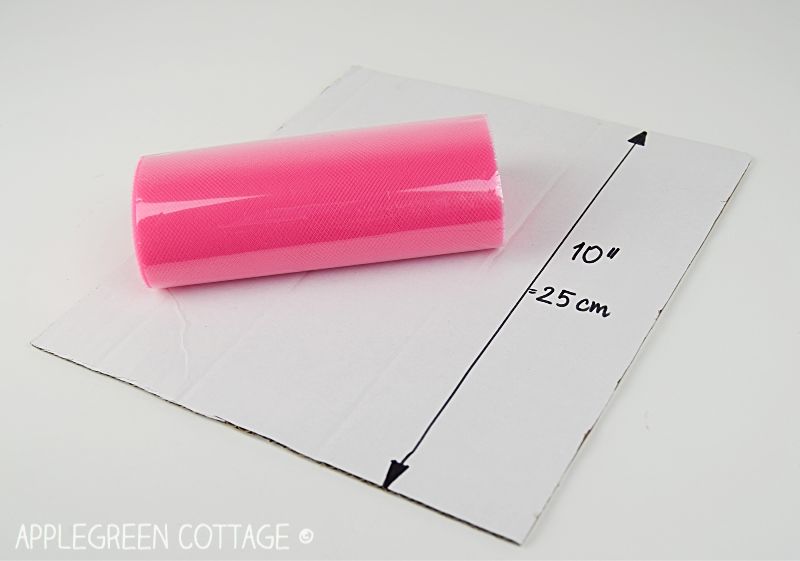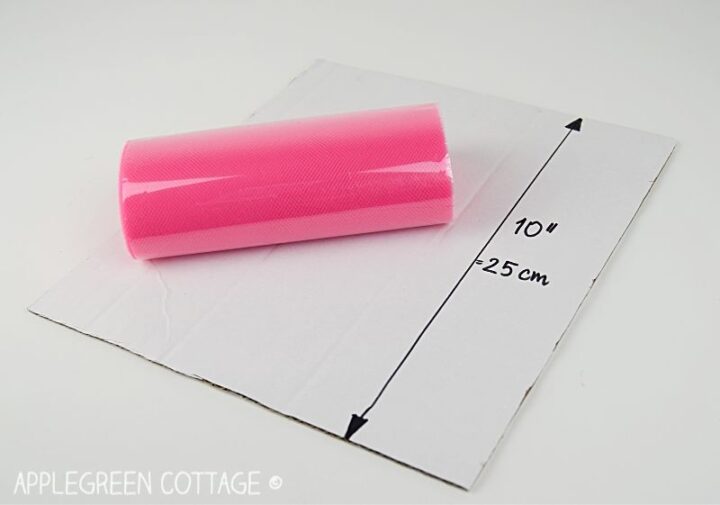 Grab the first of your tulle spools and start wrapping it around the cardboard template.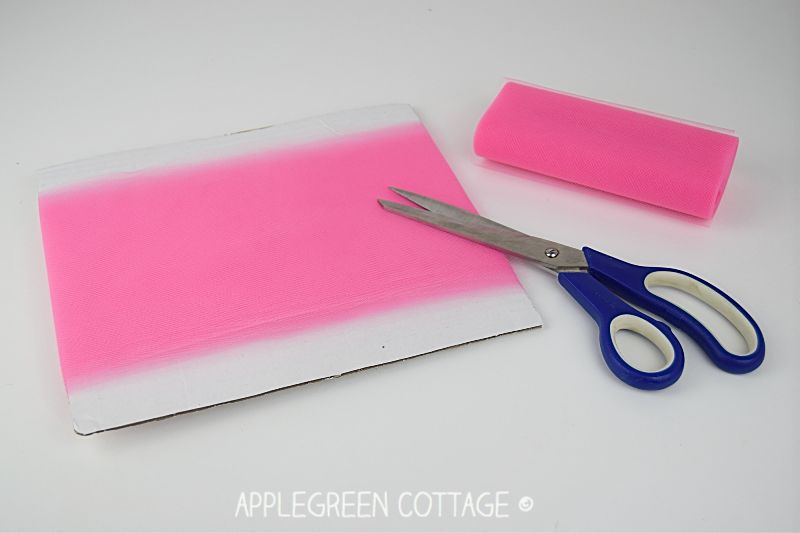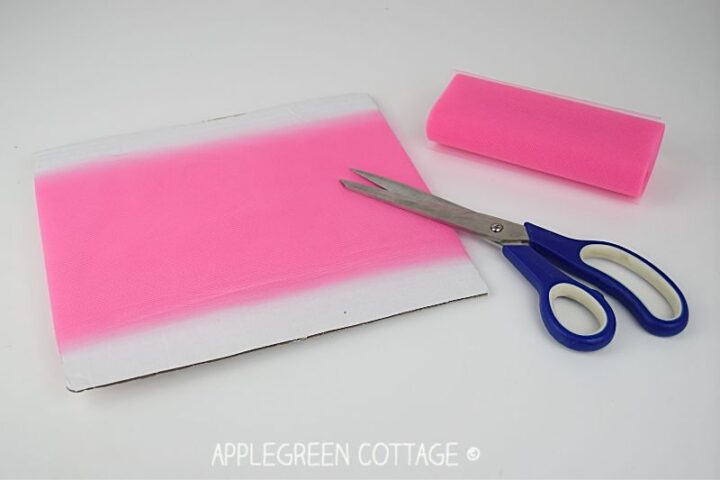 Keep wrapping it over and over and over again, until you've used up your whole 25-yard tulle roll. Using your scissors, cut all your tulle on one end of the cardboard template: the end where you started wrapping.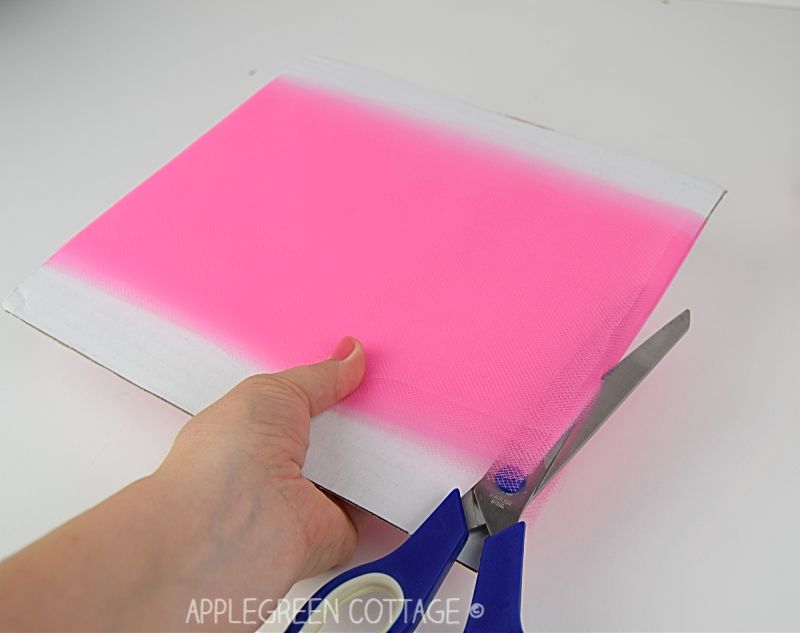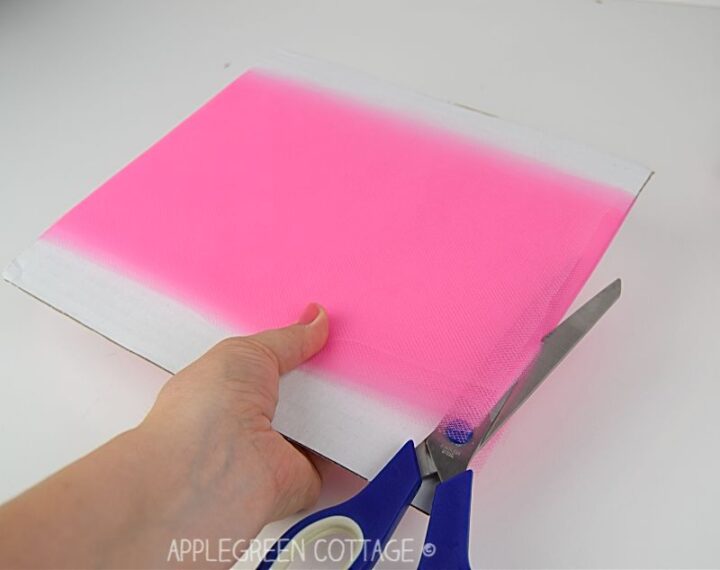 This will give you double-length strips of tulle for the tutu.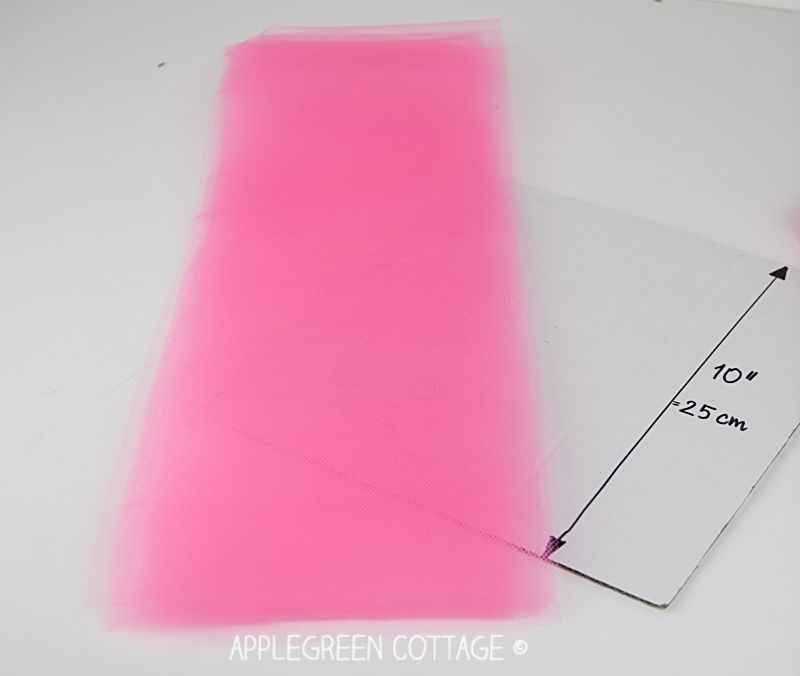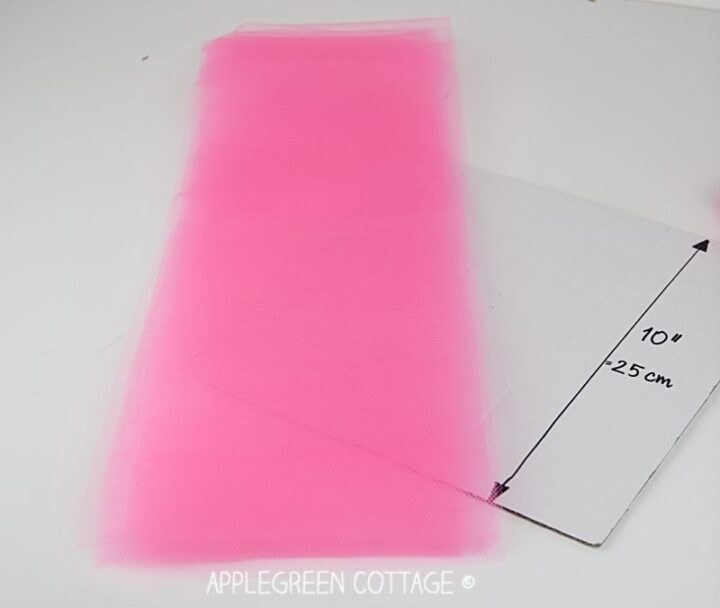 Do the same with the other 25yard roll. If desired, you can substitute a few strips with that cute glittery tulle I used as an accent.
Part 3 - Tie Tulle on the Tutu Waistband
Place the crochet waistband on something that will give it stability and will stretch it a little bit when tying the tulle onto it. This can be anything cylindrical like a lampshade, a paper towel roll, a mannequin, or simply your thigh. No need even to be round. You can use a hanger to stretch the waistband, some simply place it on the thigh, or on the chair back - I chose the latter: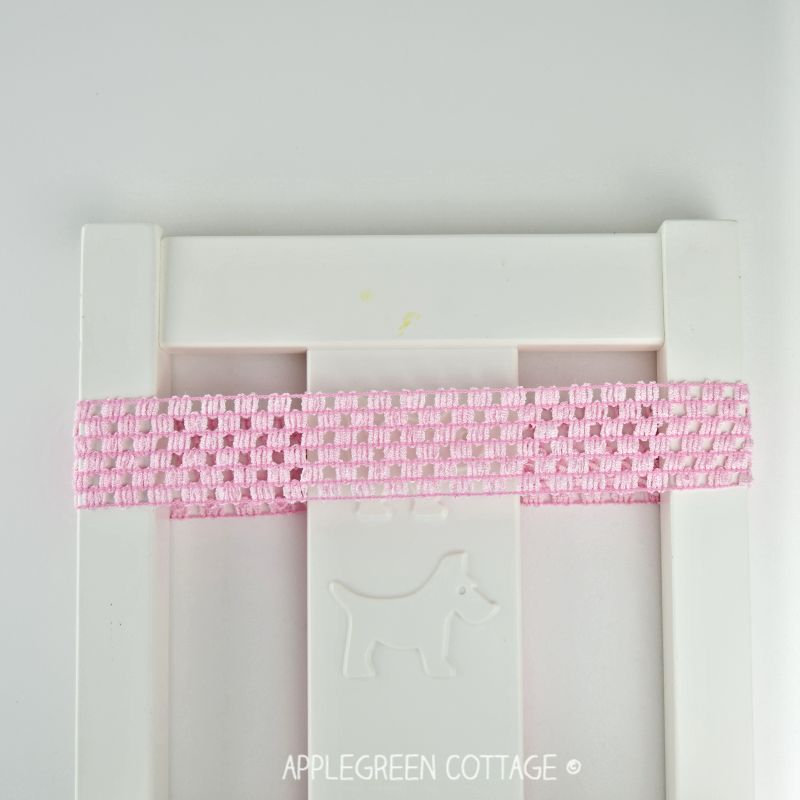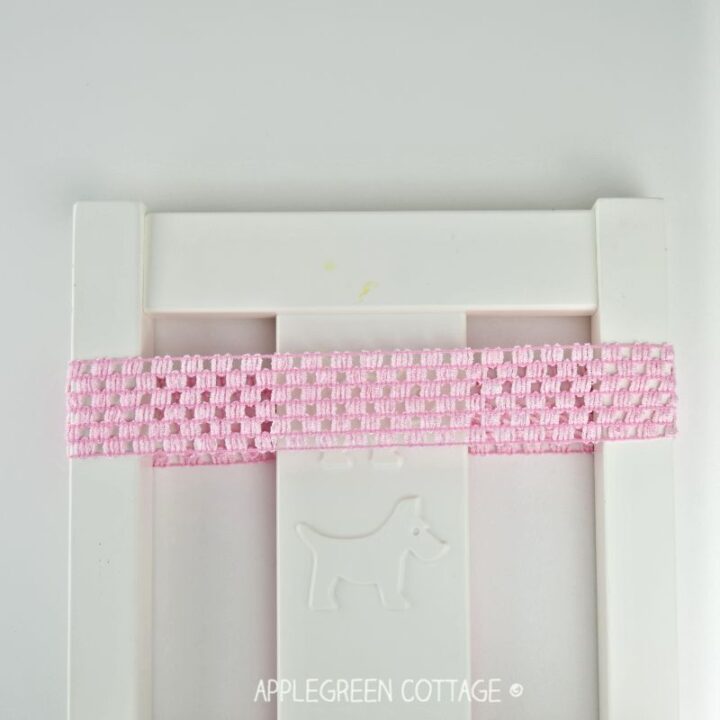 Grab the first of your tulle spools and start wrapping it around the cardboard template.
Where to start tying tulle onto the waistband?
Choose a hole along the bottom edge of the waistband. You'll start in THIS row: it's the first bottom row that has a stable amount of polyester elastic material weaved. You'll notice I didn't start at the thin, lowest row.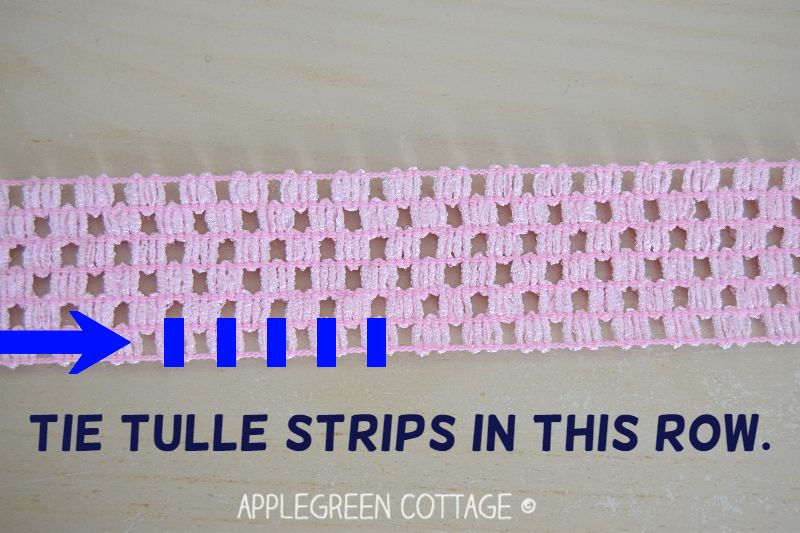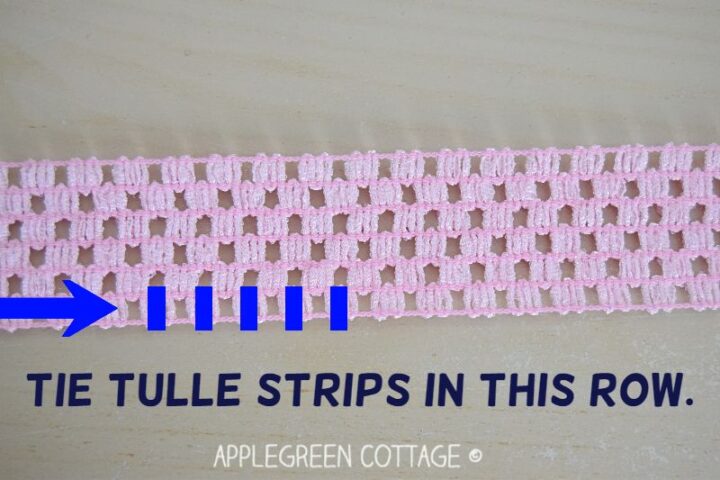 Attach the tulle into the waistband using a slip knot. No sewing with tulle! How-to: Fold the first tulle strip in half. You can use a single strip or two at once. I stacked two pieces together, the light pink and the darker pink color combined since my daughter wanted a very fluffy tutu.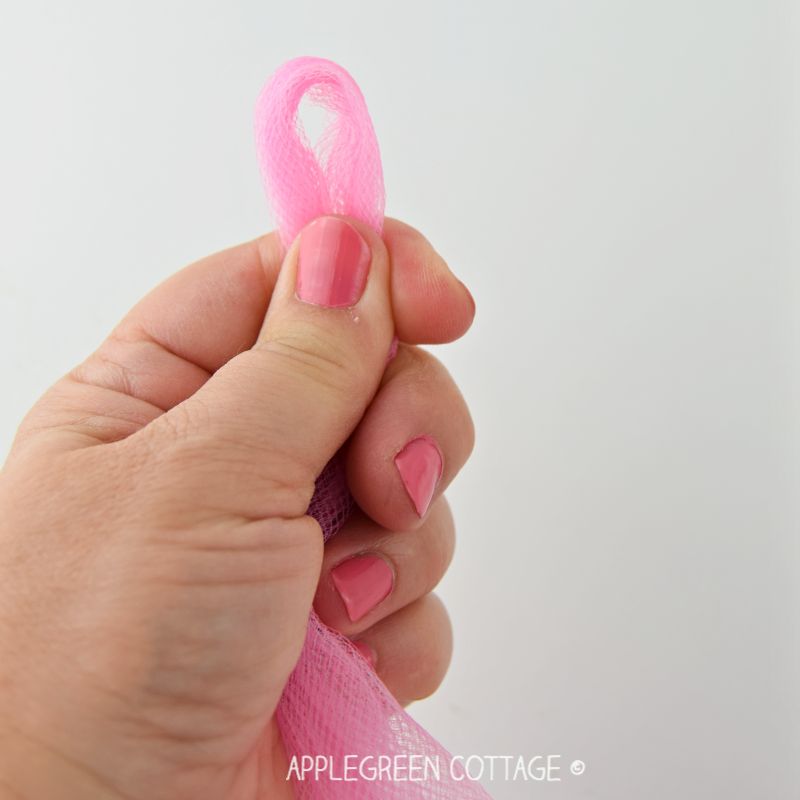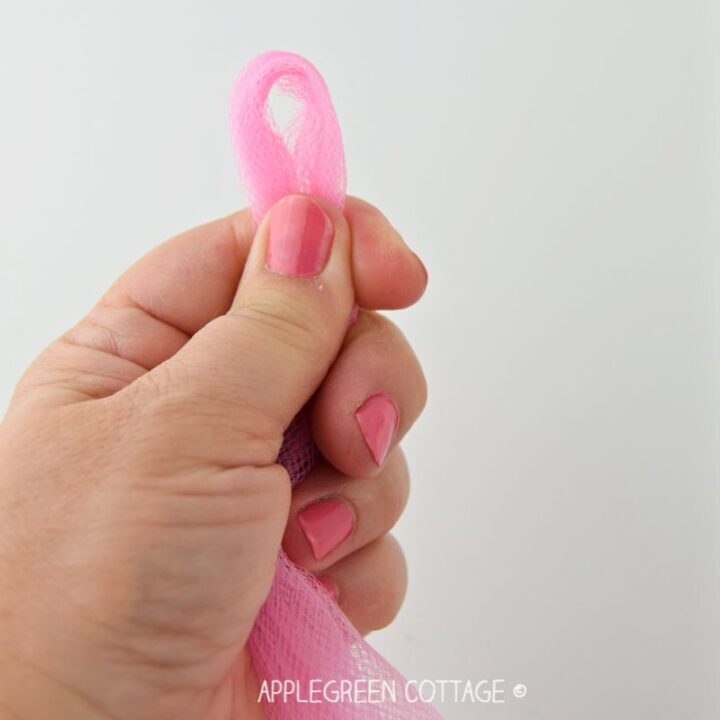 Twist the fold a little and pinch it, then pull through the hole on the waistband. Thread it through a hole on the headband, so the loop is peeking down by an inch or so. You can thread it from the front or from the back, either will be ok. Here's from the back: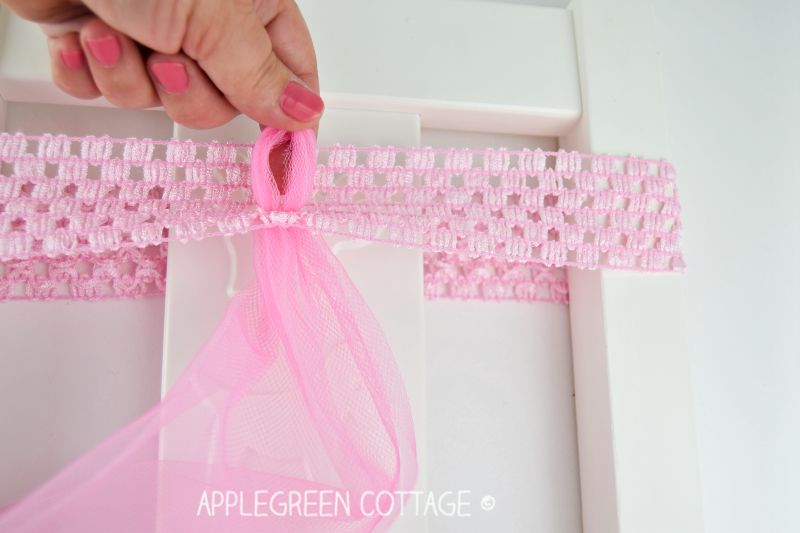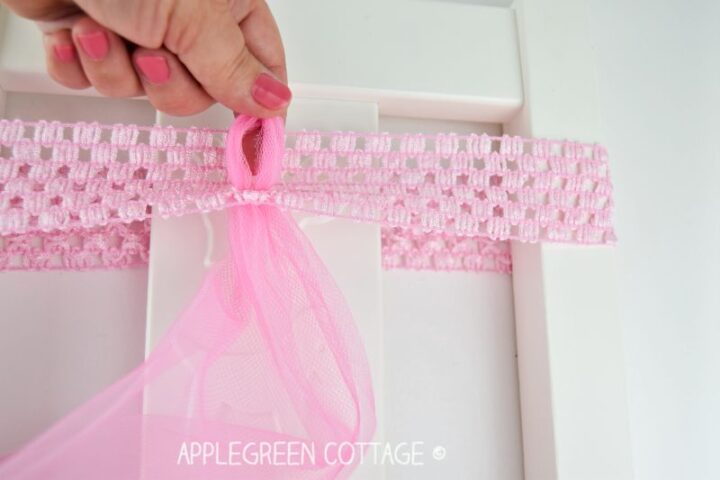 Reach with your finger and thumb into the loop and grab the tails of the tulle.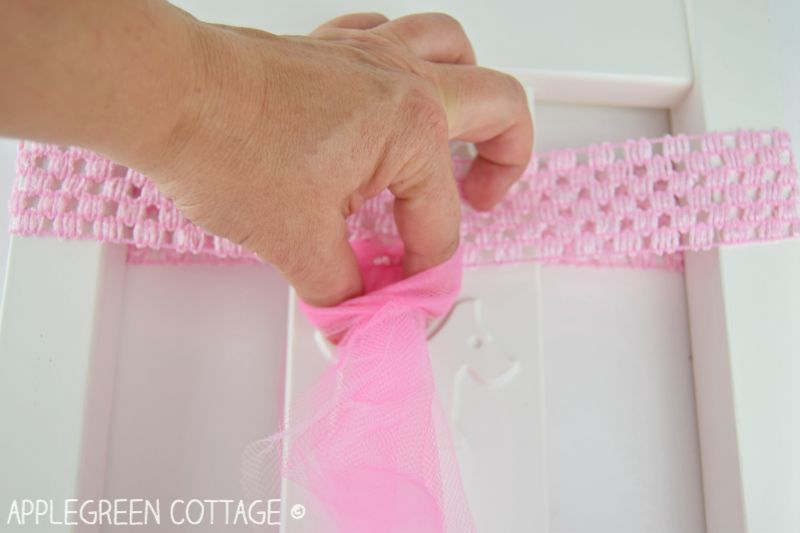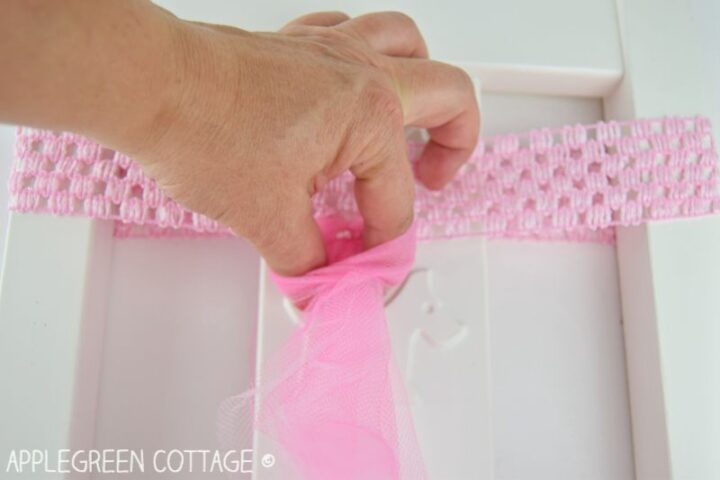 Pull them upwards through the loop.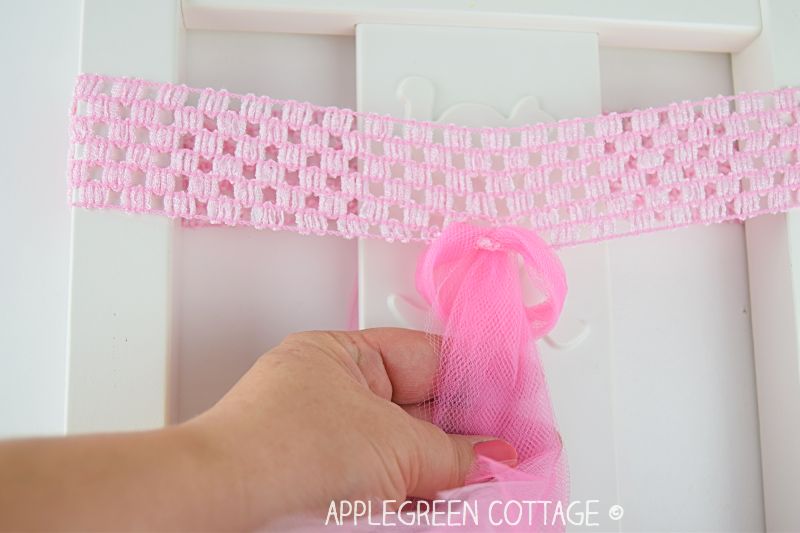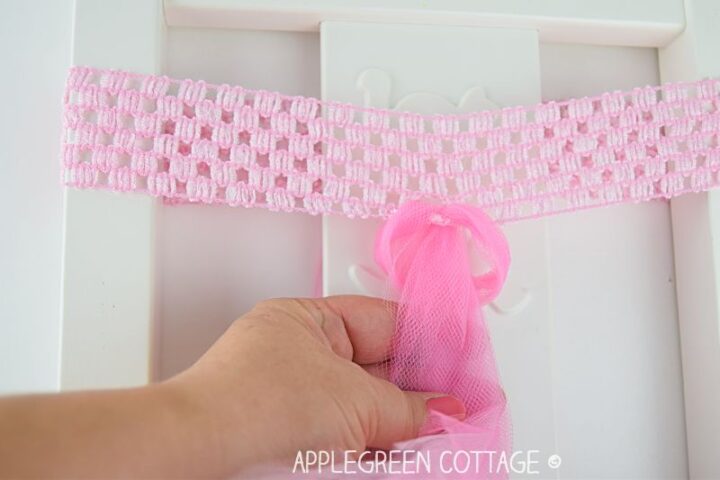 Gently tug down on the two strands.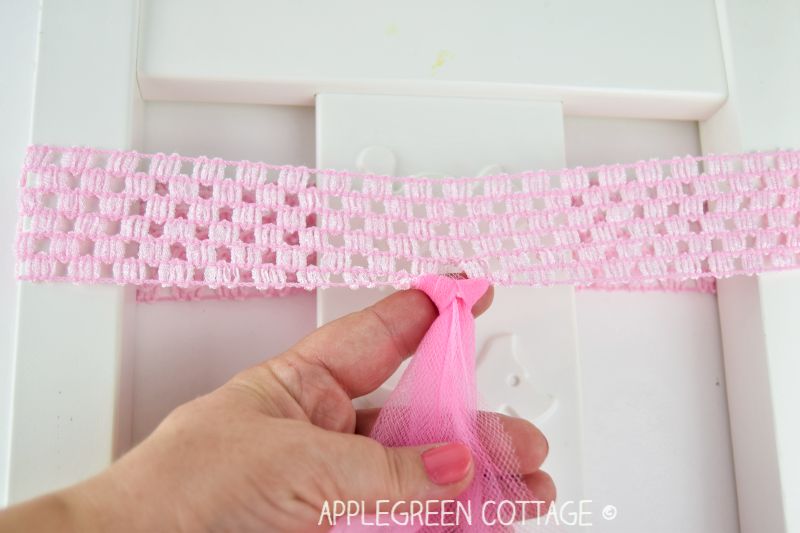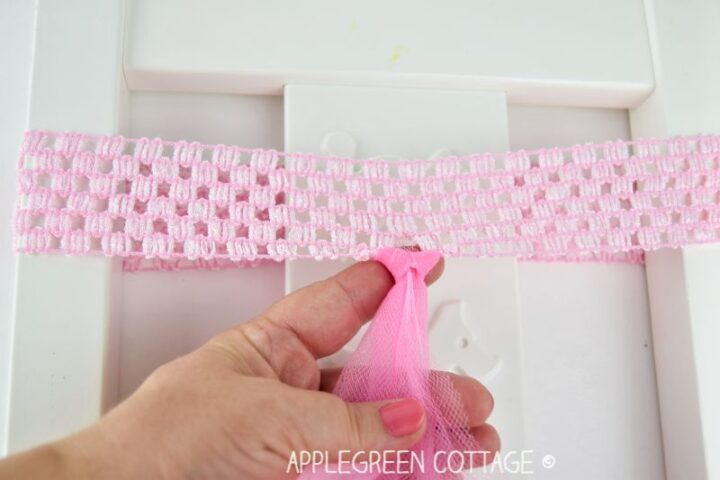 Keep attaching strips of tulle following the same procedure described in the previous steps.
Option: Do You Want a diy Tutu With Glitter Sequins?
If you want a tutu with glitter sequins, you can use one strip of glitter sequins tulle every five knots: on every fifth spot, I stacked a light pink and a sparkly pink strip together (instead of the 'usual' light+dark pink one). Take a look at the finished tutu below, it's clearly visible, and you don't need to overdo the glitter sequins if you don't want to.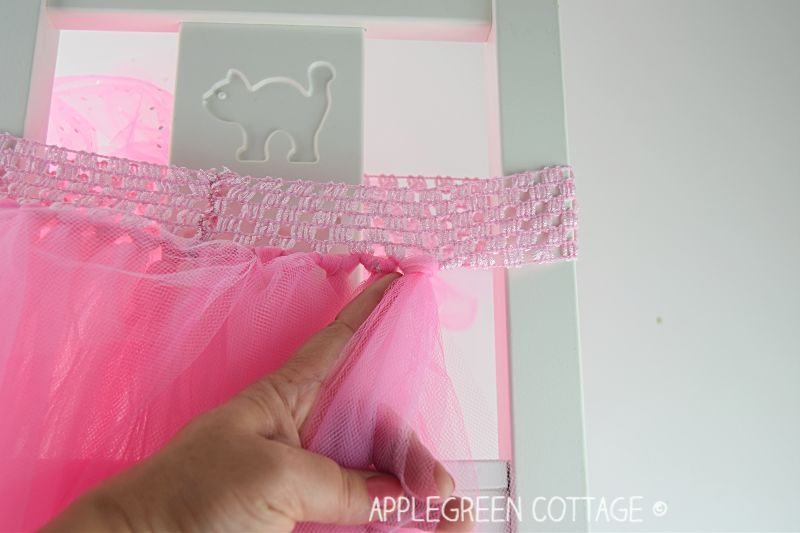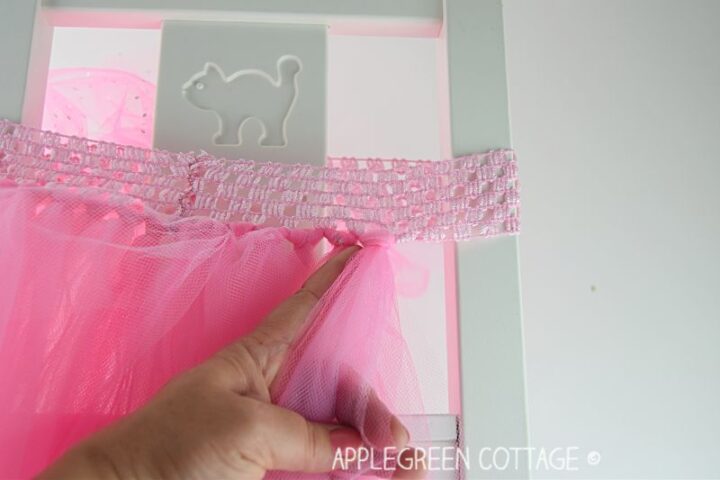 Once you have the first row filled, you can do another row for an even thicker tutu. You can use an additional tulle roll, cut more strips with sparkly tulle strips. I didn't need to, as the doubled first row already gives a beautiful, thick, fluffy result.
End when you're happy about the fullness of the tutu. Time for a twirly dance!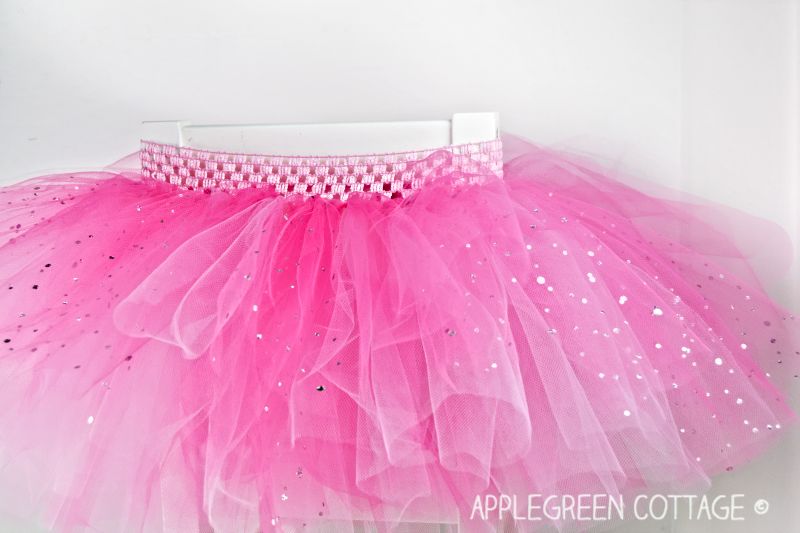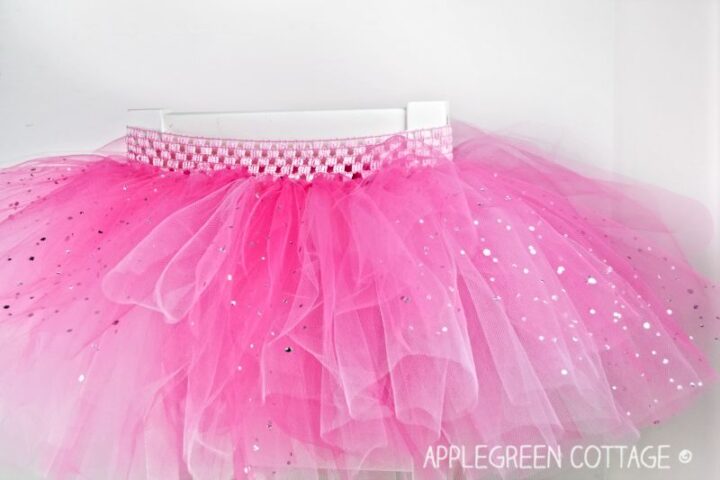 If you have some tulle left, consider making these fun tulle hair bows.
TIPS AND TRICKS, AND MORE HELP TO MAKE YOUR TUTU
Here are a few tips that will help you make the tutu even easier.
WHY TULLE ON 6" (15 CM) ROLLS?
My local shop has a whole wall of what I feel is hundreds of different colors of tulle - all on bolts. What a tempting view! But while you can buy tulle by yards, it will be way quicker to make a tutu if you get them on 6-inch rolls. They come in 100-yard rolls (get them here), but also in 25-yard rolls (translated for friends in Europe and Australia: that's just a bit below 23 meters)
And I love these glitter sequin rolls too! The ones I got are thin and well-glued on, and they haven't started falling off once the dance and the play began - glitter sometimes does! I got myself a few pieces on 25-yard rolls. Mixing and matching these subtle hues!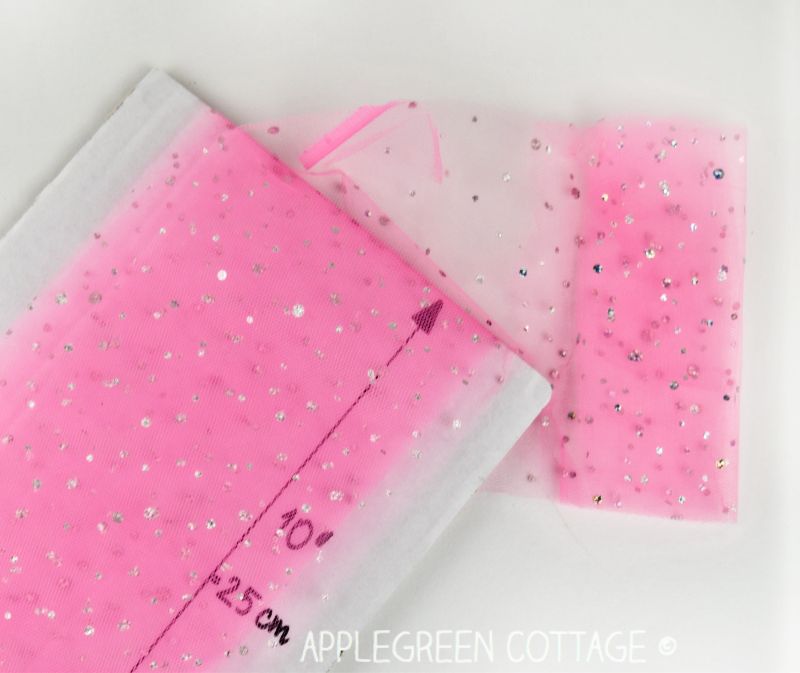 FLUFFY OR NOT?
If your tutu isn't fluffy enough, add more tulle. You can knot a second row of tulle strips, just above the original one.
If you'd like to make a 'moderately' full tutu, only use one strip of tulle for each knot. This would also be a great solution if you only want to add a bit of volume to your dress or skirt using the tutu as an underskirt.
WHY CROCHET HEADBAND TRIM?
Convenience! Crochet headband trim has a waffle-like structure with holes that are perfect for tying tulle strips.
Truth is, you can use any type of elastic band or trim for the waistband. However, if you get a chance, I highly recommend you get some of this soft, very stretchy elastic. It's much more comfortable than the regular elastic! If you must use elastic, I'd go with fold-over elastic as it's still stretchier than the stiff kind. This is a bit of a personal preference.
Diy tutu skirts are so adorable to use for photoshoots or special occasions! If you run out of cute pink hair bows, make these no-sew knotted hair ties to complement the tutu - in seconds! Make sure to save this project to remember how to make a tutu skirt: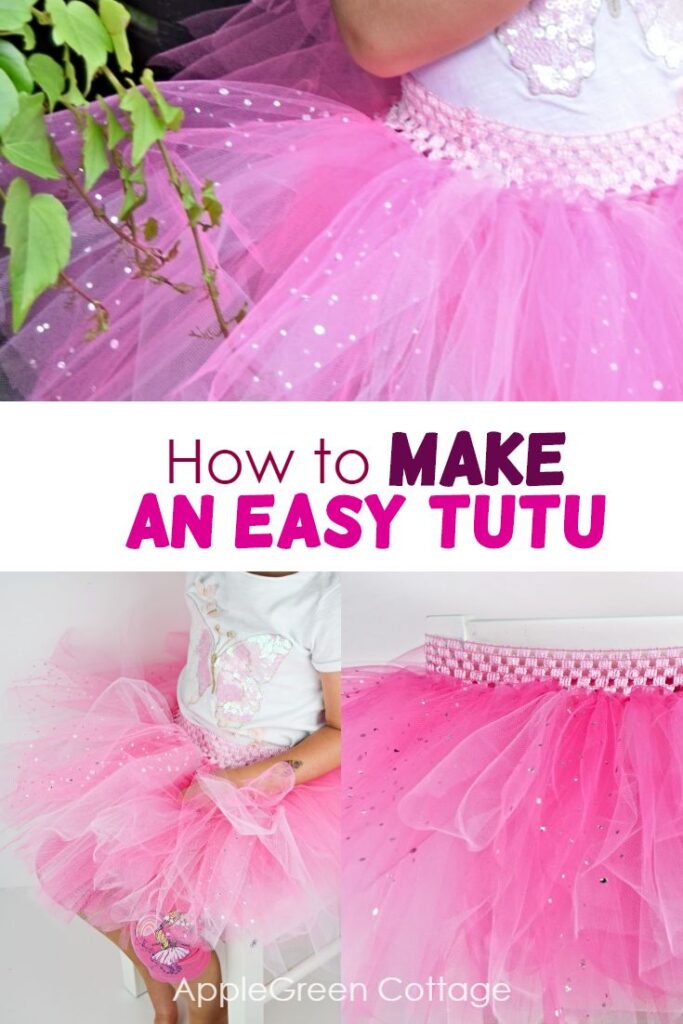 WANT MORE FREE TUTORIALS AND GOODIES?
Get email updates and never miss out on new patterns, printables, and tutorials:
Or …check out the popular Enya Wallet Bag in our shop - use it as a crossbody, clutch, or regular wallet, it has everything a big bag has!