Here are over 10 sewing patterns for toddlers: easy gifts to sew rather quickly, beginner-friendly projects that are a sequel to this popular collection of diy gifts to sew for babies. Browse through these tutorials and patterns for inspiration and choose your favorite!
This post may contain affiliate links. Thanks for your support.
Do you need ideas for a homemade gift for a toddler? You've just found a bunch of them! From handmade accessories to toys, here are 10+ easy and cute sewing projects with beginner patterns you'll love to sew.
No time to browse now? Save this image to Pinterest for when you need them: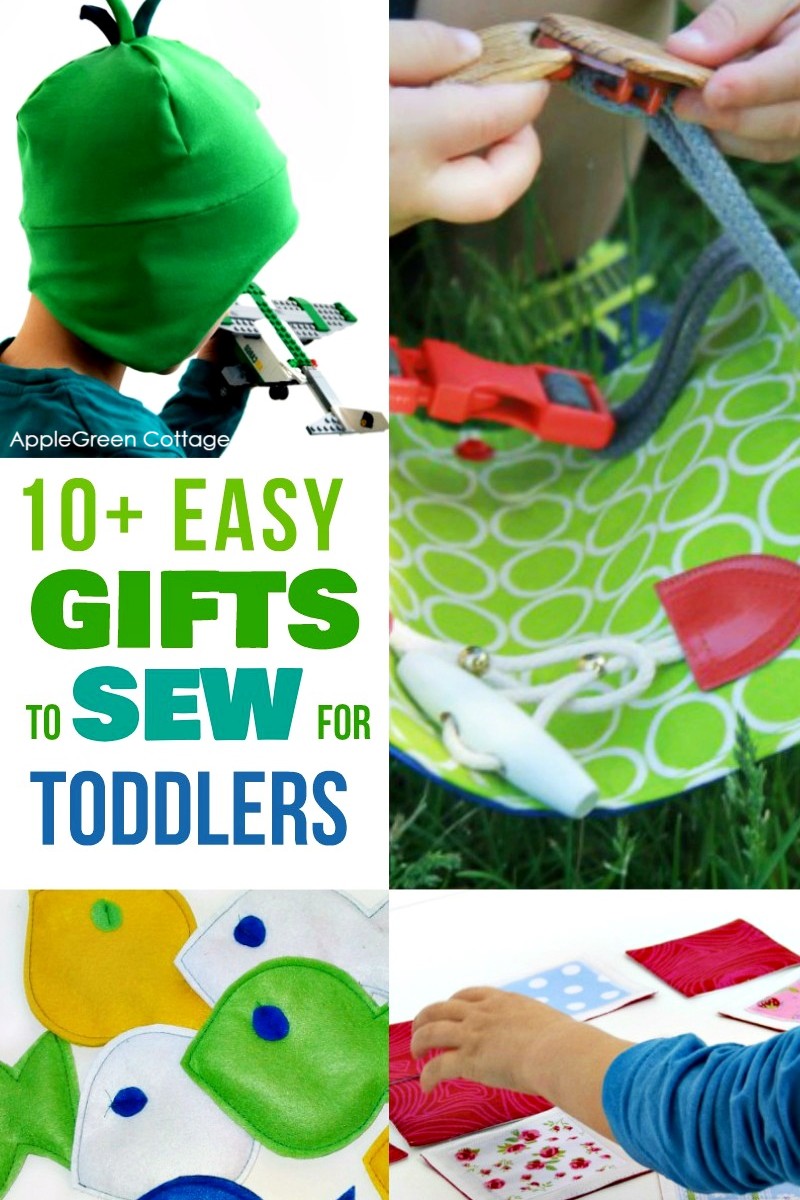 Sewing Patterns For Toddlers
Making a homemade gift is not only a way to show you care but also a great way to teach kids the value of handmade things. These sewing patterns for toddlers can accomplish just that.
Toddlers will love anything associated with exploration, like a fabric marble maze or a buckle toy, matching games, preferably colorful. Toddler accessories and clothing, be it a hat, a scarf or pajama pants, need to be easy to use, so they can put them on by themselves. I took all that into account when compiling this collection of patterns and how-tos.
Oh, and these patterns are all beginner friendly! Try out some of them (or all!) and make the best diy presents for your toddler.
Gifts to Sew For Toddlers
Toddlers will have a blast playing a fun tossing game! These felt fish for kids are made quickly and can be reused for a number of indoors activities. They are perfect for a bean bag tossing game and make an awesome gift! Get the tutorial HERE.
Simple to make, you'll love making these pajama pants over and over again. These pajama pants can be made REALLY QUICKLY! And with busy moms, that's what often matters most. Get your tutorial with step-by-step directions here.
A free PDF sewing pattern and tutorial for a cute little fabric marble maze toy for kids. It's made from fabric and fleece scraps. A great DIY present for toddlers, perfect road trip toy. Also, a great toy to keep in your purse for when you go to the doctor, or another place where you'd like your child (or grandchild) to sit still for some time.
9) Toddler Buckle Toy
A simple tutorial for a homemade toddler buckle toy to take on the go, out to eat, or in the stroller. Stephanie made a great toy that will keep busy hands occupied. An awesome diy toy that has just found it's place here in this list of favorite sewing patterns for toddlers!
This colorful felt button snake is made in a moment, requiring really little sewing skills. If you know how to sew on a button, you're set! It's one of the all-time favorite toys among toddlers for learning buttoning and fine motor skills through play. Easy and quick to make - a perfect gift!
A simple way to add a pop of color to a toddler's room, and to display their name where they can always see it. Toddlers will recognize their name and remember it. And as to this diy project, it's easy to do even if you're new to sewing. This easy diy bunting banner tutorial includes a free PDF sewing template and a few tips and tricks to make it easier for you. Since it's double-sided, both sides of the banner will look lovely when hung across the space. Yey!