See how to make pajama pants for kids using this easy tutorial for beginners. It's a beginner project with plenty of photos. And - this is what I like best - there is no need for high precision when sewing. Check it out!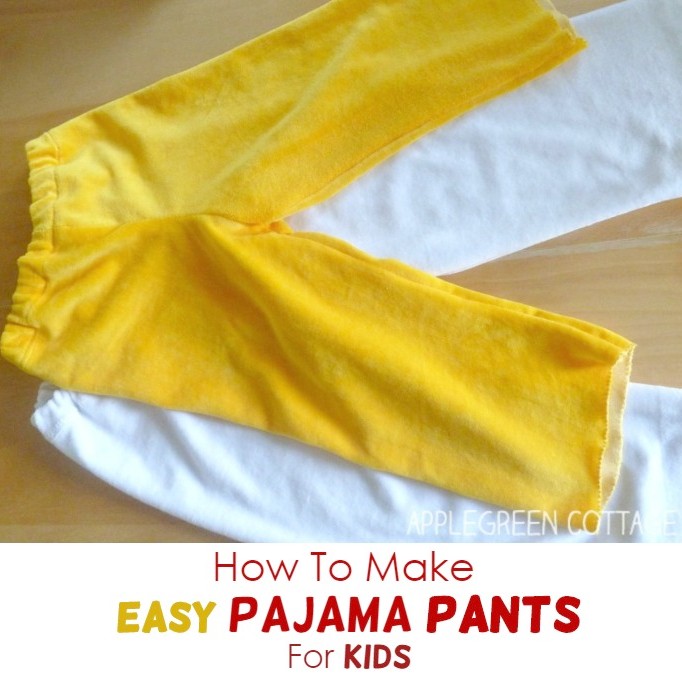 This post includes affiliate links. Thanks for your support. Looking for easy sewing projects? Check out these too:
How to Make Pajama Pants
Back to the pajama pants. I'd like to share with you how I made warm, soft pajamas for a toddler. Here is why I love making these pajama pants over and over again (and why you will like them too):
the pattern is simple,
the cutting and sewing part easy and above all,
these pajama pants can be made REALLY QUICKLY! And with busy moms, that's what often matters most. Let's get down to work.
Supplies to Sew Pajama Bottoms
You'll need:
approx. 0.5 yard x 1.5 yard of soft minky fabrics in your favorite color
sewing machine
scissors
sewing thread
some elastic for the waistband
optional: a tiny square piece of fabrics to mark the backside of the pajama pants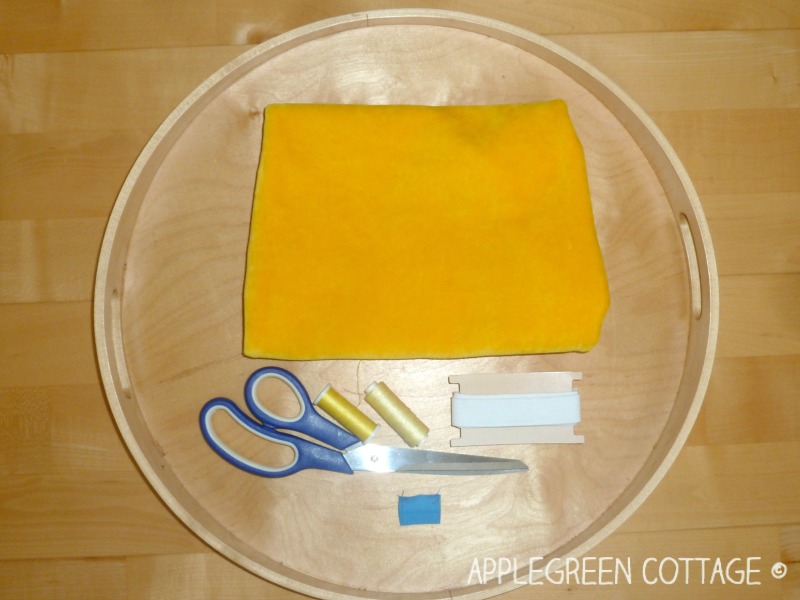 How To Make Pajama Pants Without A PATTERN:
For this tutorial, you won't need a specially tailored pattern for your pajama pants. As they need to be wide and comfortable, I'd recommend you just use one of the existing toddler's pants to trace them. When I was learning how to make boys pajama pants for the first time, I used my son's favorite sweatpants (wide and comfortable), but unfortunately didn't take pictures of how to do it.
How To Trace Pajama Pants
So you might need to search around a bit (or watch this simple tutorial for tracing the pattern from SheSaidSew - it's a bit different, but you'll get the point). It worked perfectly for me and you'll see you don't need to be very exact (yeeey 🙂 I also chose to make a one-piece pattern (not a two-piece) because it's easier.
Or, if you want a pdf pattern, you might want to check this free pajama pants pattern by Sewjereli.com - it might be good to make the pattern a bit wider if you want the same "wide" effect as seen below.
How To Make Your Own Pajama Pants Pattern - Bonus Tip
(BONUS HINT): when I had the first piece of pajama pants cut out, I also traced it to a large piece of newspaper, so I kept the pattern for more pants. It paid off, I keep using the same piece of this home-made pattern for new pajamas. (Fifth in a row at the time I'm writing this.)
how To Make Pajama Pants TUTORIAL:
Step 1 - Cut Fabric
Now, after you've traced a pair of pants, let's get down to cutting: fold the fabrics in half (right sides facing) and cut out two pieces for the pants in one go. You see that the fabrics needs to be folded (either the right sides or the wrong sides together) when cutting, so you'll get two 'mirroring' pieces in one cutting session.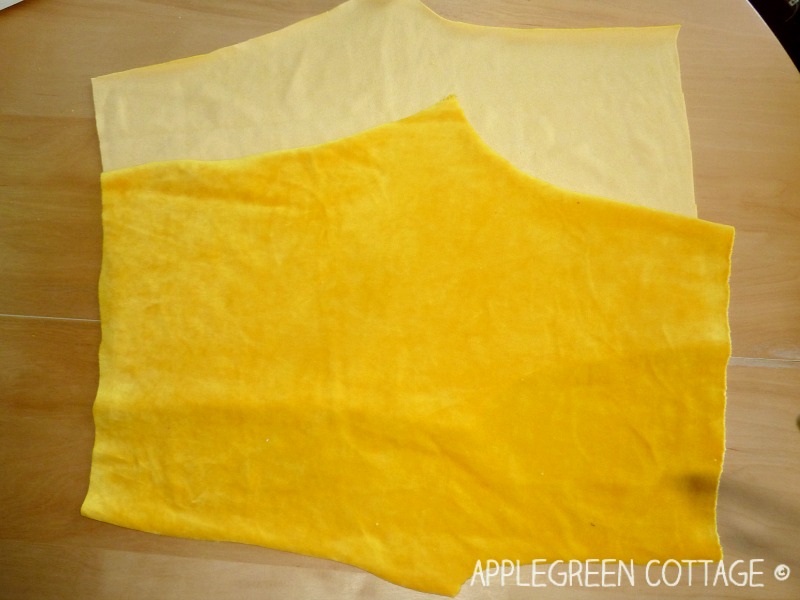 Have you noticed how the legs are nearly as wide as the waist part? Comfortable, no skinny-leg pants. They will be easy to put on and off (making it easier for your toddler to learn how to dress all by himself 🙂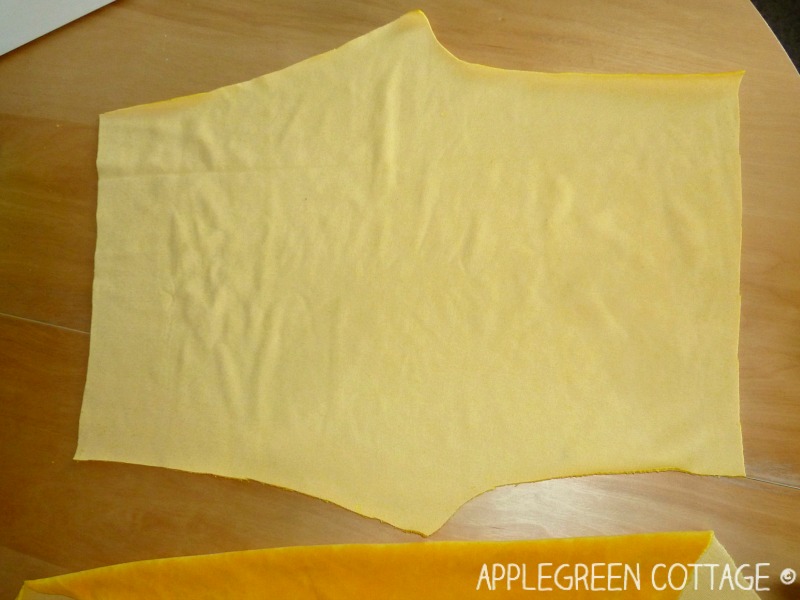 Step 2 Hem
Trim the edges using a zigzag stitch - all around the two pieces. It's important since minky will otherwise fray and you don't want to keep cleaning behind every toddler's step. (Well, I'm exaggerating, but you get the point. Do it - no shortcuts here, OK?)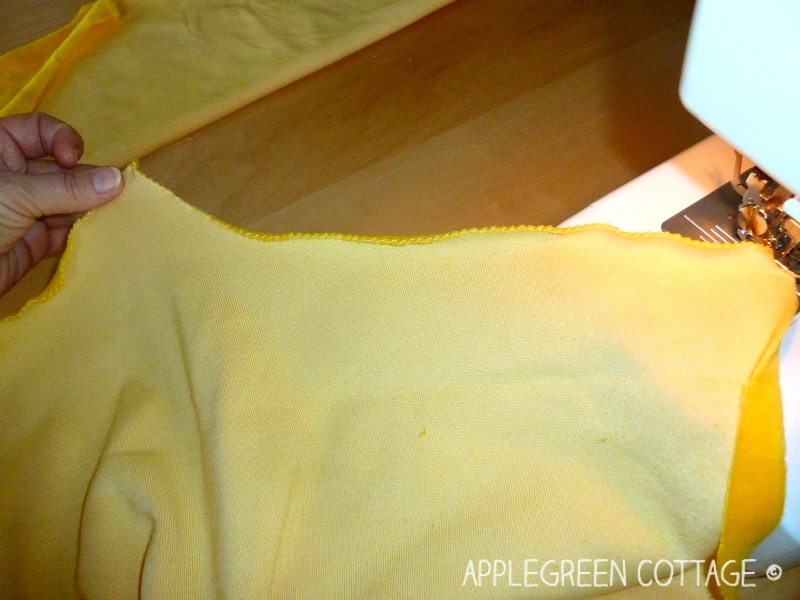 Step 3 - How To Sew The Inseam
Then fold each piece as shown below. You are about to sew the inseam. The points where the leg starts and ends need to match.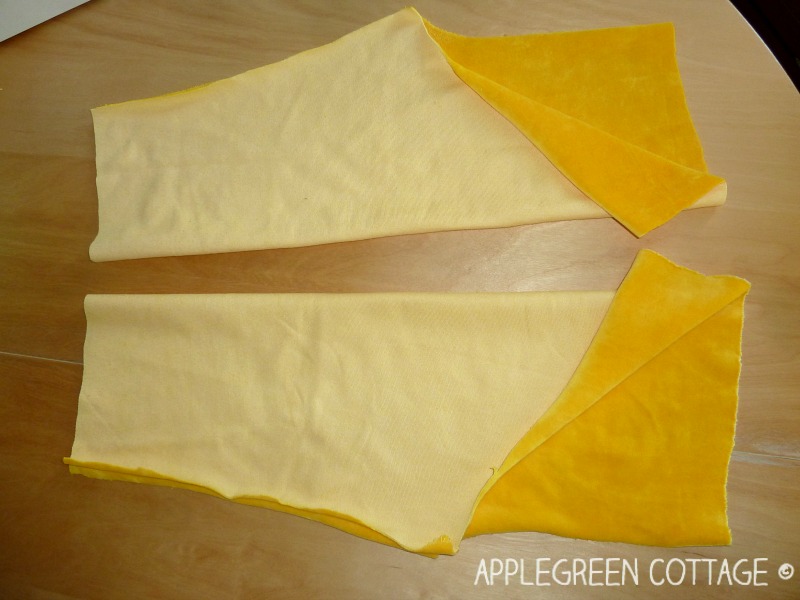 Sew each inseam part and finish the seams.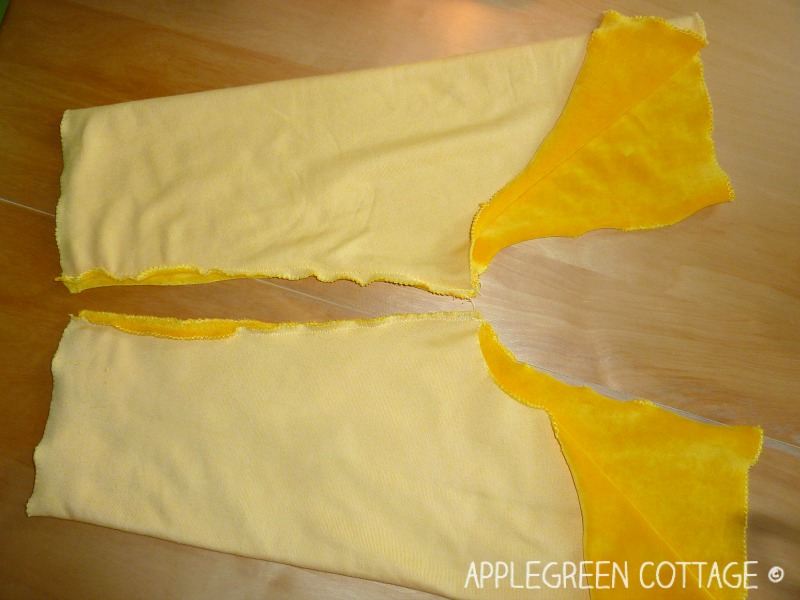 Step 4 - Sew The Crotch Part
Turn one leg the right way out and tuck it into the second part, so that the right sides will face each other. You'll get one 'tunnel'.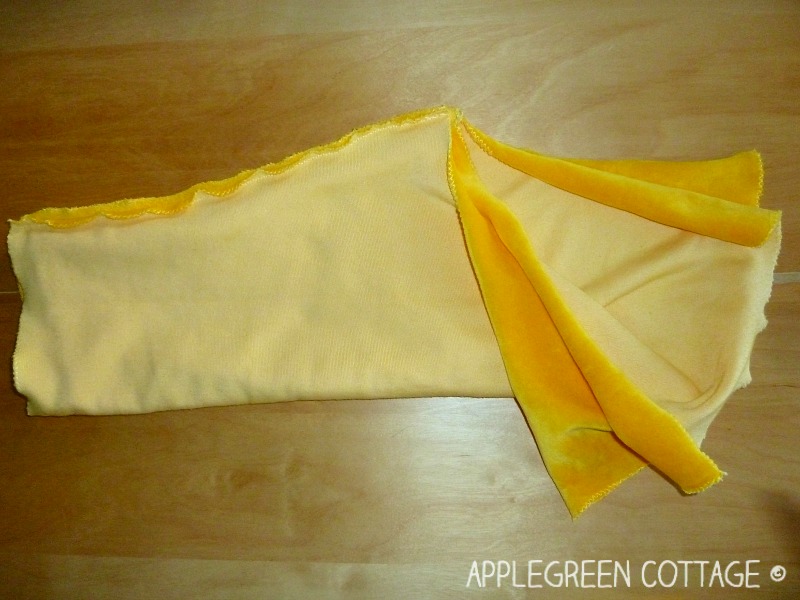 6) You are about to join the two legs together - sew around the crotch curve from back to front (breaking it up into steps: start on the back waist, then through the back crotch to the front crotch and up to the front waist)
You may first want to pin around it - in this case, take care of matching the edges and the inside leg seams.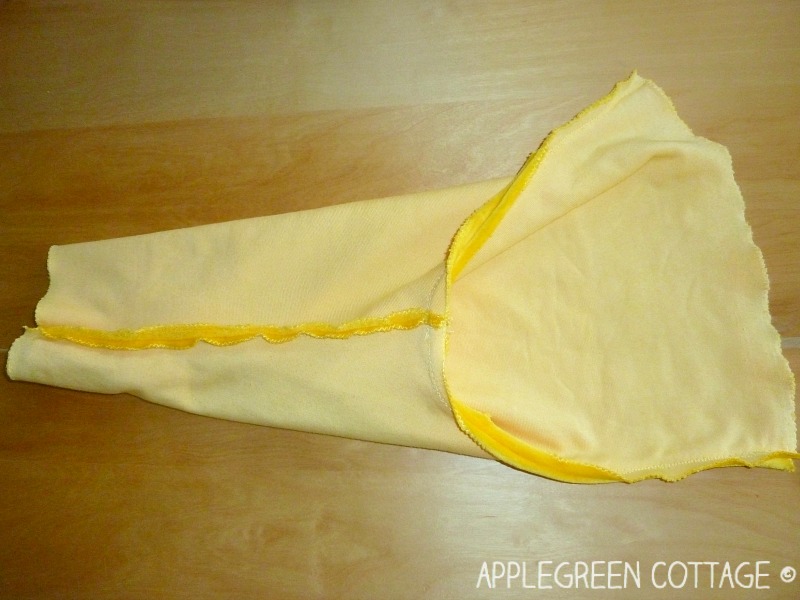 Step 5 - Sew The Pajama Waist
Turn one leg outside in and you'll get this: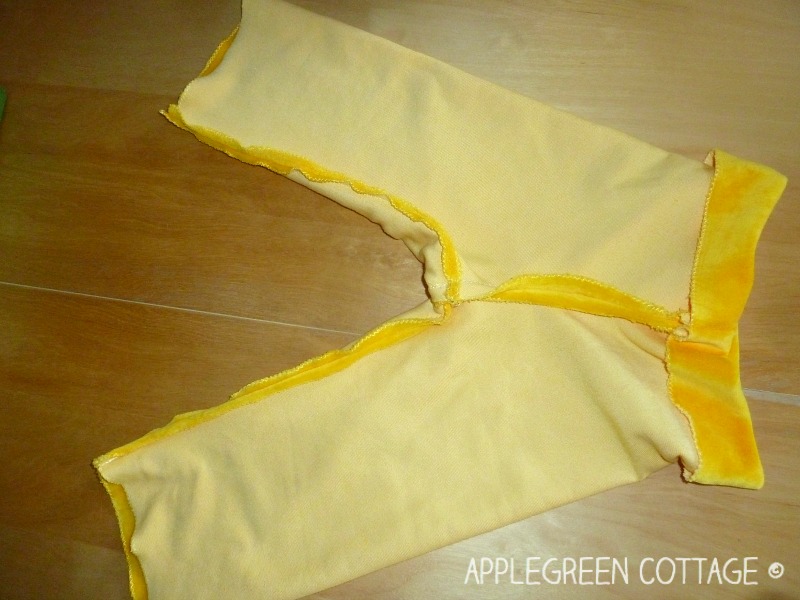 Yeey, pants! Now you still need to hem the waist to make an elastic casing - fold the waist part down and sew around - well, not all the way around. Leave a two-cm opening to slide in the elastic band.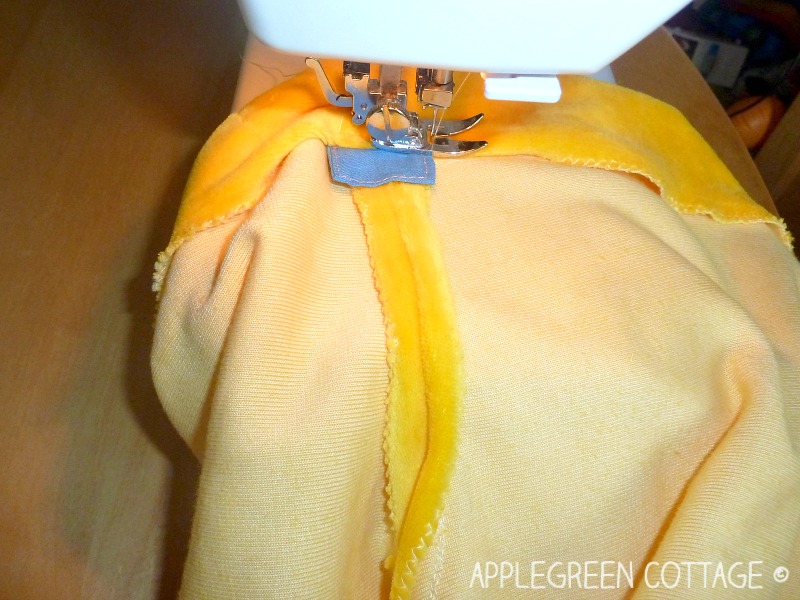 OPTIONAL: add a small rectangle piece of fabric to the back of the waist part, it will make it easier to put on - to recognize what side is back (here: blue) You'll make it easier both for you and your toddler.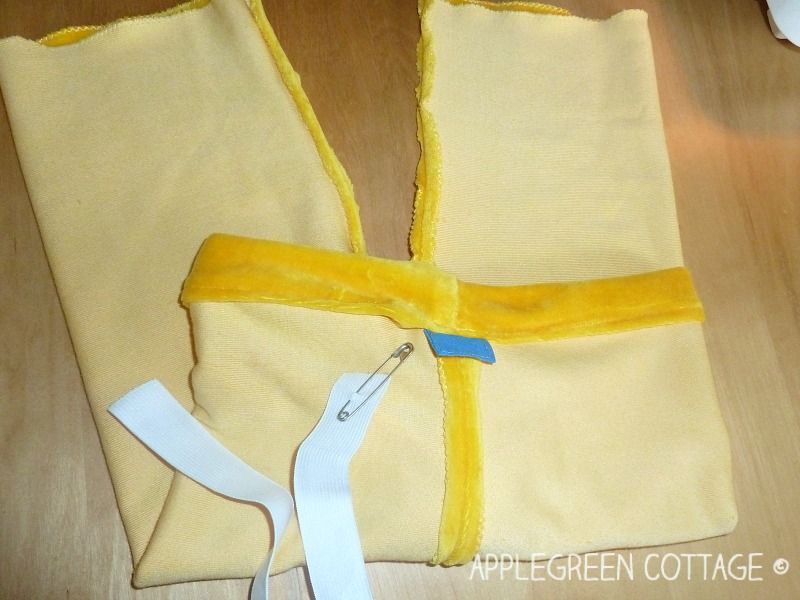 Step 7 - Add Elastics
Use a safety pin to guide the elastic band into the casing and when the elastic is inserted, bind the two ends together (I sew them together, but you can also just tie the two ends).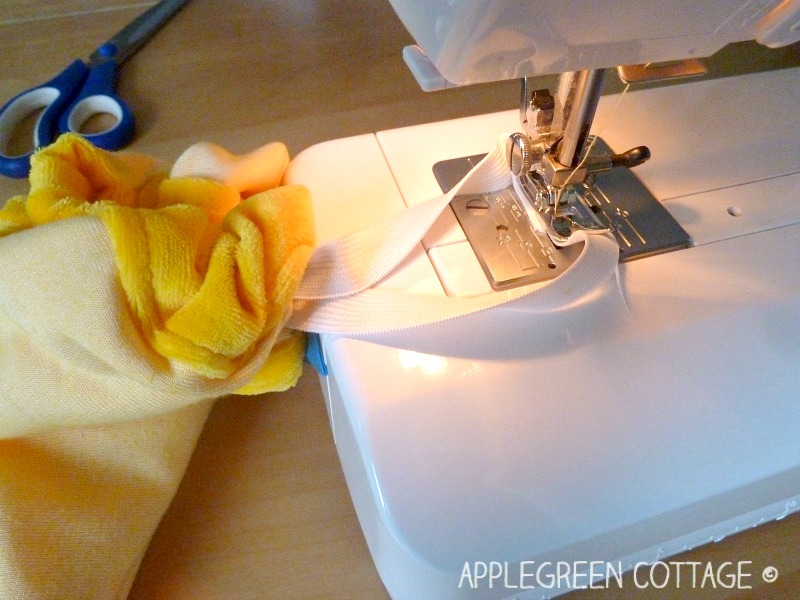 Aaand DONE!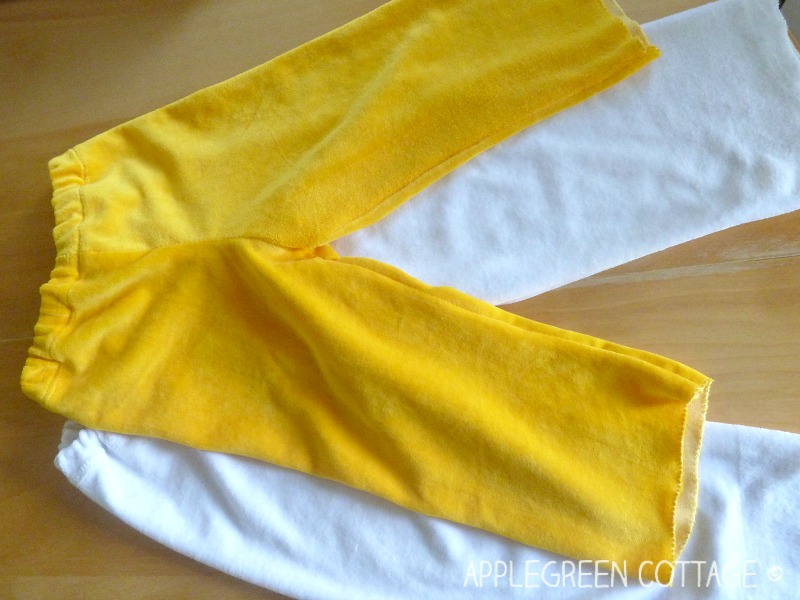 At the moment I'm writing this, my kid has started using the fifth pair of pajama pants that I made using this pattern. You may think I quite like it, and you're right! Now, give it a try yourself and let me know how it went!
Want to make a cute matching bib (really easy)?
If some fabric scraps are left, you can easily make a matching bandana bib, like I did. You'll find a beginner-level BANDANA BIB TUTORIAL here. (A free pattern included.)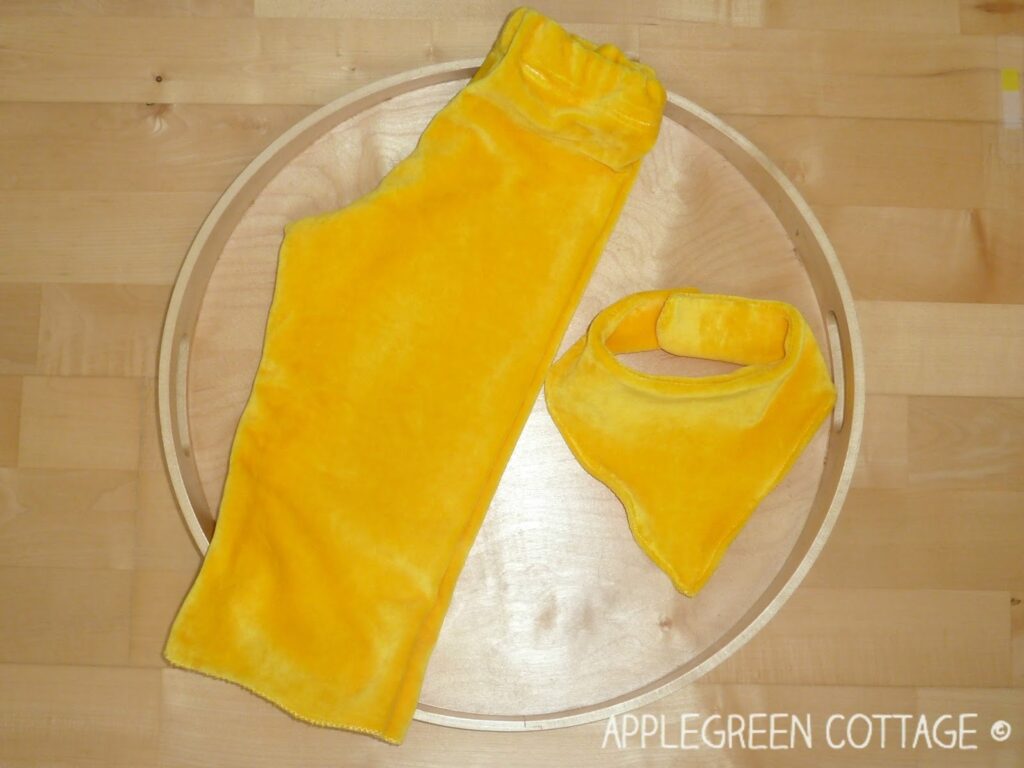 Save this free sewing project for later: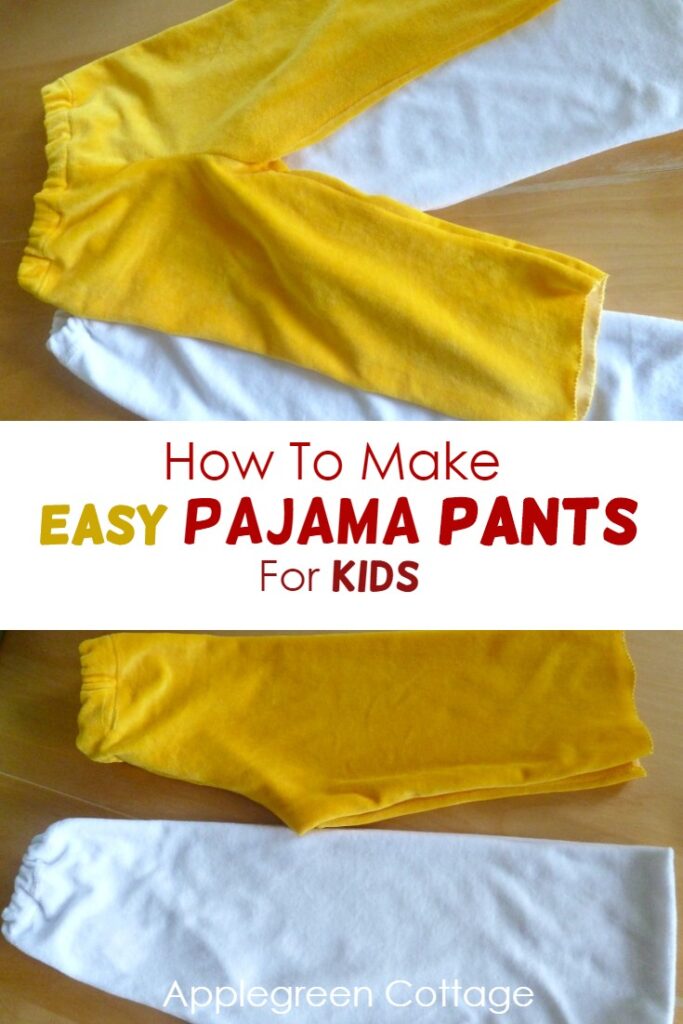 WANT MORE FREE TUTORIALS AND PATTERNS?
Get email updates and never miss out on new patterns, printables, and tutorials:
Also, check out this cute earflap beanie pattern in our shop: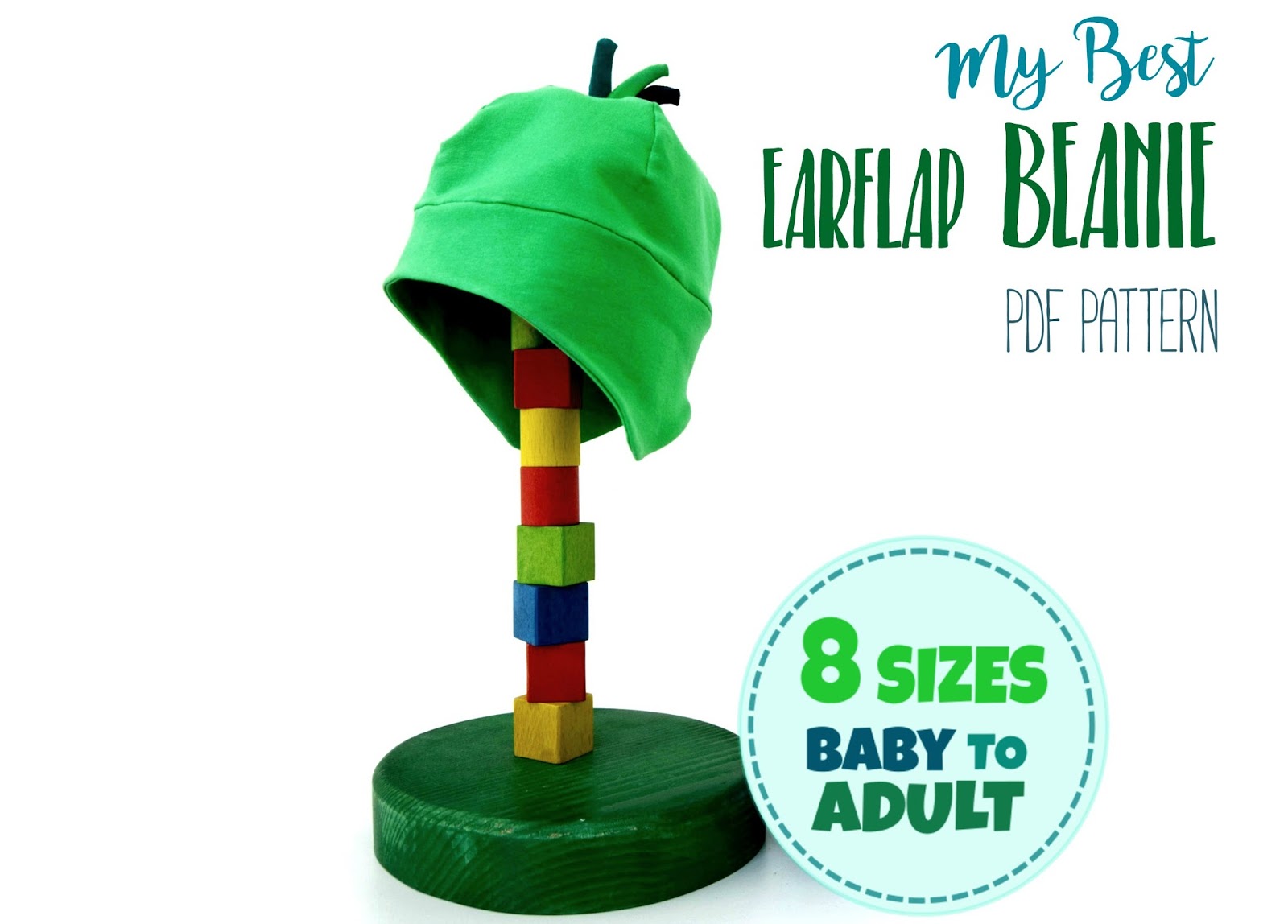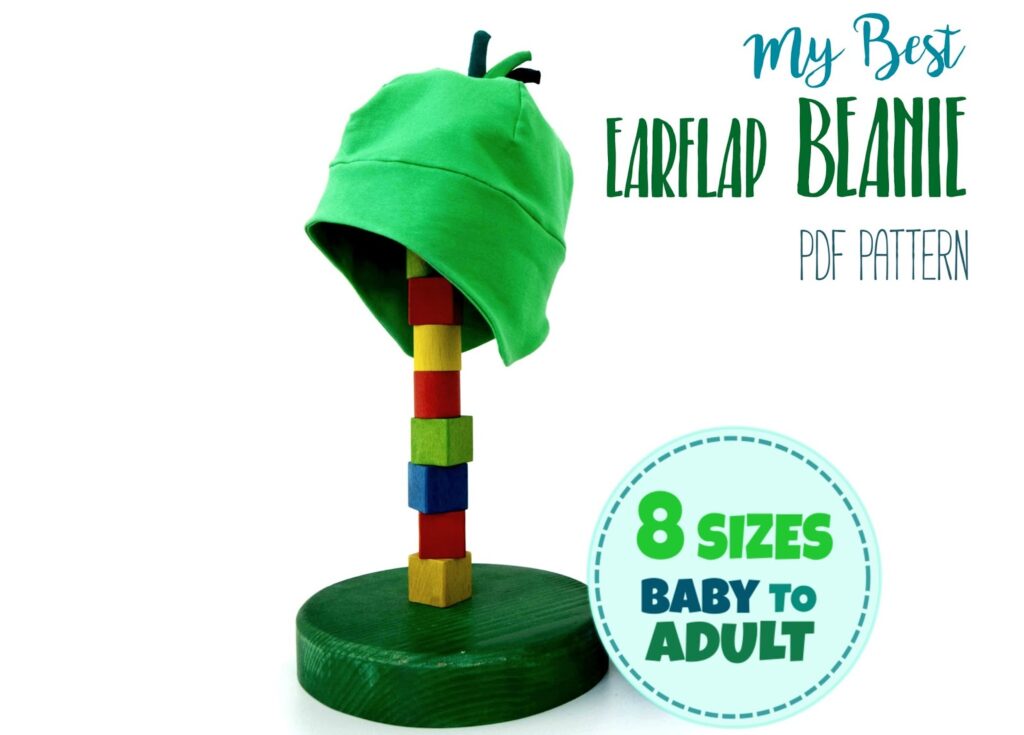 An excellent choice for everyone who has children and would love to see their ears protected in the fresh fall (or spring) wind.