Make a diy fleece scarf that will never fall off. See why not - and learn how to sew one!
This diy fleece scarf is breathable, lightweight, soft to the skin, and comfortable to wear. And you don't need to pull it over your head when putting it on. This is what makes it a great diy scarf for babies, and older kids and grown-ups will love them too.
This scarf tutorial has a secret ingredient you'll want to try out!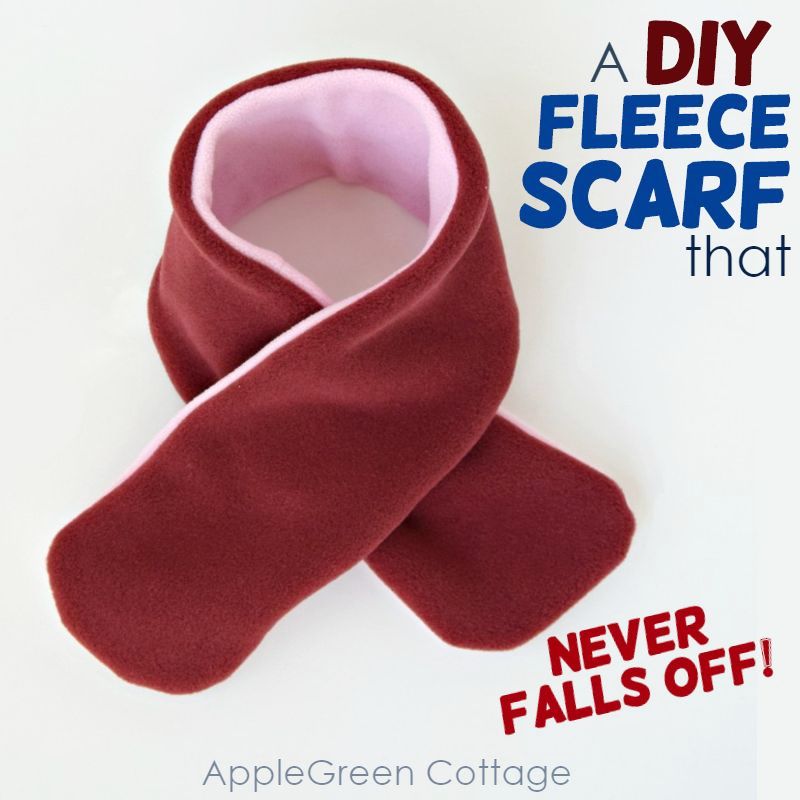 This post contains affiliate links. Thanks for your support. Are you here for diy scarves? Check out these too:
If you're here to sew for kids - I've just released this baby sewing course. For a limited period, you can join for free!
This fleece scarf tutorial makes a great gift idea for the winter months. It will neither require a lot of material nor time.
It makes a great accessory for toddlers you can mix and match with a diy bandana bib like this one - one for warm weather, and the fleece one for winter. Not just for kids though!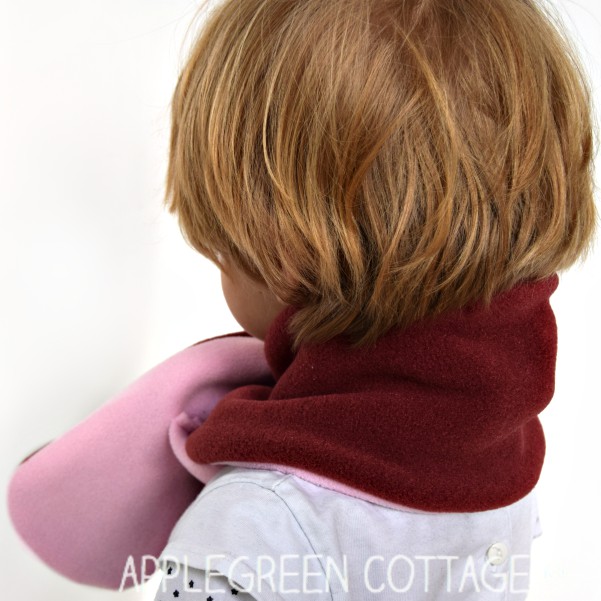 Diy Fleece Scarf
Now, let's make a nice little diy fleece scarf. Actually, this one was made for my toddler daughter, but you'll want to make them in all sizes once you see the smart addition to it. First, feel free to check out the slideshow video I made for you:
Supplies
Now, let's see what supplies you'll need.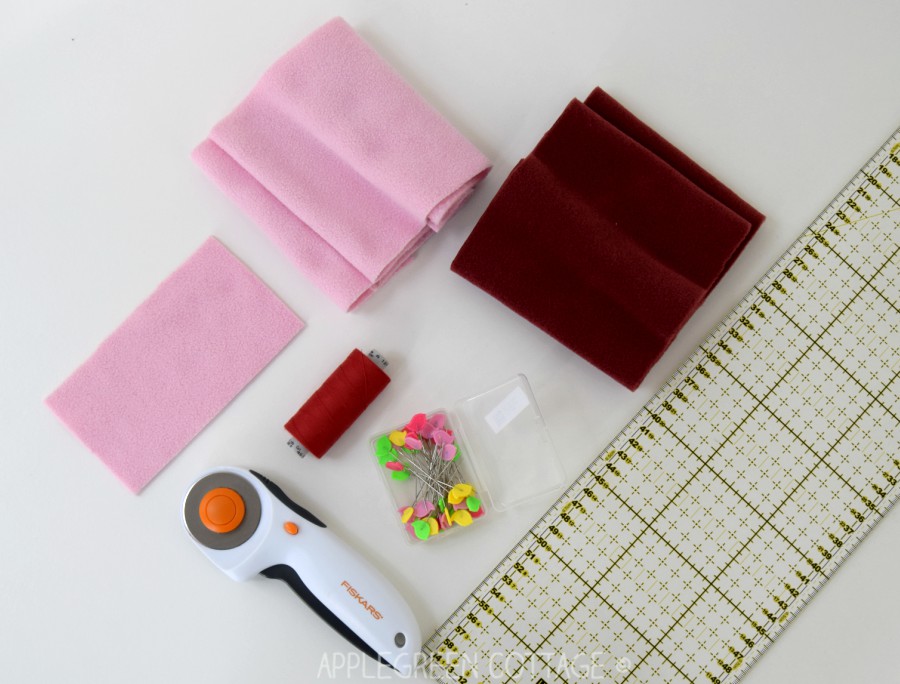 2 contrasting or complimentary-color pieces of fleece, dimensions 30" x 5" per piece (76cm x 13cm)
1 piece of fleece (same color as the backside of the scarf) - 4 ½ inches x 3 inches (12cm x 8 cm)
ruler, scissors, or rotary cutter + cutting mat
matching thread, pins
I also added an option for how to make a fleece scarf with fringes, please see the tips at the end of this tutorial. In the case of a fringed fleece scarf, you'll need a bit longer pieces of fleece than indicated in teh supplies list above, say by 5 inches each of the 2 larger pieces. (recommended but not absolutely necessary)
What Scarf Size to Sew?
I've made this diy fleece scarf to fit a baby. You can easily adjust it to fit any size.
As you'll see, it's all about simple rectangles. To make it easier for you, I'll just show you what dimensions I used:

These will work for a baby and toddler size. And if an older kid happens to need a bulk-free way to protect just the neck - this is the same dimension you should go with for them, too.
But if you need to cover the chin up to the nose, I suggest you go with the neck-warmer version here:
How To Make A Fleece Scarf
Cut the fleece
1) Once you've decided on the required size, grab your scissors, or even better, a rotary cutter, and the ruler. Cut 2 main pieces and one small strap piece. You don't need to add any seam allowance, it's already included.
We'll start with the small piece, the stay-put strap holder: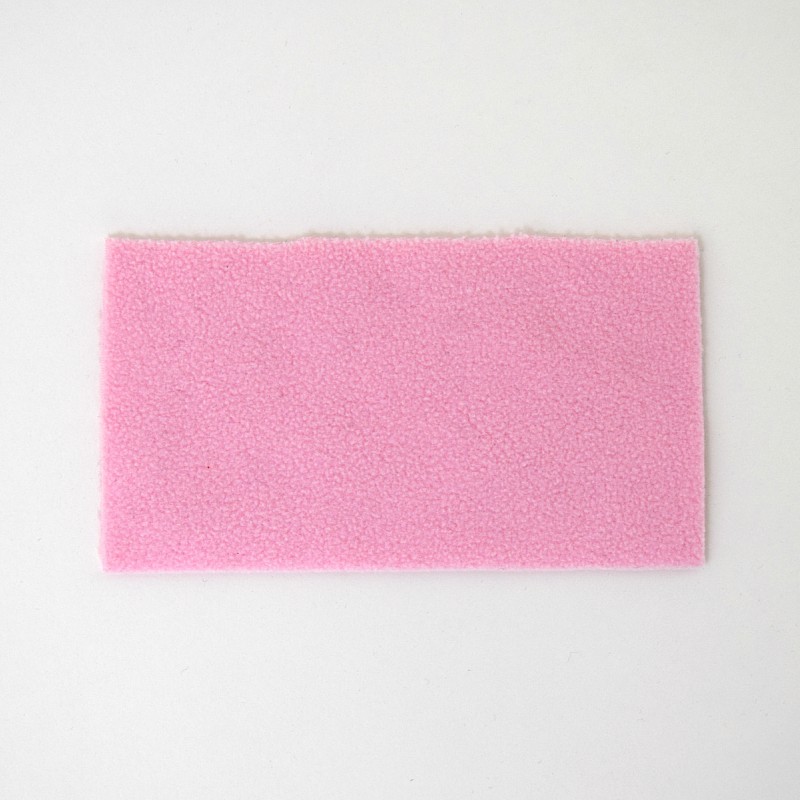 Sew And attach the small strap
2) Fold it along the long side, right sides together (if you have a right side).
My piece of fleece does have a right and wrong side: I noticed it only after prewashing the fleece.
3) Turn right-side-out and move the seam to the center, like this: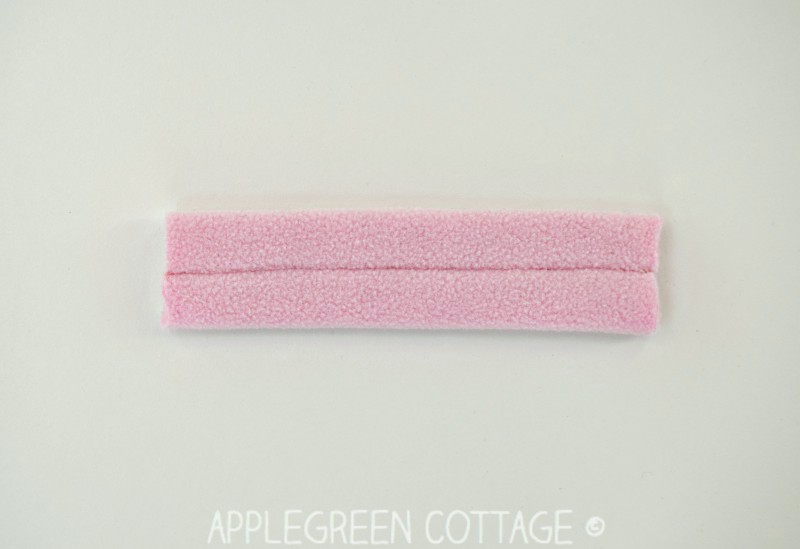 4) Take one of the larger pieces, the one that will form the backside of the baby scarf. Place the strap on it, taking care to keep the seam facing up - later on, we'll flip it over, so it won't be visible anymore.
Also, one end of the flap needs to be 9 inch away from the end of the main piece. See the image below.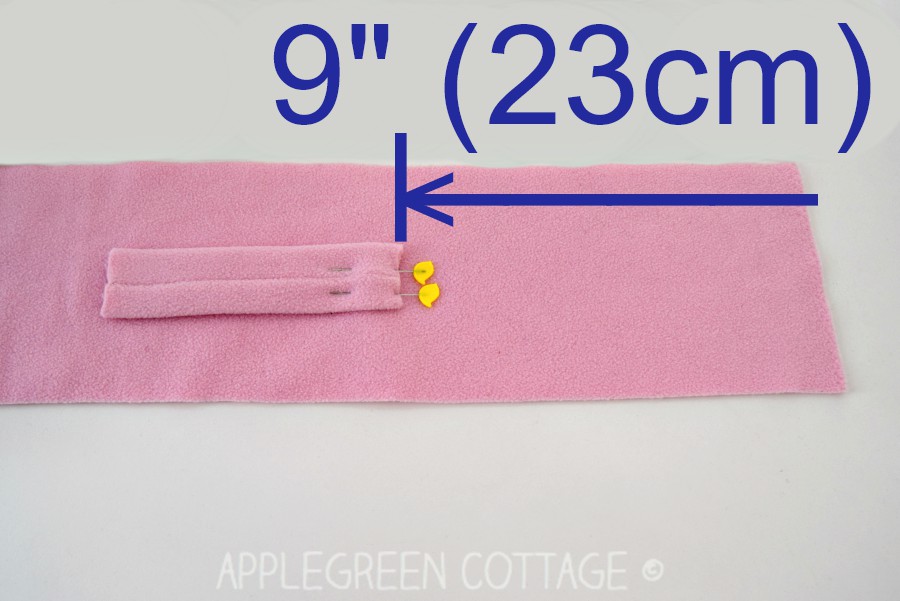 5) Pin and ..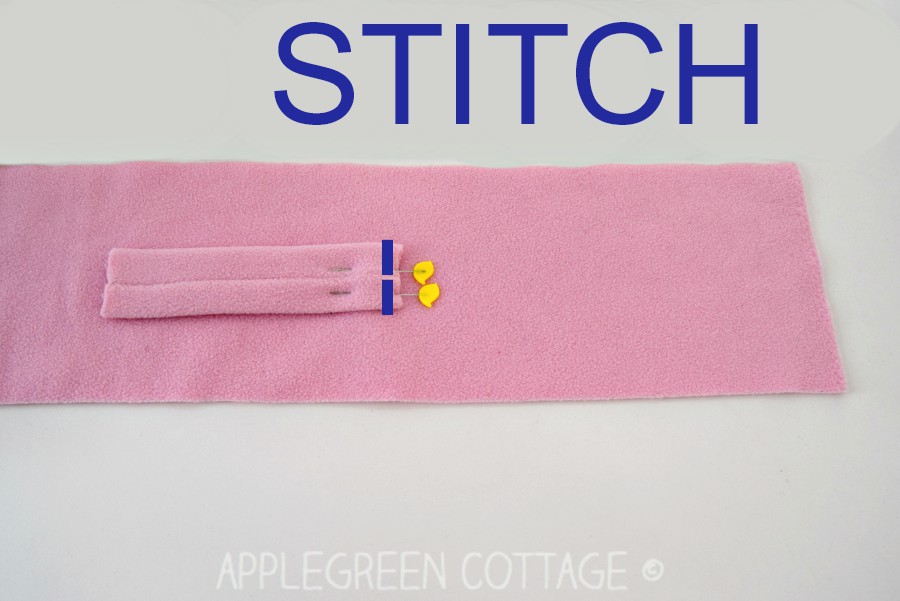 ... stitch in place.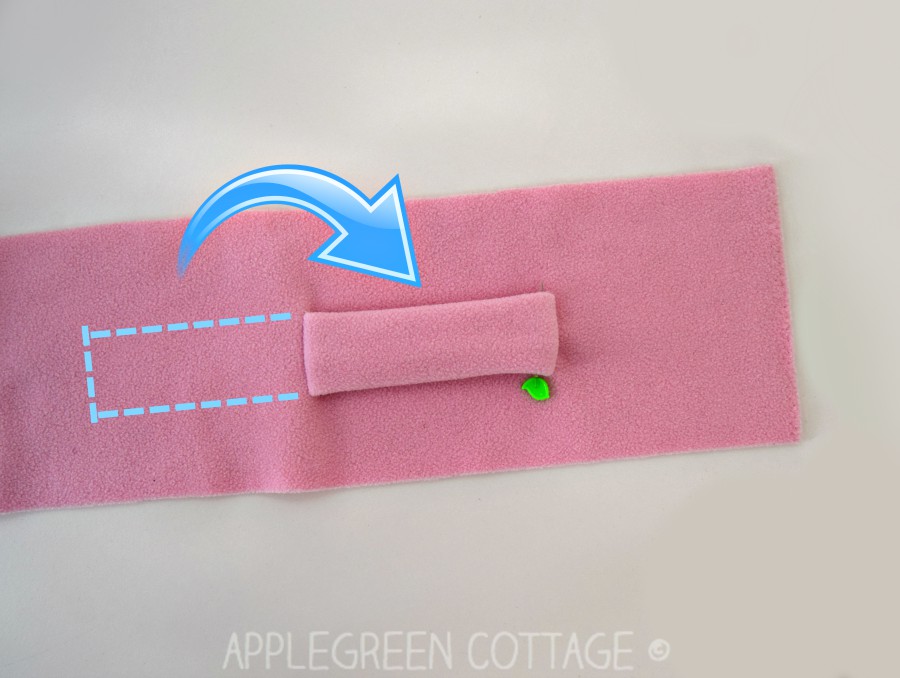 6) Flip the strap over towards the outer end of the scarf piece, and pin in place. The center seam is not visible anymore. Now you'll attach the other end of the strap, and you have two options:
a) topstitch over it, as marked below: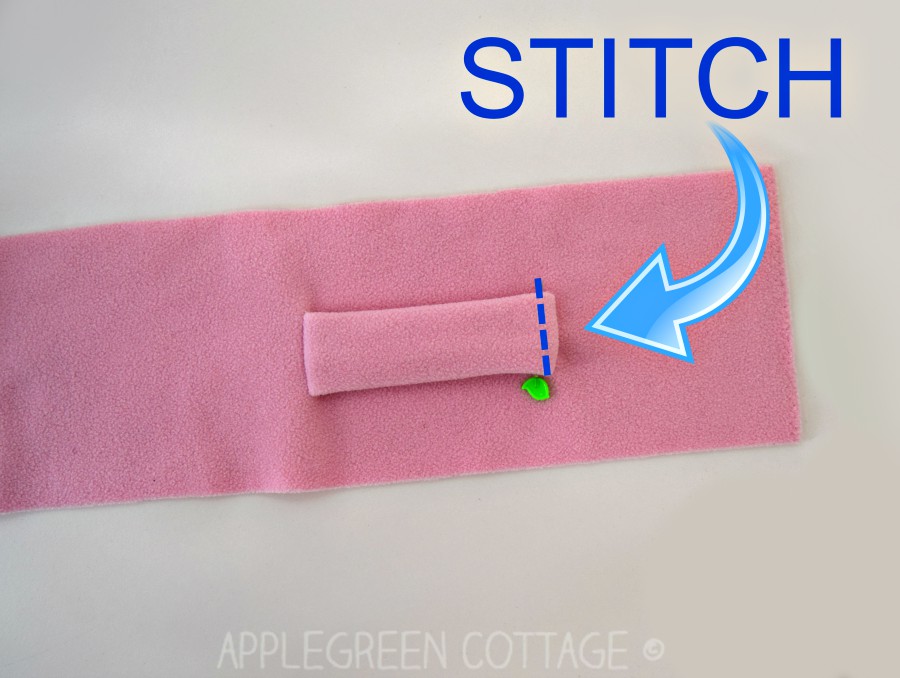 or b) machine stitch by going below the strap. It is easier than it looks like, and I prefer it this way.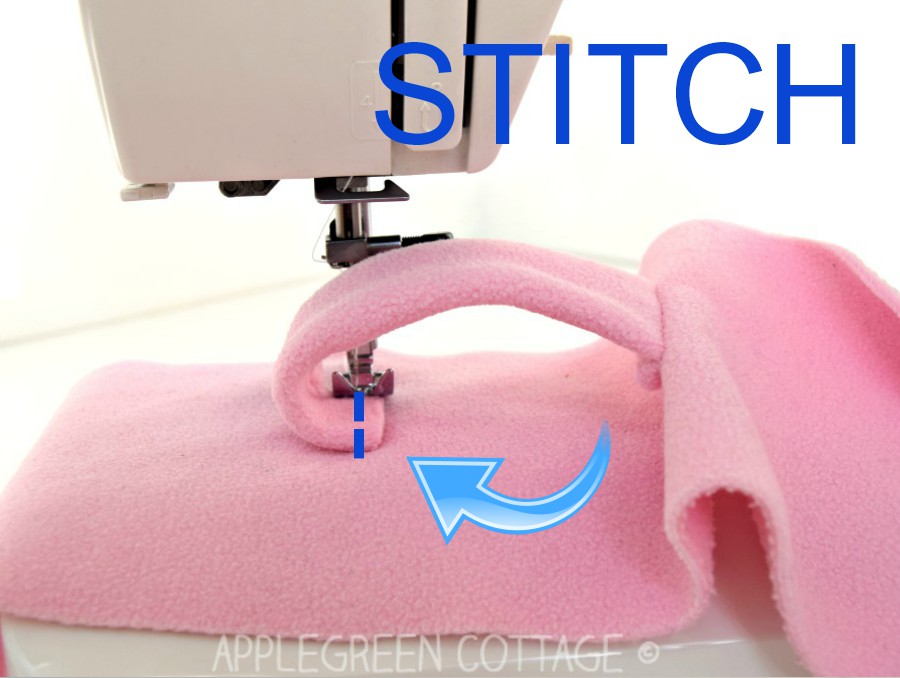 7) Strap attached: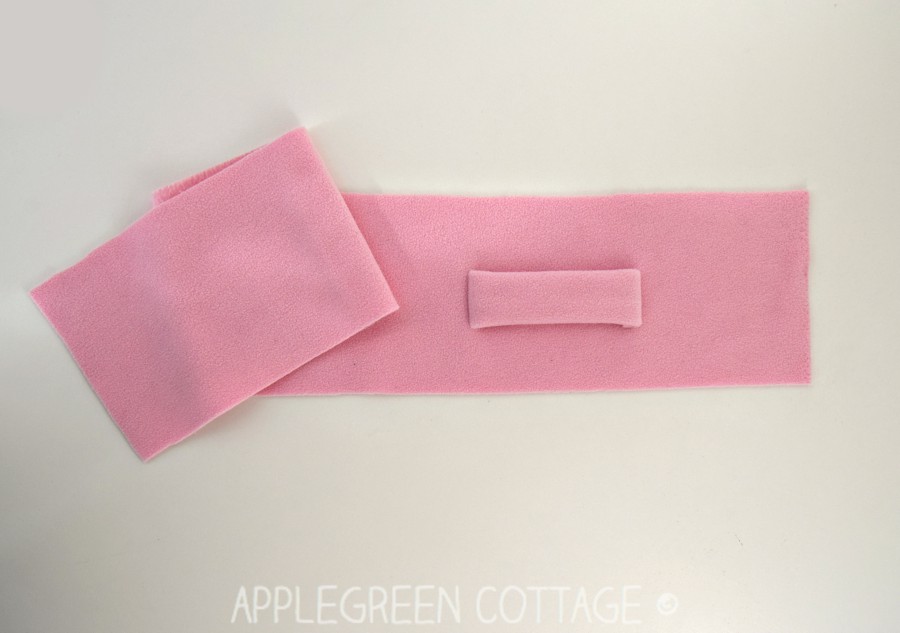 Sew the main 2 fleece scarf pieces together
8) Place the 2 main pieces right sides together: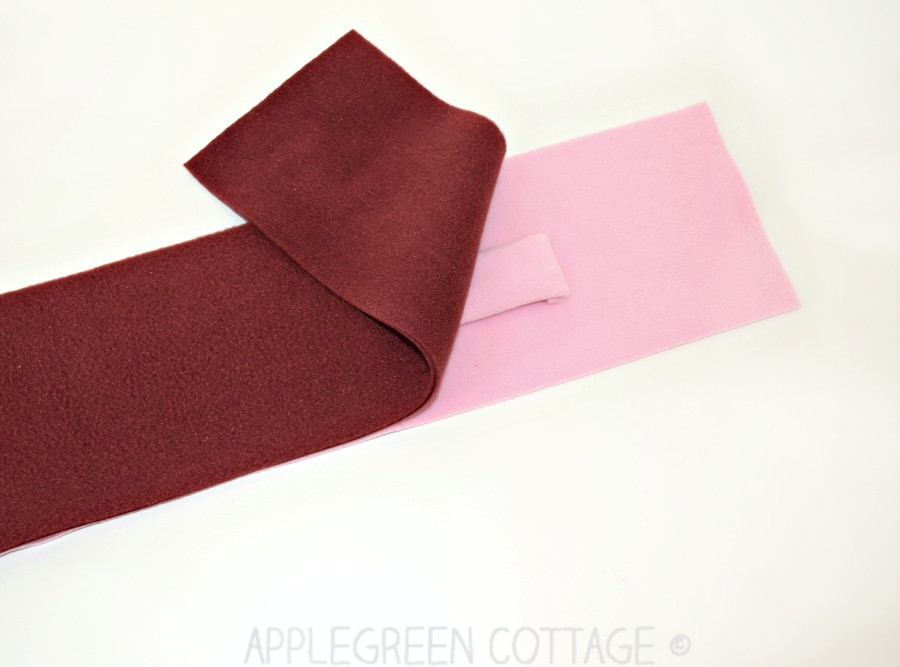 9) Pin and stitch around, leaving an opening for turning.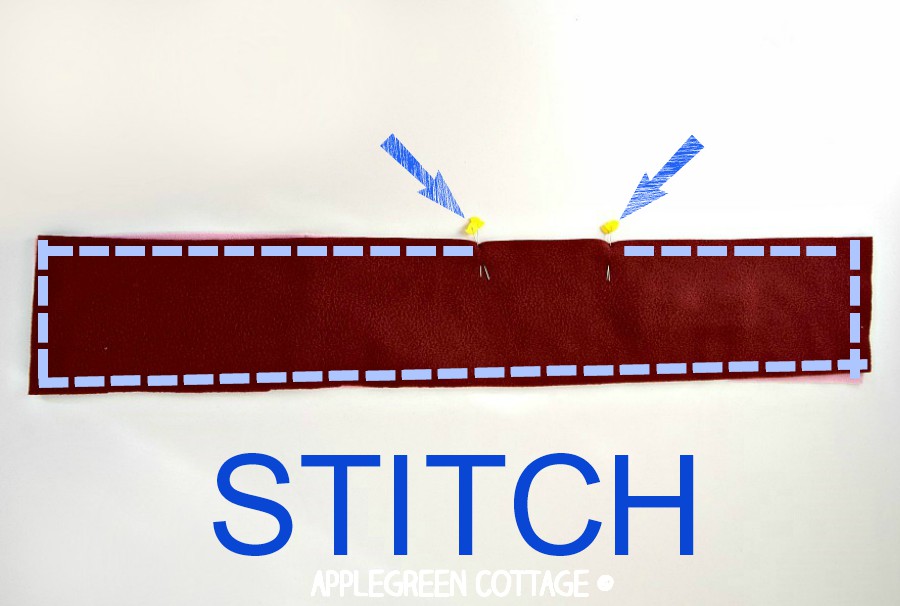 I used a narrow zigzag stitch to keep the seam flexible.
10) Optional: you can make rounded ends instead of rectangular ones. I did, and it looked like this:
12) Notch the rounded portions, or clip corners if you left them square. This quick sewing tip will help you.
Turn the diy scarf and finish the seam
13) Turn inside out through the opening.
14) Stitch the opening closed.
I usually hand-stitch it shut, because it's easier than trying to catch the fleece layers on a machine. See how to sew the ladder stitch when hand-stitching, stitches don't show at all.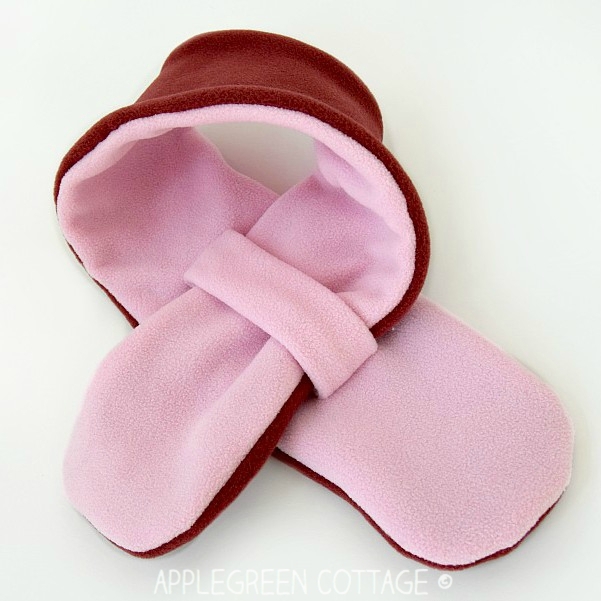 15) Done!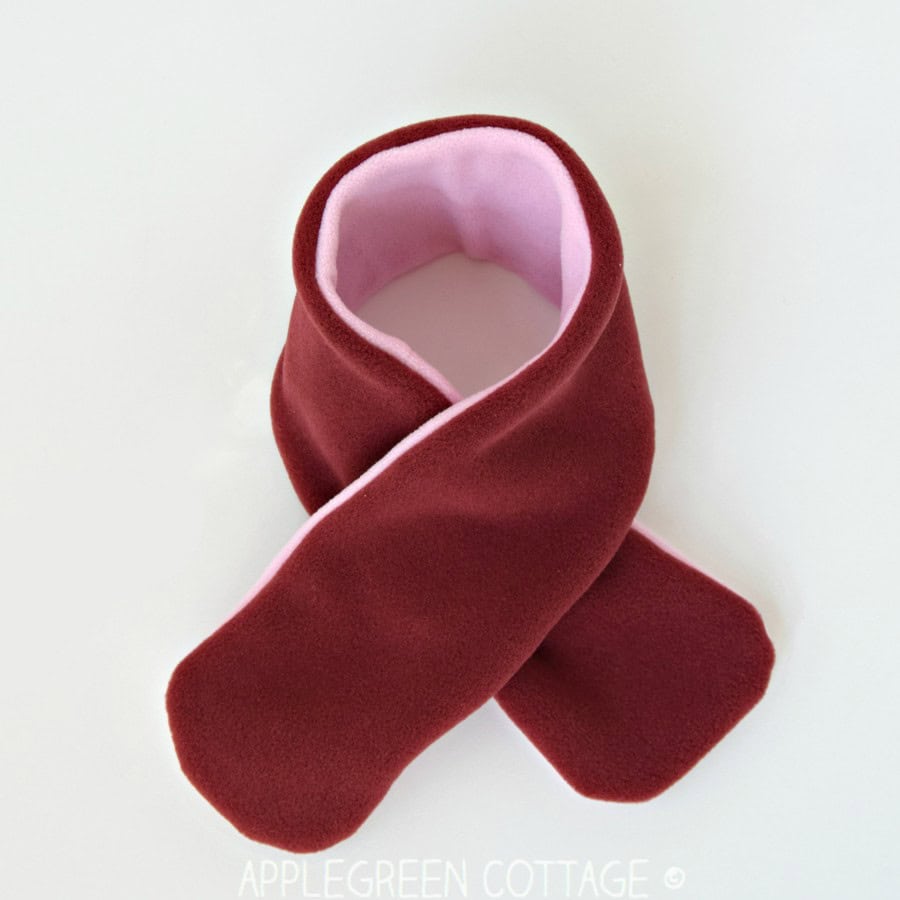 While I prefer the cowl version of our homemade scarves, I'm certain that a baby would vote for this one, as there is no pulling over the head involved. Some babies can't stand onesies or pullovers or any other type of garment actually being pulled over their little heads, and this stay-put scarf seems to be a great solution for the cold winter months.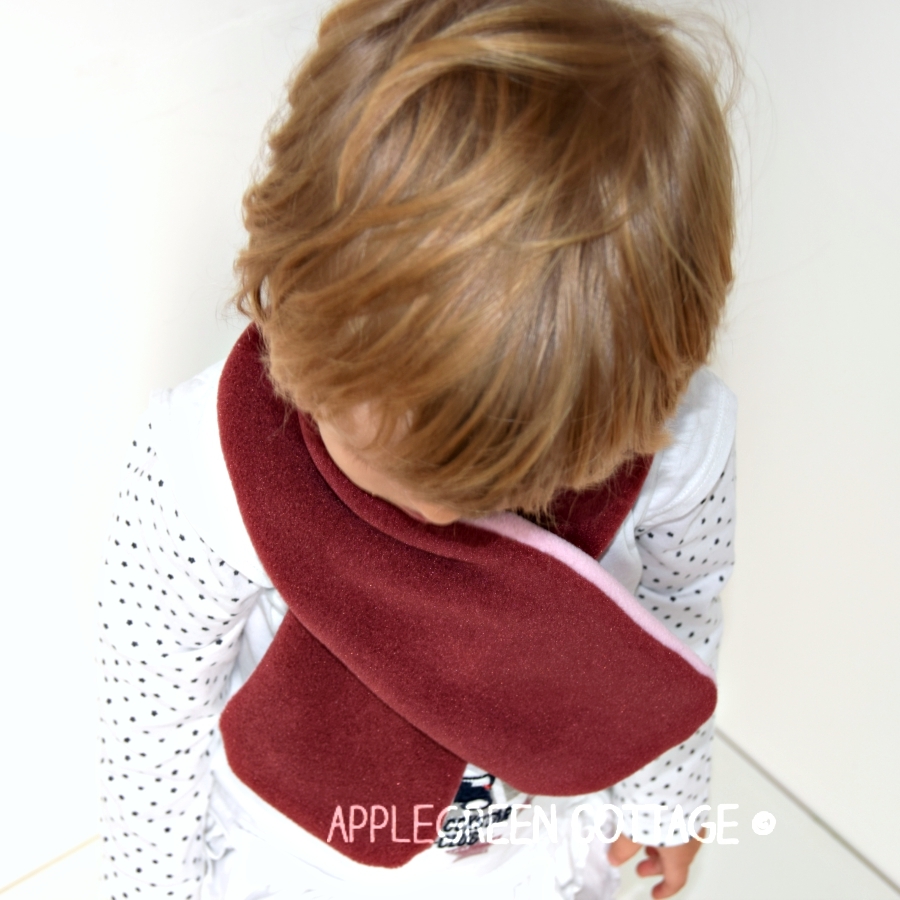 Though I said it's a baby scarf, it is well suited for toddlers, as well as for older kids, too. Due to the easy use, my daughter enjoys putting it on and pulling one end through the strap. Going out with kids during winter? Never a problem to put on this fleece scarf!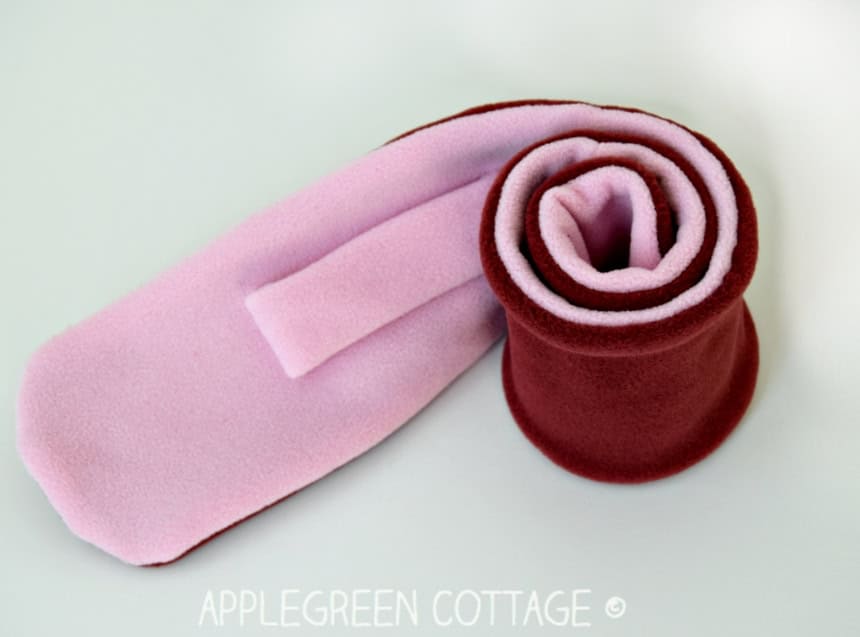 This little strap will hold the scarf in place. Works great!
Optional: A diy fleece scarf with fringes
Do you want to add fringes to your fleece scarf? I'm adding an option for how to make a fleece scarf with fringes while keeping it a double-layer scarf. Please see these tips:
NOTE No 1 on supplies: In the case of a fringed fleece scarf, you'll need a bit longer pieces of fleece than listed in the supplies above, say by 5 inches for each of the 2 main pieces (recommended but not absolutely necessary)
NOTE on the SMALL STRAP: if you cut the fleece longer by 5 inches as recommended, then the little strip that holds the scarf in place should be placed (not 9", but) 11 inches away from the short end.
Sewing Step
When you make a fringed fleece scarf using the above method, the only change would be in the sewing step: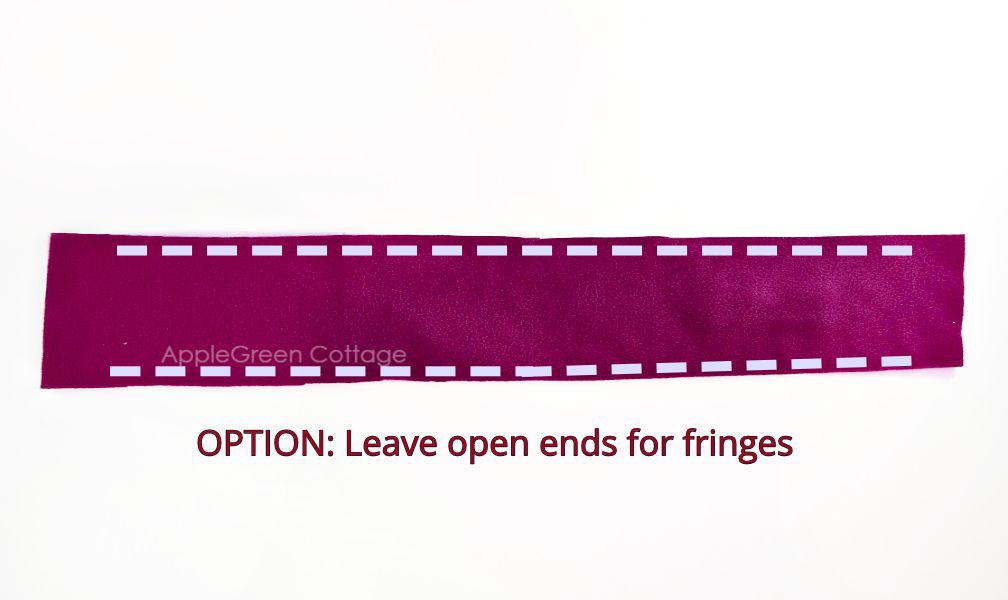 once the strip is attached and the 2 main scarf pieces placed with right sides together, you'll just sew 2 straight seams along the 2 long edges, as marked in the image above.
Turn the tube right side out and cut the fringe on each open end: a series of 3-inch long slits along the short ends of your fabric, ½ inch apart.
Pull the fringe. Take each fringe piece and gently pull it to stretch it out. This will create a nice, soft edge for your scarf. Double-colored!
That's it! Your double-layer fringed fleece scarf is now ready to wear.
Best of the two worlds: a fleece scarf and a neck warmer set!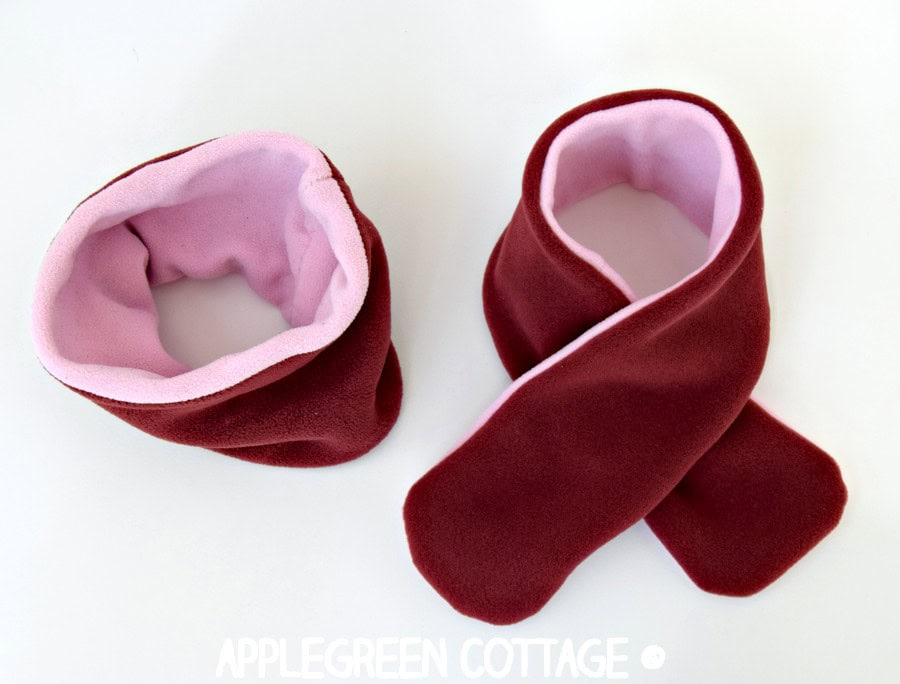 What you see next to the stay-put fleece scarf is my last year's cowl neck scarf I made for my daughter then. Feel free to check out the tutorial with the free 3-sized template included. The largest one is suitable for adults, too!
Feel free to check it out here.
Oh, and while sewing, don't forget to make a few super easy diy pocket hand warmers - use the 4 free templates to keep your hands all toasty and warm.
Save for later: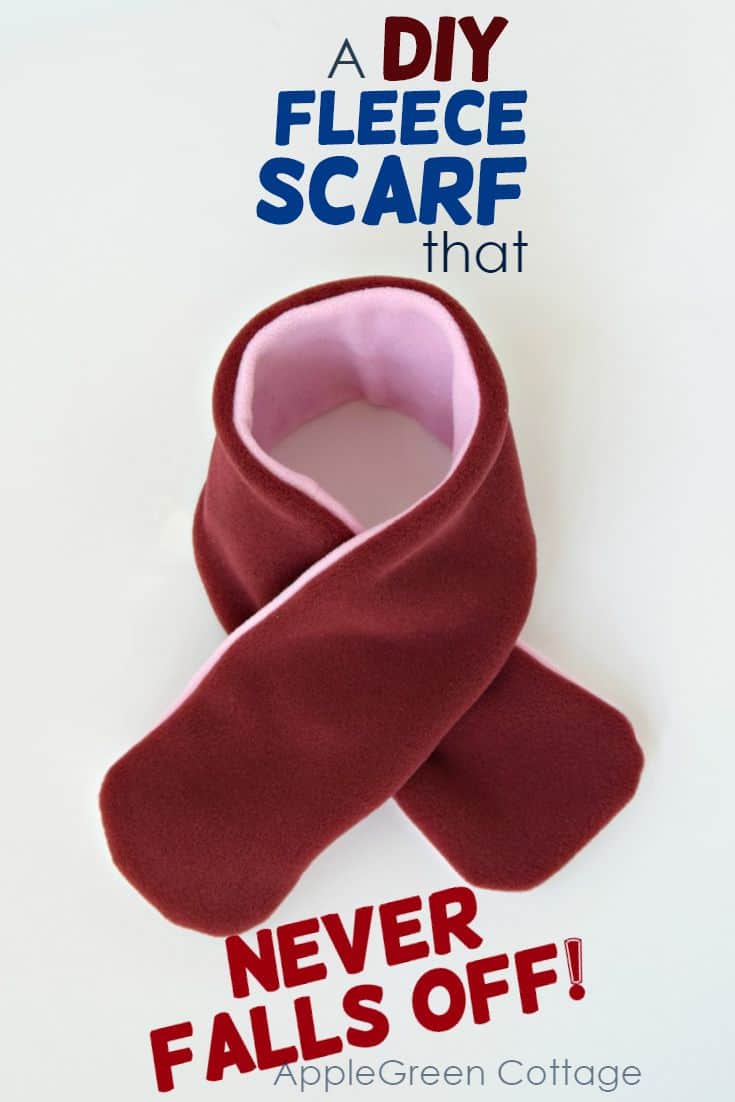 This post is part of the FREE BABY SEWING PATTERNS series on this blog. Make sure to grab ALL of the free baby sewing patterns on this site: