Make a beautiful mug rug using this easy mug rug pattern. Make sure to download the free heart appliques to make sewing even easier, and your diy mug rug even prettier.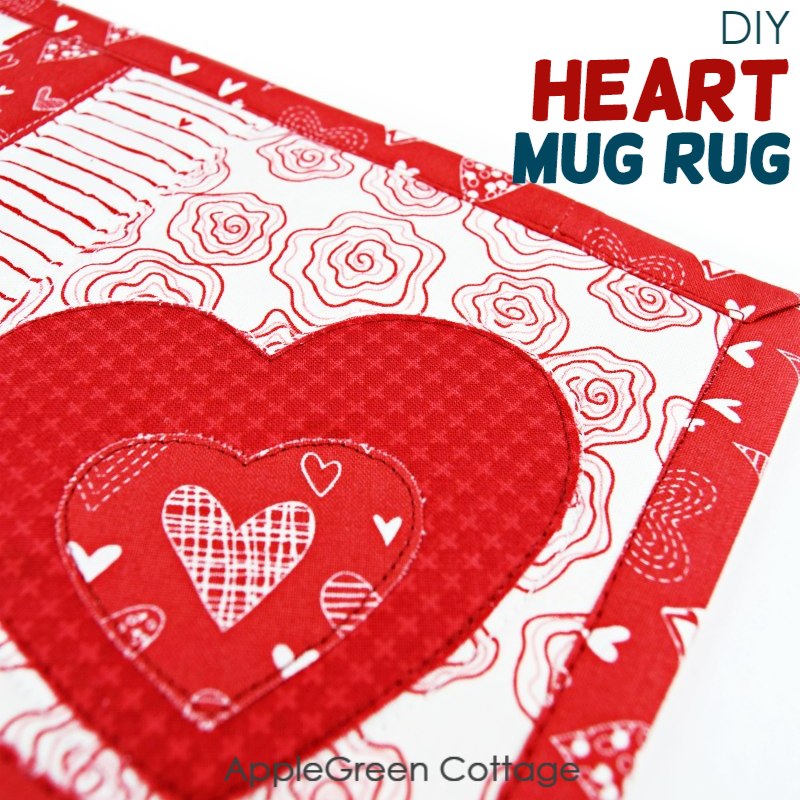 Now, more than ever, we all need love in our lives, right? And if you can't meet with all of your loved ones, family, friends, in person, maybe sending a little handmade item by post to someone you love could make a day brighter. No matter whether you celebrate Valentines, Galentines, or something else.
Sew up this free mug rug pattern this weekend and send on Monday - just on time! It fits into an envelope, is easy to send by post, and can be squished with no harm. PERFECT (NEW) diy Valentines gift to send to someone you love! (And you can even add one or two more from this Valentines projects page.)
Use this new tutorial that can help you do just that:
Mug Rug Pattern
Today I'd like to show you how to make an easy strip-pieced mug rug, and I added two pretty and easy heart appliques as embellishment. You can do the same, or skip the applique if this is your first mug rug you're sewing.
Or if you like quilting but not so much the binding part, take a look at this other quilted mug rug tutorial - you'll love it! But first, save the project for later to Pinterest using THIS link or the image below: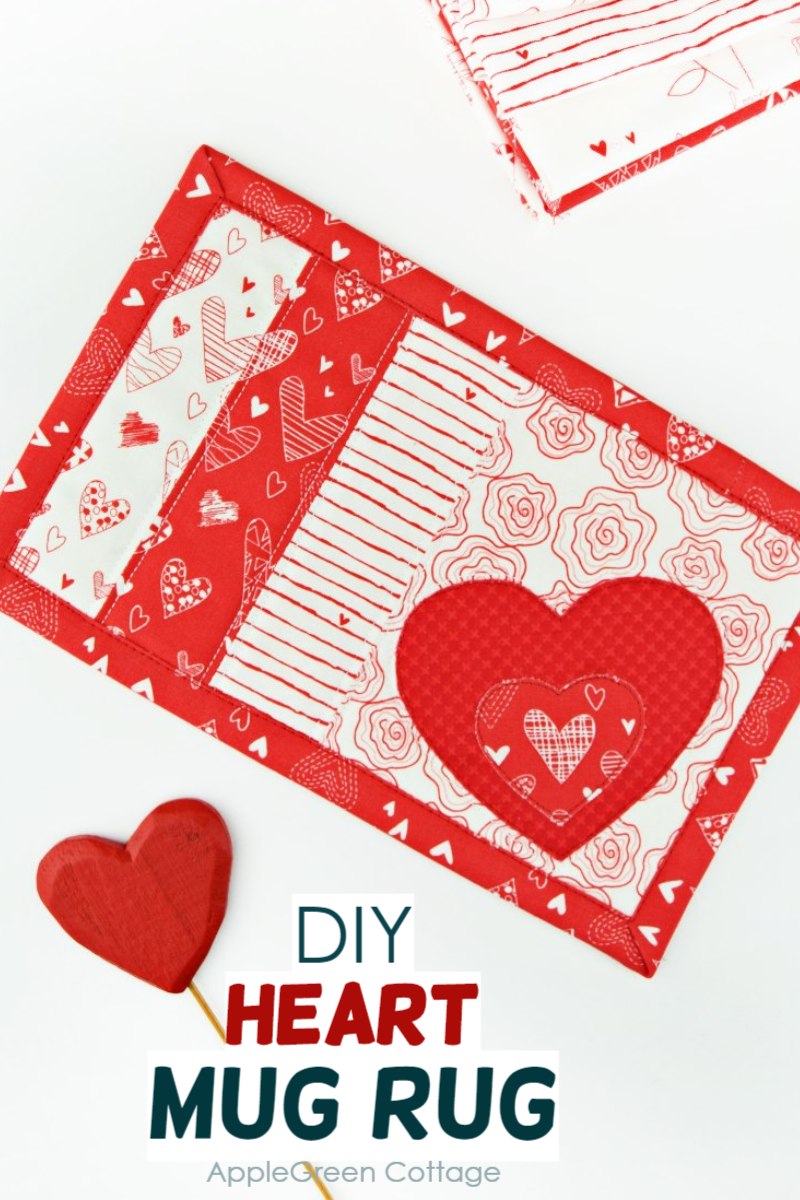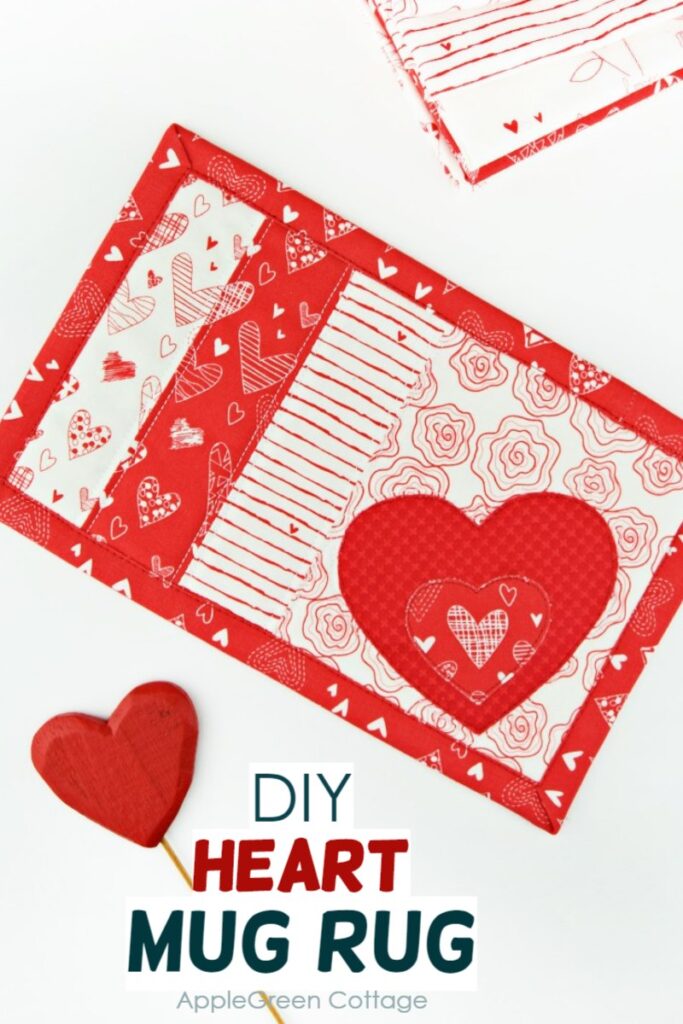 What is a mug rug?
Also called a coffee mug rug or a mug mat, a mug rug is a perfect spot to put a cup of coffee or tea and a cookie or two. It's a rectangle sewn with fabric and a batting layer to not just make your space prettier, but also to protect the table or desk surface from any spills from the coffee/tea and cookie crumbs.
Comparing a mug rug vs coaster, a coaster is usually smaller and will only hold one glass or cup. And what a great way to use your scraps!
Supplies to Sew a Mug Rug
In total, you'll need a quarter yard of fabric (can be scraps), plus some batting to make one mug rug. (I added Cutting instructions into tutorial Step 2 below)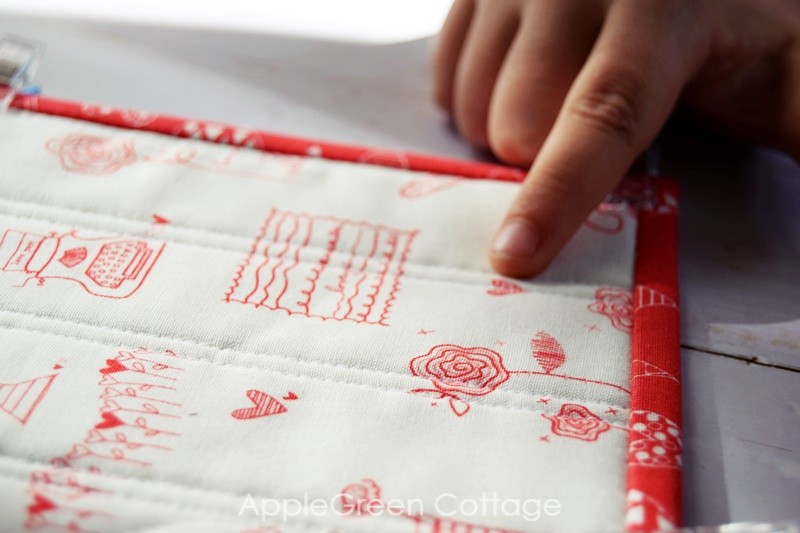 I used prints From the Heart collection designed by Sandy Gervais for Riley Blake Designs. Those whimsical and playful florals! And then, an old-fashioned typewriter, that vintage round-dial telephone (I remember using one when I was little - my kids didn't believe me haha!), and so many tiny details that make it so beautiful. Perfect Valentine sewing prints, I'm just sayin'. Because I might make some of those into fabric 'stamps' to use on my tiny sewing projects. Or put them on Valentines day cards! So cute!
When choosing the fabric for mug rugs, or placemats, make sure to consider getting more, just to make an adorable set with one of these best free table runner patterns.
Useful Notions, Tools And Other Stuff
Odif 505 for temporary spray-basting the layers. Ignore if you don't have it, and use safety pins instead.
walking foot, strongly recommended, for any quilting project
sewing clips (or pins)
fabric scissors
ruler and rotary cutter, and a cutting mat
fusible web if you are making appliqued hearts like me.
How To Make a Mug Rug
Here's everything you need to do to make your own beautiful mug rug:
Step 1 - Get the FREE Heart Applique Template
I've created heart templates that you can download for free. To download the FREE heart TEMPLATES, click the button below:
OR do you want a printable copy of the WHOLE tutorial? Scroll to the bottom of this post for more details!
Step 2 - Cut Fabric And Batting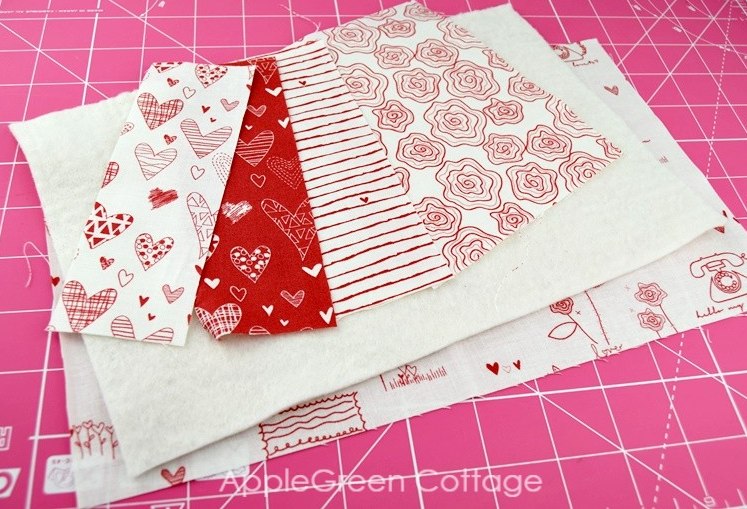 Cutting Instructions
For a strip-pieced front, cut from various fabric prints: (3 pieces) 2" by 6" and (1 piece) 5" by 6" - if you don't want a pieced front, just cut 10" by 7" from main fabric.
cut (1 piece) 10" by 7" from backing fabric
cut (1 piece) 10" by 7" from batting
for binding, cut a 40" long strip of 2 ⅜"
How to cut binding for this project: cut your strip along the grainline or crosswise, it does not matter as you need a straight-grain binding. No round corners and curves, so there is no need to cut it on the bias, unless you want to of course. I cut mine at 2 ⅜ " from selvedge to selvedge. You can get away with a slightly narrower binding at 2 ¼" too.
Step 3 - Piece The Front of Your Diy Mug Rug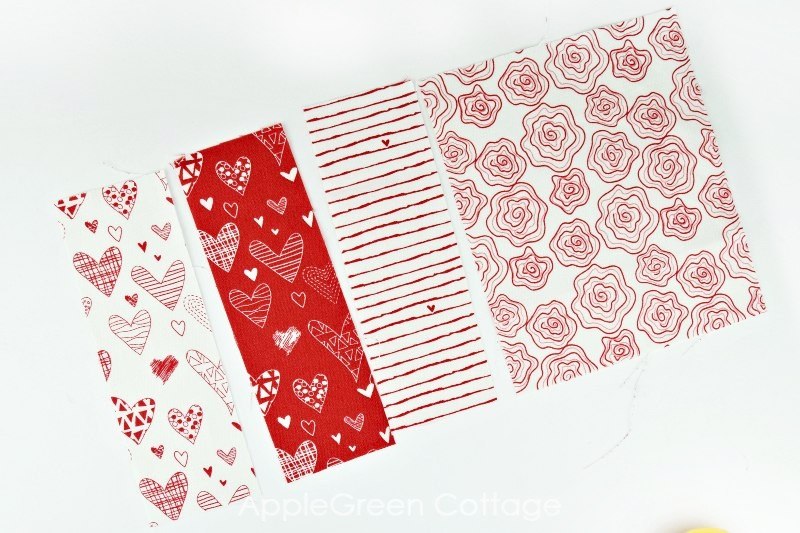 Arrange the narrow 2" pieces next to each other and add the last, 5 by 6" piece to the far right, then piece them together using a ¼" (7mm) seam allowance and press the seams open. Here's the process in images: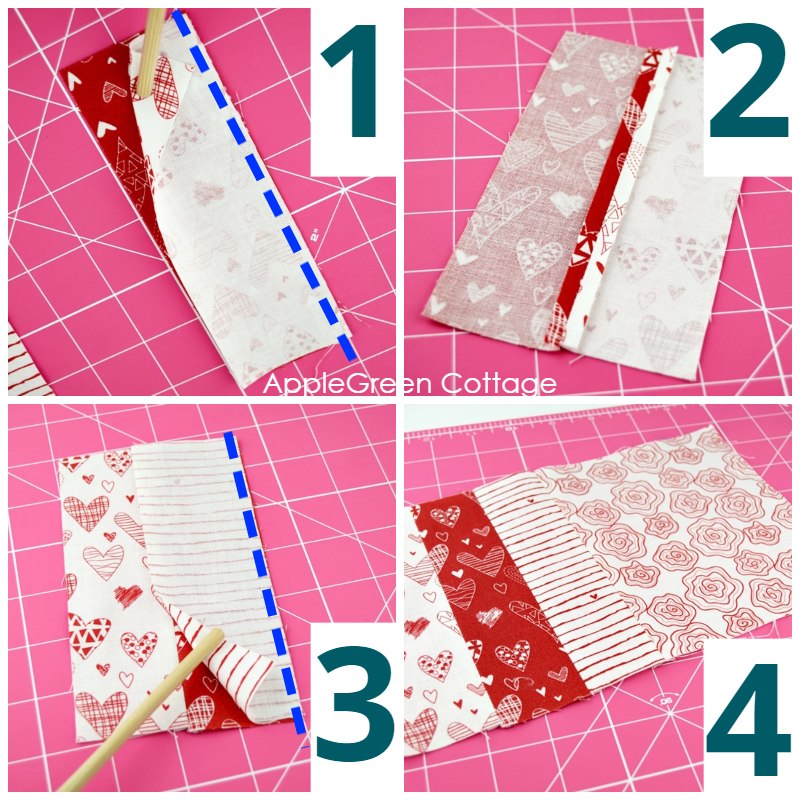 You'll end up with a lovely patchwork front measuring 9 ½" by 6".
Step 4 - Add the Heart Applique
After you downloaded the free heart templates in Step 1 of this tutorial, it's time to add one or several heart appliques.
I used the 'Wide Heart Template':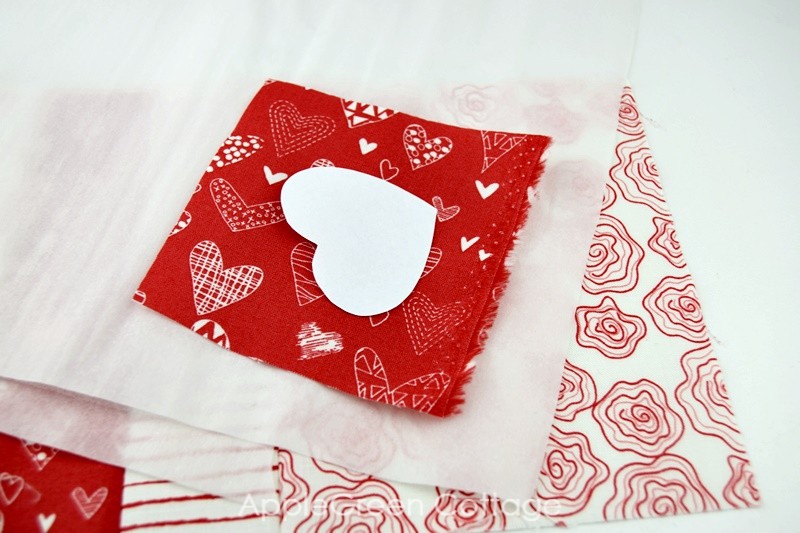 I used the heart templates to layer two smaller sized hearts from the template using fusible web and then edge-stitched them to the base layer, like this: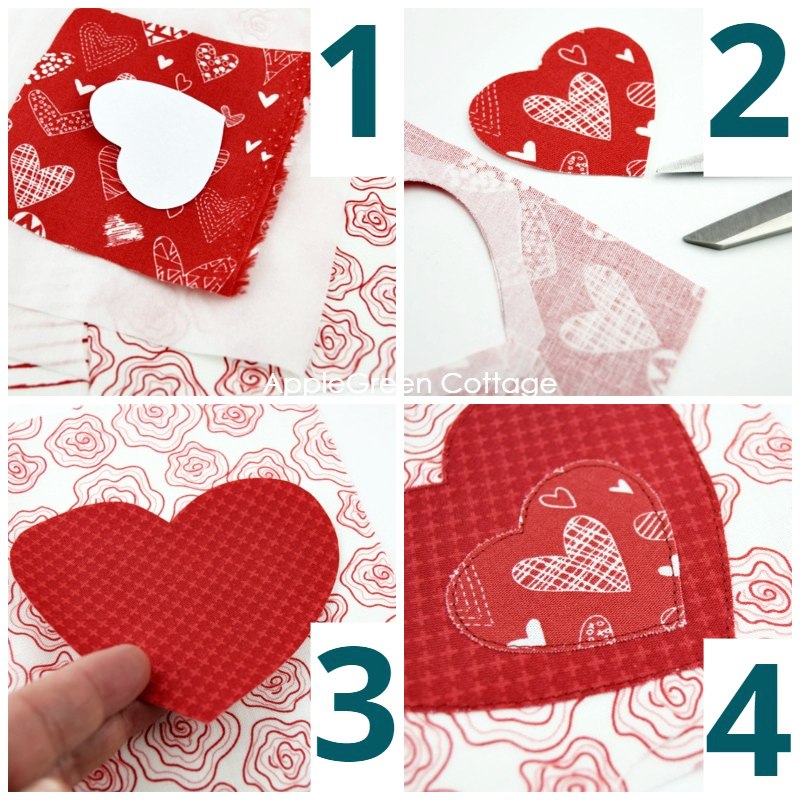 If you're not familiar with applique, feel free to use this easy applique tutorial: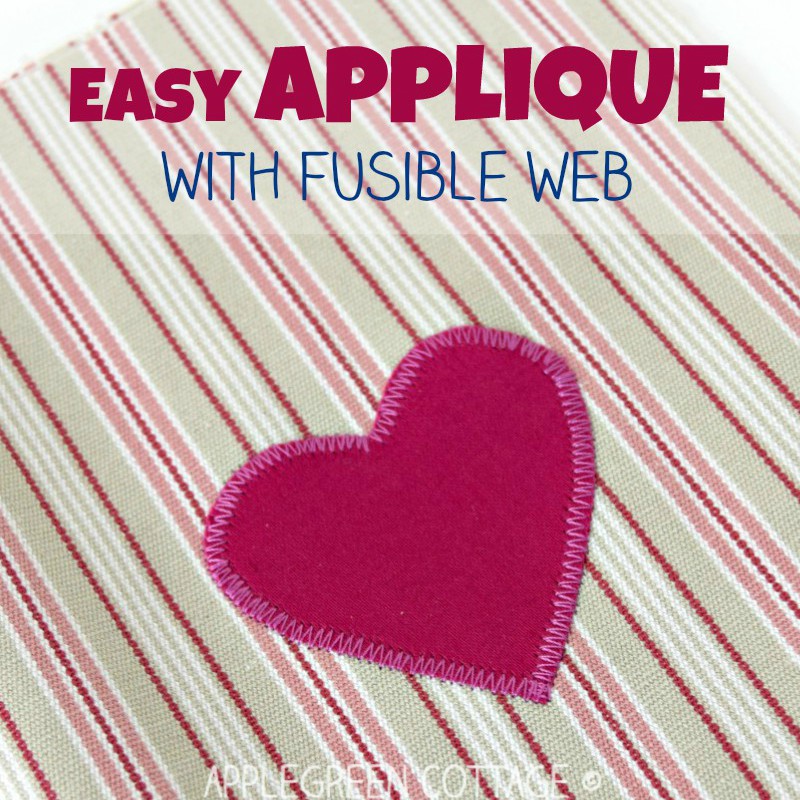 You can either stitch the hearts using a narrow stitch, or a dense zigzag, your choice.
Step 5 - Assemble Layers
Lay your backing with the right side down, then place the batting on top of that. Then, place the pieced front layer with the right side up. Fix using safety pins or spray baste the layers together. You can use Odif 505 to do so, for me this is the easiest way to prevent shifting.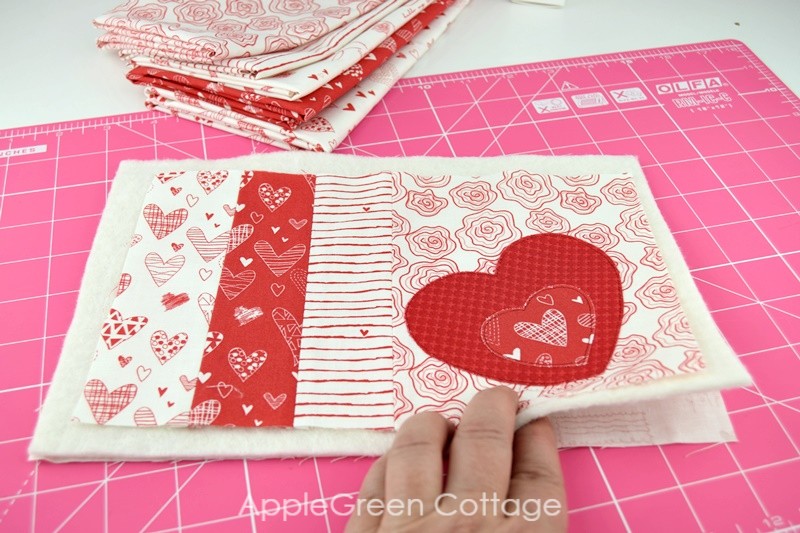 Step 6 - Quilt the layers
I added just a few straight lines to the mug rug, close to the piecing lines. Straight-line quilting is a relatively easy way to add structure and bring the layers together. Remember to start in the center and move towards the outer edges. I also added a line around the larger heart applique.
And a walking foot makes sewing so much smoother. Use it if you have one.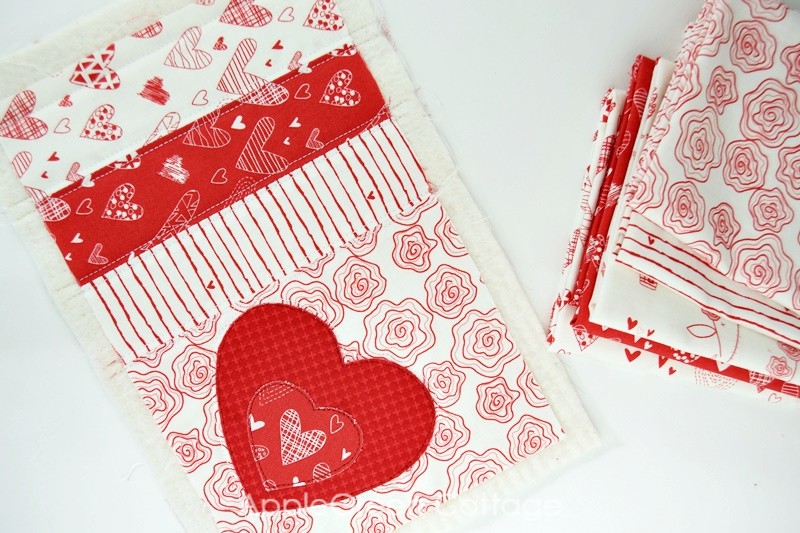 Step 7 - Square it up
Trim off the excess batting and back fabric and make sure all the corners are at a 90-degree angle. You need a 9 ½" by 6" rectangle. Using a ruler and a rotary cutter is the best way to go.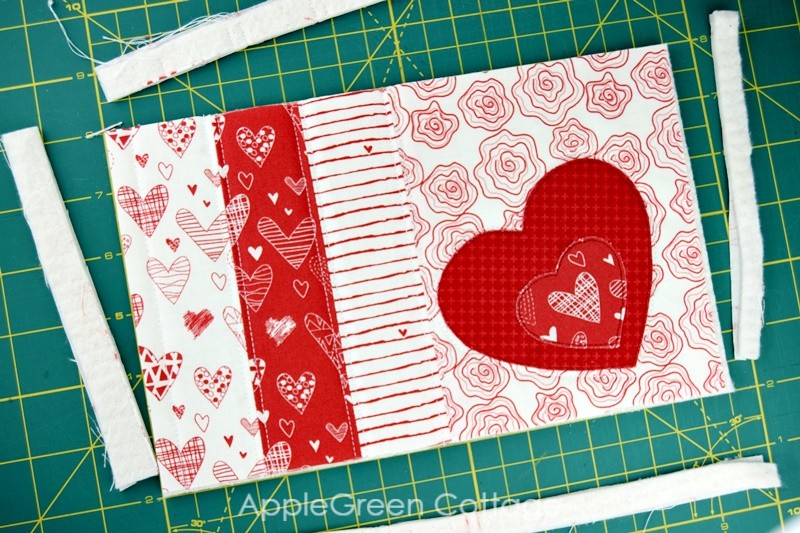 Step 8 Binding - How to Bind A Mug Rug
Once you've trimmed it, you'll need to bind the edges.
First, take your 40" long strip of binding and press in half if you haven't yet. Then see here how to add binding to a quilt, a mug rug, a potholder, anything actually.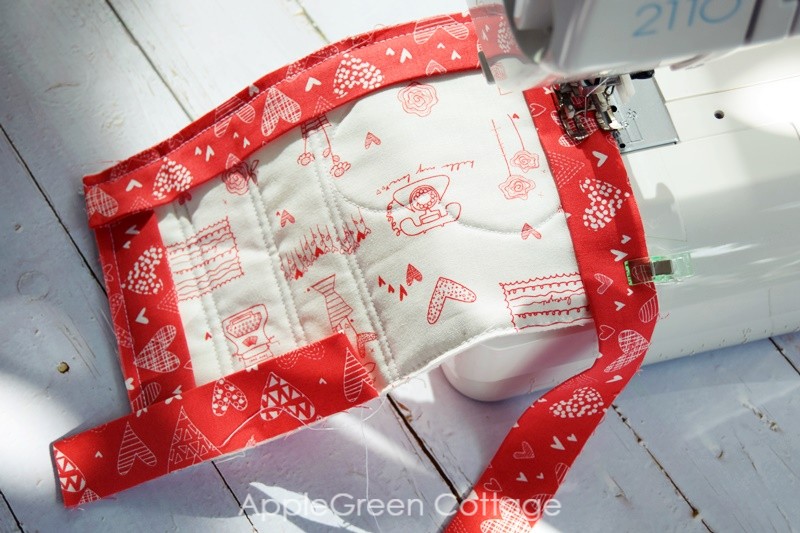 NOTE: Here, I cut my binding just 2 ⅜" wide as there is only one layer of batting, and I might even get away with 2 ¼". The binding tutorial uses a bit wider, 2 ½" strip of binding, but the process is the same. I stitch my binding first on the backside and then machine-topstitch it on the front side. That way any imperfect stitches don't show.
This is your last step, and I've got a detailed how-to for you - that's just in case you haven't yet done anything like this - jump to this page to add binding to your mug rug: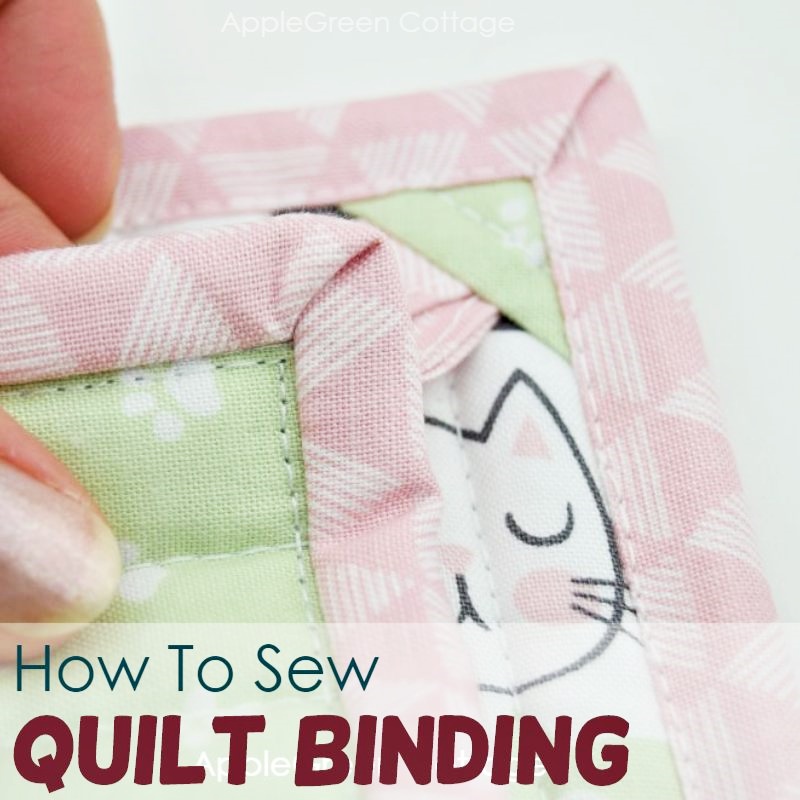 And your mug rug is finished. Isn't it cute! If you like sewing for home, make a set with these potholders, these placemats, a handmade table runner quilt, or sew a basket to gift it. And before I forget, once you've made one, take a look at this tiny diy sewing case. It's so similar to the mug rug you could easily whip up one more to practice sewing binding and get a needle book out of it too.
Or, on a side note, if you're looking for a quick project that is quilted but requires no batting, try this lovely oven mitt sewing idea.
And here are a few answers to the questions AGC readers (you!) have been asking about the mug rug tutorial:
How big is a mug rug?
Mug rug dimensions will vary a lot. Usually, the mug rug size is between 4" x 7" and 12" x 8", just up to the size of a small placemat. The pattern for the mug rug in this tutorial gives you a finished mug rug of 7" by 9 ½". I think this is my favorite mug rug size.
It makes a beautiful mini wall hanging too! See here how to hang a quilt - big or small. Or tiny.
A Note on Mug Rug batting
Back to the mug rug project, I used one layer of cotton batting, but you can also use poly batting or fusible fleece. If your interfacing is thin, consider using two layers to make them thicker. Read more about interfacing and batting in this guide on interfacing.
As always, I'd love to see if you've made a mug rug using this tutorial and mug rug pattern. Please post a picture to Instagram and tag me @applegreencottage or #applegreencottage – so I can take a look!
Want A Printable Copy of the WHOLE Tutorial?
Do you want an ad-free, printable copy of this online tutorial? Find it here for just $3. You won't need to access the internet every time you want to make it. ------ Or get the BUNDLE with ALL the Printable Tutorials - current and future ones!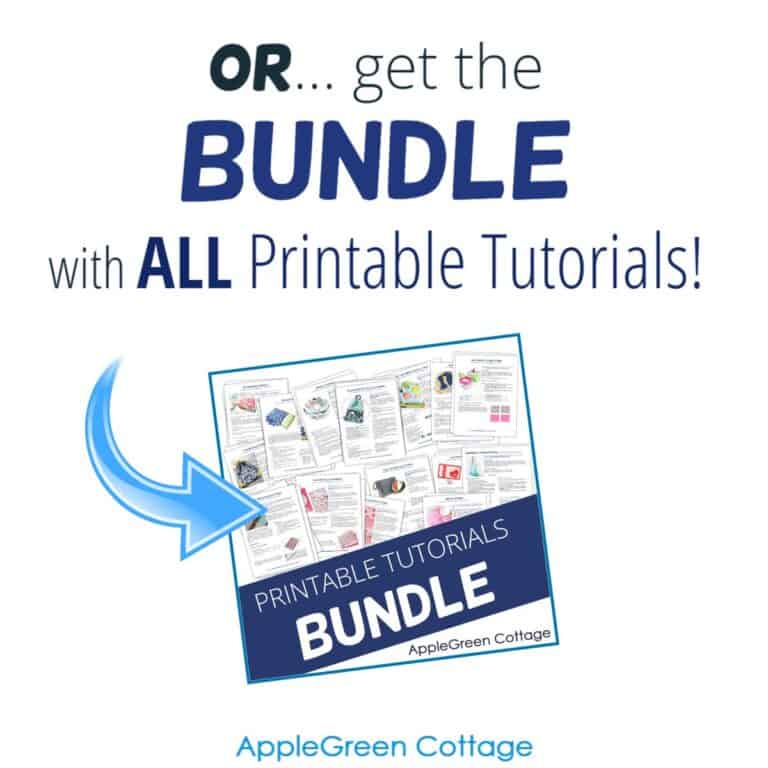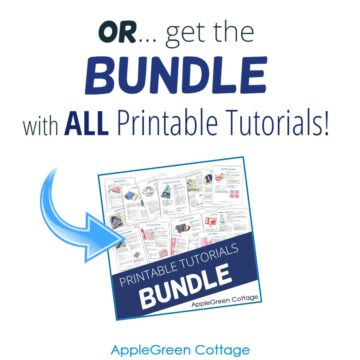 WANT MORE FREE TUTORIALS AND GOODIES?
Get email updates and never miss out on new patterns, printables, and tutorials:
Or check out this pretty ALLina project bag pattern in our shop - for all your storage needs: