Check out more than 30 free baby quilt patterns, ranging from beginner to advanced level. Cuteness everywhere!
Are your friends expecting a baby? Or are you expecting your first grandchild? A niece or nephew? Or do you just plain love cute baby quilts? Sometimes it's nice to have a quick quilt pattern to make.
Check out my favorites from all the free baby quilt patterns - I'm sure you'll find a favorite too!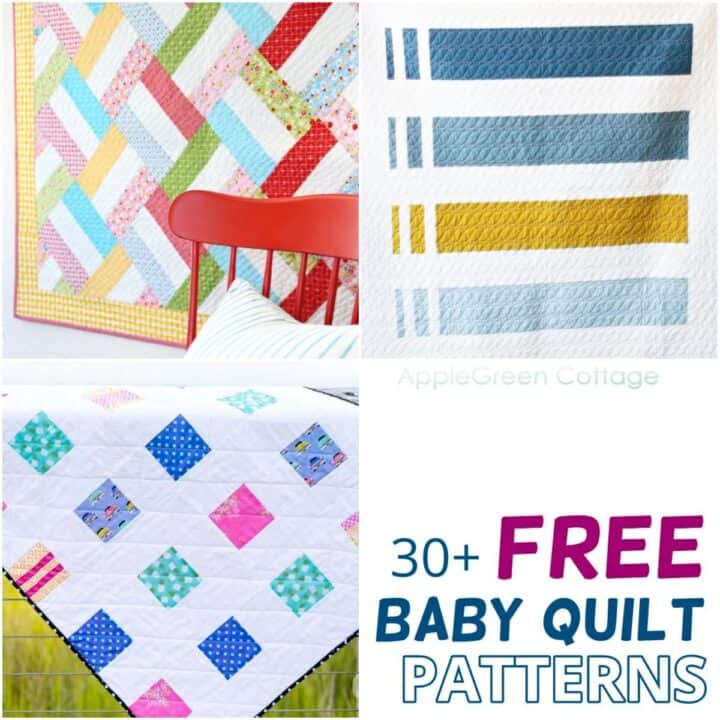 On a side note, I've just released this baby sewing course. For a limited period, you can all join for free: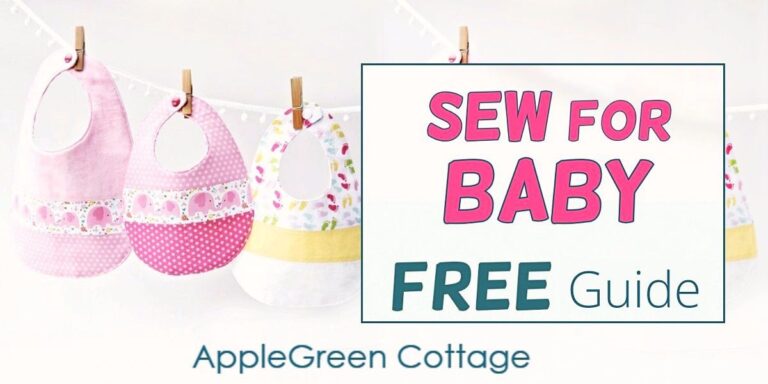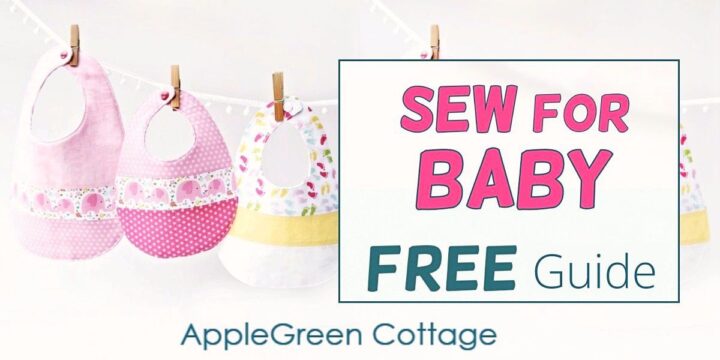 Join the FREE 6-part email guide and sew the CUTEST things for a baby - the EASY way! You'll get my best baby sewing ideas by email.
If you're here to sew for a baby, check out this sewing for kids page too.
What size should a baby quilt be?
Baby quilts are typically made in sizes from 30" by 40", then 36" square, up to 36" by 52" for crib size quilt patterns. Either one or any measurement in between will be big enough to keep the baby snugly warm and cozy.
The smallest size for a baby quilt will usually be a square 36" quilt. It allows you to use regular yardage - no need to purchase any wide-back fabric for the backing. If you are thinking about making a rectangular baby quilt, you'll find quite a few free patterns finishing at 36" by 48" (the 3 to 4 ratio). And if you want o make a crib size quilt, that one has a standard size of 36" by 52".
How much fabric do I need for a baby quilt?
As mentioned, making a baby quilt will give you a lot of freedom to work with whatever yardage or precuts you already have at hand. Usually, you'll need at least a bit over a yard of fabric (36" by the width of fabric) for the backing, and any size scraps, precuts, or yardage for the front, depending on the pattern you select for your quilt. Make sure to either get or make quilt binding.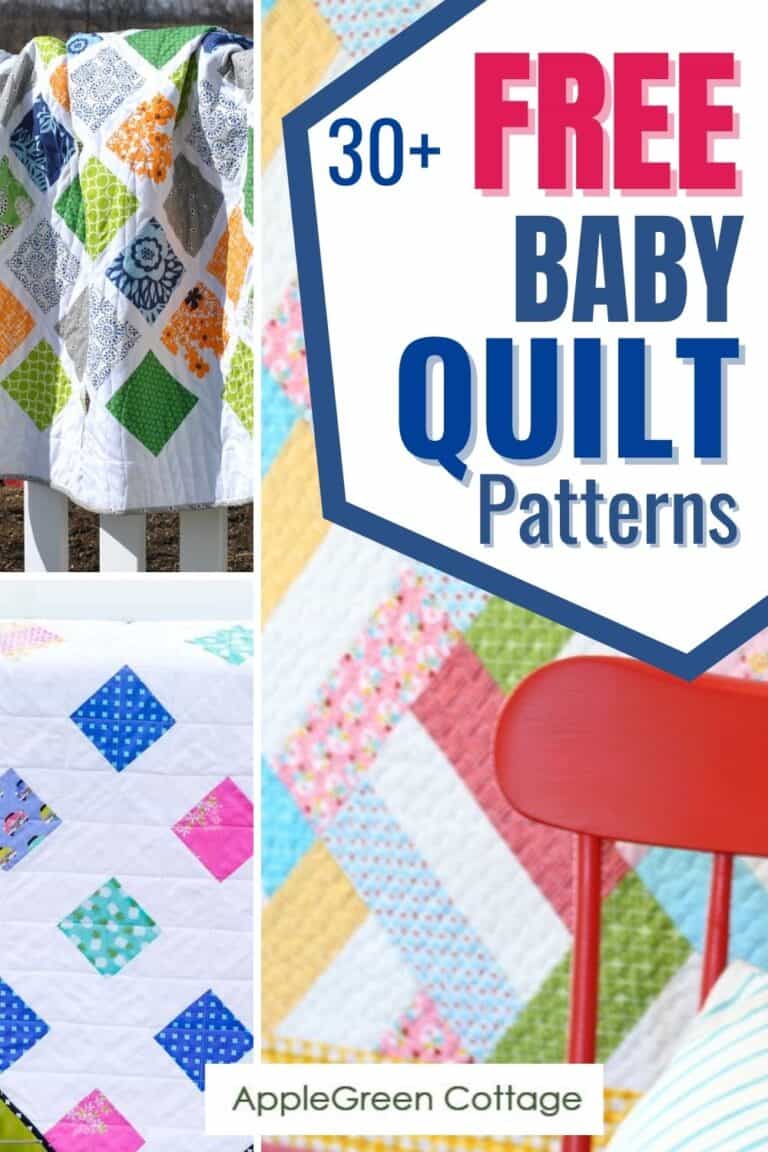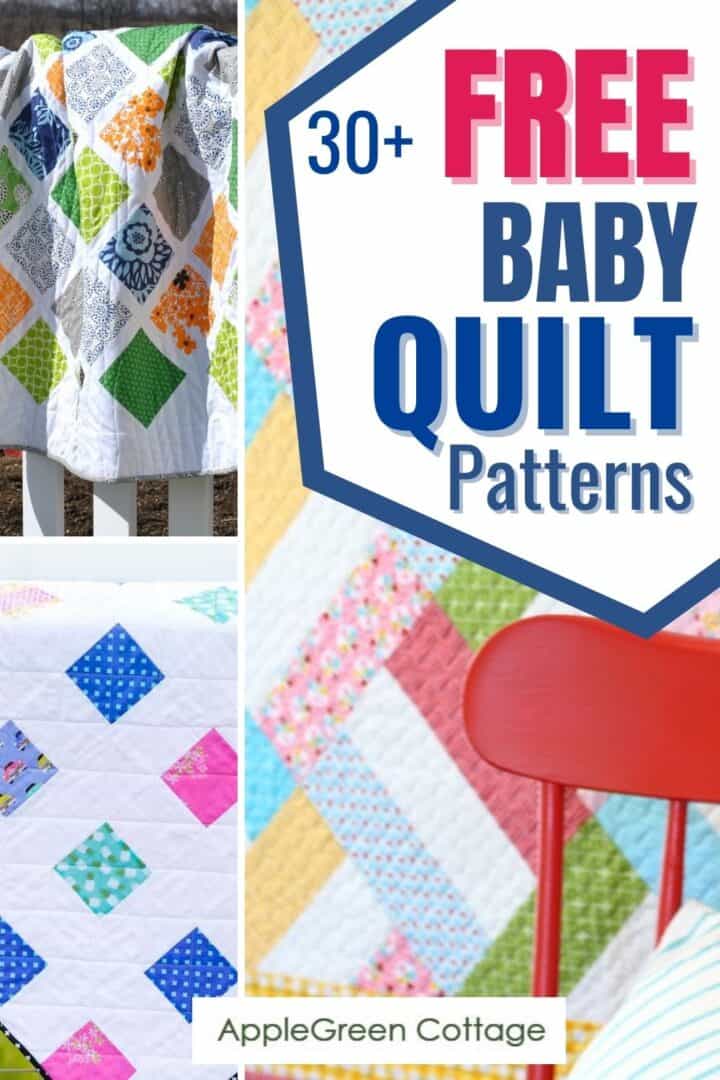 Free Baby Quilt Patterns List
All of these quilts are super fun and easy to make. Whether you are a new quilter wanting to sew baby quilts or an experienced quilter looking for ideas for the perfect baby quilt gift, this list will have something for you!
Such cute baby quilt patterns, some are really quick to sew, with large simple blocks that can be finished within just hours, and I also added more detailed, unique-looking, intricate free baby quilt patterns that all seasoned quilters will love to try their hand at. Especially the simpler patterns will be perfect even for those with little or no quilting experience.
Choose your favorite from these cute free baby quilt patterns - or make them all!
So many readers who are new to quilting are looking for quilt patterns for babies. Go ahead and make one for a new baby gift. You might even want to try this easy quilt-as-you-go tutorial, once you've made a few simpler ones.
Looking for more quilting ideas? Check out these free tutorials:
WANT MORE FREE TUTORIALS AND Patterns?
Get email updates and never miss out on new patterns, printables and tutorials:
Or check out this popular pattern in our shop: Ultimate Diaper Clutch - a perfect baby welcoming gift every new mom would love to get!