See all the options and features of the Sophia crossbody foldover purse pattern. If you're either looking for a cozy foldover crossbody bag pattern or a stylish crossbody clutch for a special occasion - and even a small foldover makeup pouch, this is your go-to pattern. Check out this multitasker!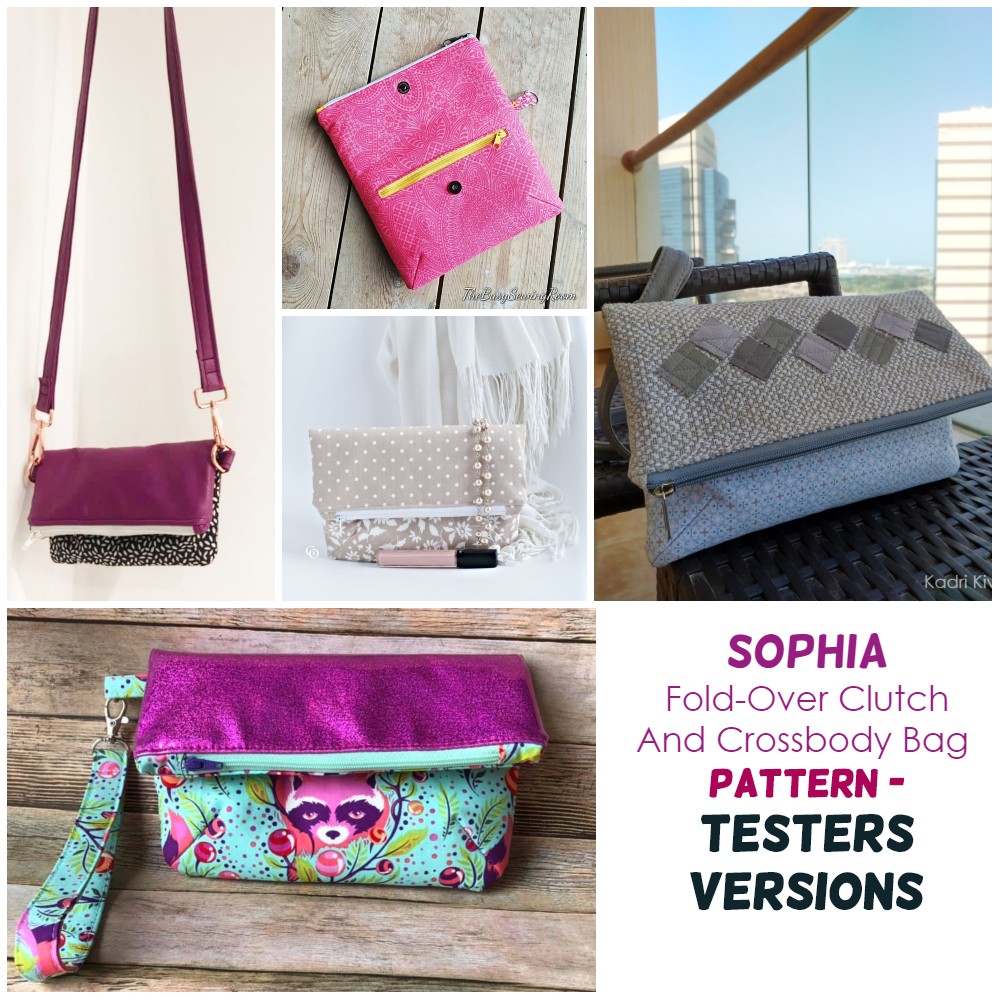 If you haven't noticed yet, the new Sophia Fold-Over Clutch And Crossbody Bag pattern is available now! It wouldn't be as good as it is without a dedicated team of pattern testers who have invested hours and days into testing the pattern. As a thank-you, I wanted to showcase a few of the pattern testers' versions of the Sophia pattern. Meet the people that have helped me to make this pattern the best it can be!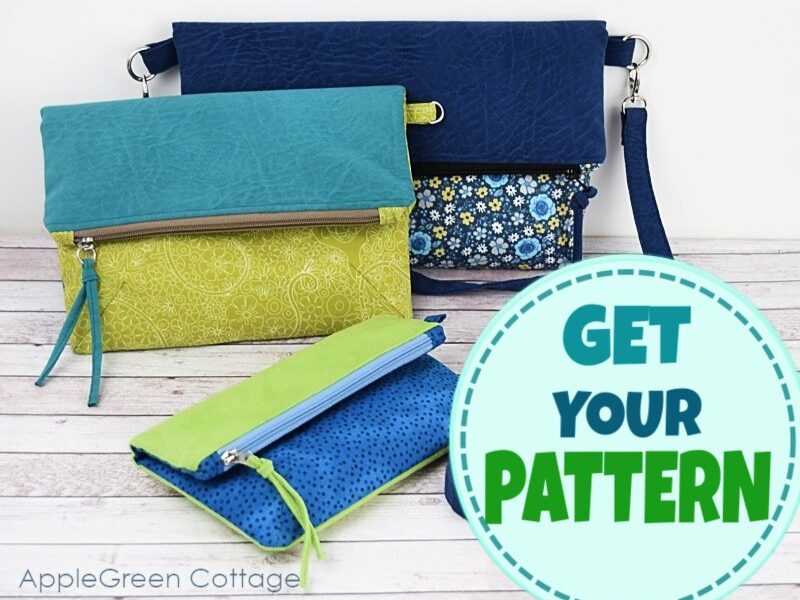 I always find it so tough to decide on which photos to feature in the shop, and that's not mine - it's the ones my testers have made. So many breathtakingly beautiful, gorgeous photos! Not to mention that there's tons of know-how behind those images. Tons of well-thought-out solutions, sometimes even pattern hacks my pattern testers come up with (there's one below, check it out!). Also, errors found and dealt with, and improvement suggestions. I cannot say how grateful I am for all the hours they have invested in this pattern, helping to make it the best it can be!
All The options with the Sophia crossbody foldover purse
Now, I'd like to show off many, and I say many of these images, and a bit of the stories behind them. And, here I'm sharing all the various materials they have used - and YOU can use - to make the Sophia. You'll see, from quilting cotton and duck cloth, through faux suede, leather, upholstery fabric, light and heavy home decor, glitter vinyl, all the way to Craft Tex!
Check them out here:
Small Foldover Clutch Version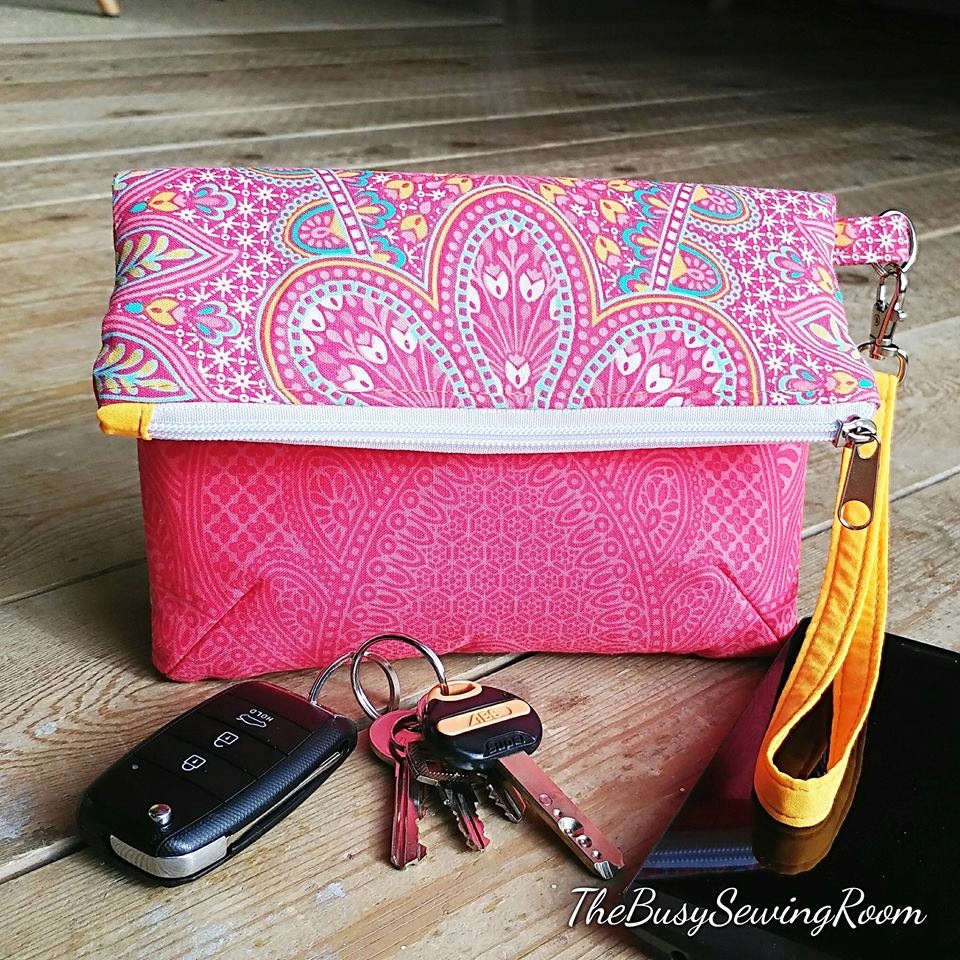 First, Ulrike. You'll find her on FB at The Busy Sewing Room. Gorgeous color combos, her impeccable sewing skills and solutions blew me off! Her shop (link) is filled with gorgeous bags in perfectly matching prints and colors.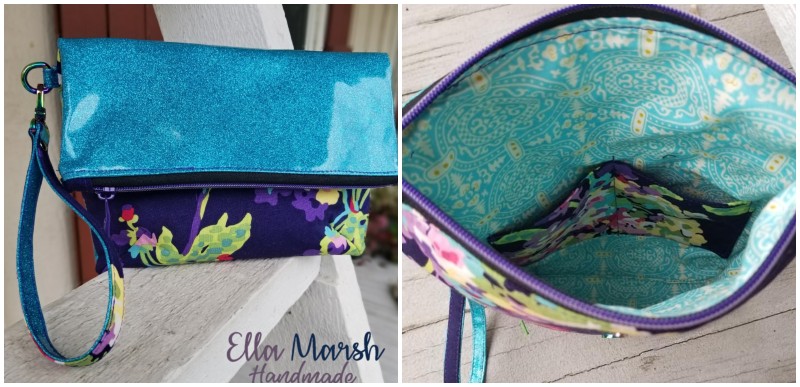 Next on this journey is Lorna and her Ella Marsh Handmade boutique. She made the small version with glitter vinyl. And a cool detail: she stitched a divider into the inner pocket - so clever if you need it for small items (I'm thinking credit cards and lipstick!)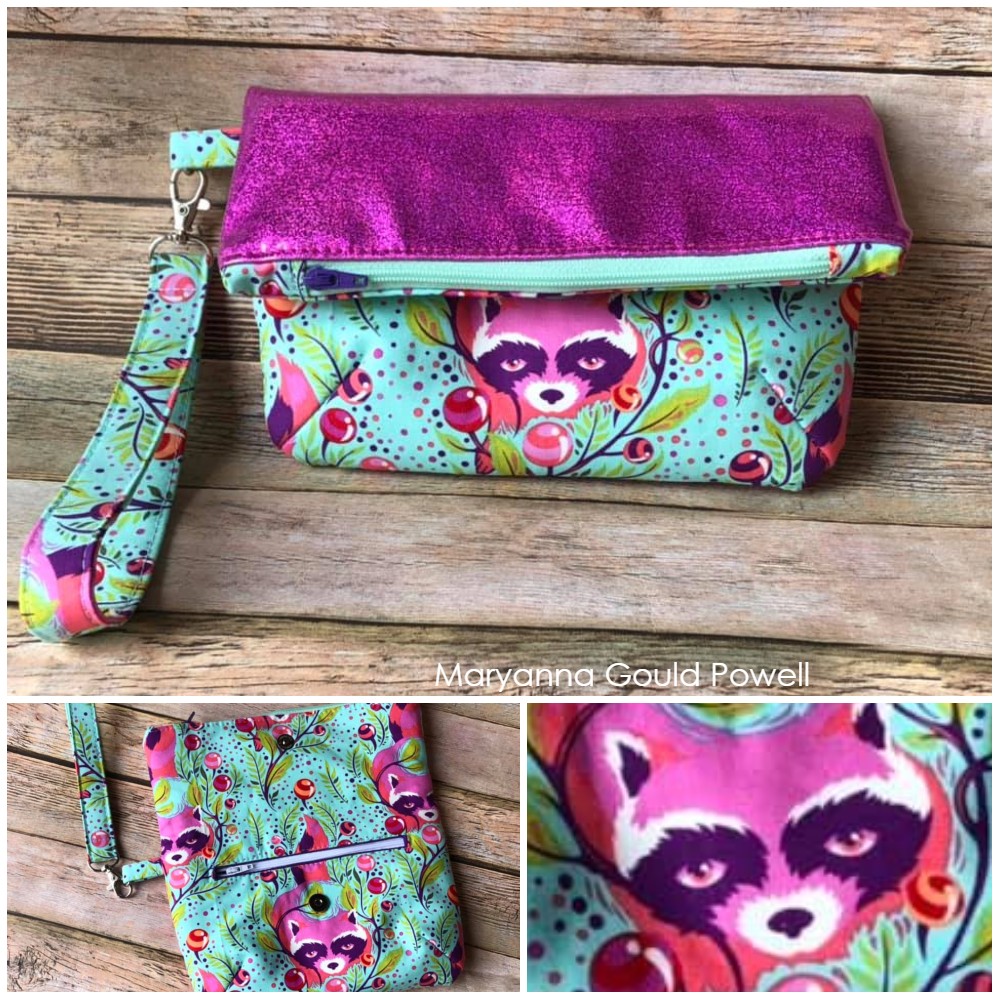 You'll find Maryanna on FB at Marvelous Auntie M. She made this gorgeous small clutch version with a Tula Pink print and some cute pink glitter vinyl. What a fun clutch for a girl on a Saturday night out, or a teenager's first clutch!
Crossbody Bag Version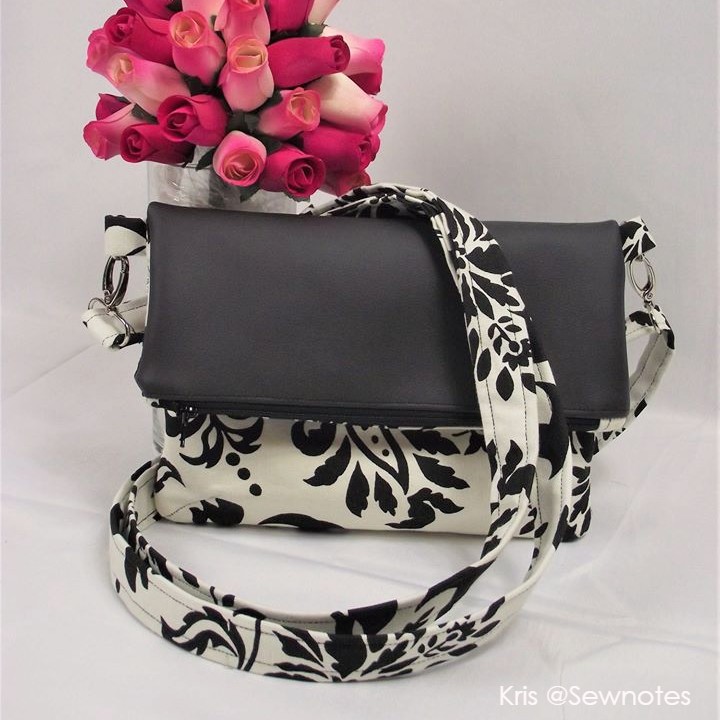 Kris made the medium crossbody Sophia version with black faux leather and home decor canvas, and she said it is such a great size for a wallet and phone. There might be a blog post with more details on its way! Find Kris on FB at SewNotes.
UPDATE: she also wrote a blog post on testing the Sophia pattern. I feel so flattered! See why, and you absolutely must check out her photos - tons of details you'll want to see!
So far, bright and bold colors. And here are a few breathtakingly beautiful clutches in pastel, like this one: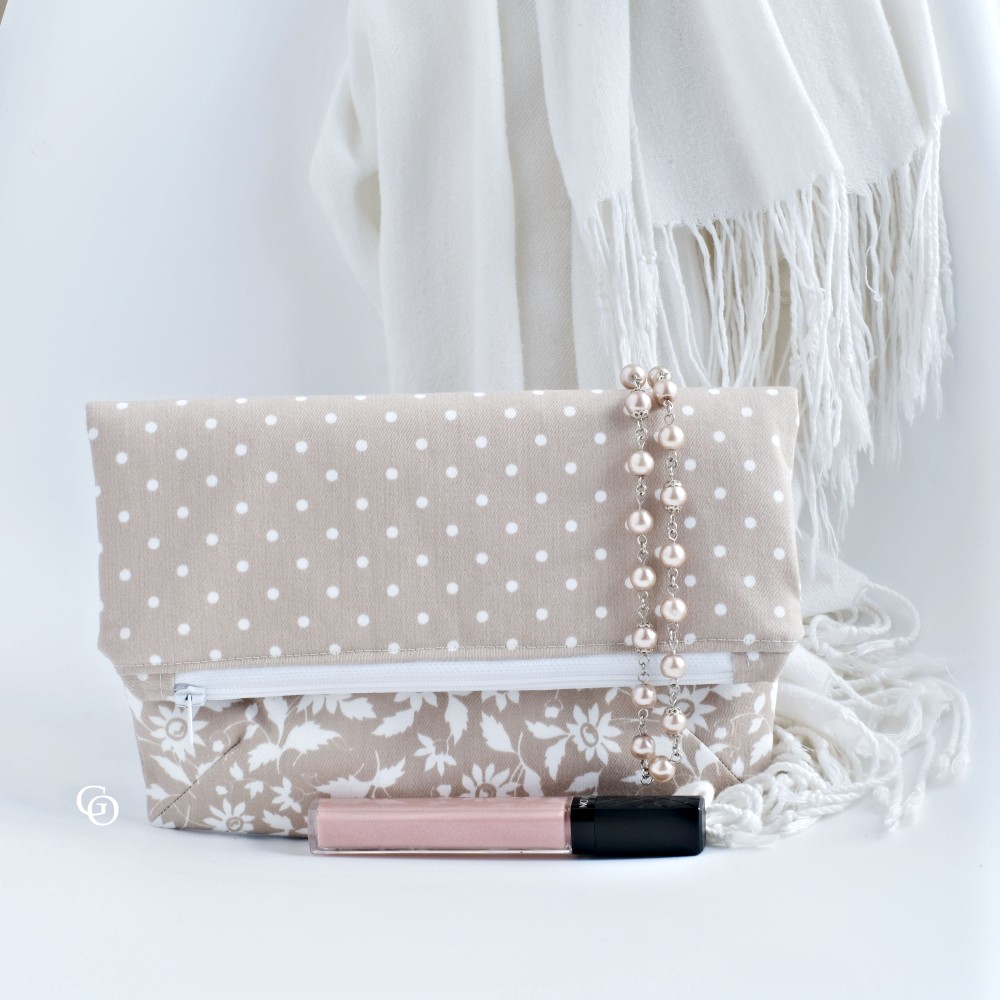 Genevieve has tested a few of my patterns already, and I always enjoy scrolling through her wonderful Instagram feed. She sews professionally, and her photography is stunning. That's the best possible combination! Find her on Instagram at @Genevieve_O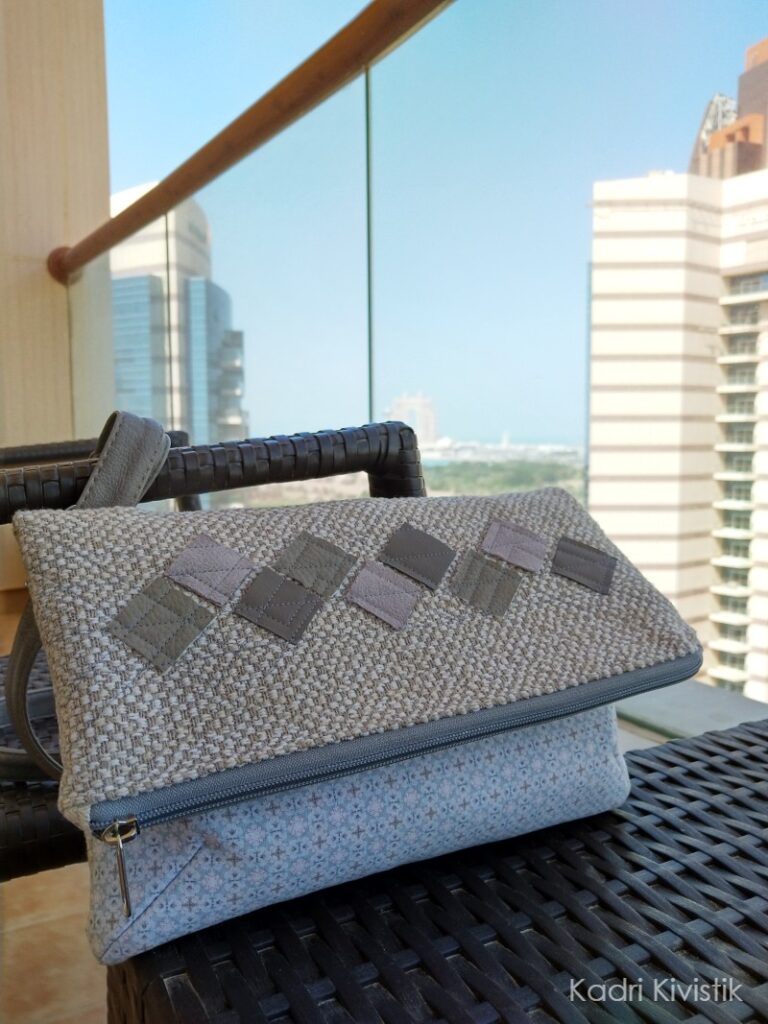 And here's Kadri's Sophia crossbody bag modeling in Abu Dhabi. Kadri is one of the dedicated testers who managed to jump on the project right away. And she was so happy with the Sophia she made she took it right away to her trip to Abu Dhabi, just a few days later. Looks like love at first-sight stitch, doesn't it? The embellishments on the flap add just the right amount of interest to the flap while still retaining a cohesive picture. Love them!
She even wrote a blog post about the Sophia and her trip (here). Also, check out Kadri's FB page Kadristik here.
Sophia Fold-Over Bag Sewn With Craft-Tex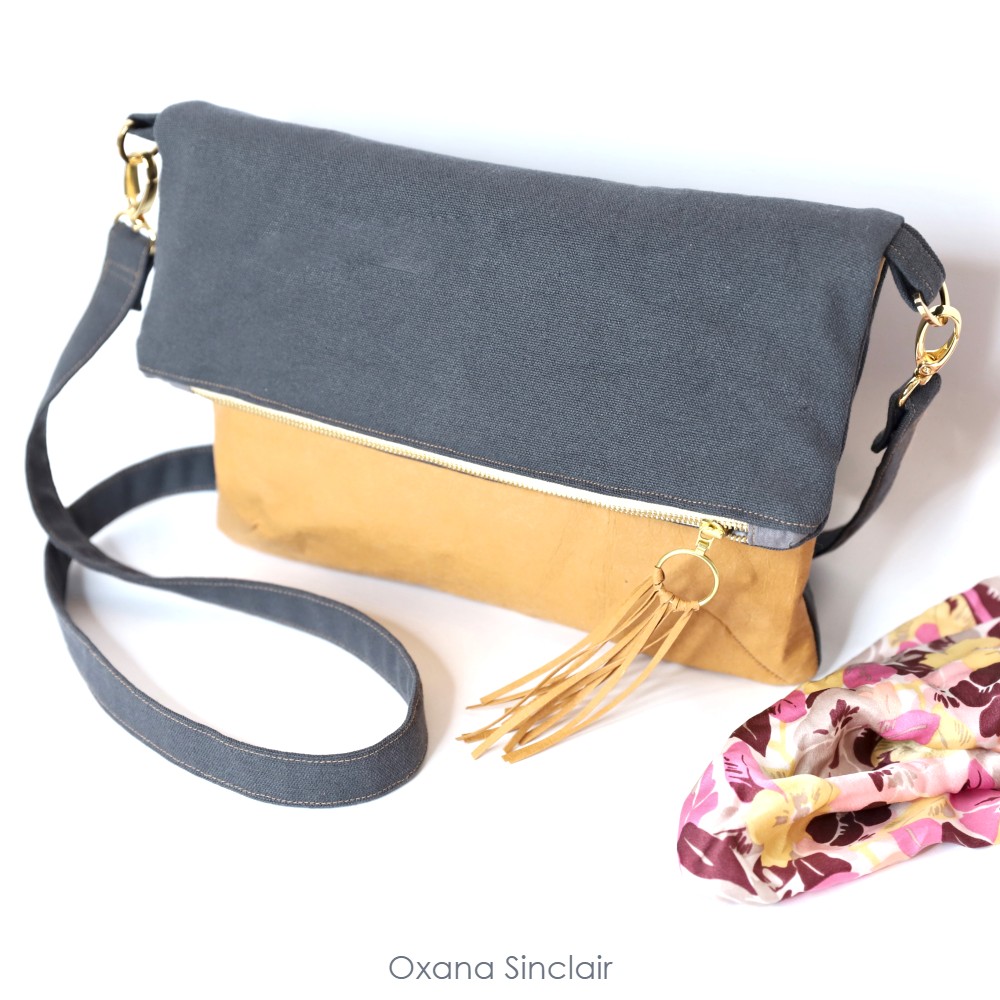 Oxana is the owner and apparel pattern designer at Sinclair Patterns. She was the one brave enough to take on a combination of duck cloth with Craft-Tex, and it looks stunning! This is her medium size crossbody version. And she was amazing in taking care of the user-experience aspect of the pattern. Assembling the Sophia pattern prints is now way easier - because of her!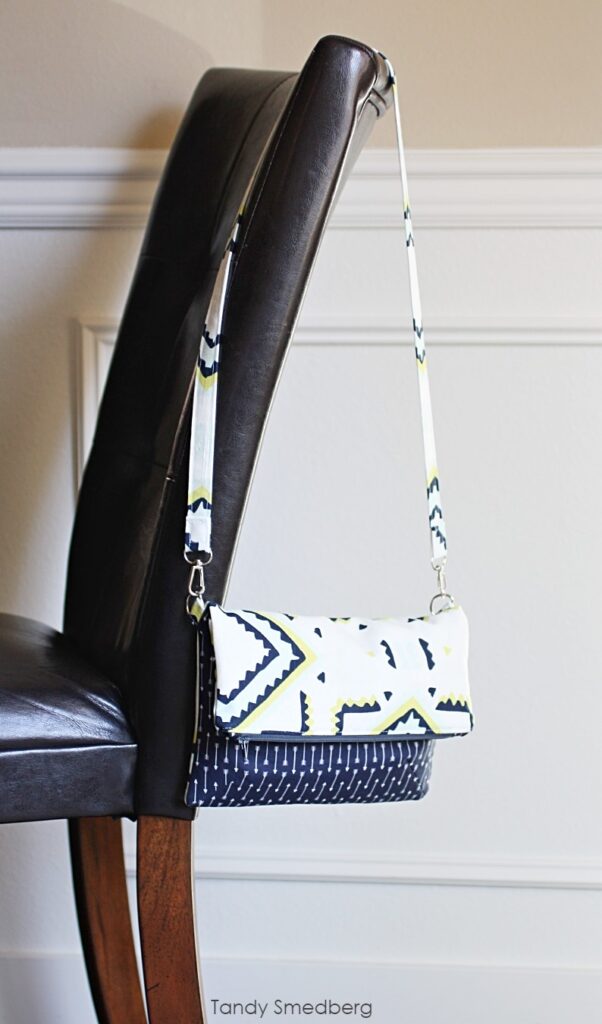 And here's Tandy's beautiful Sophia crossbody foldover purse. An avid tester of both the sewing process as well as the wording of the tutorial, without her there would be tons of tiny little errors in the pattern instructions. (thank you!) Also, she's made quite a few clutches during testing and a lot of photos - ones you might see in the coming weeks if you follow AppleGreen Cottage on Instagram. And I just need to show you her latest, hacked version: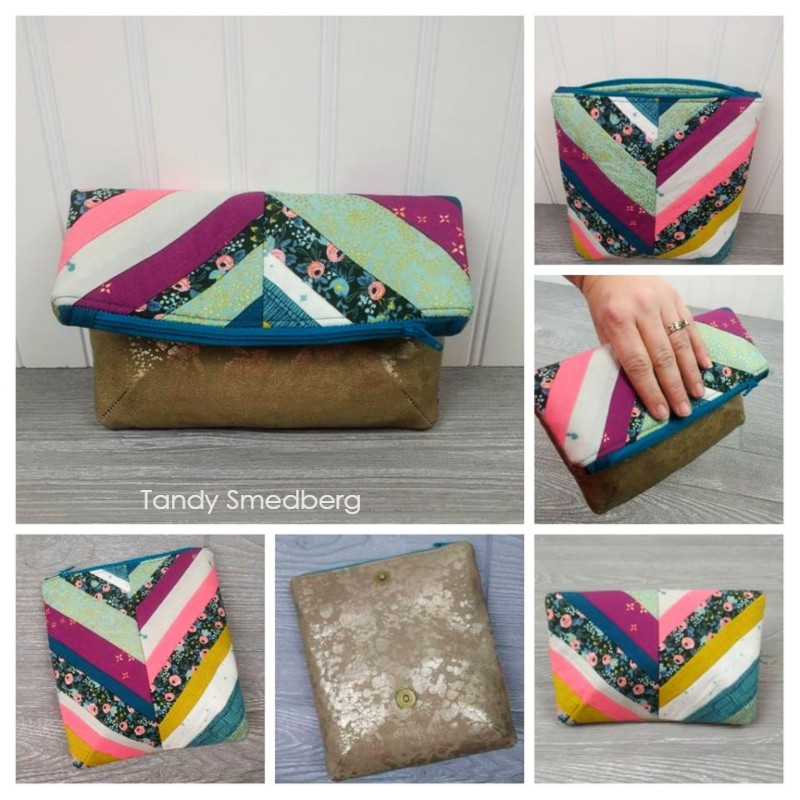 Front and back panel switched, with faux leather on the front and QAYG with batting instead of fusible fleece. So clever, and adorable!
Sophia crossbody foldover purse sewn with cork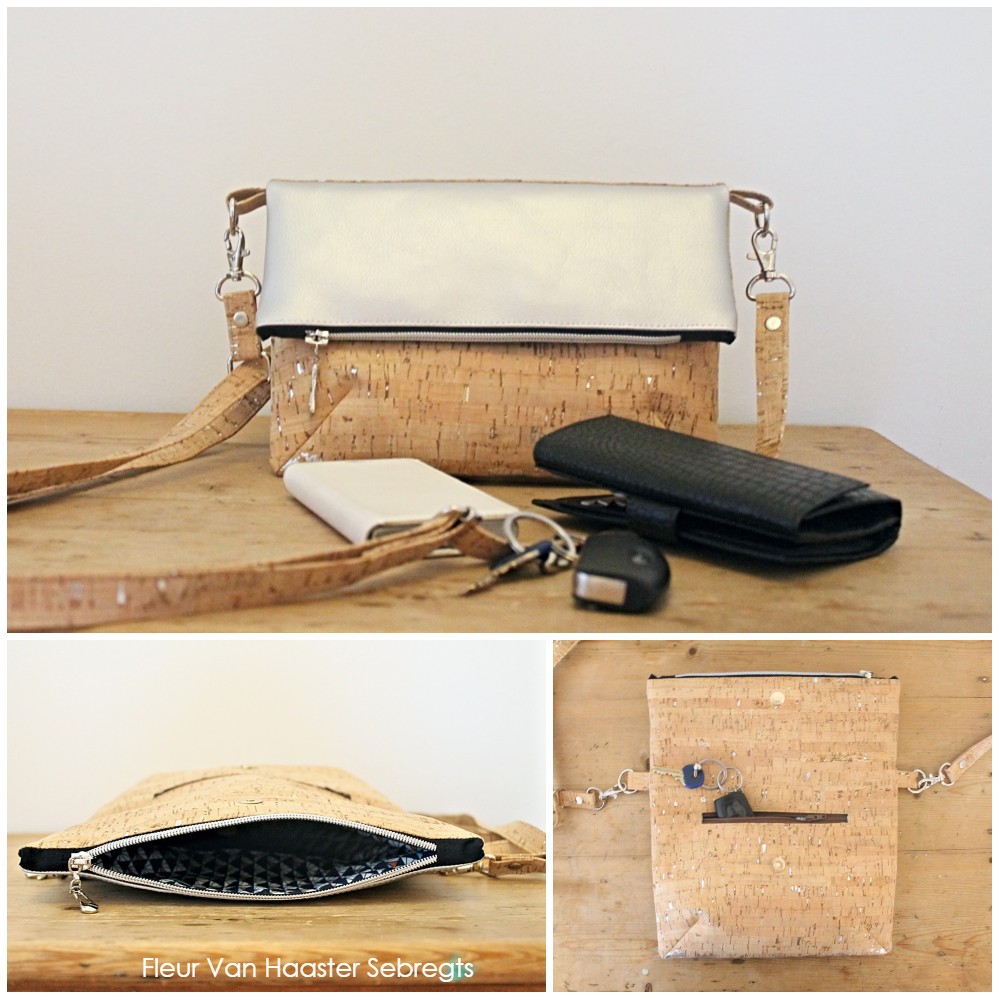 Fleur has made a medium-sized Sophia crossbody bag with cork. Such an elegant and sophisticated version! Find more of her photos on her Instagram account @fleursebregts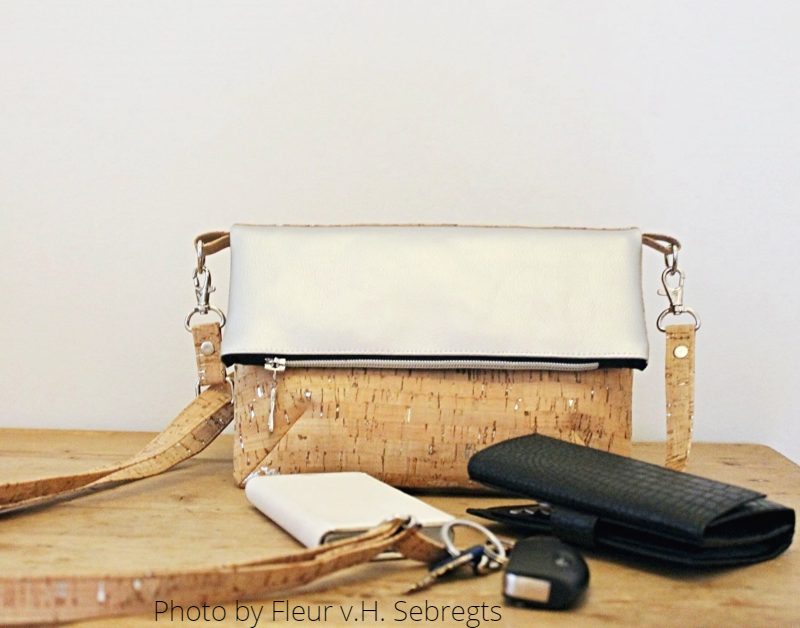 crossbody foldover purse with leather and home decor weight Fabric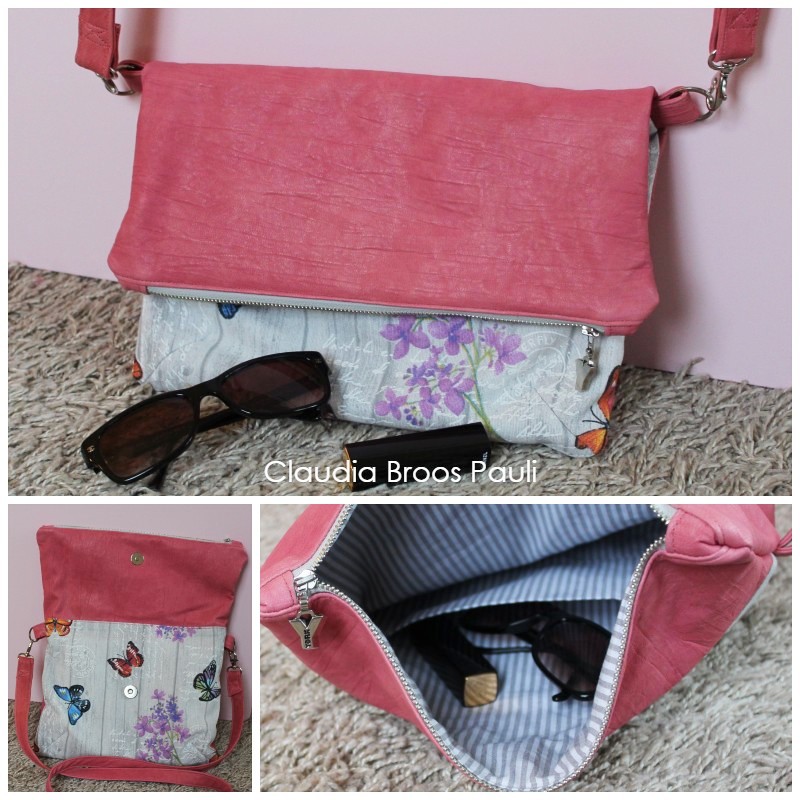 Claudia has sewn a large Sophia crossbody foldover purse using the pieced front panel option, combining pink leather and home-decor-weight fabric. You can't see it in this image, but the lines on the interior pocket and the lining match perfectly!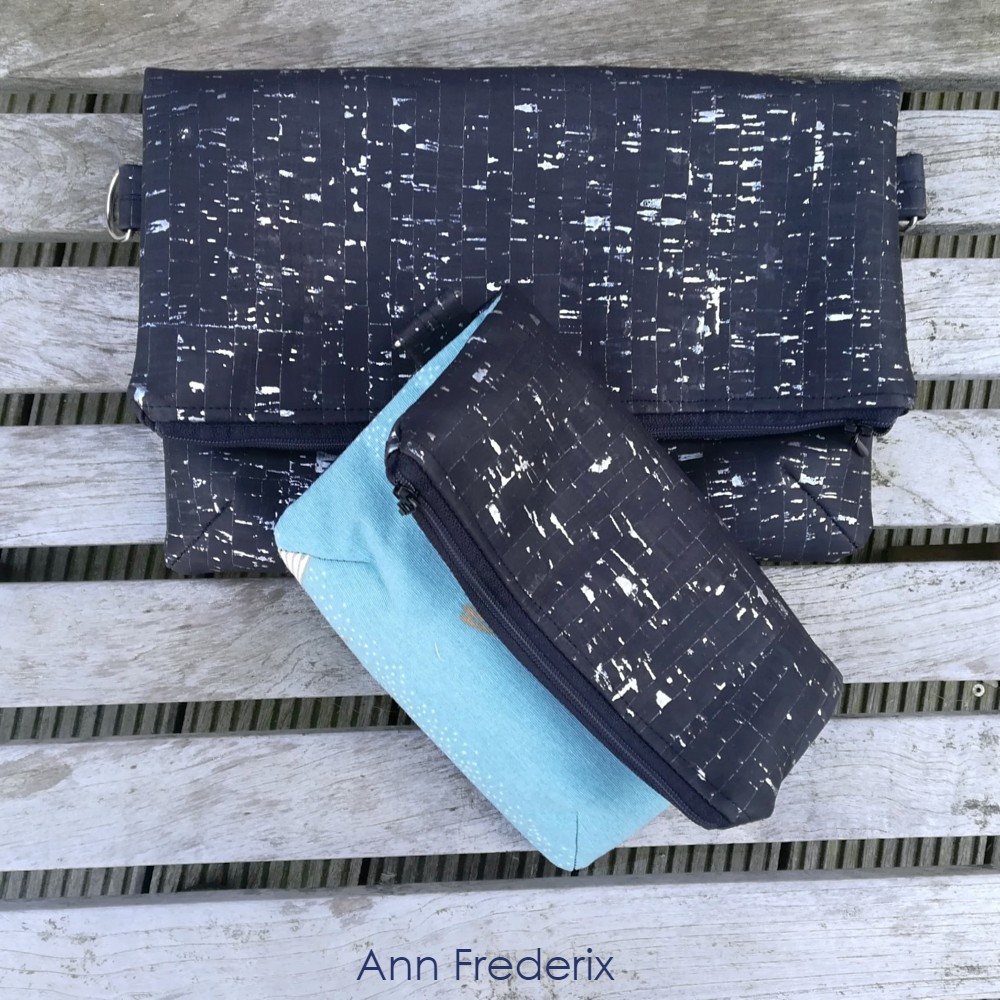 Ann made a set: a small Sophia crossbody foldover purse and a large crossbody bag. She used black cork with silver and a bit of canvas for the little clutch. I'm grateful for her support and advice! You know when you can message a tester and ask about a certain detail, and she responds right away? Invaluable. Visit her on Instagram here.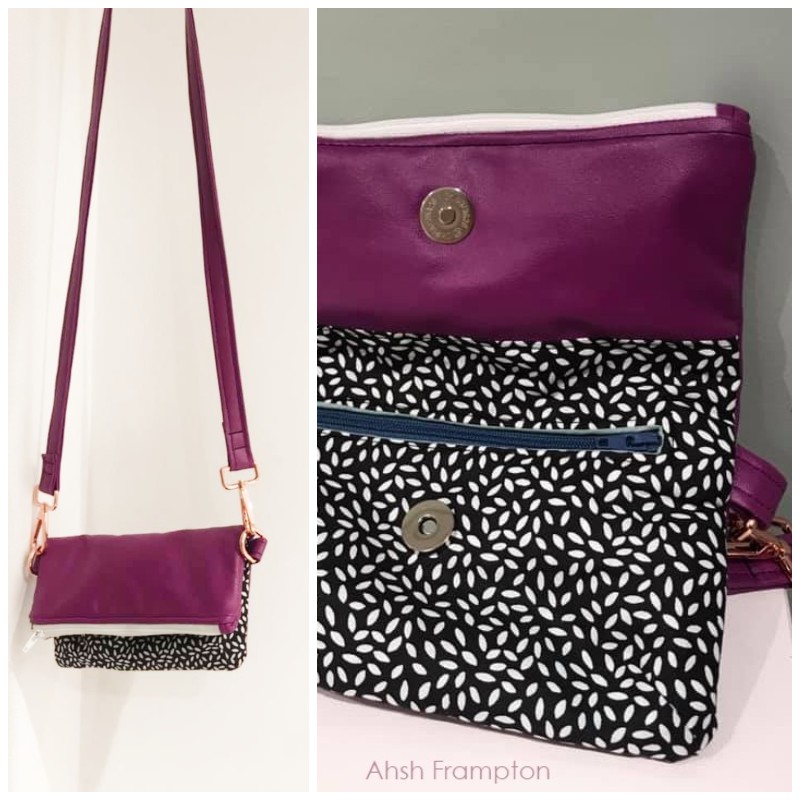 Ahsh sewed a small crossbody version. What a cute make!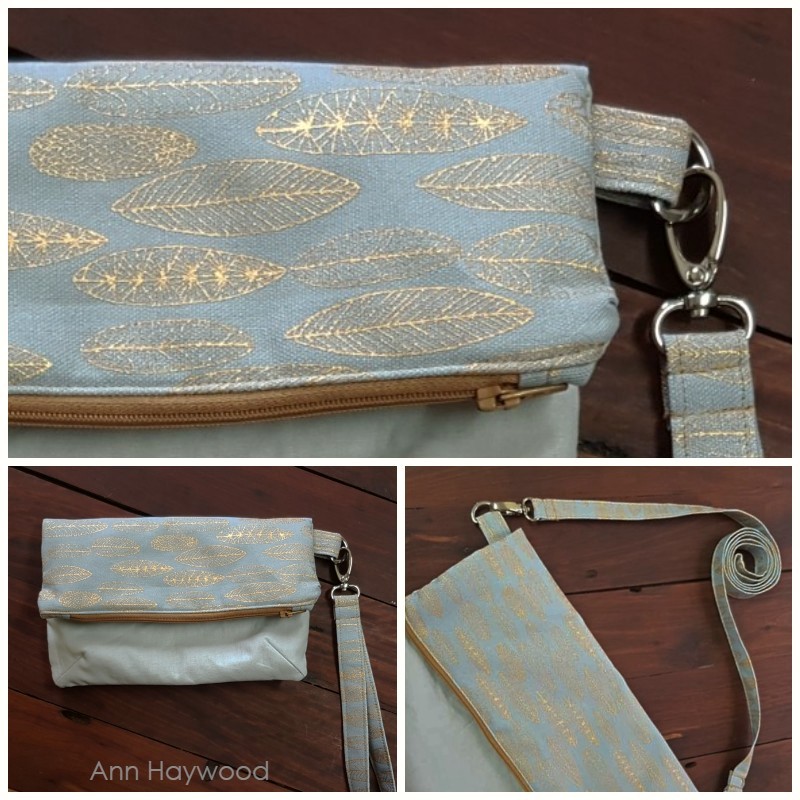 Ann is one of the Sophia pattern testers, too. She chose a beautiful golden leaves print for her final version (very hard to photograph, yet adorable!) Her verdict: 'Such a beautiful pattern, easy to follow and so many options.' She made the large size with a crossbody strap and the small clutch with hand strap. She posted more photos on her Instagram profile at @annmade.1
And let me tell you, there have been many more versions! But you'd have to wait for this post for another two weeks if I wanted to include them all. Let me just say these are beautiful bags and clutches. And I'm hoping to get a few more showcased in the coming weeks in my FB group (join here!) and Instagram. Make sure to follow and see more beautiful photos of Sophia bags made by pattern testers - and I'm hoping to see your version, too.
Make sure to tag me using @applegreencottage on Instagram or @applegreencottage1 on FB. I'd love to see what you make!
WANT MORE FREE TUTORIALS AND Sewing Patterns?
Get email updates and never miss out on new patterns, printables, and tutorials:
Or …check out the SOPHIA Fold-Over Clutch in our shop: