This post features all the tester bags made during the test of the sewing pattern for a crossbody bag called the Nelto bag. Each of them has something unique that will inspire you in your own sewing journey. Take a sneak-peek of the beautiful Nelto bags from the story - and see all the tweaks and smart solutions you can use too!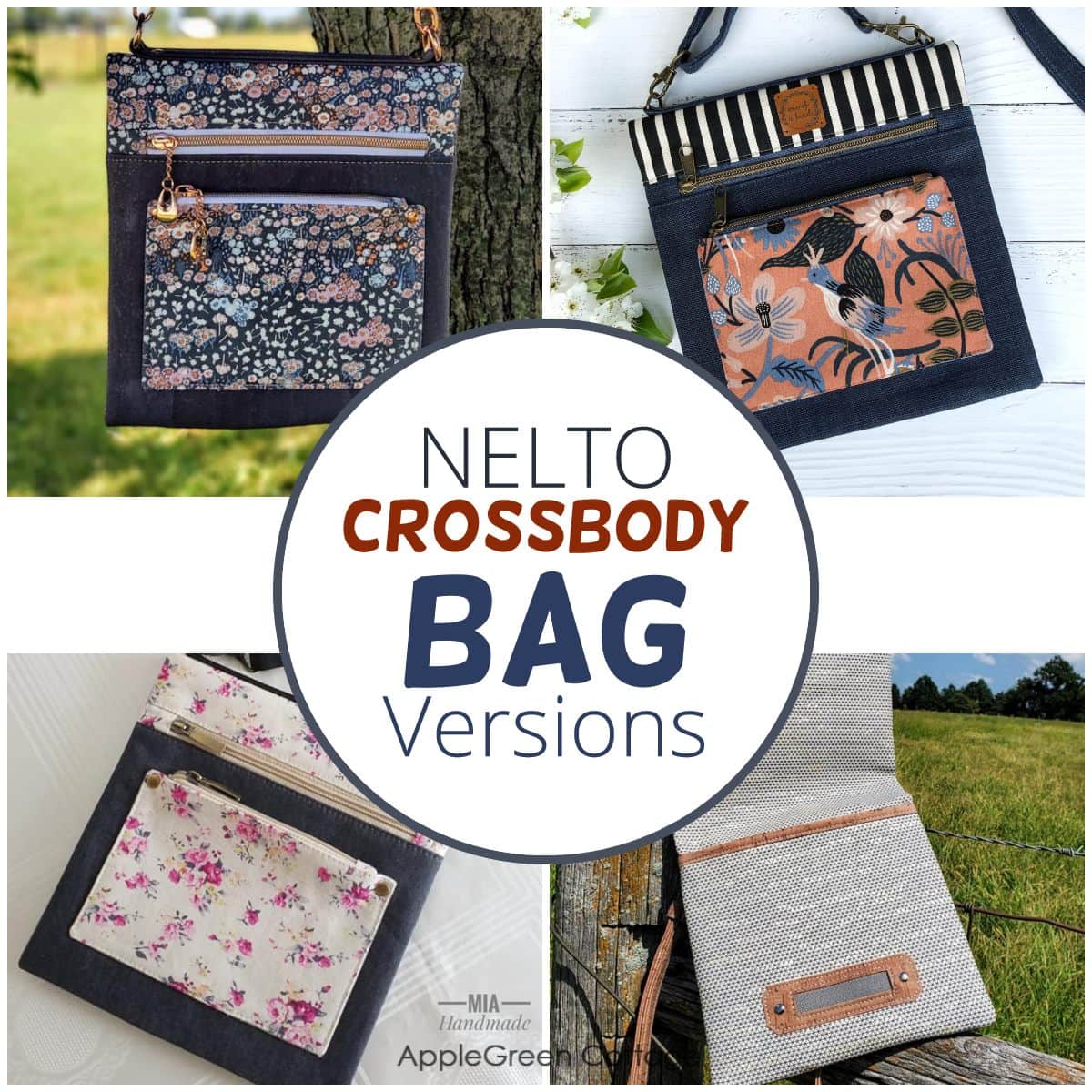 This is the Nelto bag pattern we will be talking about: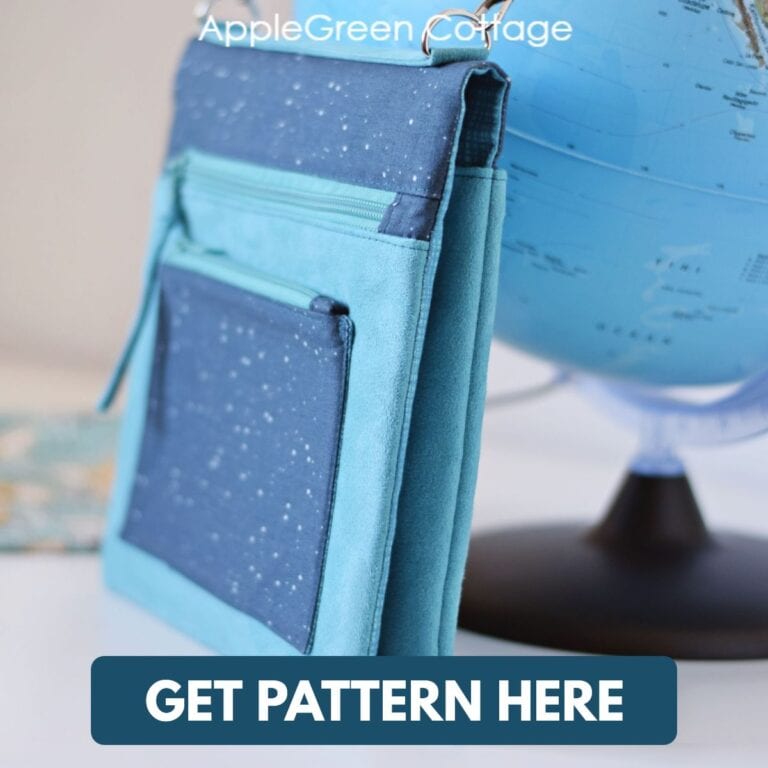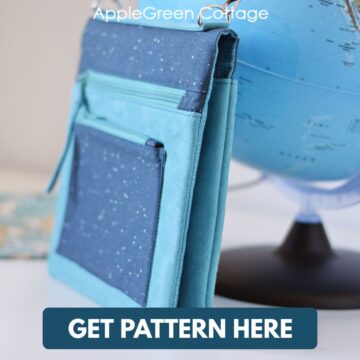 Firstly, I'd like to take the chance again to thank my amazing team of testers. You've been incredible. Your feedback was so appreciated and I'm eternally grateful that you wanted to be on my team. <3
I love showing creations by our talented pattern testers. Not just because I owe a huge part of my success to their support, their sharp eyes, and catching any errors safely before the pattern is published, but also because it's so much fun to see all the versions of a pattern, as imagined by different makers, on different parts of the globe. Such an amazing collage of creativity - take a look!
Nelto Sewing Pattern For The Crossbody Bag - All Tester Versions!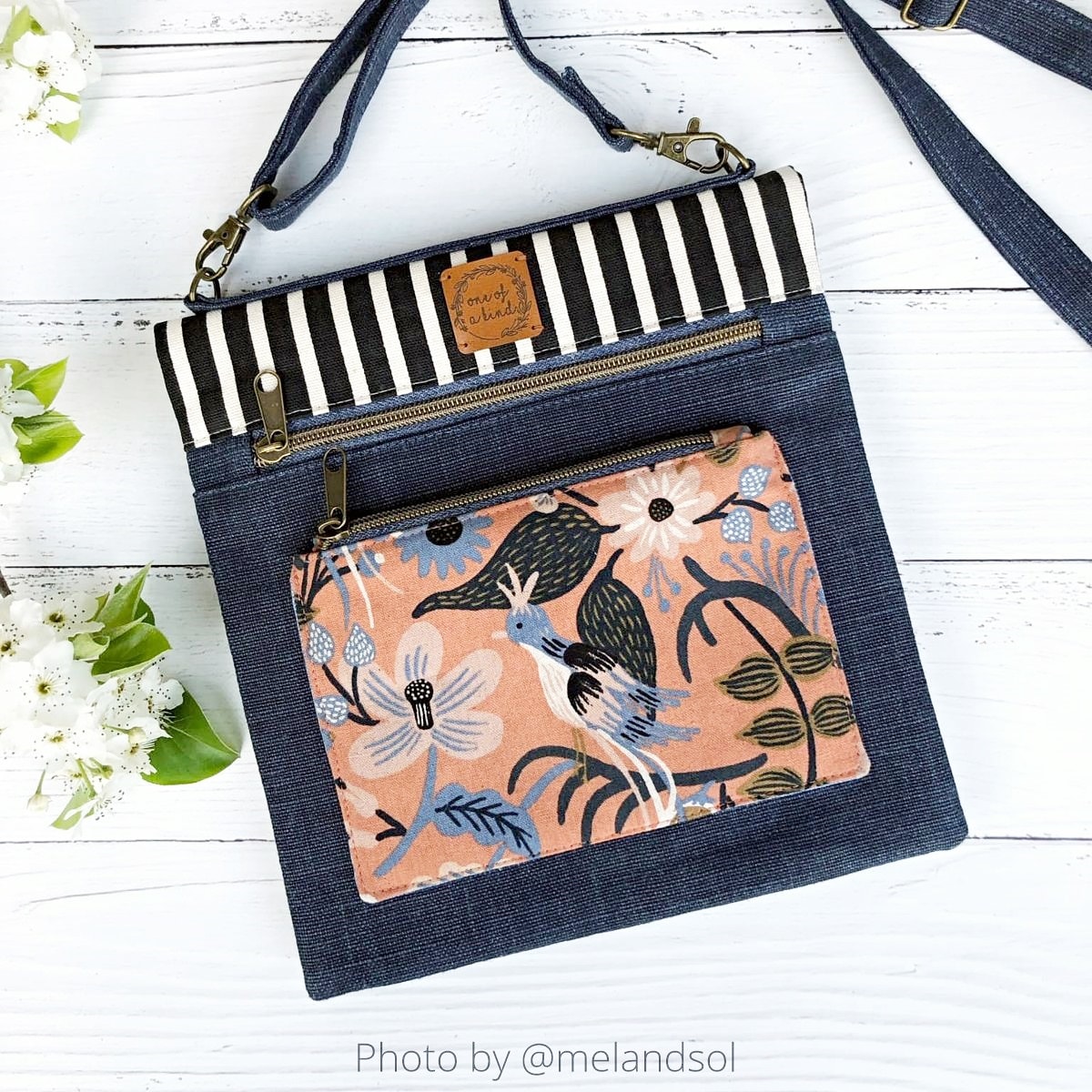 Mellissa made this NELTO bag. I love her fabric choices, her accurate sewing, and her photography style! Visit her beautiful Instagram feed and make sure to follow her!
'It's very well-written and the photos combine to make it a very user-friendly experience.'

Mellissa @melandsol
Nelto Bag With Cork
Noelle was courageous enough to take on sewing the Nelto bag with cork! First, she surprised the entire testing team, me included, with this pretty Nelto in natural cork and sparkle leaf cotton print: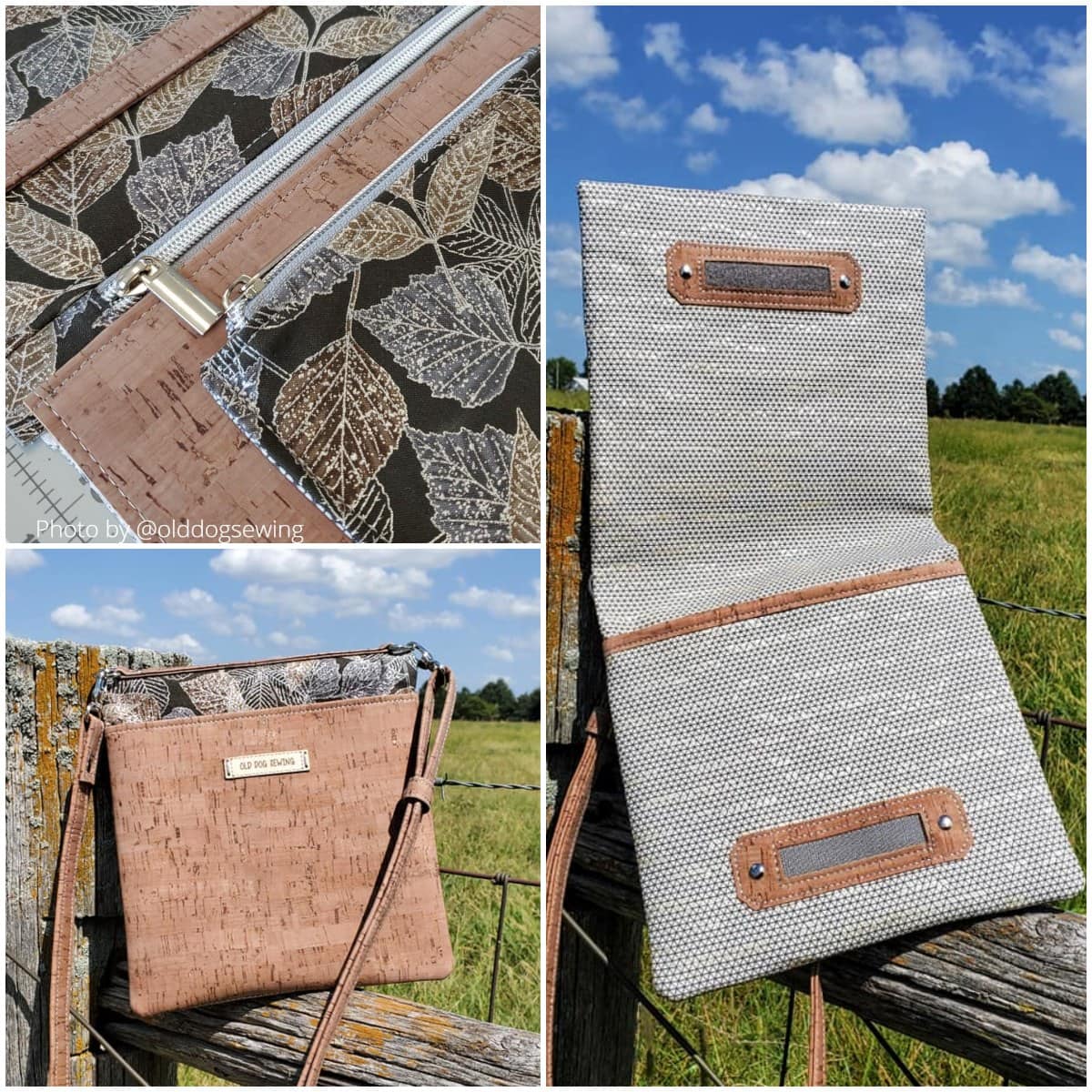 And omg, you just HAVE to take a look at this bag when open. See the closure? That's a whole new level of a hook-and-loop closure, isn't it! Then she made another one, with navy blue cork, and a magnetic snap closure: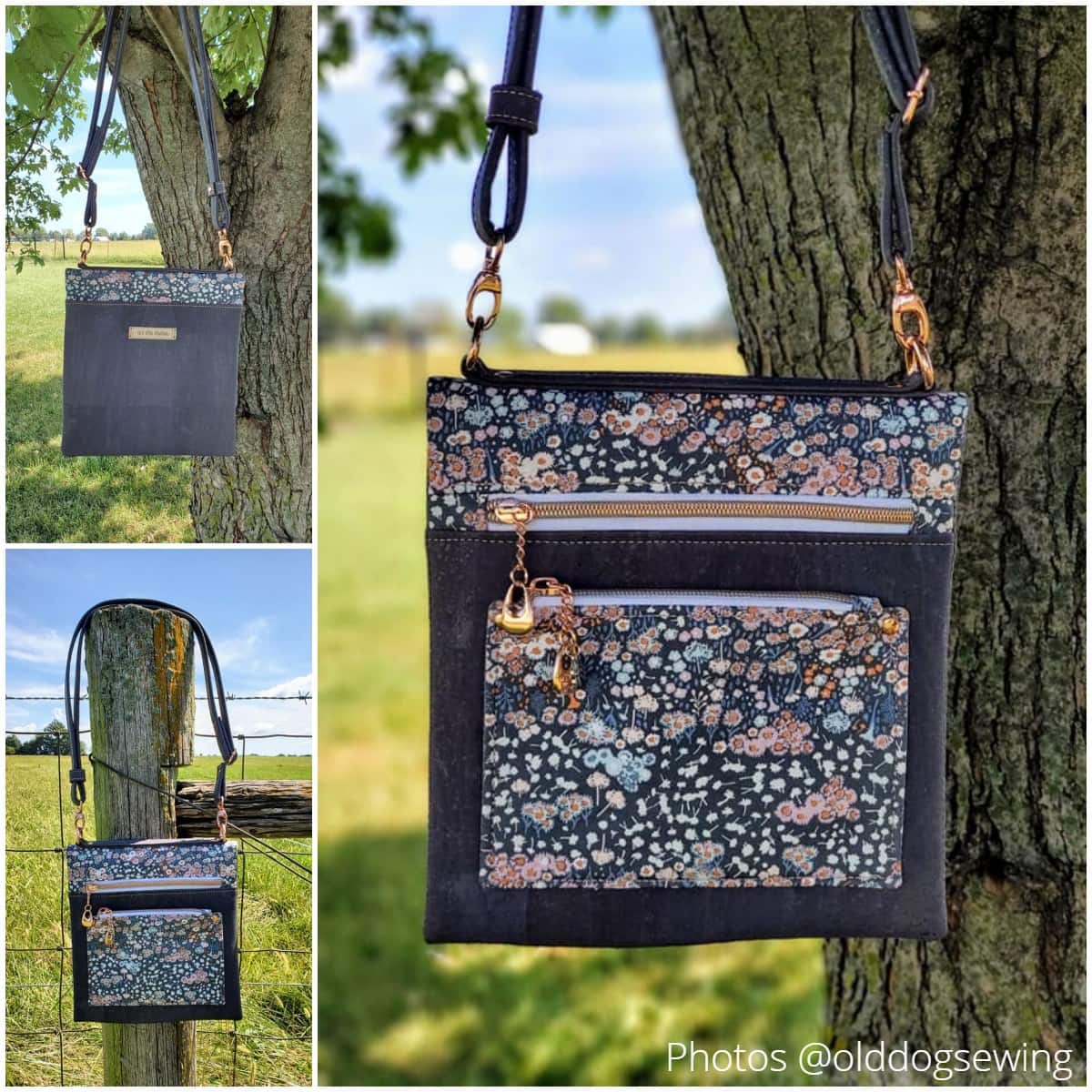 It's a super fast sew that results in a minimalist style, yet functional bag. It has three exterior pockets for holding items frequently used and a single, large interior slip pocket for holding a wallet or other essentials.

Noelle @olddogsewing
I still can't decide which of her two Nelto bags is my favorite!
This Crossbody Purse Looks Great With Webbing!
Question! Are you a fan of using webbing for bag straps?
Good news, webbing is perfect with this bag. I added it as an alternative to sewing up a bag strap from fabric - right in the pattern file! Use the same ¾" width or use what you have at hand – take a look at how Kristy utilized her 1" webbing to match it perfectly to the Nelto bag. I love it!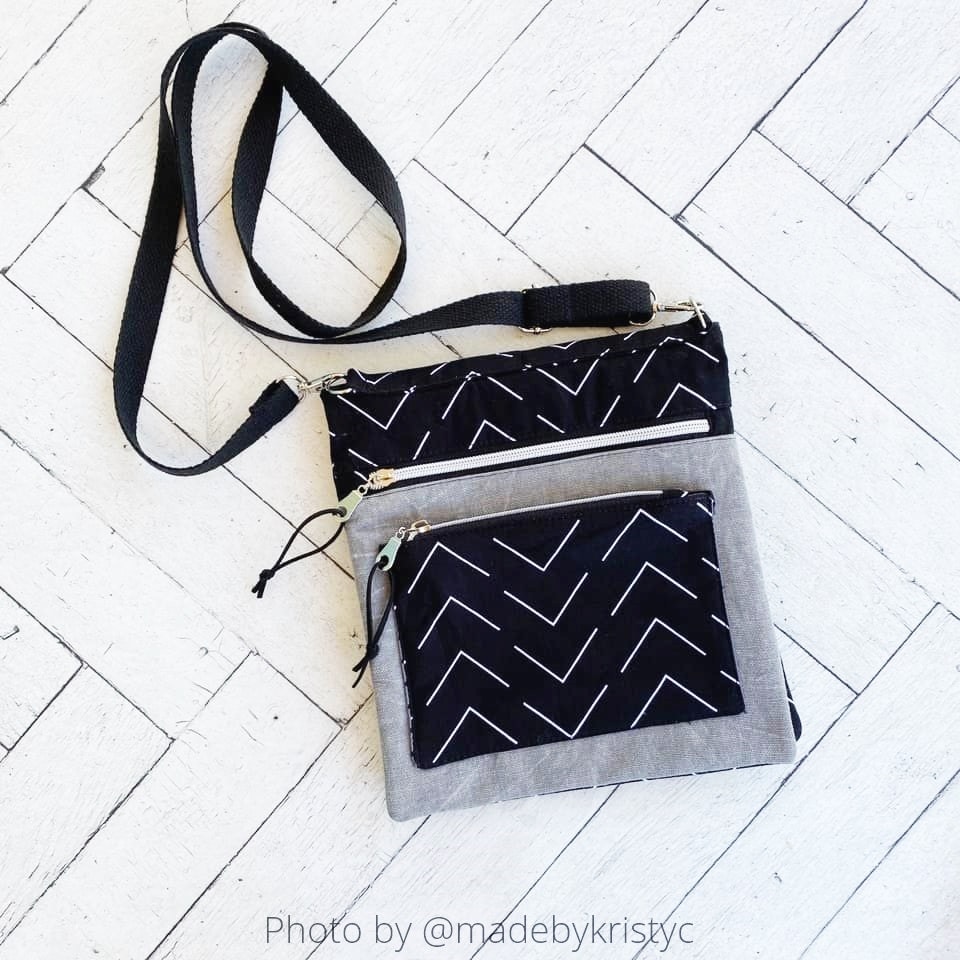 Quite a few other testers used webbing on this pattern for crossbody bag, and with ALL of them, webbing turned out a great time-saving, economical, and great-looking solution. I love the unique touch a specially made fabric strap provides (especially these diy double-colored bag straps are my favorite!). But when you're strapped for time or running out of your beloved fabric print, webbing is the best way to go with this bag. Look at the next photo, tester bag by Moira, she used a few extra touches to give the Nelto bag such a beautiful, classic look: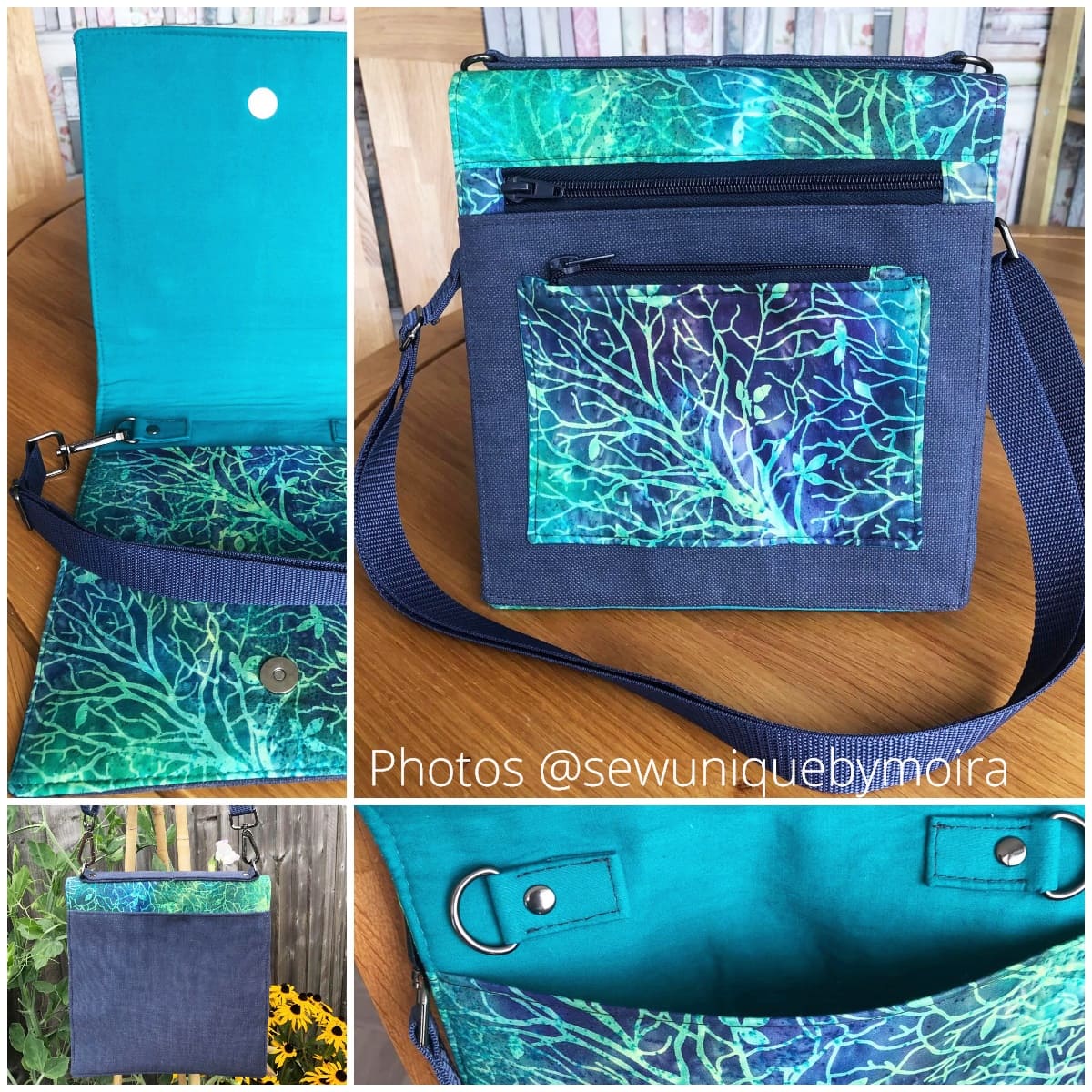 Such a beautiful bag! Notice the topstitching and the rivets? Moira used rivets on bag tabs and anchor, I love that. Moira, I appreciate you going the extra mile in testing the all-around topstitching for me, as well as the magnet fit. It meant a lot! You'll find her makes at @sewuniquebymoira - make sure to follow her to see what she sews next!
Oh, and have you noticed the two inner tabs? Do you want to see how they work? The Nelto pattern for crossbody bag has - wait for it -
Three Wearing Options!
Maria at @miacreates took this photo showing how to use your Nelto bag as a waist bag, utilizing the inner tabs. Quick and easy!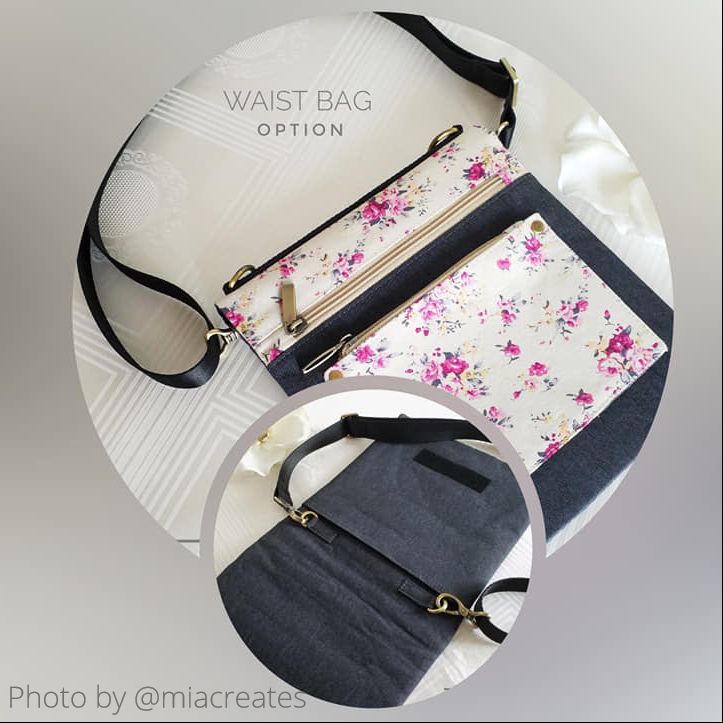 In addition to being worn as a crossbody bag or a waist bag, the Nelto can be turned into a belt loop bag. Simply by switching the D-rings with clips, you can wear it right on your belt loops. SO many options with the Nelto Bag pattern!
'It was a fun, quick and easy sew. I used the cutting measurements for the bag and everything fit beautifully. Your instructions were very detailed making it easy to follow.'

Maria at @miacreates
The next Nelto crossbody bag was sewn by Cara. What a beautiful bag, and these photos!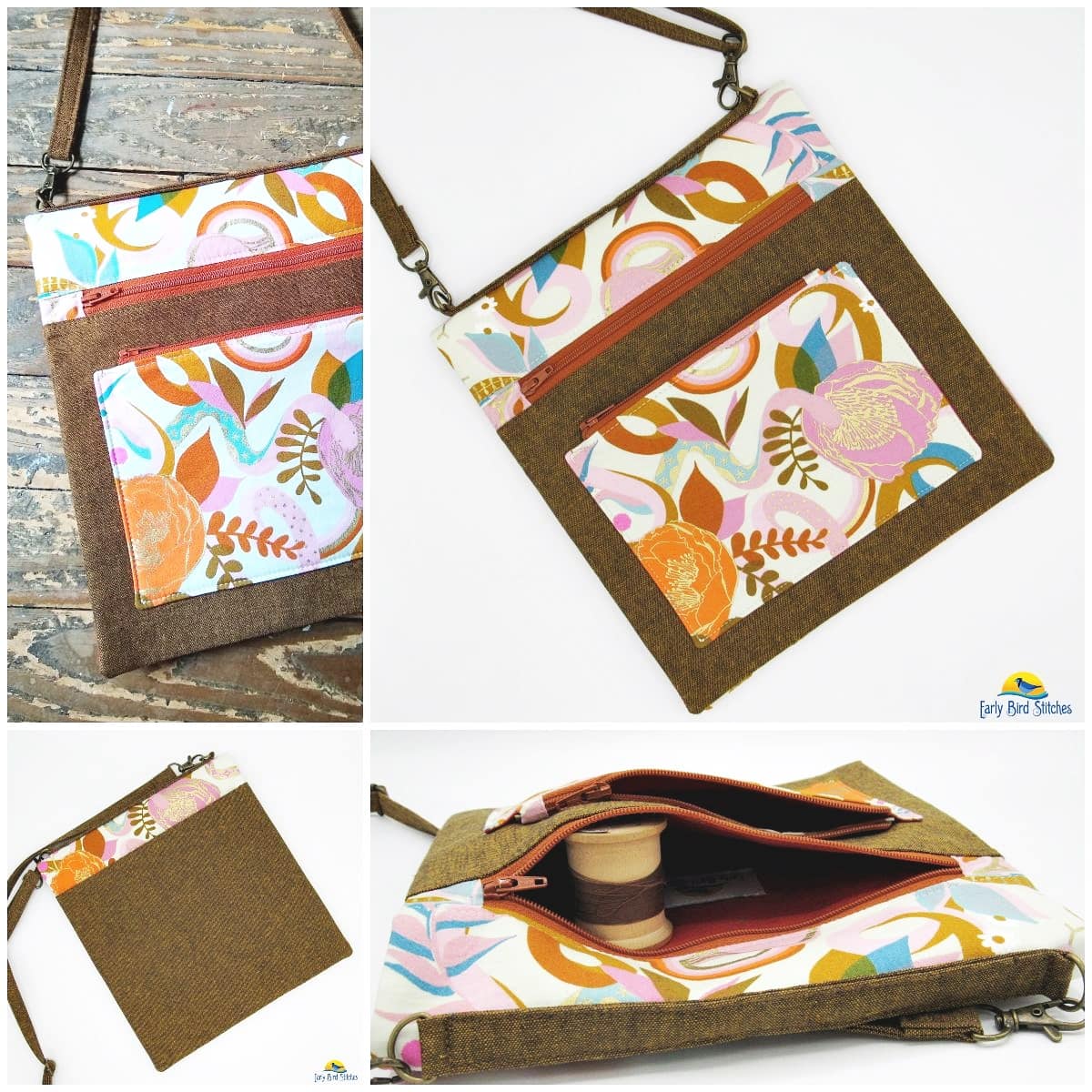 As always with Cara @earlybirdstitches, my expectations were high. But she did it again, and that with such amazing attention to detail. And what an amazing choice of colors, bold, fantastic combinations! She made this bag using Essex linen and some beautiful prints from the Rise line by Ruby Star Society. I always learn from you, Cara. Thank you.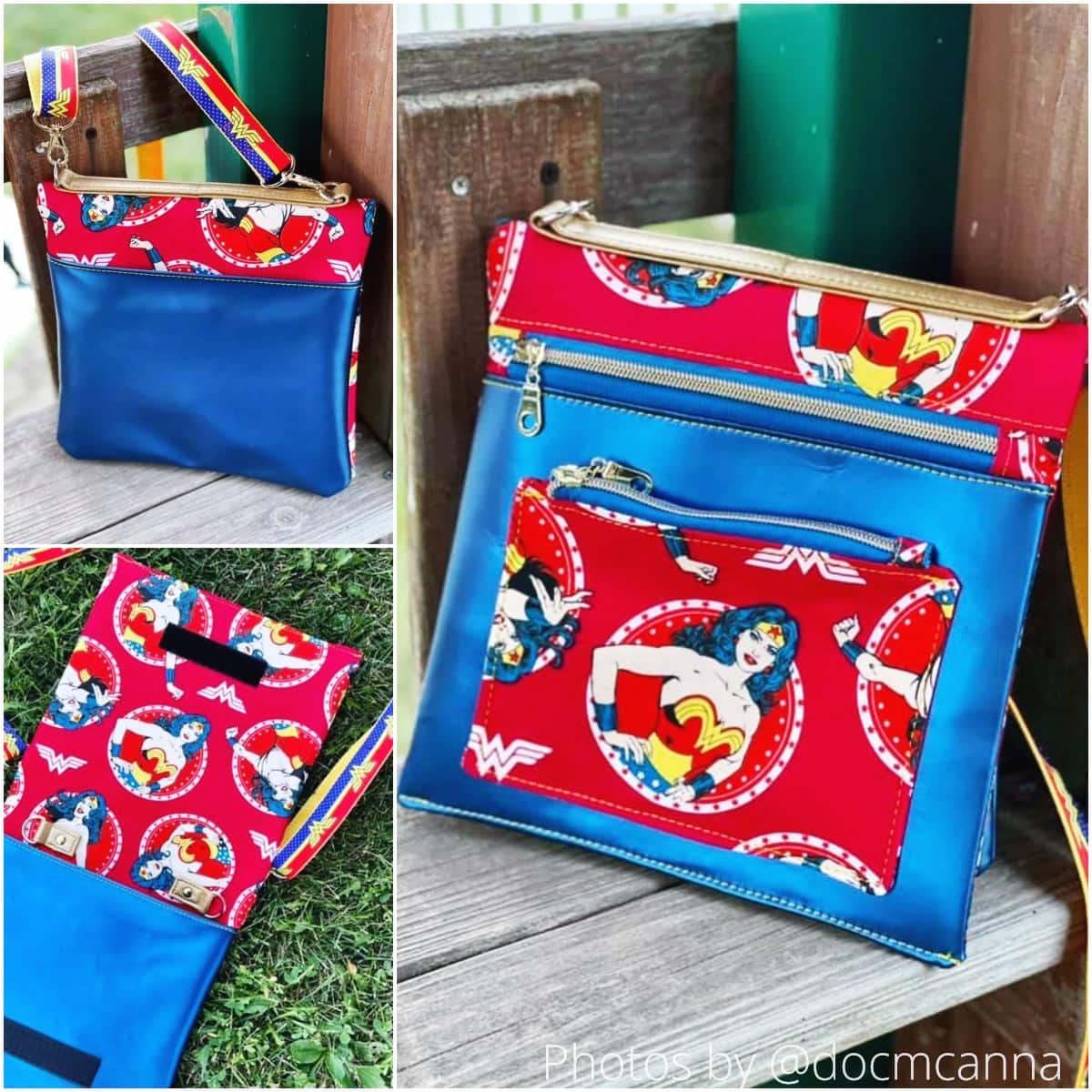 Next on, tester bag by Anna. This bag is perfectly themed! You might not recognize the connection at first sight, but sewing the Nelto bag using vinyl is NOT for the faint-hearted! But Anna managed it with a few tweaks, see the bottom straight stitching? This is how she managed to tame vinyl layers into a straight edge. The Wonder Woman print is so fitting! (Also, must-see Anna's profile description on IG!)
Tips For Sewing With Thicker Materials
We got you covered though: if you'd like to sew your Nelto bag pockets with thicker materials such as faux leather or vinyl, simply use Bonus Tip No 3 in the pattern file if you are sewing on a not-so-robust home machine. (I did try to think of everybody!)
That's a clever and easy workaround to avoid bulk in your seam allowance, on any sewing pattern for crossbody bag - or any other type of bag.
The Nelto Bag is A Gender Neutral Bag Pattern
And last but not least, I also wanted to show you how the Nelto bag pattern can take on so many styles and looks!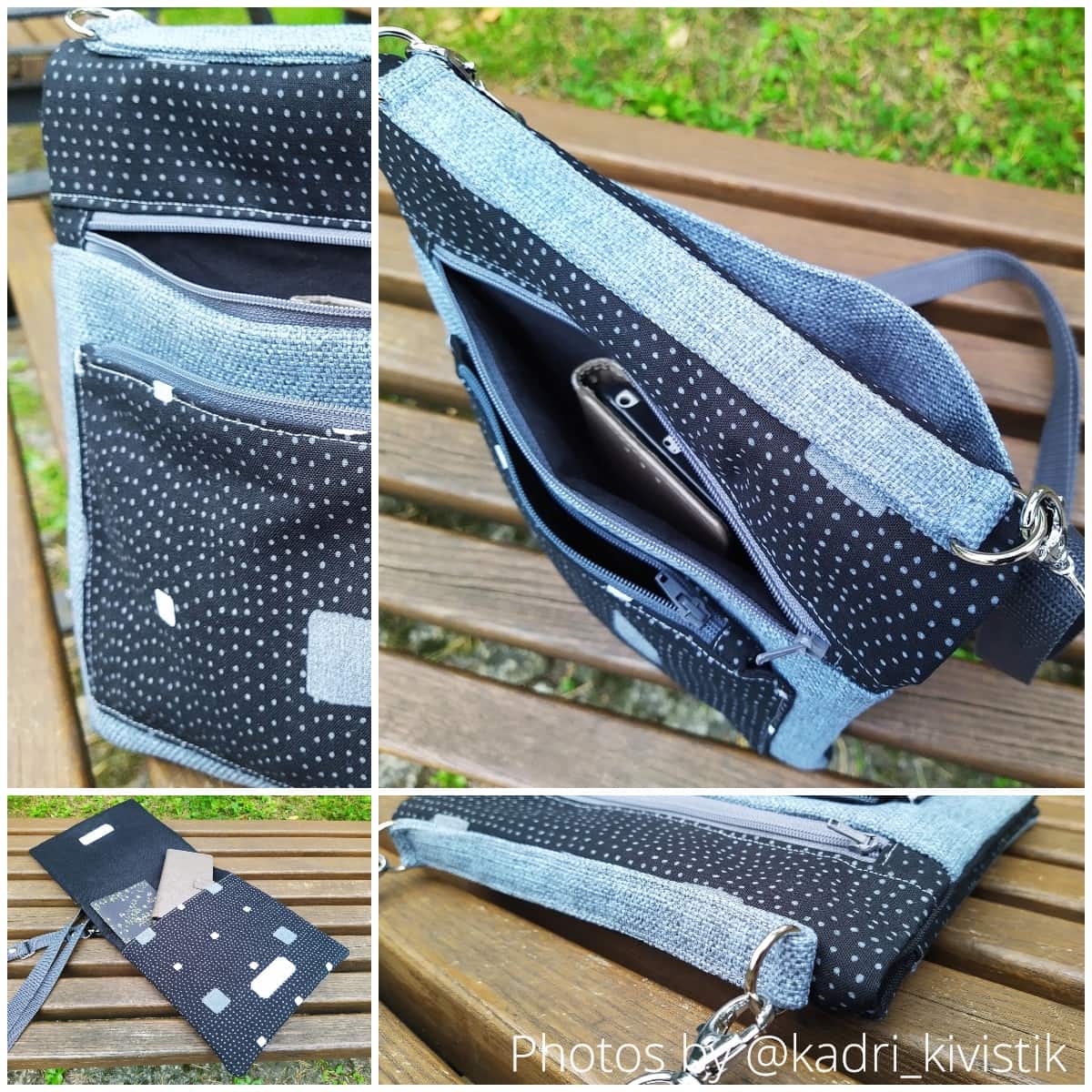 This is Kadri's take on the Nelto bag: she made one for her son, who chose the fabric too: upholstery fabric and two quilting cotton prints. We loved it! Visit Kadri at @kadri_kivistik to see what else she makes!
The Nelto bag is a gender-neutral pattern, suitable for both men and women. Make it for yourself in your favorite designer prints, one for your partner in suede, or in navy and grey canvas or in denim! You can easily sew it as a mens' bag, a travel bag, or make a lot of these to stock up your handmade shop - these convenient small crossbody purses will sell quickly! I too, tried to make one a bit differently, this: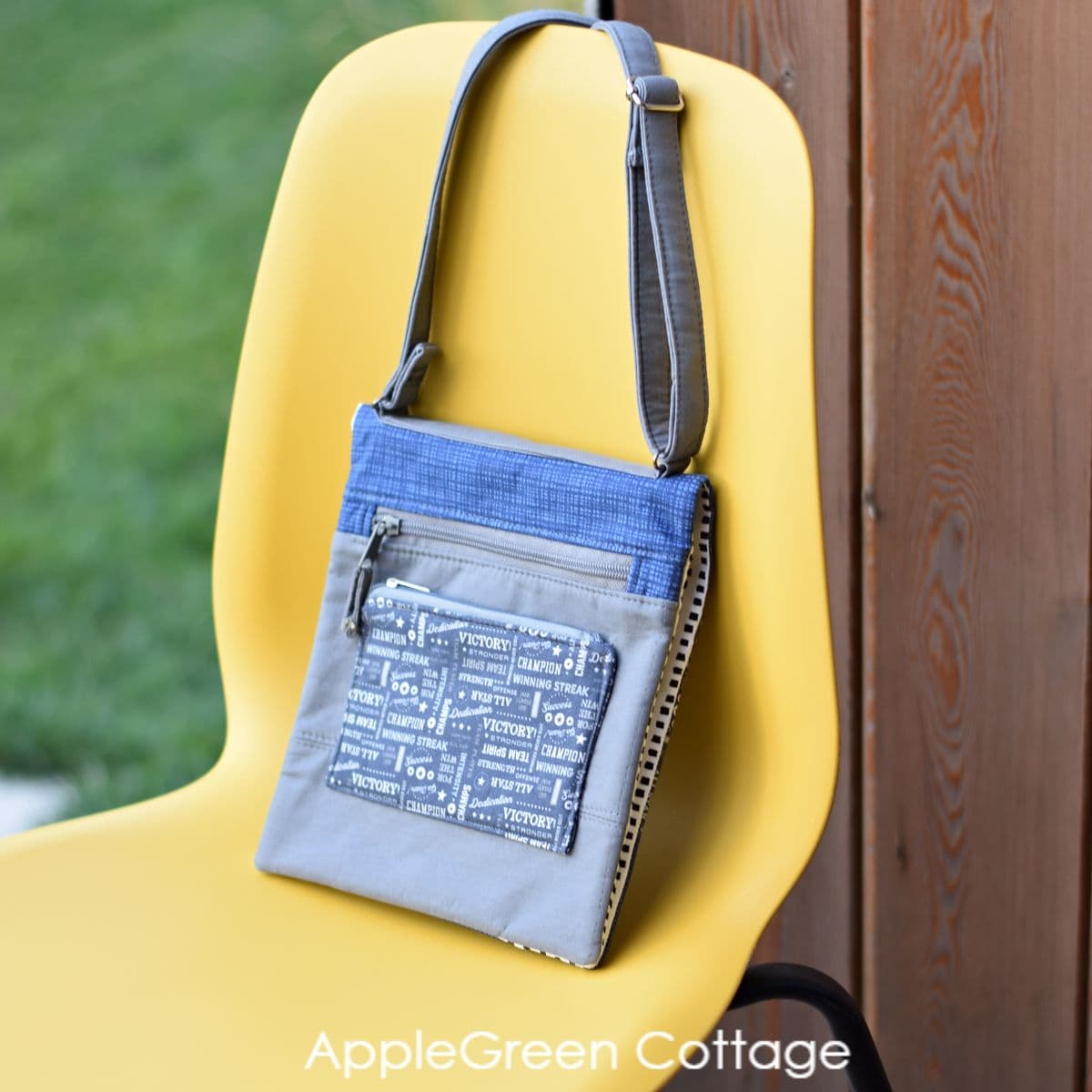 One of my Nelto bags with an adjusted pocket. My front pocket fabric was too small - I simply adjusted the front pocket size to fit what I had on hand. Pretty cool, huh?
I made this one, as a test, from my cool blue and gray scraps, giving it a sporty look that I know my partner likes. It complements this large messenger bag I had made him a few years back. I included a photo of this blue-and-grey Nelto bag here in my Nelto crossbody purse pattern feature post, check it out if you like!
And here's a photo for you to save on Pinterest for when you need some inspiration with my Nelto sewing pattern: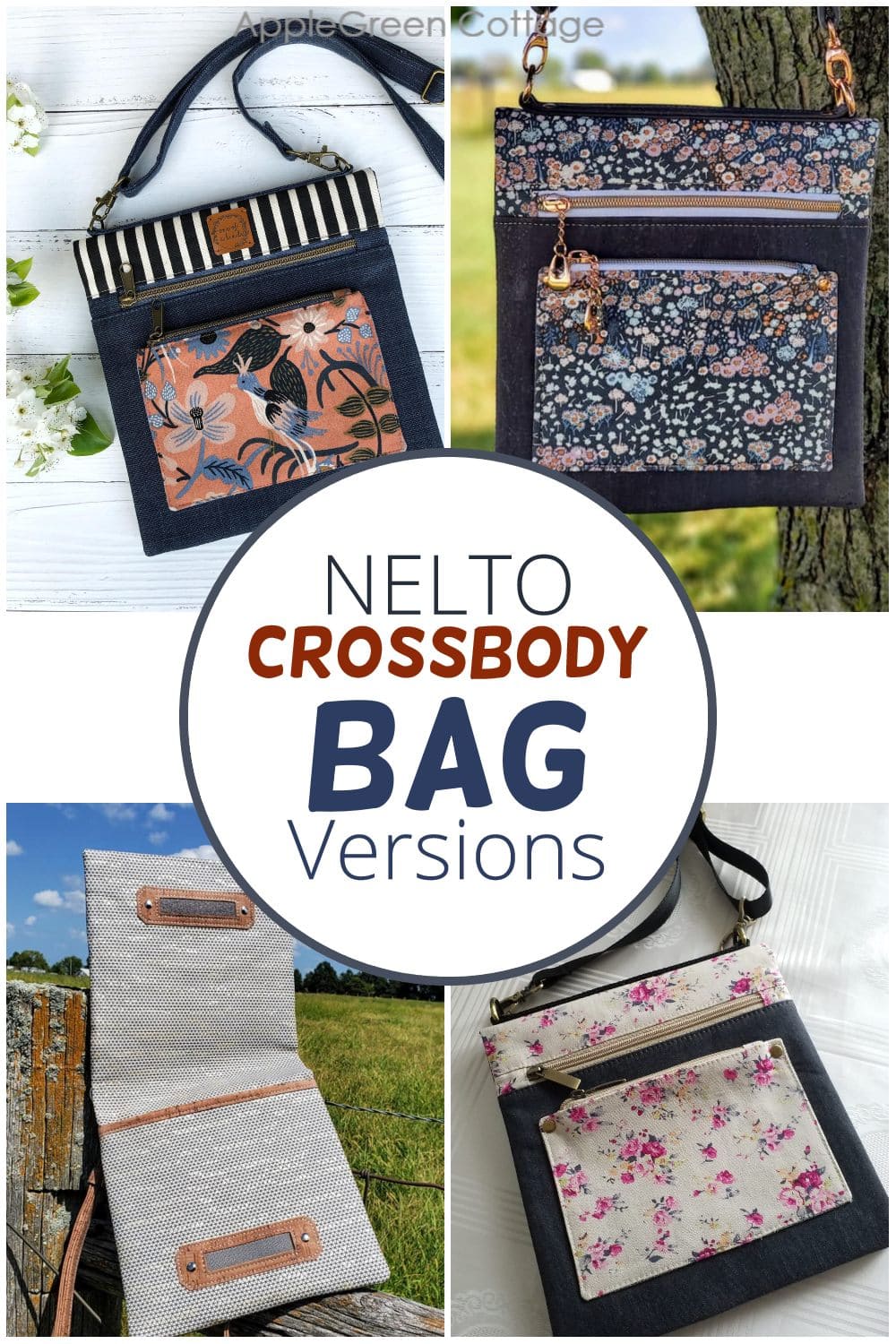 Get the Nelto sewing pattern for crossbody bag
And finally, here's the new NELTO sewing pattern for crossbody bag. A bag that's perfect if you want to sew up something new, unique, unconventional - yet so practical you'll want to carry around everywhere! More photos in the shop: