Advent calendars are such a fun way to start December with a little extra excitement! But why not switch from cheap store-bought calendars to a beautiful, unique, and reusable one - and you can put the good stuff in!
Need inspiration? Here! I've collected the best homemade advent calendar ideas for the Christmas countdown. And make sure to grab the list of ideas for advent calendar gifts below.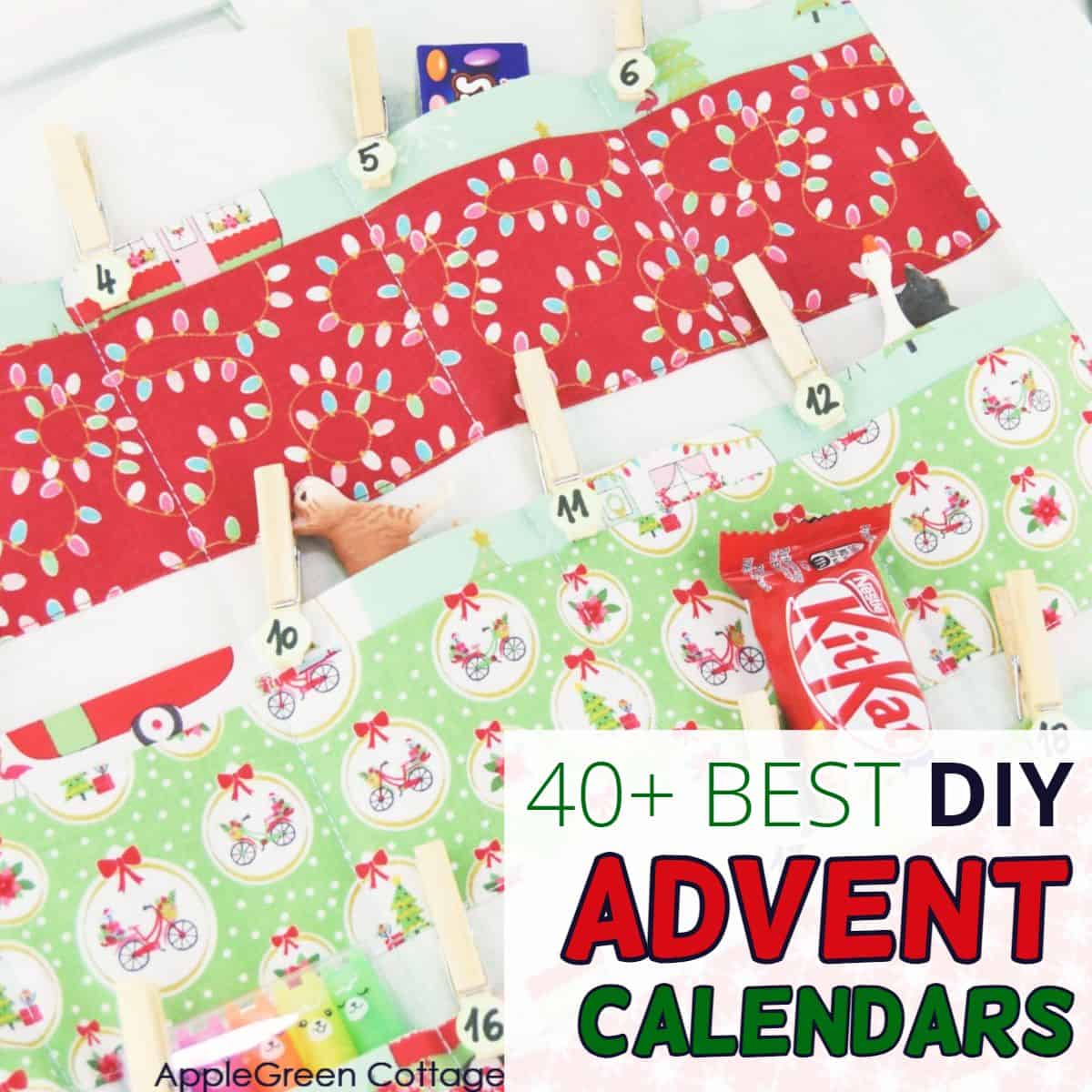 This post contains affiliate links at no cost to you. Thanks for your support.
Table Of Contents
Reusable advent calendars are the best! I love them because you simply fold them up with your Christmas decorations at the end of the year. Then, next year, you can fill them with your handpicked goodies for the kids. Voila!
Diy Advent Calendar Ideas List
Since I love sewing, I'll start with the diy advent calendars to sew. Actually, I already have two free fabric calendar tutorials from the previous years you'll want to see!
But there's much more! All kinds of countdown calendars I could imagine: in addition to cloth advent calendars, there are felt advent calendars, those made of wood, paper, metal, cans, household items, tons of upcycled advent calendars to make, quilted advent calendars, and more. Let's start!
40+ Beautiful Diy Advent Calendars You Can Make This Christmas
Looking for the cutest Christmas this year? Put together one of these DIY advent calendars! Ranging from traditional and charming to modern and minimalist, we're sure you'll find your next favorite here.
Advent Calendar Patterns You can buy
Last week, I found beautiful Christmas advent calendar patterns and kits on Etsy while searching for a holiday gift. They are not free, so I did not add them to the list above. But these are a must-see for me, and I want to revisit them when I have more time on my hands, so I'm adding a separate list here, hoping some of the ideas will be a helpful inspiration for your holiday sewing too.
This list, way shorter, consists of just a few of my favorite advent patterns and finished items that are available for purchase. I absolutely love these and want to keep them in mind for my future crafting 🙂
Advent Calendar Patterns You Can Buy + Finished Makes
Photo Credit: www.etsy.com
The Rudolph the Red-Nosed Reindeer Advent calendar sewing pattern by Sugar House Shop is absolutely stunning in its elegant simplicity!
Photo Credit: www.etsy.com
This hexagon advent calendar pattern by Crafty Quilter Designs is a treat to everyone's eyes. I found the sewing pattern on Etsy. And though it may look like a complicated design, the designer who created this pattern looks like my kinda girl: no piecing required, she cleverly designed the pattern so that quilting is done simultaneously when stitching the hexies to the background fabric. Simpler to sew than it looks like, but gorgeous - these cute little pockets!
Photo Credit: www.etsy.com
If you're looking to create your own shoe-organizer-style advent calendar with gusseted pockets, give these sewing instructions a try. They are suitable for hanging and accommodating a wide range of little pocket stuffers.
Photo Credit: www.etsy.com
I simply couldn't pass on this adorable crochet pattern for an advent calendar. These cute little ornament pockets! Pattern available at Etsy.
Photo Credit: www.etsy.com
No wish to sew your own advent calendar? Order this gorgeous advent calendar sewn with Rifle Paper Co Christmas decorations prints - and there are several colorway options.
Photo Credit: www.etsy.com
Love Scandi style? This reusable fabric advent calendar with pockets will be perfect. Entirely handmade, it has 24 numbered pockets and a soft filling which adds a luxurious touch. And you get it shipped in a sturdy box you can keep to store your advent calendar safely from year to year. I love practical!
So, which one is your favorite? Let me know in the comments!
These DIY advent calendars are fast and simple to make. They are a great way to create special memories for your family every year. Also, with sustainable home decor design in mind, you can reuse these DIY advent calendars. Year after year. They are kinder to the planet and help you cut down your plastic waste.
What advent calendar gifts to put in an advent calendar for kids?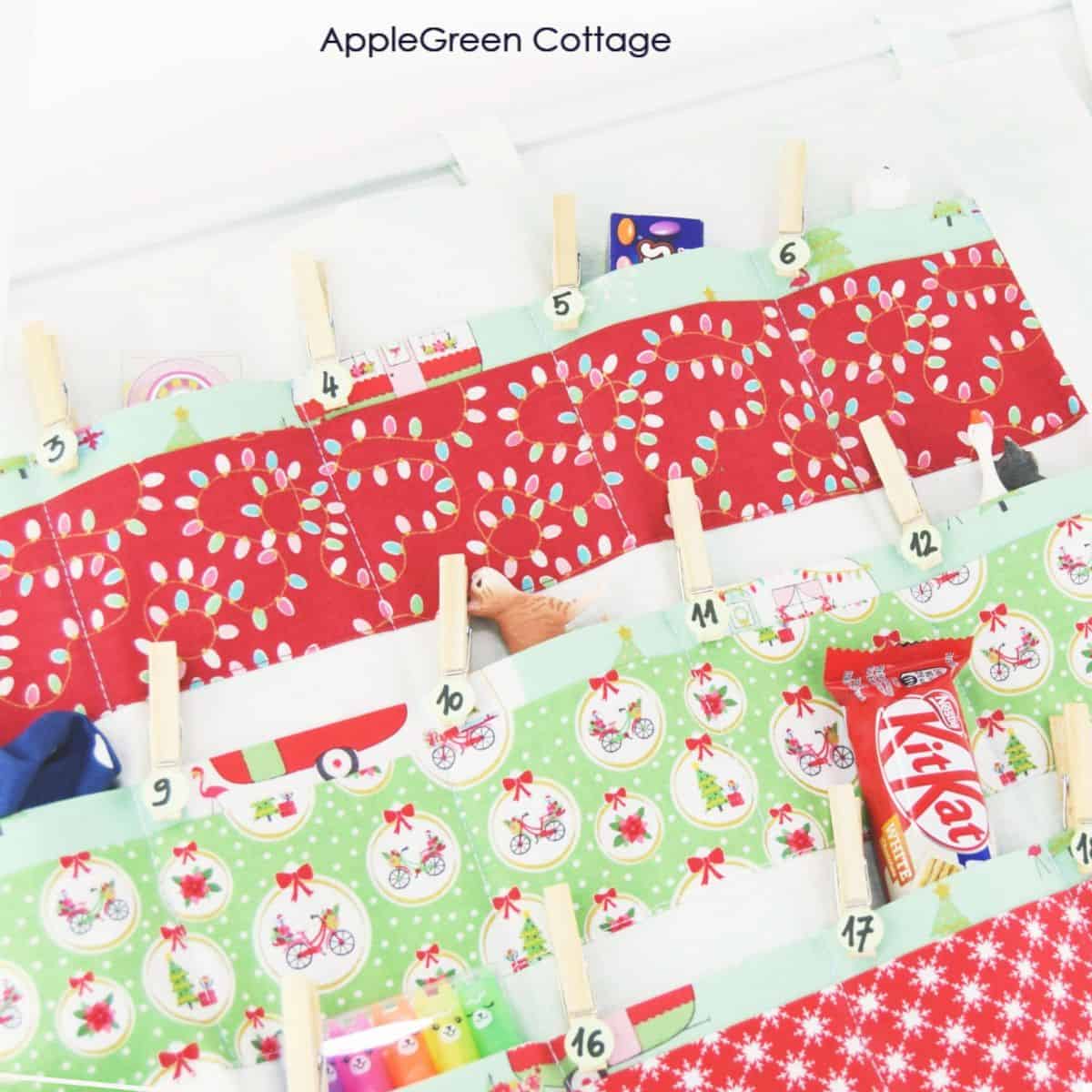 Simple first, 🍭I think of sweet treats like mini candy canes, AND other small gifts. You can create a themed advent calendar: make tons of tiny DIY play food out of felt, and you have a new toy collection.
Sew (very likely, you love sewing if you're here 🙂 small doll clothes for their favorite doll. Or add tiny crayons, pencils, and post-it notes. Small toys like dinosaurs, and tons of Hotwheels cars for Hot Wheels fans.
Healthy dry-fruit bars, nicely wrapped up. Especially for kids, so easy to choose!
Instead of gifts, you can include notes with a kind gesture or other give-back initiative to go with, to emphasize the importance of giving, not just receiving gifts.
And last but not least: activity cards. Just a few of my favorite examples to get you started:
Play a board game together
make hot cocoa with marshmallows
build a fort or create a teepee
have a picnic in the living room (a blanket and snacks!)
cut out paper snowflakes and tape them on the windows
make popcorn and watch a Christmas movie
treasure hunt around the house
Go out to a movie
Make a pinecone bird feeder
Bake Christmas cookies
Go downtown and look at the lights
What can I put in an advent calendar for adults?
While so many ideas pop into my mind when choosing tiny gifts for kids, I'm in a bit of a rut to come up with ideas for little gifts for grownups, to put in a Christmas countdown calendar like these. This list took some effort for me to make but am confident it will be my reference list for years to come. And it might help you too:
Tons of possibilities! Here's what I placed in a diy advent calendar for a creative person who loves to sew.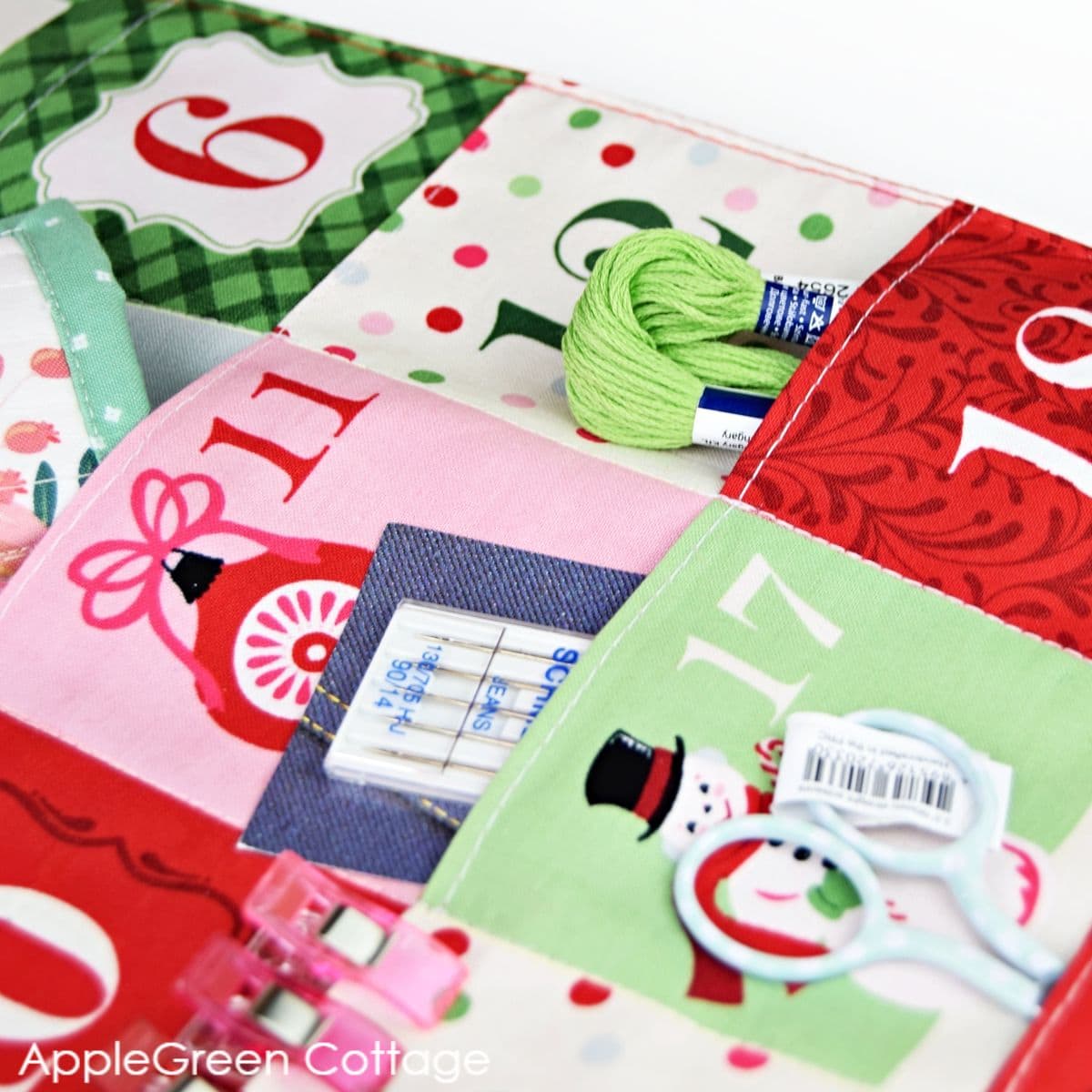 And here are a few examples of the most popular miniature presents to put in a small Advent calendar for adults:
Chocolates and sweets: Opt for high-quality chocolates, truffles, or gourmet candies to indulge in each day.
Give the person a selection of different tea bags or coffee samples to enjoy during the month.
Self-care treats include mini skincare products, bath bombs, scented candles, and handmade face wipes for personal care.
Inspirational quotes or messages: Write down uplifting quotes, affirmations, or motivational messages on small cards to brighten their day.
Small accessories: Consider including items like earrings, cufflinks, a diy keychain, or small pieces of jewelry.
Miniature puzzles or a diy fidget: Challenge their mind with small puzzles, crosswords, or brain teasers.
Add excitement with scratch-off or lottery tickets for a chance to win prizes.
Small collectible items related to a person's specific interest or hobby can be included, such as miniature figurines or collectibles. How about a special dice set for a DND fan!
Gourmet treats: Include gourmet snacks such as flavored popcorn, dried fruits, nuts, or specialty cookies.
Mini art supplies: If the person enjoys arts and crafts, include small items like mini paint sets, colored pencils, or sketchbooks.
Coupons or vouchers: Create personalized coupons for activities or experiences like a dinner date or movie night.
Helpful Tips
What is an advent calendar?
If you're not familiar with this type of holiday tradition, you might be asking yourself what an advent calendar is. Super simple: it's like a calendar counting down the days from December 1 all the way to Christmas - just better! This calendar has a door, pocket, or sleeve for each day. Open it to find a small treat or surprise. My kids' favorite way to pass the days until Christmas!
Should an advent calendar have 24 or 25 days?
In short, 24, but nobody will mind an extra gift 🙂 Now let me clarify this a bit:
traditionally, an advent calendar has 24 days, starting on December 1st and ending on the 24th.
However, some advent calendars may include a 25th compartment, which corresponds to Christmas Day itself on December 25th. This one can be used for a special, often larger, treat or gift.
How to add numbers to a homemade advent calendar?
If you have time, sew or embroider numbers on your calendar before sewing the pockets together.
You can also use vinyl or iron-on numbers. Add them after sewing and turning the pockets.
Use stick-on felt numbers.
Lastly, my quickest go-to: attach numbers (wooden, paper, plastic) to your calendar using simple wooden clothespins. You can remove them when laundering the calendar if needed.
Now use up your Christmas sewing stash making an adorable calendar just for your family. Maybe you can even match it to these stocking patterns to sew!
Or get the huge free holiday pattern bundle and make the fondest family memories this holiday season.
And save some matching fabric for a matching DIY Christmas tree skirt. You can make one using one of these 40 free tree skirt patterns.
WANT MORE FREE TUTORIALS AND GOODIES?
Get email updates and never miss out on new patterns, printables, and tutorials:
Or …check out the gift bag pattern in 6 sizes in our shop - a super easy no-corner-boxing sewing project. Reusable gift bags for all your future gifts!