I'd love to show you a simple December tradition in our family: making delicious, mouth-watering coconut cookies for Christmas! Also scroll down to see how to turn them into an instant homemade holiday gift!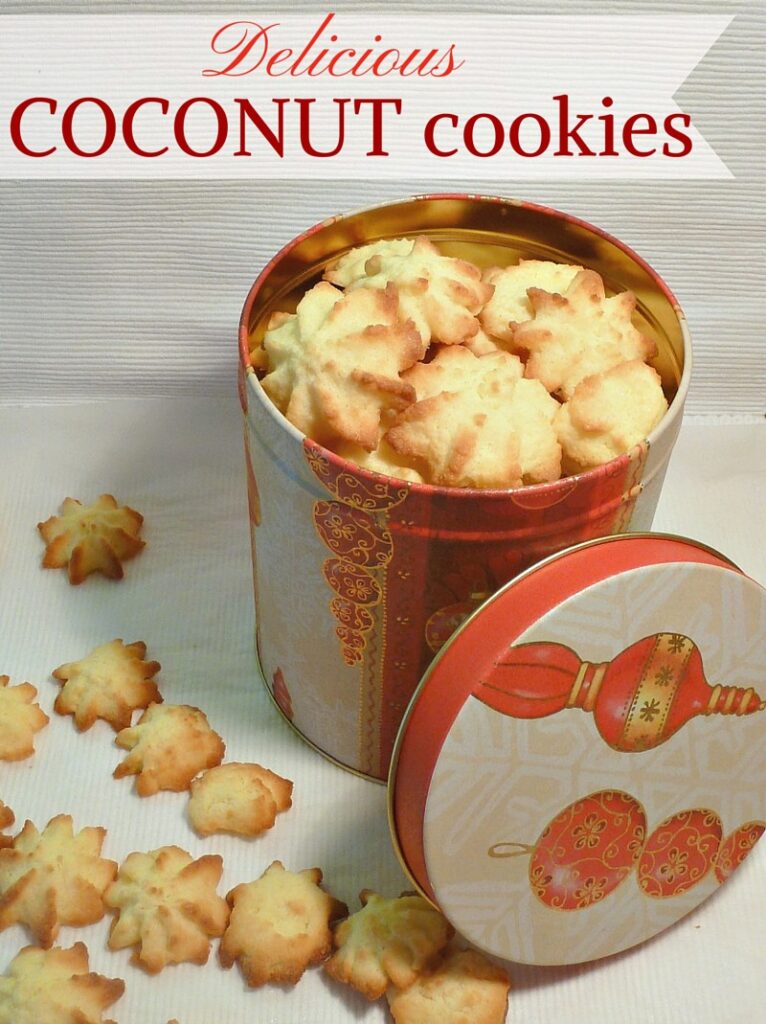 If you found this list of our favorite Christmas desserts, you know we have a sweet tooth - all family! We love to bake, but these flavourful coconut cookies might be our all-time favorites. I've used them to make these last-minute holiday gifts, that worked out perfectly! Not just once. And if you toss them into a cellophane bag, they turn into a great stocking stuffer too (use this free stocking pattern to sew a set!)
Of you like easy homemade desserts, also check out these blueberry desserts - or these awesome diy hot chocolate bombs - a must-try in 2021!
They are light as a feather, melting in your mouth and there is no chance there will be any left for Christmas if you make them more than a week ahead. We always do - and simply make them again just a few days before the holiday.
These Will Become Your favorite No-fail cookies!
Trust me, these are super easy coconut cookies for Christmas you'll want to make year after year. Great Christmas tradition cookies to bake quickly, with just a few ingredients that include butter, egg, flour, and just a bit of vanilla. And some shredded coconut flour of course. They are always made in no time. Our go-to easy Christmas cookies!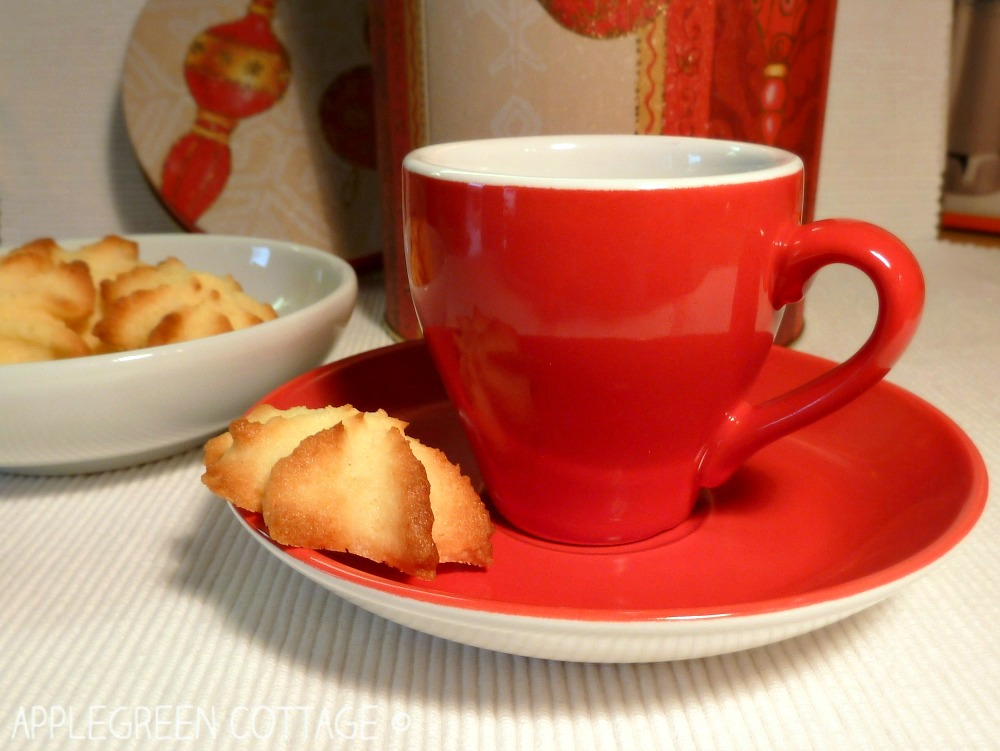 The Shredded coconut Cookies You'll Love!
Easy, simple and they will last long - but only if you tuck them away somewhere on a high shelf in your kitchen storage. Otherwise, plan ahead and double the amount of ingredients - which is what I usually do nearly every Christmas. To make them, you'll only need 6 ingredients.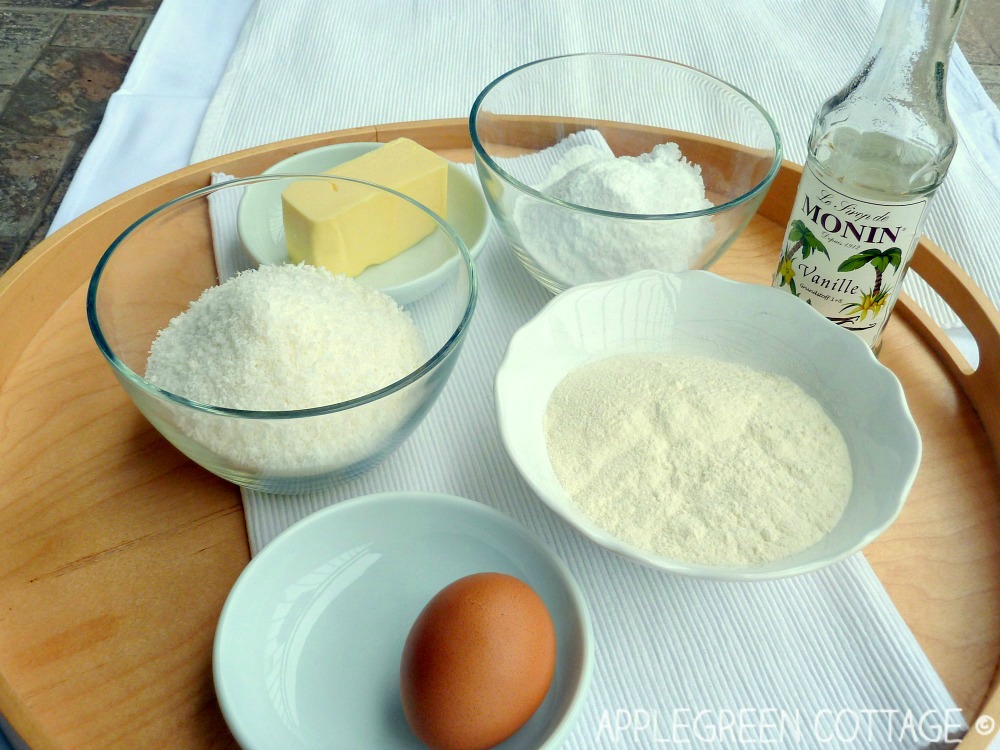 Coconut Cookies Ingredients:
100 g (3.52 oz) margarine (or butter if you prefer it)
100 g (3.52 oz) powdered sugar
1 whole egg
130 g (4.6 oz) wheat flour
100 g (3.52 oz) finely shredded coconut (unsweetened)
several drops of vanilla extract (optional)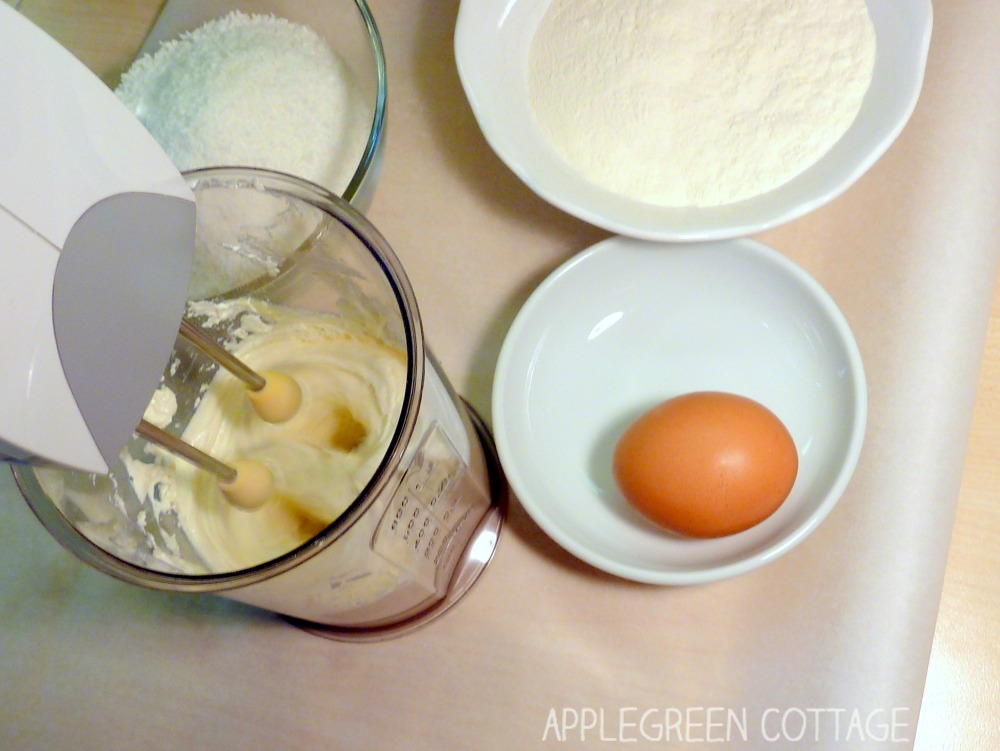 Directions - Recipe
Stir margarine with powdered sugar until creamy and light yellow.
Beat in the egg and vanilla extract.
While mixing, gradually add the flour and the finely shredded coconut.
Refrigerate (covered) for half an hour. In the meantime, cover the baking sheet with a layer of baking parchment paper.
Take the cookie dough from the fridge, then use the cookie press to make cookies in the form of your choice. A hint: if the dough sticks to the cookie press, use a round butter knife to push the dough onto the baking sheet. If you don't have a cookie press, use a tablespoon and drop cookie dough by rounded teaspoonfuls (an inch apart) onto the baking tray.
Yield: approximately 70 cookies (depends on cookie size).
Preheat the oven to 350° and bake for 7 to 10 minutes until golden brown. Let the cookies cool completely before you store them in a cookie container.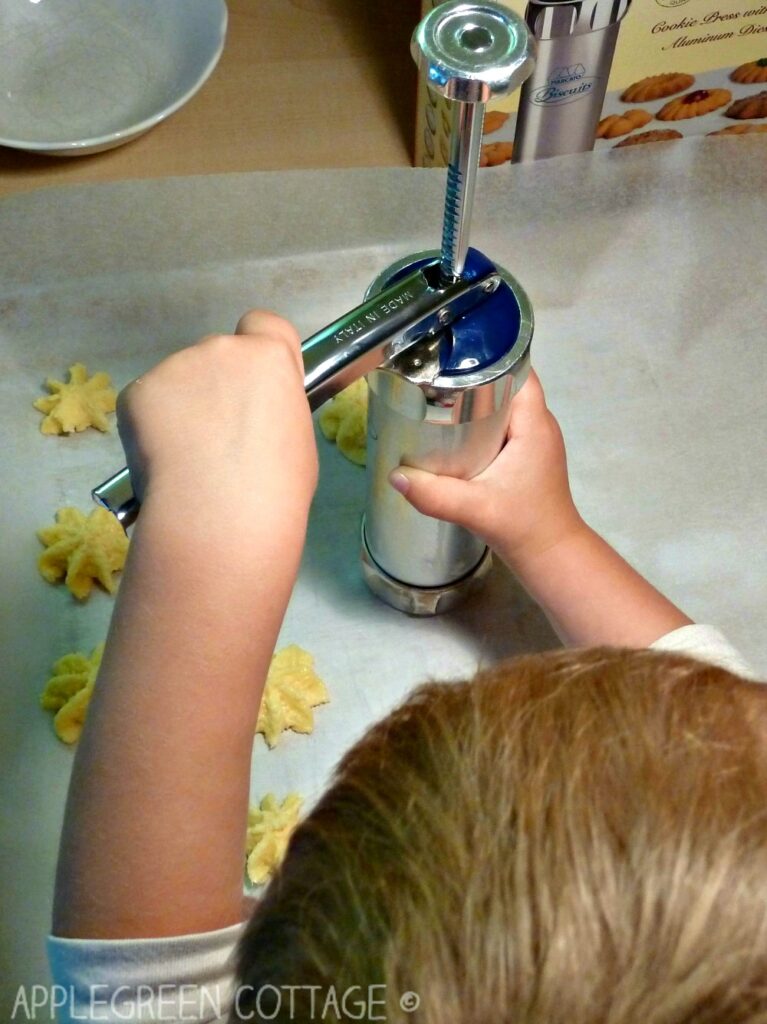 But oh, this year baking cookies has been easy for me, as I've got a little helper! Our toddler is always eager to help, especially when there's cookies or cake to be made! If you also have a kid in your house, a cookie press will be something he or she will most certainly love to try out. It looks like fun: you only push a handle and here it is, another star-like cookie!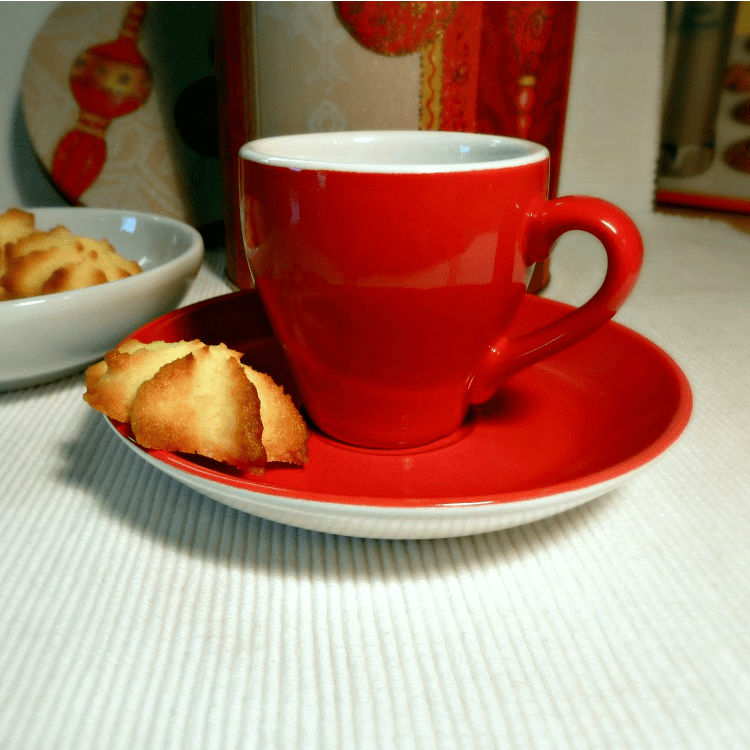 Don't get fooled by the full cookie box here in the next image: I had to snap my photos quickly before they started disappearing!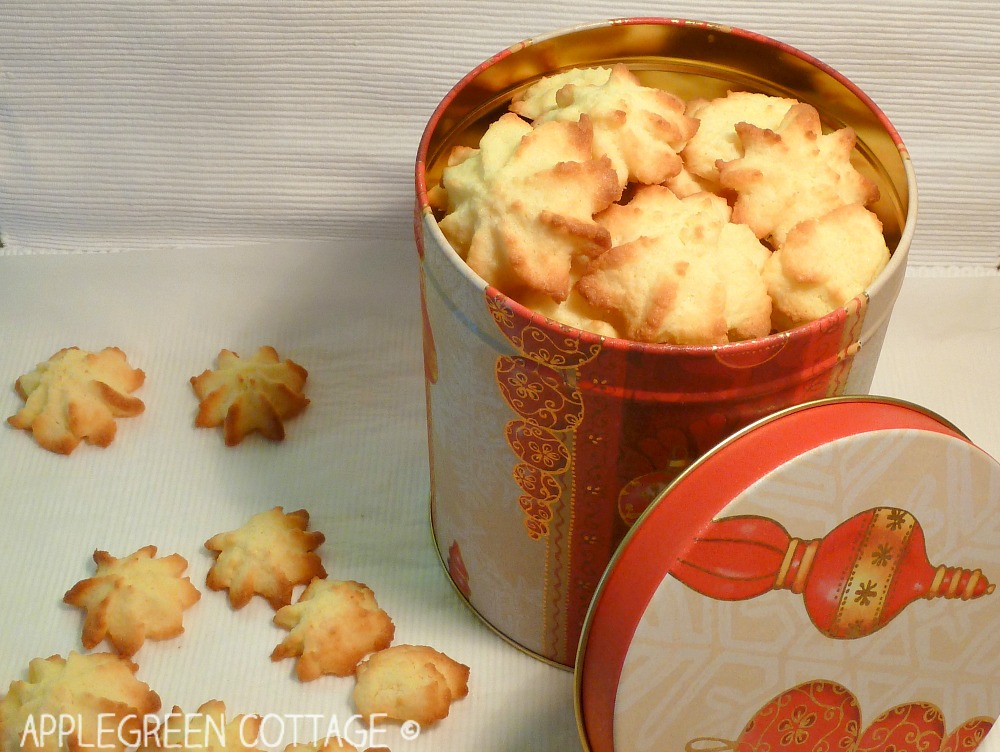 The cookie jar has been already emptied as I'm writing these words, meaning I am just about to dive into a next round to make a few as homemade gifts. If you want to make them as holiday gifts, feel free to either use a mason jar like I did here and add a beautiful gift tag like this one (or the hexie gift tag, so sweet!), or place into a cellophane bag and put into a handmade gift bag you can make with this gift bag sewing pattern (beginner-friendly, promise!) or this sweet fabric gift bin, the Lea: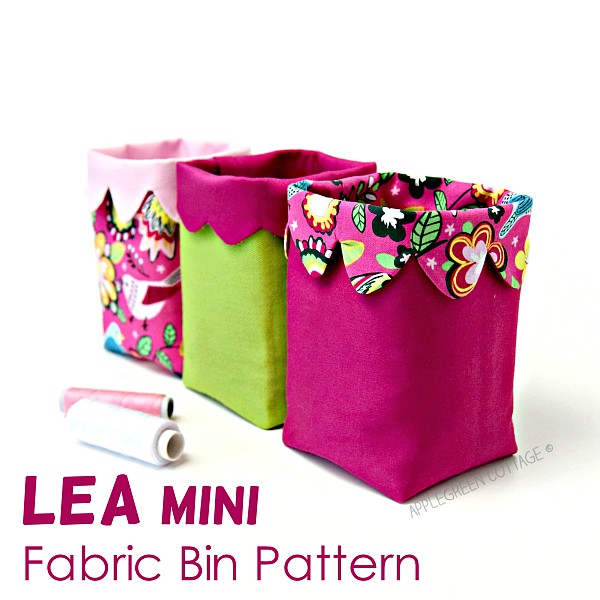 I'd be even happier if you'd suggest some of your tried-and-tested cookies recipe. What's your favorite? Tell me, I've got my baking sheet ready to go! Damjana
WANT MORE FREE TUTORIALS AND GOODIES?
Get email updates and never miss out on new patterns, printables and tutorials. If you sign up at THIS link, you'll also get the Fabric Hanging Basket Template for FREE, right now. A cute and easy-sew!
Or …check out this popular PDF pattern – the gift bag in 6 sizes and a super easy no-corner-boxing sewing project. Reusable gift bags for all your future gifts!