Easy Diy Halloween decor for home - Do you need an easy diy Halloween decor idea for your home, one to use year after year? Make a cute diy Halloween basket and a Halloween treat pouch. These are quick to make, and can be reused year after year - fold when not in use and pull out next Halloween again.
See what patterns I used to make this treats basket and the Halloween treasure pouch, and how to turn them into a wonderful Halloween decoration set for your home.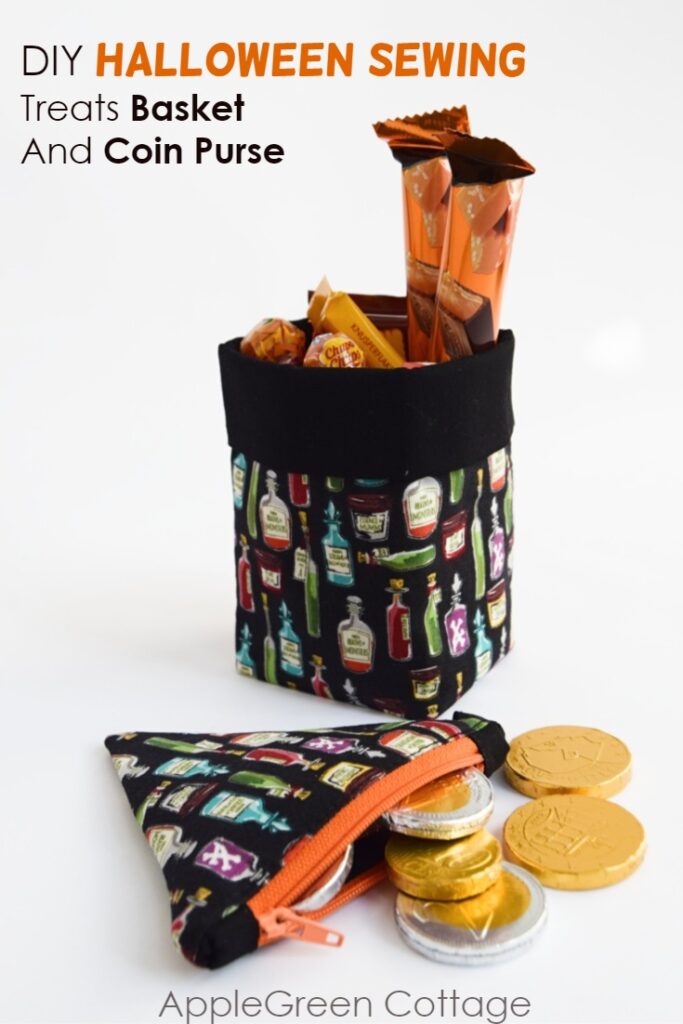 This post contains affiliate links. Thanks for your support. If you like to get creative around Halloween, check out these fun ideas:
Want to see what I'm sewing this Halloween? I started early this year, and I've got all I need for trick-or-treating, even the costumes are finished, and home decor, too. I'm proud to say I've got you covered, Halloween! If you're not so much into Halloween, deifnitely check out these fall diy projects - you'll love them!
Easy diy Halloween décor For Home
Here are two of my pieces of easy diy Halloween decor I've made but haven't shown elsewhere yet. One is made from a free pattern and the other one with one of my most popular patterns from our shop. Don't they make a perfect set?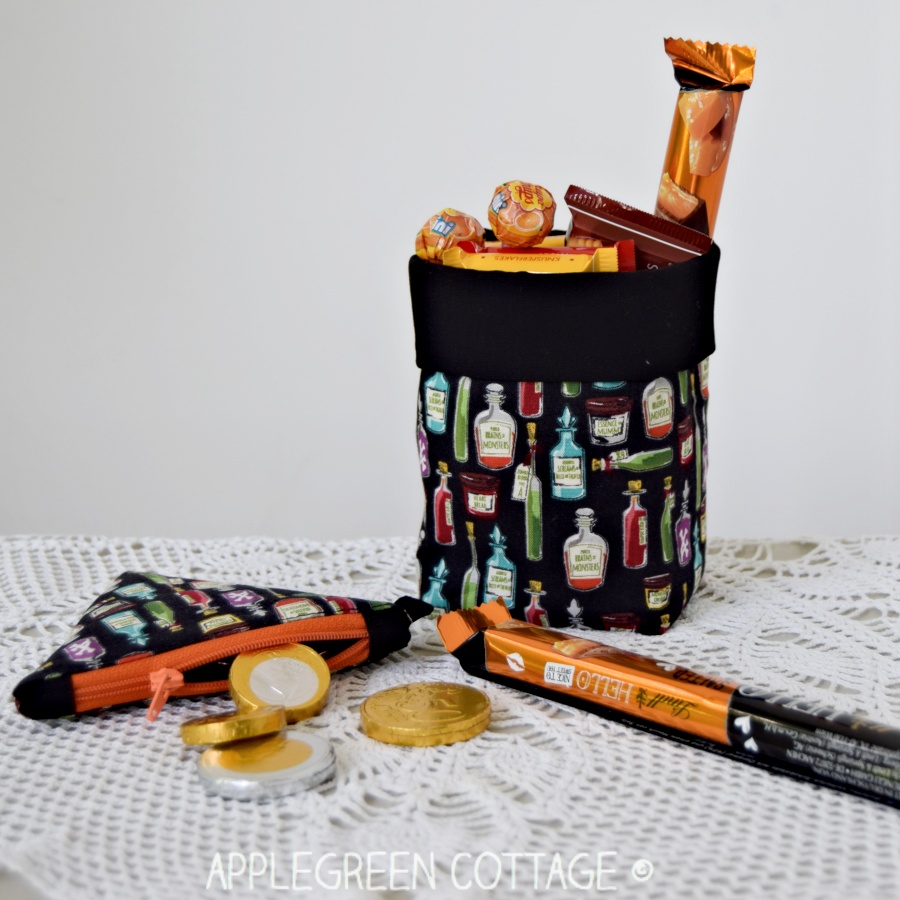 Yep, that's all chocolate, and I admit I had a little snack just after editing this image. It seemed just right, lol!
These diy trick or treat baskets from AppleGreen Cottage are super quick to make, and can be reused year after year - fold when not in use and pull out next Halloween again.
Coin Purse turned into a Halloween Treasure Pouch
In addition to this diy Halloween basket, I also repurposed a simple coin purse pattern to sew up tiny Halloween treat bags - quick and easy!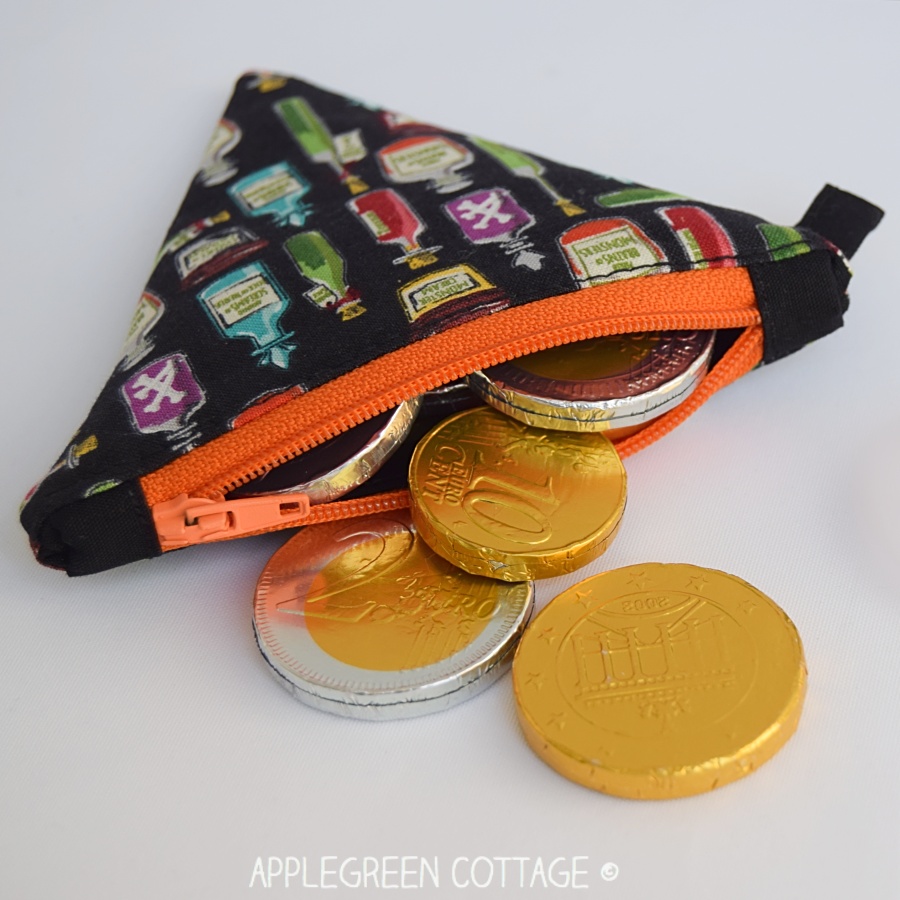 I made the fabric basket and the purse using the Apothecary Black by Carta Bella, these little potion bottles are so cute! Not spooky at all, just so cute! I had a hard time cutting into the fabric, so I took a few additional before-sewing pics of it before. It was fun and it helped 🙂 See how the zipper is pretending to be a Halloween bat?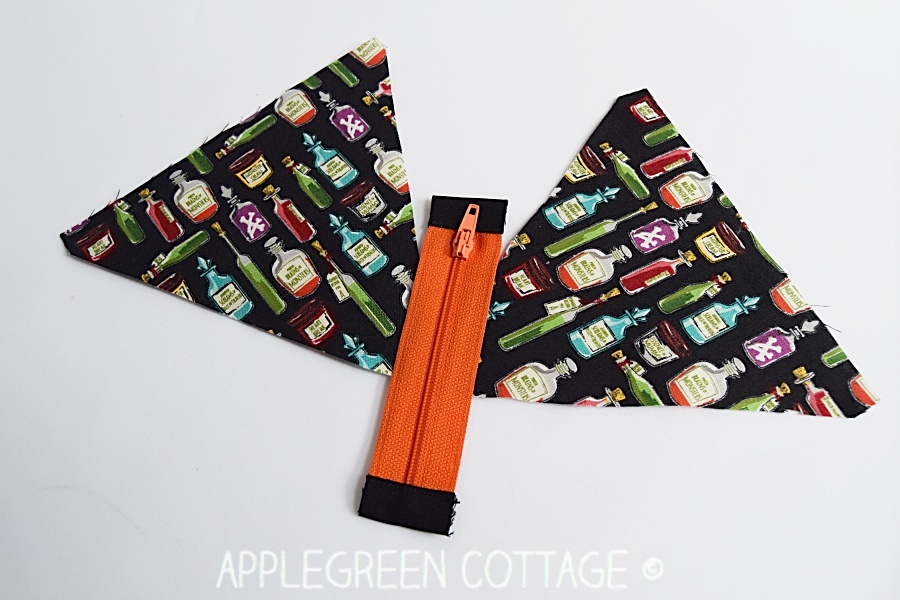 And then I took a few pictures AFTER sewing it up.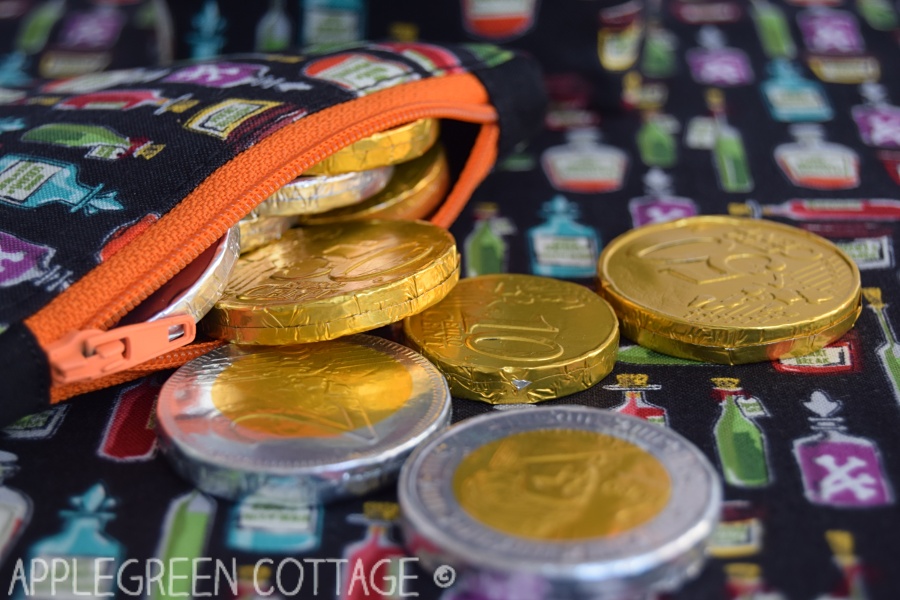 I've been thinking about attaching this little pouch as a treasure pouch to this DIY pirate costume outfit for my 6-year-old, but on second thought, I don't believe he needs an additional snack pouch when going trick-or-treating. It would look cute, though!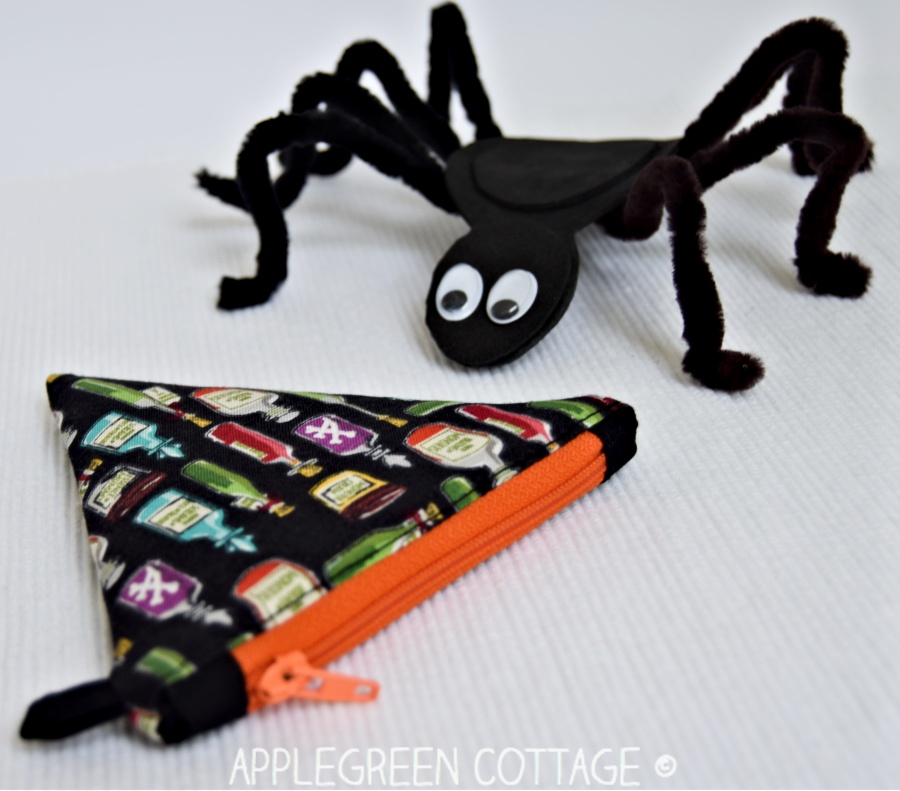 Diy Halloween Decor BASKET
And here's the other project I've had fun with, my treats basket.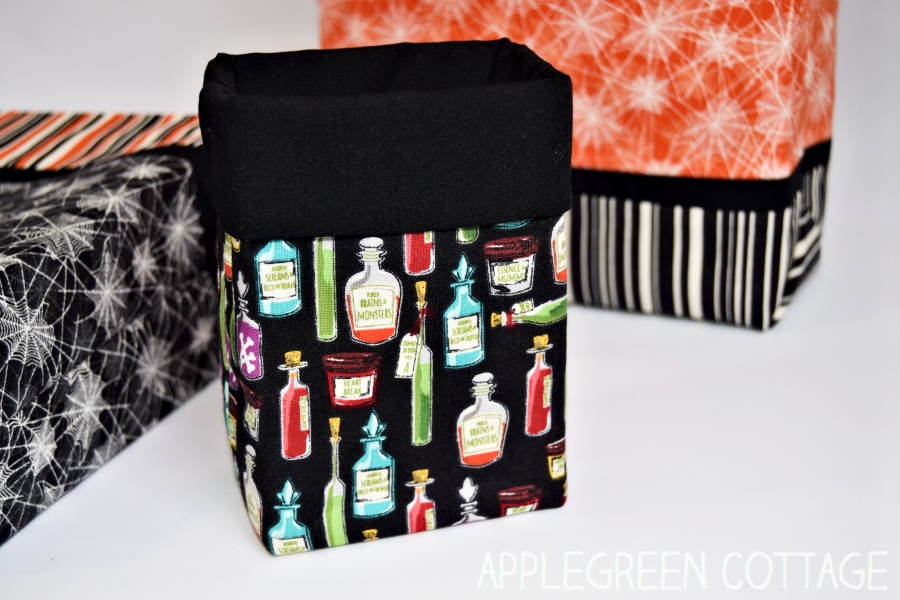 The pattern used for the Trick or Treat basket: my free hanging basket sewing pattern here at AppleGreen Cottage. See this basket tutorial for how to make a Halloween basket.
This is an adorable, small fabric basket I plan to place on the hallway side table. It's a handy little DIY storage basket for wherever you need to store little items. Initially, I planned to keep it close by at my work desk, but then I'd probably be snacking all day long. Hallway side table, you win! If you want to make your own fabric basket, follow my tutorial here at AppleGreen Cottage - free sewing pattern is available for all subscribers to my free weekly newsletter. It includes the hanging strap template and the basic fabric basket you see here. Try it out!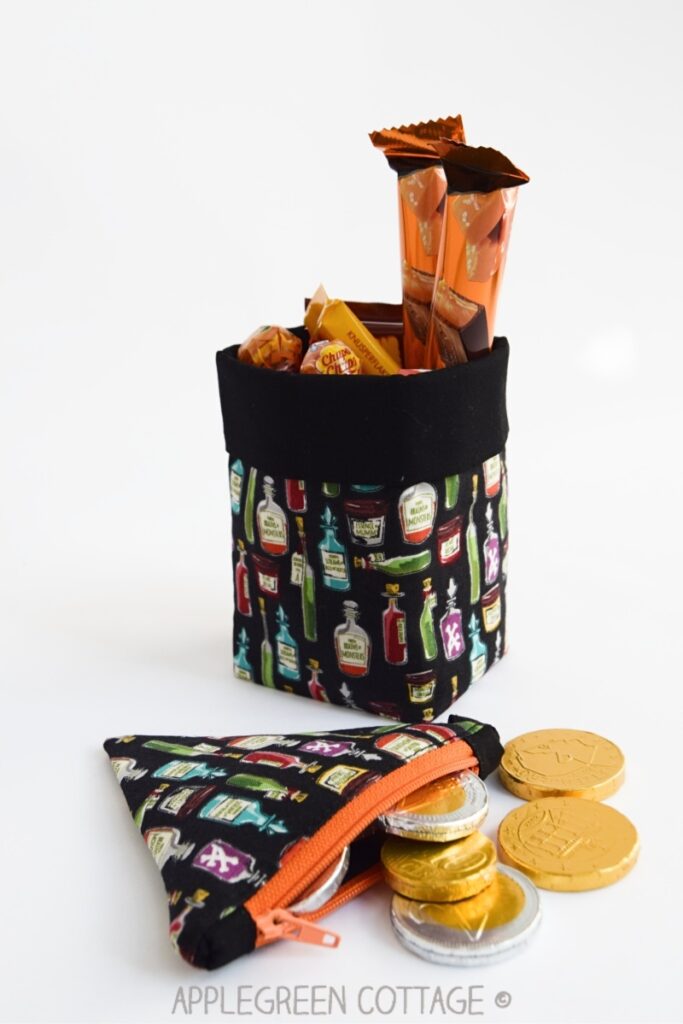 I don't think these sweet treats I used as photo props will make it till Halloween, so I need to put some more on my shopping list 🙂 What are you sewing for Halloween this year? Or do you stick to fall crafts? I always love to see what you make - Did you know you can post anything you've sewn in our FB group (JOIN HERE)? We're a friendly, creative bunch of people, join in! Damjana
WANT MORE FREE TUTORIALS AND GOODIES?
Get email updates and never miss out on new patterns, printables, and tutorials:
Or ...go straight to the gift bag pattern. Smart and simple construction, originally a gift bag but around Halloween, it doubles as an adorable Trick-Or-Treat bag - 6 sizes and designs for all your wishes!