Pattern UPDATED - meet the Tria mini coin purse pattern! Do you need a small coin purse that would not take up much space? Something flat, so you can slide it into that small jacket pocket and carry it anywhere? Try TRIA, the mini coin purse pattern. And see how it got even better with the new release!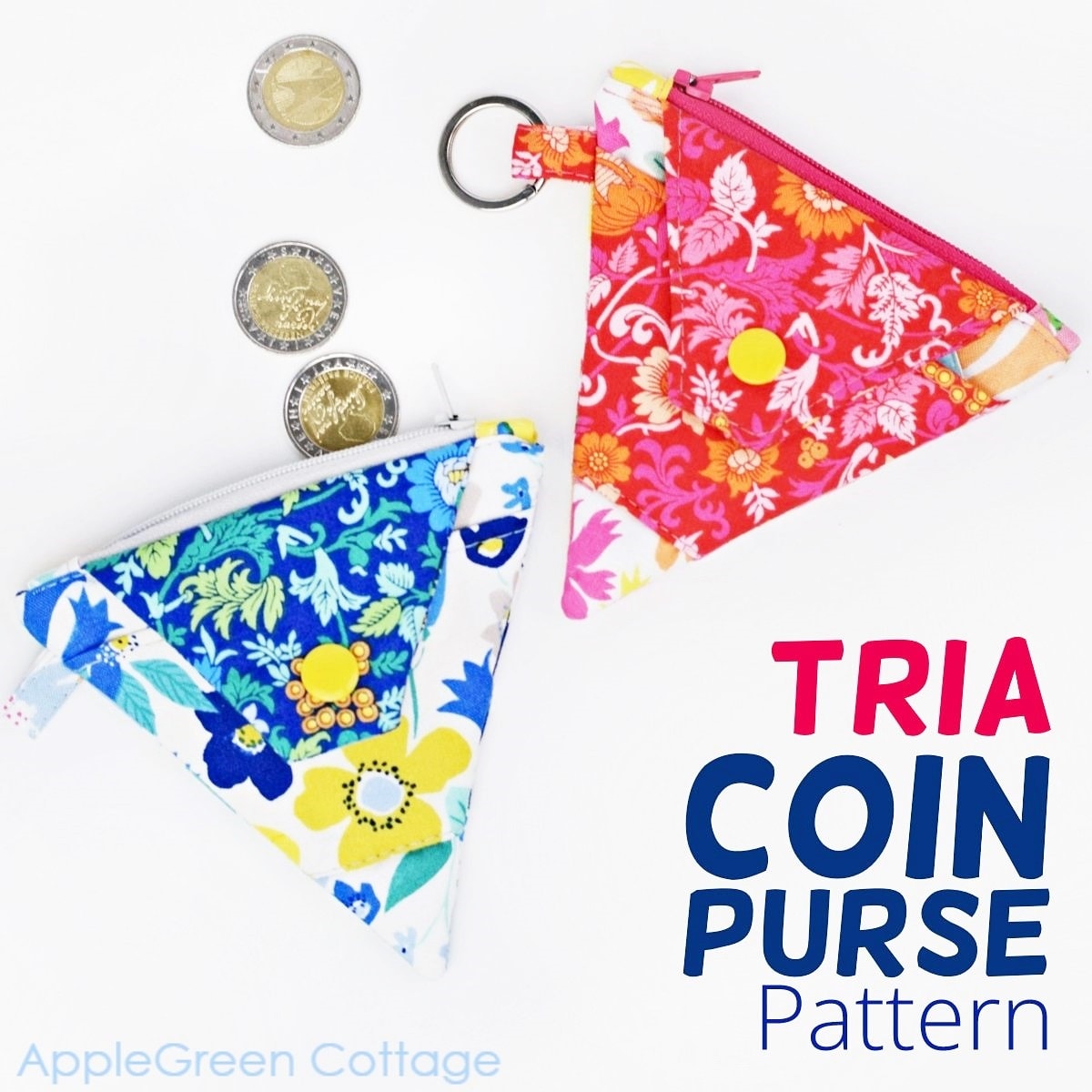 This diy mini coin purse pattern is a great scrap buster project, and it makes an excellent little handmade present or stocking stuffer. This cute diy small coin pouch makes the sweetest gift!
NEW - And with the re-release, this pattern has two options: simple, single-pocket Tria as you know it from before, or a double-pocket coin purse with a flap too!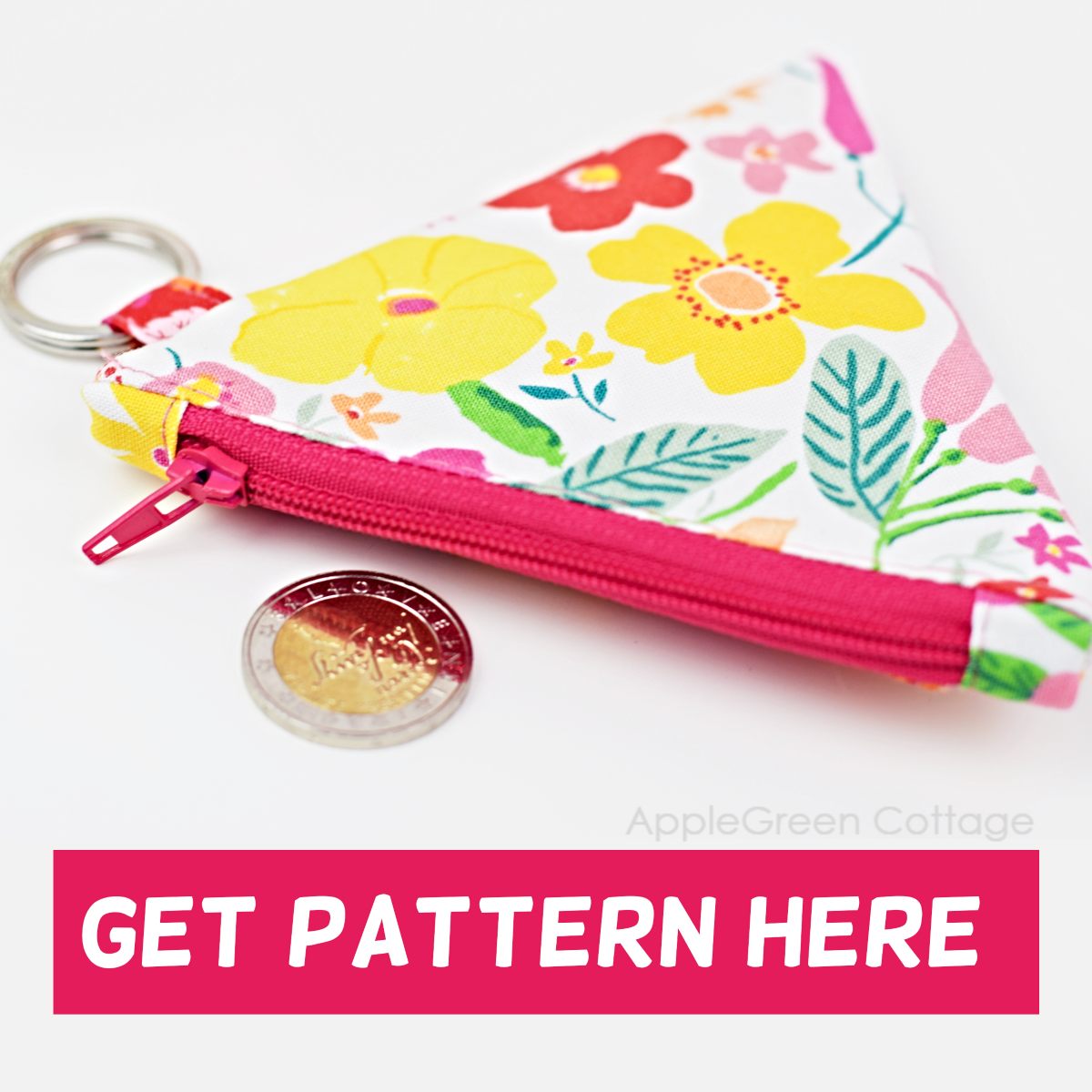 Mini Coin Purse Pattern
This cute coin purse is so quick to sew! If you haven't made a wallet yet, start with this pattern. It's easy, quick, and great if you have already sewn a few things but are not yet sure about how to sew pockets and zippers.
The TRIA pattern will also show you how to sew zippers the neat way (no more pinched ends!)
Finished size: 5" wide, 4" tall, ⅜" deep (13 x 10 x 1 cm)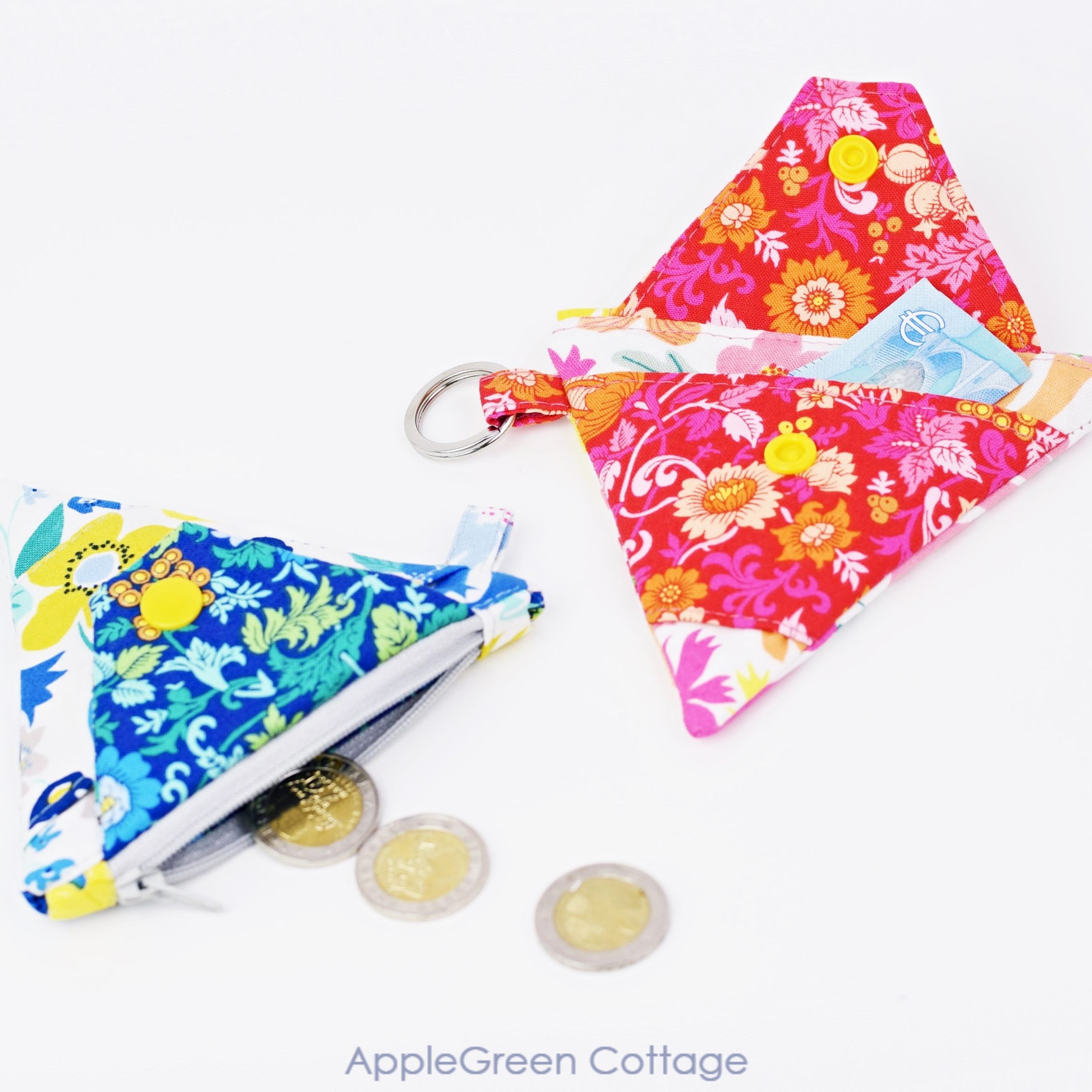 Are you wondering how the original Tria from 2016 and the new 2022 Tria pattern compare? What's changed? Read on!
What is NEW?
I didn't take away anything that made the old Tria a great pattern - you can still make the old Tria!
What I've added is an option for a double-pocket Tria, simple but so effective! Bottom line, you get a two-options pattern now. Like here: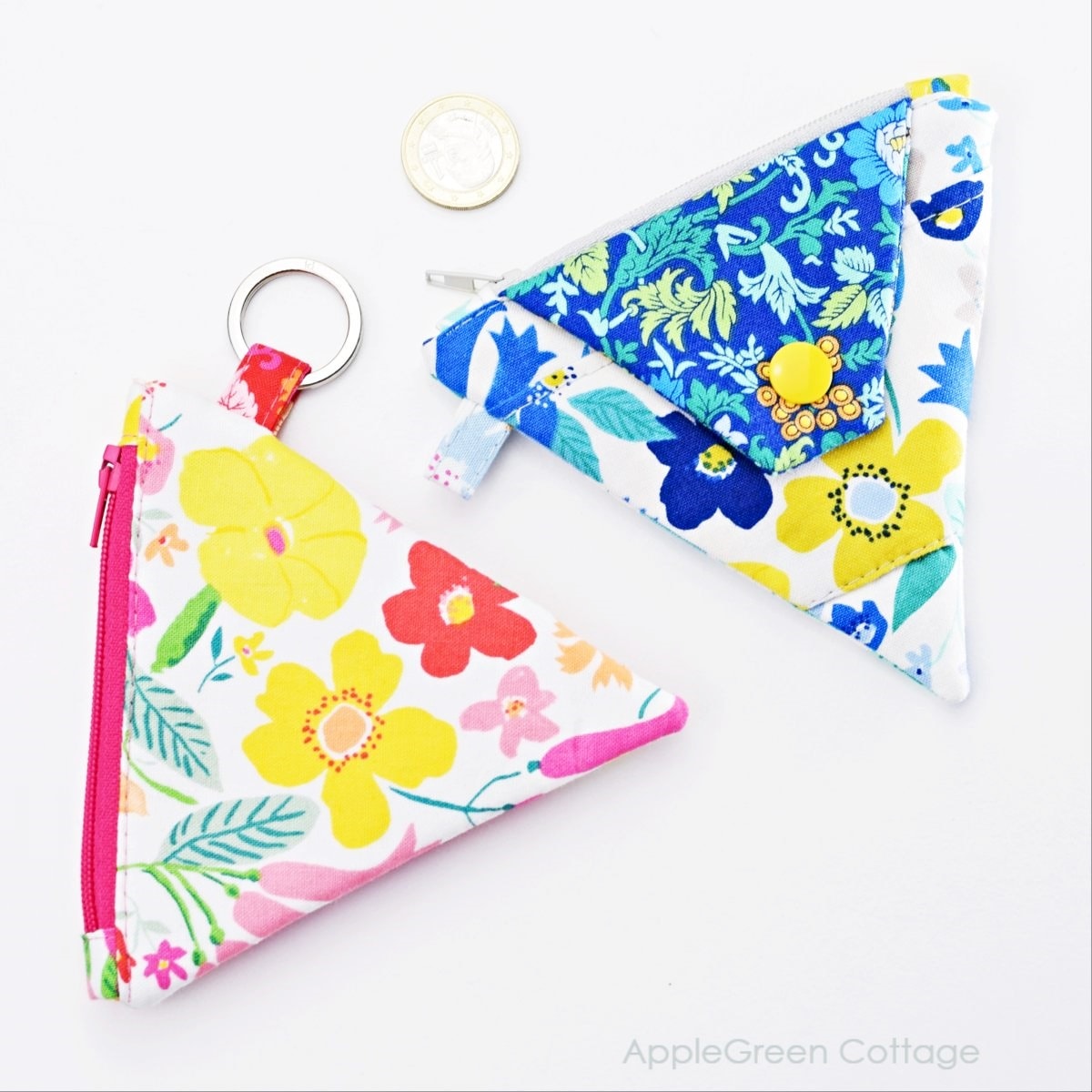 This was a sweet, yet older pattern from 2016 that has been selling well. But my pattern-writing skills have improved significantly since then - so I made a few improvements. You'll find the project easier to navigate, there's a printing guide added and tons of easy tips. Plus, improved wording and design that's aligned with the AppleGreen Cottage brand as you know it from my new patterns.
To sum up, sewing a Tria is made easier plus you get an additional option for a bonus Flap pocket on the outside.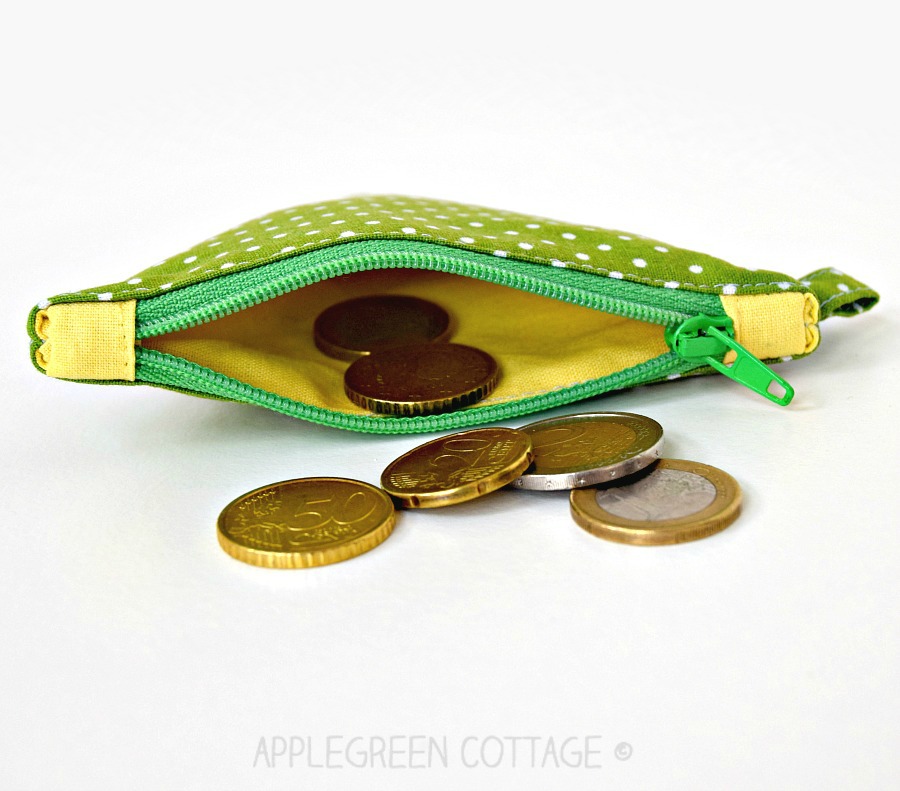 The Story behind both Tria coin purse patterns - old and new!
The original Tria came to life because I needed something that would not take up much space, and something that would be simple. And was looking for something flat, so it takes up the least possible space and I can carry it anywhere attached on a key ring. And something that would enable me actually see the coins when open. So I made me this cute tiny coin purse. Loved it, and still do!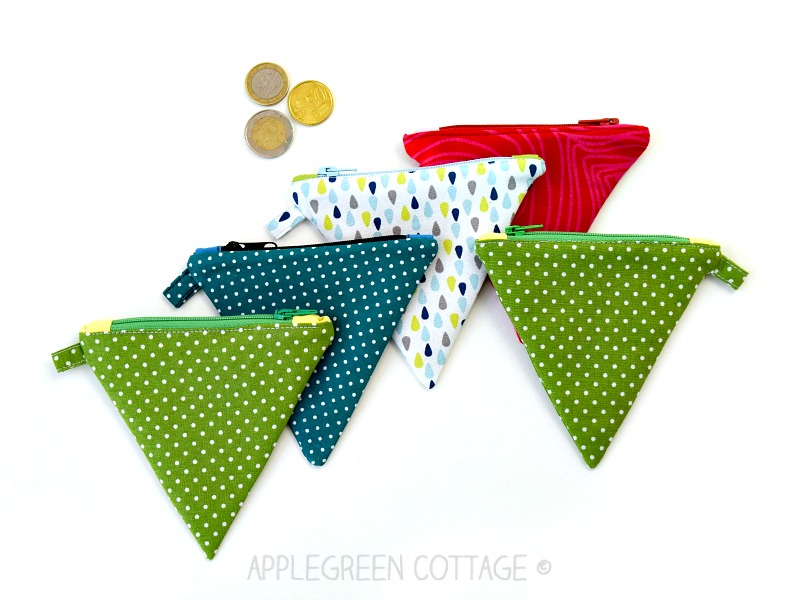 And the new Tria came to life while I was playing with some gorgeous fabric from Liberty of London. When I first spotted The Artist's Home Collection from Liberty Fabrics (get fabric here), I knew those gorgeous, detail-rich prints and the captivating colors were endless opportunities, just waiting to happen.
I picked a simple sewing project that always turns out amazing with small prints.
You've guessed, the TRIA, a tiny coin purse. I made a plain TRIA coin purse first, and then played around with bits of the small Annabelle Bailey prints, with the trailing flowers and leaves – and before I knew, I had a cute little pocket on the front side.
It turned out perfect, so I included it in the pattern file!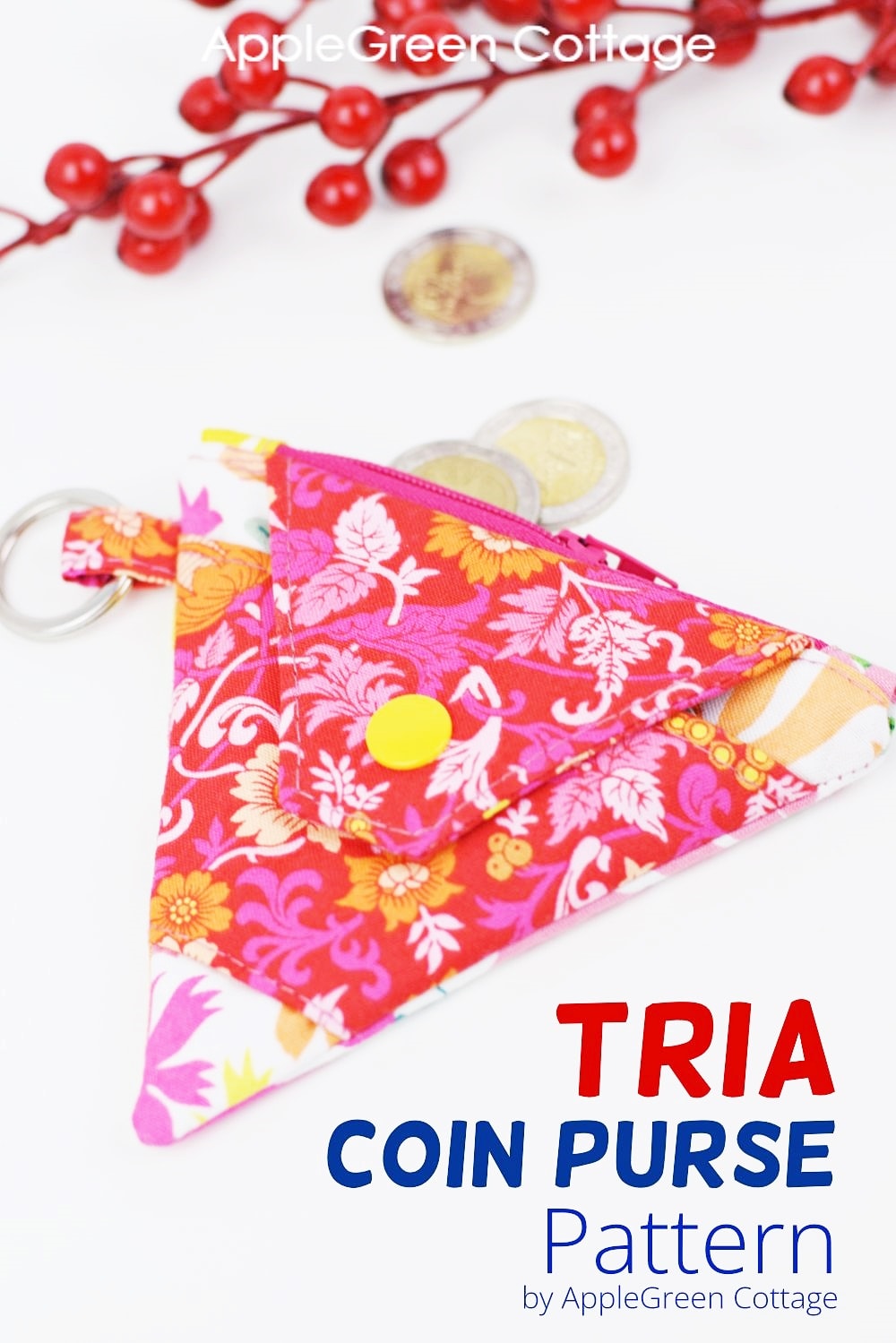 I can safely say I'm pretty happy about the new improvement. And I'm SO ready to start seeing your new Tria makes!
Tria Coin Purse Pattern Features
Small and flat, practical to carry around
Easy to attach it on your key ring or clip on your bag
A quick-sew
A main zippered pocket
Optional outer flap pocket for folded banknotes
Easy-to-scale pattern if you want a larger size.
It requires little material to sew. A great scrap buster!
Makes an excellent handmade present for your loved ones. Kids too!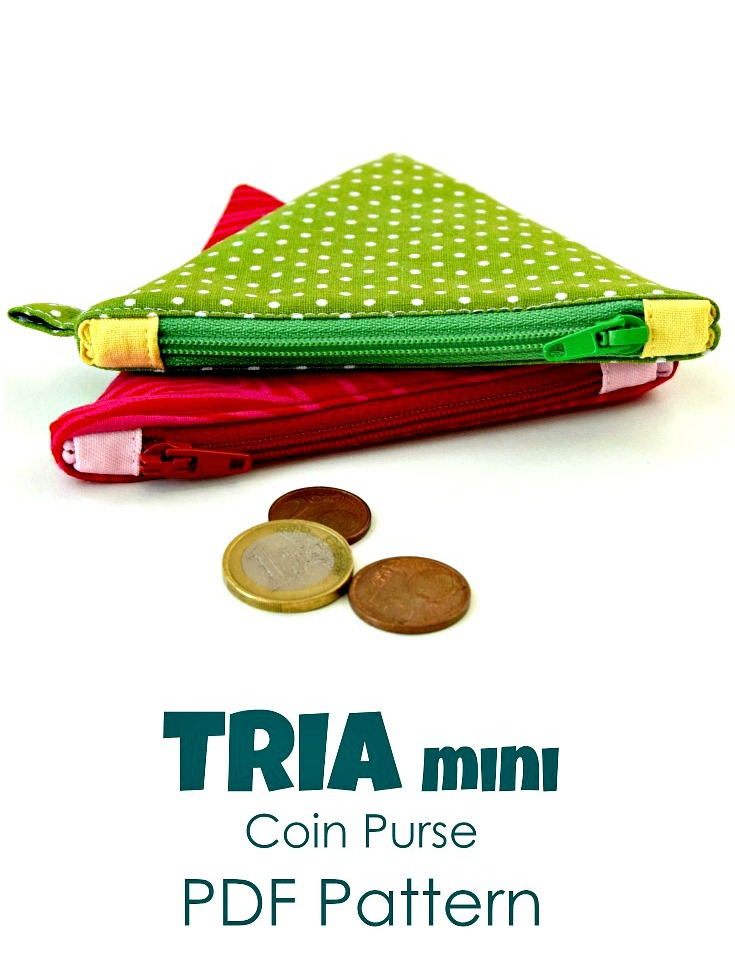 A project perfect to sew with scrap fabric.
You don't need a lot of material to make these.
That's right. You don't need to do any fabric shopping, just dive into your scrap bin. Use the tiny scraps! And of all the hardware and bagmaking stuff, you only need a short, standard #3 nylon zipper. That's all.
Which means you can get down to sewing this minute.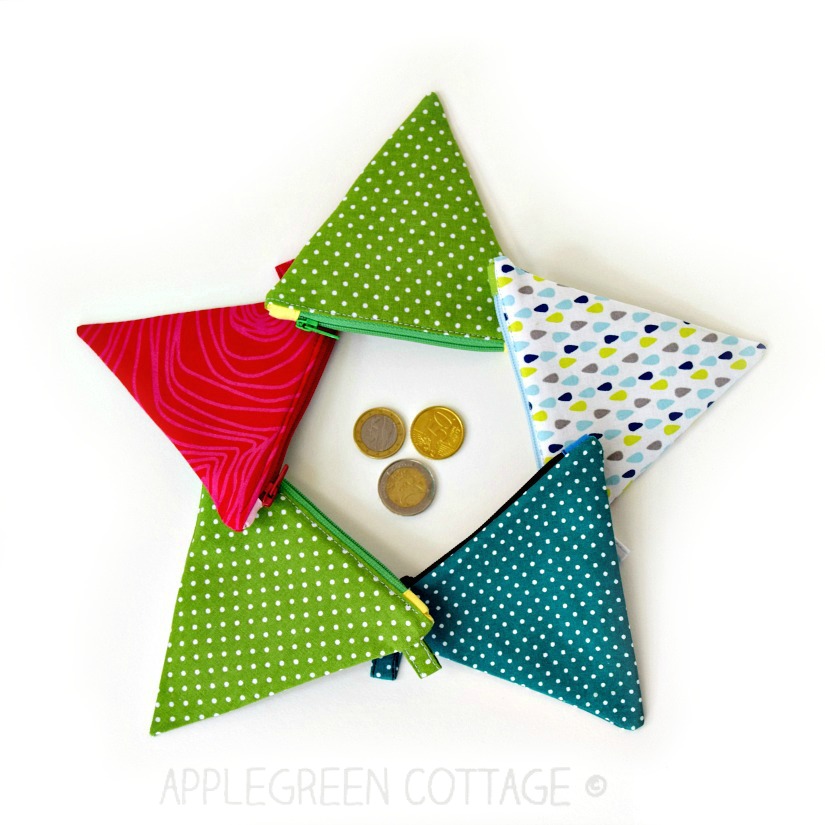 YOUR SEWING PATTERN FILE INCLUDES
All measurements are given in inches and cm.
Supplies list and interfacing recommendations.
Printing and pattern-cutting instructions.
Oh, and one thing more: Sew-to-Sell. That's right, you're more than welcome to sell the finished handmade coin purses you make from this pattern.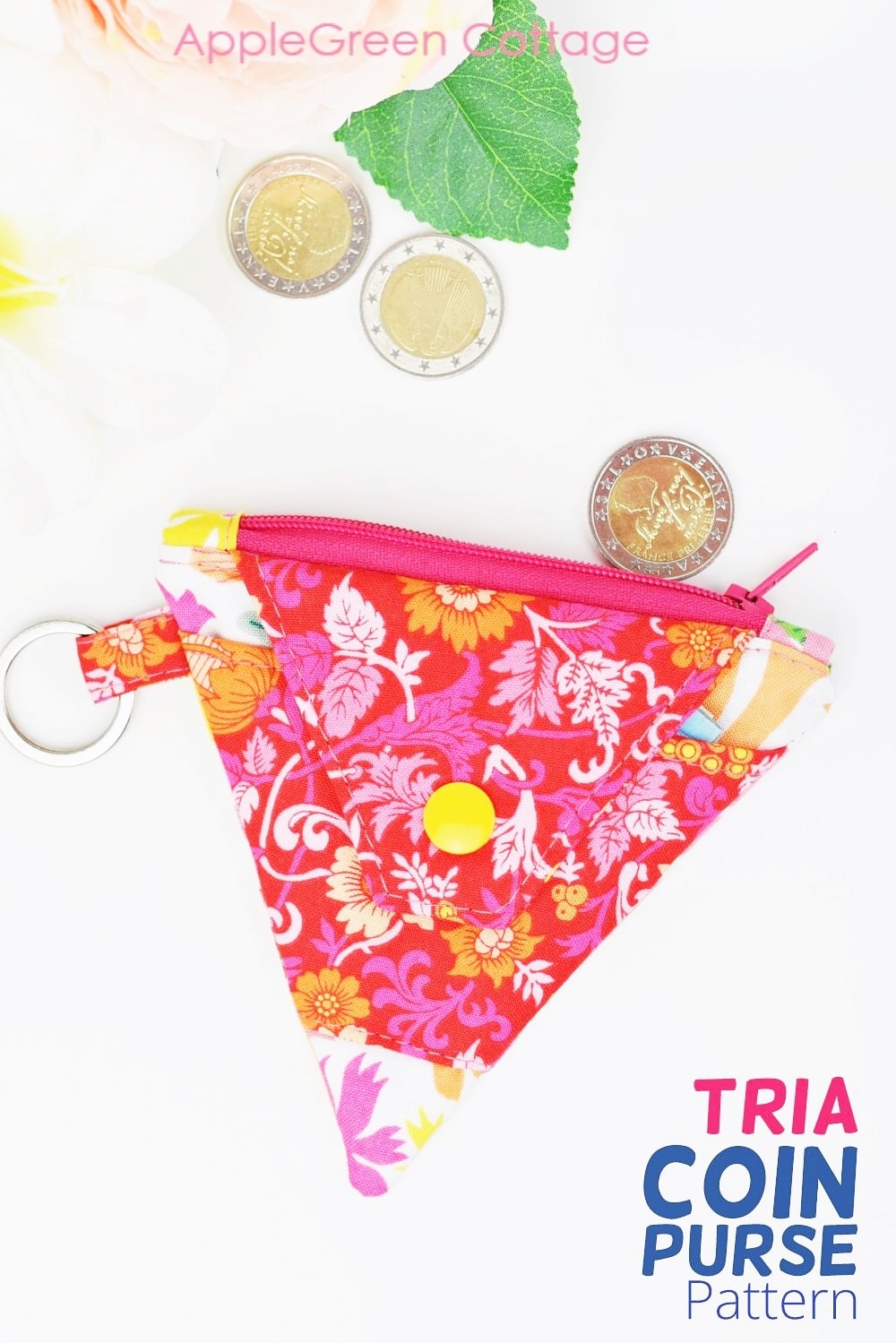 Also, you'll learn how to shorten zippers and add zipper tabs and how to sew in zippers the neat way (no more pinched ends!)
Don't have a zipper foot for sewing zippers? No problem, I included a how-to for using your regular foot with zippers too!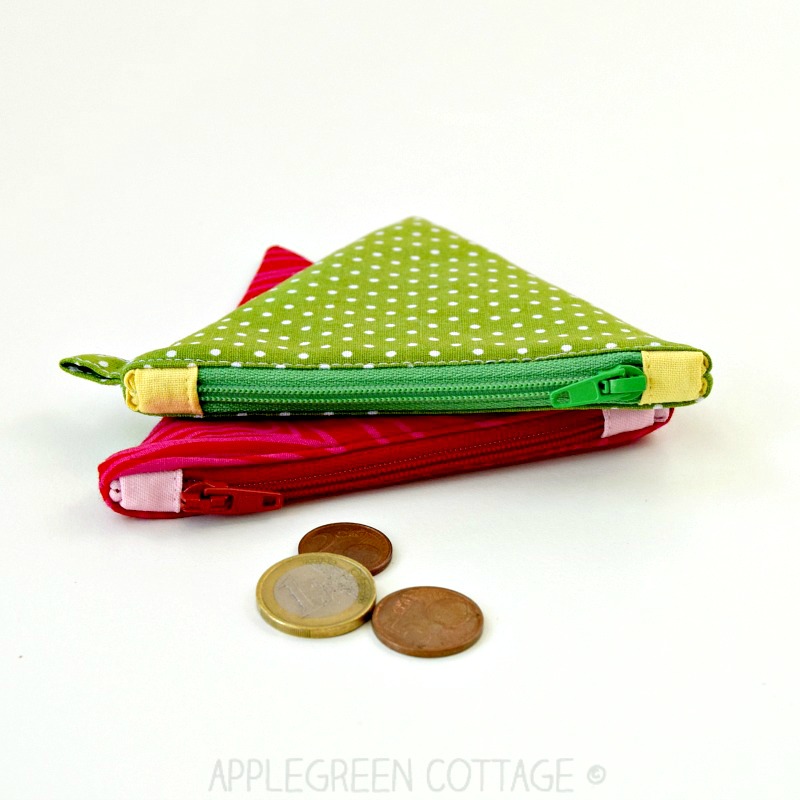 The lining of the coin purse is practical, but to tell you the truth, the best thing with lining is getting that fun pop of color when you open the coin purse. Just love it!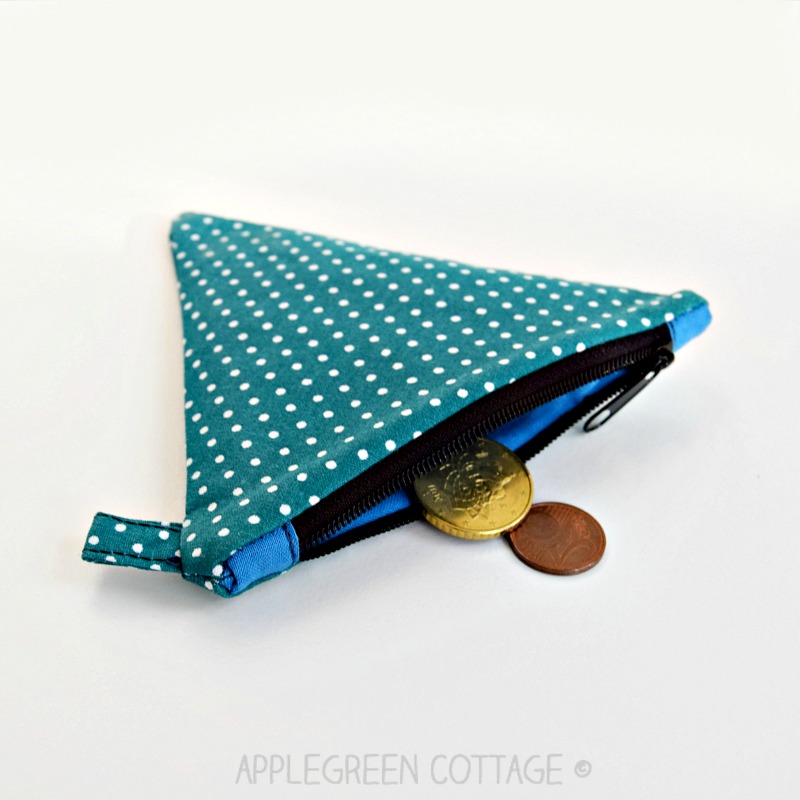 Use the hashtag #applegreencottage, or tag me @applegreencottage when you post a photo of your TRIA coin purse. I'd love to see what you make!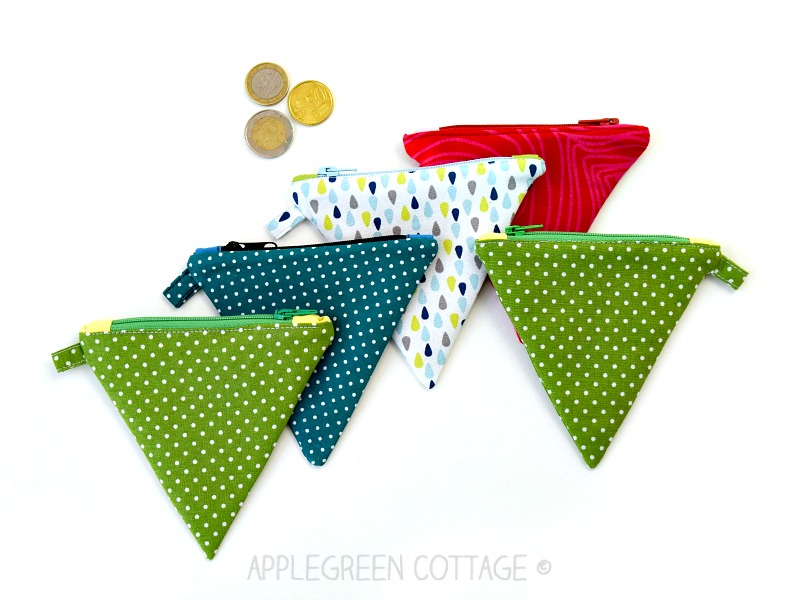 Get Your Pattern Now
If you like this mini coin pouch, feel free to check out this link to the pattern in my shop: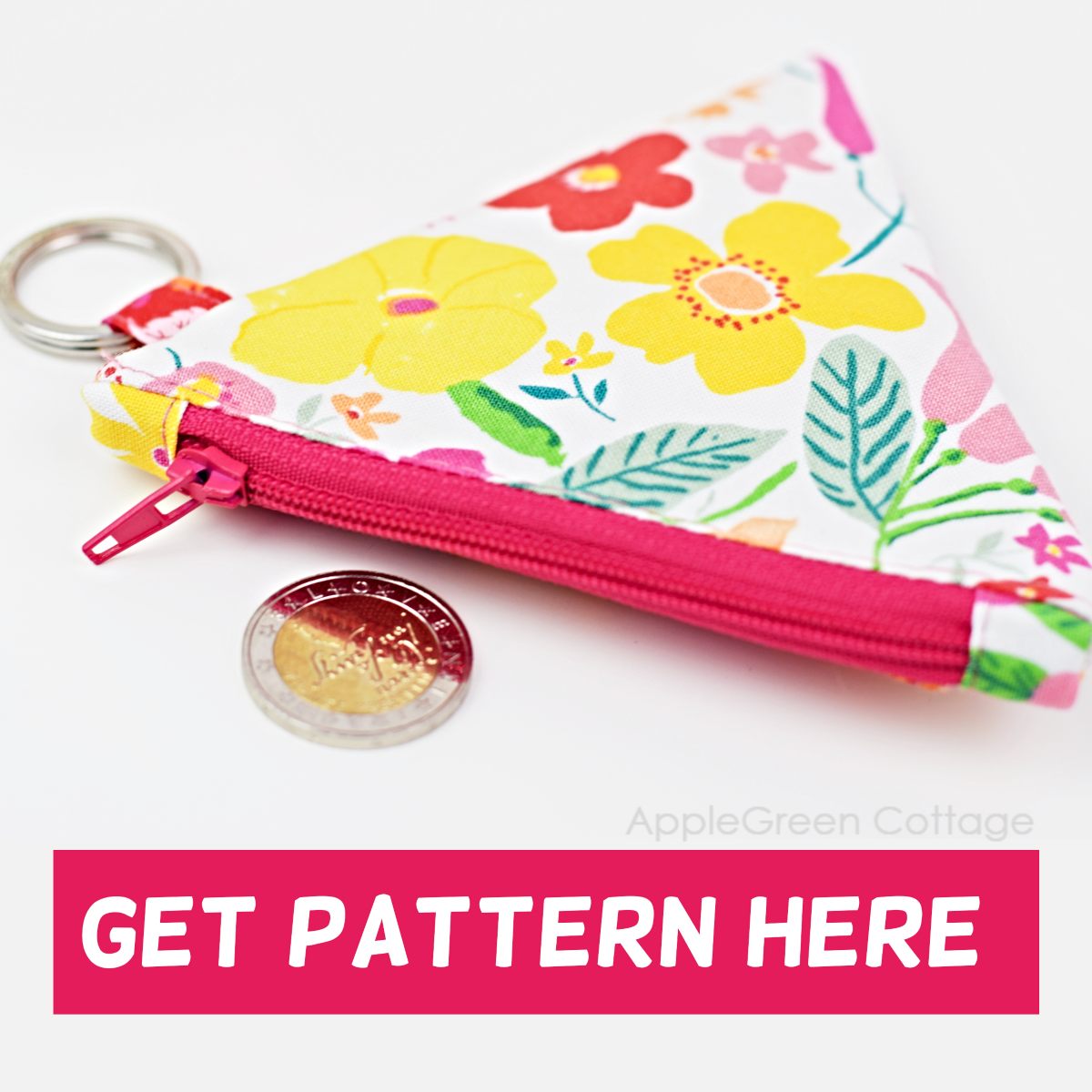 Check out more of AppleGreen Cottage sewing patterns: