How do you print digital sewing patterns? This might be a question you're asking yourself if you've just started to sew and would like to use a digital pattern to sew something.
This post will show you how to download, print and use a pdf sewing pattern. But first, the basic question:
What is a pdf sewing pattern and what is it used for?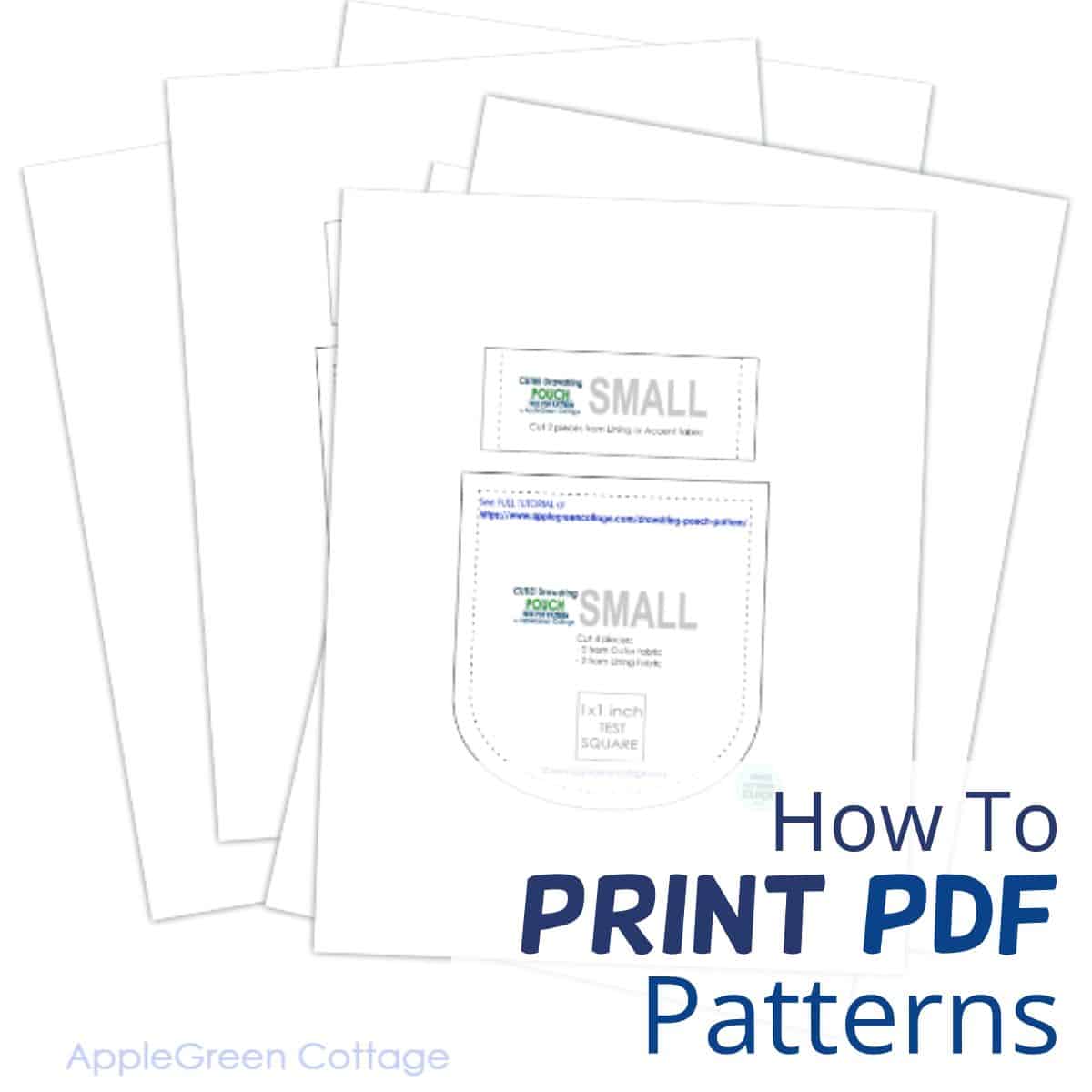 'I'm new to pdf sewing patterns. How do I print these at home?'
Let's start at the beginning:
It may seem strange to be able to print a pattern from home if you are new to the pdf world. Printer paper is most definitely smaller than the human body, or a large bag. So how does this work?
Let's take a look at our, AppleGreen Cottage patterns: all our patterns are designed to print on normal printer paper.  What we do is design the pattern, and then - if it is larger than one page, we use software to properly 'slice up' the pattern so it fits onto several pieces of paper. When you print all the pattern pages out, just tape them together and - voila!
We format the pattern pages to fit both letter size paper and A4 so no matter what part of the world you are from, you should have no problems printing.
What do I need to start using pdf patterns?
To print PDF patterns, you will need a computer with a printer, a PDF reader such as Adobe Acrobat Reader, and a PDF pattern file. You can either use pdf sewing patterns that are for sale, or free pdf patterns like the ones at the AppleGreen Cottage blog.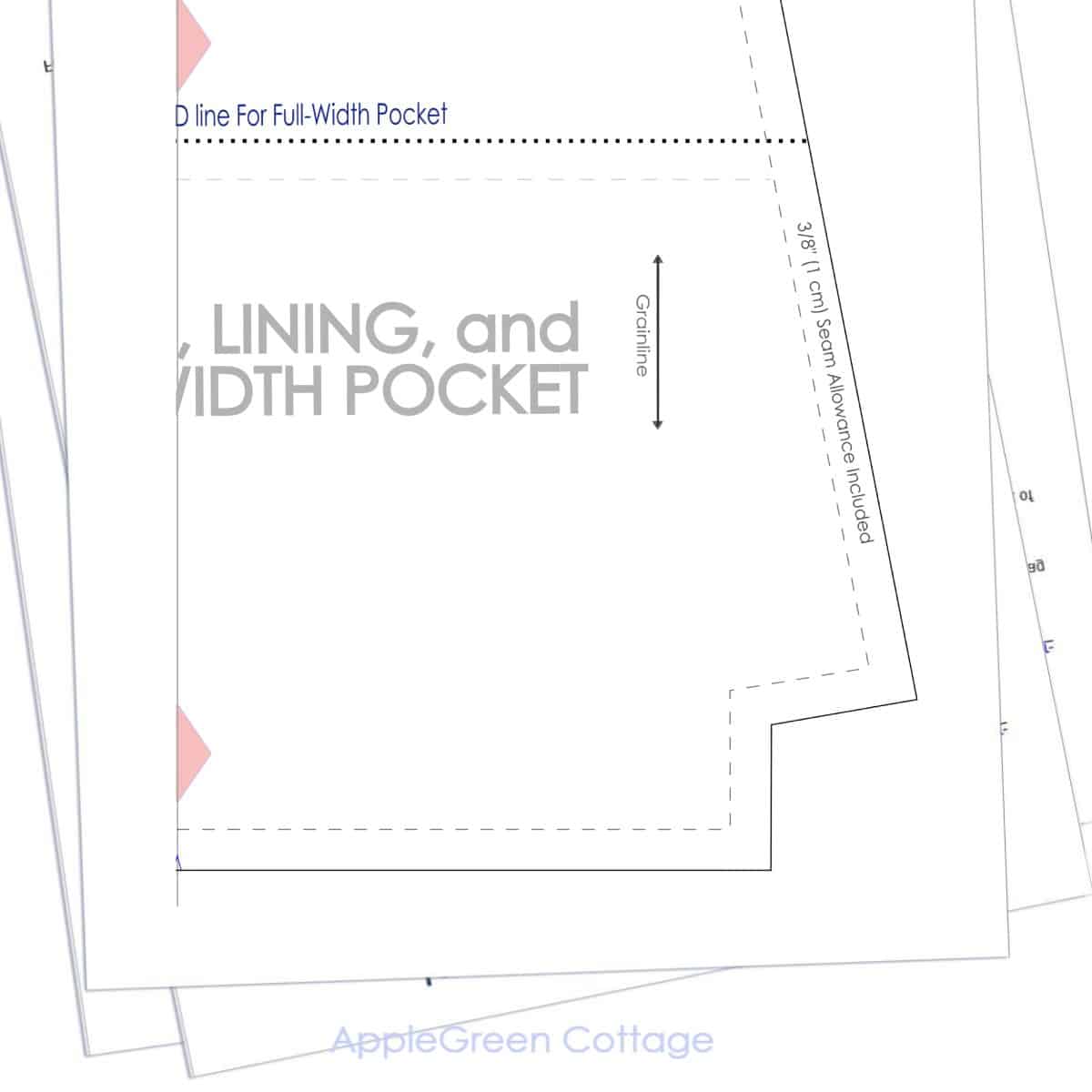 How to download a pdf sewing pattern?
Once you've either purchased a pdf file or received a free pdf sewing pattern - usually it's by email - you'll need to click on the attached file and save it to your device. Usually, it's best to save the file to your desktop.
Once you've downloaded the pattern file to a desktop, you'll need some software to open and view it. To view the files, you will need a PDF viewer such as the Free PDF reader available from Adobe (https://get.adobe.com/reader). Generally, your computer should already be set up to view these files and you shouldn't have to do anything special. I always recommend Adobe Reader to open and view and print your pattern, because it's easy and reliable.
PRINTING PATTERNS
TOP TIP: Your pdf file may not open or print correctly from a mobile device. Do not print directly from a browser window. To print accurately, open in ADOBE READER from a computer, and make sure that the "scaling" is set to "none" or "actual size" in the print properties.
Steps to print a digital sewing pattern
Printing a PDF pattern at home is pretty much like printing any document. Here are the steps:
Open the PDF pattern file in Adobe Reader. (Make sure that you have the newest version of Adobe Reader installed.)
Go to File > Print or press Ctrl+P (Windows) or Command+P (Mac) to open the Print dialog box.
Check the printing settings for your printer: set to no-scale, or actual size, or 100% (do not use a fit-to-page, or 'scale' or you might end up with a wrong print size)
Check the orientation settings to ensure that the pattern will print in the correct direction.
Check the print preview to ensure that the pattern is printing correctly.
Click on the "Print" button to start printing the pattern.
After printing, carefully check that each page has printed correctly and that the scale is correct: with our patterns, you'll always find a 'test square' on one of the pages - measure it to see if it is exactly the size it says. AppleGreen Cottage patterns usually include a 1" test square, and a 3 cm test square to check.
TIP: the best digital sewing patterns will always include a 'test square'. That is a simple 1-inch, 3-cm, or 5-cm square on one of the printable pattern pages for you to double-check if the printing size was correct. Always use it!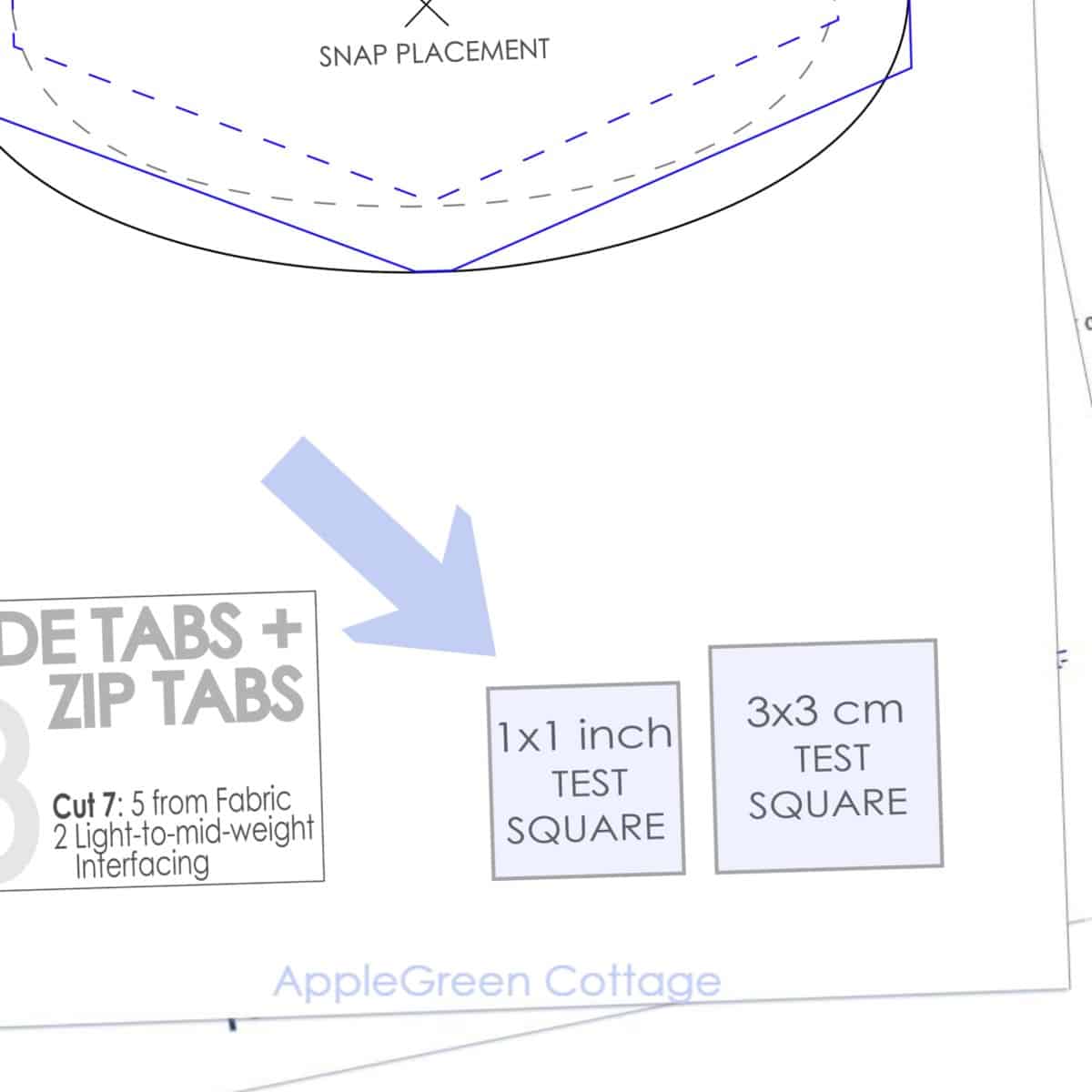 What paper size are pdf patterns formatted for?
Always check with the pattern designer to see whether they offer a letter-size pattern, an A4 pattern, or an A0 size. At AppleGreen Cottage, we format our pattern to fit both letter-size and A4-sized paper, so you can safely print them at home no matter where you live.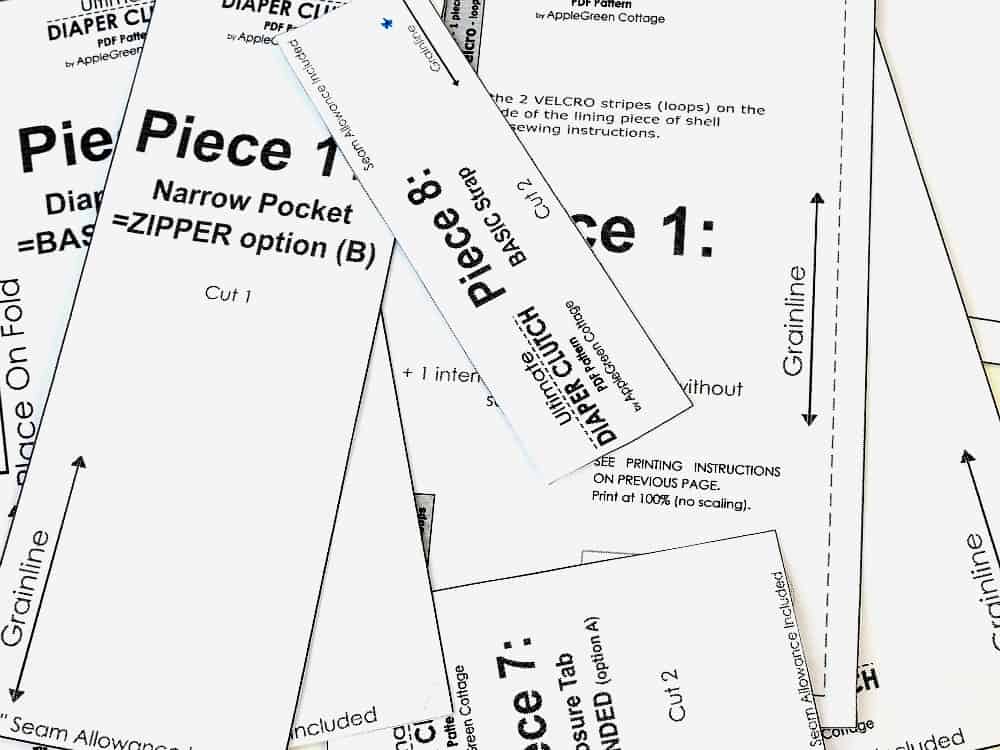 Problems With Printing Pdf Sewing Patterns and How To Fix Them
In order for this tutorial on what is a pdf and how do you use it to be complete, here is a list of common issues people encountered when trying to print pdf files - and solutions on how to deal with them:
The pattern sizing seems to be off, the size does not fit. Why?
In order to ensure your digital pattern is printing at the correct size, always set your printer settings on 100%, or 'Actual Size' or 'No-Scaling', depending on your printer brand. Also, all our pattern pages include a 1-inch test square. Please double-check the size of the test square on your printed page. It should be exactly 1 inch.
My print square is off. Do you know what I am doing wrong?
The first thing to check is to make sure that your pattern is opened in Adobe Reader. When you are using another program (such as Apple's Preview), it may cause your pattern to be printed wrong. The next thing to make sure of is that your printer settings are correct.
My pattern pieces are printed all black!
If the pattern pieces are printed with a black background, that is usually for one of these reasons:
because you need to update your Adobe Reader, or
because you attempted to print from the preview, or - most often
if you tried to print from a mobile device.
TIP: This may sound like a broken record, but seriously: print from a desktop, using Adobe Reader. This solves 99% of the problems when a person reports an issue with printing a pdf file.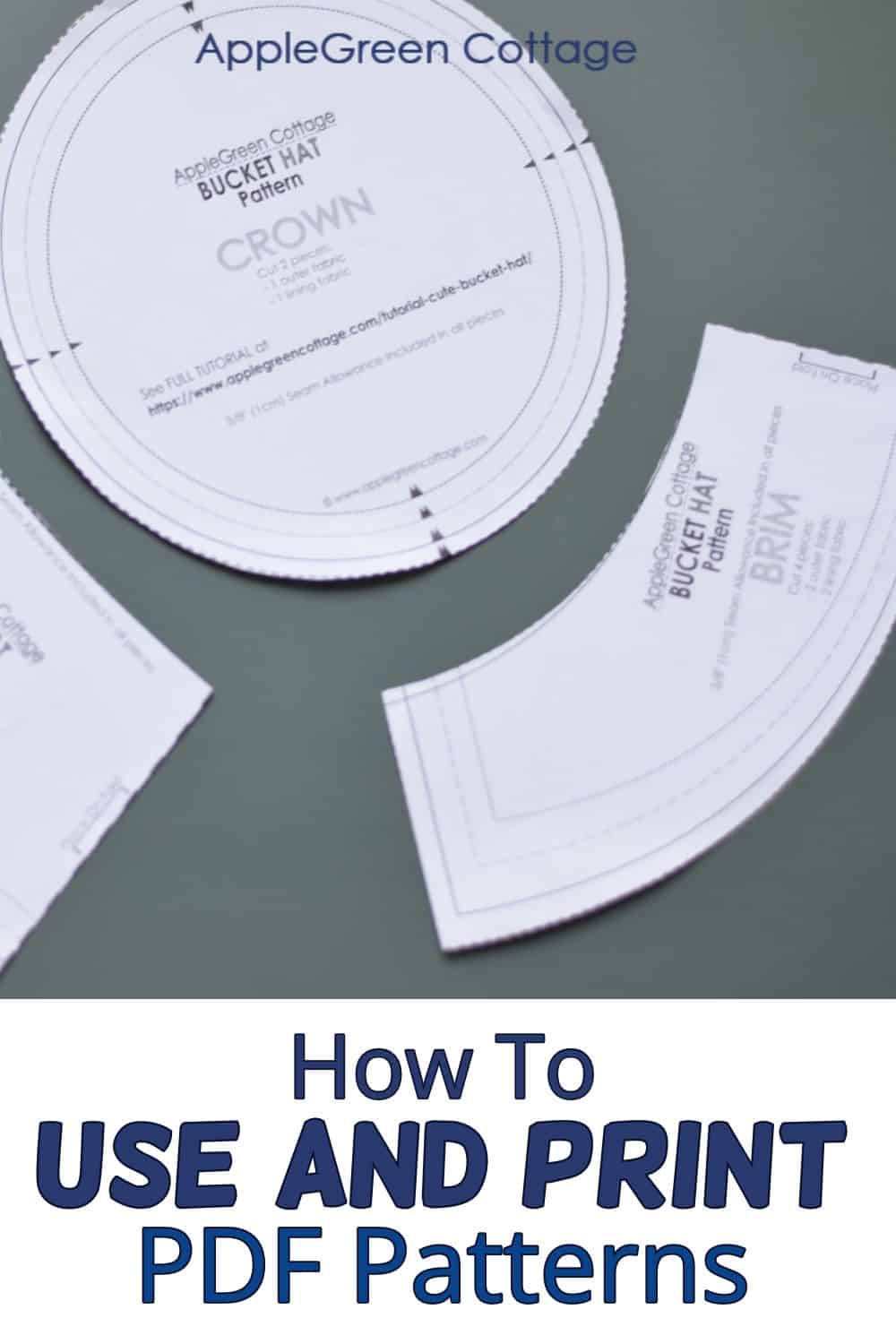 More tips:
Should I print the entire file?
Sometimes, you'll need to. However, at AppleGreen Cottage, we want you to save on ink. This is why we usually mark the PATTERN PAGES, so you can only print those. These come towards the end of the Pattern file.
How to assemble the pattern once it's printed?
Some of the pattern pieces need to be assembled when printed. You'll need to trim the pages and tape the parts together before you cut your fabric. When cutting and taping the printed pattern, you'll have to match the edges of a pattern correctly. Put one piece of paper under the other and shift until the grey line and diamond shapes are perfectly matched. Tape the pieces together and cut them out normally.
COPYRIGHT ISSUES
PDF PATTERNS - Can I share the patterns I purchase?
You cannot sell or share the pdf pattern (file) itself. All patterns, photos and information in this PDF are copyright protected. You may print copies for your own use. You may not make duplicate copies of PDF or print copies to share or distribute in any way. AppleGreen Cottage patterns are intended for the individual purchaser only.
SEWN ITEMS - Can I sell finished items that I make from your patterns?
That's entirely another thing. The answer to our patterns is a sound Yes! You are more than welcome to sell items you personally sew from AppleGreen Cottage patterns.
In fact, I love it when small businesses make things to sell using my patterns, I feel honored. We also love to see photos in our Facebook group. Join our PDF pattern group at https://www.facebook.com/groups/AppleGreenCottage/ I might reshare your photo and send some customers your way! Win-win!
Conclusion
I hope this post has answered all your questions on what is a digital sewing pattern, how to print a pdf sewing pattern, and what you need to use pdf files to sew. However, if you haven't found the answer to your question here on this page, contact me, I am always happy to help you out. Happy sewing,
Damjana