How To Sew A Soft Ball - Make a perfect baby-welcoming gift in a really short time, using my free soft ball pattern. It's a great project to use scrap fabrics!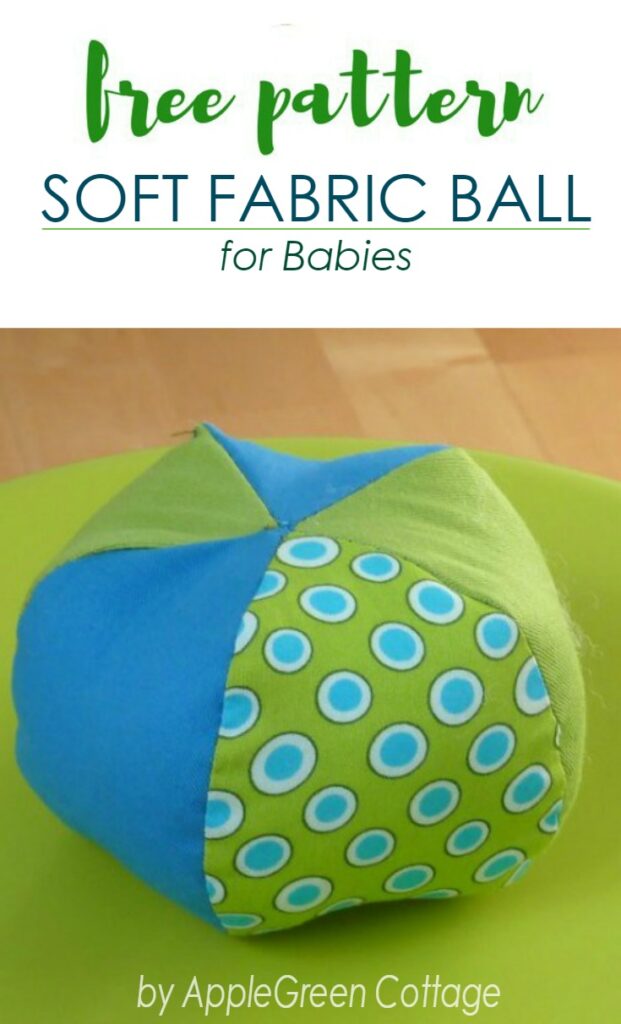 This post includes affiliate links. Thanks for your support.
This is an easy, step-by-step beginner sewing tutorial that shows you how to make a soft toy for a baby. I included lots of photos to make it super easy for you to sew a handmade gift to a special baby in your life - it's a perfect beginner sewing project.
And this template just got even better: you can use the same template to make this beautiful fall decor for your home.
I've just released this baby sewing course. Currently, you can join for free!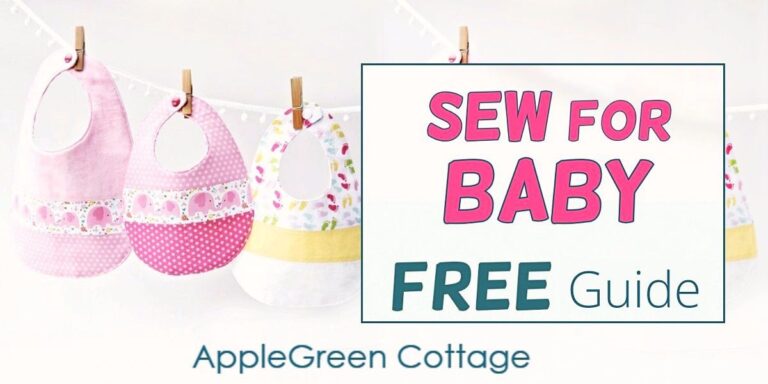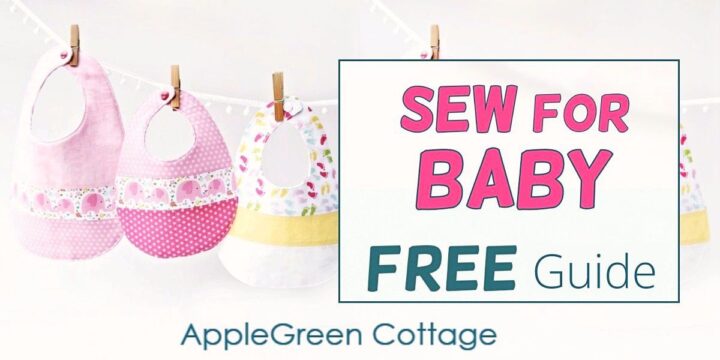 Join the FREE 6-part email guide and sew the CUTEST things for a baby - the EASY way! FREE - no-commitment email course - my best baby sewing ideas. You'll love it!
Now, off to sewing these softies: they are an all-time favorite with babies, so you cannot miss if you decide to make one yourself as a baby gift. In fact, I've made some as baby welcoming gifts myself - and they always, always turned out to be a great, personalized present. And did I mention there is a free PDF sewing pattern waiting for you to download? 
Soft Ball Pattern
Join me, get your free PDF sewing pattern and learn how to make a cute toy all by yourself. It's easy! They are sooo easy to sew! Let me show you how.
SUPPLIES

You'll need:
5 pieces of 6x3 inch cotton fabric (Check out Peek-A-Boo shop for cute baby prints!)
optional: pieces of satin ribbon to make loops
coordinating sewing thread
sewing machine, scissors,
your FREE PDF Sewing Pattern (available in the subscriber-resource library for all newsletter subscribers - join the free newsletter here!)
Sign up for my newsletter and get the template once you confirm your subscription!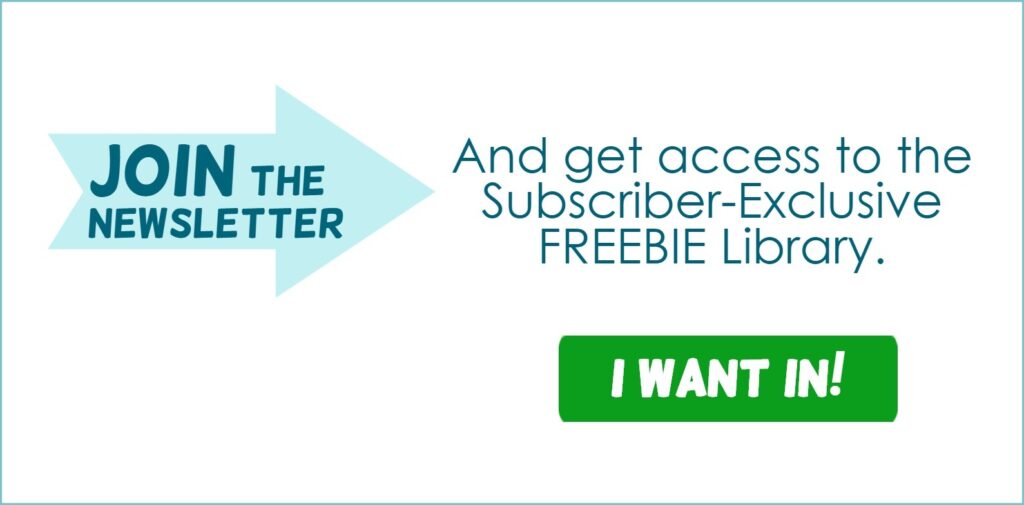 If you're already a subscriber, you can access the template with the password in each newsletter, in the resource library:

And if you are looking for some adorable new fabric, you can check out these cute fabrics by peek-a-boo. (They've also got gorgeous baby prints!)
MORE TO SEW:
While you are at sewing, you can make an easy earwarmer headband in matching colors. You'll have a wonderful handmade present for your loved ones (aka 2-in-1!) – You can either use my free 3-size version (baby to 1 year) if you subscribe to newsletter, or get an 8-size PDF pattern in my shop (baby to adult). The latter comes complete with instructions and tips for easy sewing. Easy project, too! Read on and learn how to make this softie by yourself, it's easy!
Soft Ball TUTORIAL:
I usually use a ¼ inch seam allowance here (=approximately 7 mm in metric), the usual one for soft toys.
1) Use the PDF pattern to cut 5 pieces for the soft baby ball. Also cut several pieces of ribbon, each 2 inches (5 cm) in length. Arrange the individual leaves for sewing.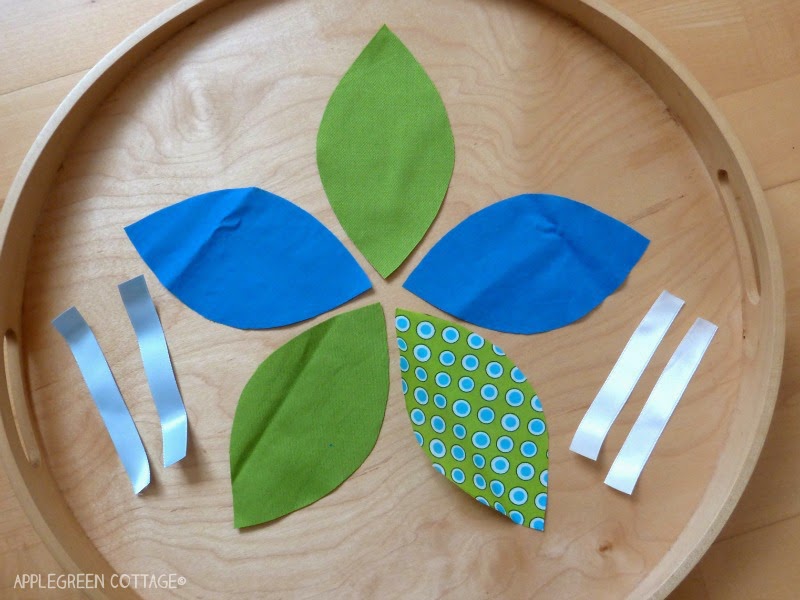 2) Put the first two pieces with right sides of fabric together. Fold a ribbon in half and pin it between the two leaves. Note: the loop of the ribbon should be facing inwards (see the photo).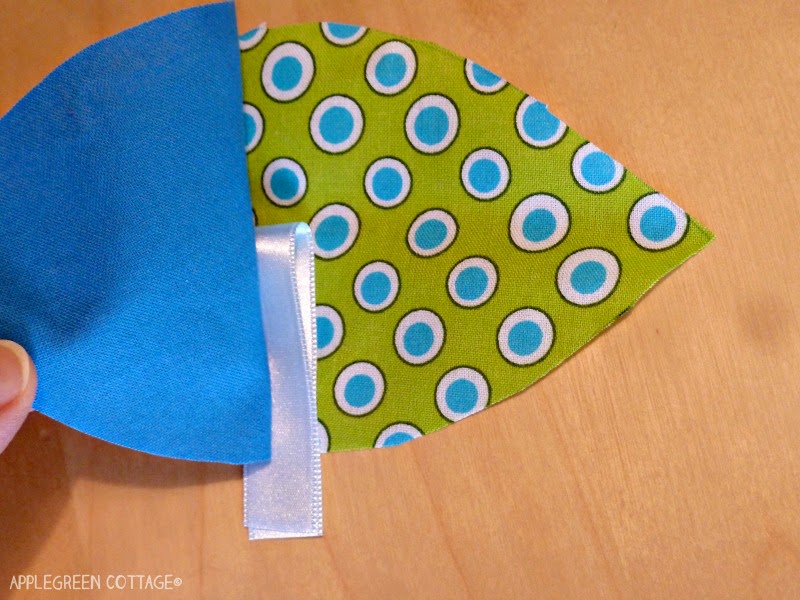 3) Sew along the entire side of the leaf and leave the other one open.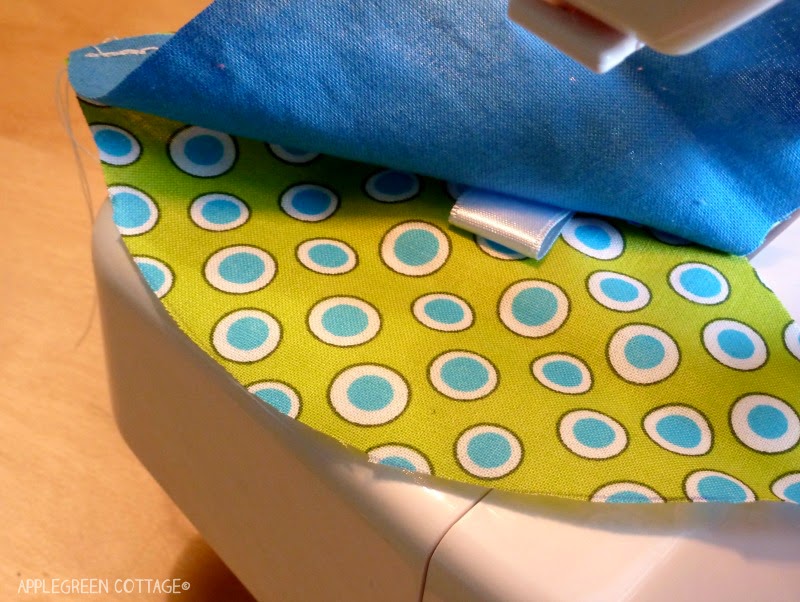 4) Add individual leaves as you sew, each time adding a satin-like ribbon (folded in half and facing inwards, as mentioned above). Each time you add a leaf, just sew along one side, as shown in the photos below.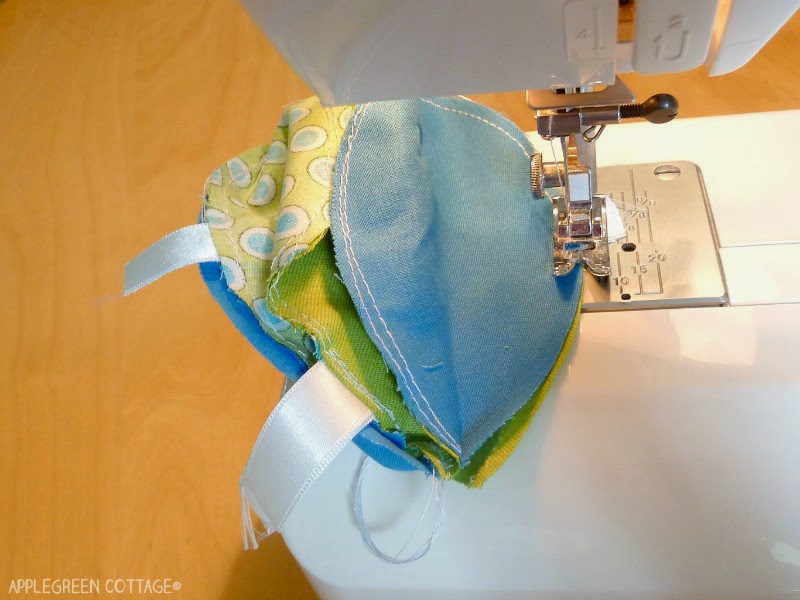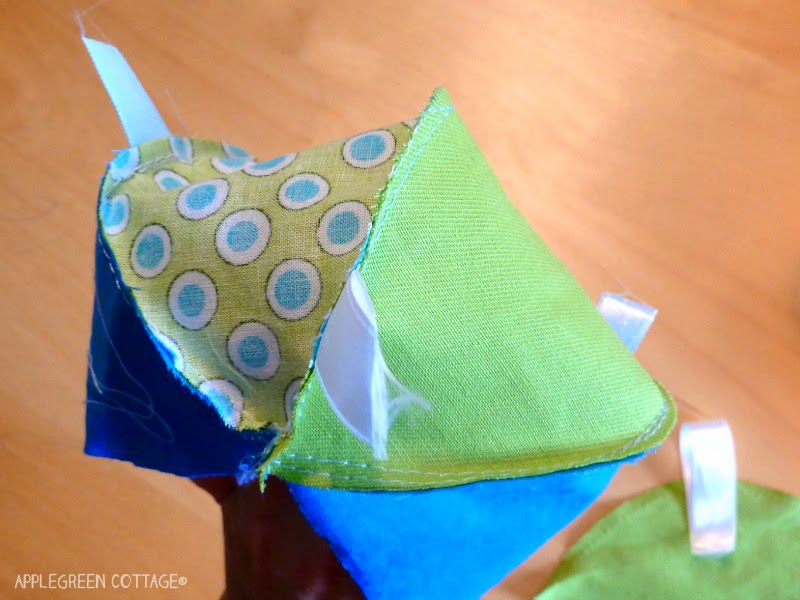 5) When the 5th leaf has been attached, you'll need to stitch it together with the 1st leaf, but not entirely. Leave an opening for stuffing. Then turn the ball inside out.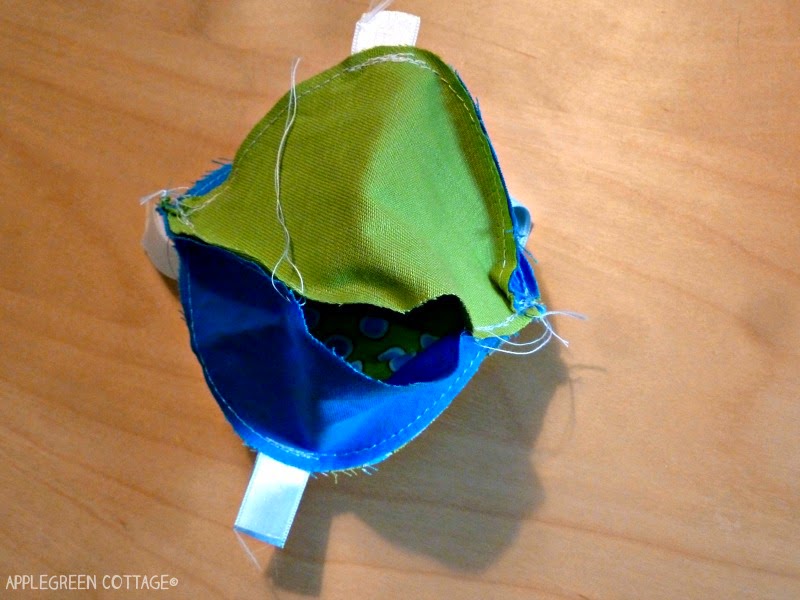 6) Stuff it with some soft material and then close the opening. I just topstitched over the opening using the sewing machine.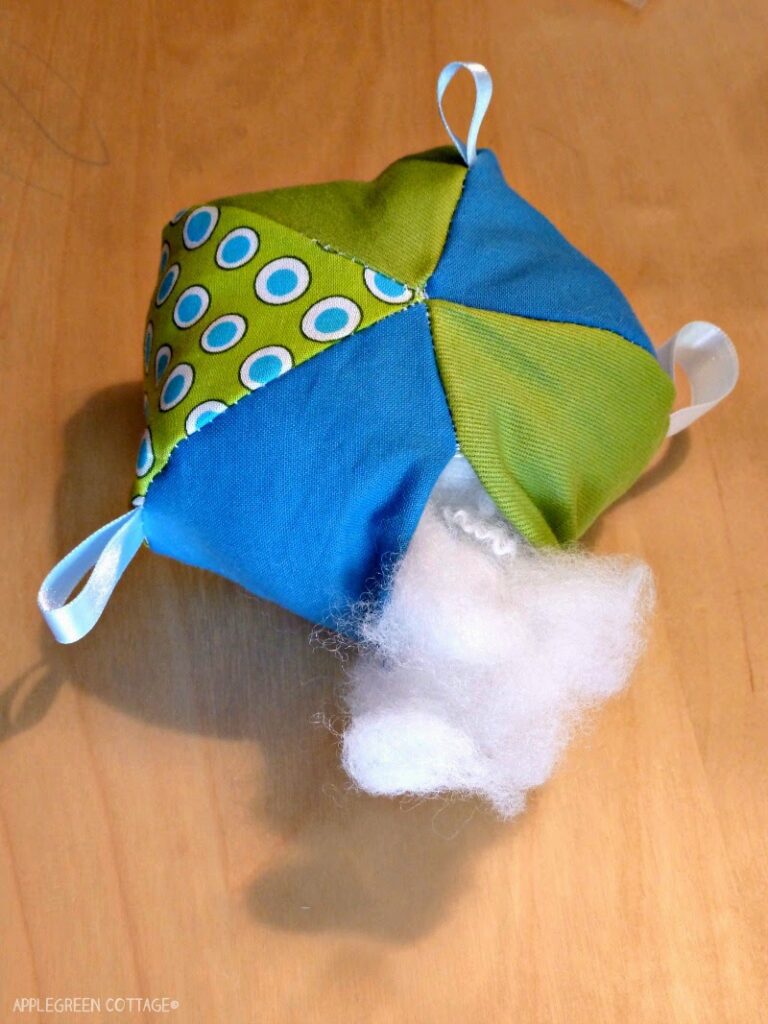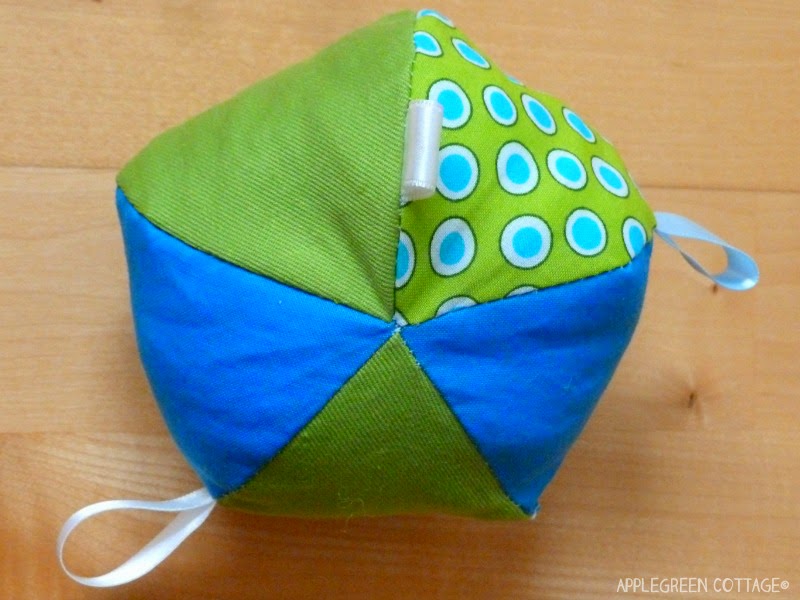 Soooo, your soft and cuddly fabric ball is ready for playing. Happy gift giving!
***
This post is part of the FREE BABY SEWING PATTERNS series on this blog. Make sure to grab ALL of the free baby sewing patterns on this site:
And there are so many more!
Save For Later:

WANT MORE FREE TUTORIALS AND Patterns?
Get email updates and never miss out on new patterns, printables and tutorials. If you sign up at THIS link, you'll also get the Fabric Hanging Basket Template for FREE, right now. A cute and easy-sew!
Or check out this popular pattern: Ultimate Diaper Clutch - a perfect baby welcoming gift every new mom would love to get!
Questions from readers - answered!
Is this soft toy washable with the stuffing material?
Depends on the stuffing you use. I always make these soft balls with washable stuffing.