How to make a diy key pouch from a coin purse. Today, I have a little hack for you. I turned one of my most popular patterns, this coin purse, into a cute and practical key holder. Want to see how? One single detail did it all. See for yourself!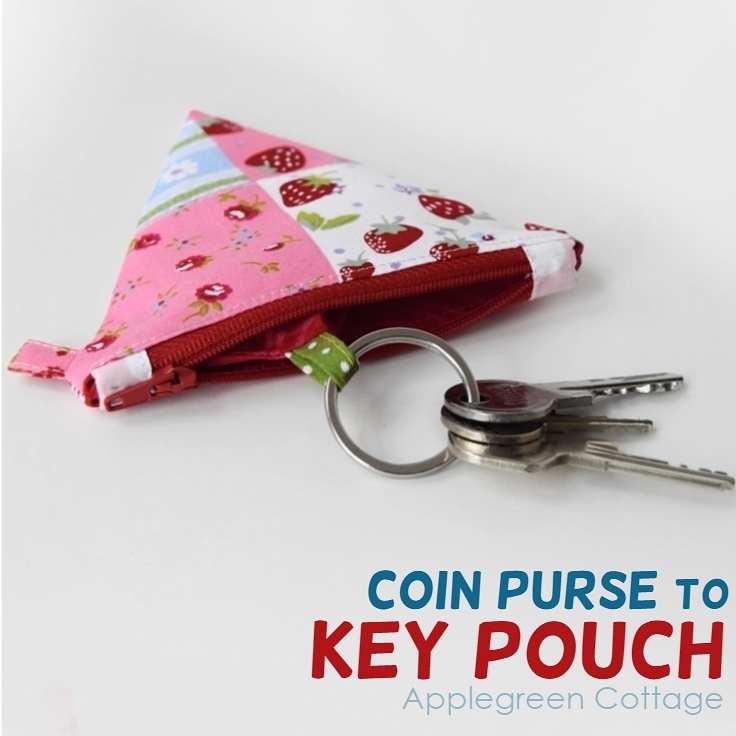 This post may contain affiliate links. Thanks for your support. Looking for easy sewing projects? You'll like these too:
The diy key pouch will keep all keys nicely bundled together. But what is more important, at least for me, it means no more scratched surfaces from the sharp key tips. This key case is both cute and practical!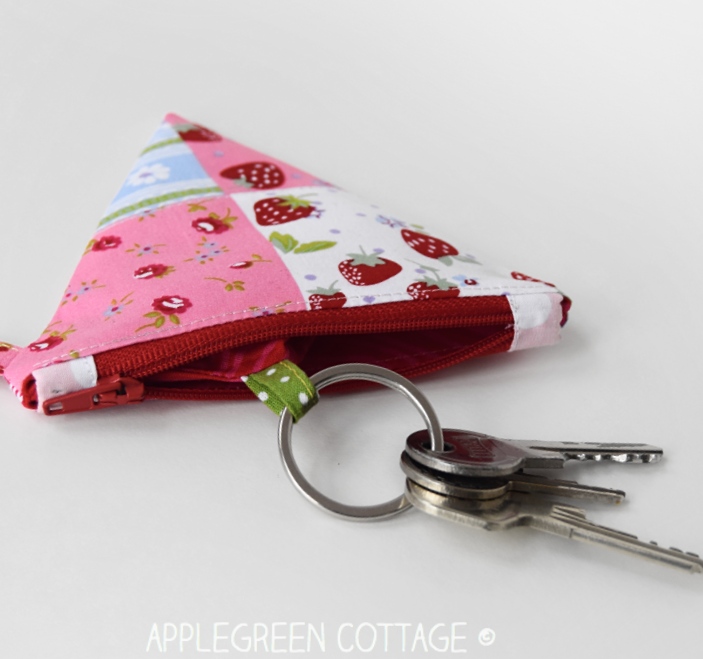 The Story behind
The tip and the cuts on my keys are quite sharp. Sometimes, they would leave scratches on my hallway table, or make a hole in pant pockets if carried around in a pocket. (Don't ask how I know that.)
So instead of forever mending torn pockets, I decided to get some key pouches. And being a little nuts about things handmade and diy, why not make them myself, right? So I did, and these three turned out quite cute!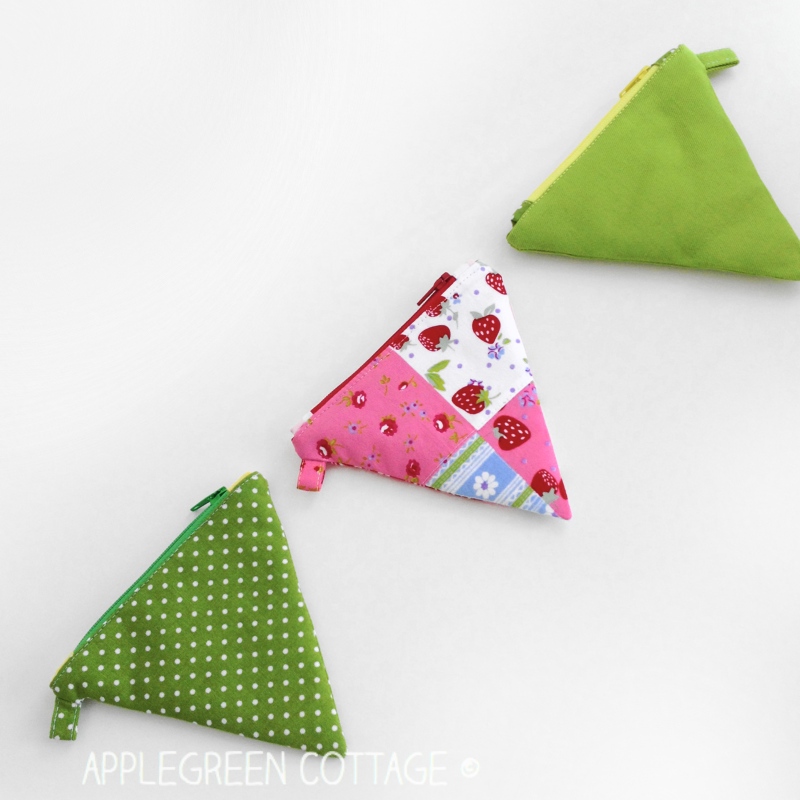 FEATURES
Why I love my triangular key pouch:
flat and small and can be easily tucked into my pants pocket, if needed
prevents scratches from sharp key edges
great format to get keys out easily (important!)
can still double as coin purse - or my USB drive holder
It sits neatly in a pants pocket and fits well in the hand.
It's practical, just like a good key holder needs to be. Plus cute! Now, let's talk details, so you can make one too:
How To Make A Key Pouch From a Coin Purse:
To make a key holder pouch instead of a coin purse, all you need to do is add a tab on the lining. Like this: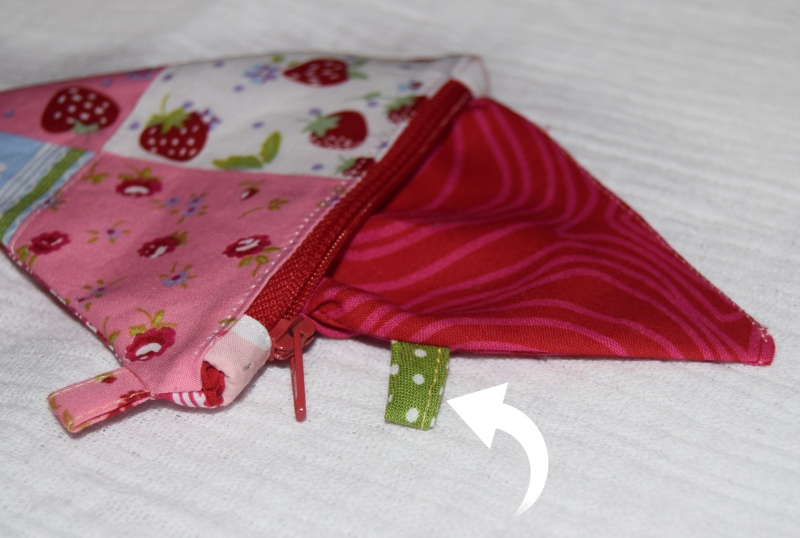 The most elegant way to do so is when sewing the lining together. Follow the pattern instructions, and when there is a note to insert the pull tab into the main fabric layer, just add an additional one into lining. (Following instructions and images in the original pattern how-to) Like this: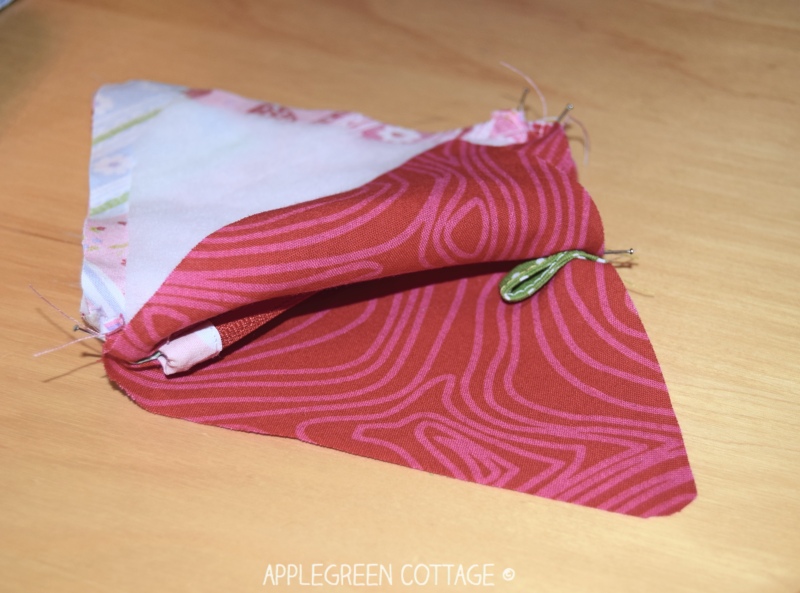 (Here, red is pouch lining, and the green polka-dot piece is what you insert.)
This is it. The only thing I needed to change in the TRIA Coin purse to transform it into a key holder. Easy-peasy!
Here's a short how-to make a tiny tab like this green one: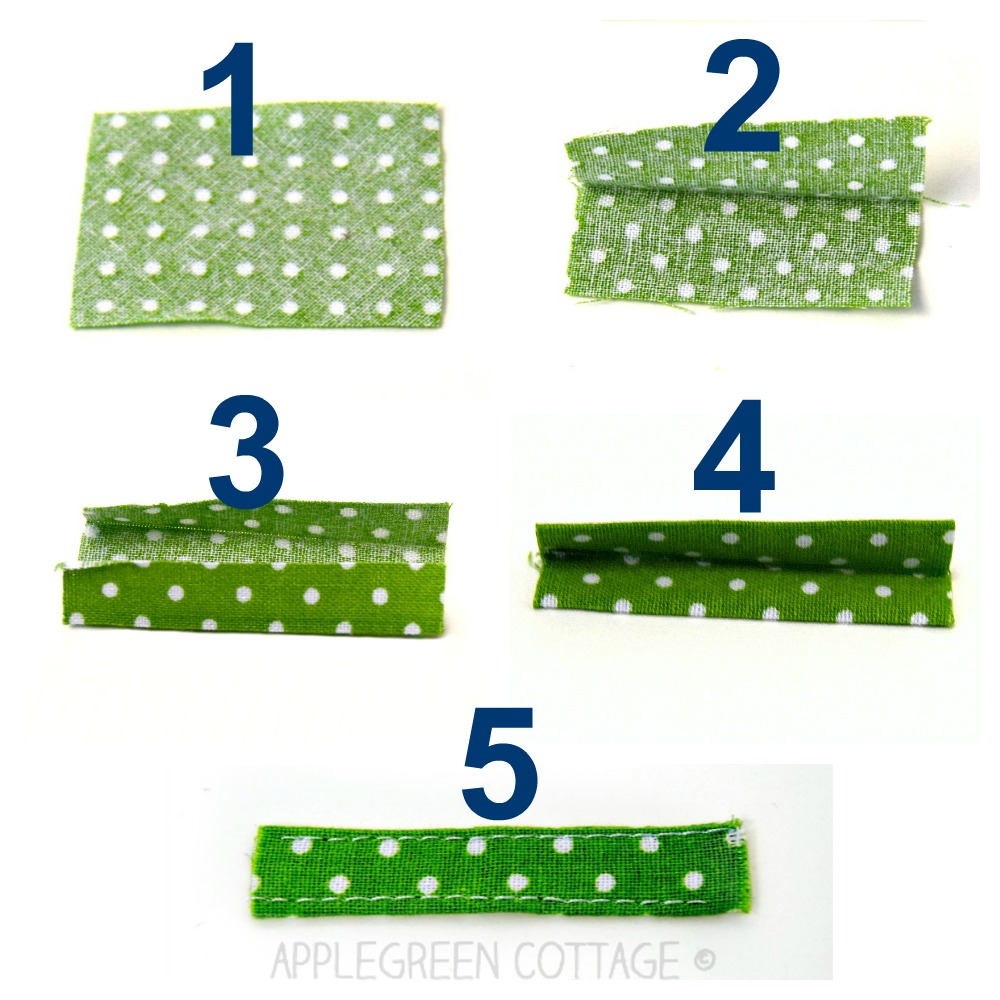 Use the dimensions from the pattern, or use your own dimensions, as you prefer.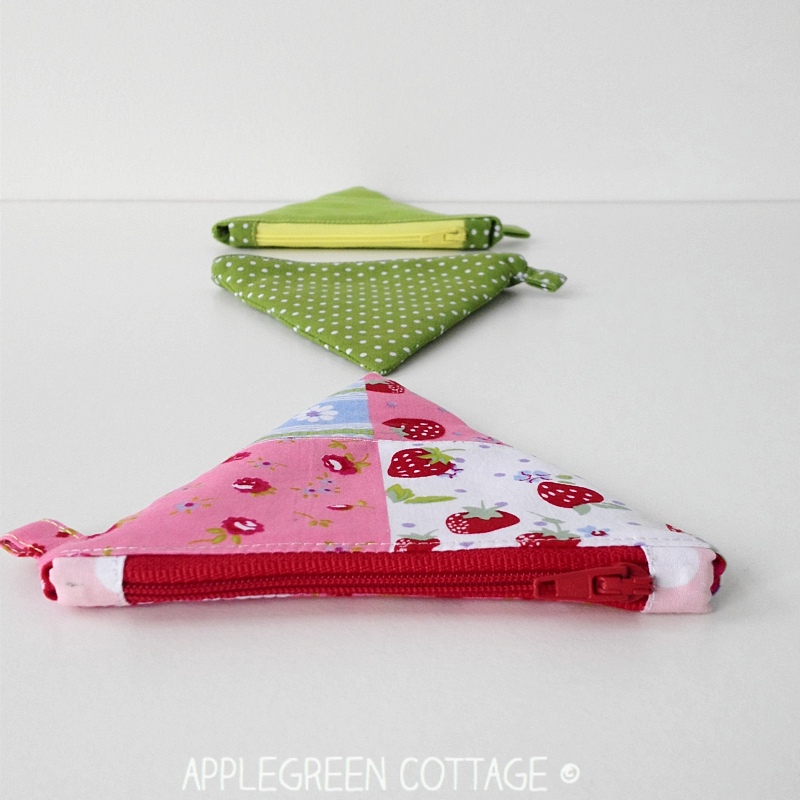 Following this simple tip, you can turn just ANY small pouch into a key holder, no matter which form. You can even quickly draft your own triangular pouch - just to mention here, the lining pattern piece in Tria Coin Purse pattern is not exactly the same dimensions as the outer fabric, it's a tiny bit shorter. This is a little no-brainer trick I use to help you make Tria coin purse look perfect. You might want to do the same if you draft your own pattern.
The open triangle form is practical when used as key pouch, as it is easy to pull out the keys, just by holding the tip: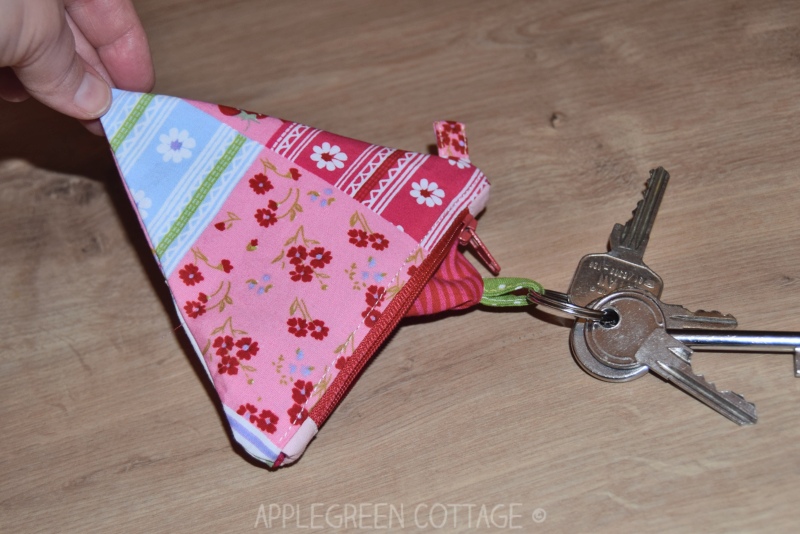 It's A Scrapbuster Project
It's a great scrap buster project, and it makes an excellent little handmade present or stocking stuffer! This is an easy-to-scale pattern if you want a larger size. (Just like a good key holder needs to be.)
I've sewn it up already during the winter, and it was so heartwarming to see strawberries in January already 🙂 This little key pouch was so fun to make and I love using it. No more scratches if I accidentally drop the keys on the hallway table too quickly! Save this idea for later: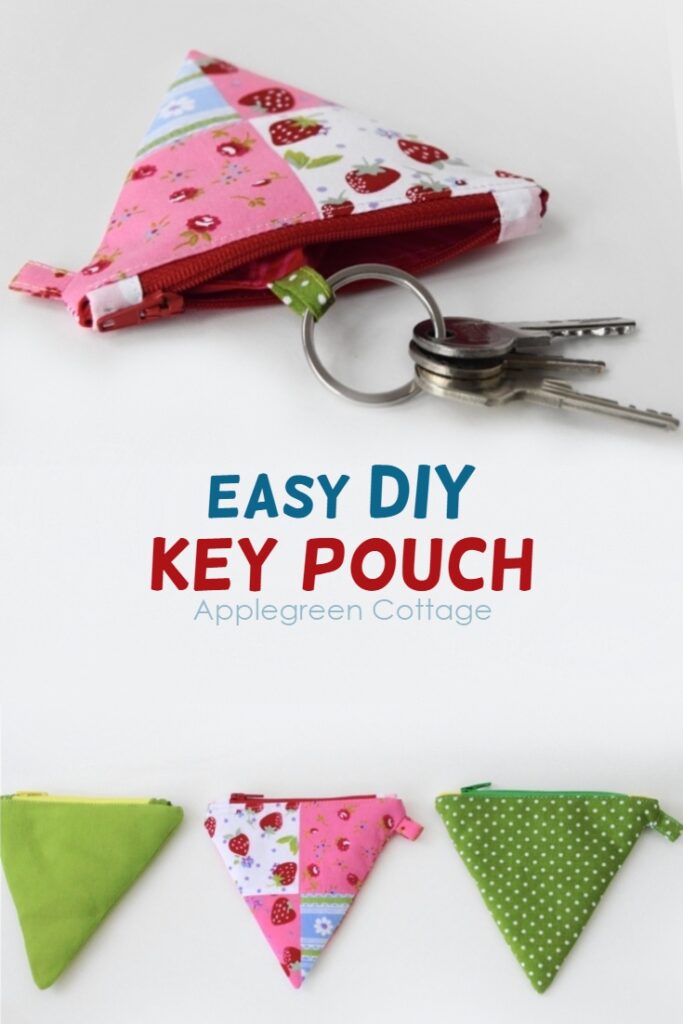 And if you like scrapbusting projects, make sure to check out this free card holder pattern too - it only takes 3 bits of material and 5 minutes of your time!
Want MORE FREE TUTORIALS And Patterns?
Get email updates and never miss out on new patterns, printables, and tutorials:
Or …check out this popular PDF pattern – the Kalina Mini Wallet in our shop. So practical!