30+ diy tree skirt no-sew versions - This Christmas, treat your home to some new home decor you'll be using for years to come! This is a great list of popular tutorials to make no-sew tree skirts. For every skill level, from beginners to advanced. With more than 30 tutorials and tree skirt ideas (in addition to these 40+ sewing versions!), you're sure to find a Christmas tree skirt that fits your decor and personal style. Check them out!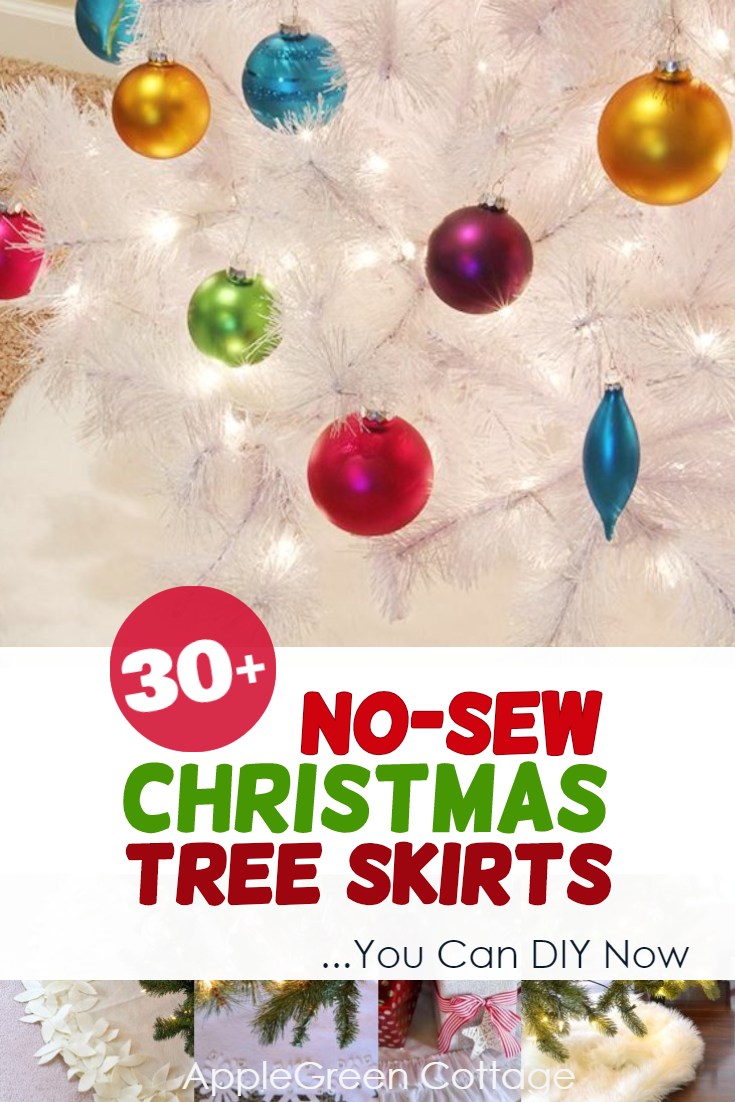 This post may contain affiliate links. Thanks for your support! First off, there's tons of Christmas projects on this blog. Feel free to check them all out, including these ideas:
I also need to mention that the list below is part of an even larger roundup, a master list for Christmas tree skirts to make: 70+ diy tree skirt tutorials, where I also added more than 40 other diy Christmas tree skirt making projects - those are perfect for you if you can sew. You can check out the main post here.
30+ No-Sew Diy Tree Skirts
Now back to our no-sew diy tree skirts. They are doable for everyone who can cut a straight line and can hold a hot glue gun. There's one diy tree skirt for every taste and skill level and I hope you'll find your favorite!
1) No-Sew Ruffled Tree Skirt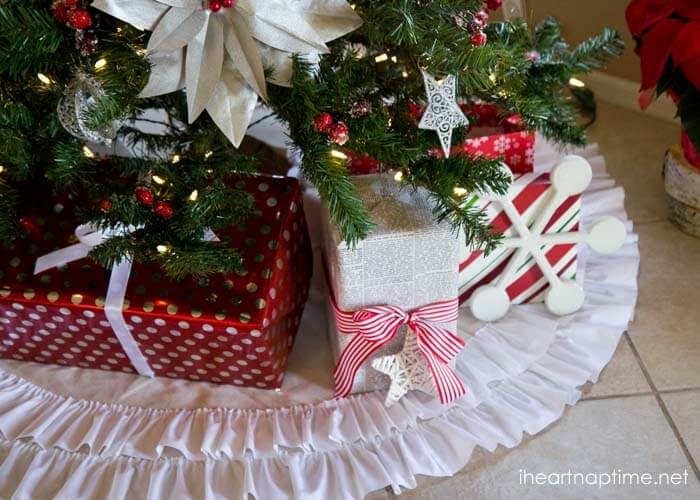 No-sew ruffled tree skirt - tutorial by I Heart Naptime
2) No-Sew Faux Fur Tree Skirt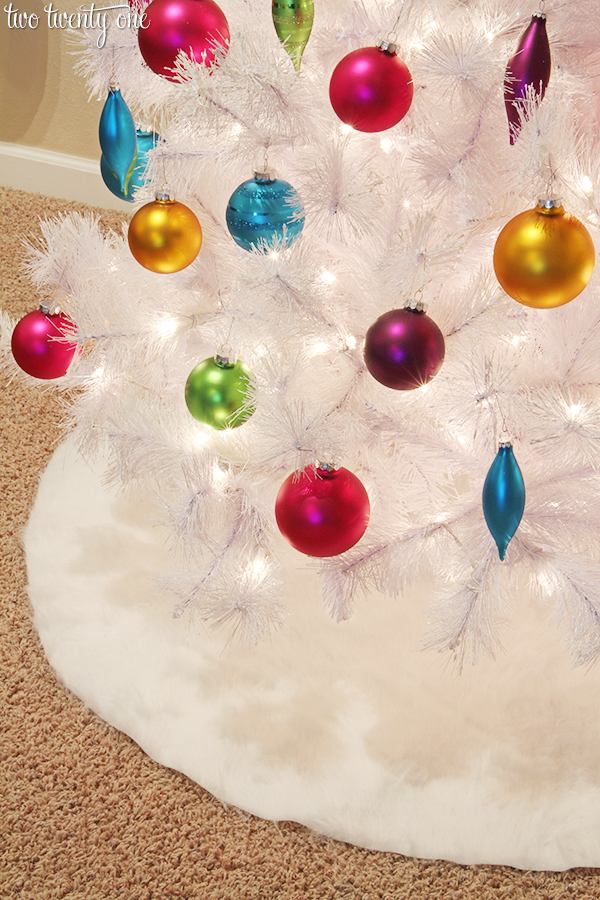 A quick no-sew thin faux fur version - tutorial at Two Twenty One
3) Easiest No-Sew Upcycled Christmas Tree Skirt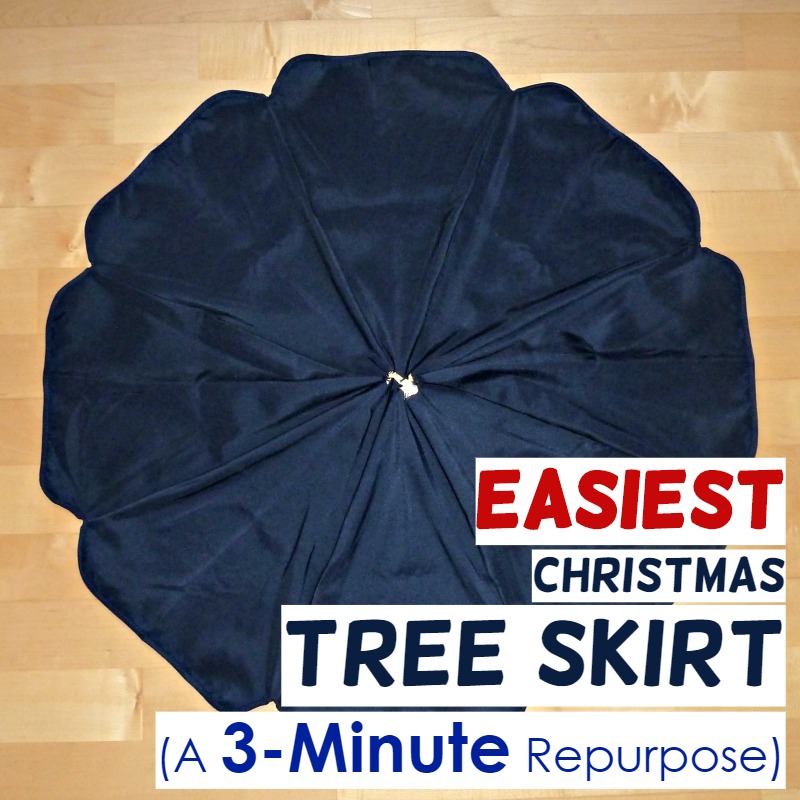 This is a fun and totally unconventional DIY Christmas tree skirt idea I had a few years ago. It was a last-minute idea and it actually took me like 3 minutes to have my tree skirt ready. You're not gonna believe what I used for it! Find out more here.
4) No-Sew Ivory Tree Skirt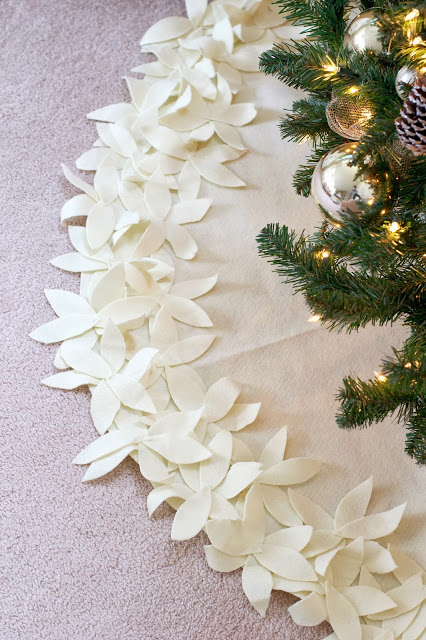 Adorable! There's also a similar sewing version on the other, sewing projects' list. Did you notice it? The tutorial to this white tree skirt is here, at Live Love Diy
5) Glitter Star Tree Skirt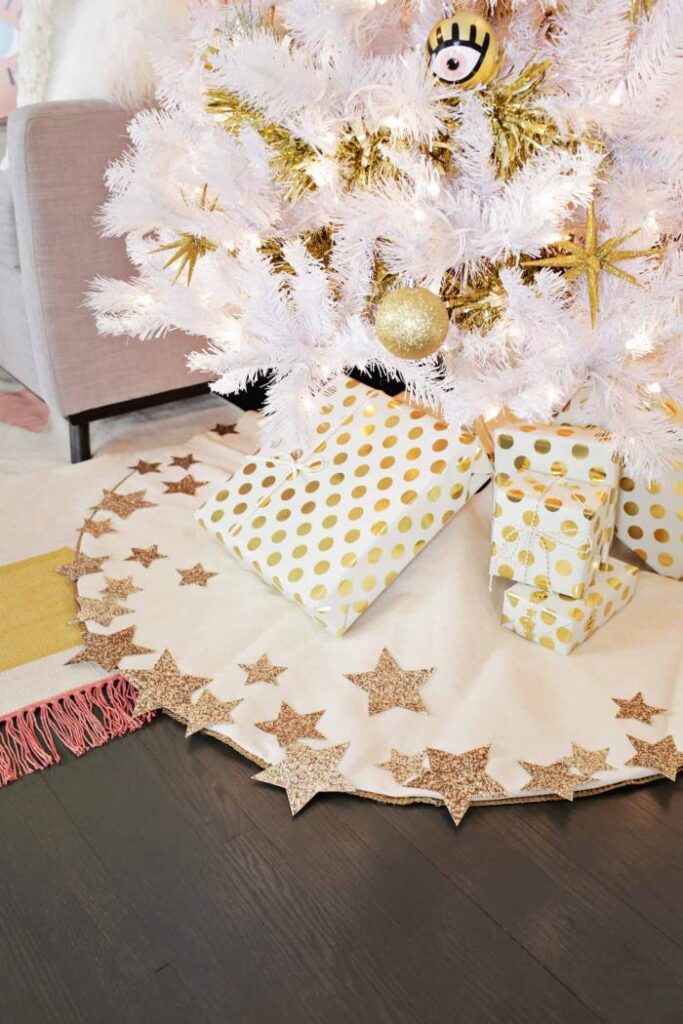 So cute! This glittery star tree skirt is super easy to whip up—no sewing needed! Tutorial by A Beautiful Mess.
6) No Sew Mini Tree Skirt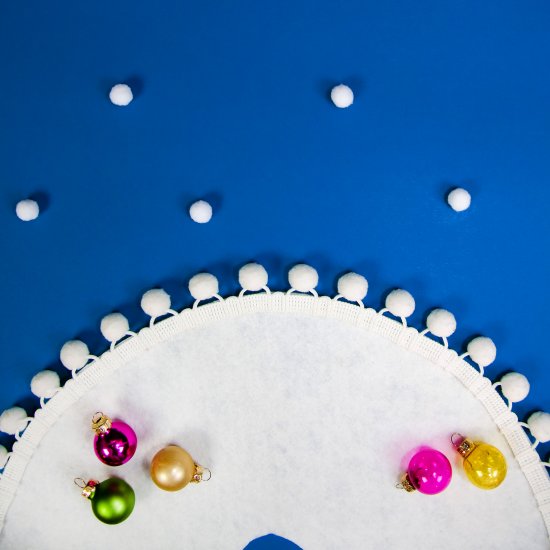 Make this easy and inexpensive mini tree skirt for your tabletop Christmas tree.
7) No-Sew Felt Snowflakes Tree Skirt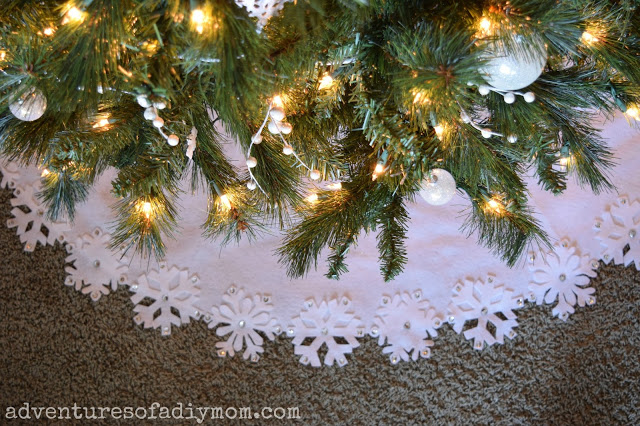 These snowflakes are so cute! Tutorial at Adventures Of a Diy Mom
8) A Cheerful Tree Skirt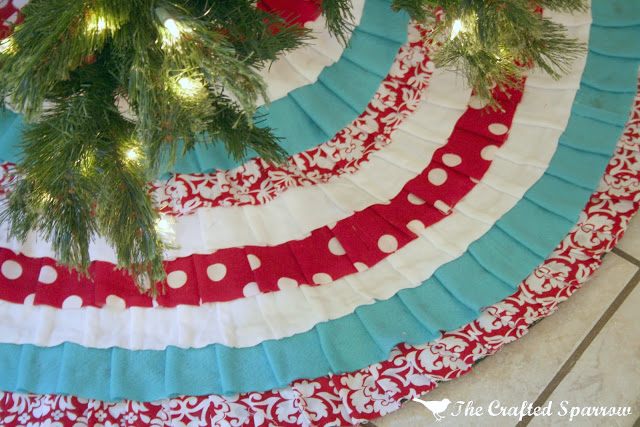 This cute and cheerful tree skirt was made by Rebecca at The Crafted Sparrow
9) Ombre Ruffled Tree Skirt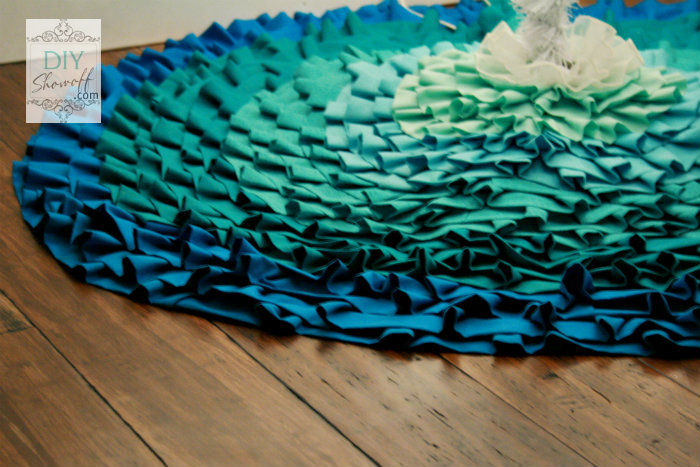 Love the color combo of this no-sew tree skirt. Tutorial by Diy Showoff.
10) Vintage Inspired Ornaments Tree Skirt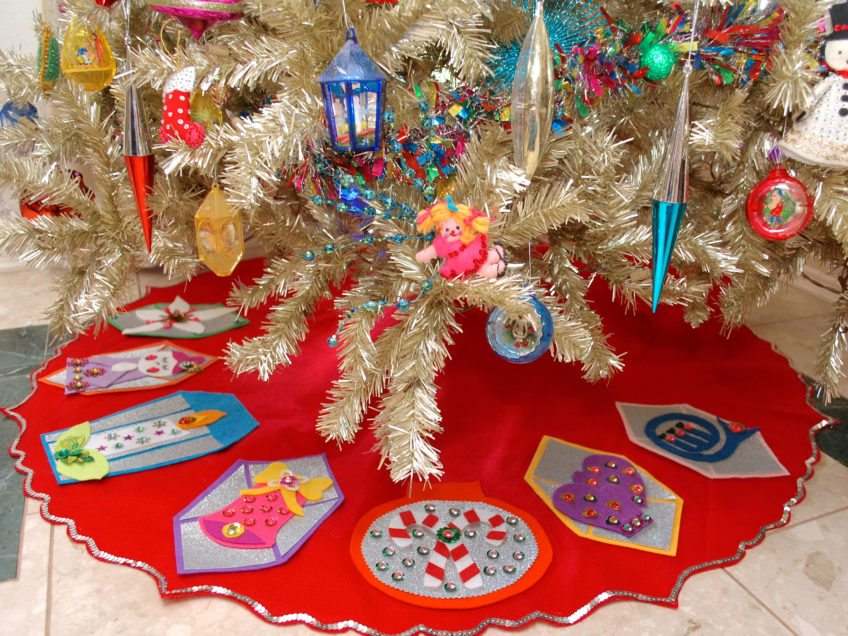 Vintage inspired tree skirt with elaborate ornaments, tutorial by Jennifer Perkins.
11) 3 Easy No-Sew DIY Tree Skirts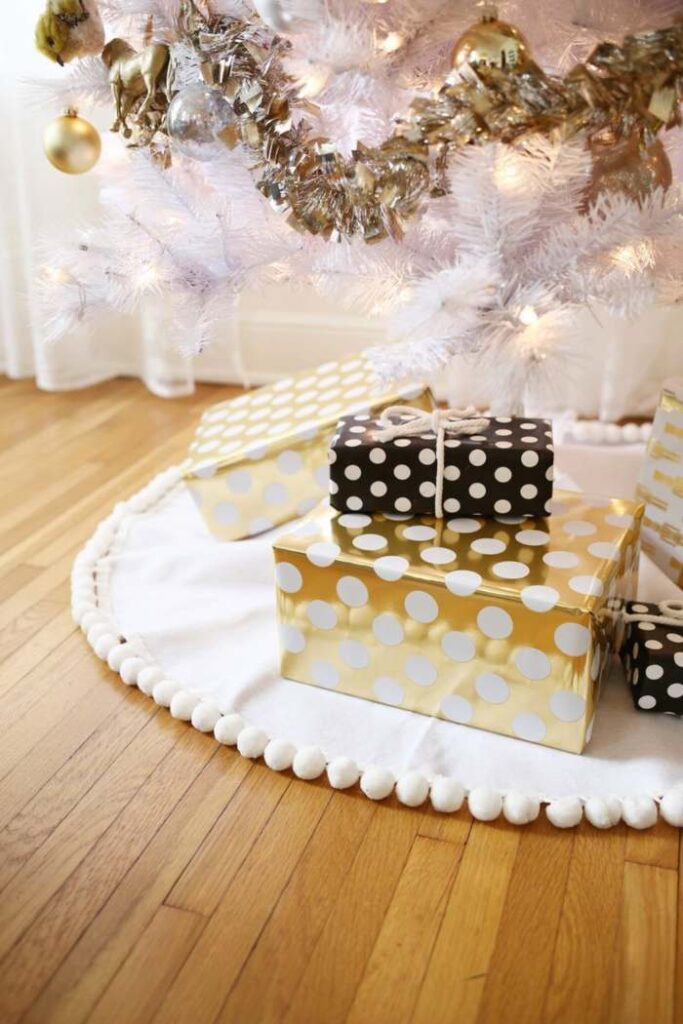 Easy No-Sew Tree Skirts in not one, but three different versions - find them all at A Beautiful Mess.
12) No-Sew Faux Fur Tree Skirt - Version 2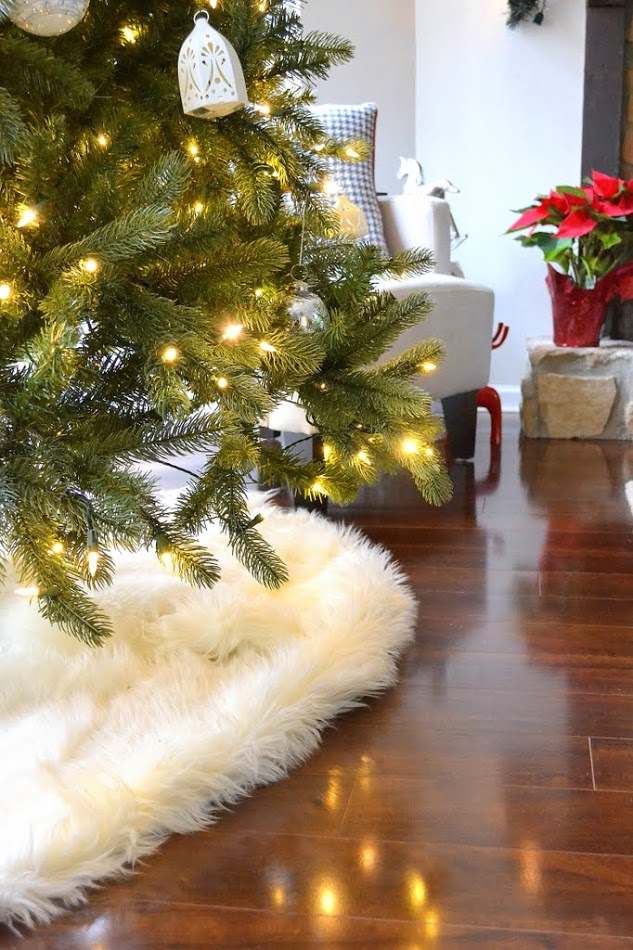 How soft is this no-Sew Faux Sheepskin Tree Skirt! - tutorial by Ugly Duckling House
13) Moroccan Wedding Blanket Tree Skirt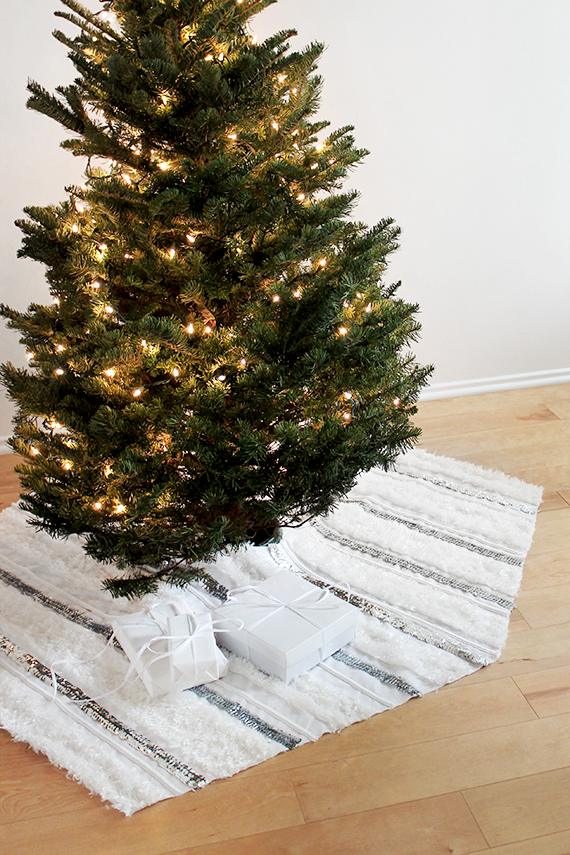 With some fabric and trims, you can create this easy Moroccan wedding blanket inspired tree skirt - no sewing necessary!
14) No-Sew Burlap And Lace Tree Skirt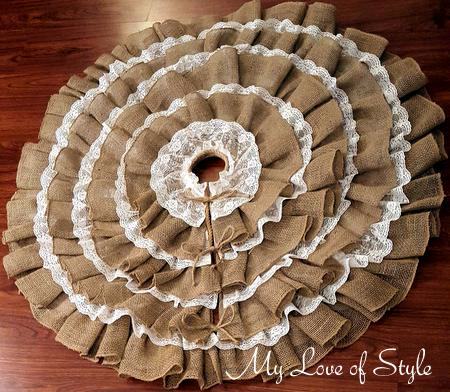 Burlap and lace give this no-sew tree skirt a vintage feel. Tutorial at My Love Of Style.
15) Folded Burlap Tree Skirt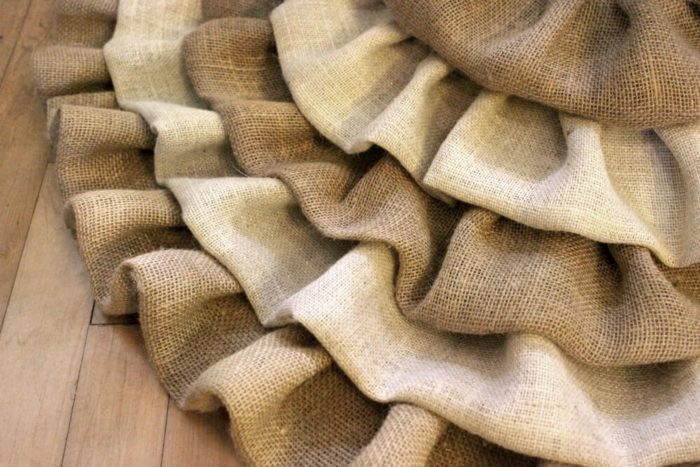 The burlap strips in this how-to are folded in half - a smart way to prevent it from fraying! Tutorial here.
16) DIY Swiss Cross Tree Skirt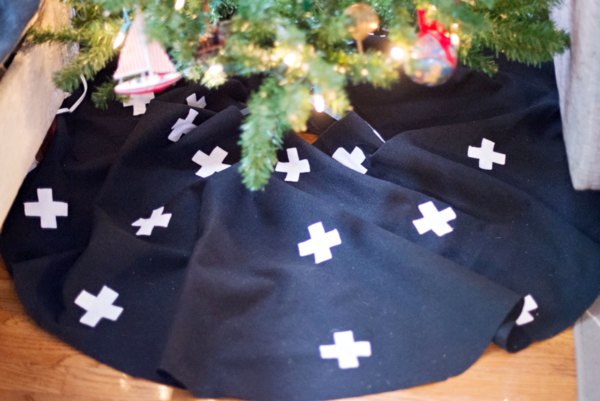 A modern Swiss cross Christmas tree skirt. Find the tutorial at The Home Steady (includes both, sew and no-sew versions)
17) DIY Painter's Drop Cloth & Burlap Ruffled Tree Skirt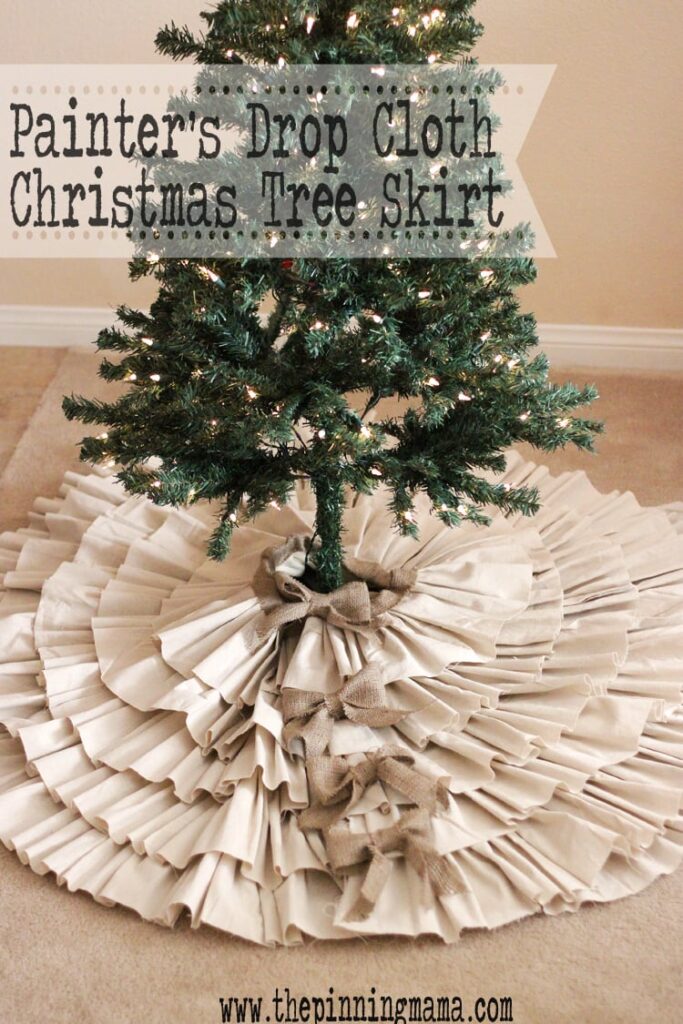 No sew DIY Painter's Drop Cloth & Burlap Ruffled Tree Skirt by The Pinning Mama.
If you prefer felt, here's one white felt version for you:
18) White Christmas Felt Tree Skirt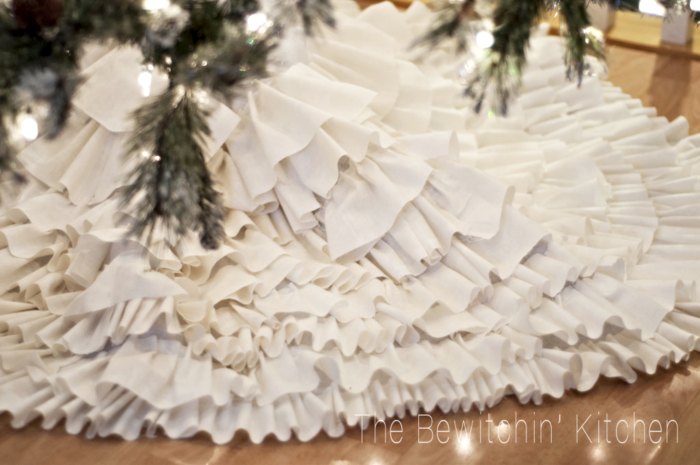 White Christmas style: white felt tree skirt tutorial by The Bewitchin' Kitchen
19) Three-Layer No-Sew Tree Skirt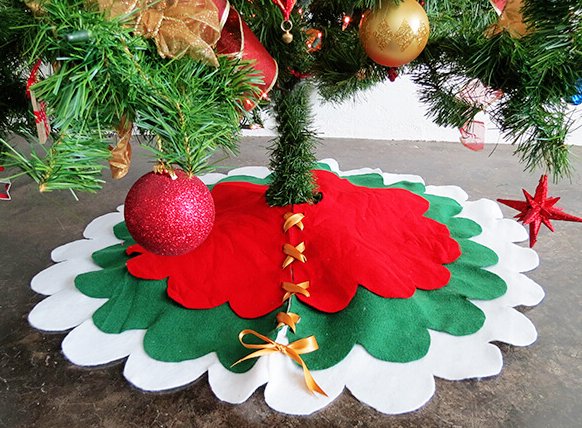 No-Sew 3-Layer Christmas tree skirt by Dream A Little Bigger
20) Easy-Sew Felt Tree Skirt With Felt Circles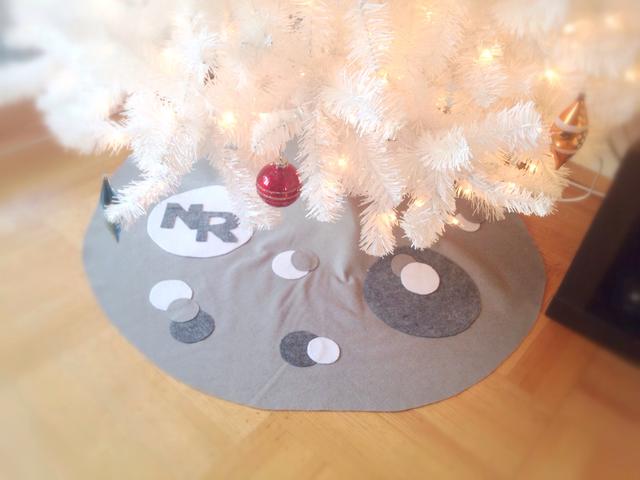 The felt circles give this diy no-sew skirt a fun and modern feel. Tutorial on Snapguide.
21) A 30-Minute Tree Skirt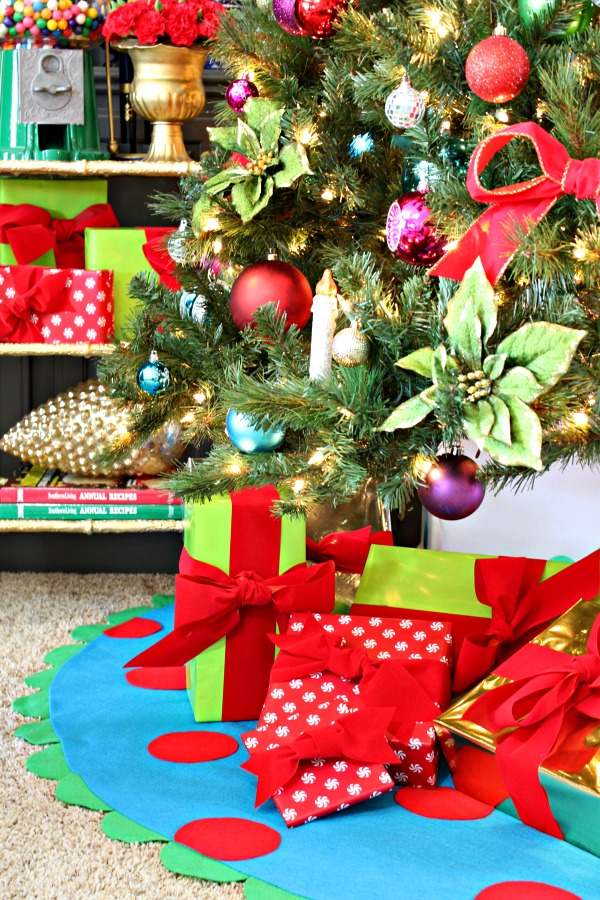 Another cute felt-circles tree skirt, this time in an entirely different color scheme. Find the tutorial at Dimples And Tangles
22) Felt Fringe Tree Skirt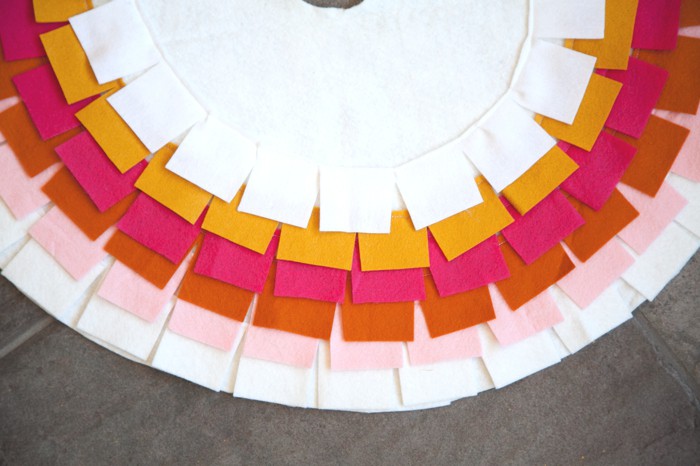 Felt fringe tree skirt tutorial by Pretty Prudent.
23) Semi Handmade + Glue Gun Tree Skirt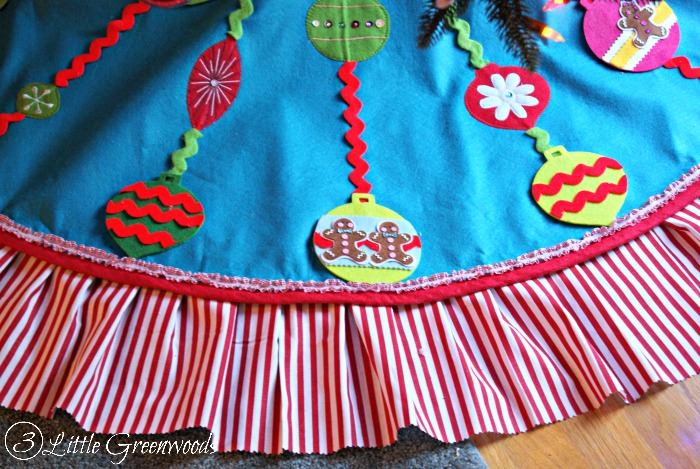 A clever upgrade of a premade tree skirt. Tutorial by 3 Little Greenwoods.
24) No-Sew Tree Skirt by Melo-Drama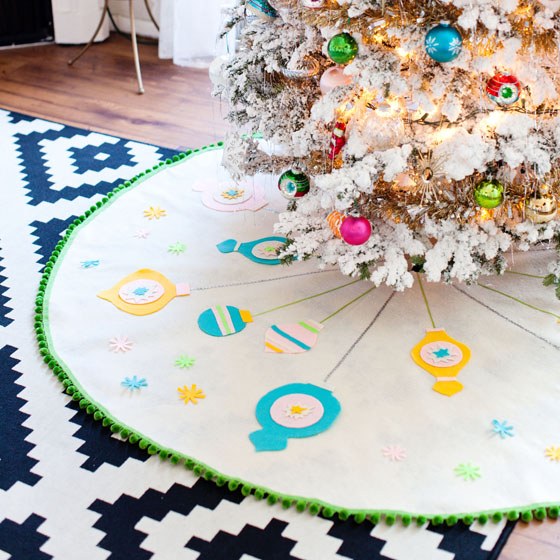 A mid-century felt-ornaments-filled diy tree skirt by Melo-Drama.
25) No-Sew Tulle Tree Skirt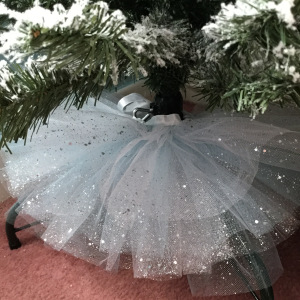 Tulle, and that with glitter! Tutorial here at A Box Of Buttons
26) No-Sew Ribbon Tree Skirt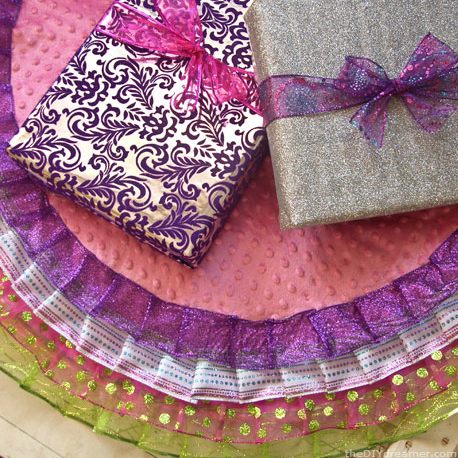 This lovely no-sew tree skirt was made with ribbons. Tutorial by The DIY Dreamer
27) No-Sew 10 Minute tree Skirt - With Lights!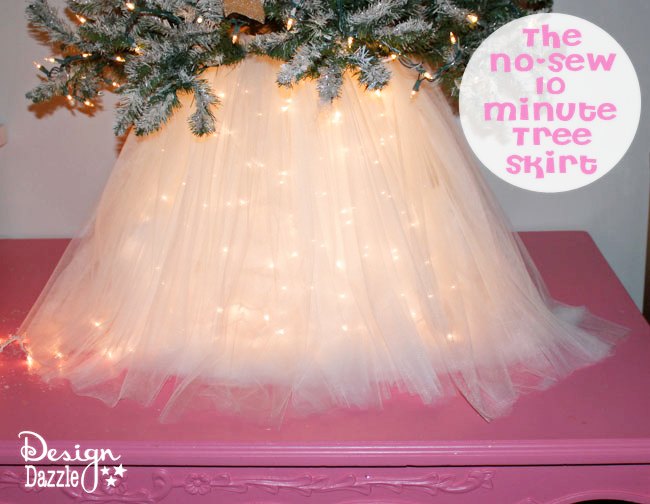 This just might be the fastest way to make a tree skirt that has lights installed! Tutorial at Design Dazzle.
28) Tree Skirt From A Wedding Dress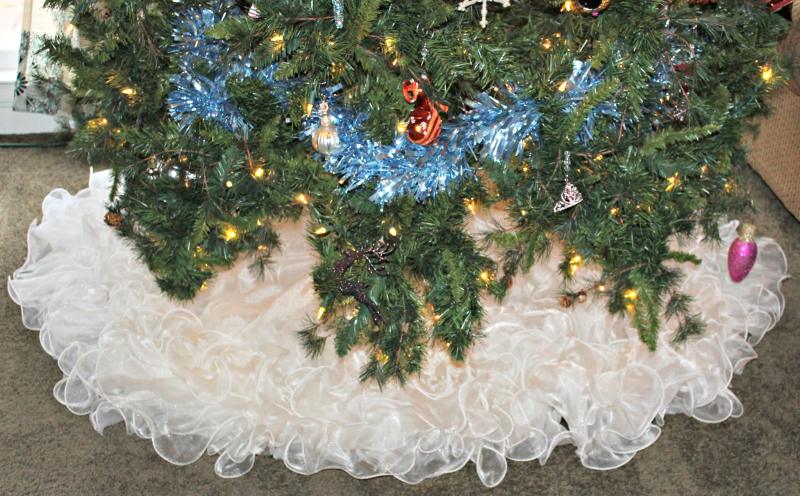 A Repurpose of a wedding dress. Would you dare? How-to on The Knot.
29) Single Color No-Sew Ruffle Tree Skirt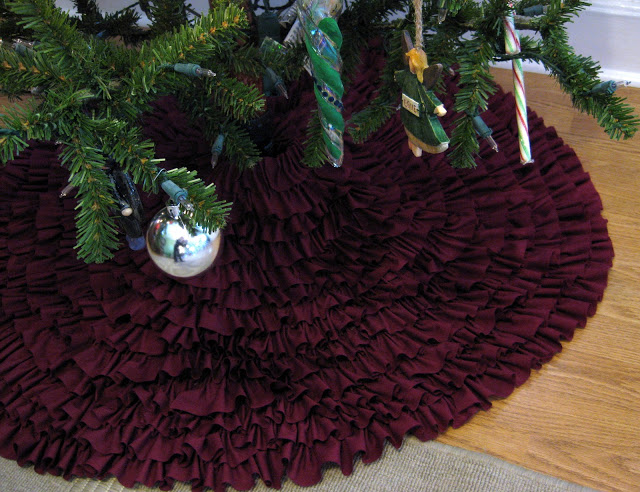 Solid color and tons of ruffles - a great combo! Tutorial at Making A Living
30) Embroidered Snowflakes Tree Skirt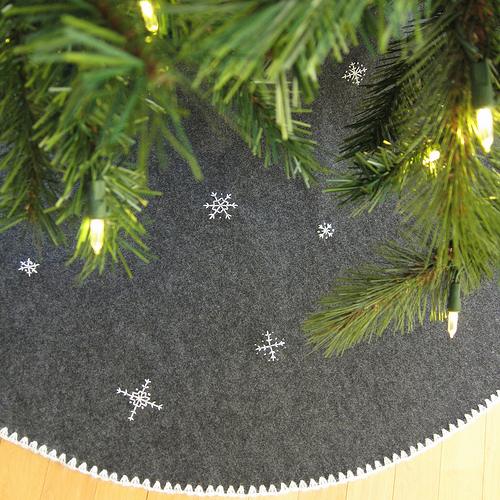 An adorable snowflake tree skirt that does not involve your sewing machine, but does include embroidery. Beautiful! Tutorial here.
31) No Sew Blanket Tree Skirt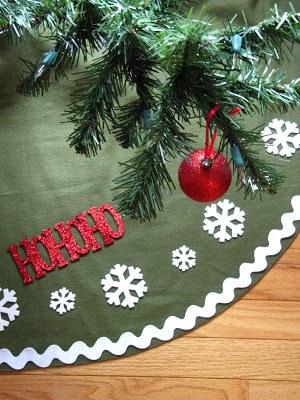 Get the tutorial for this no-sew blanket tree skirt at the Sew Many Ways blog.
32) Black And White Tree Skirt With Felt & Pompoms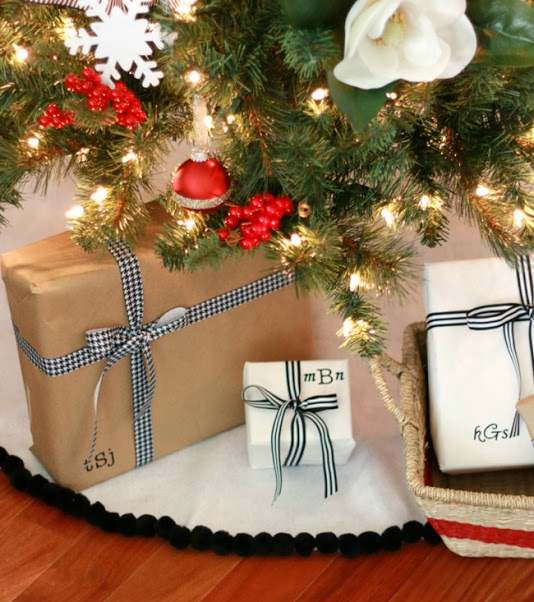 You'll find this diy tree skirt with white felt & black pompoms at A Thoughtful Place.
This is where my no-sew tree skirt list ends, for now. Hope you've found your favorite. Make sure to save this post for later use, too: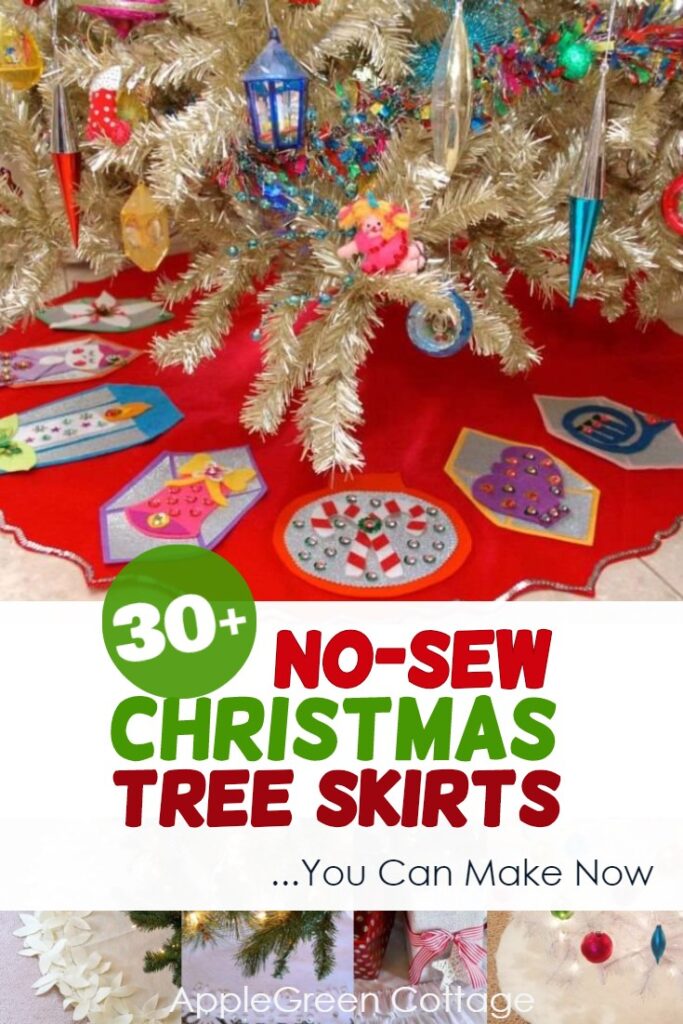 And the Tree Skirt I Made for my own Christmas tree?
NOT INCLUDED in the above list.
If you're curious which tree skirt I made, it's this Quilted Tree Skirt I sew using Caroline's Mini E-Course last year. It is not free and it is a sewing project (that's why I did not include it in the list above) but it's the prettiest Christmas tree skirt I've ever made. It was my first-time quilting project and it's beginner friendly!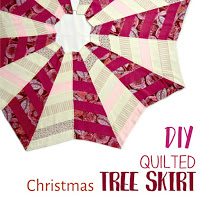 Happy holiday crafting! Damjana
WANT MORE FREE TUTORIALS AND GOODIES?
Get email updates and never miss out on new patterns, printables, and tutorials:
Or check out this pretty ALLina project bag pattern in our shop - for all your storage needs: