ALLina pattern for tote bag - here's a new pattern for a single-handle tote that can be used as a bag or as decorative home storage. Two sizes, can be sewn with NO hardware too! What makes it special is a bit of a non-standard construction process that makes sewing even easier - check it out!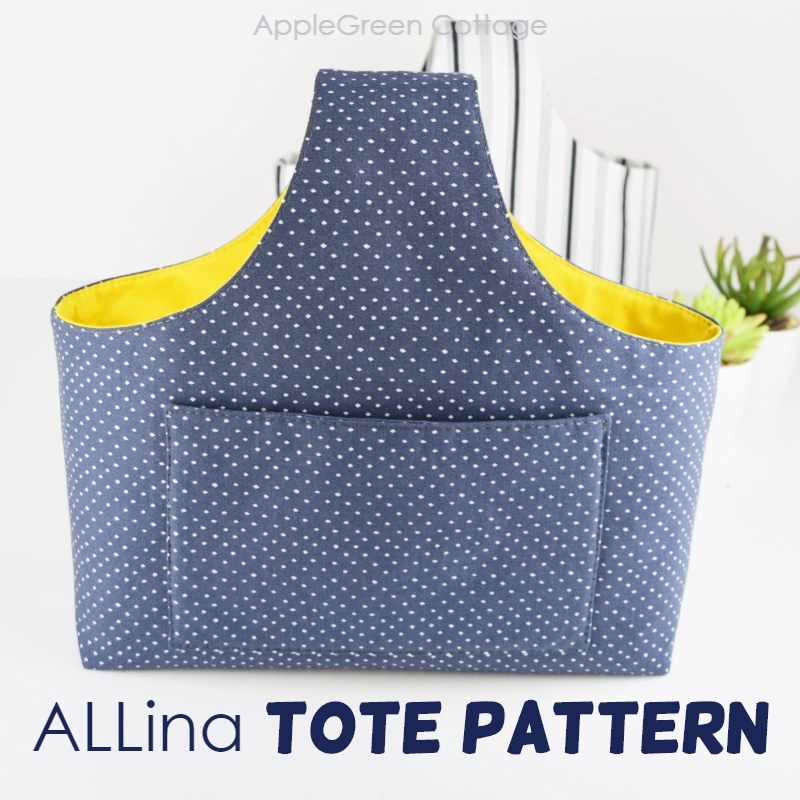 I love making tote bags. Easy and practical, usually just simple rectangles. With time, I figured out quite a few sewing tips for making bags. And sometimes, those simple rectangle forms evolve into something a little different. Like this time. Dear readers, meet the brand new ALLina Tote Pattern. You can have it all, the function and the design - ALL-IN-A TOTE. (Pun intended!)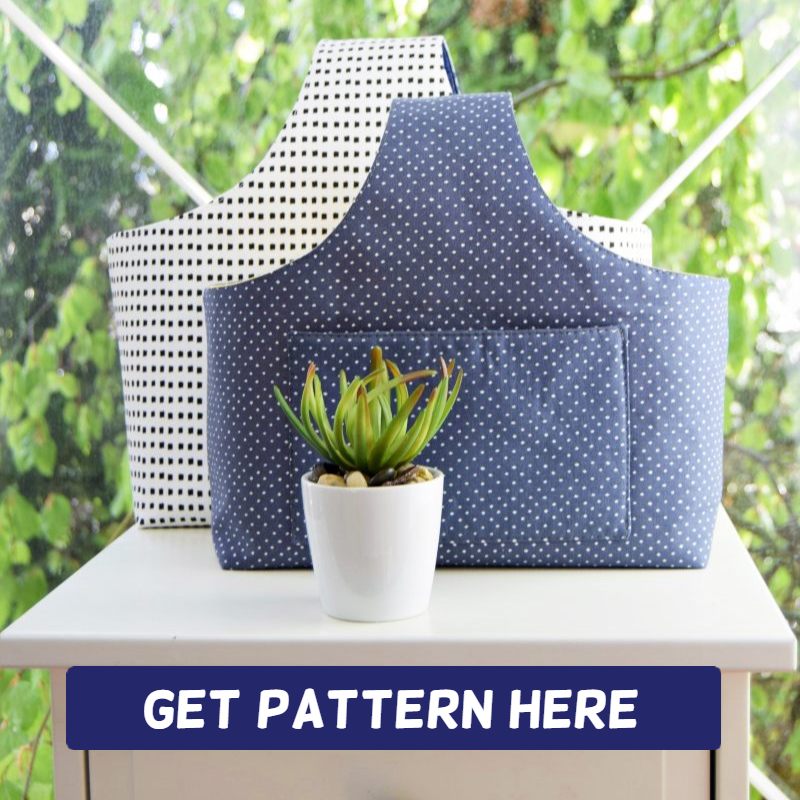 Clean and sleek design. Perfect home decor (with tons of handy storage space!)
This tote has a multitude of uses. This All-in-a-tote will make your grocery shopping a breeze (sew the large size!). One handle will make it so easy for you to just grab and go. Hung over the wrist, it will make your grocery shopping easier.
And it will keep your crochet project tidy in your own home. It stays open, making it easy to see what's inside. Keep your latest crochet project and all the supplies close at hand and ready for you!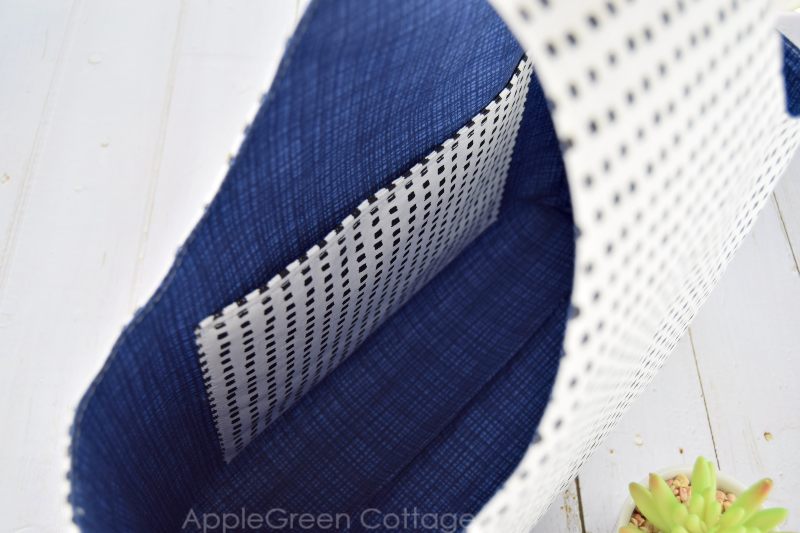 You can use it as a catch-all in your hallway and prettify your home while getting more storage space. Or think picnic basket, project bag, nappies storage, and much more.
ALLina Tote Pattern Features
Clean and sleek design, no hardware necessary
Two sizes to choose from
Flat bottom so the bag can stand on its own
Single handle, comfortable to carry over the wrist
two slip pockets with (optional) magnetic snap keep everything organized
Fully lined, no raw edges, no binding
Beginner-friendly and using smart construction without bulk – always a good thing!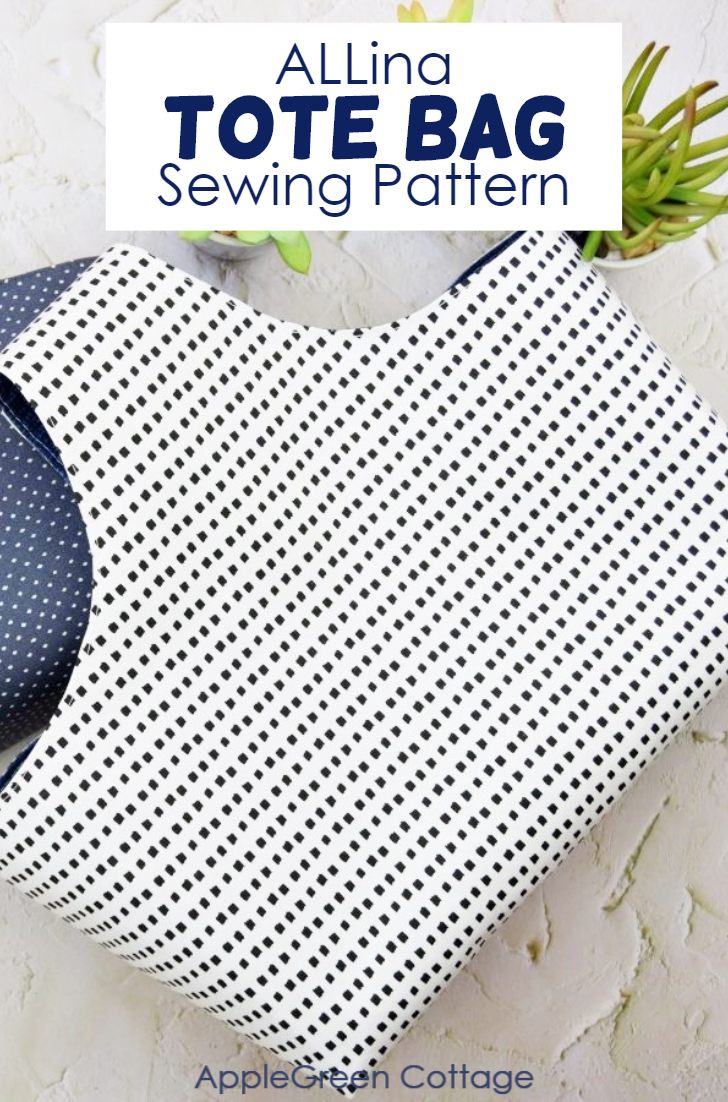 Just The right 2 Sizes!
LARGE ALLina: 12 ½" wide at base, 13" tall, 4" deep (32 x 33 x 10 cm)
SMALL ALLina: 11" wide at base, 11" tall, 3 ½" deep (28 x 28 x 9 cm)
The small ALLina tote will hold all the yarn and tools for a small accessory project such as a neck warmer, hat or shawl, and the large one is good to hold chunky sweaters and the like. Oh, and it makes a great magazine cozy too!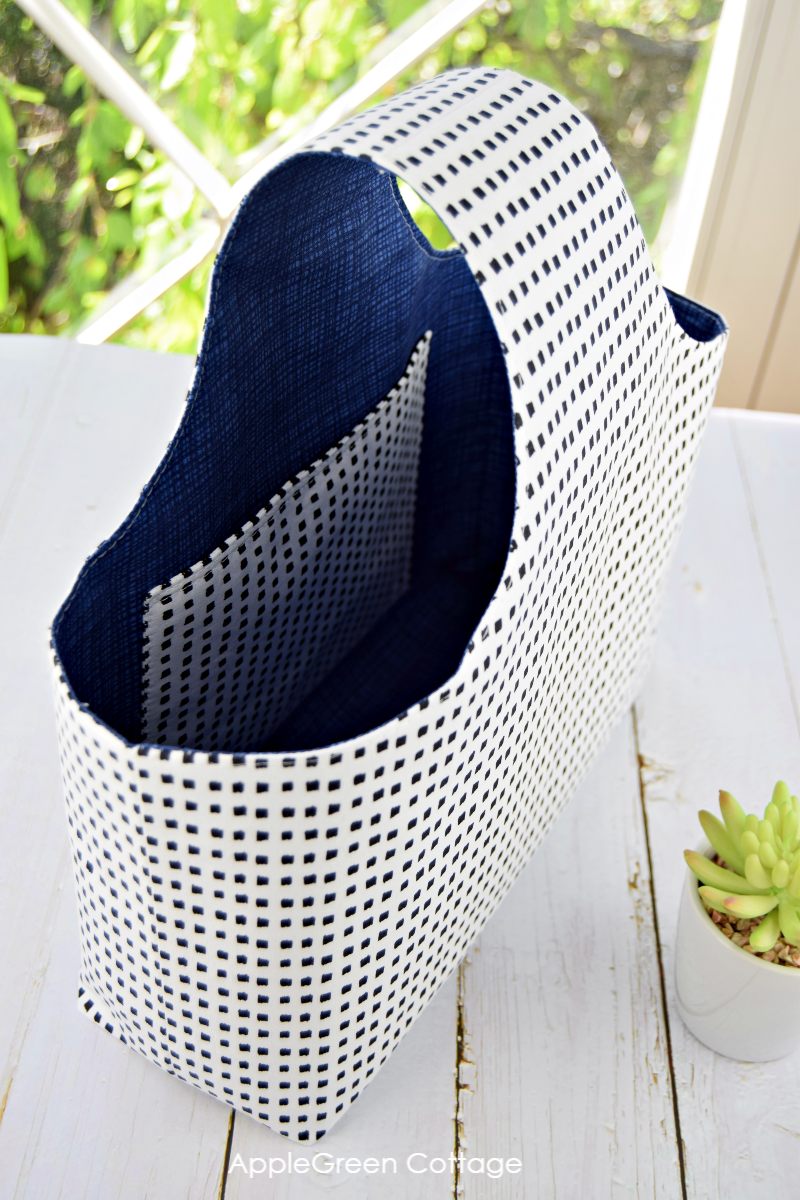 Great Pattern For Sewing To Sell
Make it for yourself in your favorite designer prints, and that in a set. Make them for yourself, as gifts, or make a gazillion of these to stock up your handmade shop - these bags are so pretty every customer will want one!
Quick to sew + no hardware necessary + many uses = a great sew-to-sell pattern!
The pattern is available in our pattern shop here: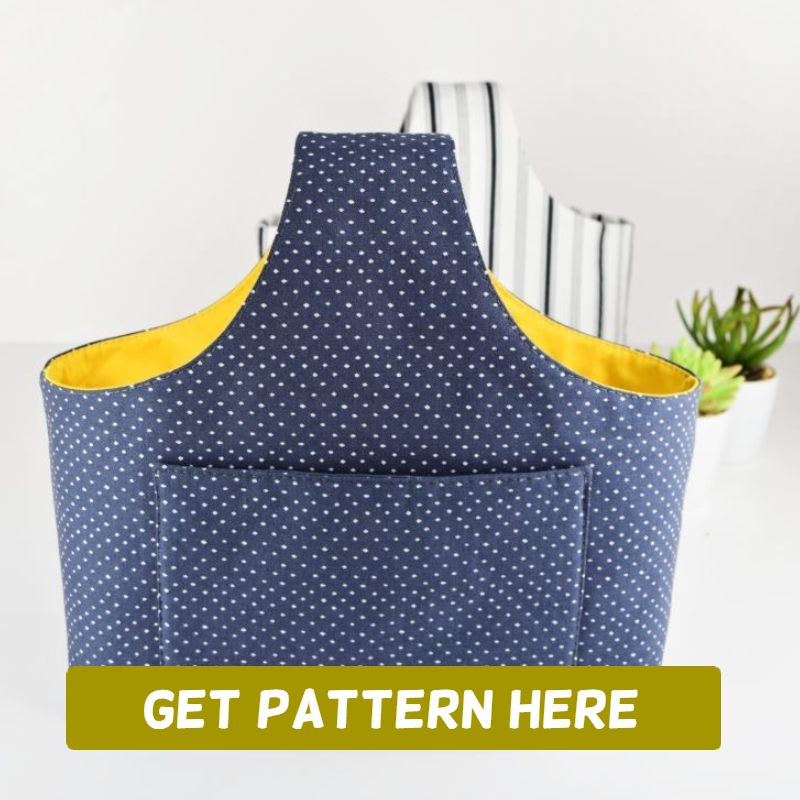 In addition to the 3-page printable pattern and extra pocket cutting instructions, you will receive 12 pages of clear, easy to follow tutorial-style instructions and clear photos.
Check out the all the beautiful pattern tester versions of the Allina tote:
MORE ABOUT THE ALLINA PATTERN For Tote Bag:
pattern for confident beginners
for sewing on regular home machines
3 pattern pages plus
12 pages of instructions with clear photos for each step
plus diagrams and tips to help you along the way
Printing guide
All measurements are given in inch and cm.
Printable both on letter-size and A4
YARDAGE AND MATERIALS REQUIRED:
In short, you need a yard/meter of fabric to make the item, and you can choose from a wide variety of substrates, including duck cloth, canvas, quilting cotton, home decor weight, cork etc
Some stiff interfacing like Decor Bond, Decovil I Light or even flex foam for the outside, and fusible fleece for the inside to add some body. (For details, see shop listing)
hardware: none essential - if you have magnetic snaps, you can use them on the 2 optional slip pockets. Practical, but not absolutely necessary!
Make sure to save it to Pinterest for some sewing inspiration: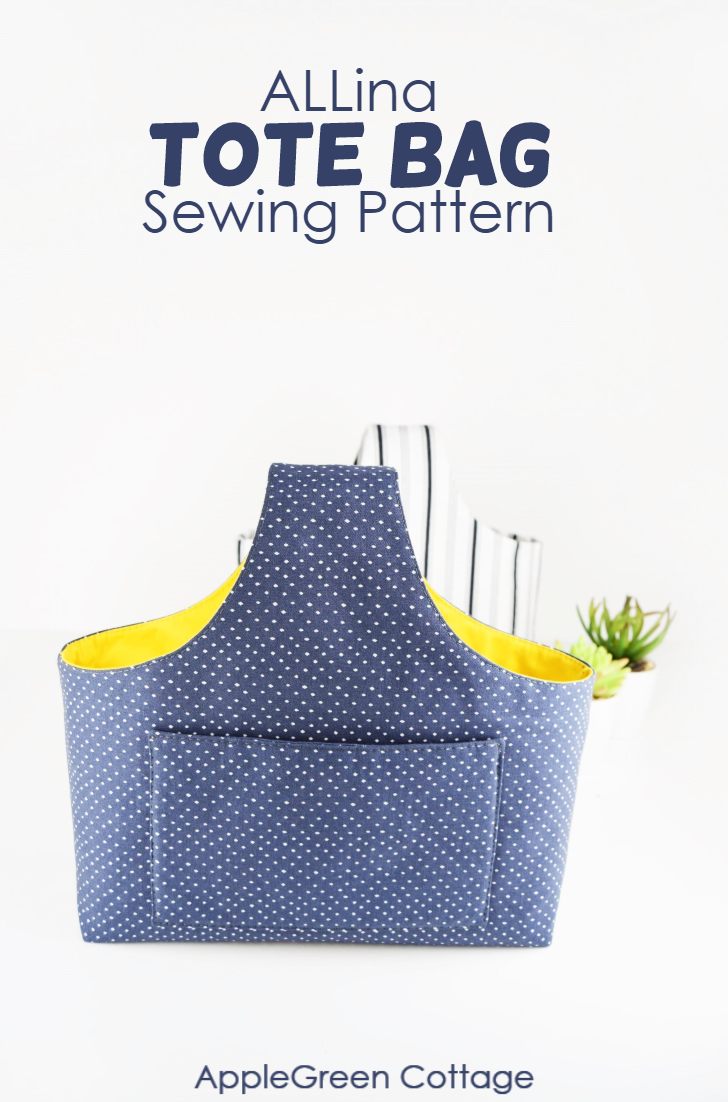 Add this practical tote bag to your pattern collection – make them for yourself, gift or sell them in your handmade shop. If you are looking for a great addition, here's also my new SILA Duo zipper pouch pattern, check it out. Use the hashtags #allinatote and #applegreencottage so I can see what you make!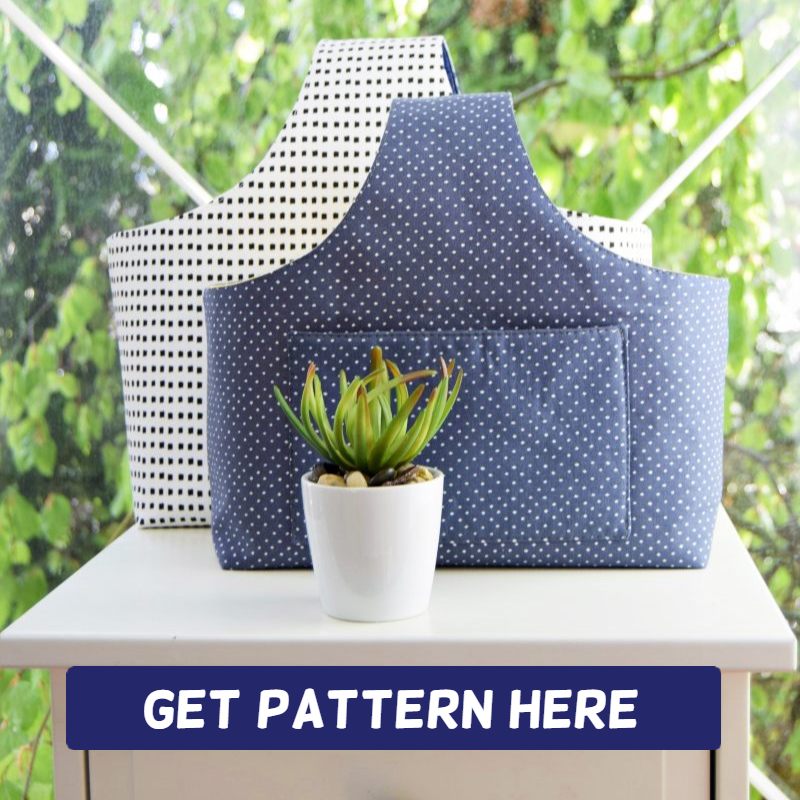 If you like this pattern, check out the features of these: