See how to make a lantern using this easy tutorial. You won't believe how easy these diy lanterns are to sew - even if you've never sewn before!
This post contains affiliate links. Thanks for your support. If you like fun and easy projects, check out these free tutorials, too:
Now, back to my today's project: Today I'm sharing a little project for using up felt scraps that will make some pretty decorative diy lanterns for hanging up around the home - also perfect as diy birthday party decor! And you don't need a sewing machine at all, a needle and thread will do just fine.
These fiy lanterns can be made by kids, and this tutorial is made for kids to learn sewing.
How To Make A Lantern
Also, these felt decorations are brilliant kid-made home decor they can keep in their rooms long after their birthday party is over.
First, for those of you who like video tutorials, I've made a quick slideshow, just to make it easier for you. Check it out:

What I love about them, apart from the colors?
1) easy to make - kid friendly!
2) any size, any occasion
3) no need for a sewing machine
4) reusable year after year
5) so cute!
So if you have a grandchild or know a kid who'd like to sew, give it a try! Sew these simple lanterns together and have tons of fun 🙂
Supplies
You'll need:
Felt required:
5" x ½" strip of felt - for the handle
6" x 4" (1 piece) - for the lantern body
6" x ½" (2 pieces) in contrasting colors, as embelishment
Plus:
matching thread,
sewing needle or sewing machine
measuring tape
option: pompom trim (6 inch per lantern)
Diy Lantern - Tutorial
1) Fold the main piece in half lengthwise.
2) Cut on the folded side. Make sure not to cut all the way through.
3) Place the two 6" stripes on the top and bottom of the piece. Feel free to add a pompom trim, or tassels if you like. My daughter is all about little fluffy pompoms, so we added them to each of the lanterns.
4) Stitch the stripes in place. They will make your lanterns more stable in the wind. And add additional colors (which always translates to 'prettier' in my sewing world!)
Make sure the stitches catch any middle layers (such as these pompoms). you might want to use wonder tape to temporarily stick the stripes to prevent sliding, or use wonder clips (I did).
This is the part that is the most adjustable: the stitching should be tailored to the age and skills of the child you are sewing with. No need to limit yourself or the kid, use any embroidery stitch you might like. Here I am showing a few different embroidery stitches (simple!) to give you a few ideas for your own diy lanterns: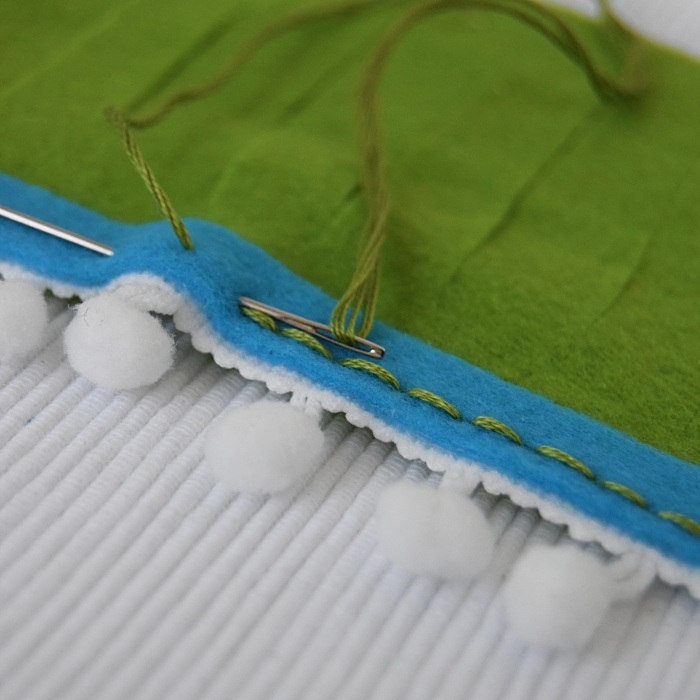 Back stitch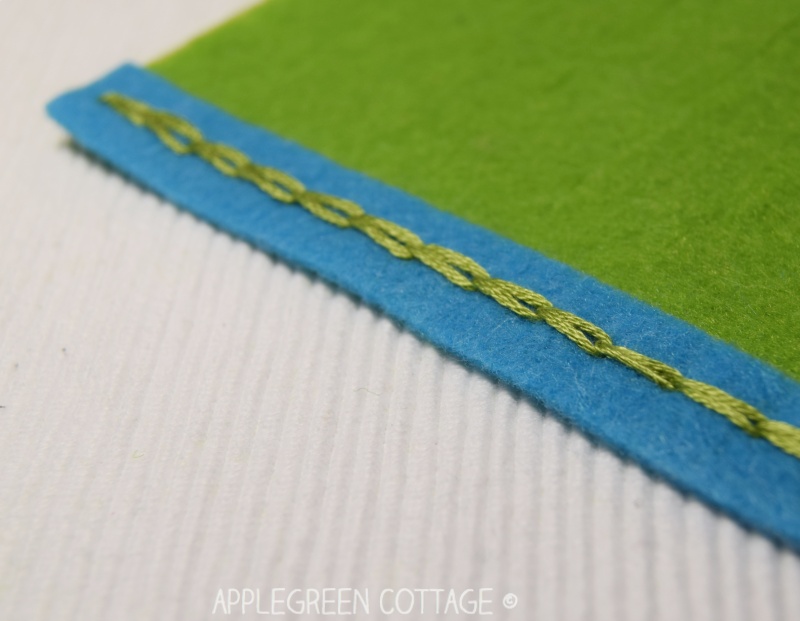 Chain stitch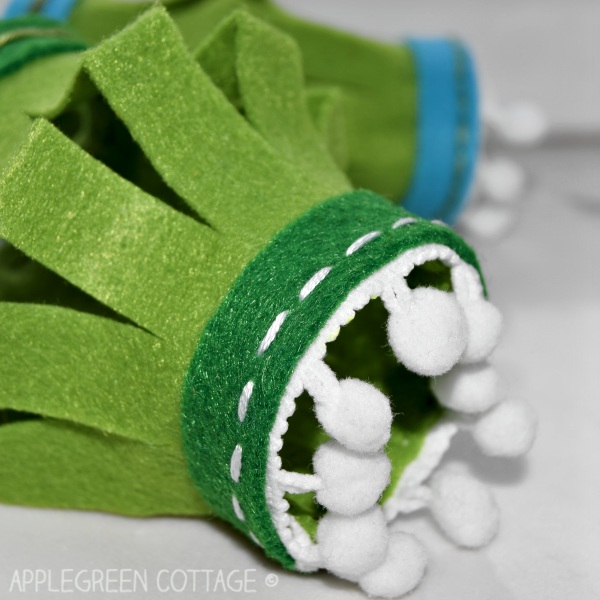 Running stitch
5) After the two stripes are done, now's the time to either fingerpress the fold lengthwise, or use iron with a cloth and a low heat to set the crease on the lantern.
6) Fold the sheet into a cylinder and make a few stitches to join the two ends. We only stitched at the bottom and at the top of the lantern, it's enough.
7) Attach the handle.
8) Hang and enjoy!
You can take a string and hang them up in a kid's room. A wonderful decoration! These diy lanterns will look really cute when you hang them in the backyard for a birthday party.
The sewing skills required are the very basic ones. An excellent project to start with kids who have not sewn yet, and you can use it to introduce the basic embroidery stitches.
Feel free to embellish the lantern with more stitching. Or sew on additional scrap pieces of felt, or even these felt flowers if you like:
ROLLED Felt Flowers Tutorial FOLDED Felt Flowers Tutorial
Save for later: