Make the cutest hat for kids using a free bucket hat pattern. This tutorial shows how to make a bucket hat. Check out my simplified step-by-step instructions for beginners and make one too!
This post contains affiliate links. Thanks for your support. You'll find tons of easy accessory sewing ideas here, including
How To Make A Bucket Hat - Tutorial
Remember the bucket hat pattern I used to make this hat for my kid some time ago? My kid loves it and so do I, in fact it's my FAVORITE piece I've sewn so far for kids! And judging from your responses, many of you like it too, a good reason to help you make it yourself! Do you want to make one yourself? Read on, below is an easy bucket hat TUTORIAL waiting for you:)
Why I love this sun hat (and why you might too):
It fits perfectly. (Some hats don't.)
It doesn't keep falling off. (Some hats do.)
The brim is just the perfect size for keeping the little face from direct sun. (Some hat brims aren't.)
Comfortable!
So totally cute, cute, cute! (Especially if you get to choose your fav fabrics!)
The pattern is FREE!
2) A SEWING TRICK TO MAKE IT EASIER
To me, it simply looks like the best bucket hat pattern I've ever bumped into! However, I need to admit that the project might not be very easy to sew for beginners (which I see as the only downside of the otherwise brilliant and clear instructions provided).
Well, but then again, why not make things easier, right? 😉 You might want to try out what I call the 'inside-out technique' after I learned it from a wonderful book, but that's another story. I'll just show you how I used it as a kind of shortcut to make the project even easier. And if you like it, you can make it this way (the result will be the same as if you followed the original instructions).
3) FREE BuCket Hat PATTERN
EDITED AUGUST 5 2019: THE DESIGNER (NOT ME) HAS STARTED CHARGING FOR THIS PATTERN AND IT IS UNFORTUNATELY NO LONGER FREE. I respect the designer's decision and am sure they had good reasons to do so. Regardless, I'm keeping my below tutorial free and when I find some time, I might design my own free pattern for you. The pattern I was referring to is one by Oliver+S that is no longer a free pattern. BUT I'VE GOT YOU COVERED: There are a few alternatives and I'm linking to a few other free bucket hat patterns for you - see the new free bucket hat list LIST AT THE BOTTOM of this tutorial!
3) My SIMPLIFIED Bucket Hat TUTORIAL (updated):
1) Grab the cutest two pieces of matching fabrics you've got in your stash. Or get some adorable ones. I love these gorgeously cute cotton prints I have found at peek-a-boo shop.
2) I used the free Oliver+S bucket hat pattern (see note above) to cut out the parts:
Assemble the Hat Sides and the Brim
3) Sew the two pieces of the sides for the bucket hat together. And the two pieces of the brim, too. In both colors, so you've basically got 4 circular bands:
Join the Crown piece and the Sides of the bucket hat:
4) Now, let's make one color first: pin the 'sides' circular band to the crown (match the triple notch marks!). You'll probably need to use a lot of pins and make tiny cuts into the fabric on the sides' piece to make the pieces match (clearly visible on the photo). Take your time. (Pinning was the hardest part for me as I'm not really a patient 'pinner'):
5) From here on, it just gets easier: just sew all the way around. If you've put the pins like on the picture, it will be easy to remove them as you go.
6) Then topstitch around the sides for a nicer look:
Next: attach the brim to the rest of the Bucket Hat
7) Take the brim piece and pin it to the cap (right sides together!) - you'll just need to put in a few pins. Basically just pin the notches together and add a pin here and there, if you need to:
8) ...aaaand sew all the way around. Easy peasy:
9) To make the seam look prettier, topstitch the brim like you topstitched around the crown (see No 6 above):
10) Repeat steps 4-9 with the other color, and you've got yourself these two beauties:
Join the Two Layers
11) Put the two 'hats' together with the right sides facing each other. Sew the brims (i.e. the largest circle) together, but not all the way round - leave an opening of, let's say 5 cm. You'll need it to turn the hat (... and here the words promised above...) inside out:
12) Now turn it inside out through the opening and you've basically made it! Fingerpress and close (=sew) the opening. Iron the brim so you get an even outer edge. Pin around the sides so you stabilize the brims for stitching (sorry, only the blue side of the hat available here):
Finishing touches: Topstitching the Brim
13) Now, the only thing left to do is stitching the brim (see the lines all the way around the brim of the completed hat? Yes, those.) They will give stability to the hat.
Bonus tip to For Sewing a bucket hat
Here's a bonus tip for topstitching the brim: I used a turquoise thread, which makes the (somewhat squiggly) lines and the (uneven) gaps visible. I just like them as they are (uneven lines have been my signature ;). But there's high chance you will want to hide them, so you can do that by choosing the thread color that will match the fabric. Simple, right?
And here it comes ... another cute hat for a cute head. Didn't I say it's the best bucket hat pattern I've ever seen? Now go, make one for your kid, too.
And if you are looking for some adorable new fabric, you can check out these cute fabrics by peek-a-boo. (They've also got gorgeous animal prints!) Now you can start making your kids' stylish DIY hat collection!
List of free bucket hat patterns for you:
No time to sew now? Save this List And the bucket hat tutorial For Later!
Make sure to save this tutorial for later when you have time to sew a cute little bucket hat: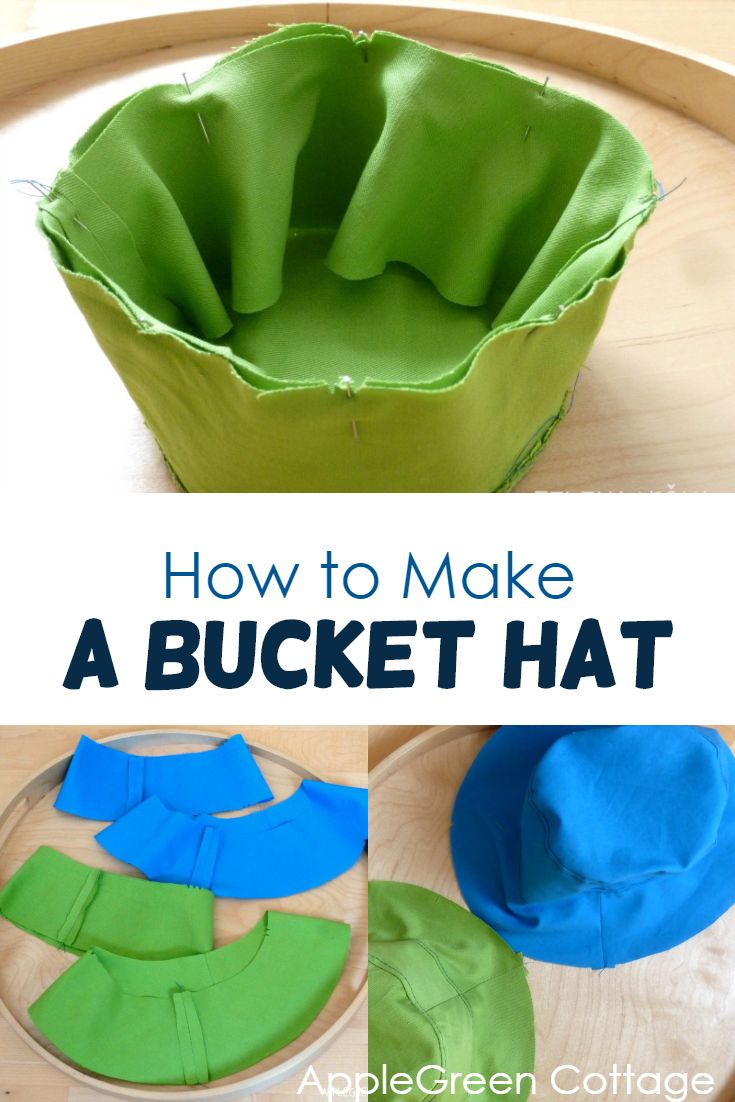 WANT MORE FREE TUTORIALS AND GOODIES?
Get email updates and never miss out on new patterns, printables and tutorials. If you sign up at THIS link, you'll also get the Fabric Hanging Basket Template for FREE, right now. A cute and easy-sew!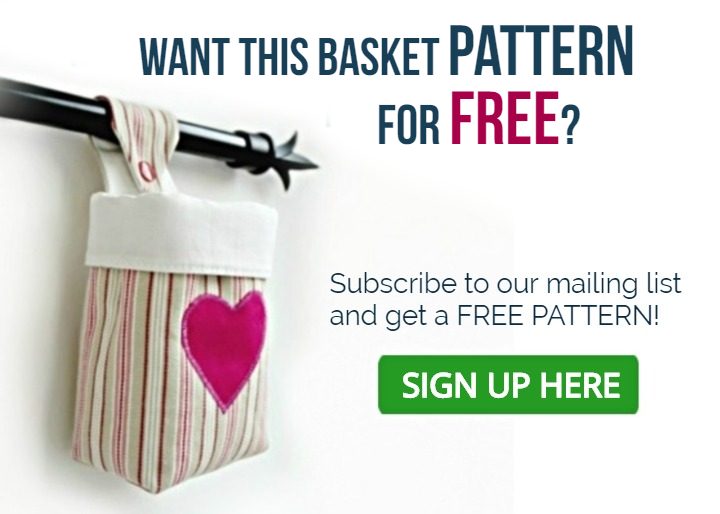 Or …check out this popular PDF pattern – the Earwarmer Headband pattern in 8 Sizes:
Also, check out this cute earflap beanie pattern in my shop: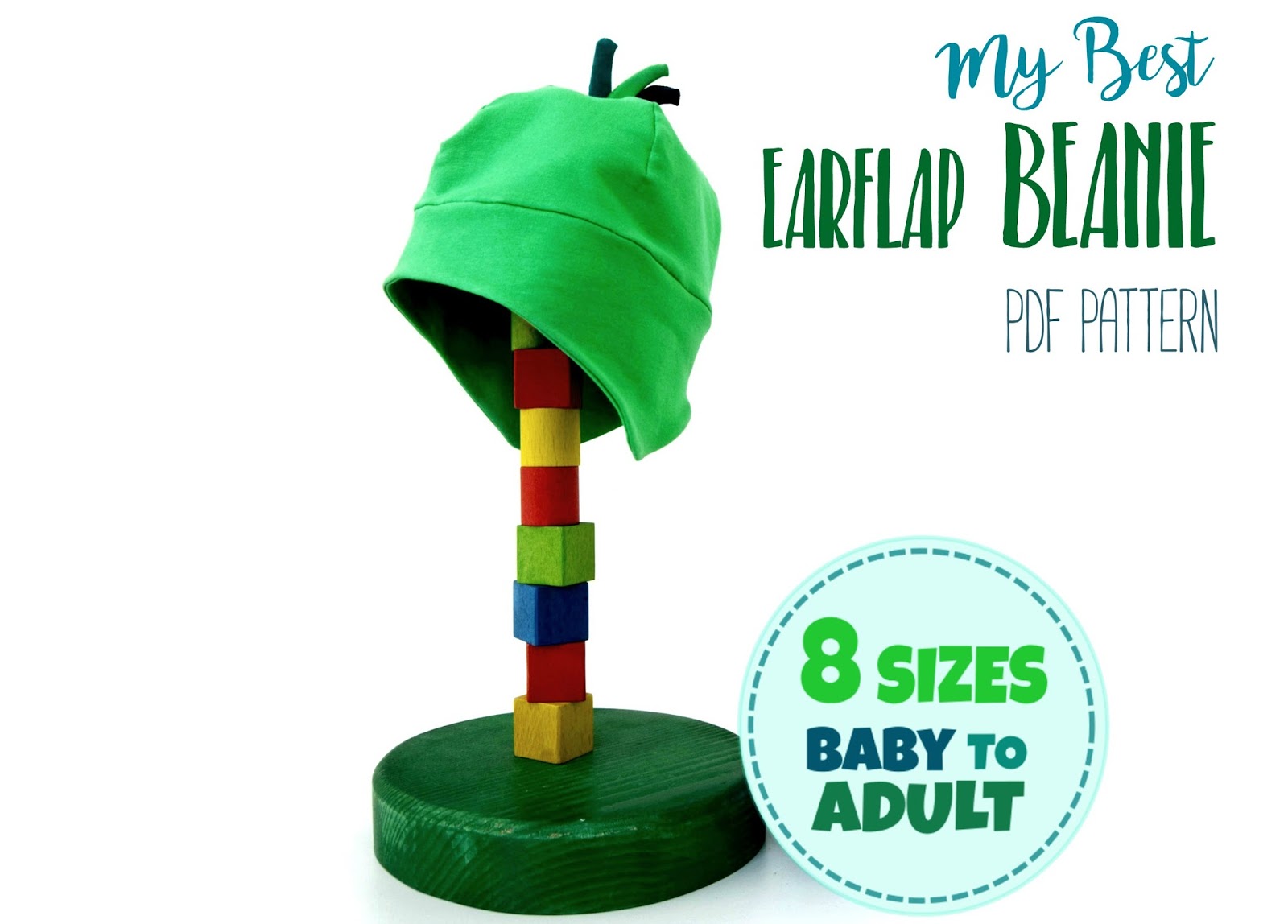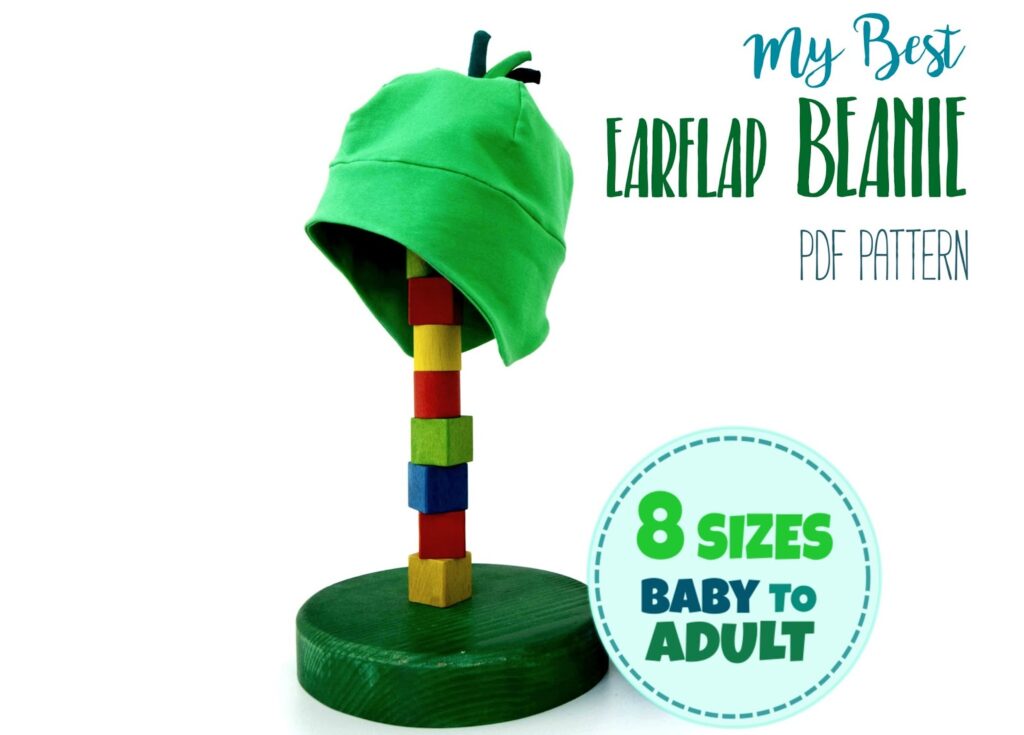 An excellent choice for everyone who has children and would love to see their ears protected in the fresh fall (or spring) wind.