Diy Christmas tree decorations with a free pattern. Let me show you how to make easy, unbreakable (and beautiful!) felt Christmas tree decorations that don't run a risk of being crushed to splinters. Meet the Christmas lights ornament - perfect if you've got a small kid in the family!
This step-by-step tutorial has lots of photos and is a perfect beginner sewing project - with a free PDF pattern. And makes a cute Christmas handmade gift (for any age!) Let's make some felt Christmas lights!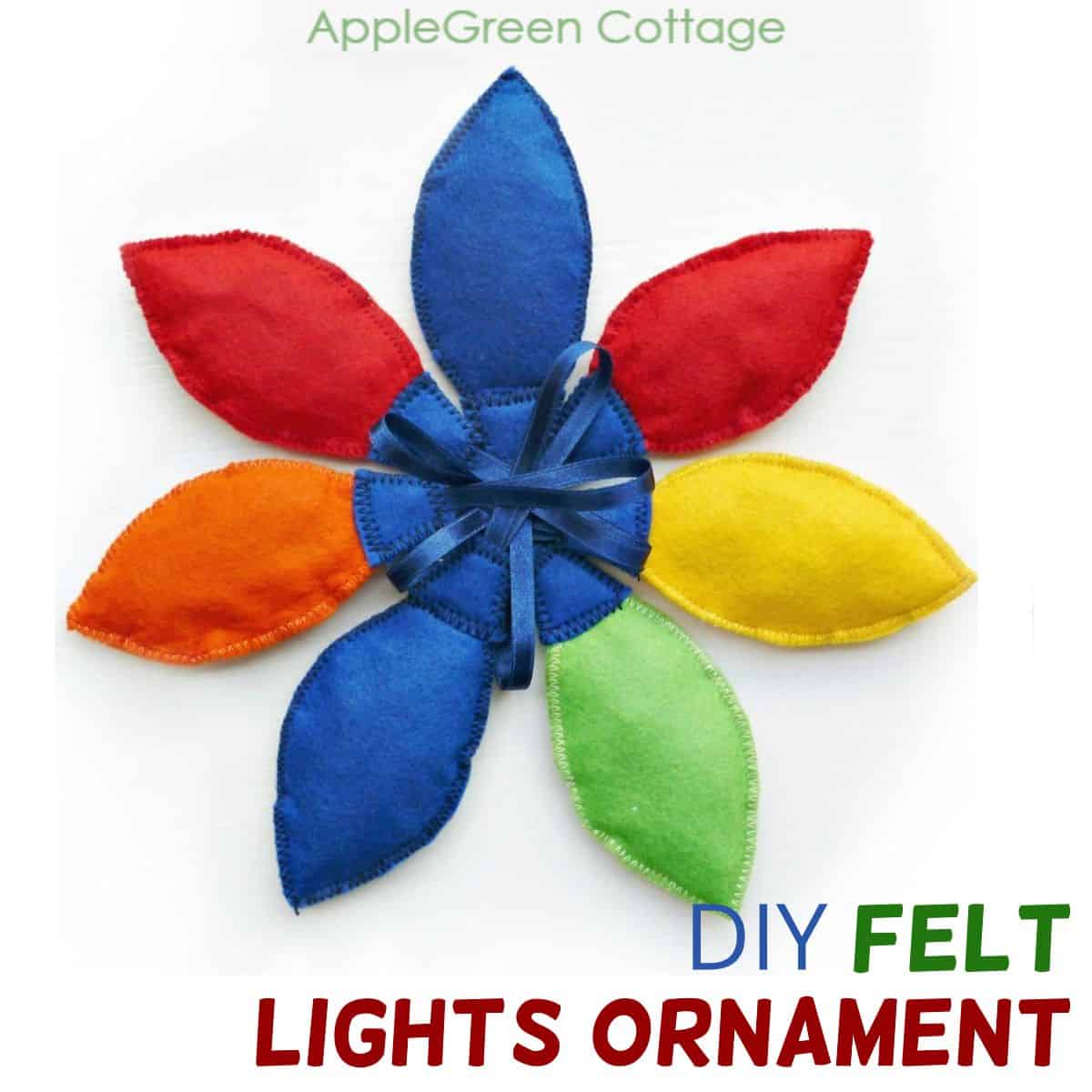 This post includes affiliate links. Thanks for your support!

There is a good chance you'll want to make your Christmas tree safe (and fun) for your toddler, avoiding any thin-glass or similar easily breakable ornaments. We have opted for this solution, leaving the marvelous just-watch-don't-touch glass ornaments in the basement. For now. You might intend to do the same, so this just might be useful to you.
Or you want to make the cutest Christmas homemade gift for your friends - of any age.
This project is part of my free Homemade Holiday Pattern Bundle -
HUGE Holiday Sewing Pattern BUNDLE - FREE!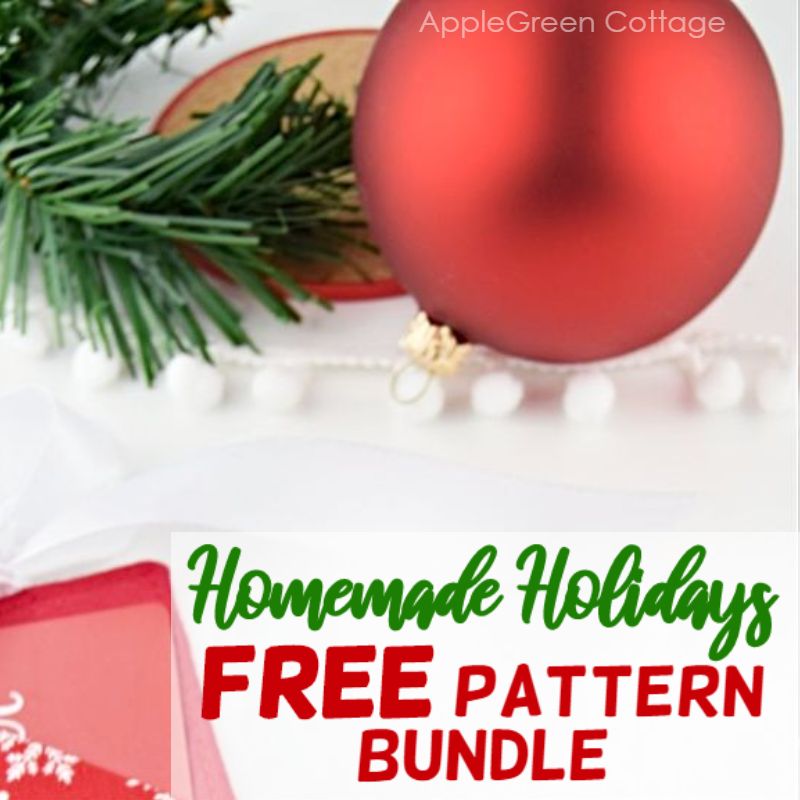 UPDATE: MORE templates to be ADDED to the Homemade Holiday FREE Bundle!- Join our mailing list here, so you don't miss out on any new tutorials!
Diy Christmas Lights Ornaments
Here's why I'm just crazy about these cute felt Christmas lights ornaments (And why you'll love them too):
Easy to make. (Felt is even easier to sew than cotton fabrics!)
Inexpensive (You'll need very little material!)
A great felt scrap buster!
Make a great and easy homemade gift!
The PDF sewing pattern is FREE. Yey!
FINISHED SIZE: these felt decorations are 2.5 inches by 4.5 inches, perfectly fitting into a toddler's hand. Let's start.
Supplies
You'll need:
felt in your favorite colors (Buy a multi-color pack, not individual pieces, to save money!)
8 inches of satin ribbon of your choice per each ornament piece
some soft toy stuffing material
coordinating sewing thread
sewing machine
your FREE PDF Sewing Pattern - on page 17 of my Homemade Christmas Patterns Bundle - it's FREE for all and contains more than 16 (20?) free Christmas sewing patterns. All made for you!
I used proper soft and light stuffing polyester (best for baby toys, too!) for some of these Christmas tree decorations, and bits and pieces of fabric scraps for others. Both worked just fine.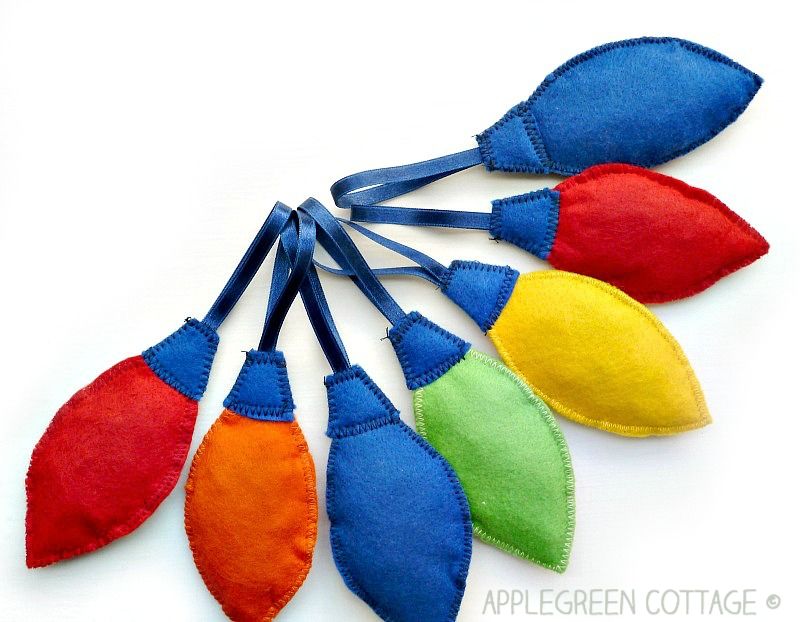 FINISHED SIZE:
These Felt Light Christmas Tree Ornaments are approximately 2.5 inches wide and 4.5 inches long (ribbon not included), perfectly fitting into a toddler's hand. Not just for toddlers, though. These ornaments will make a great handmade present for grownups too.
Tutorial
Part 1 - Print the christmas lights template
1) Use page 17 of the free Homemade Holidays eBook (see bottom of post) to cut out the three pieces from felt for each ornament: 2 leaf-like pieces, and one connecting piece.
The connecting piece should be in the same color as the ribbon, here: blue.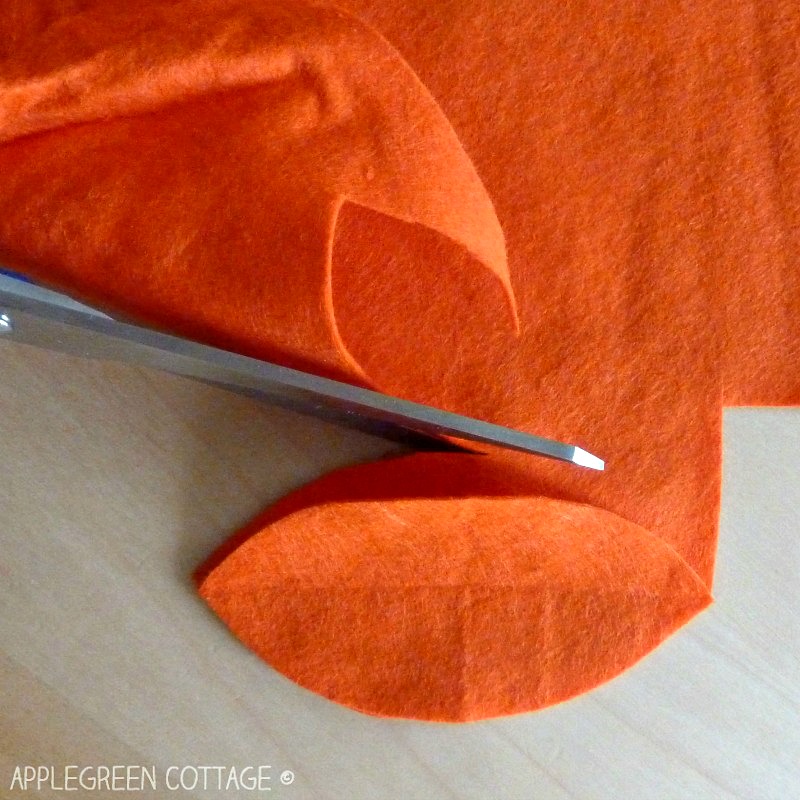 Part 2 - Connect the 2 main pieces
2) Put the first two (leaf-like) pieces together. Using a wide zigzag stitch, sew around the 2 pieces, stopping the sewing when you are approximately three-fourths (¾) around the piece. Leave the piece on the sewing machine. I always leave the needle IN the material, i.e. in the lowest position to prevent sliding when working on it: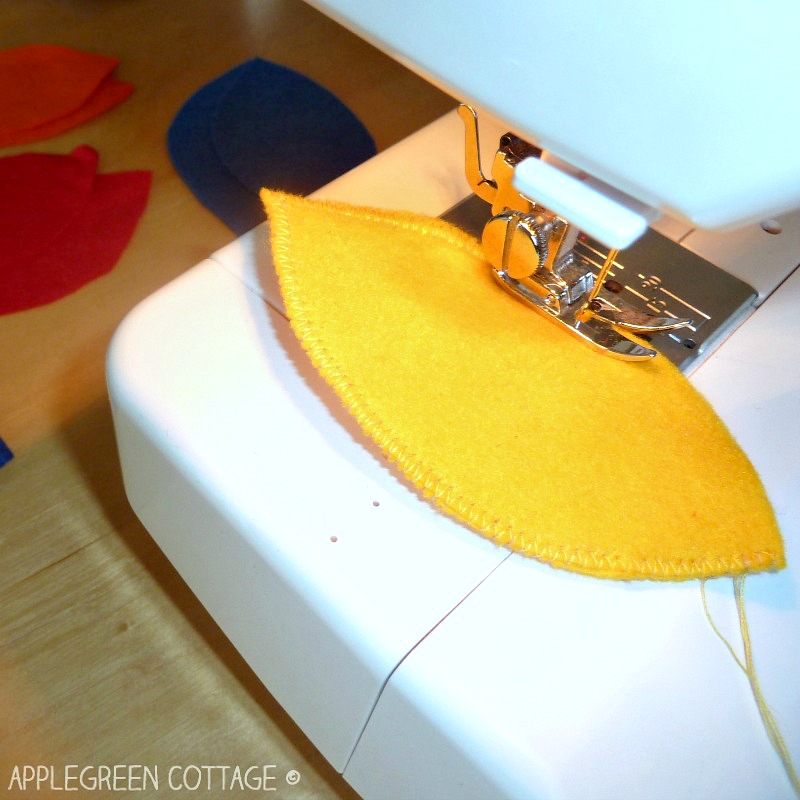 3) Now insert the toy stuffing material. Adjust the quantity to your liking, though I advise you leave some room for easier sewing. Using less, not more is just OK for this type of felt decorations: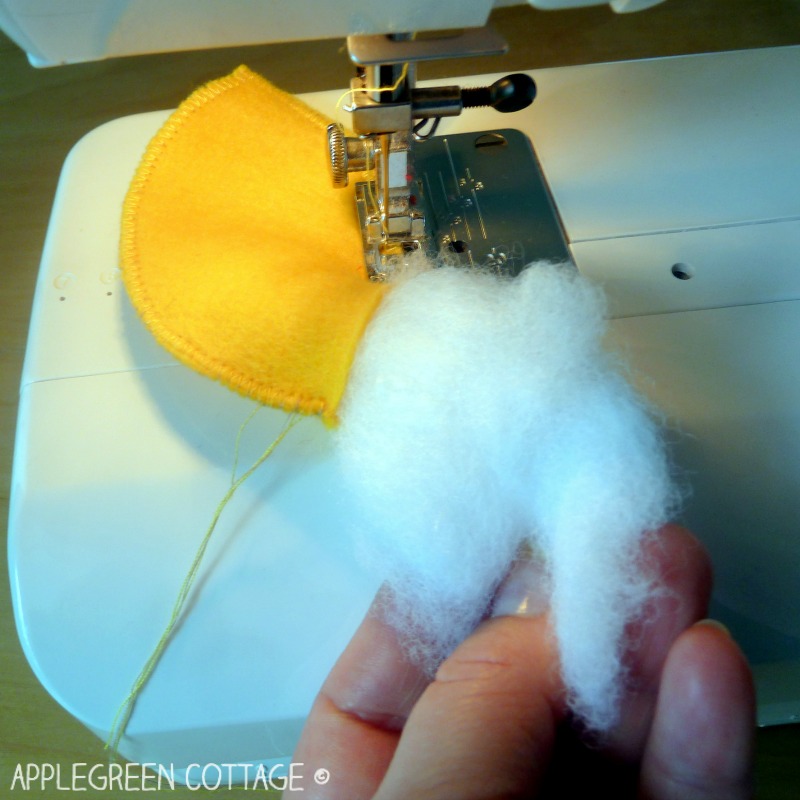 4) Then close the opening. Secure the stitches: tie a knot and cut off the excess thread. This is how the finished center part of the ornament will look like.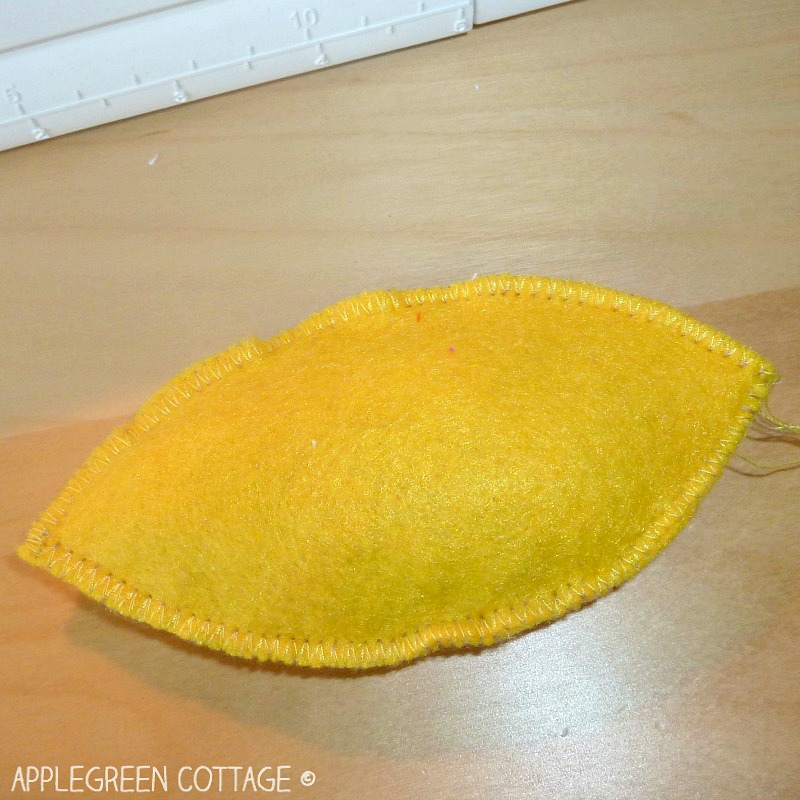 Part 3 - Attach ribbon and small piece
5) Now, you'll need to use the 8-inch long satin ribbon. Fold it in half. For a nice finish, you will use the third, small piece of felt in the same color as the ribbon to serve as connecting piece, as you see in the image below.
RED markers (short lines) on the PDF pattern: When placing the connecting piece on the centerpiece, make sure the two red markers on the (yellow) center piece match the two red markers on the connecting felt piece.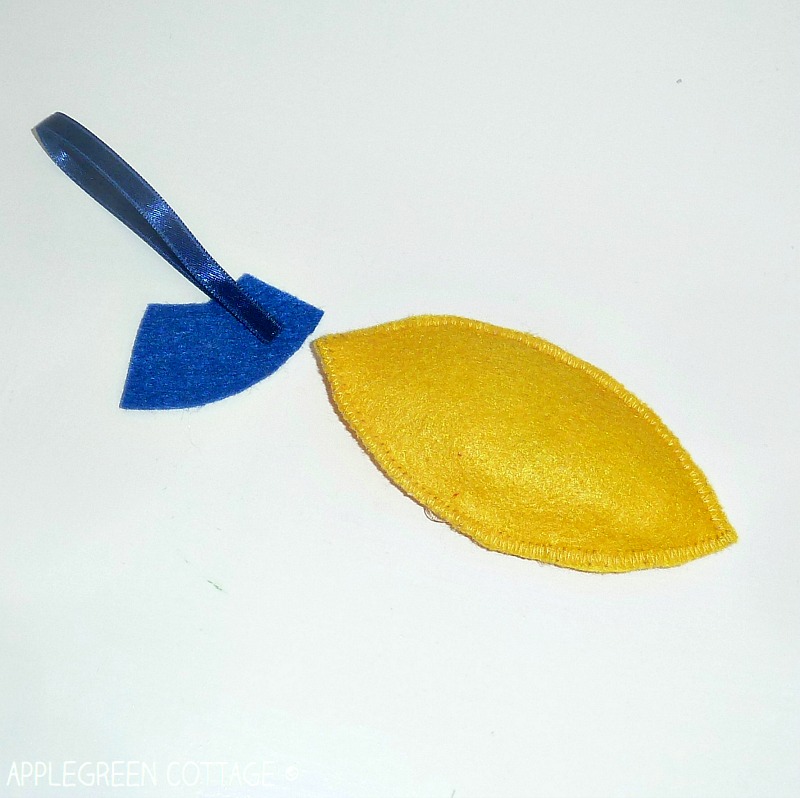 6) Fold the felt endpiece in half, encasing the satin ribbon - you'll sew over it, connecting the ribbon with the main (yellow) ornament part; start sewing at the top (you'll catch the ribbon), then continue all the way around the small (blue) connecting piece.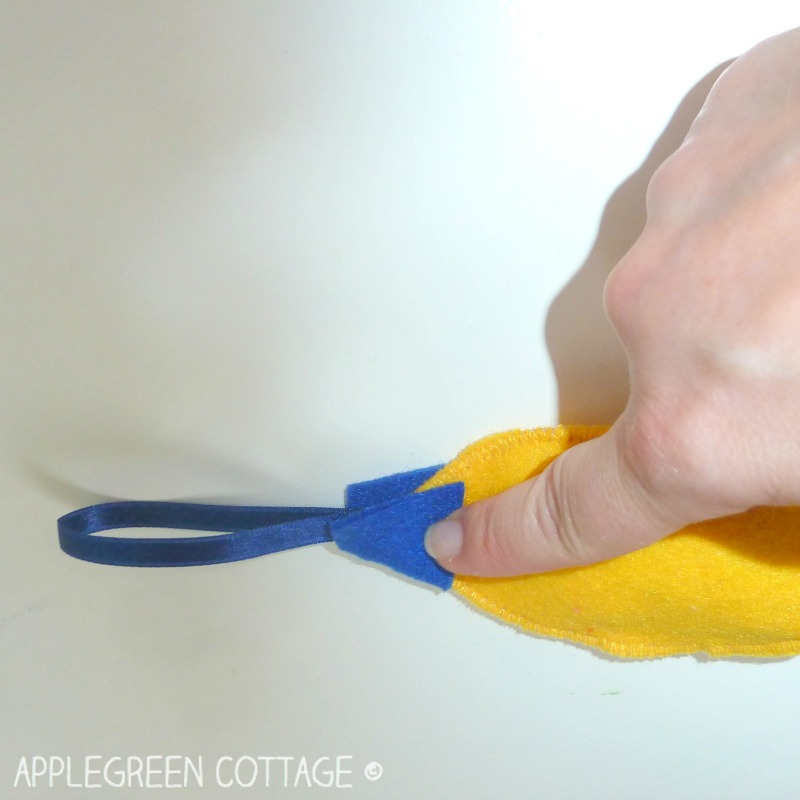 7) Nearly finished: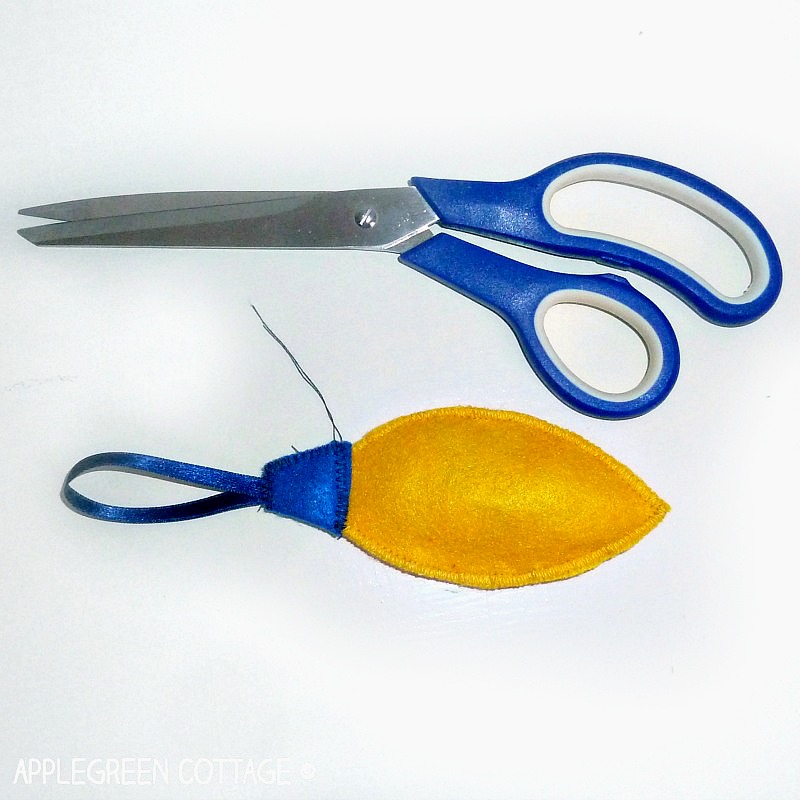 8) Secure the stitches: tie a knot and cut off any excess sewing thread. Done!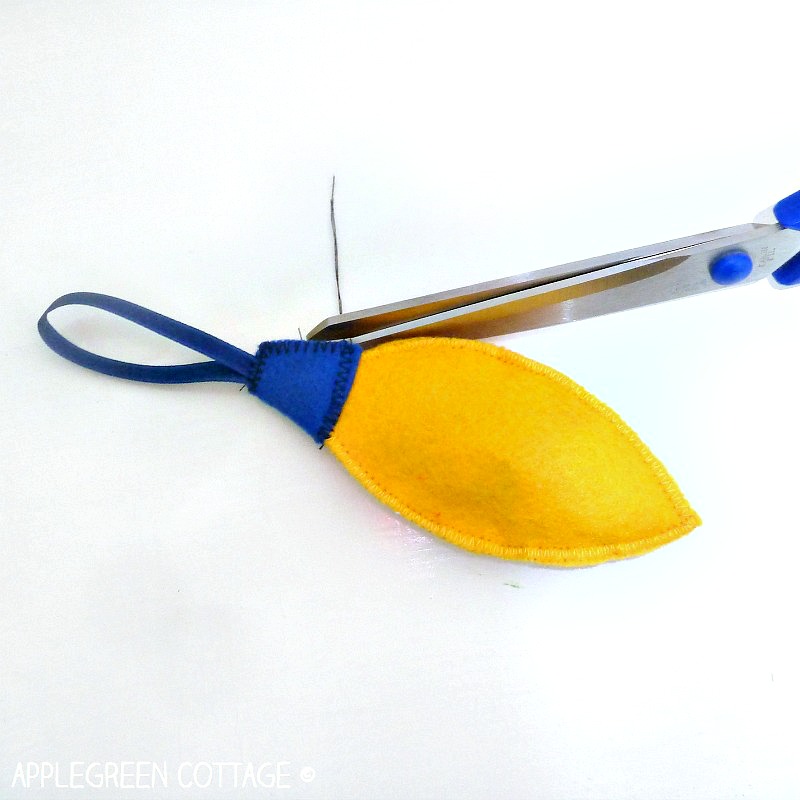 Repeat as many times as you want. Each piece will go faster and at the end, you'll get yourself a nice little felt Christmas tree decorations collection.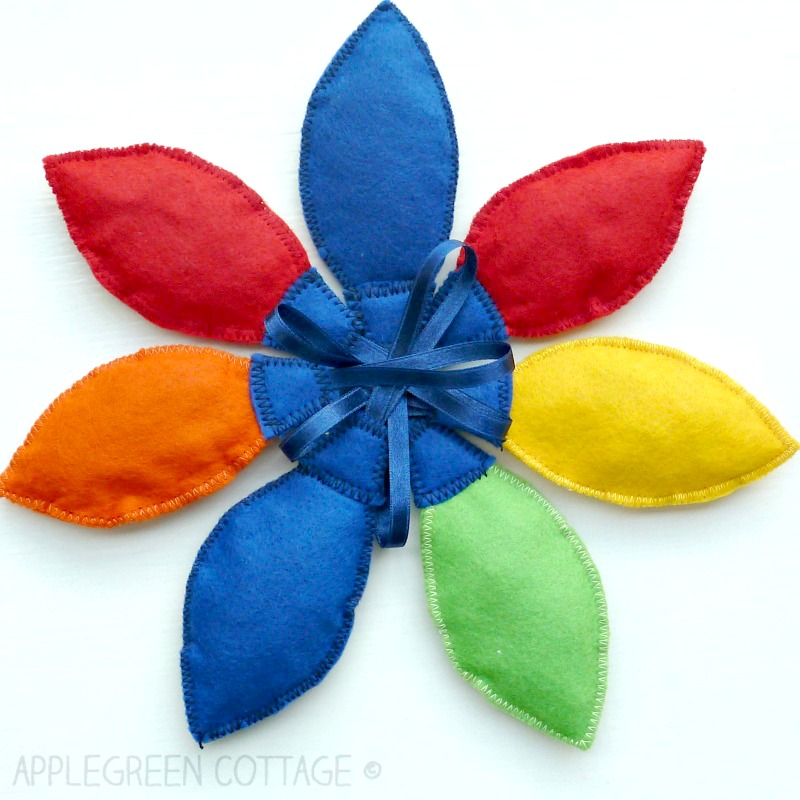 This idea might help you keep the tree as beautiful as you'd like it to be, while enabling the kids to play with the ornaments, rearranging them and moving them around the tree, allowing for a good portion of sensory and creative play activities for kids.
We've come to the end of our christmas lights ornament tutorial, I hope you liked it. Try out this project - these DIY ornaments are easy to make, and they don't take a lot of time to complete.
Believe me, I spent 90% of the time taking photos of these cuties and only 10% actually sewing them!
Make sure to save the project for inspiration - and so you find all the free templates when you need them: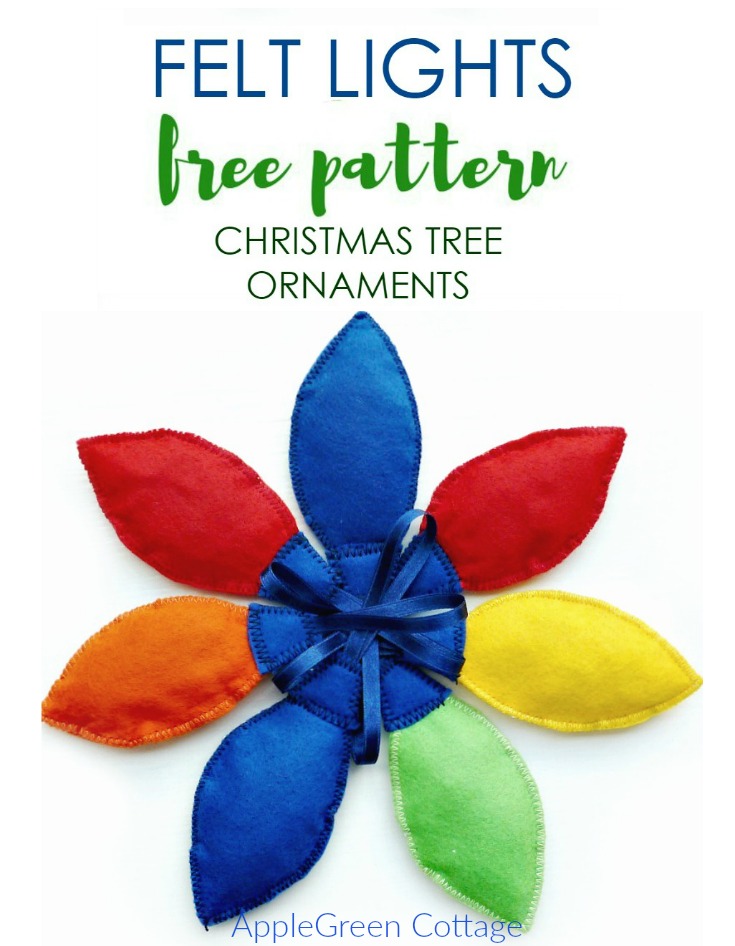 And make sure to download the FREE Homemade Holidays - Free Pattern Bundle from the shop for FREE (no coupon required.) - you'll be able to use all the patterns in there once I've published all the free tutorials that I have planned - all in a few days' time. Make sure you don't miss out on any!
WANT MORE FREE TUTORIALS AND PATTERNS?
Get email updates and never miss out on new patterns, printables, and tutorials:
Or …check out the TEYA crossbody bag pattern in our shop. One of my first bag patterns with pockets both on the inside and outside - and it works great as a gadget bag too!
TEYA PATTERN UPDATED!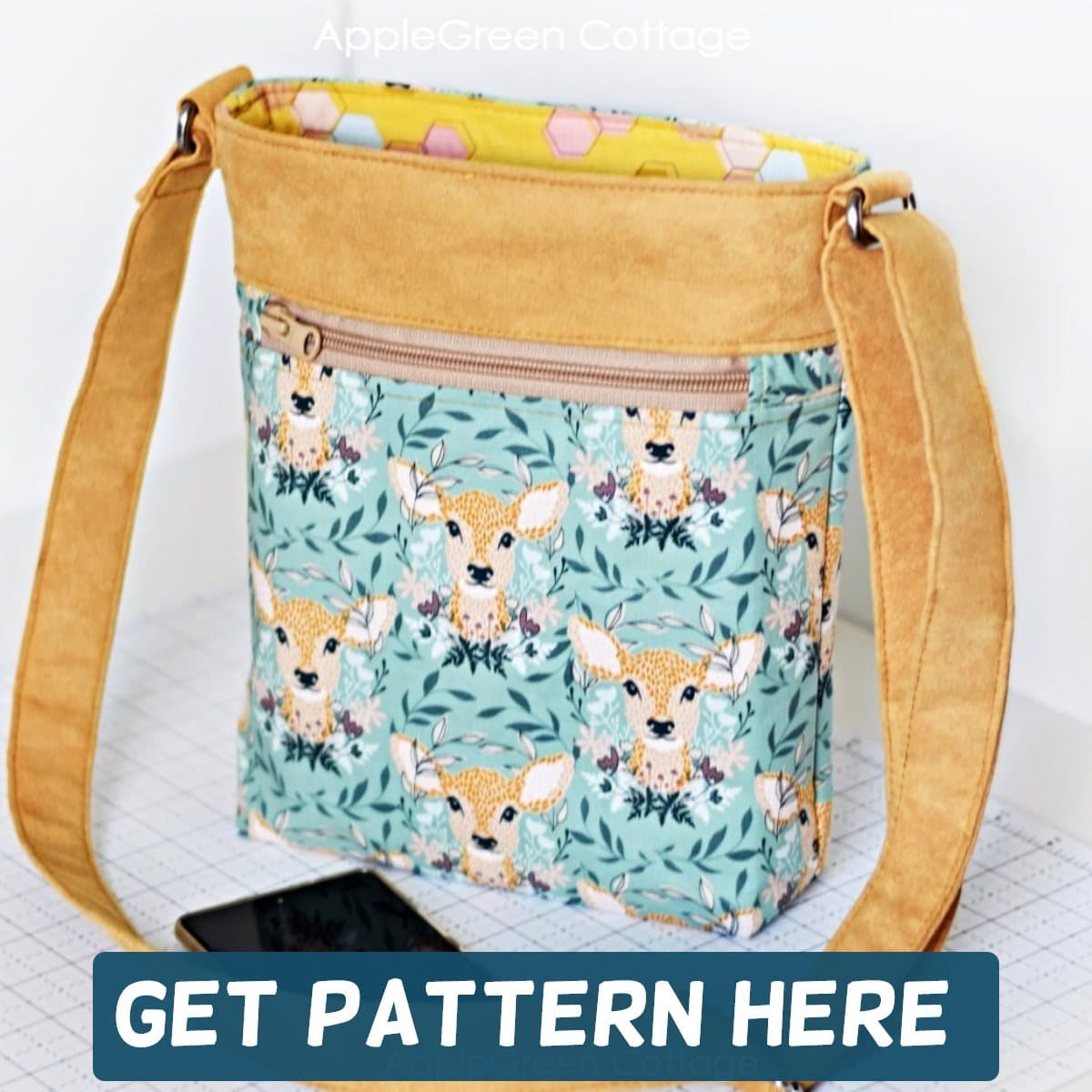 PATTERN UPDATED.