Here are 5 easy tips for gardening on the balcony if you only want a small balcony garden. Plus 5 balcony gardening ideas to start quickly - especially if you've been asking yourself what are the best plants to grow on a balcony - for you or your kids.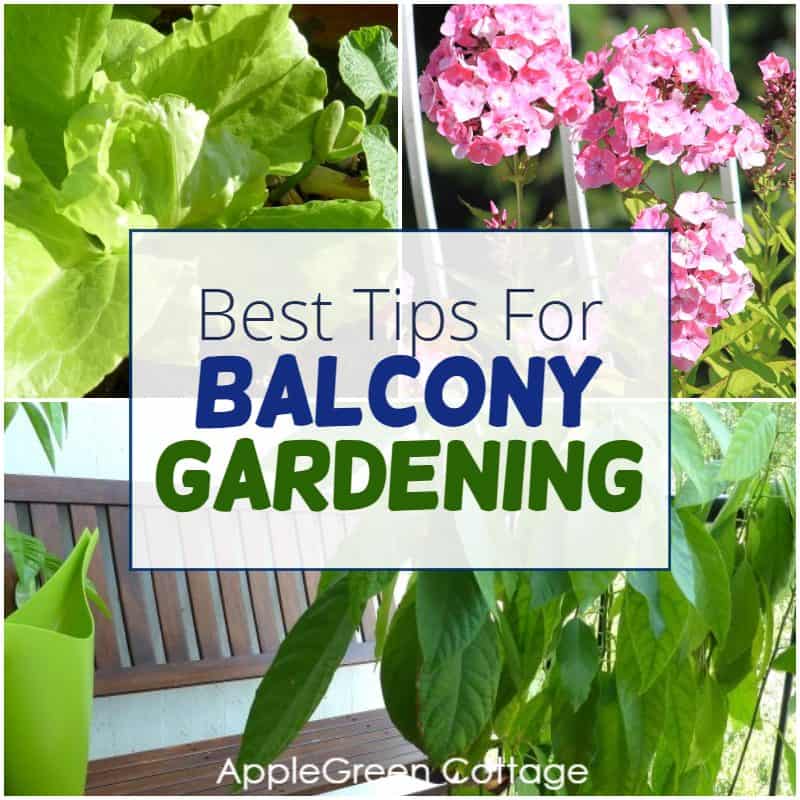 This post contains affiliate links. Thanks for your support. Also check out:
Gardening On The Balcony
Container gardening on a balcony can be so easy, and a perfect starting point for aspiring gardeners - kids too! Here's everything I've learned so far on gardening in a limited space such as a balcony. It's meant to help you make gardening with or without kids easier and more fun (check out this fun farm sensory play idea!), and successful. Take a look!
Not having a real garden should never stop you from enjoying at least some of the gardening joy. In our family, gardening on the balcony is a welcome activity as there is not much work (also, not too much space to get too many of those plant containers).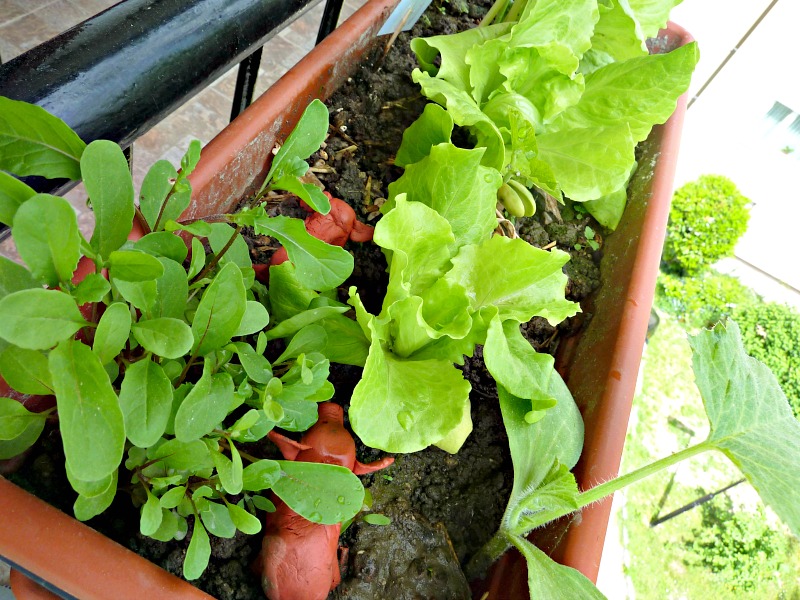 Balcony Gardening Ideas that are Great For Kids And Adults Alike
We decided to make a balcony vegetable garden, a simple container garden on our small balcony. Limited space, but these container gardens on balconies are so easy to maintain! It's fun and easy to keep it. The photos are from late spring, now it's all green and we added additional recycled bottles to serve as green hanging baskets (we have a hanging garden too, yeey!)
I used hanging baskets, too in the past, but now do so only for those decorative plants that have nothing to do with our vegetable garden, because they are placed too high on ceiling hooks...which brings me to Tip No 1 - one you need to consider well before you start planting: space!
Make good use of Balcony space For Your Garden
Consider these ideas to make the most out of your balcony space:
Number one, make use of the balcony railing. This might be the simplest idea, and it does not even take up any on the inside of your balcony!
We also made a diy vertical hanging planter. Sounds a difficult idea? Not at all: we simply added plastic bottles to serve as green hanging baskets (the simplest hanging garden you can think of!)
Also, to use all the vertical space for your balcony garden, think about getting a few plant stands. Vertical plant shelves go a long way. Also, use pedestals to mix up the heights for your containers.
Help your plants climb: adding vertical tomato cages for cucumber to climb and get more crop this way.
Hanging baskets add a cutesy look to your balcony, and you can adjust their height. Beautiful and practical!
Vertical hanging pockets - trendy and perfect for ferns!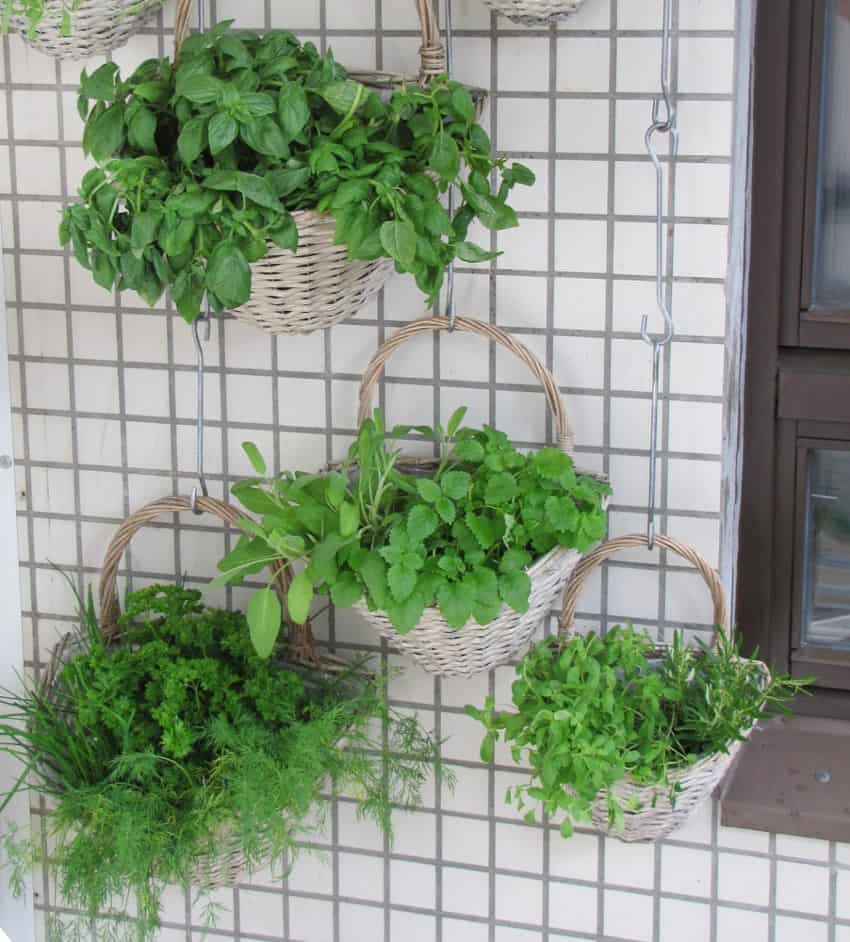 What are the Best Vegetables for container gardening?
If you're a beginner in balcony gardening, this is the first question that might pop into your mind: what can I plant on my balcony? Here are a few of the easiest crops to grow in vegetable gardening on a balcony, in containers:
lettuce - there are many colorful lettuce mix seed packages, a lovely decoration, too!
carrots
radish
parsley, mint, and similar herbs
bush beans, etc.
One of my personal favorites, cherry tomatoes, are lovely and delicious, but in our climate, they tend to be a bit demanding... I skipped them this year, in our son's 'first gardening season - but we'll grow them next year for sure.
What are the Best Flowers for Balcony gardening?
Want to make it all about flowers? While teh selection of flowers will vastly depend on your personal preferences (colors too!) here are 5 of my favorite ideas for a flower container garden on your balcony:
lavender
fuchsia
petunia
zinnia
daylily
What FRUIT Is good for Balcony gardening?
And a few more ideas for a fruit container garden on your balcony:
mini blackberries
strawberries
gooseberries (but these have thorns, mind when gardening with kids!)
raspberries could work (but are not super low maintenance!)
and we have a beautiful lemon tree that yields a few lemons every year.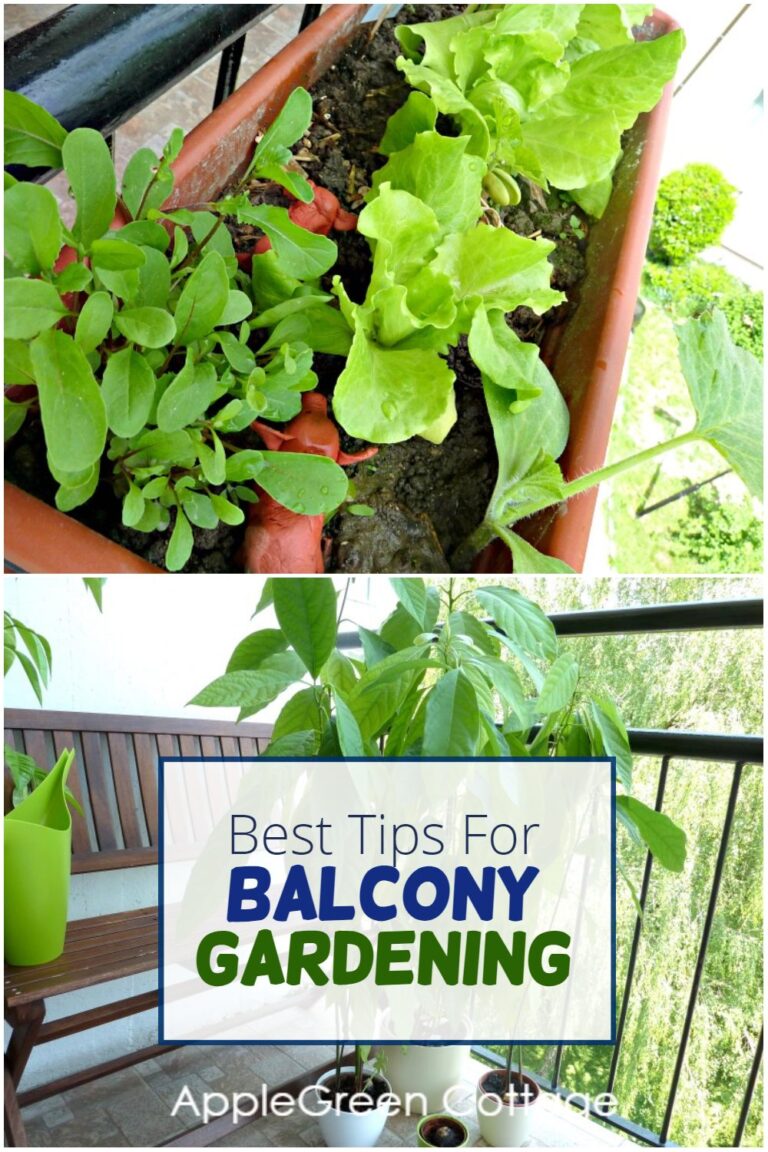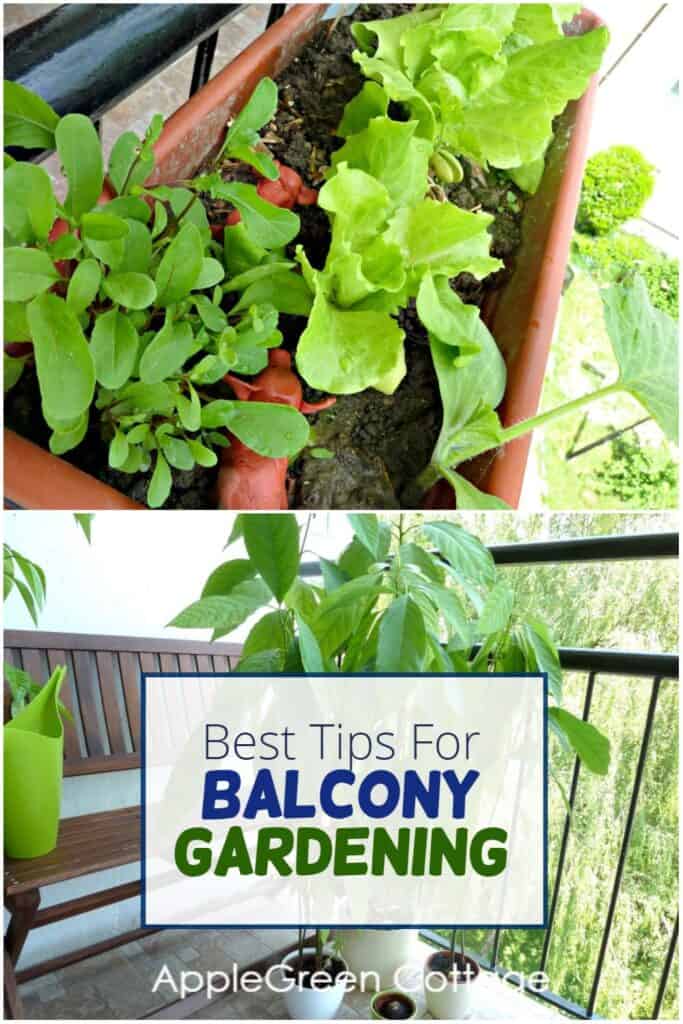 Tips For Balcony Gardening With Kids
Now, off to the tips I promised:
Use easy-to-grow vegetables.
If there are undemanding plants in your balcony pots, there is a high chance you'll get to eat what you plant, isn't there? There will inevitably be occasional disappointments when nothing grows, or plant lice destroy the produce, but this might only teach your kid appreciation of what DOES grow and strive. It's a good life lesson, don't you think?
Pot placement - easy to reach and observe.
Position the gardening containers so that they can easily be reached and observed by children. Yes, it's a no-brainer, yet I made a mistake at the beginning, placing some of the pots too high on a shelf. Now we've adjusted it, so everything can be observed from our child's perspective 🙂
Use seeds that spruce up quickly.
Especially if you are working with toddlers - they will remember the connection between seeding and growing plants easier.
Talking about seeding, you might want to use free, eco seed planters: like here, this spring we started rucola seeds in eggshells - it was so cute and so much fun! And our kid saw the results super fast, as rucola spruces up very quickly!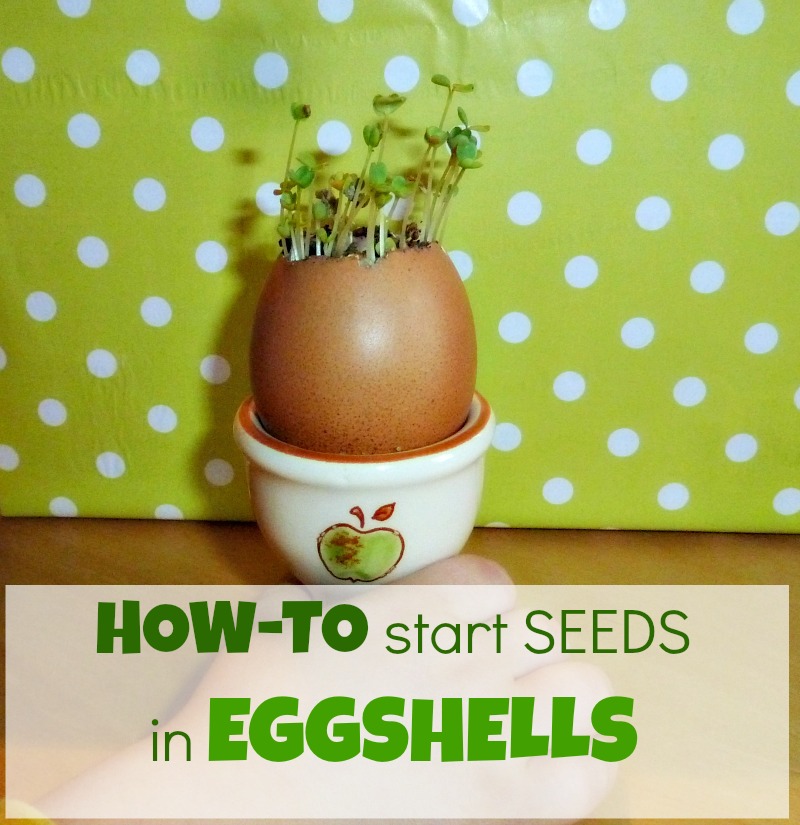 Plant something your Kids will love to eat
The safe way to go might here not even be vegetables - feel free to go with strawberries, if you have a picky eater. But it's advisable to include at least a vegetable or two, your kid might start eating vegetables - if not for other reason - knowing that he grew them himself! The trick has worked with many garden-tending toddlers, it might just well work with yours, too! You can also plant miniature blueberries. Yummy and they look adorable!
Watering Plants in Your Diy Balcony Garden Is Important
Make plant watering your kid's daily routine! You'll be surprised how well a small child remembers things that are done daily. Myself quite forgetful about watering even my indoor plants have benefited vastly from our 3-year-old's memory: it's him who would remind me it was time to water the plants whenever I'd forget! Sometimes more than once a day, but let's not be too picky - better too often than not, right? (Especially during these summer months...)
Last Gardening Tip: make it FUN!
I know I promised 5 hints only, but let me tell you my favorite: if you look closely, you'll notice we made tiny animals from clay and placed them into the gardening pots- in the photo below, you'll find two piggies and a water bin in the top right corner. It's pure fun, and our toddler is so happy to get water to the pigs - he doesn't want them to stay thirsty (and usually he also gives them a good shower, so 'they won't be dirty' 🙂
This gives an additional play perspective to gardening and increases motivation to stick to gardening even when the initial excitement is gone.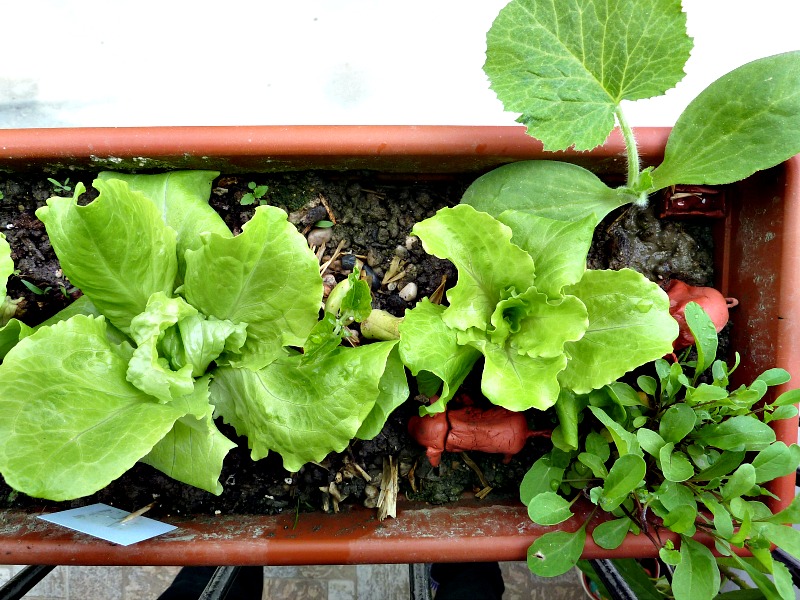 One thing I need to add though I believe you are already aware of this: you should never leave your kid unattended on the balcony. Ever. We live on the third floor with a curious three-year-old, so I'm very strict with this rule.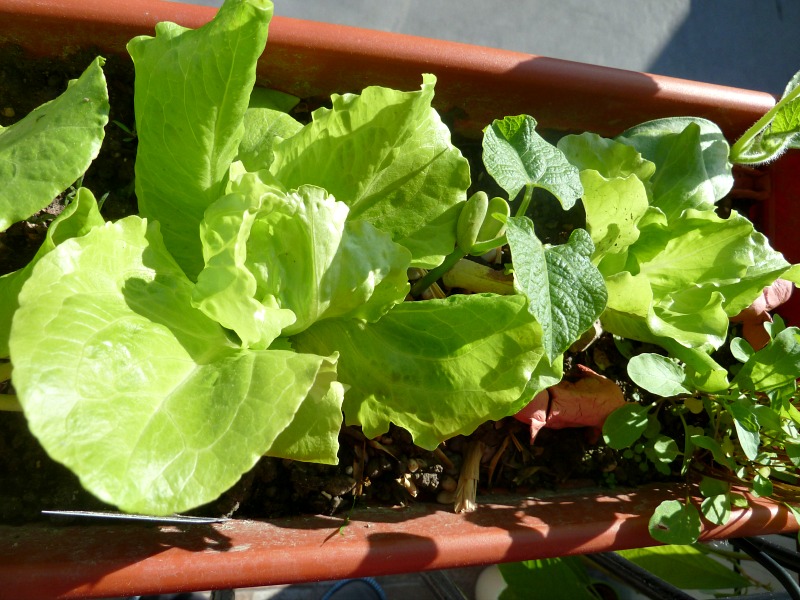 Gardening with kids, even if on a balcony and even in a tiny plant pot will teach your kids a love of nature - and gardening! Sometimes it will be a beautiful, rewarding exercise of patience and sometimes a learning lesson of the fact that sometimes we need to wait for what we want to have. But above all, it will be fun!
Have a look at how we added some fun to our (non-edible) plants in pots on the balcony last year: we made garden buddies for our decorative plants. A year later, they still keep our avocado and citrus plants company!
MAKE YOUR OWN POT COVERS FOR YOUR SEEDLINGS
If you need pot covers for your mini plants and herbs, consider sewing a few easy plant pot holders – these little KAIA bins always turn out beautiful, and you can sew them in matching color sets:
WANT MORE FREE TUTORIALS AND PATTERNS?
Get email updates and never miss out on new patterns, printables, and tutorials:
And if you like sewing cute little bins, check out another pattern in our shop - the Kaia Mini Bin here: