See how to plant seeds in eggshells and how to start a mini garden. Seed starting in eggshells is ideal for organic gardening. Check it out!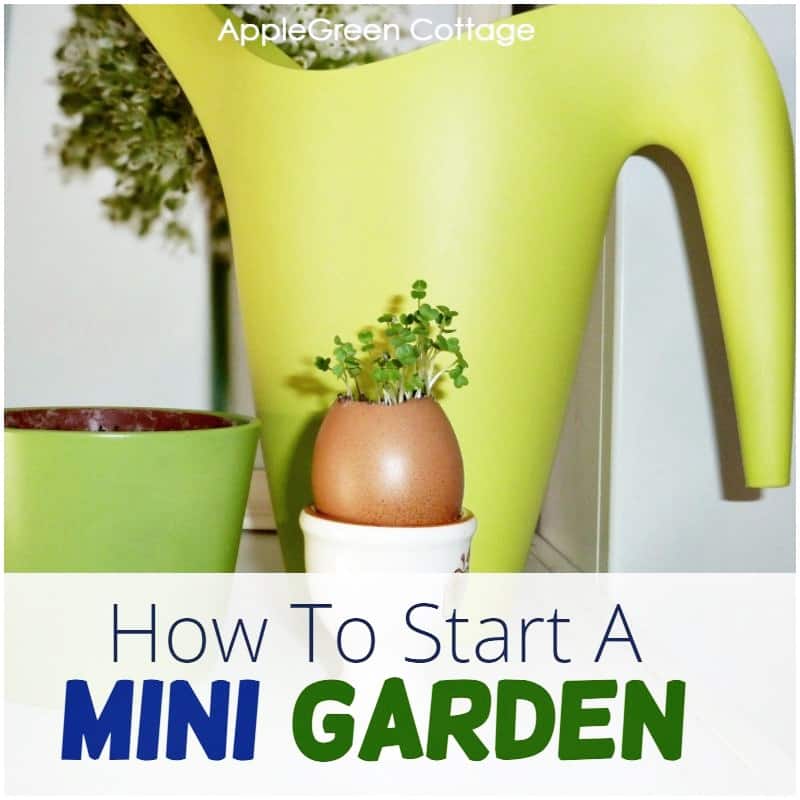 This post contains affiliate links. Thanks for your support.
How to Start a Mini Garden
Springtime again. My wishes for a garden have remained - wishes only. Which doesn't stop us from making plans and getting ready for the planting season and gardening on the balcony!
Eggshells provide the seeds with a safe and cute harbor to sprout. But what I like most is they are eco-friendly. Not only are the eggshells biodegradable - they will provide nutrients to your plants, too! Eggshells are an excellent food for indoor plants. In short, a great idea to start an indoor herb garden or container gardening.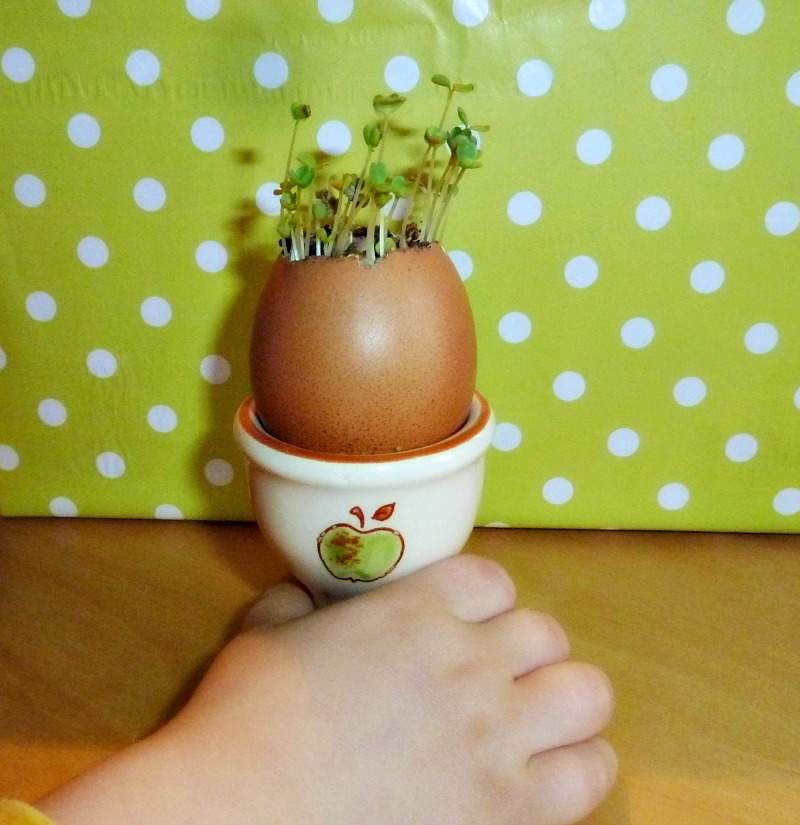 If you use eggs for your breakfast, handle the eggshells with a little care and you'll get yourself lovely seed planters - zero cost and ecological! Read on to see how.
If you use the egg carton as holder for the eggshells, you don't even need to spend money on a seed tray! For the purposes of this tutorial, I only used one eggshell and in this case, it was easiest to simply place it into an egg cup I had at hand. Cute, too, isn't it?
seed starting in eggshells
Get Your supplies For starting Seeds in eggshells
eggshells
a spoonful of potting soil per eggshell
an eggshell holder (egg carton is a good solution!)
seeds
water
How To start Seeds in eggshells
Firstly, crack the eggs a bit more carefully than usually when preparing your breakfast. Try to leave the lower two-thirds of the eggshell intact. Well, one half will do just as well. Empty the eggshells (What about making scrambled eggs for your kid's breakfast?) and wash them gently but thoroughly.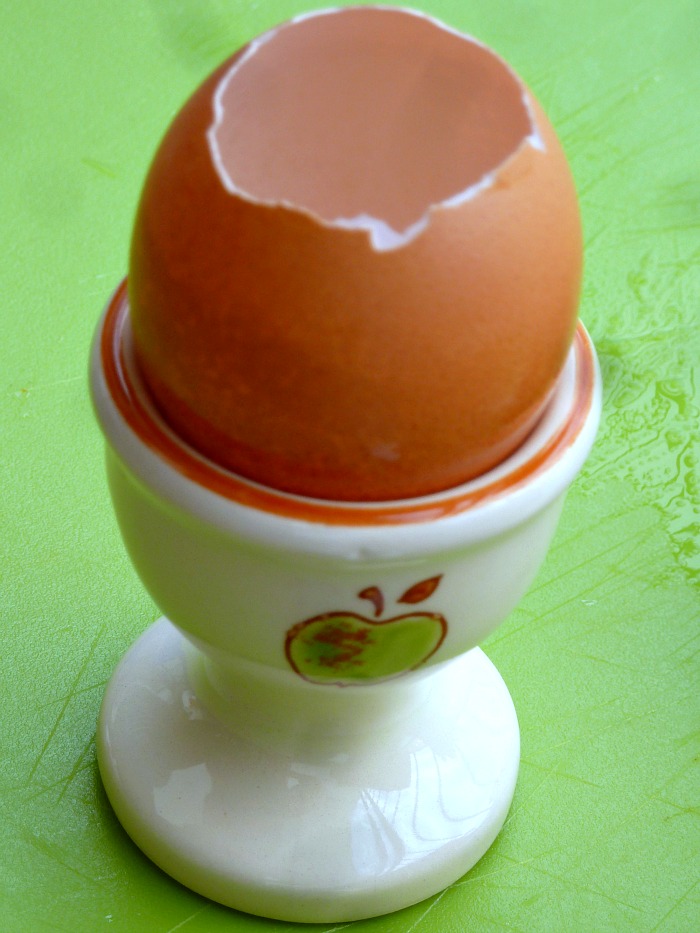 Next, make a tiny drainage hole at the bottom. I used a pin for that. Then place the eggshell into a holder (an egg carton is a zero-cost and easy solution).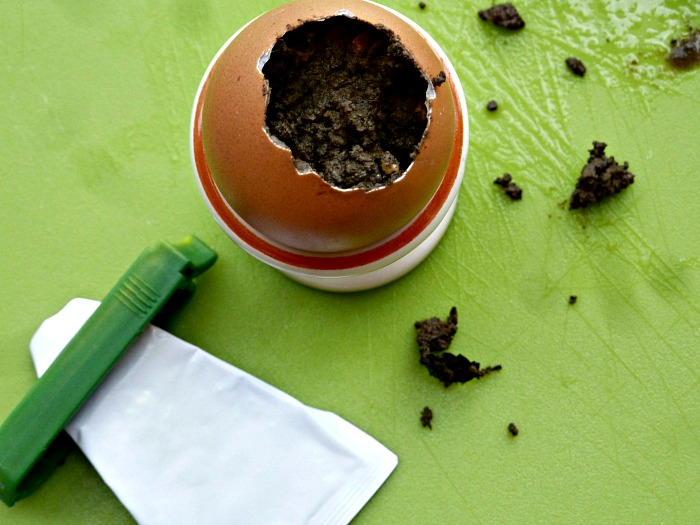 Then fill your eggshell with moist potting soil. I just took a spoonful of soil from one of my garden pots on our balcony. This was the fastest and easiest way to get the potting soil at the moment.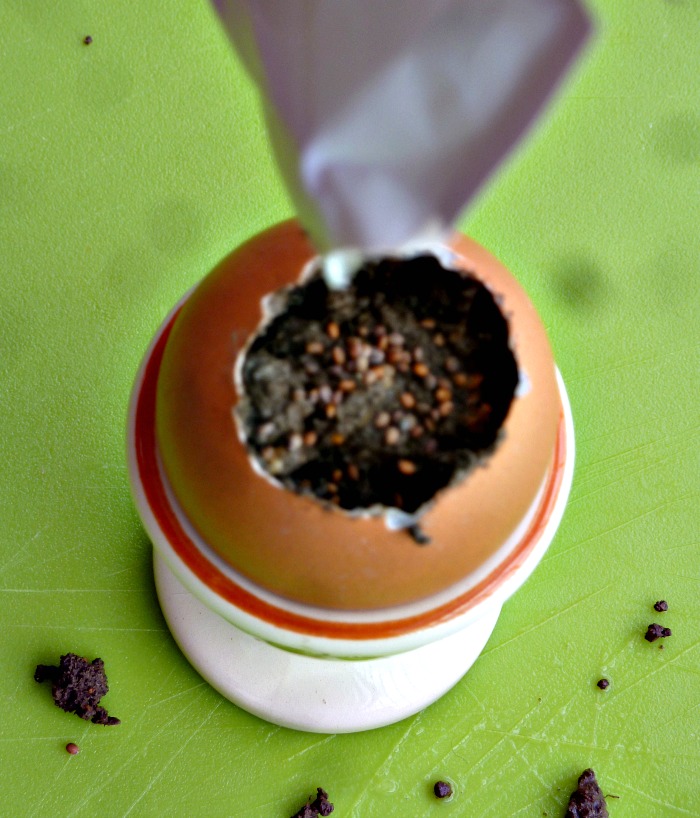 Now it's finally planting time! Plant the seeds of your choice according to the directions on the seed package. What you see here are rucola seeds. Feel free to check out this gardening post with more choices.
Once planted, place your eggshell seed starter onto a window sill or somewhere else with enough daylight.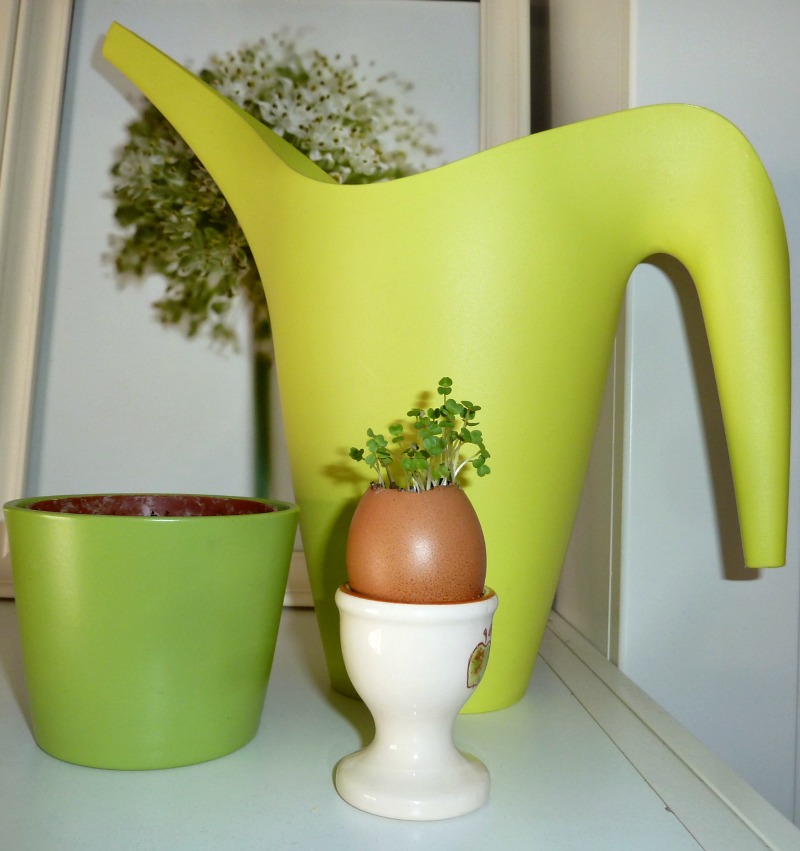 Don't forget to water! Spray with water every now and then to prevent drying out. Don't exaggerate. When the seeds develop the first set of 'real' leaves, you will easily transfer them into a larger pot or box. You won't even need to replant them as they grow - you simply place the eggshell (together with the sprout and soil) into the plant pot. Happy gardening! Save to Pinterest for some inspo: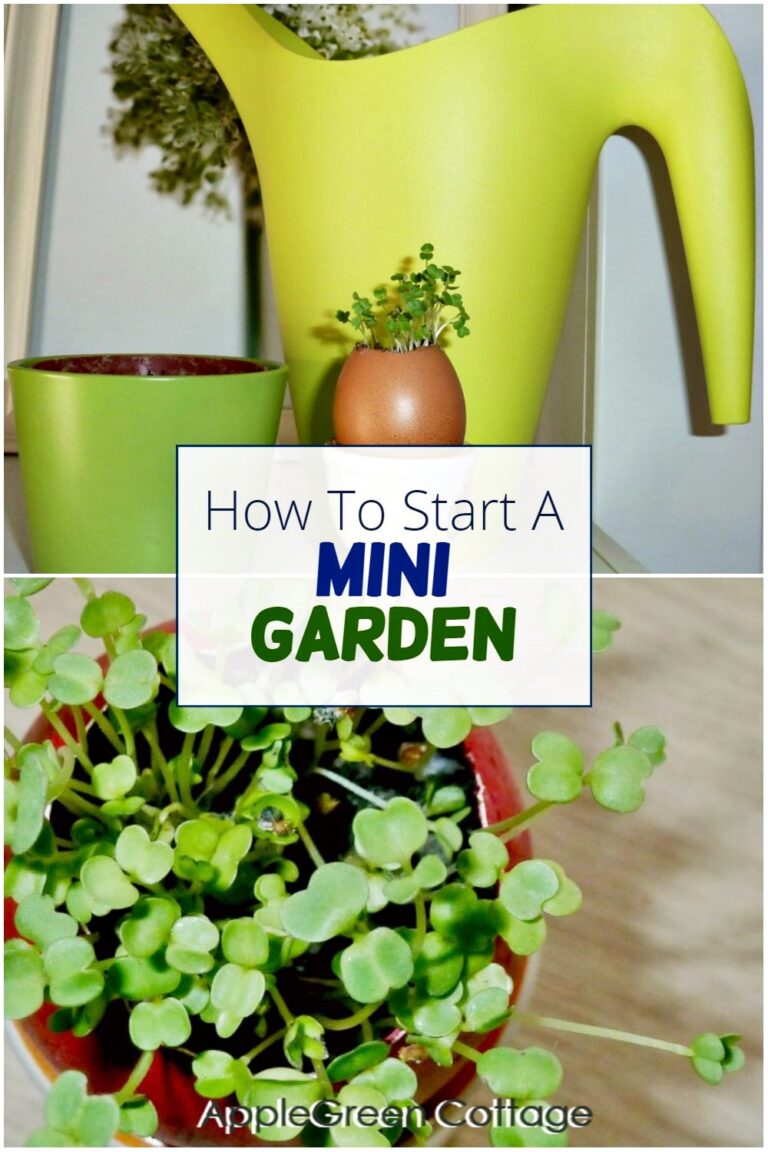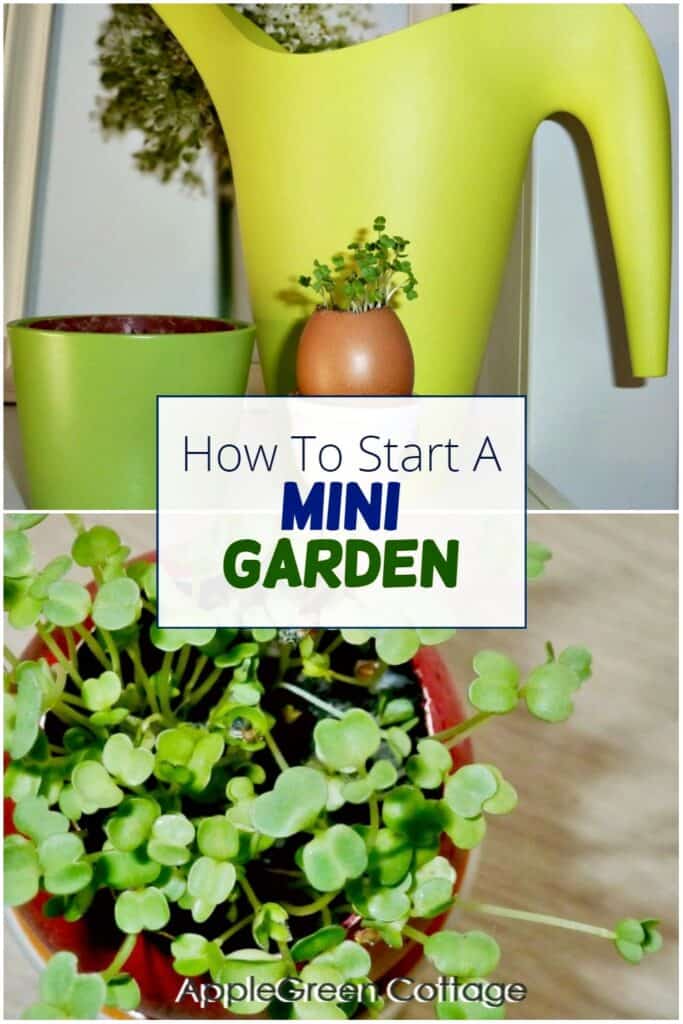 While you can totally use your Easter dye to add a pop of color as we did here (this Easter DIY decor project), this is an adorable nature brown-egg craft and a great way to start your organic herbs and vegetable garden.
MAKE YOUR OWN POT COVERS FOR YOUR SEEDLINGS
Do you want to grow your mini garden in plant pots? Consider sewing a few easy plant pot holders. These little KAIA bins always turn out beautiful, and you can sew them in matching color sets:
MORE POSTS YOU MIGHT LIKE: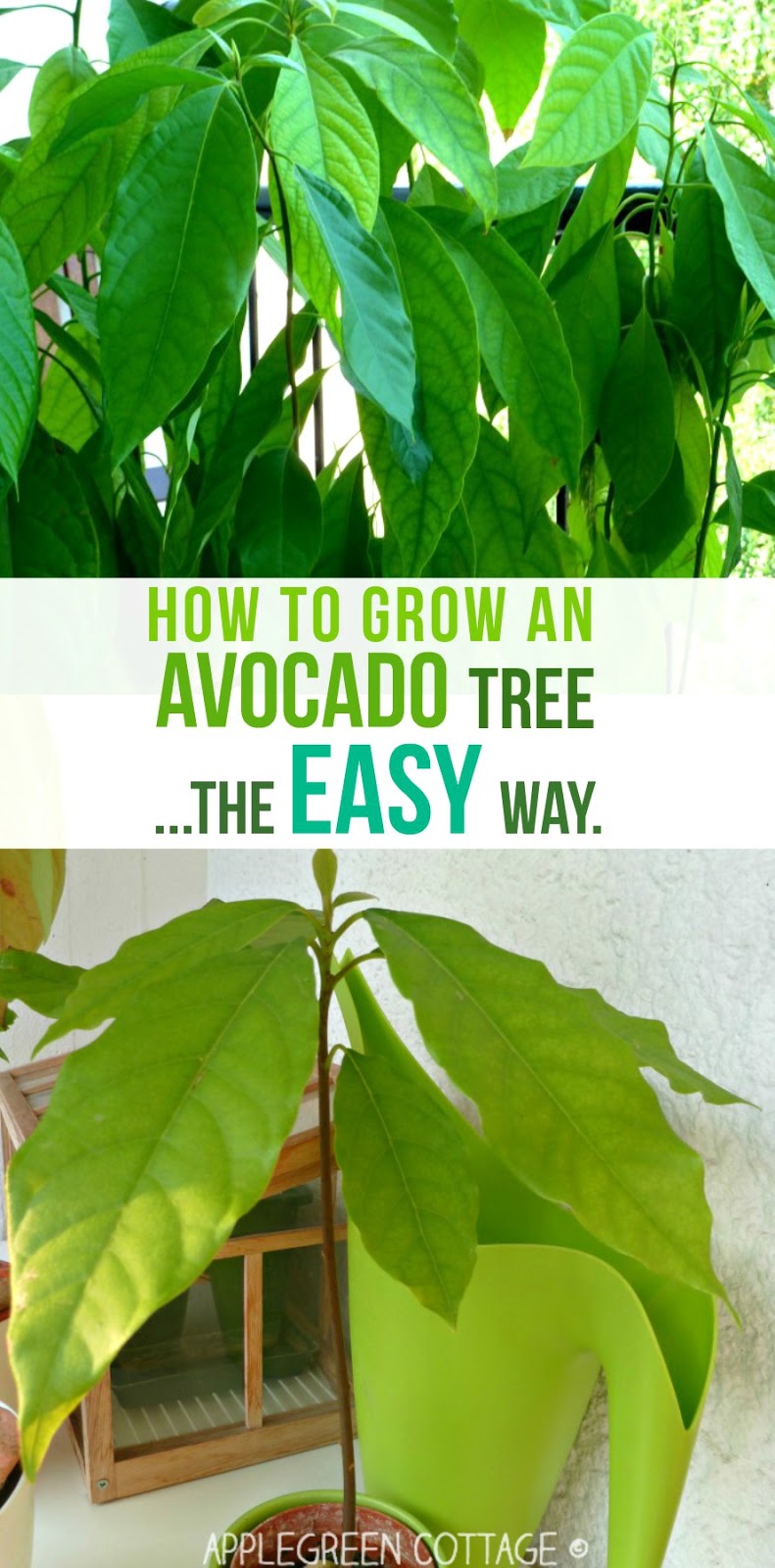 How to easily get beautifully green plants for your home - for FREE
WANT MORE FREE TUTORIALS AND PATTERNS?
Get email updates and never miss out on new patterns, printables, and tutorials:
Want More Spring Projects?
Check out the latest special pattern bundle that's available right now in my shop - perfect for your spring decor, and for every room in your home: