What about making some felt fruit today? A felt banana or two to be used as play food, to be exact. They are crazy cute, and fun to make! These bananas have also made it into my 7 Favorite Felt Play Food Tutorials. And since felt is easier to sew with than fabrics, beginner sewing enthusiasts will love this too!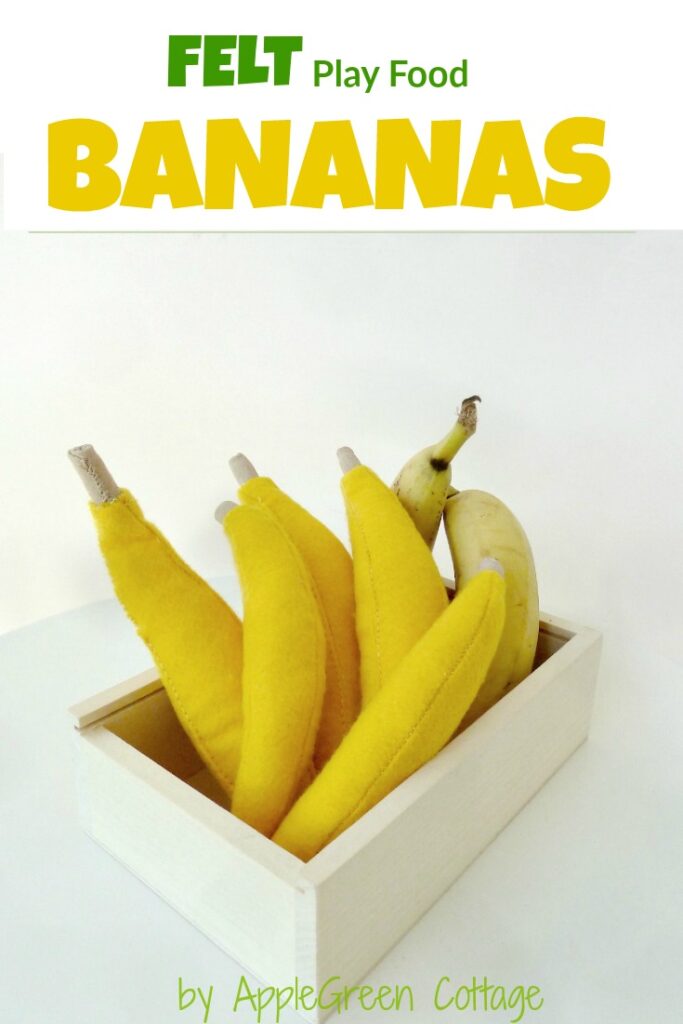 Felt Banana
For the record, though you'll get your tutorial, this time it doesn't come from me. I didn't make one. Truth be told, you wouldn't benefit much even if I did. Why? There already exists a perfect one I cannot add much to. Come find out where I found it!
No need to say that I'm still crazy about felt. Last time, I got a few new suggestions about where to buy felt. I've tried out several new brands/qualities, and what better way than to do this by making more felt play food!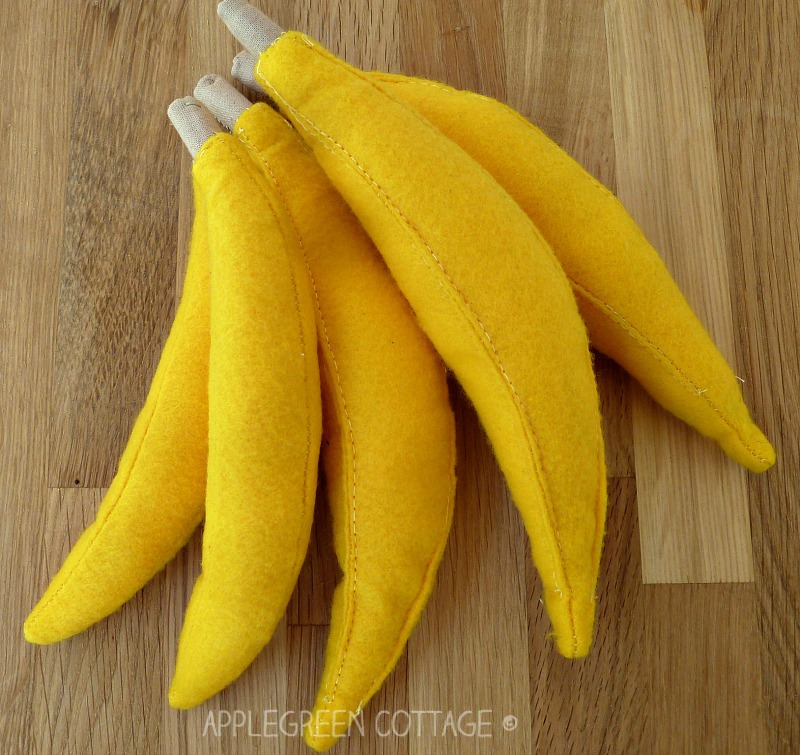 This time, I'd like to showcase felt bananas that I made using a terrific tutorial by Amy. Lights on, red carpet is ready, now- the feature!
Link To the Felt Banana tutorial
I made these felt bananas using Amy's tutorial - it's one of my favorites and really easy to follow. Photos and step-by-step instructions and all! Now, head over to While Wearing Heels where Amy made this great felt banana tutorial. Thank you, Amy!
Now, to those who have not yet jumped through to the tutorial and have a bit of time to hear me out, here's a few tips on different felt materials that might be of use to you. Hope this helps!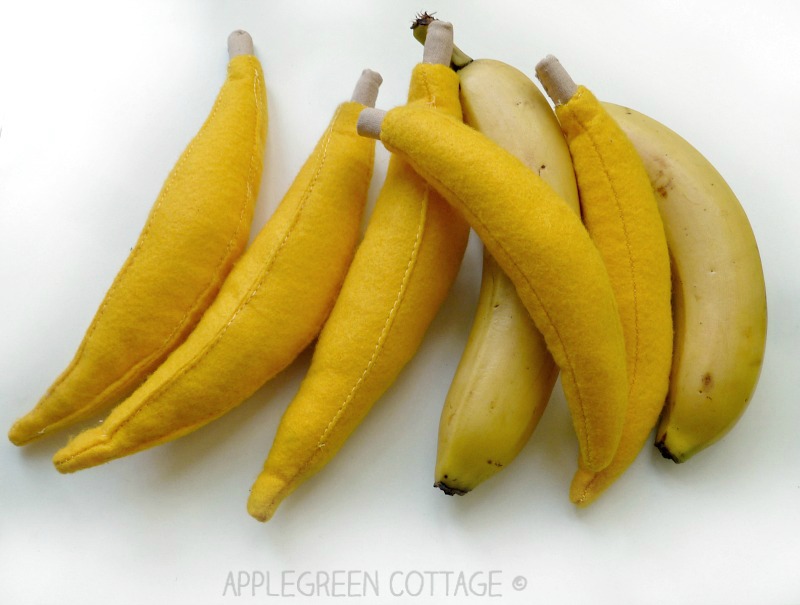 What felt to use?
How to choose the best materials for these felt cuties?
As for felt varieties, this post that I wrote on felt letters is what I still stand behind and recommend. There's even a visual presentation of various felt materials towards the end of post that will make things super easy for you.
However, it's a little different when sewing tiny details with felt, or long and narrow pieces (like these bananas, or carrots.). For those, you'll want to use soft felt since it is easier to work with.
But all in all, you'll se I've made bananas from two different felt materials: softer (smaller bananas) and stiffened (the bigger bananas with the topstitching).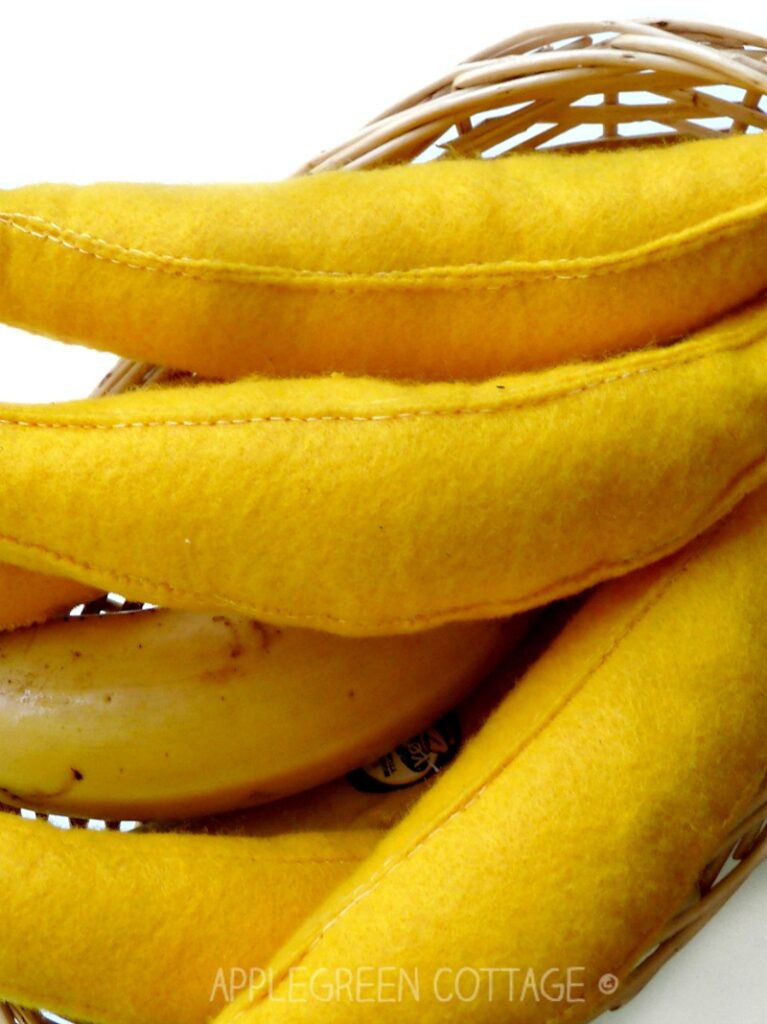 These bananas are all made out of craft (polyester) felt and these are good enough for toys that you expect to be thrown around a lot (and end up on the floor as often as these will have. But for presents, or baby toys, or anything you'd like to make more precious, I'd warmly recommend wool felt. It's better, though it's more expensive too (off course!).
Topstitching details YEY or NEY?
In the original tutorial, Amy added an embroidery stitch down the seams of each piece to give it a bit of dimension. Well, that I didn't manage to follow because the nap time of my baby was coming to an end and.. Well, you'll understand.
Which reminds me I can show you a photo and ask for a poll regarding the finishing touches on these felt beauties. Ready, steady, go!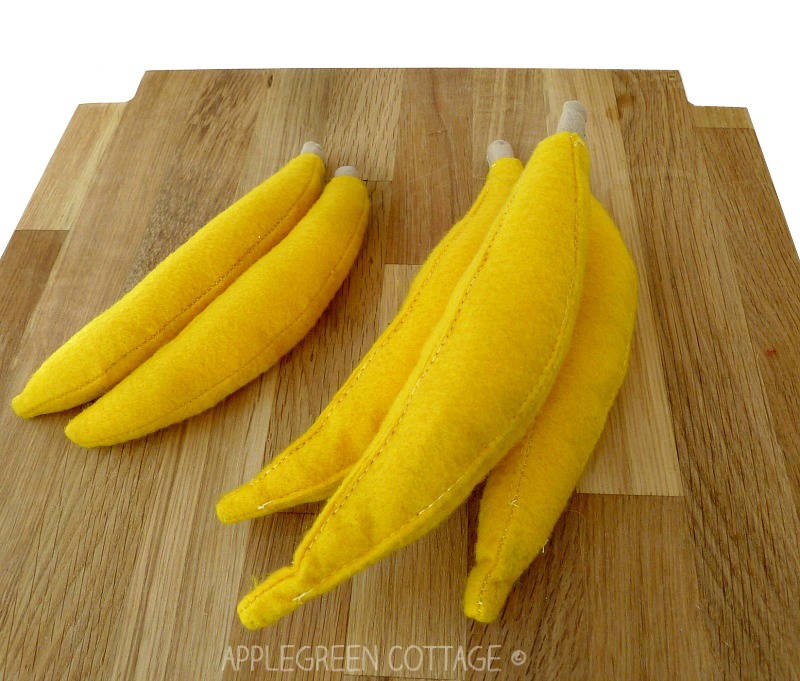 What you see are two versions of felt bananas. On the left, I left the bananas without any additional touches. (These are made of soft felt.) On the right, I topstitched over the seams using my sewing machine. (These bananas are made out of stiffened felt. A bit more difficult to sew!) What do you think?
I prefer the left two bananas, but not only because they have no topstitches but more because they have a better form (also due to softer felt!)
Actually, I'd say don't bother topstitching, it's better without... But still, it's totally your decision how you make your felt fruit, of course!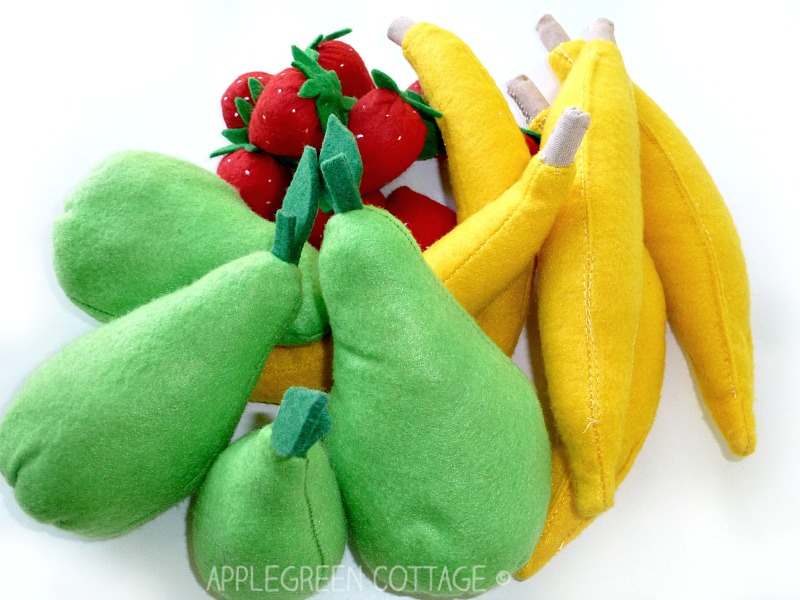 Here, I probably need to note that I cheated a bit, too: I used beige fabric instead of brown felt for the stem to add to the difference in the feel (love that, and since I've got a lot of fabrics in this color I might continue doing so). And I didn't add the brown bits at the end of felt bananas. I ran out of time, but kids didn't notice at all.
And it's not all about details. Imagine the fun kids will have with pretend food! Try it out, honestly, your children will provide you with an excellent alibi, allowing you to play as much as you want! And bananas were easier to make than it looked like. Really, the most fun pieces to make! (Or maybe those felt pears? Cannot decide. Check out for yourself!)
Here's more play food, if you want to check out the 7 felt play food tutorials that were my favorites a while ago - some still are, and I hope to be adding new ones soon!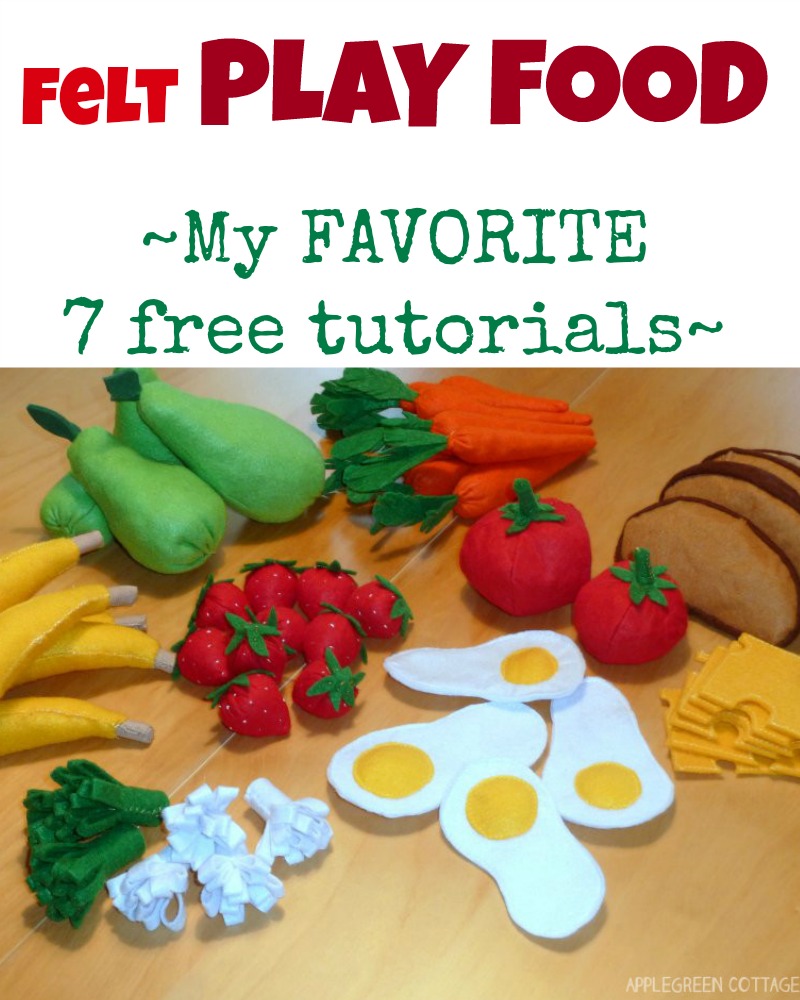 SEE MORE FELT PLAY FOOD TUTORIALS
As always, I'd love to see what you sew. Please post a picture to Instagram and tag me @applegreencottage or #applegreencottage - so I can take a look!
WANT MORE FREE TUTORIALS AND GOODIES?
Get email updates and never miss out on new patterns, printables, and tutorials:
Or …check out the Earwarmer Headband pattern in 8 Sizes in our shop: