Home storage? You bet! These flat zipper pouches can expand - a brilliant way to organize your travel and entire home!
This is a smart flat diy storage bag that will expand when needed. The best for home organizing and travel storage, and you can make them yourself! Join our mailing list to get the free pattern in 3 sizes - and follow the tutorial below.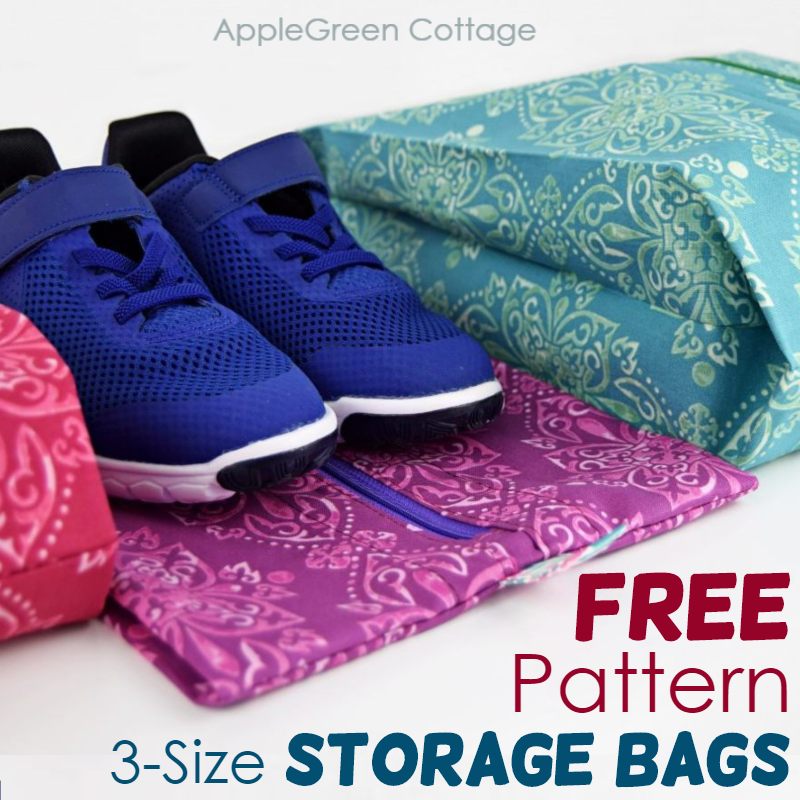 OR do you want a printable copy of the WHOLE tutorial? Scroll to the bottom of this tutorial for more details!
These pouches are clever small bags that can be packed inside your suitcase. And they will expand if you need them to. And they will keep everything neatly organized, but will not add up to the luggage weight. No extra bulk to your luggage, promise!
I made them part of my special Diy Storage Series, so make sure to check out 16 more diy storage ideas here. I'ts also part of the SewPretty HOME series - it's free: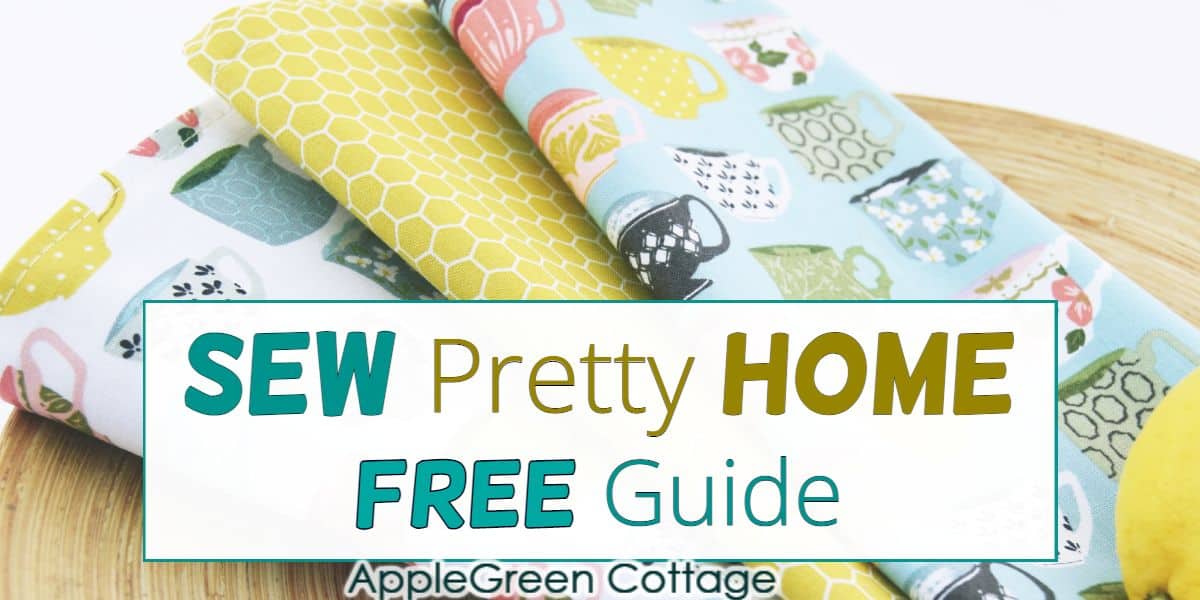 Join the FREE 7-part email course and make 6 beautiful items for your home! You'll love it!
No time now? Save this link or the image below to Pinterest so you are ready to sew when you need them: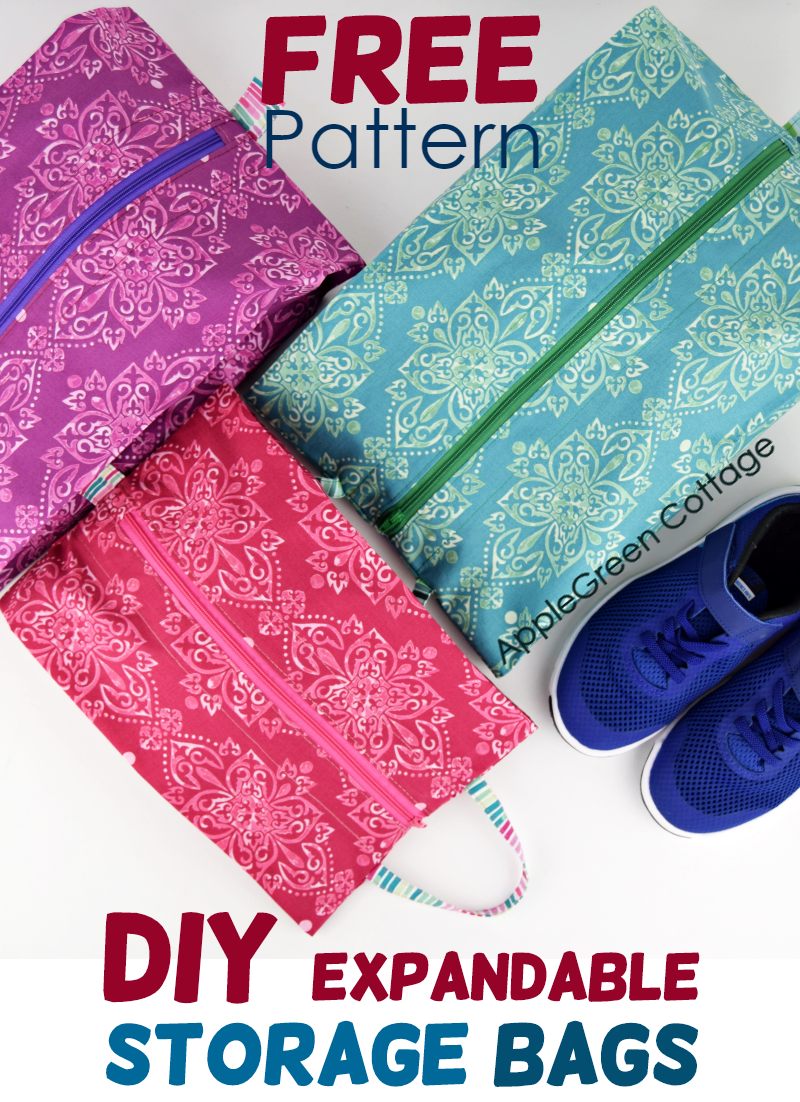 When I was younger, I traveled a lot. So many times I had to unpack my entire suitcase or backpack trying to find one small thing that got misplaced. Or to dig out my socks. I would be so happy to have something like these!
Fast forward a gazillion of years, and I've made a lot of these storage bags! I even managed to make a pattern so these will make all our lives easier! I don't travel as much anymore (especially not now!), but when we do, the whole family is much better organized than before.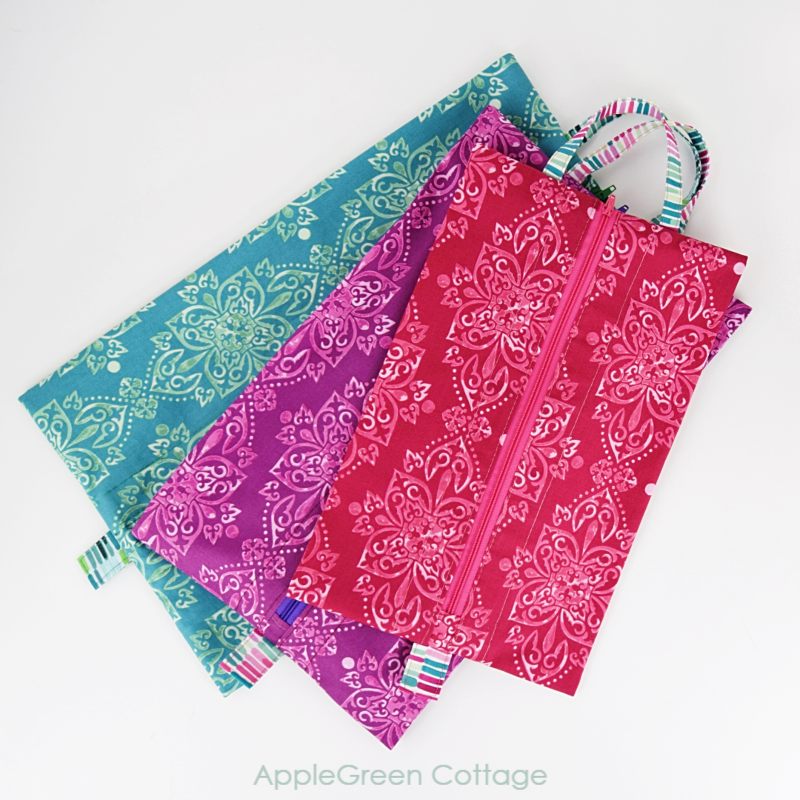 Perfect diy storage for home or travel
What can you store in these smart pouches? In short: nearly anything.
First thing on my mind (and probably yours too): shoes. Either to prevent gathering dust in your closet, you can neatly pack them and even hang on hooks in your closet, utilizing the vertical storage space. Or when you travel, keep the shoes away from your clothes so nothing gets stained or dirty.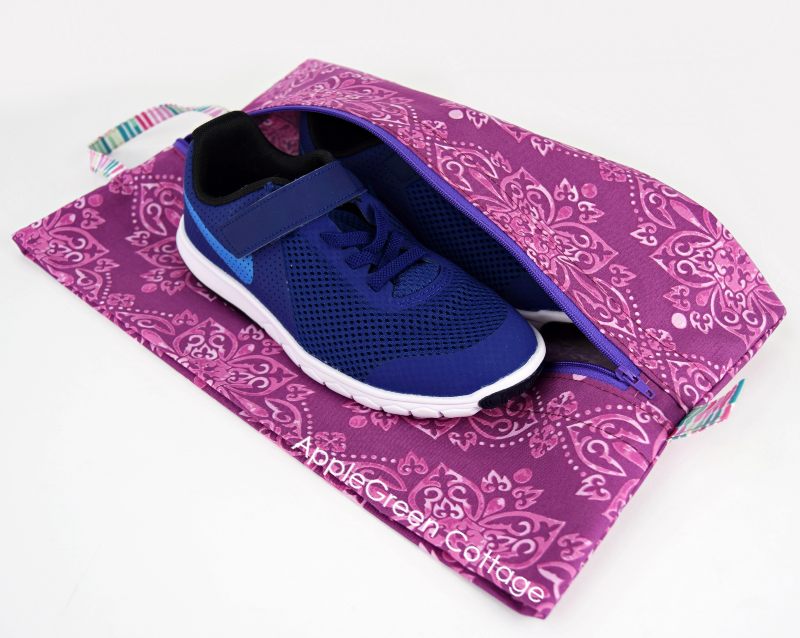 Neat, huh?
Then think socks. Don't they always get lost in a big suitcase! Then think of separate storage for every part of your luggage. And toiletries. It can be a perfect travel cosmetic pouch (I showed you one more version a few weeks ago.) Store your shoes smart in pouches for travel. Never again drag all items out just to find the socks. Have your project neatly packed when you travel for a weekend.
A Great Diy Project Bag!
Then, project bag! I have so many projects on the go, it would be nice if I could just pack each UFO and store it for later! Now I can, and you too! 🙂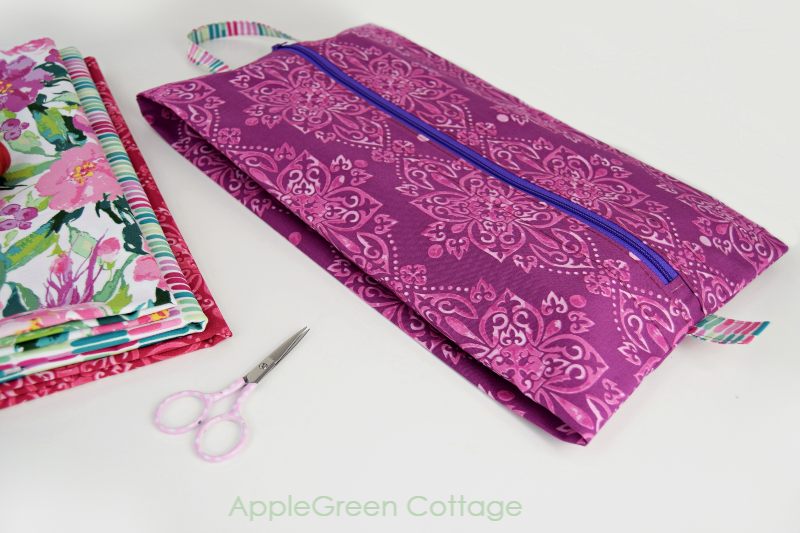 In fact, all the fabric I use in this tutorial is from the Hampton Garden collection. By now, I have 3 new ideas for tutorials with these! But for now, I've made a few extra storage bags in size large, just to store my ongoing projects. Pattern plus zippies plus fabric. In my ideal world, all my unfinished projects will be neatly folded and stored in these bags. Some day. If there aren't too many LOL.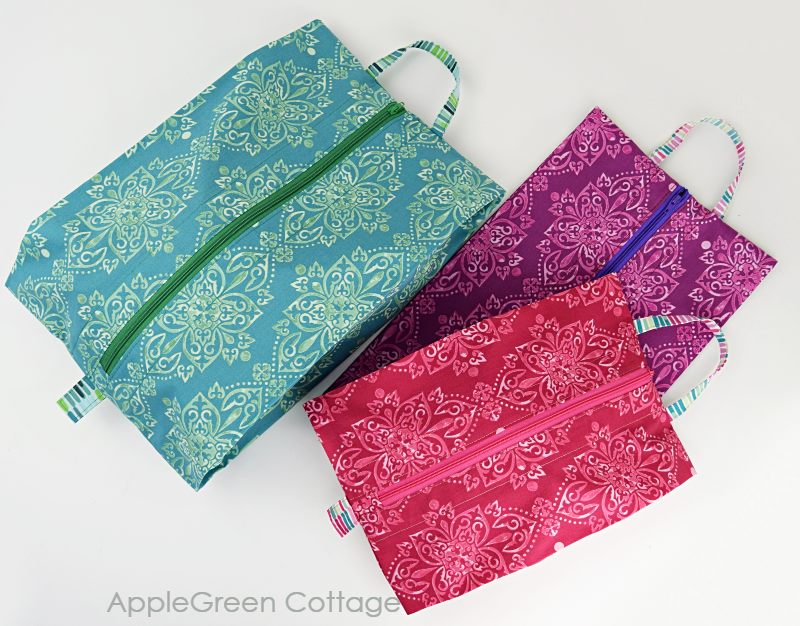 Diy Expandable Packing Bag - Features
This is a well-designed multifunctional storage pouch for home and travel. Since it's meant to be lightweight, I got rid of all the unnecessary bulk, leaving it with a single layer - but no raw edges either! It's neat, and thin, and won't add nearly any weight to your luggage but will organize it and make everything easy to reach. Oh, and it's so easy to make!
Finished Sizes of the Expandable Pouch
The finished sizes are as follows:
SMALL: flat 12 ½" long, 8" wide – expanded 3" tall (32 x 20 cm, exp. 7.5cm tall)
MEDIUM size: flat 15" long, 9" wide, expanded 4" tall (38 x 23 cm, exp. 10 cm tall)
LARGE size: flat 16" long, 10" wide, expanded 4" tall (40 x 25.5 cm, exp. 10 cm tall)
The small bag will fit a sock knitting project with all the yarn needed, or children size sneakers up to size 5 (EU size 35).
The medium size is good up to size 10 ladies' shoes (high heels too), running shoes up to size 10.
Bulky hiking boots size up to 10? Use the large storage bag for those. Also, my partner's basketball shoes just managed to get into the large size, too. But those are bulky. Men's shoes: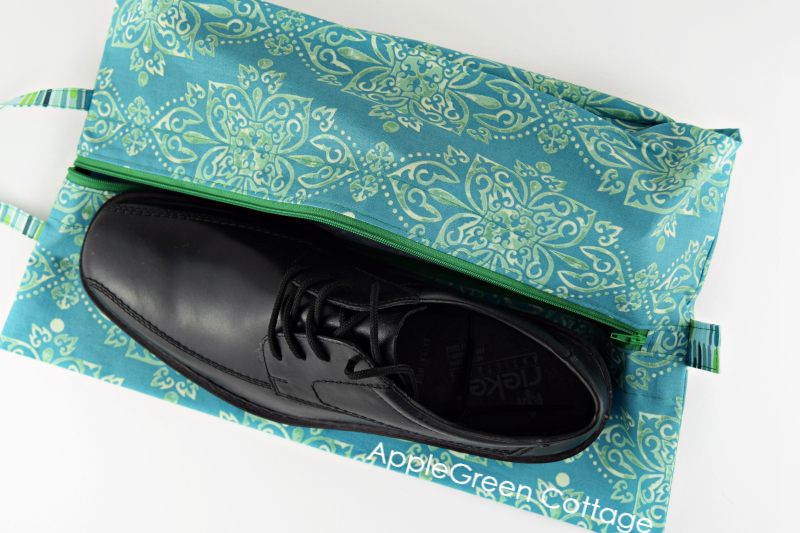 Diy Storage Bag - Sewing Tutorial
Supplies
To make the smaller two sizes, you'll have some leftover fabric.
PART 1 - Prepare all pieces
1 - Get the pattern and cut fabric pieces
OR do you want a printable copy of the WHOLE tutorial? Scroll to the bottom of this tutorial for more details!
First, these are the pieces you'll need: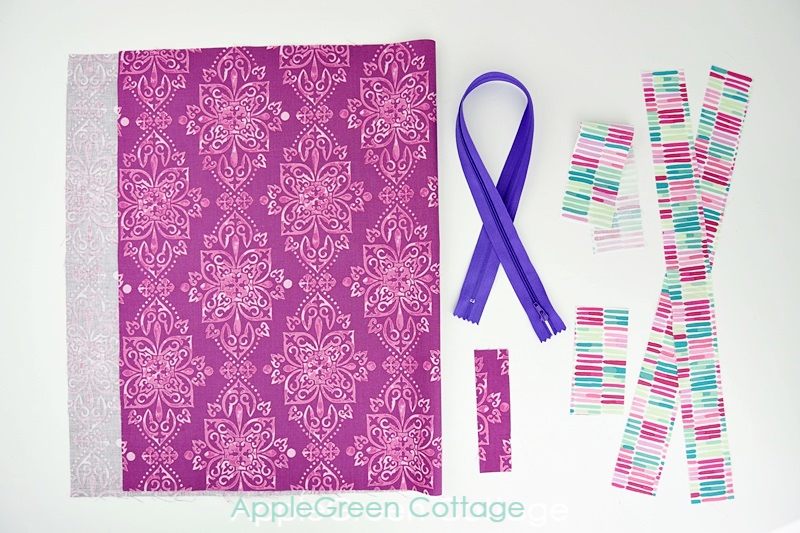 1 MAIN PIECE
2 FACING pieces
1 (top) LOOP HANDLE
1 (bottom) PULL TAB
1 ZIPPER TAB
2 - Prepare the zipper:
1 - Cut off the metal stopper at the bottom of the zipper and secure the end by hand-stitching at ⅛" (3 mm) from the cut.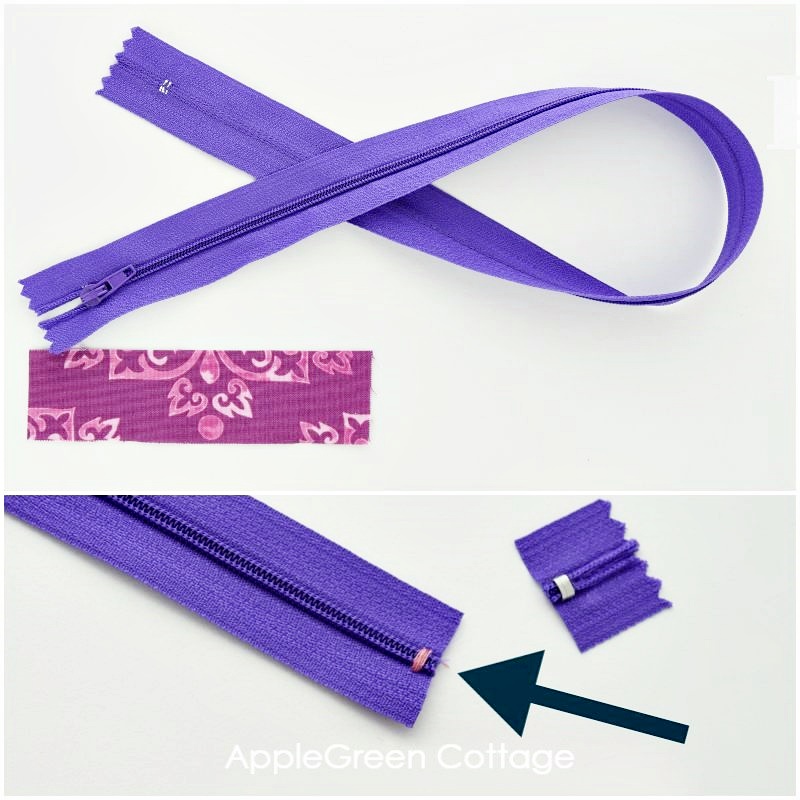 2 - Tab the zipper end. Use the ZIPPER TAB piece to:
Fold the fabric tab in half and press RST (right sides together).
Slide the tab on the zipper end. You can use wonder tape or sewing clips to hold in place.
Machine-stitch using a ⅜" (1cm) seam allowance.
Then fold the fabric ends back and finger-press.
Topstitch at ⅛"(3mm) from the fabric edge to stabilize the fabric.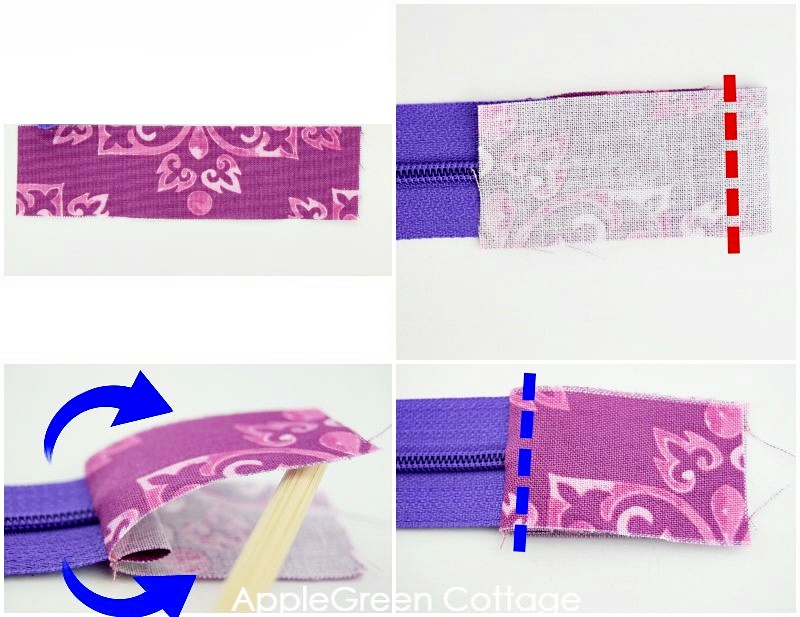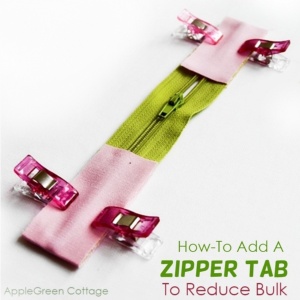 3 - Make the pull tab and the pull handle
PULL TAB piece: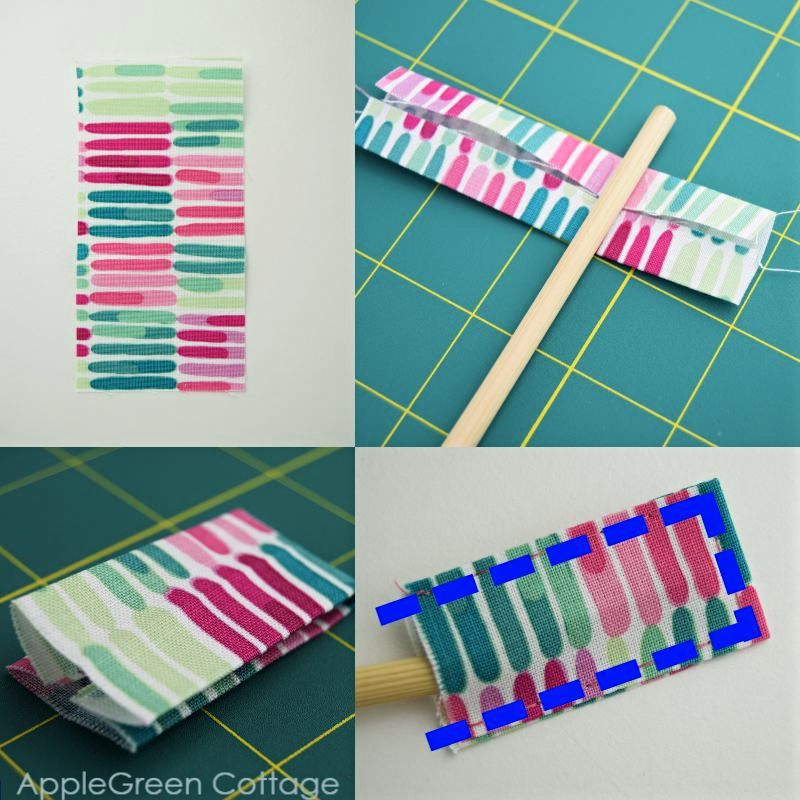 1 - Turn under the two long edges, each by ½" (1.3 cm) so they meet in the middle. This way, you'll get the pull tab width of 1" (2.5 cm).
2- Press, then fold in half, bringing the ends together. Topstitch from bottom to the top, across, and back down again. That will keep the raw edges hidden, except for the one that will be sewn in.
Pull Handle: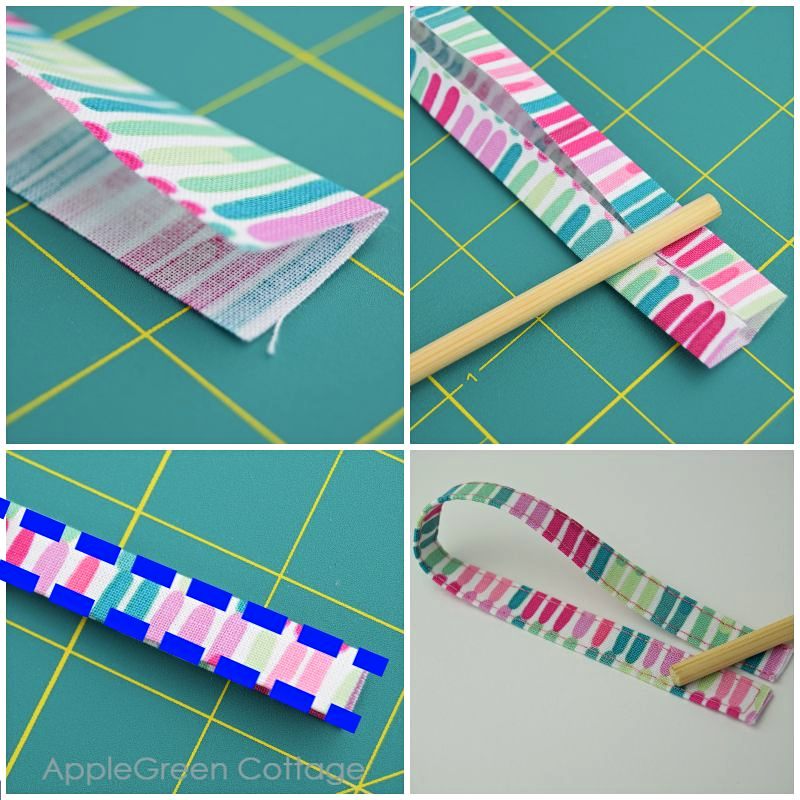 Fold the strip lengthwise in half, press and unfold.
Fold the upper edge to the center crease and do the same with the lower edge.
Fold again along the original center and press, then topstitch along the long edges.
PART 2 - Attach the zipper to the main piece
1 - Prep the 2 FACING pieces: turn under and press one long edge by ⅜" (1cm) on each of the 2 pieces.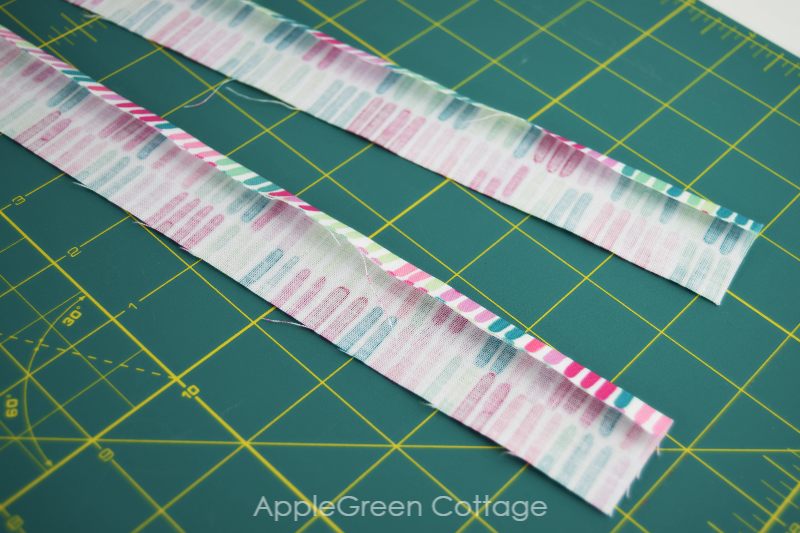 2 - Take the main piece and place it right side up, spread horizontally in front of you (see the blue arrow). On the main piece, align the zipper (the zipper pull should be facing down, towards the fabric) on one short side of the fabric piece. Place one FACING strip right side down, with the edge that has not been pressed. Stitch using a ¼" (7mm) seam allowance: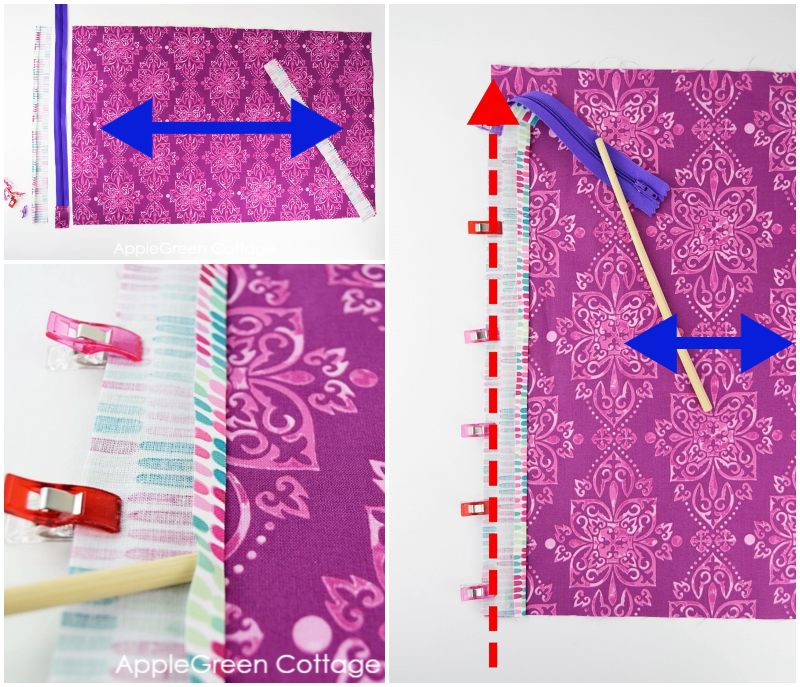 3 - Turn and topstitch along the zipper: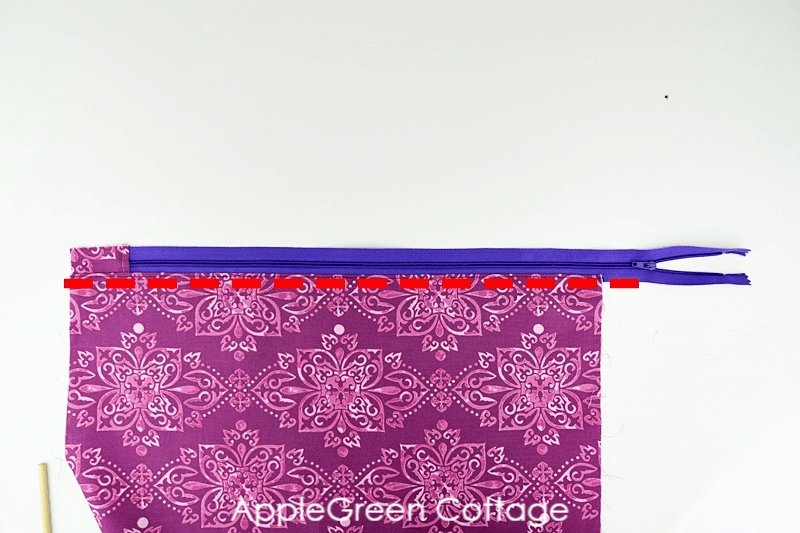 4 - Press. Pin the other long edge of the strip on the backside and stitch in place, sewing close to the edge of the folded strip. Instead of pins, I often use sewing tape - so comfortable!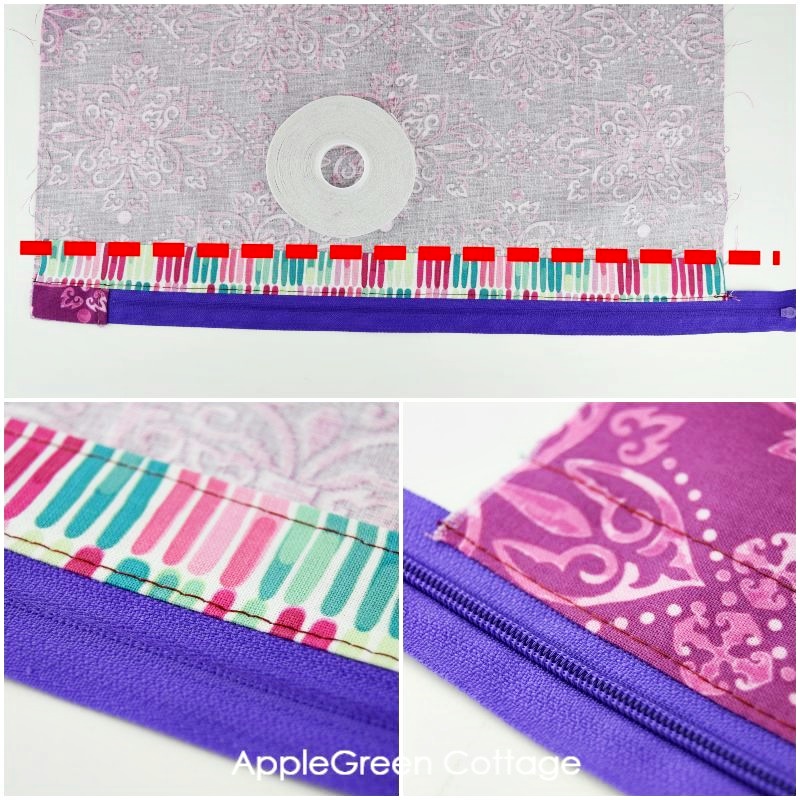 5 - Repeat on the other side to attach the zipper: With zipper closed, fold the fabric to meet the other long edge of the zipper tape. Then align the second long narrow strip on the zipper edge: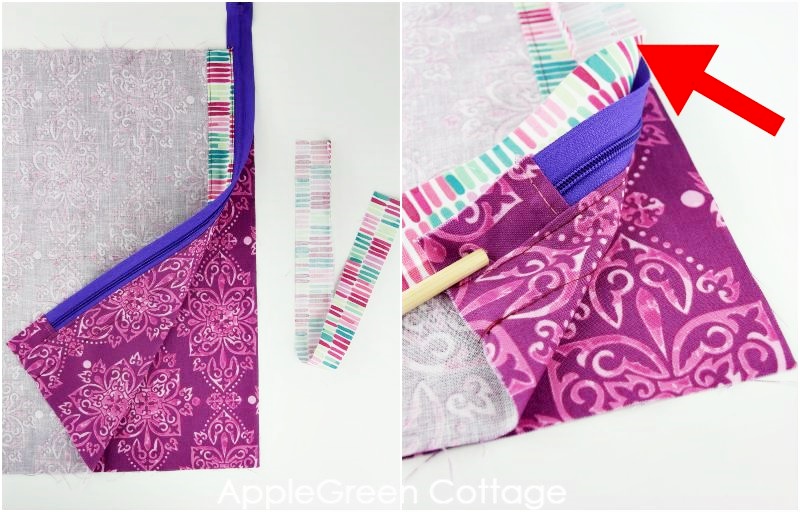 6 - Pin or clip to keep the layers from sliding. Then open the zipper and stitch using again a ¼" (7mm) seam allowance: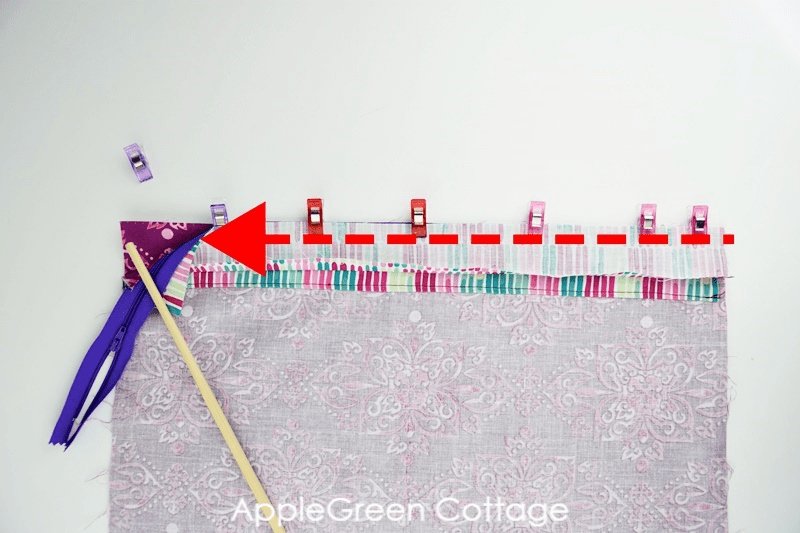 7 - Topstitching step again (see the two dashed lines). First, topstitch along the zipper edge from the front side, then do another topstitching line to fix the facing in place.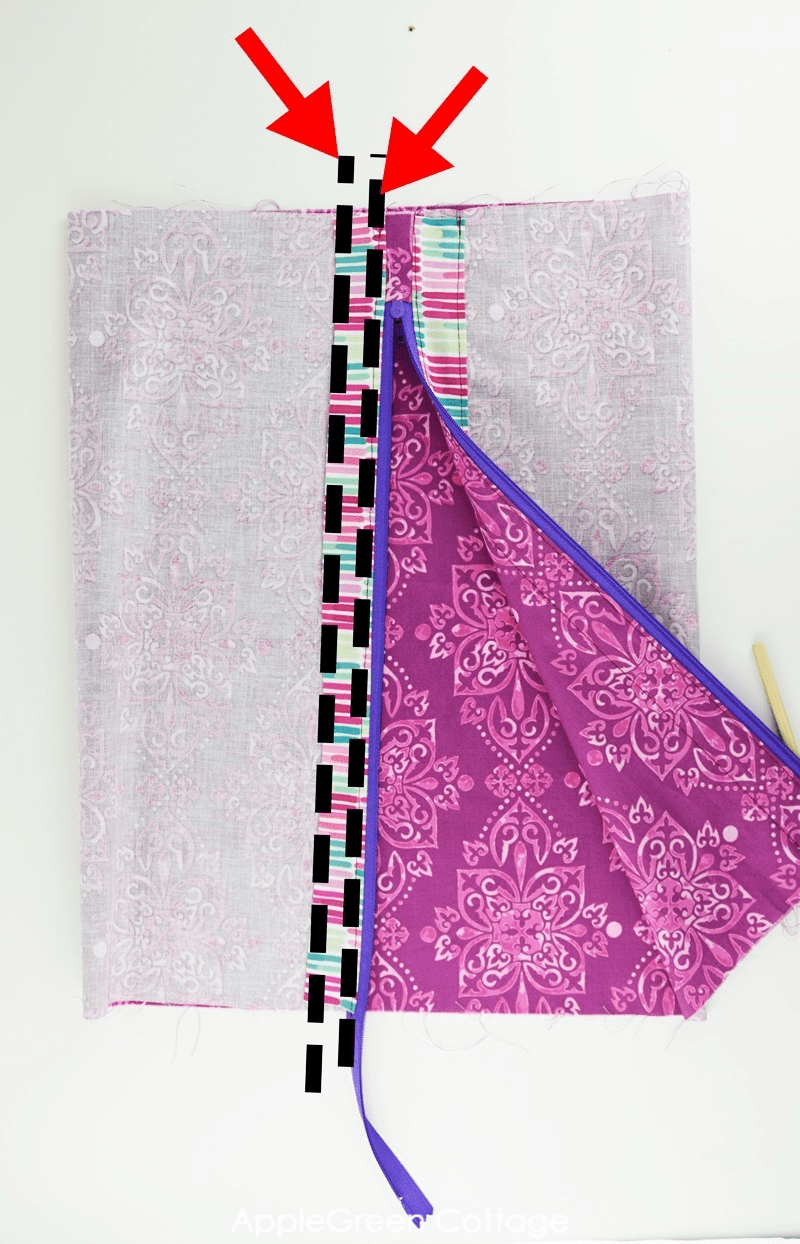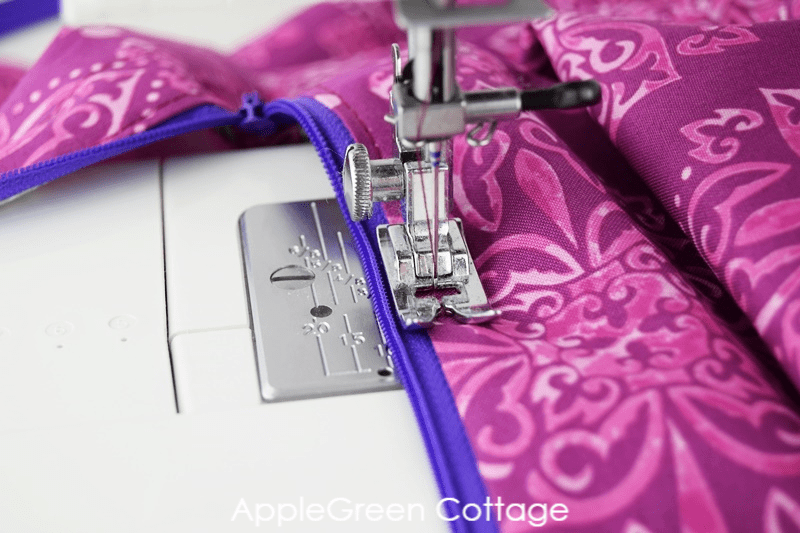 Press well.
8 - Open the zipper so the zipper PULL is somewhere in the middle, then cut off excess zipper tape. Make a few stitches at ⅛" (0.3cm) away from the tape end to make a new zipper stopper: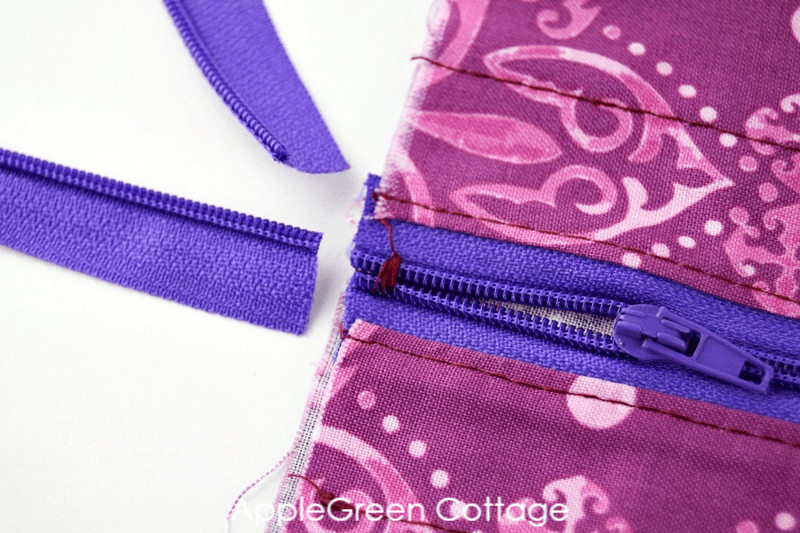 PART 3 - MAKE THE FOLDS
1- Turn your tube wrong side out. (yes!) Place on a flat surface and position the zipper in the center. Measure and double-check, then press both edges. Edgestitch both of them using a long stitch: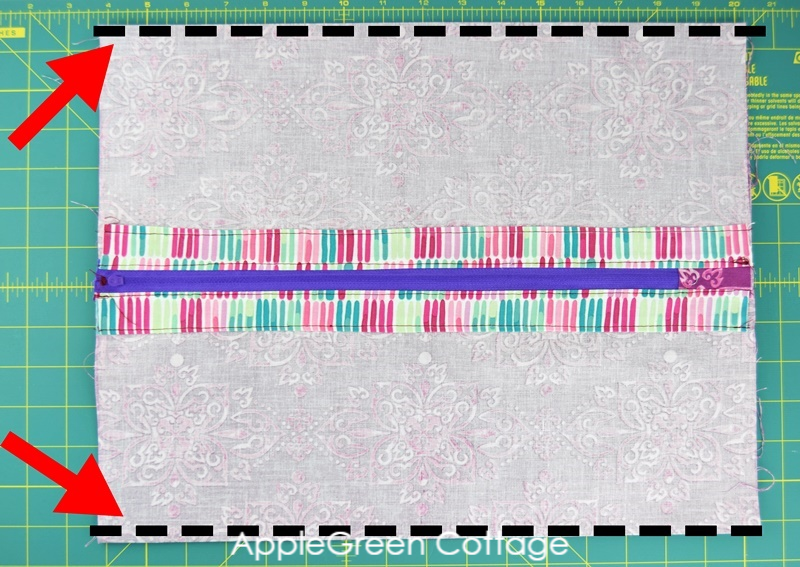 2- Turn the tube right side out. Now measure 1 ½" for Small size (2" for Medium and Large) from the edge-stitched edge and push the edge towards the inside, so it's sandwiched between the layers.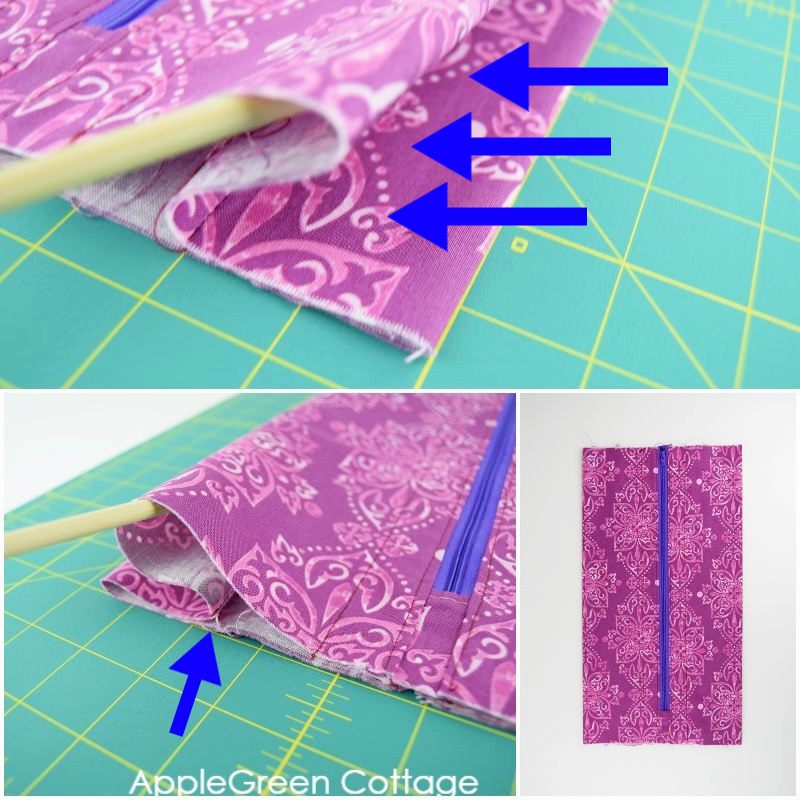 3- Create the same size fold on both sides. Pin to hold in place: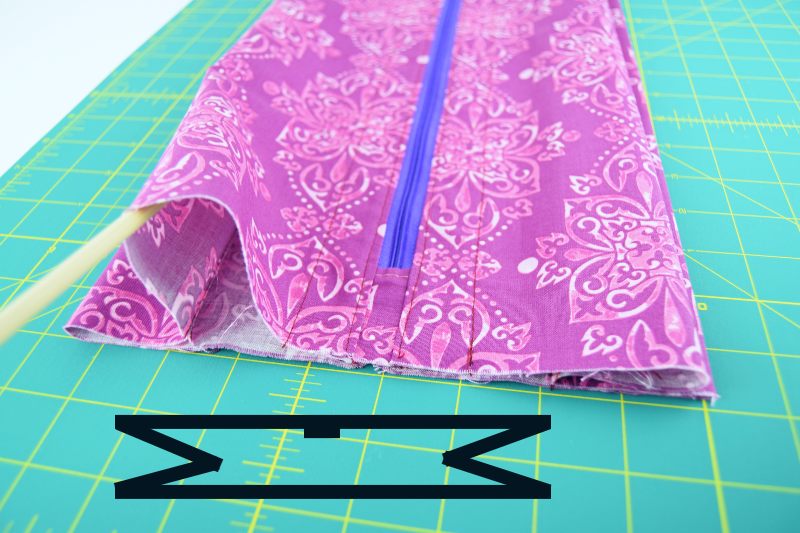 Part 4 - Assemble the Pieces
Make sure the tube is still right side out. Then center the bottom Pull Tab to the bottom (tabbed part) of the zipper and baste. Place the top Pull Handle ends on the top edge. They need to be 3" apart, each 1 ½" away from the centered zipper. Like this: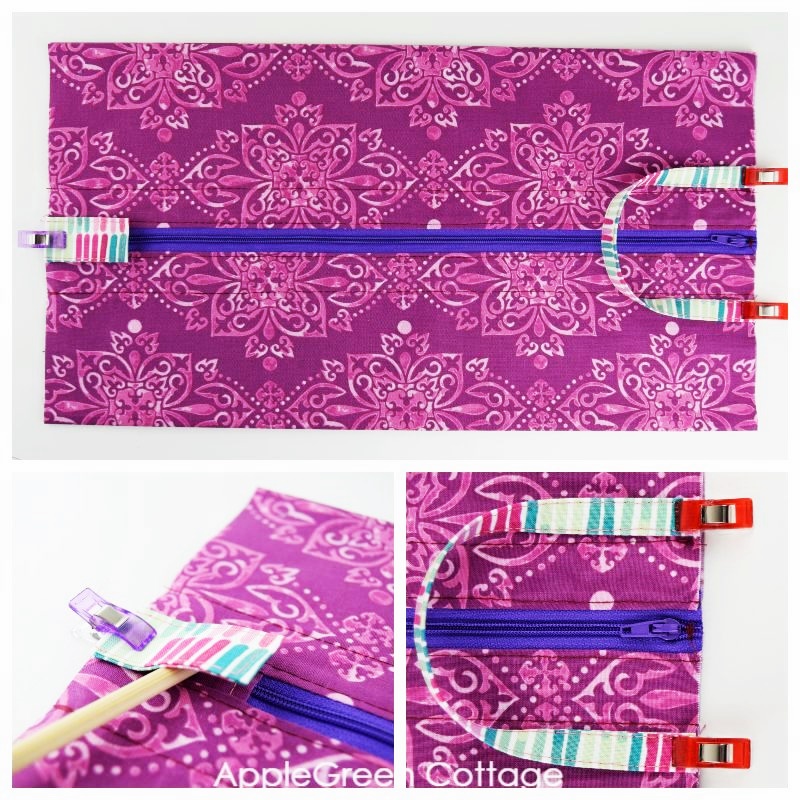 Baste in place, both the bottom pull tab and the top pull handle.
PART 5 - 2 French seams and - done!
Now we'll use the French seam (more about French seam HERE if you need it.)
This is your next step: sew the top and bottom edge using (first) a ¼" (7mm) seam allowance, then turn wrong-side out, press, and stitch again, this time using a ⅜" (1 cm) seam allowance. This second seam will encase the raw edge.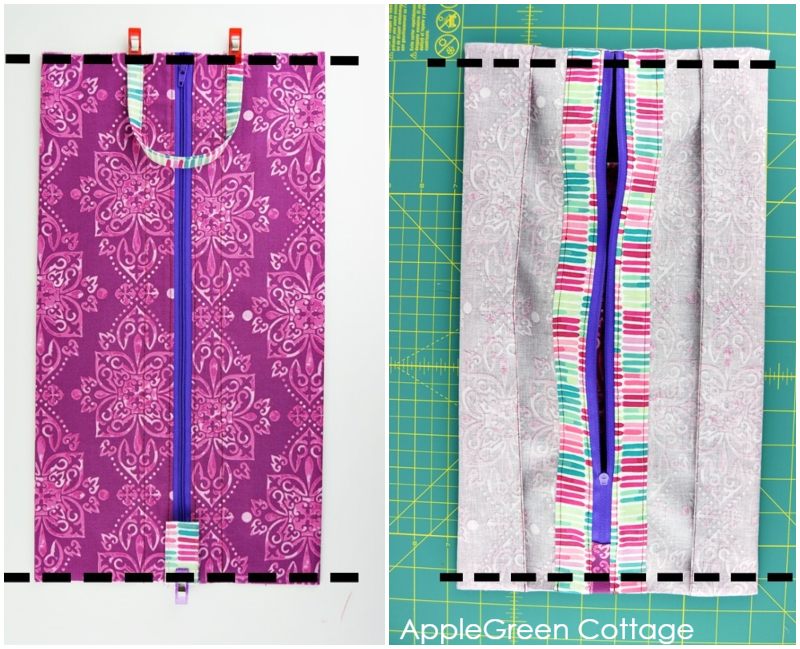 All you need to do now is turn right side out again, press, and - use!
If you enjoyed this tutorial, share it, like it or tell your friends about it. Or save it for later, so you've got it ready whenever you want to make a lovely storage bag - or ten!
Save for later so you have your tutorial at hand for when you need it: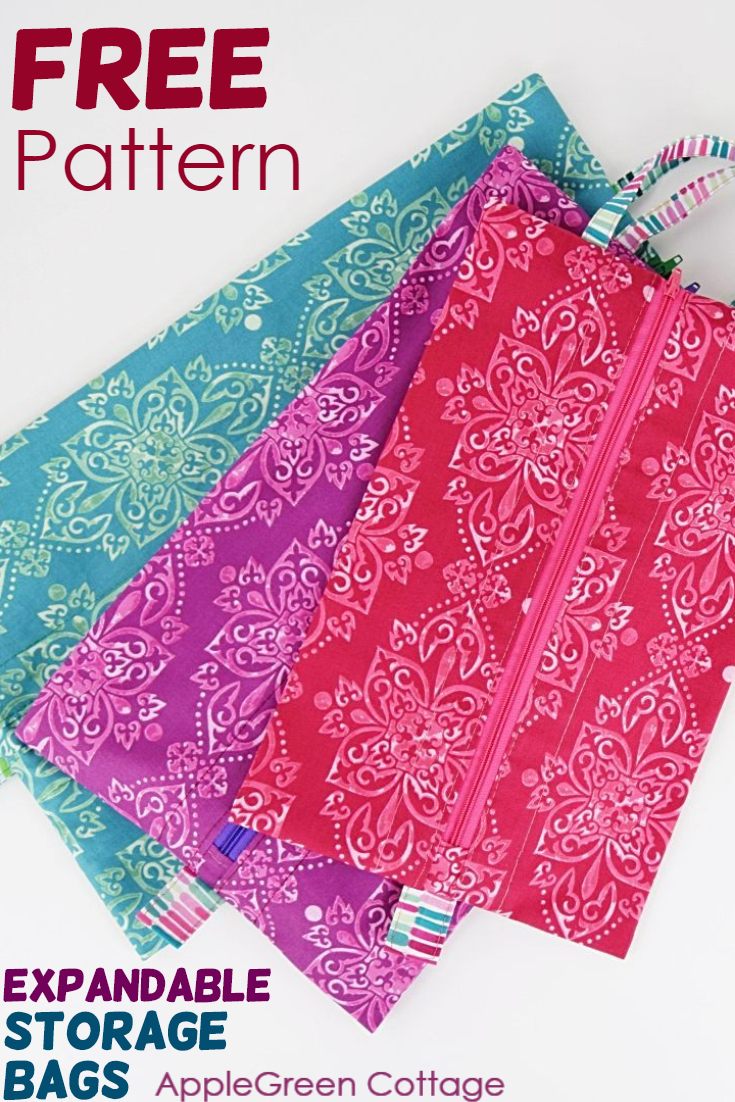 Or …check out the popular Aiden Cell Phone Purse in our shop. Guess what's on the back of this cool phone bag!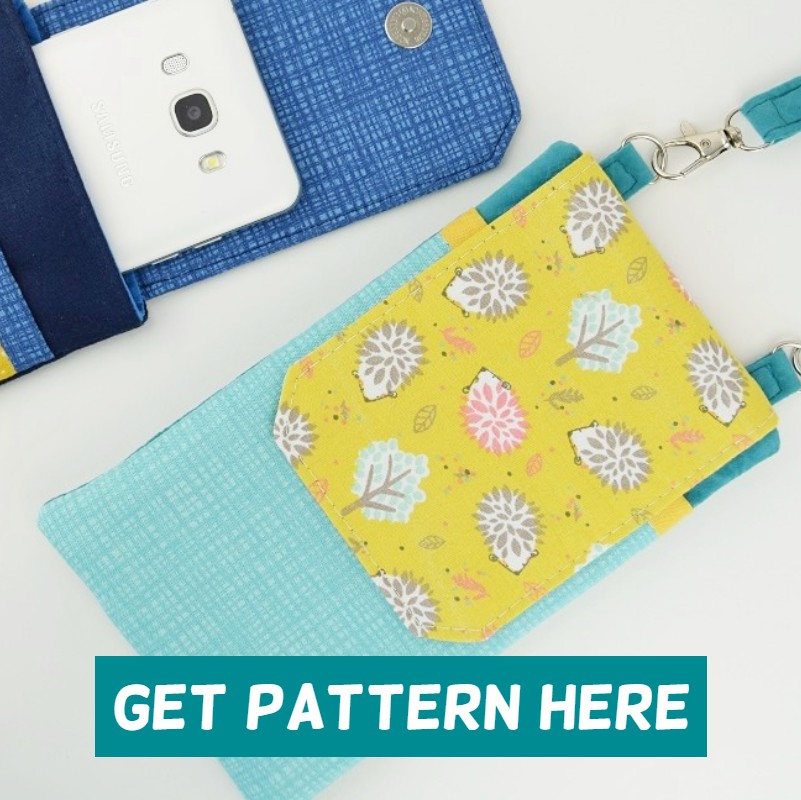 WANT A PRINTABLE COPY OF THE WHOLE TUTORIAL?
Do you want an ad-free, printable copy of this online tutorial? Find it here for just $3. You won't need to access the internet every time you want to make it. ------ Or get the BUNDLE with ALL the Printable Tutorials - current and future ones!