I am posting a list of face mask patterns and tutorials for homemade face masks, in the hopes of helping blog readers find resources Also, I have been updating this post (last update: February 21) with helpful tips for best materials for face masks, sewing tips and additional tips on how to make face masks - including materials, workarounds, where to store face masks, and some places you can donate them to. I am including my free tutorial for a neck gaiter, an excellent addition in winter, I'll be wearing it OVER my fabric face mask (not instead of it! - see below why)!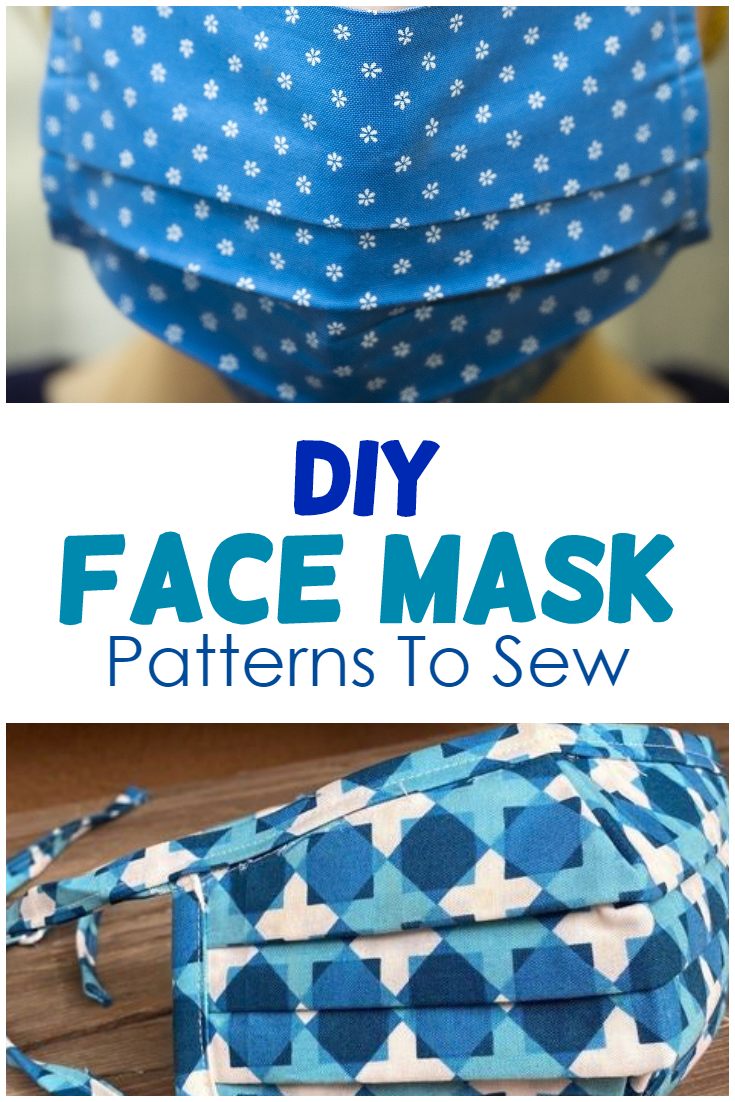 NOTE: I've just added a new free pattern for a diy face mask with visor, scroll down to get the link to the free mask pattern.
Cdc recommends that everybody should wear homemade facial coverings when they have to go out. Before I start, please note that homemade masks are not as effective as the N95 mask but due to a severe shortage of protective masks, they are considered acceptable as a last resort. Diy facemasks can help reduce the risk of infection. You can read more about the CDC recommendations regarding facemasks here.
Before you start sewing, please read this guide on the use of cloth face coverings - important information here, especially this: Face coverings should
fit snugly but comfortably against the side of the face
be secured with ties or ear loops (scroll down for more info on ties)
include multiple layers of fabric (scroll down for more info about material)
allow for breathing without restriction
be able to be laundered and machine dried without damage or change to shape
Which Masks And Mask Storage Pouch I Use
Here in the following photo are some of the face masks I've made for me and my family, trying out different shapes and adjusting sizes: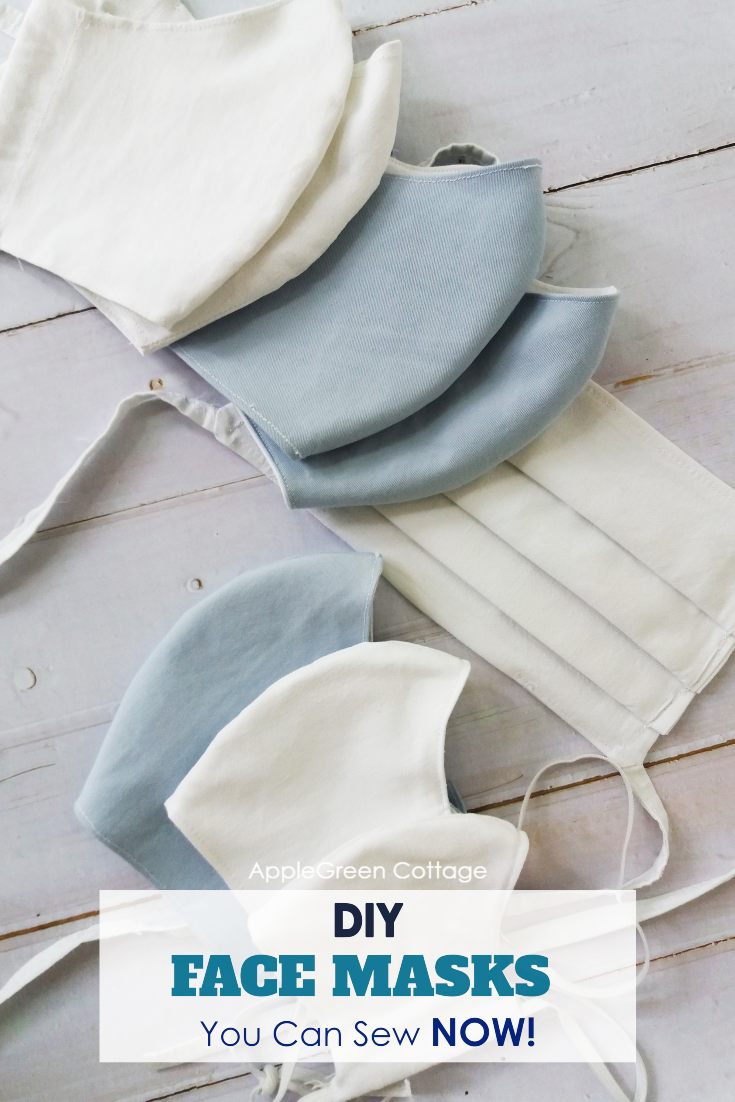 Easy Fabric Storage For Face Masks
Don't forget to make a pouch or case to store your mask in!
To store your face masks, this is a simple pouch I use (my own pattern) and which you can sew to store your face masks: the pattern is not free (link to Mia pouch pattern in the shop here), but it's easy and it does not include any metal hardware - you can throw it in the washer together with your mask!
The list below includes three types of face mask patterns: fitted face mask (shaped) and pleated face mask that are sometimes called surgical-style face masks - two types of those: box-pleated face masks (or 3D masks, update below!) and the simple pleats face masks at the end. Plenty of the best patterns to choose from, depending on what you prefer!
I'll list them separately in groups to make this list clearer and easier to read through. Also, this is by far not an exhaustive list of tutorials, and if you have found a different tutorial you feel you could use, please do.
Since there are so many face mask patterns out there, I have not published a pattern of my own (nor do I plan to) but I do want to help get the word and information on existing patterns through to those wanting or needing to sew them. Hope this helps!
Fitted Face Mask patterns:
Edit November 2020: I'm moving my latest favorite, the center seam fitted face mask (by Erin) to the top of this list, and I am listing many good (free) mask designs below too, so you can select your own favorites - everybody has different preferences, please bear that in mind. I also make other masks from time to time, as the old ones get a lot of laundering. (some of my latest makes were 3D masks you'll find further down on this list.)
My LATEST Favorite Pattern to USE to sew masks for my family! (personal opinion!)
This one: it comes from a popular pattern designer, Erin from Dog Under My Desk, she has designed her own family face mask pattern for a center seam face mask. She calls it 'Family Masks - Fitted Style'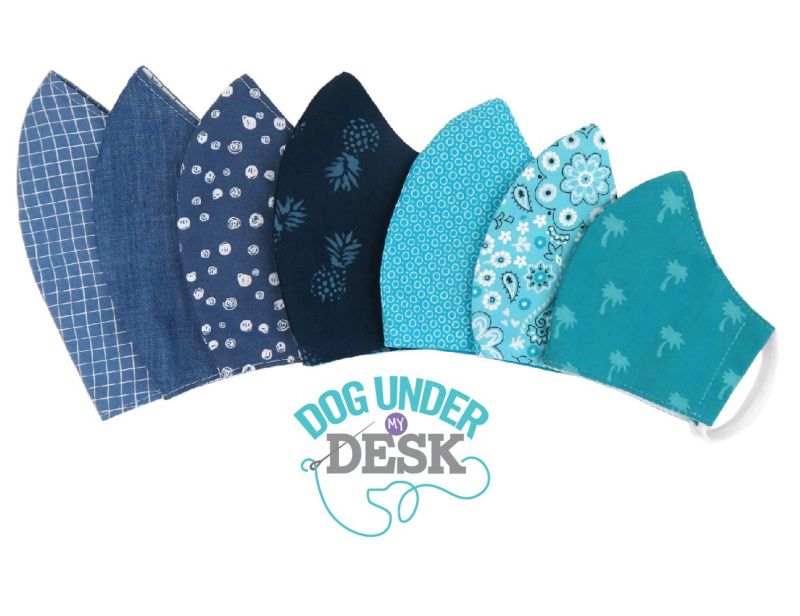 I'm a bit picky about what to include here, but Erin's pattern - a definite yesss! They come with many options - multiple nose wire, filter, and elastic/tie options. She published this free pattern with detailed instructions. Seven sizes from 4-years up to large mens size mask (XXL/Beard). Feel free to join her FB group Erin made especially for this new multi-sized face mask pattern here.
Adding my personal opinion (November 8th) These are my new favorite masks to sew for my family - the fit is great, just the sizes are large. So I'm using an S size for myself, and an XXS for my 8-year old. And I reduced the size of the smallest mask for my 5-year old. You don't necessarily need to do that. The pattern is great, I recommend it!
Some have asked me how it differs from the other center seam masks: a bit more fabric below the chin and narrower by the ears. Just what you need if you are struggling with the fit of face mask for you. (by now, Erin designed a different type of mask pattern too, but the Family Masks - Fitted Style work BEST for me, her other, pleated ones not so much. BUT that's my personal opinion, again.)
Next on my list - the fitted mask pattern - one I used first! By Craftpassion: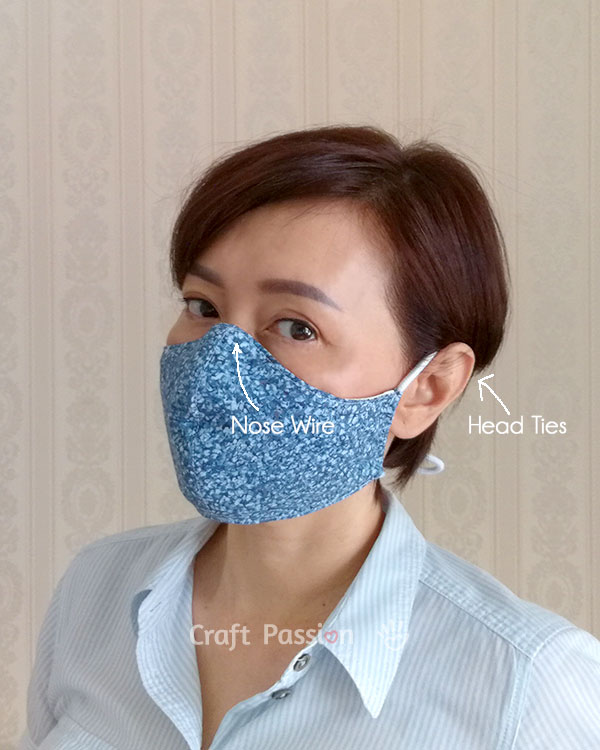 This was the first fabric face mask pattern I came across when looking for a fitted facemask pattern, and I used it to make face masks for my family back in March. I found it a well-fitting pattern but I enlarged it a bit when making a mens size face mask for my partner. Also I added a pocket so I was able to insert an extra dense-weaved cotton between the 2 layers. -- Please NOTE that all these features have been added to this pattern by now - an additional men's size to the pattern, an additional way to make a pocket, and just a few days ago, the author also added Cricut and Silhouette files to the tutorial, and a grid-pattern for those who have no printer available. Thank you, Craftpassion.
The New Fitted Face Mask Pattern by Sew Can She
...with adjustable ties!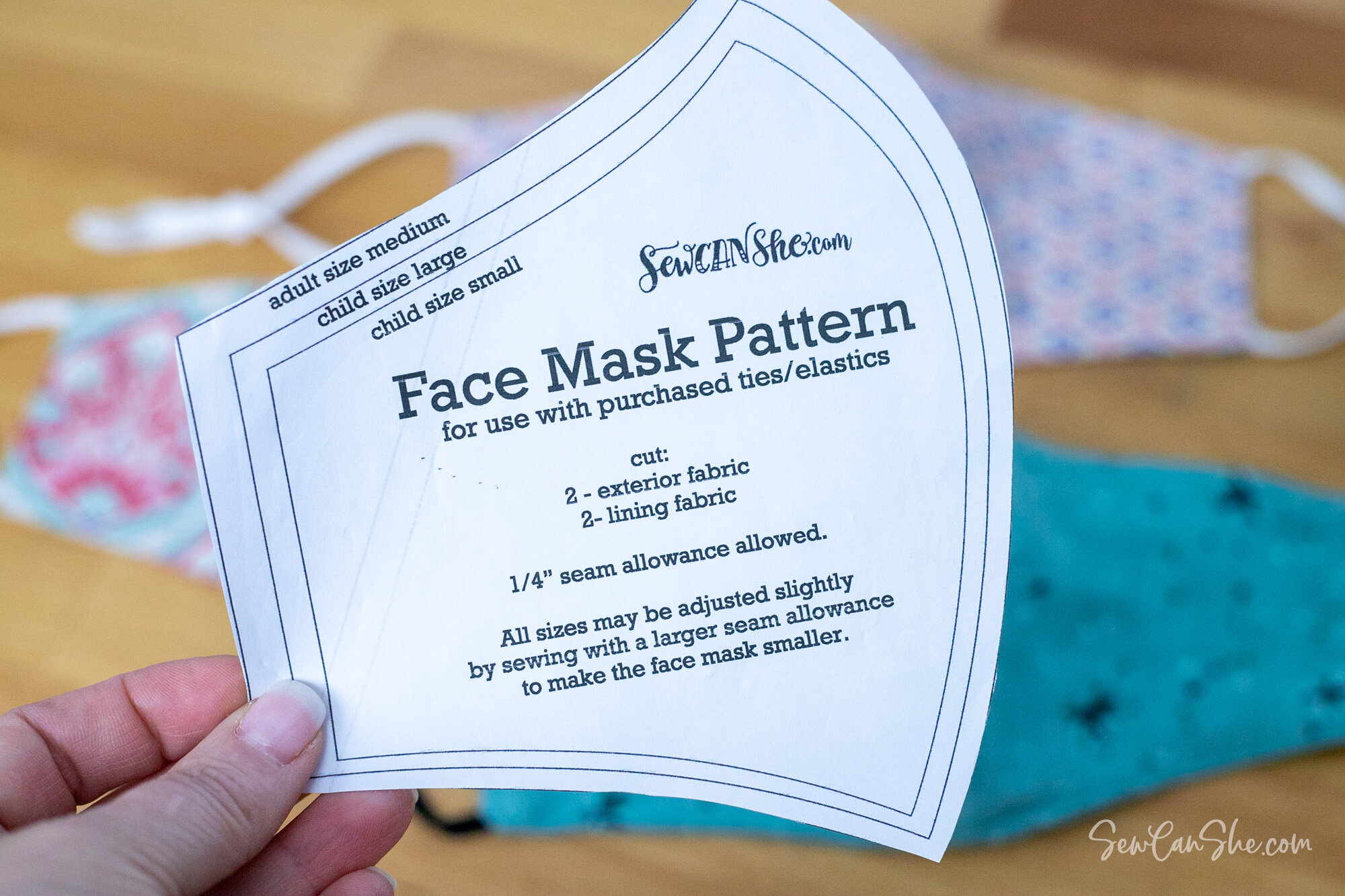 Sew Can She has just published a new free fitted mask pattern (adding this on December 3, 2020) - her template is free, comes in 5 sizes:
child small (for ages 2-5)
child large (for ages 6-10)
adult medium (great for tweens, teens, and women)
adult large (for women who want a more generous fit plus men)
adult extra large (for men who want a more generous fit)
The Olson Face Mask Pattern
Next, here is the Olson mask pattern. The Olson face mask has a different construction and can be found at THIS link, and there's also a video available here, posted by UnityPoint Health. Here's how to make a mask with fabric, with several layers:
While the diy Olson mask might be a bit more challenging to sew, especially if you're new to sewing, I am also linking to a great tutorial just posted by Caroline at Sew Can She - a good one if you need additional clarifications (her tutorials are brilliant!) - and she also included additional child sizes. Check it out here: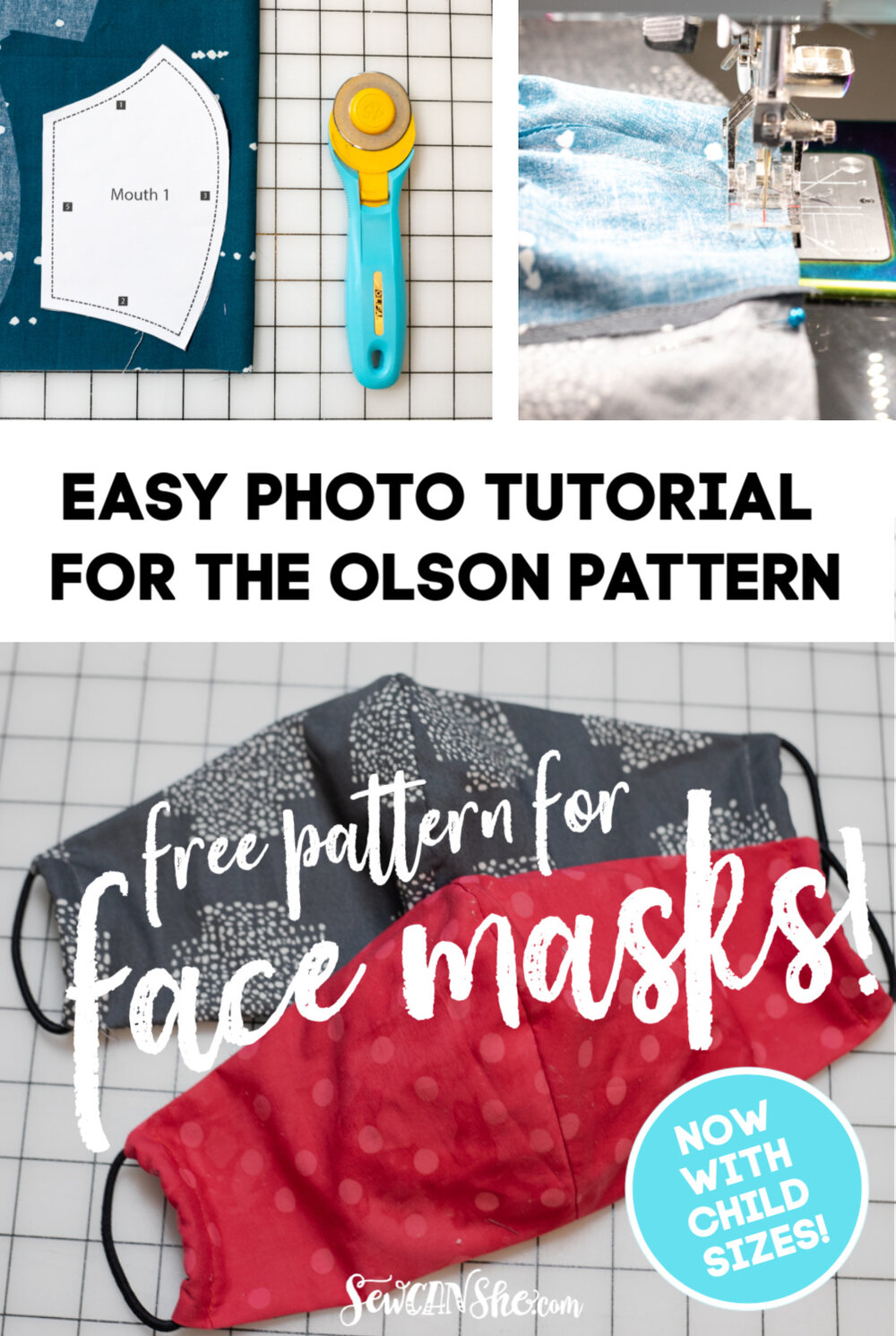 UPDATE: Later on, Caroline made this Video Tutorial showing an even faster method for making this face mask pattern. Fast and easy, check it out!
Next, Kim at Sweet Red Poppy also made a tutorial for a sewn cotton face mask. It features a flexible nose wire to allow for a tight fit for the nose. She also gives two options to use: bias strips or elastic.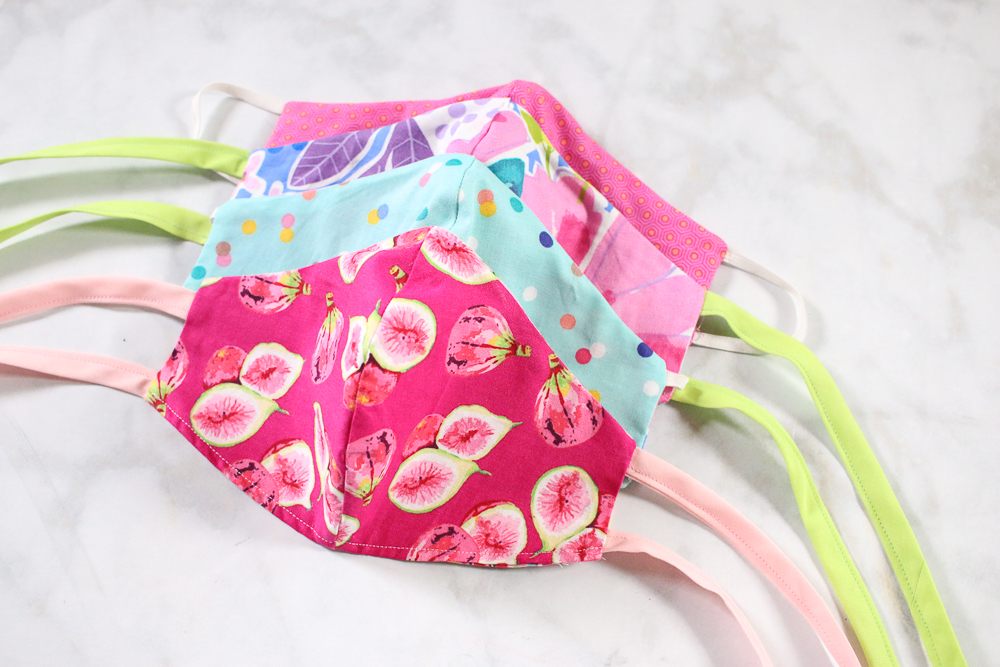 And this adjusted mask tutorial will be helpful to many people:
Face Mask With Window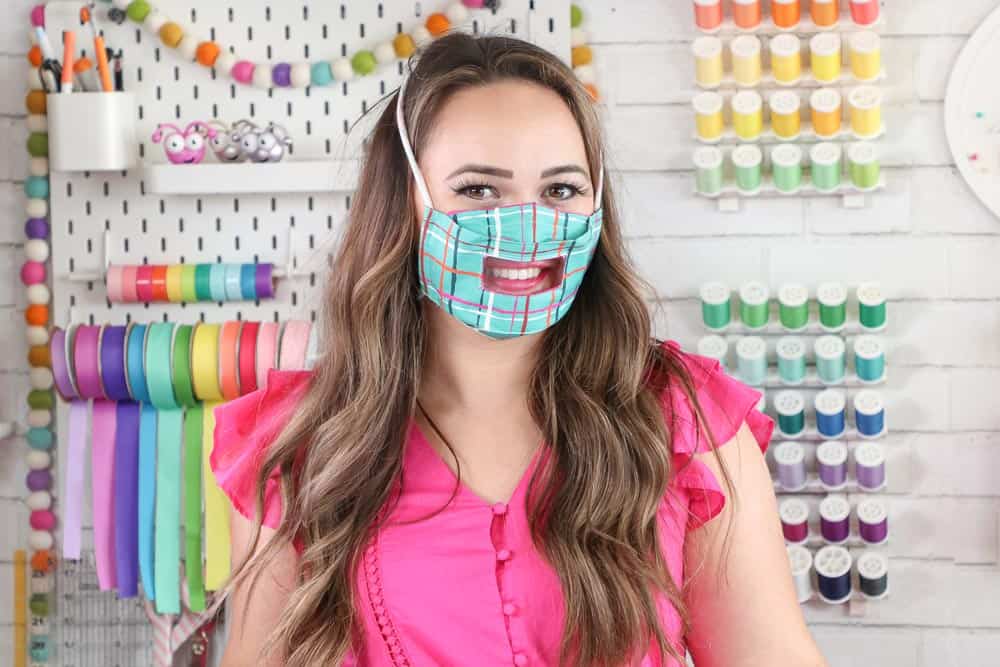 This is a tutorial (link) to make a 3D Clear face mask for the deaf & hard of hearing, for teachers too. It's available in 7 different sizes including Toddler, Child, Preteen, Teen, Adult, Large Adult, and XL Adult. So, it's perfect for the whole family!
3d Face Mask Patterns or Box Pleat Face Masks
Here's a 3d type of face mask that has been growing in popularity as it seems to be really comfortable, so I'm adding it to this list, it might be super useful to have! It is also called the box pleated mask, so in case you came here looking for a box pleated mask - this type!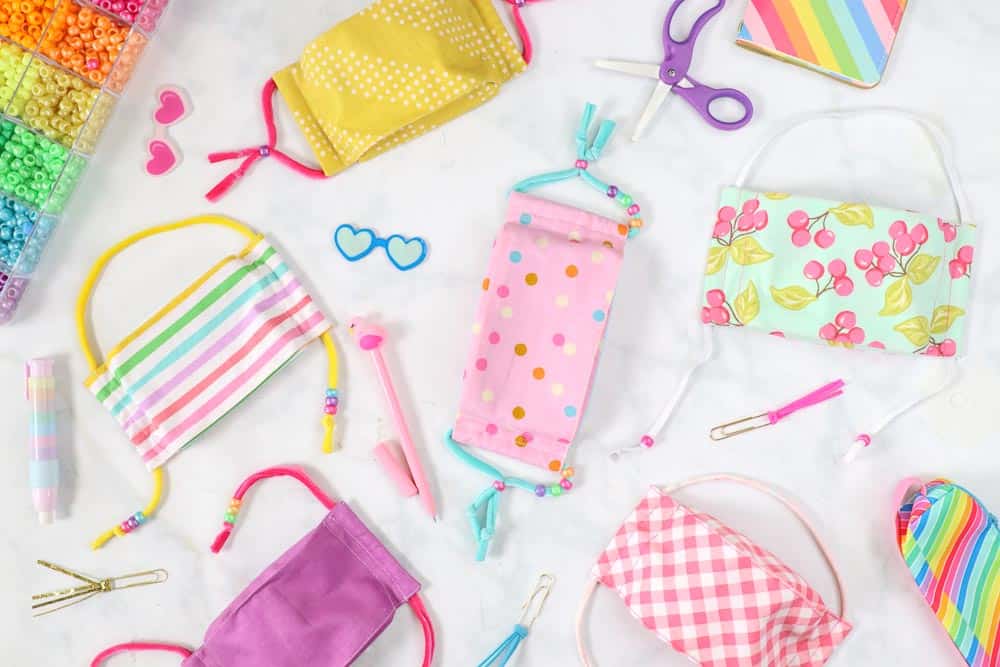 This type of mask sits further away from your face creating a pocket of air that can be breathed in easily, and this is why it might be preferable to many other styles of masks. The 3D style allows for more room around the mouth and nose while still providing a secure fit around the nose and chin. Definitely worth a try if you are looking for a comfortable face mask.
Personal opinion: I made a bunch of these 3D face mask coverings lately, and I must admit they are pretty comfortable.
pleated Face Mask Patterns a.k.A. Surgical-Style Face Masks
While there are a lot new patterns being published daily for the pleated face masks, I will only list a few. I honestly say that I do prefer those facemask patterns that have an option for an additional pocket to insert an extra layer: be it a HEPA filter, a paper towel, a layer of quilting cotton etc. Also, this is by far not an exhaustive list of tutorials, and I'm sure there are a lot of other tutorials available too. NOTE: pleats should be facing down.
Sarah at Sarah Maker posted a pleated face mask pattern that has a pocket to insert an additional filtering layer, and it comes with options for either elastic or ties. Visit the tutorial here: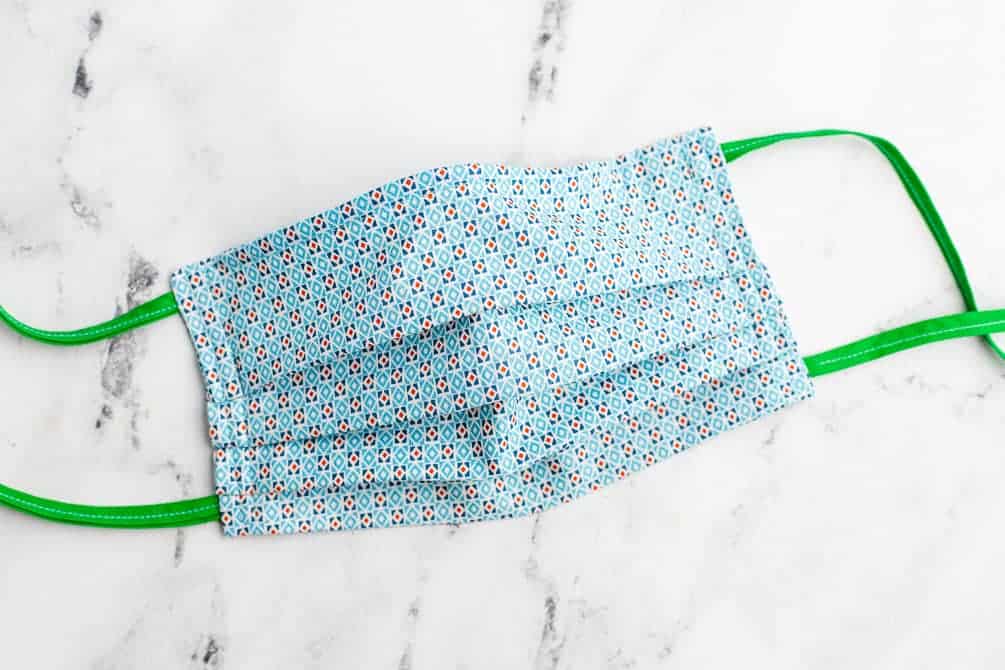 The next one, A.B. Mask pattern - it's designed to fit either directly over the face, or to use as a cover over many models of N-95 to provide an additional barrier. Two layers, no pocket, made from a fat quarter of fabric, densely woven cotton recommended. I like it because it has a darted area both for nose and chin, which improves the fit - good when you have no bendable wire to add to the nose area.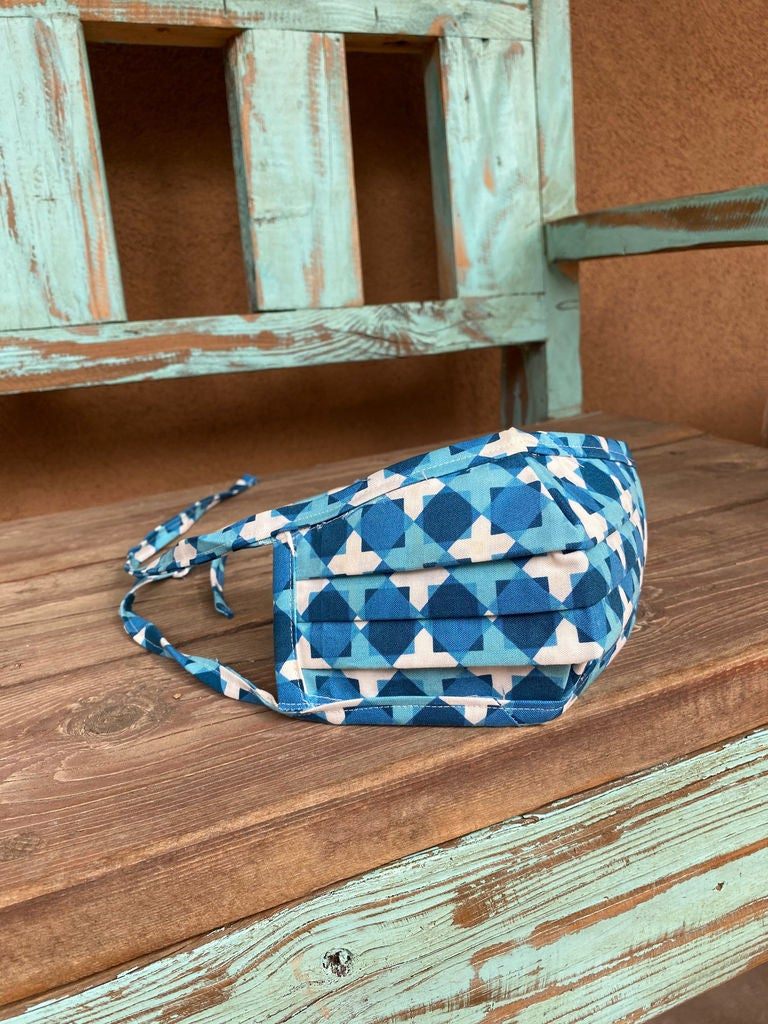 And here's another helpful tutorial for how to make a mask with fabric. Check out this diy face mask tutorial by Dana from Made Everyday which gives several sizes, gives an option to use either elastic or knit ties, optional fitted nose area (the tutorials gives extra info on materials for the 'bendable nose piece') and it has a pocket for a filter: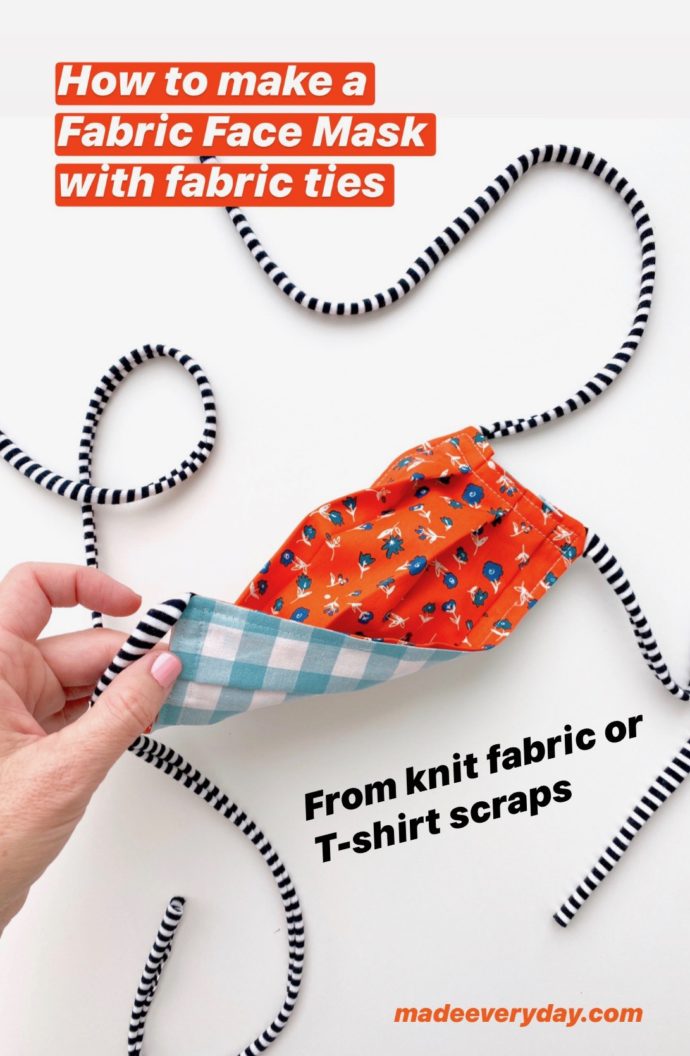 Face Masks With Inverted Pleats
I am showing this type of mask separately because it differs slightly from both above types. These have backwards pleats both for the nose and for the chin area, are a bit fiddly to turn right side out when making them, but once sewn, the pleats stay in place. From what i've read so far, you do not need a nose wire to keep this mask in place, so this is one of the top advantages of this type of the inverted-pleat mask. Also, due to the construction, it fits snugly the nose and the chin areas. For now, I'll only list one pattern I can be sure it's good, from Erin of Dog Under My desk (an excellent pattern designer) She has been designing several face mask designs, and this one is coming right up now. To get the pattern, you'll needd to join her FB Group - here.
More Free Patterns For Face Masks
As I have been following all the info I can get on the face-covering and face masks, I've come by more useful links to good face mask tutorials you might want to see too. Here's more I found really helpful, so you can check them to see how to make a fabric mask:
And here are masks made out of stretchy fabric. Soft and stretchy face masks and as such, they are easy to breathe through. Free Sewing Pattern here.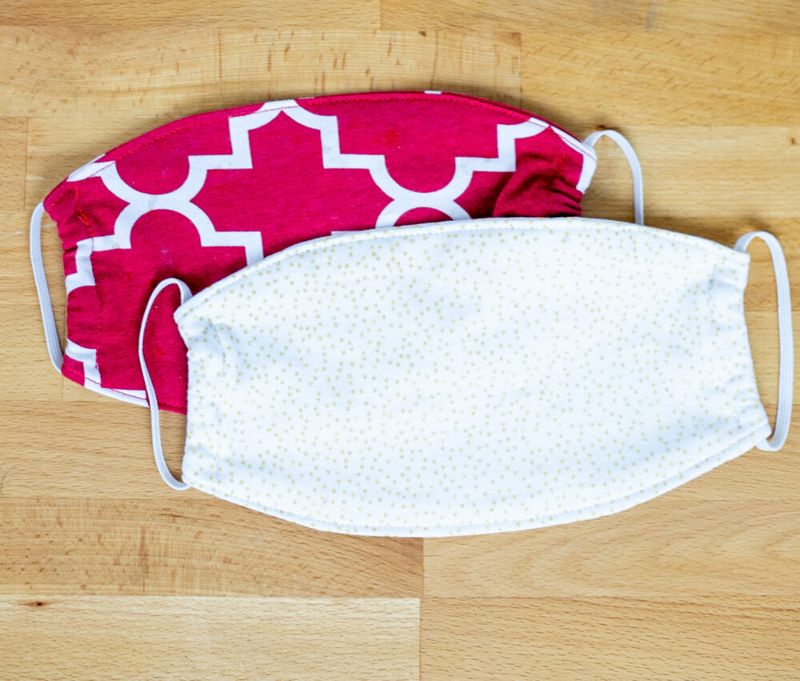 Easy No-Sew DIY Face Mask with Bandana and Elastic Bands
And here's one of the no-sew face masks version on youtube, made with a bandana and hair ties or rubber bands.
Child-Sized Face Mask Pattern
Here are a few:
Diy Face Mask With Visor
And I've just found this one, for everyone who is looking to sew a face mask with visor, a see-through barrier that will help you block even more droplets:
Tips and Hacks for Sewing Your Own facemasks
And last but not least, Joann Fabric And Craft Stores posted this video with tips and hacks for making non-surgical fabric face masks. I found it very helpful, this is why I'm adding them here:
Check it out to see what to use if you run out of elastic, and there's a great hack for when you're making your own ties from woven fabric and have no ready-made bias tape. The video also shows how to add a wire to make a nose piece for your mask.
A few ideas for materials to make the face mask tightly fit the nose:
The nose wire though will get you a much tighter fit on the nose, and it's very important that a mask fits in the nose area - no gaping. So if your mask already provides that, good. If not, you'll need to find a way to prevent any gaping while keeping it (relatively) comfortable for wearing. Here are a few ideas:
Trims by the Yard also has the nose strips that are shorter (good for kids face masks)
you can order plastic moldable pieces from kamsnaps.com you cut off what you need and they won't rust
About 4 inches (10cm) of a bendable material like plastic-coated paper clips, pipe cleaners, floral wire, plastic coated twist tie. Make sure to bend any sharp edges so they don't pierce through the fabric. Jewelry wire doesn't rust either - just make sure to use multiple strands if it's too thin to reliably keep the nose curve.
Some people use pipe cleaners but those rust with time. If you can't get wire that won't rust, you might consider using bias tape to sew on a tube for replaceable wire.
One more thing: I have also seen the pipe cleaner folded in half or used doubled, to make them stronger for a better fit.
OR you can 'rescue' the plastic nose piece from a disposable mask - I've done that once last month, and sewed it into a new fabric mask, it works fine.
And if you can only make a mask that has no bending wire or adjustable fit, you can put sunglasses on over the mask...or regular glasses, if you've got them. Not the best solution, but still better than no glasses at all.
What's the best material for a Face mask?
Wearing a mask can help limit the spread of respiratory droplets. But various materials will provide very different barriers for droplets, so it's important to know which one is better. First, use a material that can be washed on hot temperatures and that can be machine dried without damage or change to shape. From what I've read here, I would recommend to use DENSELY woven cotton, high-quality quilting cotton has been recommended more than once (high-thread, tight-weave cotton)
Second, preshrink your fabric before you cut and sew, as cotton will shrink. You don't want a deformed mask due to shrinkage.
Also, when I am making homemade masks, I make sure to make at least two layers, and I do prefer those which allow an additional (removable) layer to be tucked between those - in case you have any non-washable filtering material, you dispose of it before laundering the diy mask. Do not use fusible interfacing that needs to be ironed on - it has glue that will not stand hot laundering plus there are other concerns (inhaling glue particles).
April 9th: According to the New York Times "The best-performing designs were a mask constructed of two layers of high-quality, heavyweight "quilter's cotton", a two-layer mask made with thick batik fabric, and a double-layer mask with an inner layer of flannel and outer layer of cotton. "
What To Use as TIES For face Masks
Construction-wise, the two main options to tie a mask is either behind the ears or around the head.
If you need to wear your mask for an extended period of time, ears can get sore after a while, so the option to tie around the head seems more comfortable. The fabric ties are helpful for fitting the mask to each individual.
If you have masks with elastic to put behind the ears - and the elastic is not particularly soft and meant for ear ties, consider using a headband with two buttons attached to each side - those will act as anchors for the short elastic bands.
Here's how to sew on a button if you've never done that before:
Want to find out how? Here's a video tutorial to make a headband with buttons to attach face masks to:
..and another one here:
These two will show you how to sew a knit headband with buttons for elastic face masks support.
Easy Diy Ear Savers To Use with Face Masks
A different version of ear savers (yes it's a newly coined term!) can be found in this ear savers tutorial. You can make them to help protect the ears from chafing when wearing a medical face mask.
Face Masks With Ties
Anyway, due to shortage of elastic in shops, many masks will have ties. And I believe those are good as they are adjustable for the various head sizes. You can make ties from bias tape, make your own from cotton or other types of vowen fabrics, and many people make ties out of jersey or cut up t-shirts. Some make ties out of stretch knit fabric like in this tutorial, and here's a link to a crocheted ties version - note that just the ties are crocheted, NOT the mask itself.
Here are a few ideas for what to use as ties for face masks (adding this list in July now that the market started offering more options for face mask ties)
"Ultra soft" elastic from Trims by the Yard
cut-up t-shirt - see below for my take on using strips from a tee shirt
Atwoodrope.com sells soft elastic in several colors
elastic can be ordered from KAMsnaps
you can purchase your homemade mask parts at DIYMASKUSA.com
(will keep updating this list)
DON'T MAKE THE jersey Face mask TIES TOO BULKY
If you plan to make your own ties by cutting up a t-shirt, make sure to NOT cut the strips too wide - usually, it's recommended that you cut 1" or even 1 ½" wide jersey strips - that really adds too much bulk for me!
So here's my take on that: I first cut strips from a t-shirt at 1 ⅛" width - too much bulk! - then 1" only - still too much bulk - and now I cut ¾" wide strips from jersey shirts - these are about the right size, not adding too much bulk.
adjusters for the mask elastic - Cord Stops
You can also get some adjusters fot he mask elastic, either DIY from simple craft beads, or buy them - search for cord locks or cord stops, there are many HERE on Etsy.
As an alternative to the cord stop or tying the ear straps, make "fixed" ear loops about 1-2 inches on the long side. Tie a slip knot: twist the end of the loop, then pull the side on the bottom into the loop and tighten. The loop can be made larger or smaller. Bonus, this can make up for your elastic/knit stretching out over time. No worry about extra bits in the wash!
Where to store your face mask?
When oyu go outside, you'll want to keep your mask in a small pocket - just tossing it into your purse might not be the safest solution - you need a separate storage. The simplest way is using a small ziploc, or a simple plastic bag.
Once you've used your reusable diy face mask, place it into that bag to carry home for washing. Downside: that plastic bag will need to be tossed away.
Want a more permanent face mask storage solution?
Make a fabric pouch and use it as face mask storage. There are many free pouch patterns out there, look for simpler ones - and here's a non-free pouch pattern. It comes in three sizes though, no zipper sewing, and comes together even quicker with a smart construction workaround:
More Mask Sewing tips
Also, I just found out that my friend Heather also added face mask sewing tips to her blog, so I'm sharing her tips for sewing face masks, too:
Art Gallery Fabrics has created a great resource post for those making masks. From pattern links to ways to connect with other makers, check it out here.
Wintertime - Make a Neck Gaiter and wear it over your diy face mask!
Adding in November 2020: Neck gaiters, cowls, snoods, and neck warmers are a great alternative to fabric masks - BUT please bear in mind, the level of safety depends on the materials used for these neck gaiters, as well as their fit.
I have a free pattern for a neck warmer on my site (as well as a free cowl scarf tutorial - HERE) but please note that it is made of fleece, not to be considered as safe as cotton wovens. Neck gaiters are, however, an excellent alternative to a scarf - put it OVER your fabric mask you've sewn, and it keeps you warm in the winter months. For that, my neck warmer works great!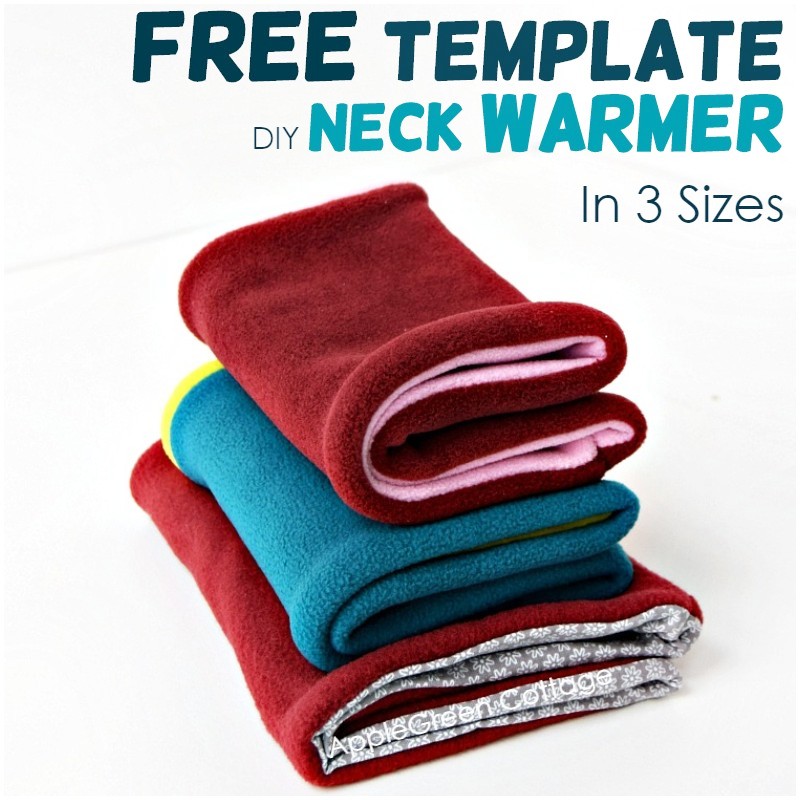 Visit the free neck warmer tutorial HERE. It is recommended that if you wear a neck gaiter, you layer the fabric, or wear a standard protective face mask underneath.
Sewing Masks to help
In times of scarcity, hospitals and other institutions in your area might put out a call asking for homemade fabric facemasks, please check out your local area and ask about the approved patterns before you start sewing.
Usually you'll be asked to place your finished masks inside of a zip-top bag and label with how many are enclosed. Ask the receiving organization whether this is ok with them first.
Are you able to sew and wondering how you can help? Here are a few good ideas:
But first of all, make sure you and your loved ones are safe and protect you all by staying at home as much as possible. This would also mean that you try to use what you have in your house and if you really need to get any materials for sewing face masks, buy online.
If you need to drop off masks or get material, always practice social distancing.
How You Can Help In Other Ways
A few ideas for how to help if you do not sew:
Call a loved one or neighbor - A simple phone call or video chat with a loved one or neighbor can help during times of isolation and uncertainty.
Donate online to a nonprofit - call your local nonprofit organization and ask.
Sphealth is accepting donation of materials (e.g. latex-free elastic bands, aluminum wire, pipe cleaners, floral wire, bread ties, bias tape, etc.) so others can make the masks! If you would like to give those, you can contact Shari Hagengruber at shagengruber@sphealth.org.
Please do note that I am not making any medical claims about any of the above homemade mask patterns. But I did want to help by giving a few ideas in case you need to resort to making your own homemade diy face masks. Stay safe.