Crossbody cell phone purse pattern - Need something small that will keep your hands free and your phone, cards, and keys close by? A quick sew that only uses up little materials? Gotcha! Add smart but beginner-friendly construction with two extra pockets and you get the Aiden Cell Phone Purse pattern.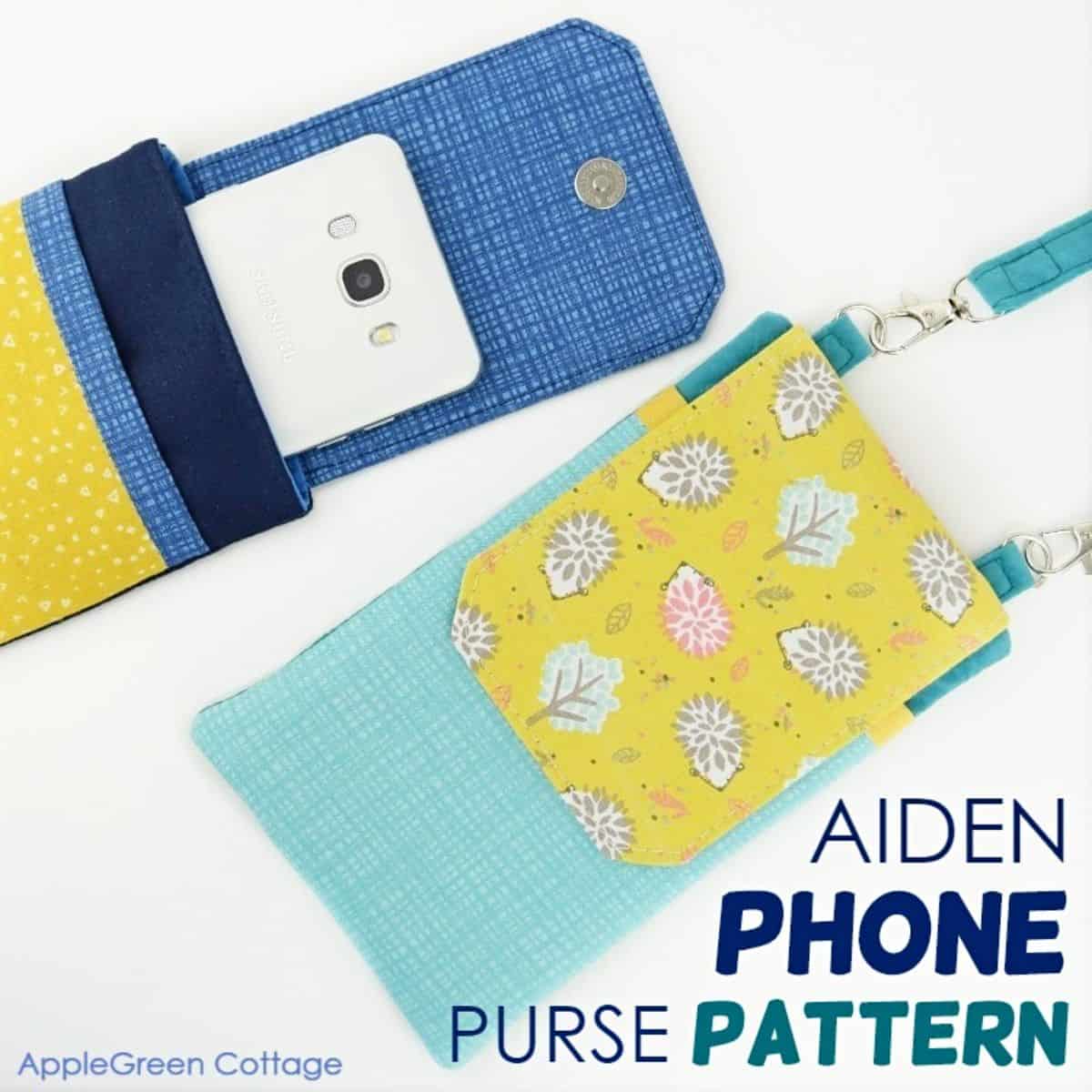 I love my Teya ipad bag, I sincerely do. It allows me to avoid carrying all but the kitchen sink with me and keep just what I need when I go to the town. But sometimes, I wish for something even smaller: a super convenient mini-sized bag, just for the phone, card and some change. So I designed one - the Aiden Pattern.
Crossbody Cell Phone Purse Pattern - AIDEN
Go clutterless - in style! Your perfect on-the-go mini bag for every day to keep your necessities close to you.
This is a practical and quick-to-sew minimalistic bag pattern with two extra pockets, an easy flap with magnetic closure, and a crossbody strap - you'll love it! Beginner-friendly, quick and a good seller for your handmade shop. (And check out the smart zipper construction of the back of this diy phone case!)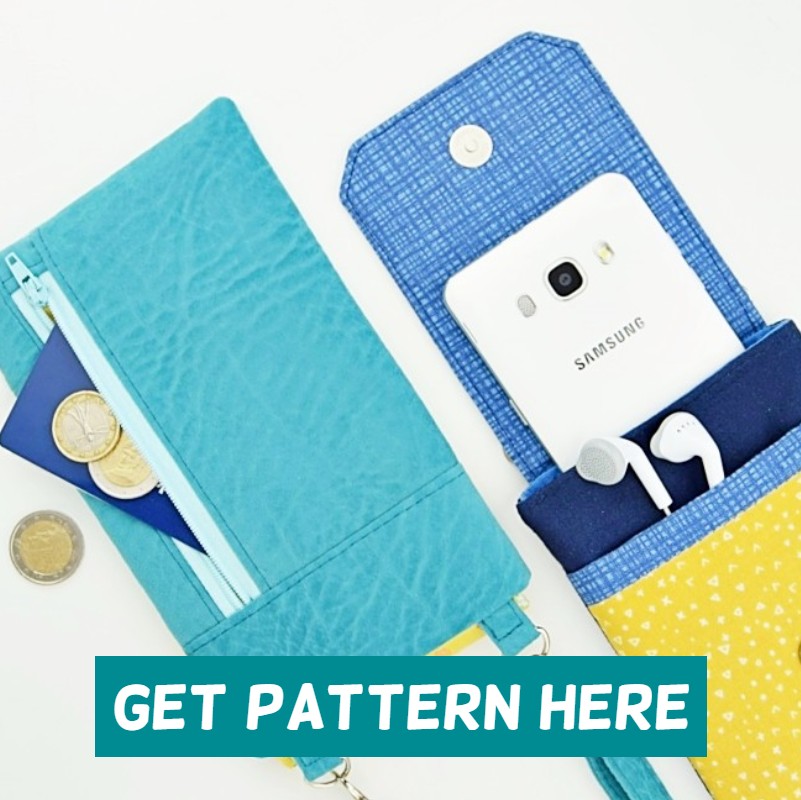 Features of this crossbody cell phone purse pattern
Slim, compact, but large enough to also fit the largest phones in the market (up to 6.5" tall models)
Front slip pocket to store small items, cash, ID, business cards, or earphones
A generous zipper pocket on the back for coins, credit cards, folded bills, and more
A flap with magnetic snap closure keeps everything safe
Fully lined, no raw edges
Detachable + adjustable crossbody strap - go hands-free!
Ideal to use scraps of those beautiful prints you have always loved.
Beginner-friendly but smart construction without bulk – always a good thing!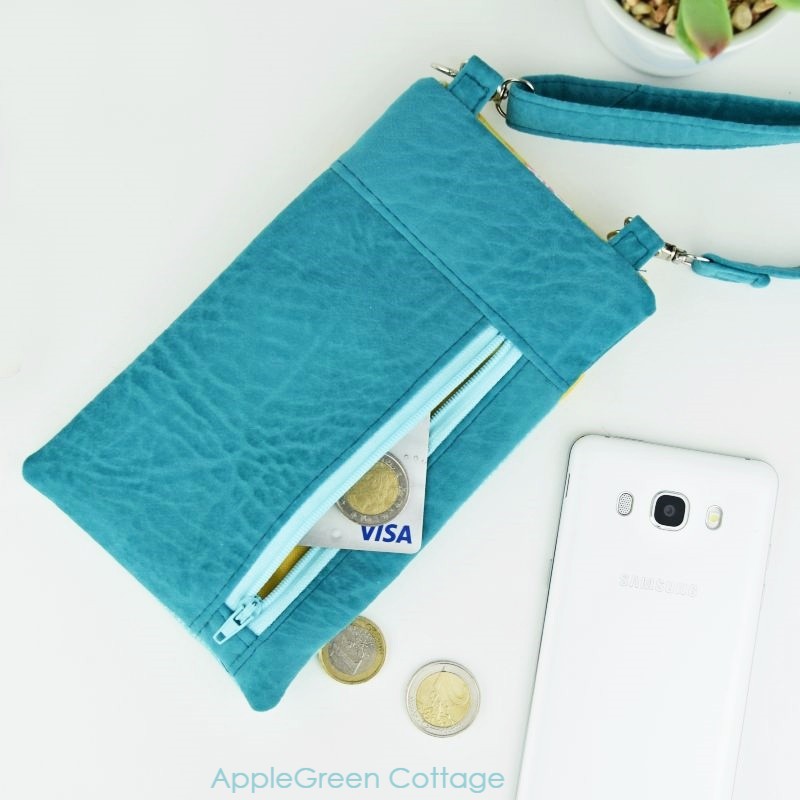 Lightweight, comfortable, and Functional Design
The Aiden cell phone bag is ideal for when you don't need more than your phone, card and some change. The adjustable crossbody strap will allow you to carry it hands-free. Comfortable and lightweight, it may quickly become your go-to pattern for mini bags!
Just The Right Size
Its generous size will fit most phones in the market, like iPhone 11 Pro Max, or a Samsung Galaxy Note 10+.
FINISHED SIZE of this diy phone case is approx. 4 ½″ wide, 8″ tall, ¾" deep (12 x 20 x 2 cm) – for phones up to 6.5″ tall and 3.5" wide
It can fit large phones up to 6.5" inch with a SLIM phone case such as iPhone 11 Pro Max/11Pro/11, as well as iPhone XS/X, iPhone 8/7/6 Plus, iPhone 8/7/6, Samsung Galaxy Note 10+/10/9/8/7/5/4/3, Galaxy S20+/S10+/S9+/S8+/S20/S10/S9/S8/S7/S6/S5/S4/S, Galaxy J 8/6+/4+/7Max/6/ plus more.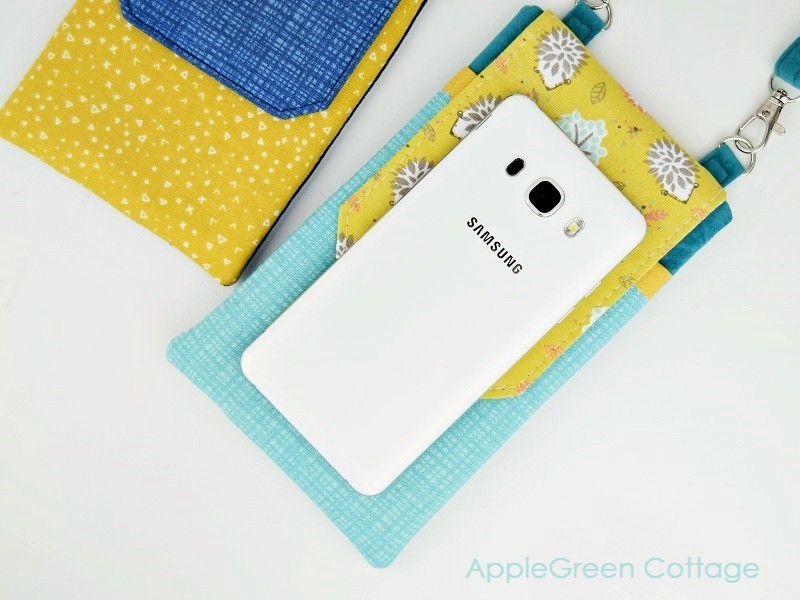 Great cell phone purse Pattern For Sewing To Sell
Make it for yourself in your favorite designer prints, one for your husband in charcoal or navy blue, in cotton or faux leather. Make them for all your loved ones, it's super easy to adjust as a man bag, or kids bag, or make a gazillion of these to stock up your handmade shop - these bags sell quickly!
This handy little bag has proven one of my top-selling patterns, and customers have been making them for their Etsy shops - check out my quick guide on easy things to make and sell, check it out!
Quick to sew + requires little materials + cute and practical = a perfect sew-to-sell pattern!
The pattern is available in our pattern shop here: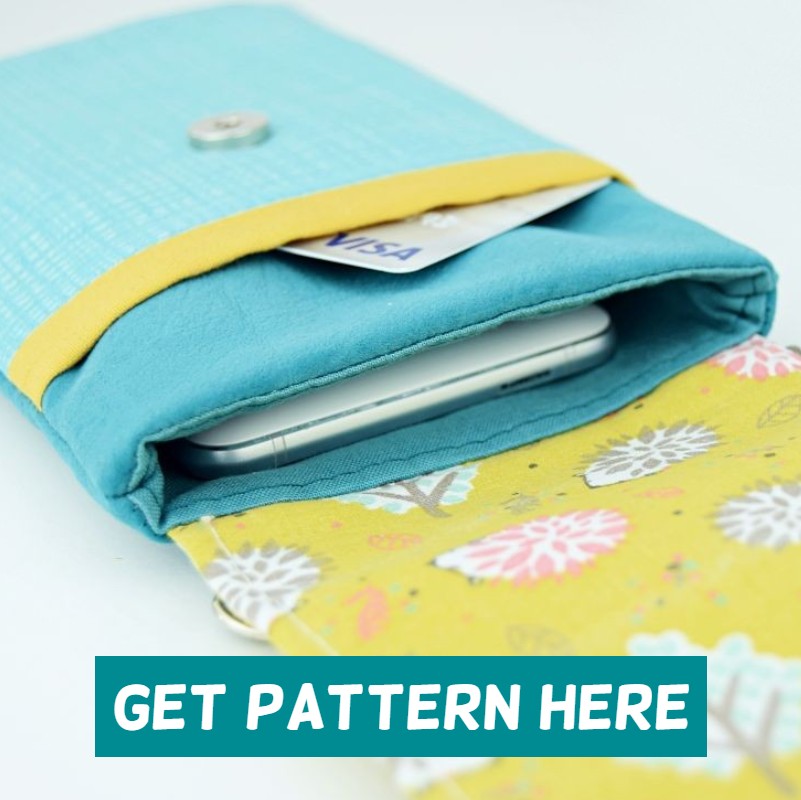 This pattern includes a comfortable detachable and adjustable strap, so you can wear it crossbody or over the shoulder.
In addition to the 5-page printable pattern and separate cutting instructions, you will receive 20 pages of clear, easy-to-follow tutorial-style instructions and clear photos.
Both Printable Pattern And Cutting dimensions Provided
Both Printable Pattern Pages AND separate Cutting Dimensions are provided. Meaning you don't necessarily need to print even a single page. Unless you want to. Totally up to you.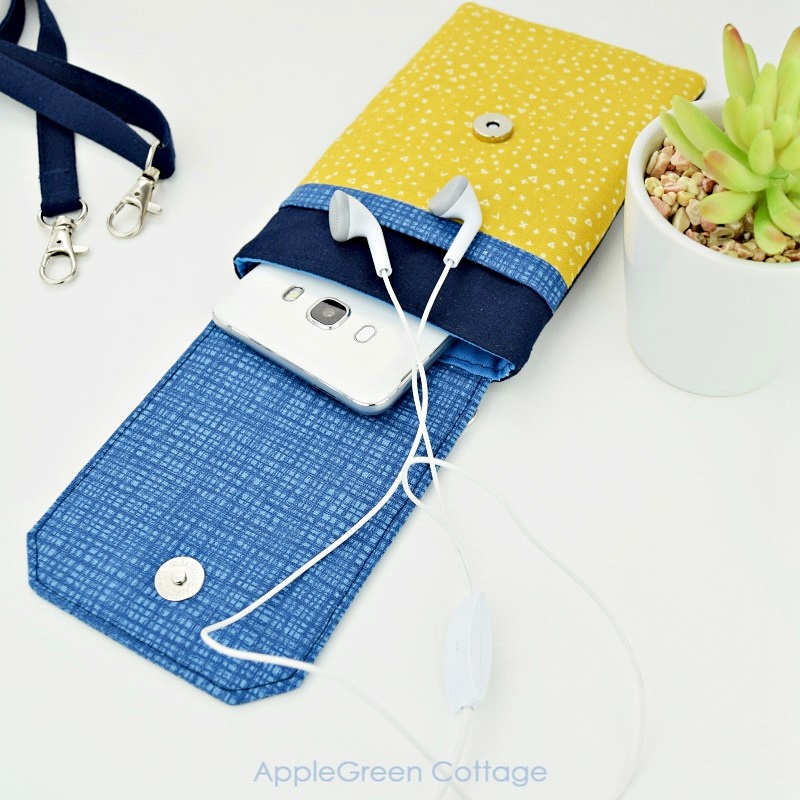 Easy Project
Never sewn a zipper before, let alone a bag? You can totally pull it off! The Aiden pattern is a great starting point for those who have sewn a few basic projects and would love to make their own mini bag, a pocket and see how to add a zipper - the easy way. I show you every little step and share tips to help you along the way.
MORE ABOUT THE Phone Purse PATTERN:
pattern for confident beginners
for sewing on regular home machines
5 pattern pages plus
20 pages of instructions with clear photos for each step
plus diagrams and tips to help you along the way
Printing guide and cutting instructions.
All measurements are given in inches and cm.
Printable both on letter-size and A4
YARDAGE AND MATERIALS REQUIRED:
Fabric in total: half a yard (you can use scraps)
Light-to-medium weight interfacing+fusible fleece: less than a fat quarter each
2 by 57" (145 x 5cm) for the crossbody strap plus half the width of light-to-medium-weight interfacing if quilting cotton weight is used for strap
HARDWARE REQUIRED TO SEW THE WALLET:
A 6″ (~15cm) or longer standard nylon coil zipper with 1″ width of zipper tape (=zipper #3)
1 small magnetic snap
2 D-rings, 2 swivel clasps + adjustable strap slider - ½" (13mm) inner width
If you like this pattern, check out the features of these:
Love no-bulk quick-make mini bags? Chances are, you are like me and not only want convenient and safe phone storage on-the-go but also hands-free!
Add this practical mini phone bag to your pattern collection – make them for yourself, gift or sell them in your handmade shop! Use the hashtag #applegreencottage so I can see what you make!