Sew a foldover crossbody bag pattern using my new Sophia pattern in 3 sizes and a lot of options. The Sophia Fold Over Clutch can be as simple or as sophisticated as you'd like it: a casual everyday clutch, stylish evening clutch for a night out, or a perfect crossbody style for daytime outings. Check it out!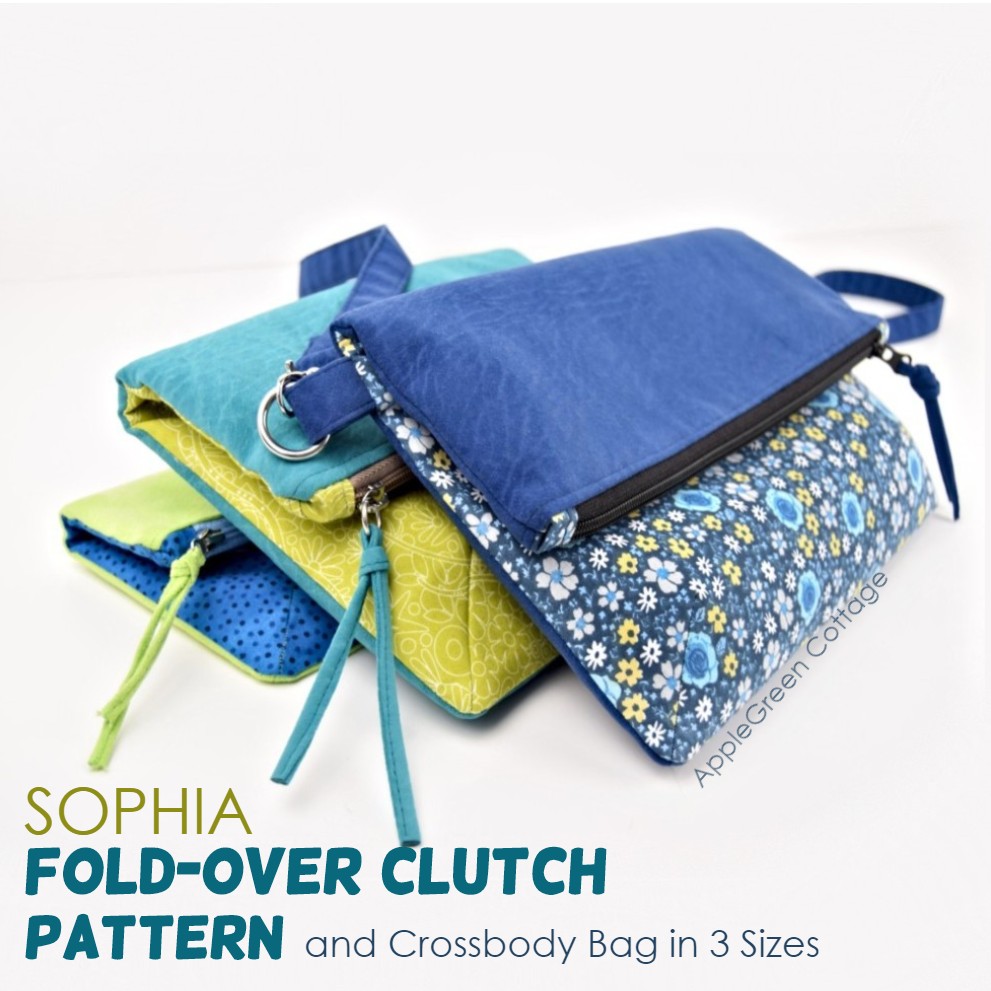 Meet the new Sophia foldover crossbody bag pattern: versatile, lots of options and a professional finish.
Sophia Foldover Crossbody Bag Pattern
It comes in three sizes, double closure, front zip pocket and inside slip pocket option; use it with a wristlet strap or turn into a crossbody bag using the removable strap option included in the pattern. Even the strap comes in two lengths: hip-length or waist-length.
The smallest clutch is perfect to toss in a few essentials: cash, phone, lipstick and keys, and is great as a casual daytime clutch or a stylish evening clutch for a party or dinner out. It can be used as a purse insert for the large size, or as a phone pouch. The Medium size will fit an ipad, and the large size is a perfect crossbody style bag for daytime outings.
FEATURES:
A stylish and sleek fold-over clutch or crossbody bag
3 sizes for all your needs: small, medium and large
Options: clutch or crossbody bag
Top zipper closure with an additional magnetic snap option to stabilize the fold-over
Pocket options: outer welt zippered pocket for keys or lipstick, and up to two inner slip pockets for phone, card wallet or a pack of tissues.
Slim design with a bit of a dimension, just enough to carry more than you'd think.
Mix-and-match materials: combine luxurious faux leather, cork, suede, or vinyl with printed cottons, using the piecing instructions included.
You can make them in sets for a great handmade gift.
GET YOUR PATTERN HERE
The pattern is available in my
pattern shop here:
In addition to the 16-page printable pattern and separate cutting instructions, you will receive 26 pages of clear, easy to follow step by step instructions and clear photos.
Both Printable Pattern Pages AND separate Cutting Dimensions are provided. Meaning you don't necessarily need to print a single thing.
More about the fold-over clutch pattern:
intermediate pattern (but with detailed, easy-to-follow instructions)
for sewing on domestic machines
16 pattern pages plus
26 pages of instructions with clear photos for each step
plus diagrams and tips to help you along the way
Printing guide and cutting instructions.
All measurements are given in inch and cm.
Printable both on letter-size and A4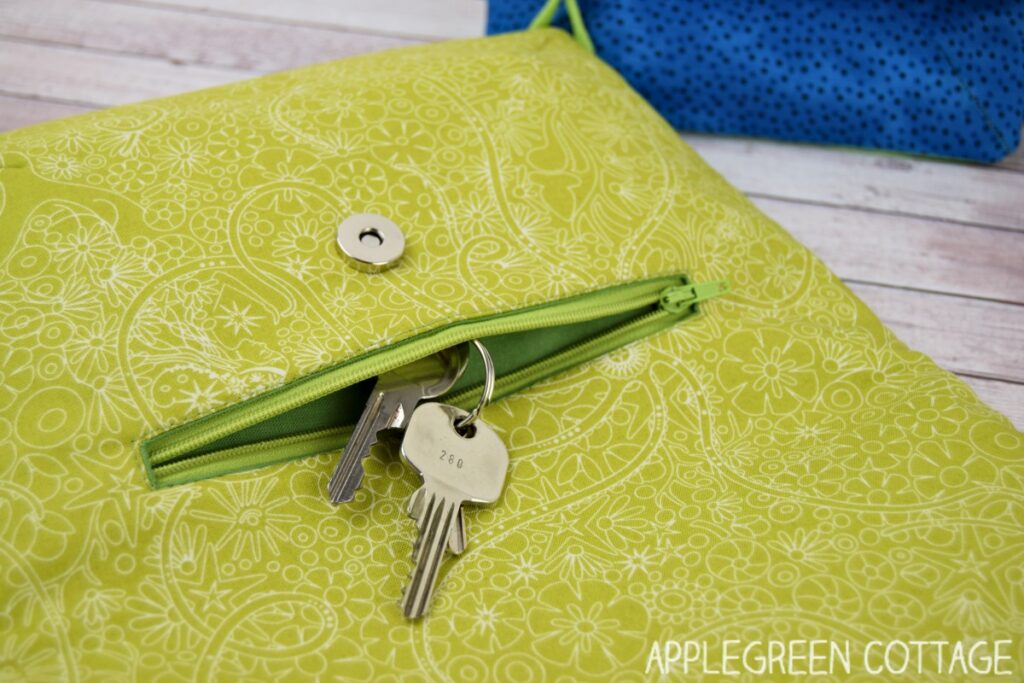 And there's one thing I need to admit: I marked the pattern as 'intermediate'.
Usually, people with intermediate sewing skills would say it could be marked as a 'beginner bag'. And it's true: the Sophia Fold-Over Clutch pattern can be a great introduction to bag making.
However, my patterns are regularly very (and I mean very!) easy to sew. And when I mark one as a 'beginner pattern', it really really really means you can be a beginner to sew it. With this pattern, you'll need to be comfortable with sewing zipper pockets, sewing through a few layers, handling faux leather and sewing a straight line when topstitching. So, just to be consistent with the rest of my patterns. I'm still making it really easy for you, with all the step-by-step photos, diagrams, tips and tricks and everything (you know me, I love a good pattern hack!)
Let's say it's probably one of the easiest bags to sew in the intermediate range on the pattern market 🙂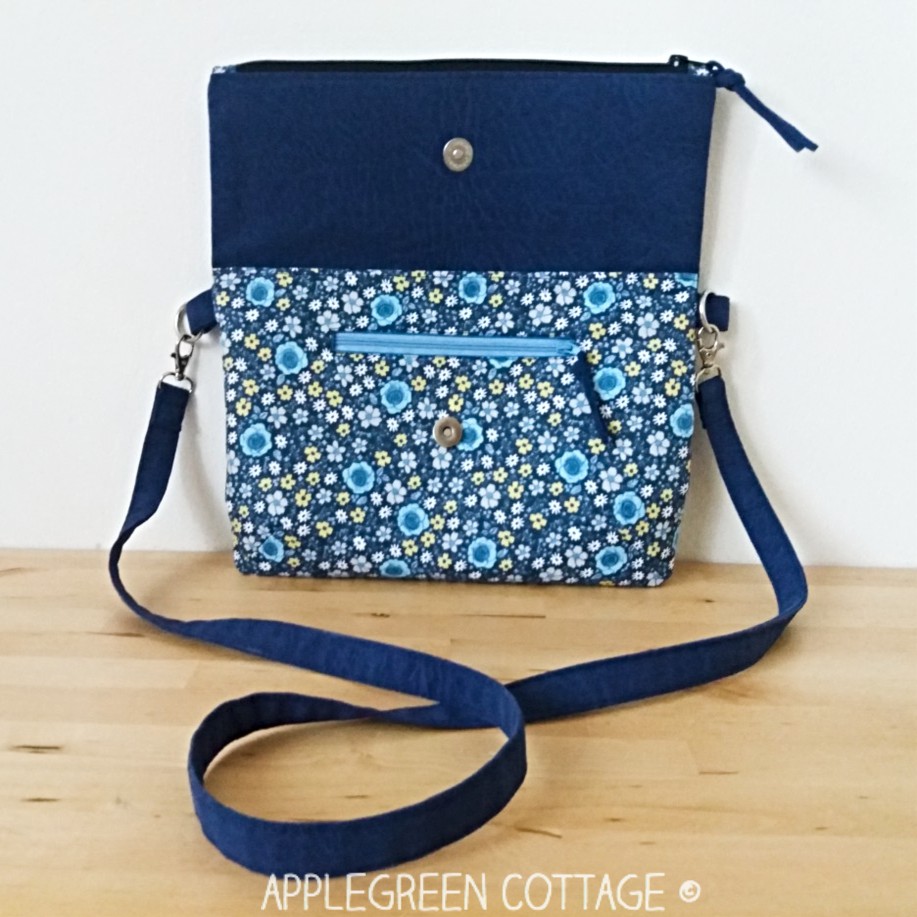 YARDAGE And Materials Required:
the largest Sophia clutch requires altogether a yard of fabric (half yard for outer, half yard for lining)
fusible fleece, light- or medium-weight interfacing
2 zippers, one for top closure and one for front pocket
magnetic snap
2 lobster clasps + 2 O-rings or D-rings (for crossbody version) – ¾" (1.9cm) inner width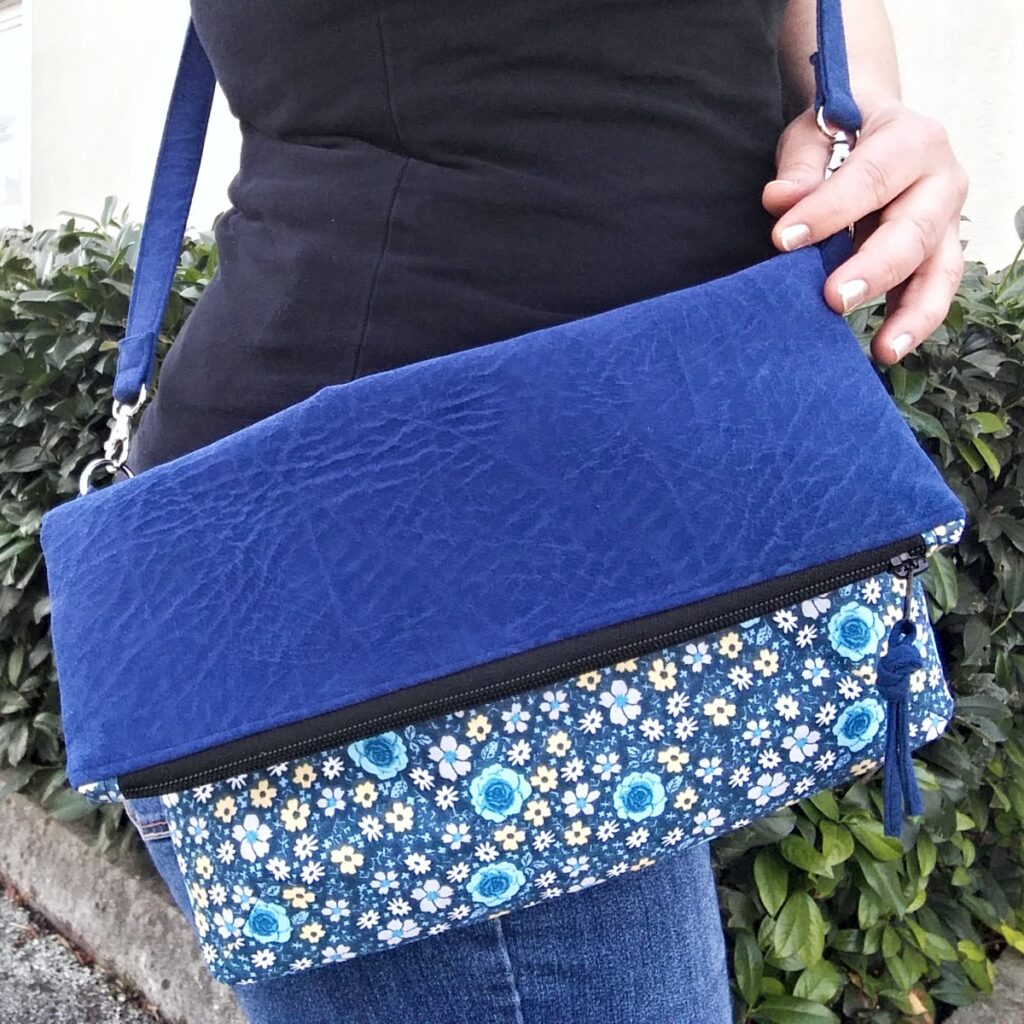 I took the large crossbody version for a test-walk immediately. 🙂
FINISHED SIZE
SMALL: approx. 4 ½″ wide, 4 ½″ tall, ¼" depth (11.5 x 11.5 x 0.5 cm)
MIDSIZE: approx. 6″ wide, 6″ tall, ¼" depth (15 x 15 x 0.5 cm)
WIDE: approx. 8″ wide, 4 ½″ tall, ¼" depth (20 x 11.5 x 0.5 cm)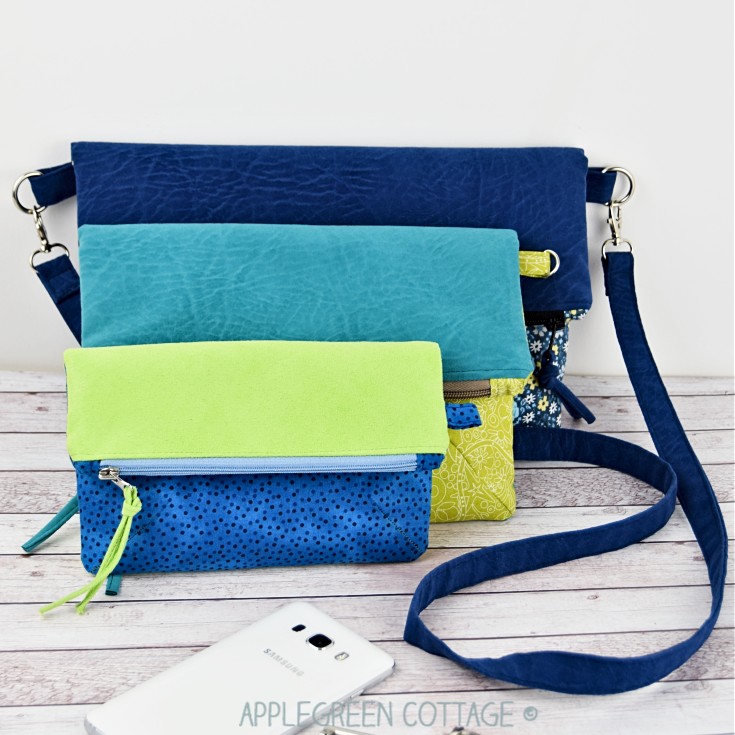 Created specifically to be made on a domestic sewing machine using quilting or furnishing weight fabrics, faux leather, suede, cork or vinyl.
Make sure to save it to Pinterest for some sewing inspiration: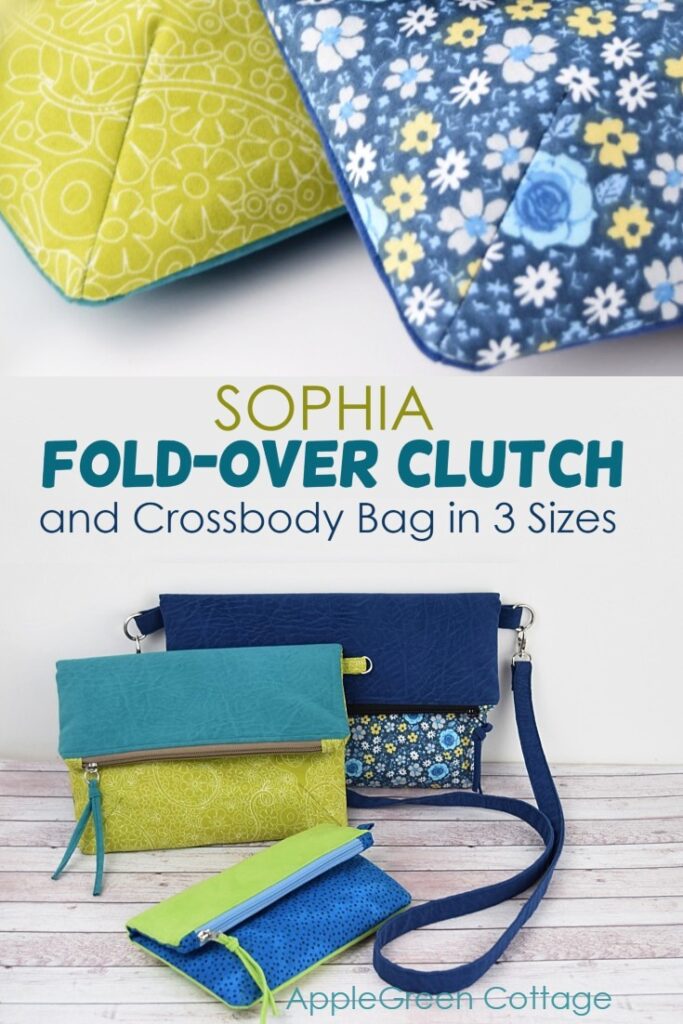 And here are a few more things you learn with the comprehensive and user-friendly instructions that come with the pattern:
how to piece the front panel for more variety (so handy!)
how to make a welt zipper pocket (the one you'll want to use everywhere from now on!)
how to make a detachable bag strap
how to add zipper tabs to eliminate bulk from side seams on any bag.
how to sew darts, how to sew zippers with a regular foot, and more.
A great and stylish clutch addition to your collection - make them for yourself, gift or sell them in your handmade shop!
If you like what you see, check out
this link to the pattern HERE
:
If you like this pattern, check out the features of these: