Pattern just UPDATED - meet the Teya! I'm happy to present you a practical yet stylish crossbody bag sewing pattern for everyday use, the Teya crossbody bag. Large enough to hold all your essentials neatly organized and easy to reach, yet still compact and lightweight. It's just what you need for a short trip to the town, meeting a friend at your fav cafe, or quick errands in the neighborhood - especially if you never leave your house without your ipad!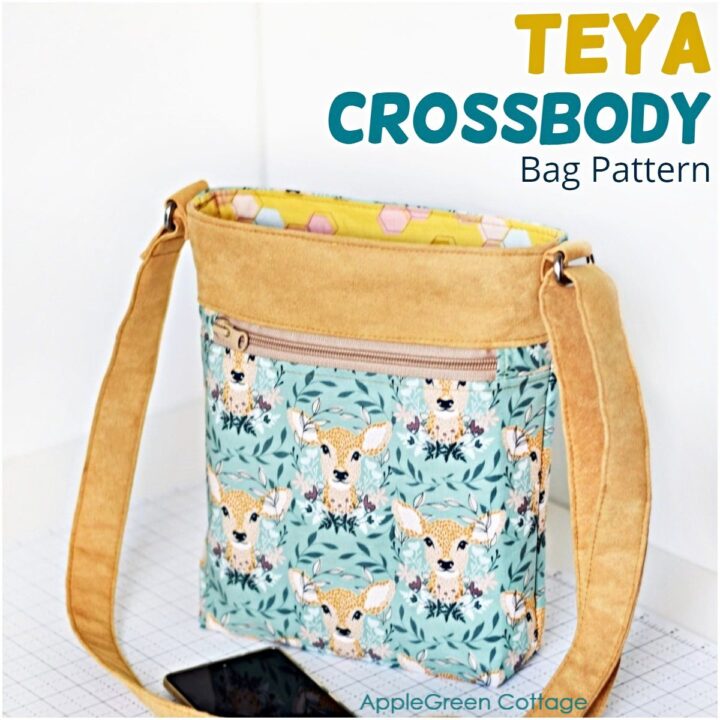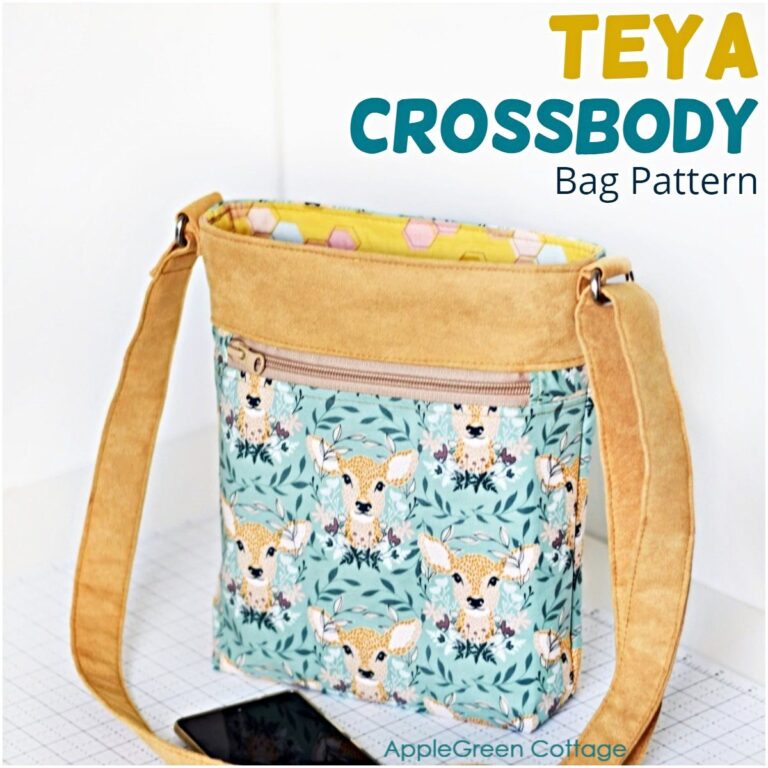 Teya - The Crossbody Bag Sewing Pattern
Running an errand in town? Your iPad always on the go with you? Multi-tasking all along? You probably need a hands-free bag, and a fiddle-free way to find your keys and phone. Large enough for all the essentials, but no bulk. The TEYA ipad Crossbody bag will be perfect for you!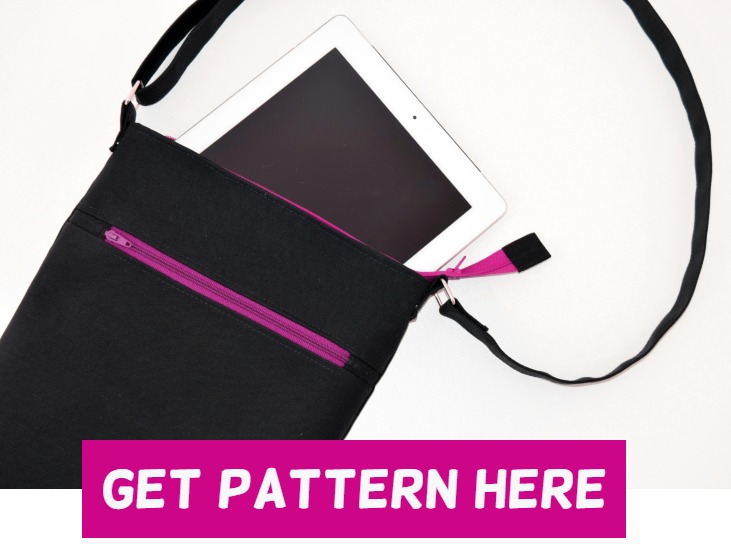 A practical and simple crossbody bag sewing pattern
The first two words on my mind when designing this bag were practical and simple. Why? I wanted to design an everyday bag pattern. One you always grab first when you leave the house. The one which allows you, in a blink of an eye, to see if you've got all you need, wallet, phone, and keys. And maybe a pack of tissues. And that's all. This is the thing I love most about the TEYA and this is why this bag will be used a lot.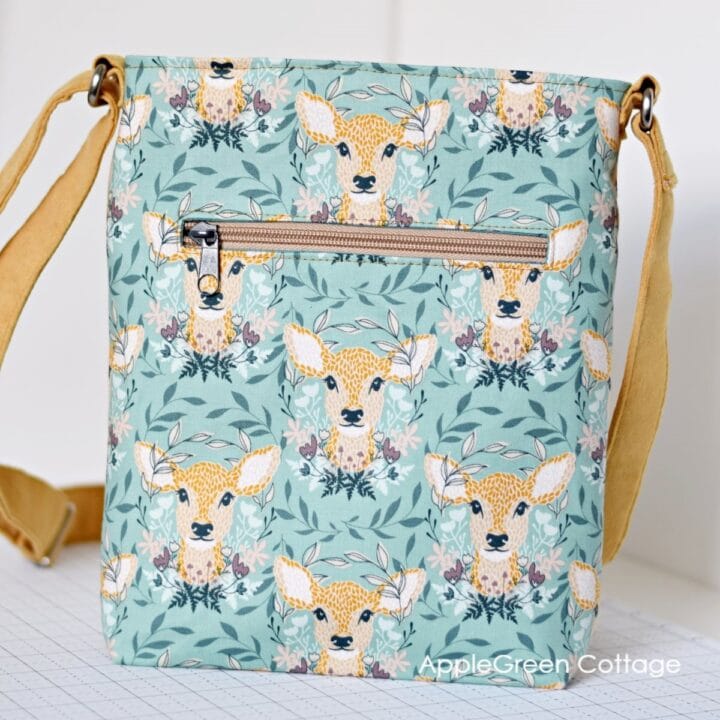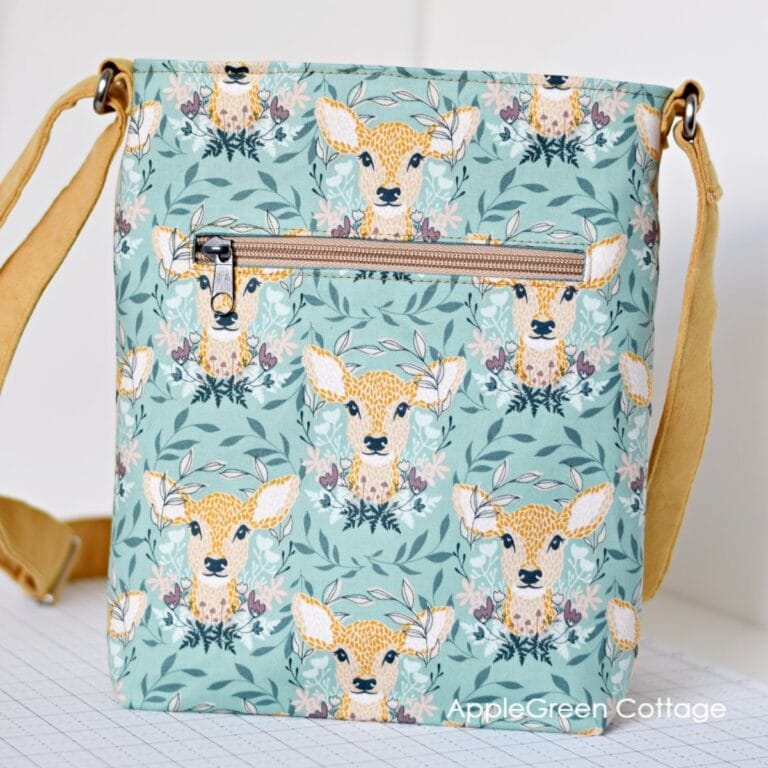 Small crossbody bag sewing pattern - Features
a super convenient, slim-line crossbody bag
the main compartment will generously fit the regular 9.7" ipad size and a few extras
2 exterior zippered pockets (perfect for your phone and keys)
4 interior slip pockets to keep you organized
a comfortable adjustable strap so you can wear it crossbody or over the shoulder
a recessed zipper top closure to keep things secure yet still allow the bag to open wide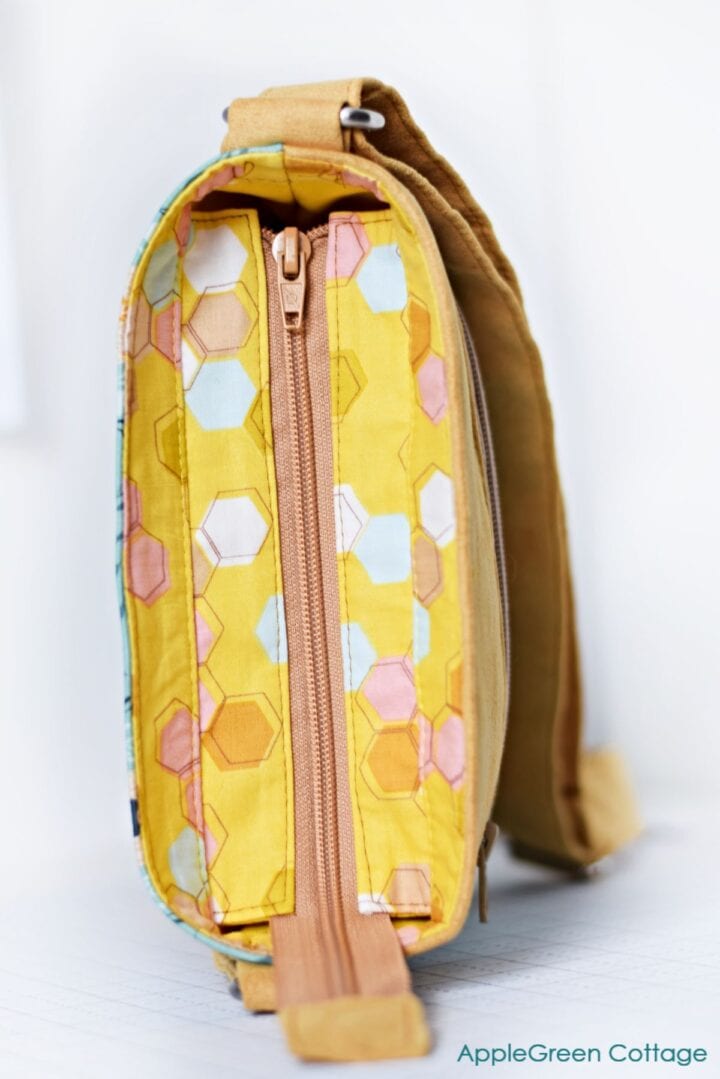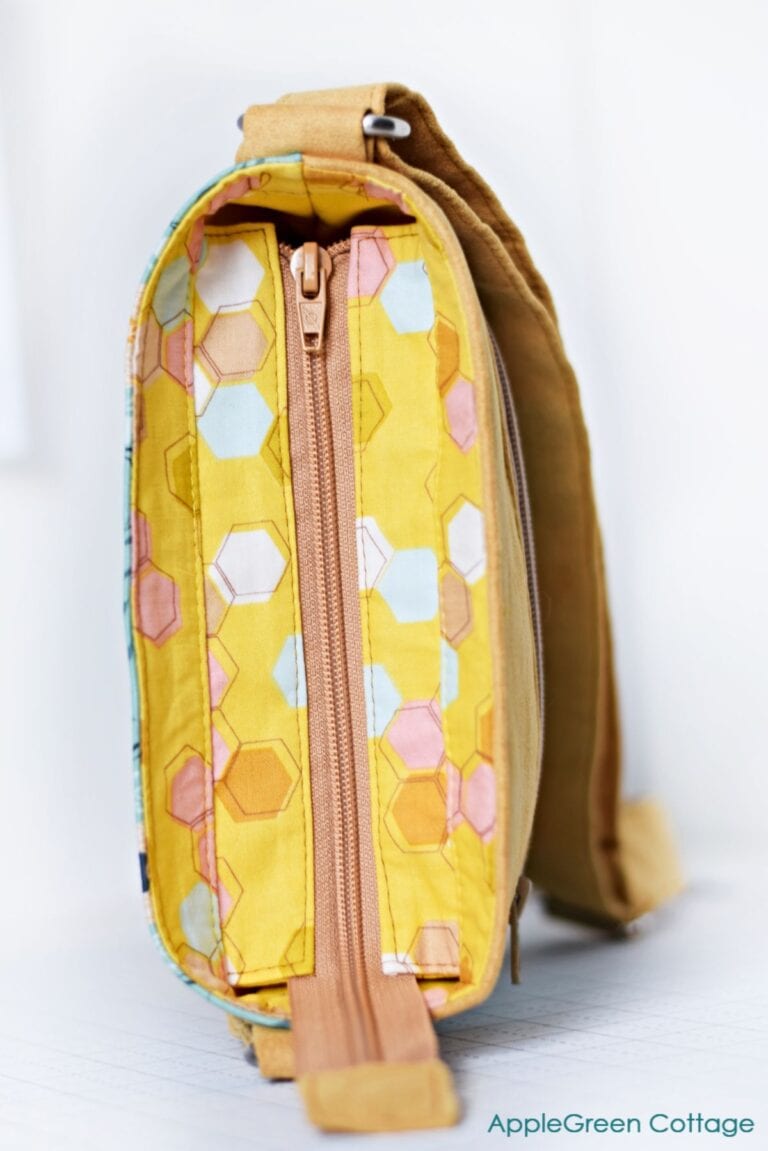 FINISHED SIZE: 8.5″ wide, 11″ tall, 2″ depth (plus strap)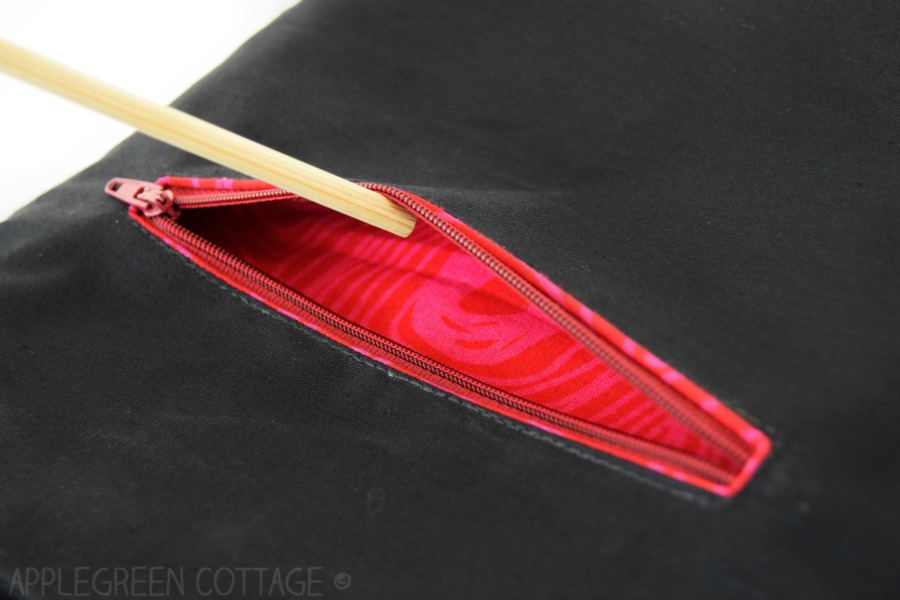 Love this little detail. All black on the outside, with a pop of color inside!
And all the handy pockets that keep everything in place, and easy to find.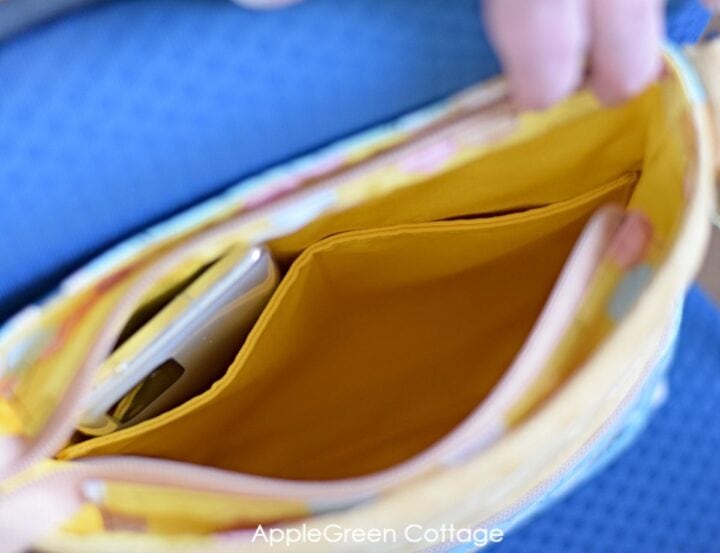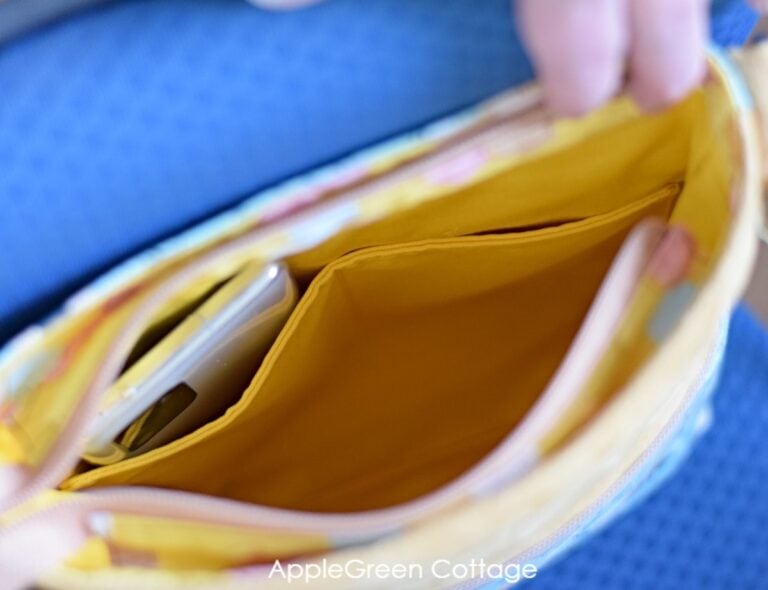 What about the PDF Sewing Pattern?
The pattern is available in my shop. It's a full-size printable PDF pattern with a step-by-step tutorial and lots of photos and detailed, easy-to-follow instructions. I added a few bonus hints to make sewing even easier. Feel free to check it out HERE:
The PDF pattern file includes a full-size printable sewing pattern with detailed, easy-to-follow instructions with over 100 clear step-by-step photos, diagrams, and bonus tips to help you along the way.
Pattern sewing instructions are easy to follow
This is an intermediate pattern, meaning that it's ideal if you have sewn a simple bag or two before. However, I'm always writing my instructions with my mind on a sewing beginner, and when I say the pattern and tutorial are easy-to-follow, I really mean it. It's pictures and tips like these: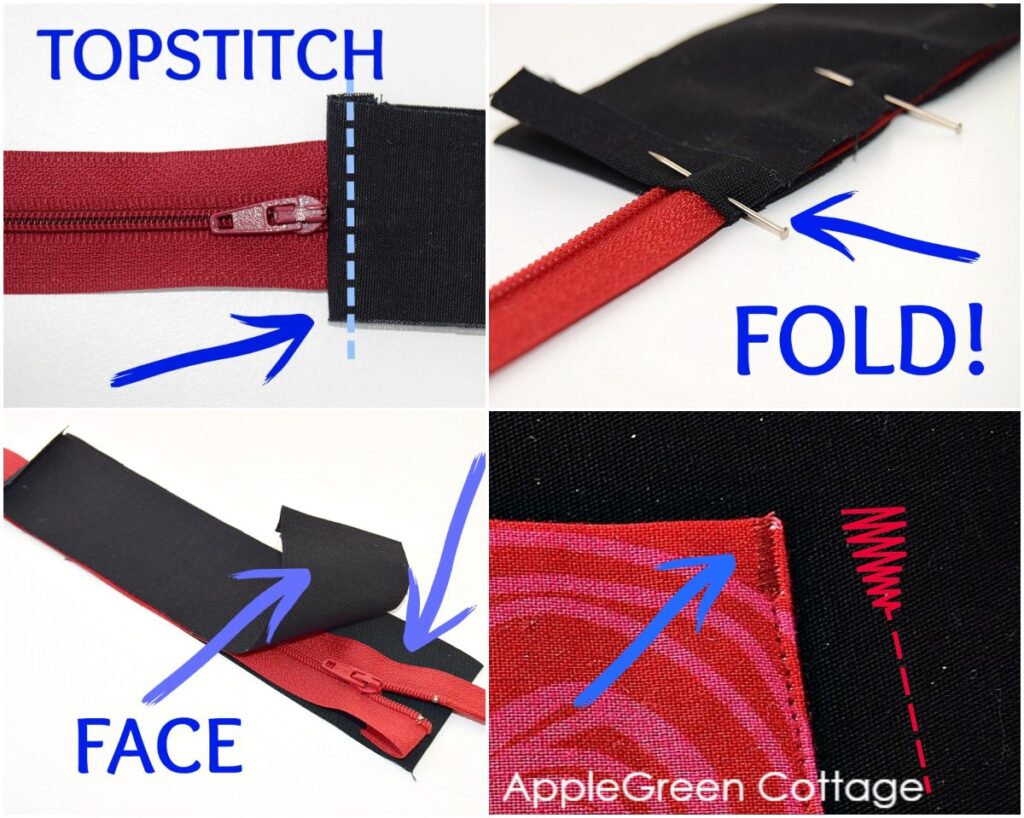 There are photos for each step and clear instructions. Tips included. I want to make your project super easy and fun! And as usual, there's more.
You'll also learn:
how to make a recessed zipper panel on a bag (so handy!)
how to make a welt zipper pocket (the one you'll want to use everywhere from now on!)
sew an adjustable bag strap (and how to attach the bag hardware)
how to add fusible interfacing; with material recommendations
Don't have a zipper foot for sewing zippers? No problem, I included a tip for using your regular foot with zippers too!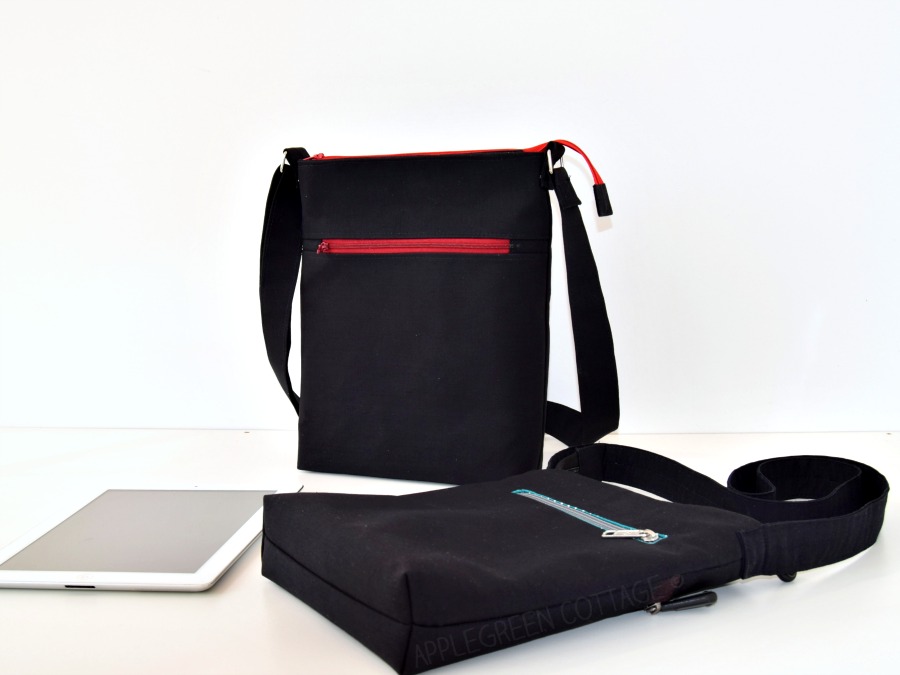 Your crossbody bag sewing pattern file includes
All measurements are given in inches and cm.
Supplies list and interfacing recommendations.
Printing and pattern-cutting instructions.
Oh, and one thing more: Sew-to-Sell. That's right, you're more than welcome to sell your finished bags you make from this pattern.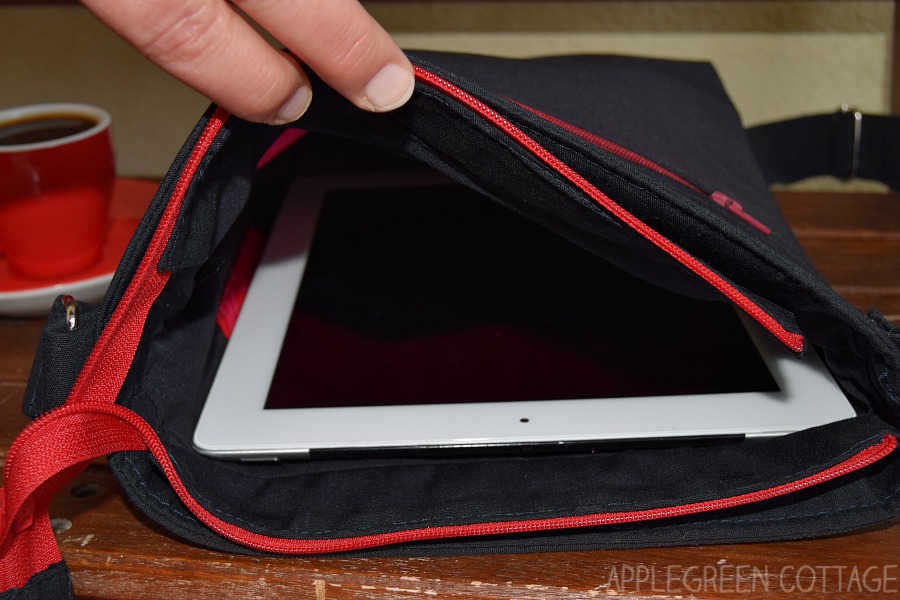 Make it in canvas, quilting-weight cotton, home decor fabric, or faux leather, mix and match materials as you feel like. Countless variations, cute and practical! Next photo, for example, is the SAME interfacing, with a different fabric: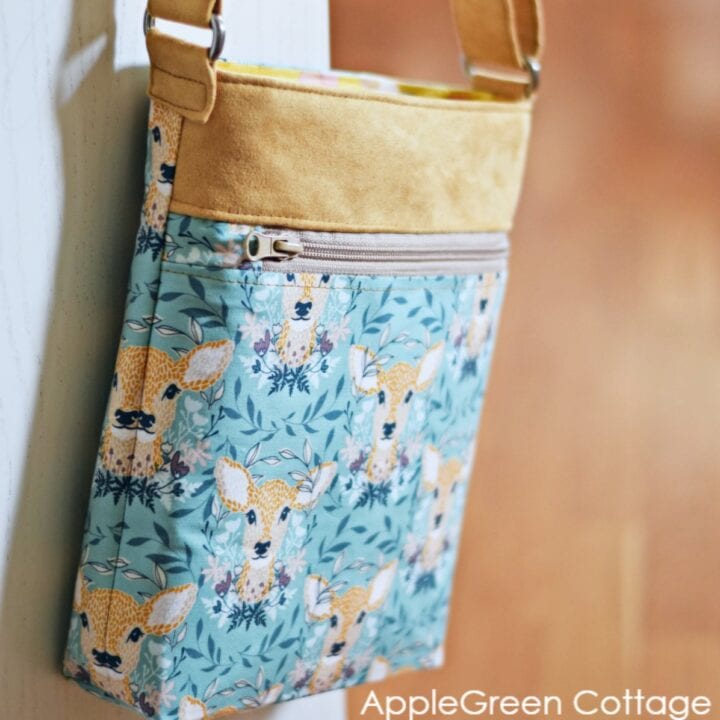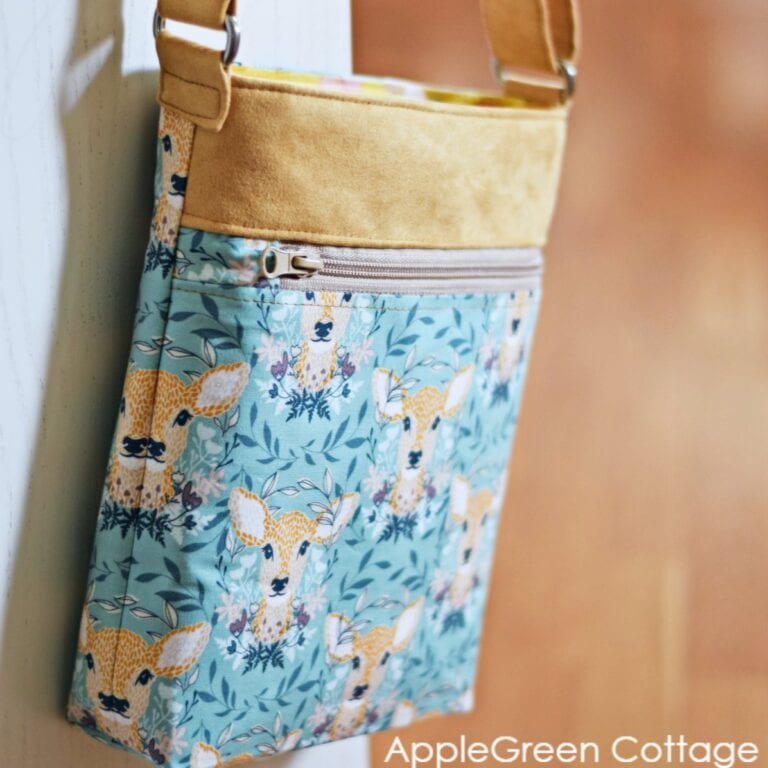 Did I mention this everyday bag pattern will make a great gift for anyone? You can make a men's gadget bag for your man if you stick to black and denim fabric 😉 Tailor it exactly to your likes and needs.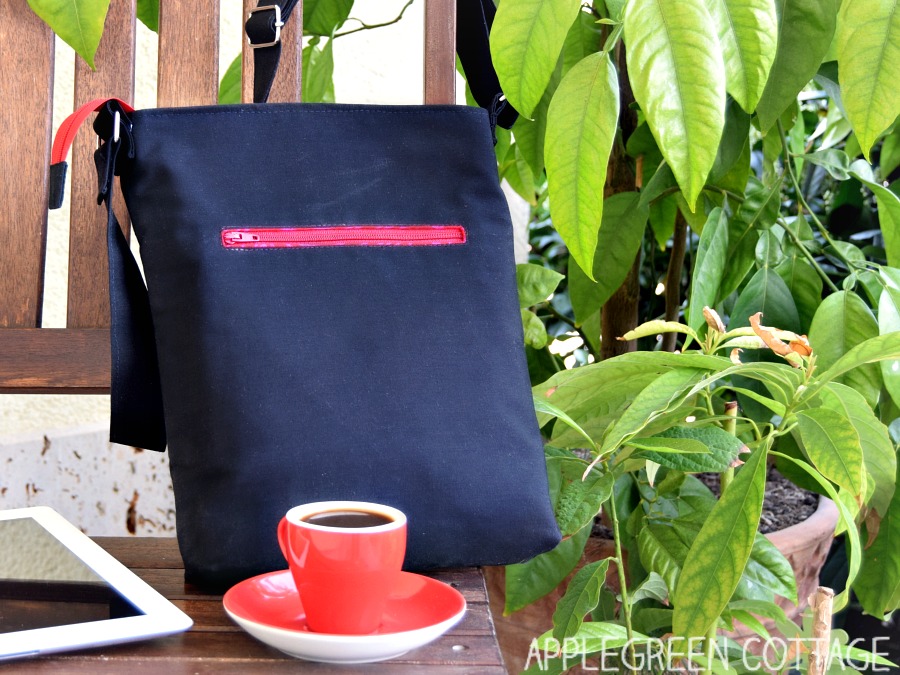 This was one of my first Teya bags, I had it with me everywhere I went - to countless cafes too!
Make one for yourself. Or two. Then grab your iPad, phone, and keys, toss them in this slim and stylish cross-body tote – and you're good to go!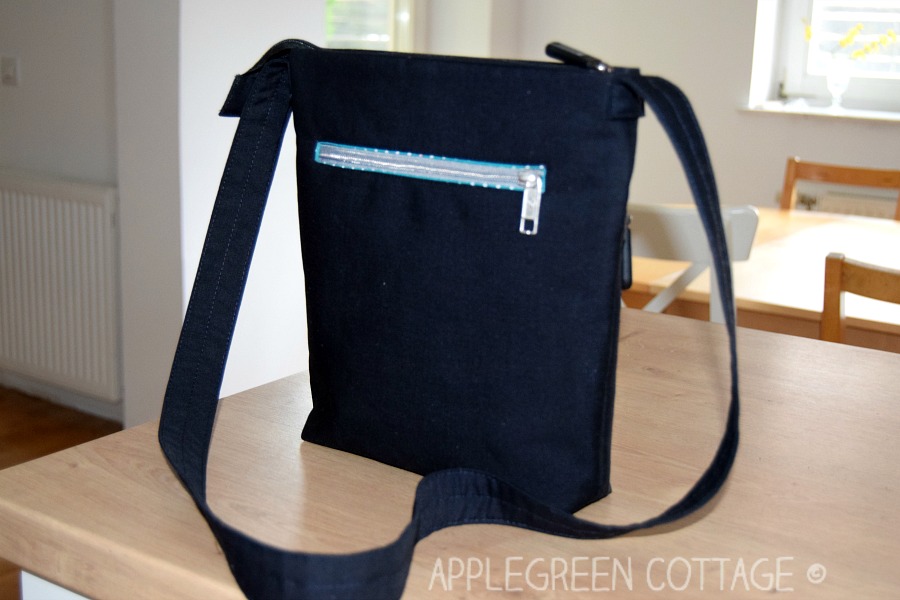 Have you noticed that there are two different zippers on the front and back? Welt zipper pocket on the back, and tabbed zipper pocket on the front. As well as a recessed top zipper closure! Once you learn how to make those, you'll be making them all the time. Bags, pouches, purses, everywhere!
More Pretty Teya Bags by Pattern Testers
A sincere thank you to the ladies whom I asked to help me get the Teya pattern upšdated, and they were immediately ready to help me out. You have my eternal gratitude, sewing friends!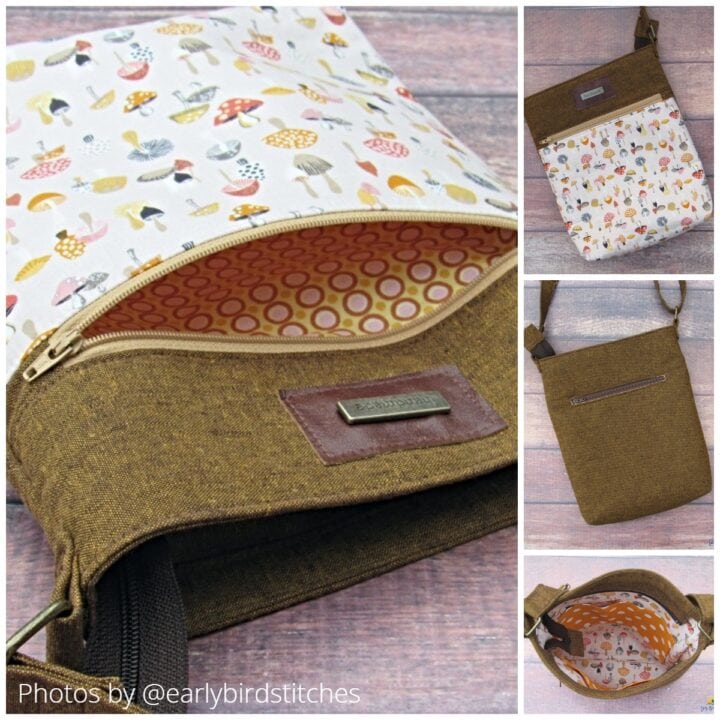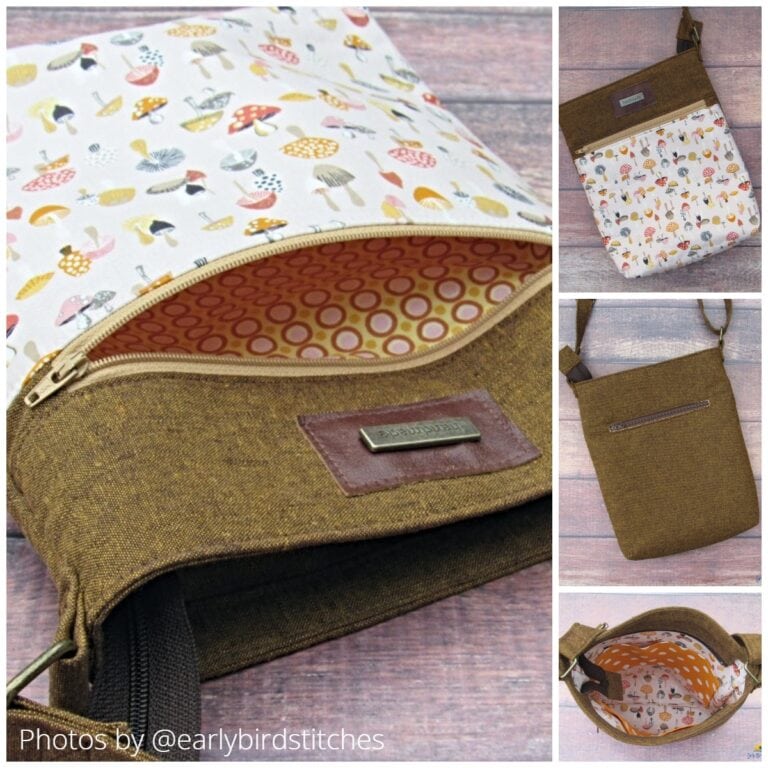 First, Cara @earlybirdstitches Her makes are always so cute, playful, and in perfect fabric combinations. She's a queen of pairing Essex linen with beautiful prints - and she deals with any errors in wording like a boss! Yep, without her, I'd be embarrassed by quite a bunch of my grammar errors too! Visit her shop at Etsy to see her style.
Next, Mellissa. I fell in love with her Instagram feed instantly, and that was when I invited her to join the Nelto bag pattern testing team. She did an amazing job, and now, with the Teya bag, too. Please visit her IG here and let's support her when she opens her new handmade shop, her makes deserve that!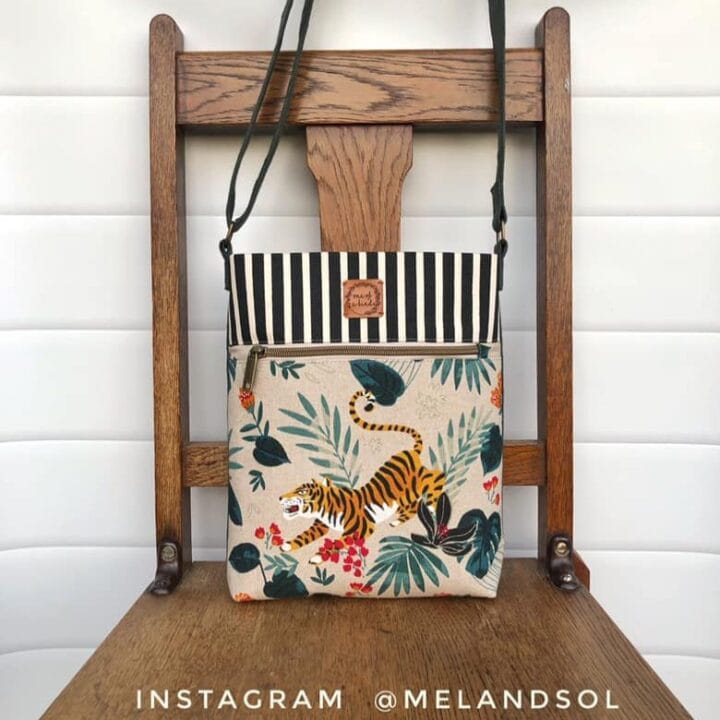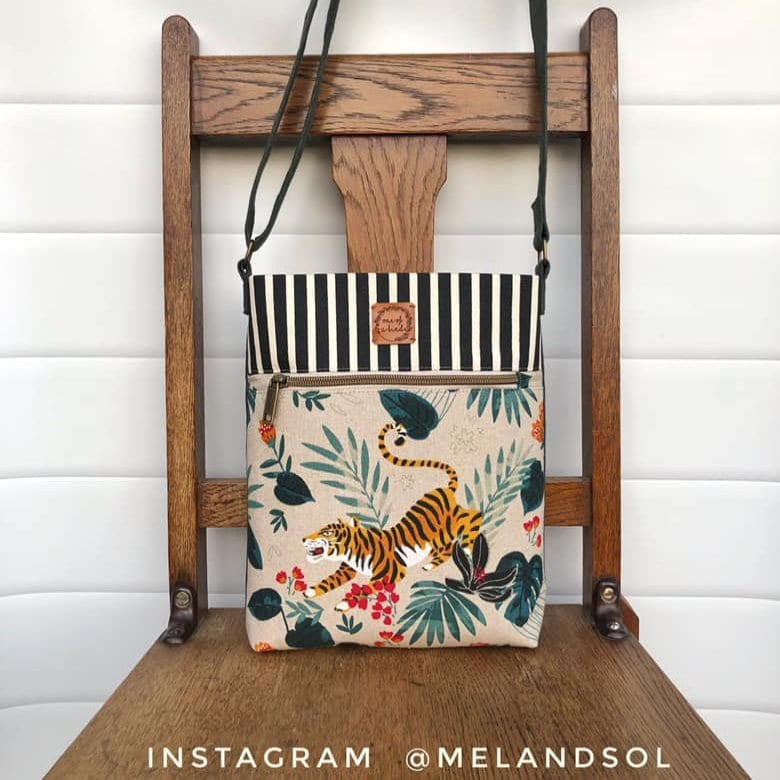 And this is her Teya: fantastic print placement, and perfect use of stripes! Her signature makes often include stripe accents
And then, I received these Teya photos from Maria at @miacreates: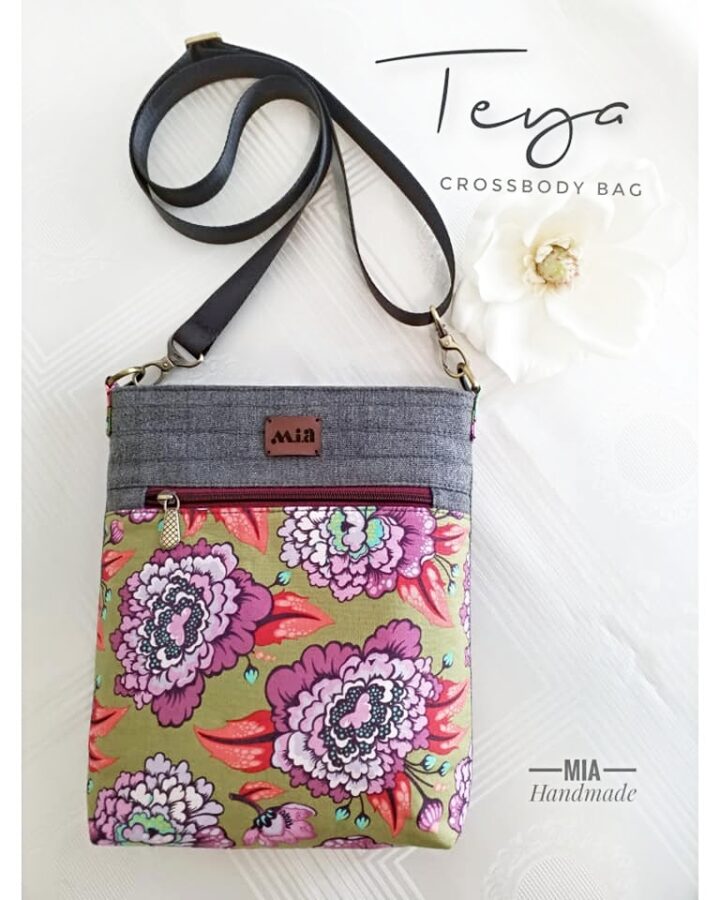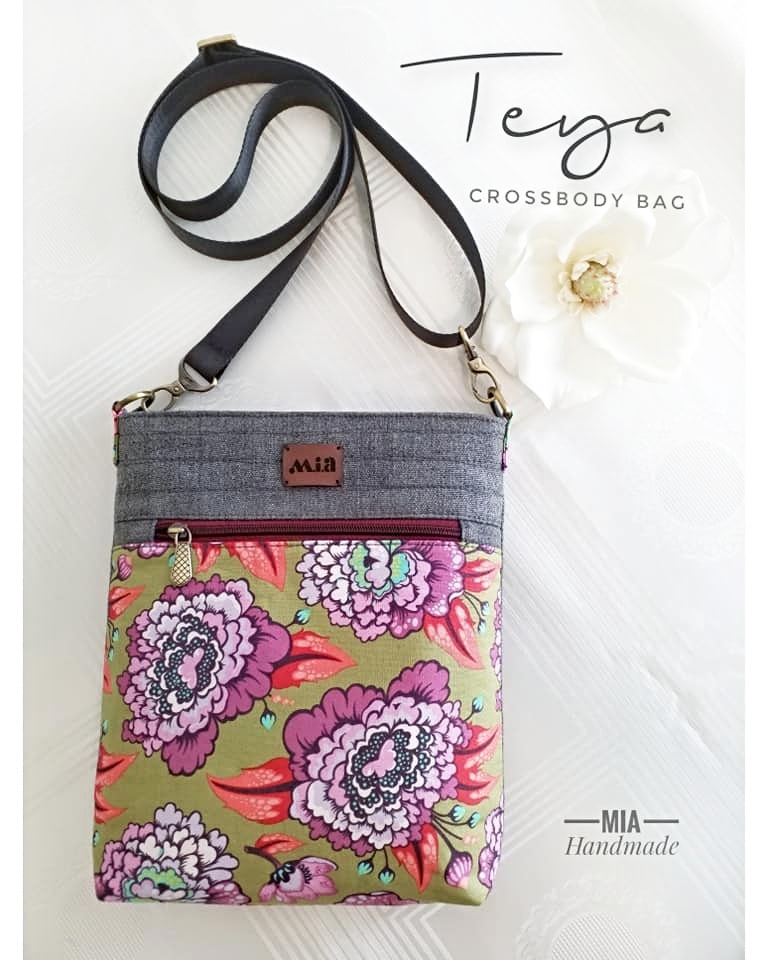 'Love this bag so much. Perfect for what I need, a crossbody that will hold my tablet, cell phone, small wallet, glasses, keys, and a fabric shopping bag. Loads of pockets to keep everything organized, 2 outer zipper pockets, and 4 slip pockets inside. ...Another bonus with this bag is you can wear it front or back as the back has a zipper making it a pretty as the front.'

Maria @miacreates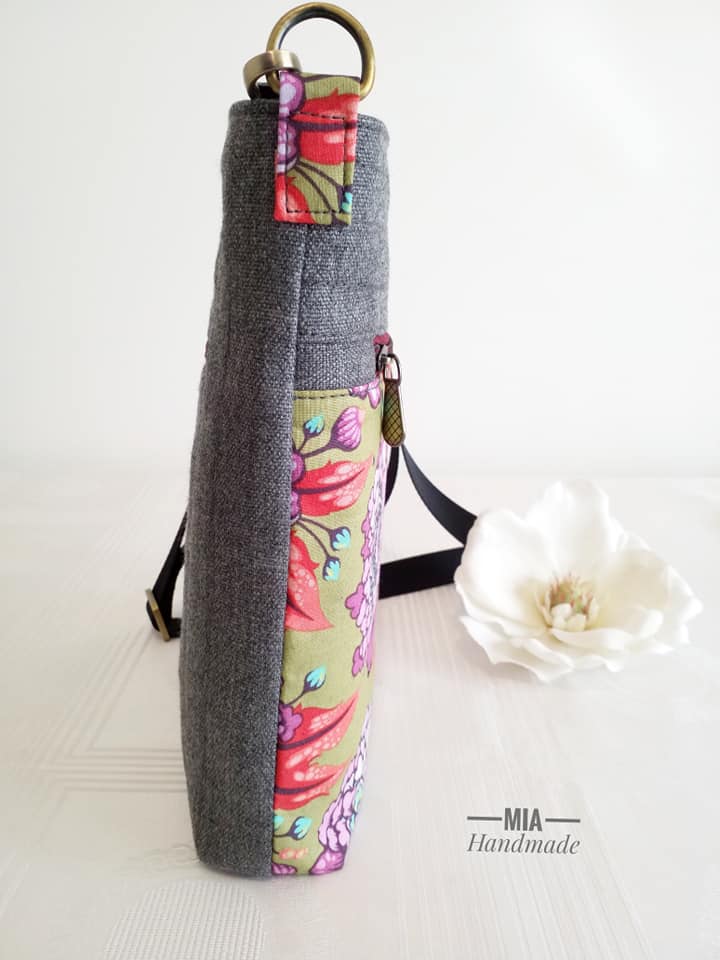 And I couldn't help but add this pretty side-view photo by Maria. This bag is gorgeous! I'm featuring more of her photos in the shop.
Use the hashtag #teyacrossbodybag or #applegreencottage, or tag me @applegreencottage when you post a photo of your TEYA crossbody bag. I'd love to see what you make!
Save For Later: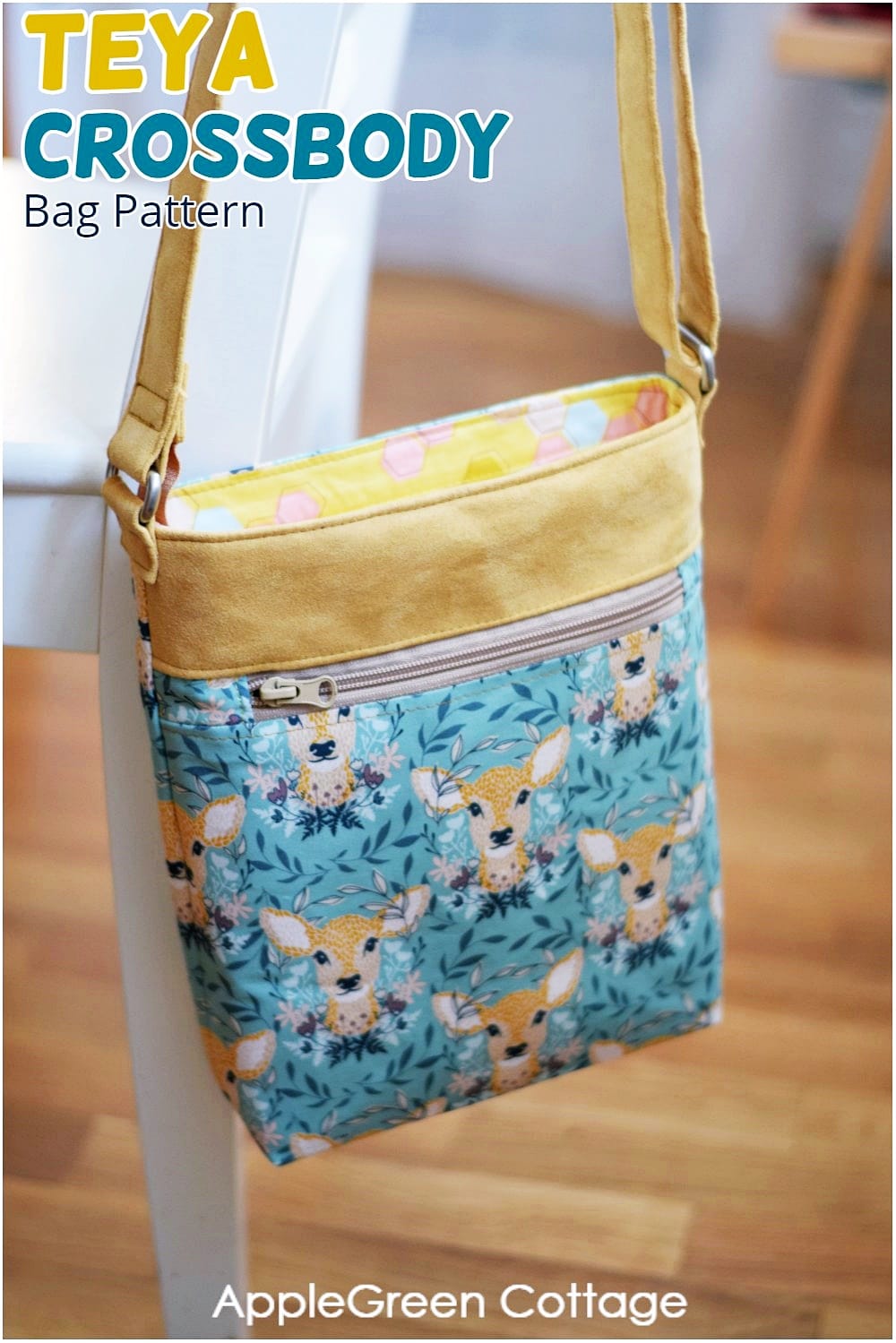 Get Your Pattern - NOW!
If you like this bag or/and think you know someone who could use it, feel free to check out this link to the pattern in my shop.
Check out more of AppleGreen Cottage sewing patterns: